There are few homes more characterful and unique than converted churches and the owners of this one just reluctantly sold due to outgrowing it as a now family of four. But that means someone else has the opportunity to enjoy this special home, so we sat down with interior designer Jo Wilbow to find out what it's been like living here.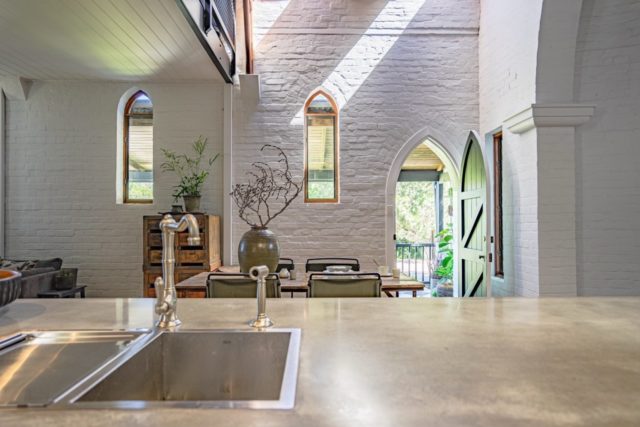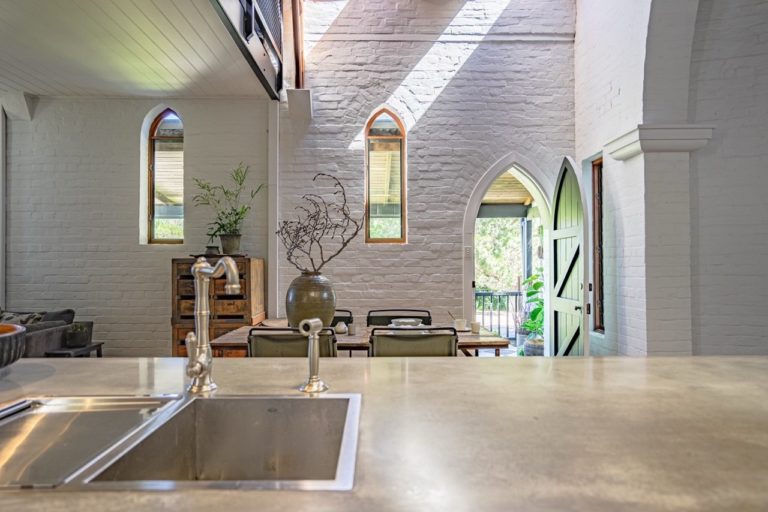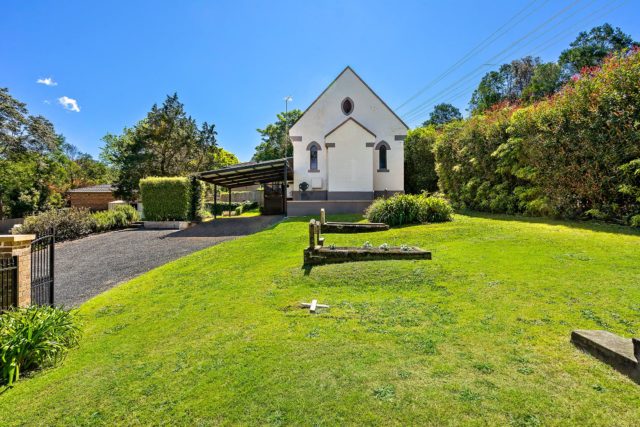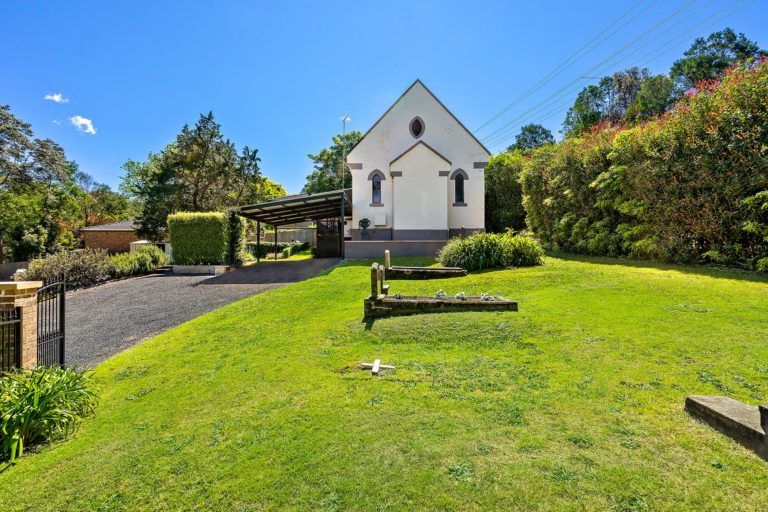 Jo and husband Matt were looking for something a little different when they stumbled upon this 1880s church in Kurrajong Heights NSW. "We had put it out to the universe to find us something unique and a week later this beautiful building came on the market!"
It had been converted in the early 90s but the couple put their own mark on it in 2014. "With the mezzanine being the full length of the building, the first thing we noticed was that you couldn't appreciate the beautiful 8-metre-high timber ceiling, which we restored, sanding and oiling each board by hand. Our first mission was to reduce the mezzanine to two-thirds of the length of the church, exposing a third of the vaulted ceiling."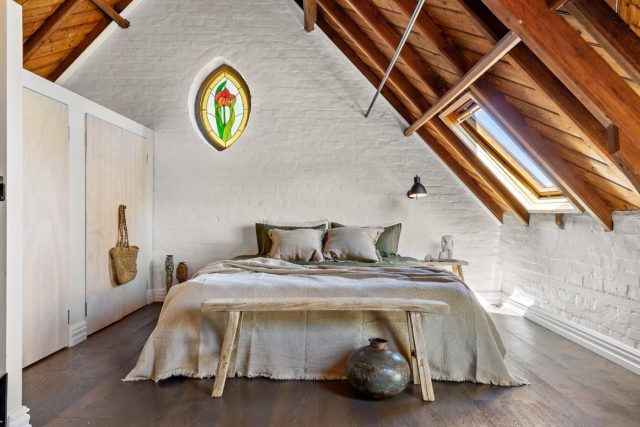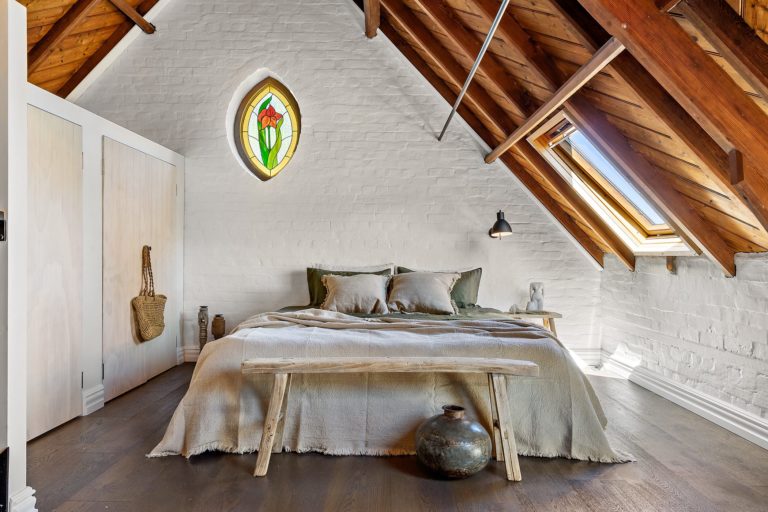 Over the course of 18 months, they completely changed both upstairs and downstairs layouts, creating a loft-style bedroom, split-level bathroom, and keeping the floorplan as open as possible. They designed it to allow for maximum viewing of church windows from every angle.
"It has been heartwarming to bring back a loving energy to the overall property and we feel as though we have done it justice."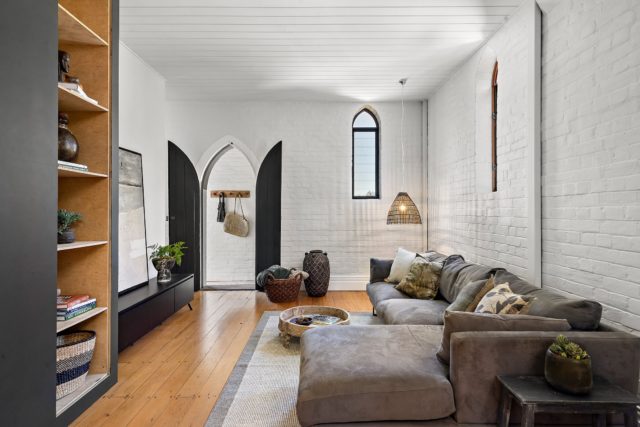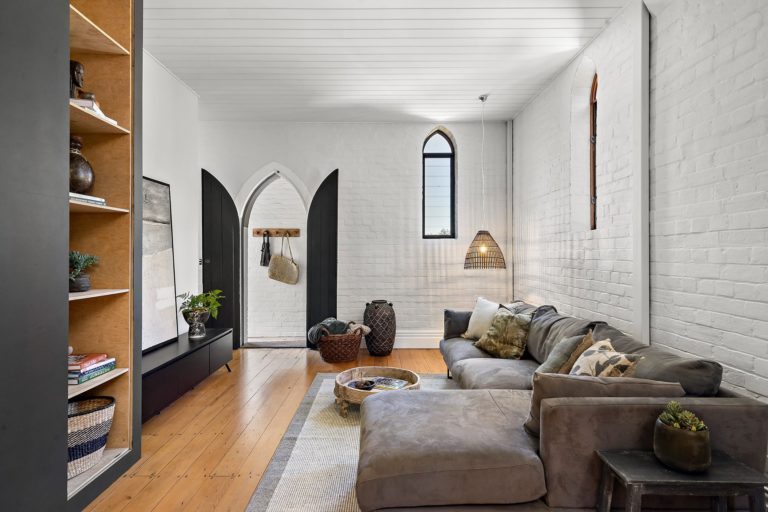 It was particularly important to them to use eco-friendly materials where possible, and in accordance with good heritage principles, ensure that as little as possible was done to the existing building.
As for outside, of course everyone asks what it's like having a graveyard in the garden! "I was a little hesitant at first," said Jo. "The day we first went to look at it, I said to my husband that if there was any funny business, I was out! When we arrived, everything felt peaceful, and although the graveyard is quite obvious on arrival, there was nothing scary about it. We noticed a white cat cruising around and this sealed the deal for us, that if it was fine to live there then so would we!"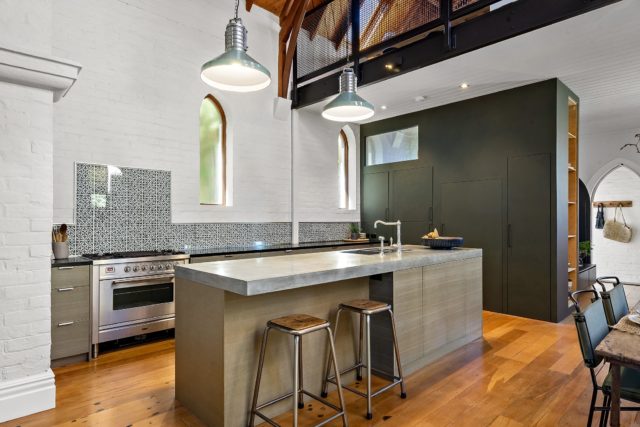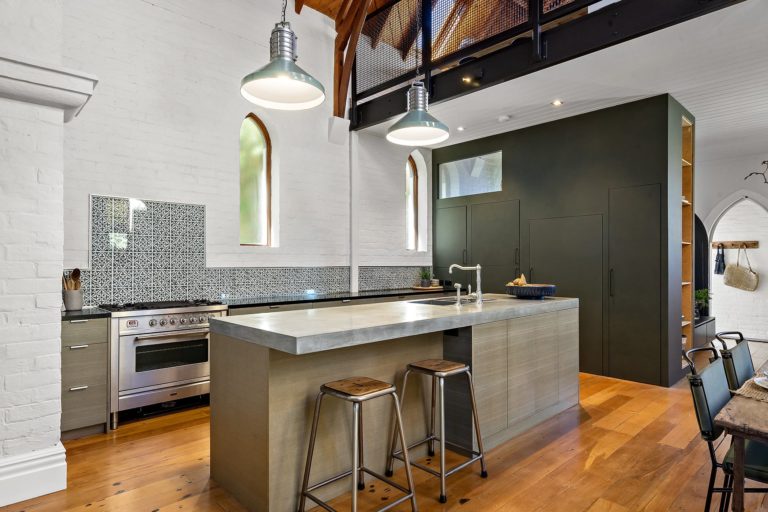 Now with two children, they have well and truly outgrown the home an hour from Sydney. It sold prior to auction this week for a million dollars.
"We have loved every minute of living here and it was an emotional decision to sell it. It goes without saying that this is a unique, character-filled home. For us this really has been a once in a lifetime experience."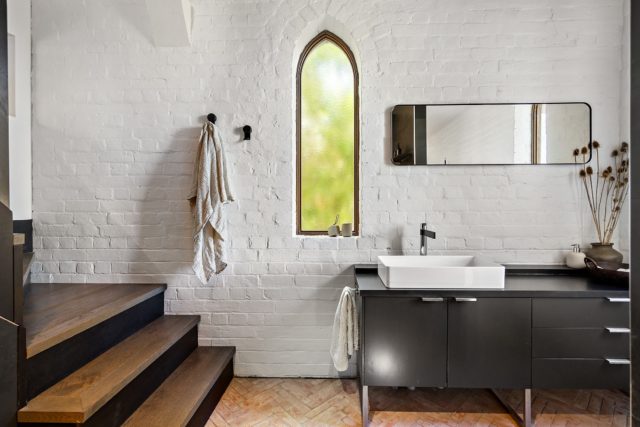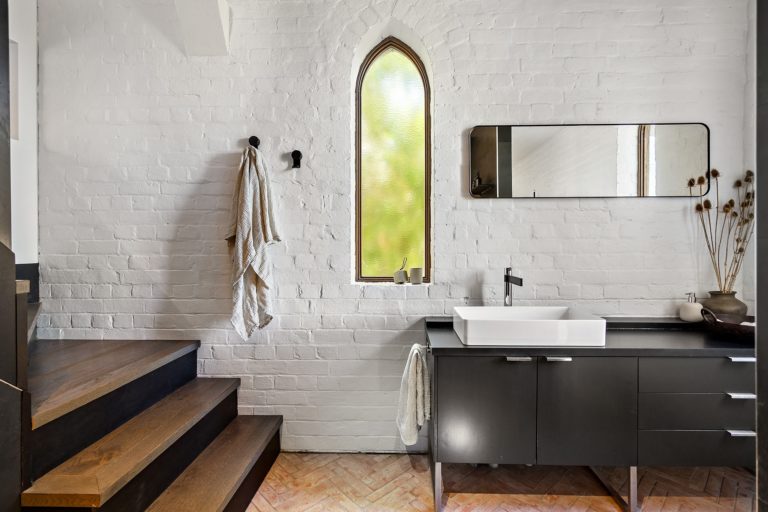 The church is local heritage listed and is in amazing condition for its age. "The church and yard hold great significance in the history of the beautiful Hawkesbury Region," says Jo, who as well as being a designer, owns furniture and homewares store Black Pebble Design, in nearby Windsor.
"The graveyard holds a number of local parishioners, and includes The Reverend Leonard Daniels, Australia's First Flying Parson. Being the final resting place for local souls, it is quite a sacred site. We have enjoyed talking to the 'residents' over the years and have treated them like family. This is special.
"The church itself is light-filled, upstairs in particular. The ambience is simply beautiful. So many memories and feelings have been created by the light and energy at different times of the day. It is hard to describe exactly why it is special. It is just a feeling."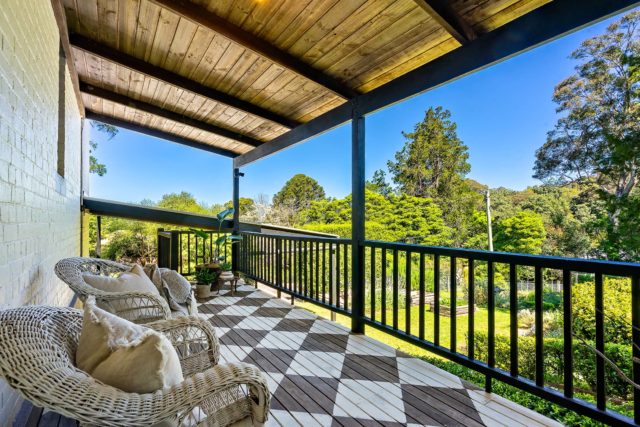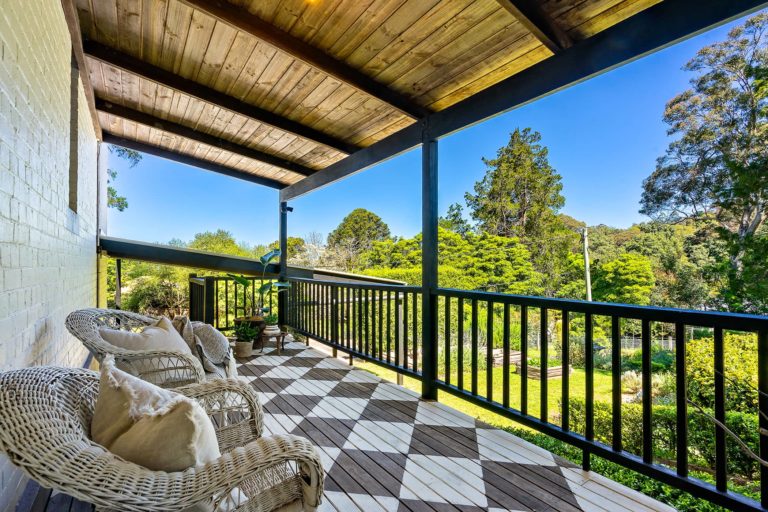 Although not the original stained glass, the gothic arched windows are a real feature and allow light to filter through the space. "The upstairs loft bedroom provides a perfectly romantic hideaway," Jo adds. "Whilst lying in bed you can take in the full beauty of the vaulted ceiling. The view is also incredible on a full moon, and the mountain air breezes in through the adjacent casement windows. It is also equally beautiful on a cloudy day, when the mist seems to roll in through the house."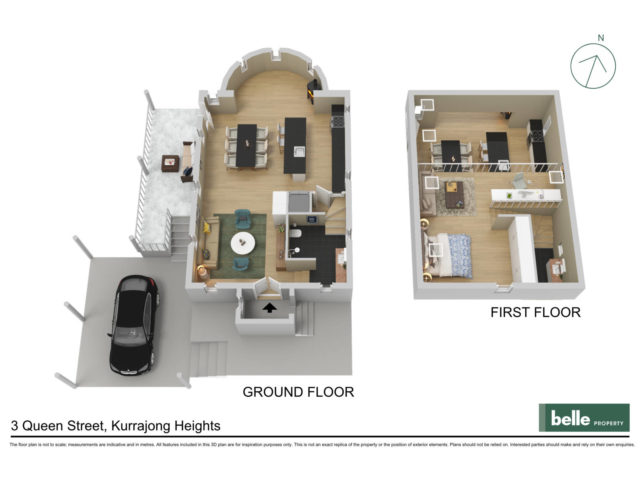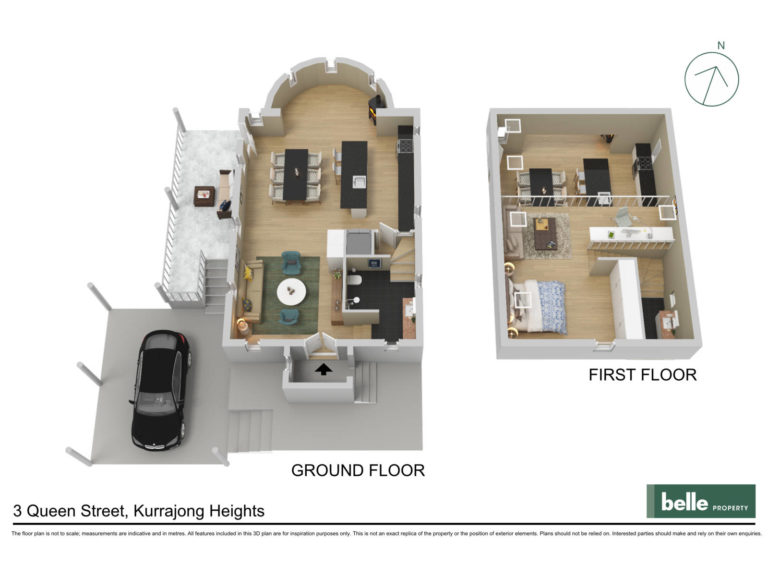 Images courtesy of Belle Property, who sold the church this week.
Jo's store, Black Pebble Design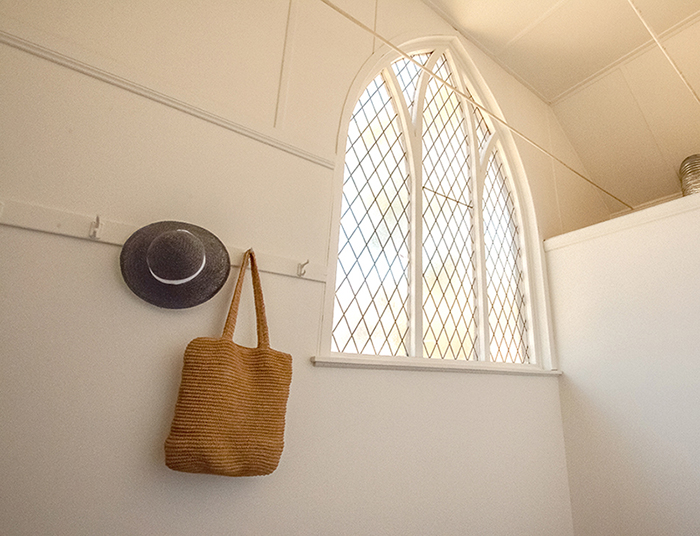 Would YOU live in a converted church?
Vivienne Winborne shares the highs and lows of living in a converted church home with her fiancé Andrew and kids Violet and Amos. But would YOU live in a converted church? Living…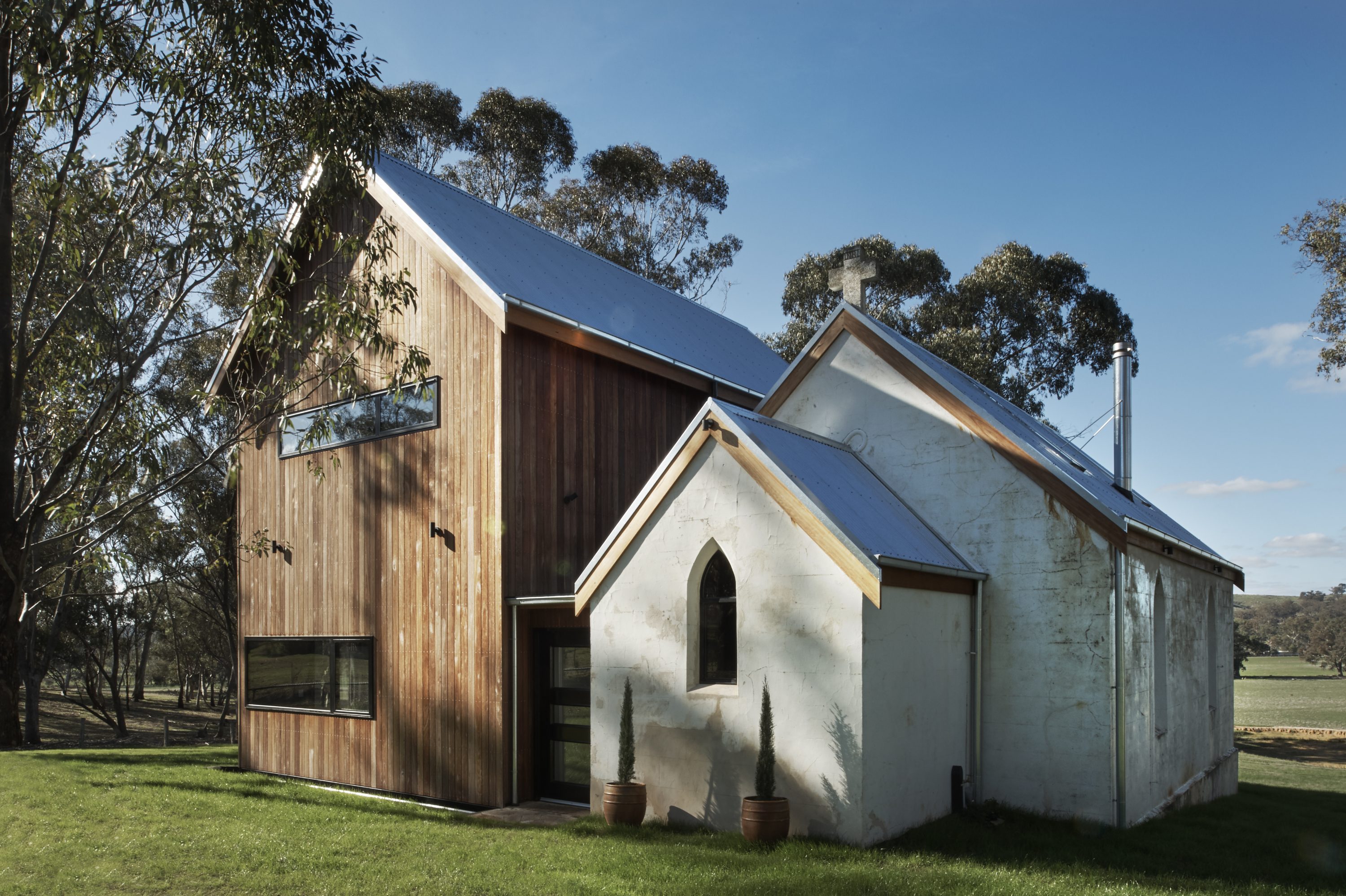 Former Catholic church converted into unique weekend escape
Architect and builder Josh White, of Spa Country Builders, had always been drawn to this 1884 historic church in Yandoit, Victoria, until eventually he purchased and completely transformed it. "It…