Photography by Susan Papazian
This week, we're excited to give you a glimpse of the home of interior-exterior design duo and husband and wife, Juliet Love and Charlie Albone. Juliet is a talented interior stylist and author, and husband Charlie is the award-winning landscaping guru from Selling Houses Australia. Of course, it's no surprise their Sydney home is beautiful, but Juliet admits it's rarely this tidy and perfect with two young boys running around!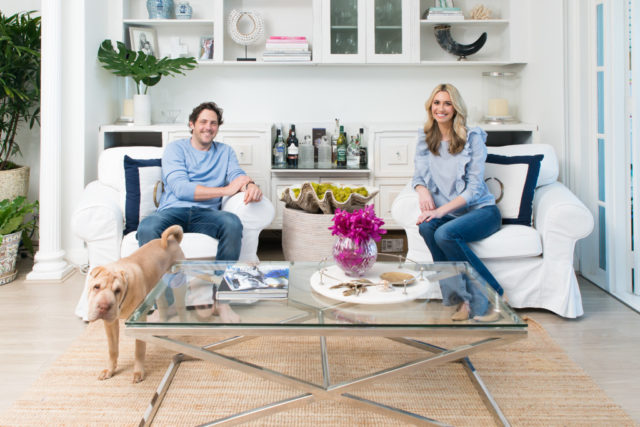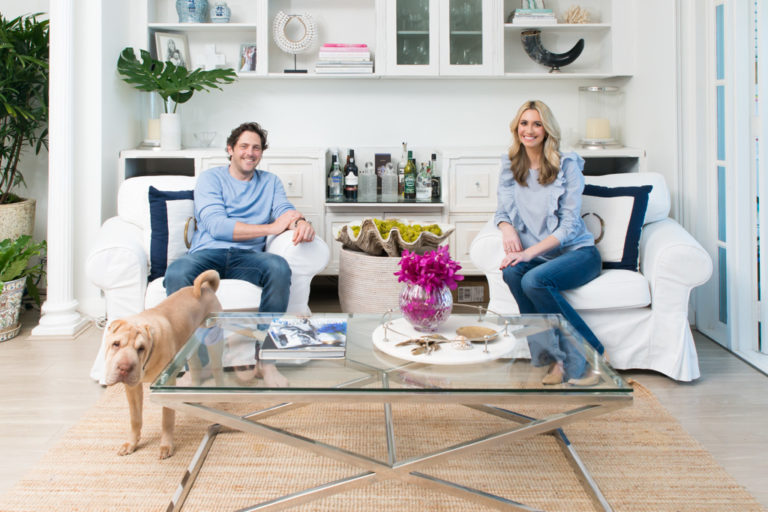 "A coffee table anchors a room and provides a focal point, so it's very important," says Juliet. "It's also somewhere to express your taste and personality." We couldn't agree more.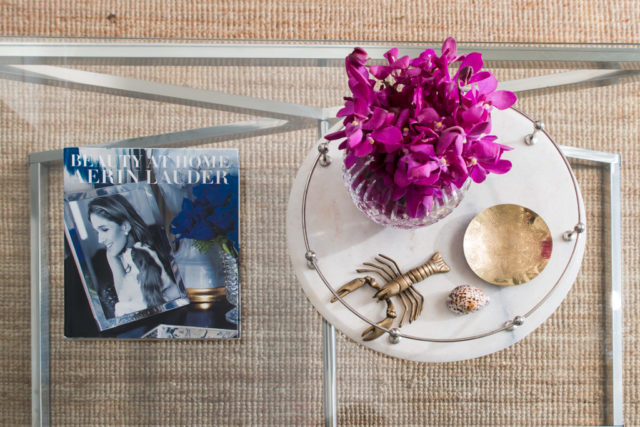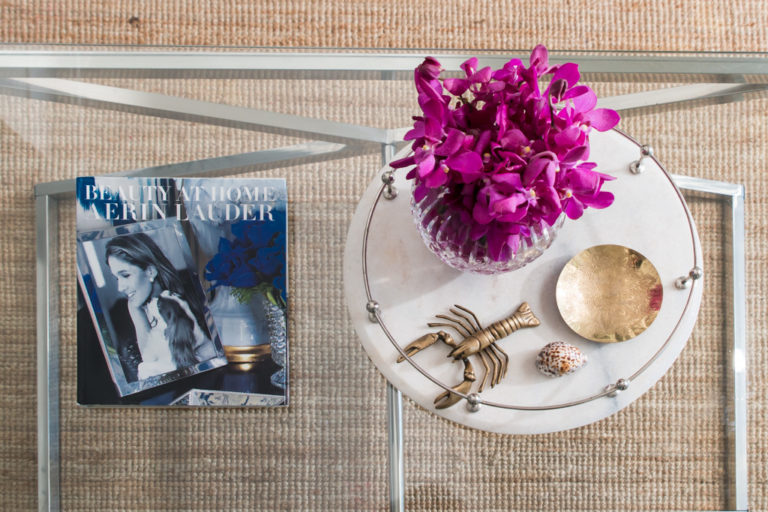 Theirs is from Nick Scali. "I chose it because we didn't want to spend a fortune on furniture with two young boys running wild in the house, and it looks like a much more expensive designer version! When I designed our home, I wanted it to be light, bright and airy, so the glass and chrome table helps with this, allowing light to bounce off it around the room."
On the table is a white marble and silver circular tray from Pottery Barn ("I love trays on coffee tables — they provide a dedicated space for decorative items"), a Waterford Crystal fishbowl vase (Juliet's absolute favourite flower vessel) which was a wedding gift from a special friend, a small tiger cowrie shell which Juliet's mum had in the house when she was a child, a brass lobster from Style My Home ("because I saw it and had to have it"), and a round gold dish from Freedom. The book is Beauty At Home by Aerin Lauder.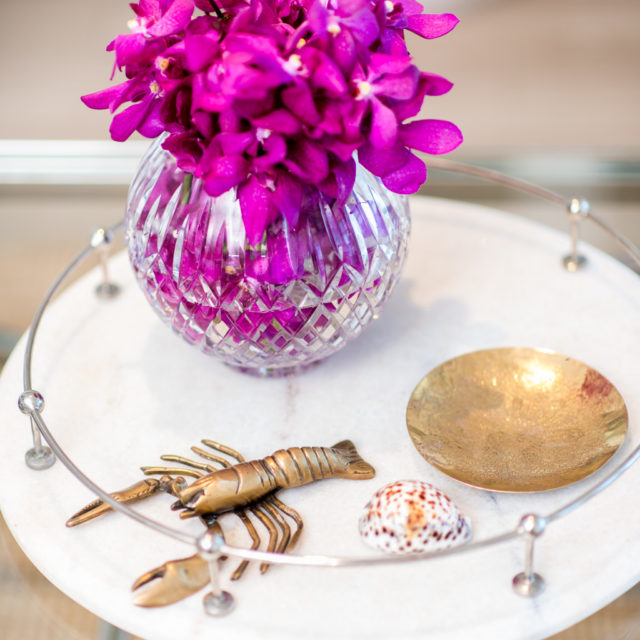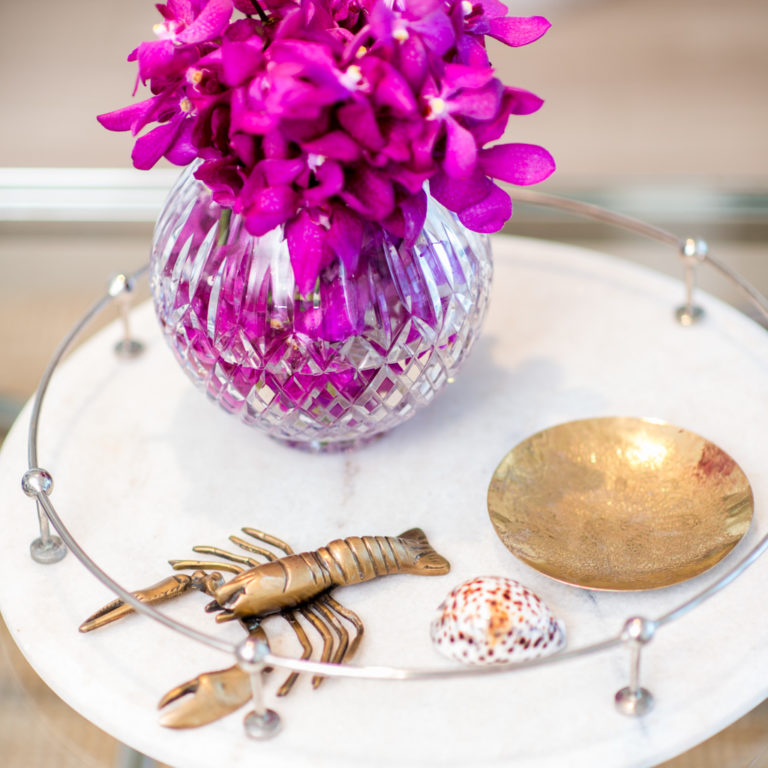 "I am always changing things around," says Juliet. "It drives Charlie crazy! I keep the background neutral and add in decorative accessories. The great thing about accessories is that they aren't as expensive as big ticket items like furniture, so you can get away with changing things up more frequently. I love flowers and cushions for a quick update."
The stylist's coffee table styling must-haves are elements from nature (crystal, driftwood or shells, for example), hard cover books (she's written her own, Love Style) on subjects that interest you, flowers, a tray, and a splash of metal. We think it's a great formula.
"Use the rules of balance for styling it," she advises. "Take a photo from above and you'll then be able to see whether any one element is overwhelming. Also consider vertical space and keep all decorative items fairly low; you don't want anything to be too high or it will look odd. Also, don't overload the surface. I've seen some coffee tables lately that are overflowing and therefore overwhelming to the eye. You'll lose all impact you may have otherwise had. Place items on your coffee table as a magazine editor would curate images for a magazine: only the very best will make the cut."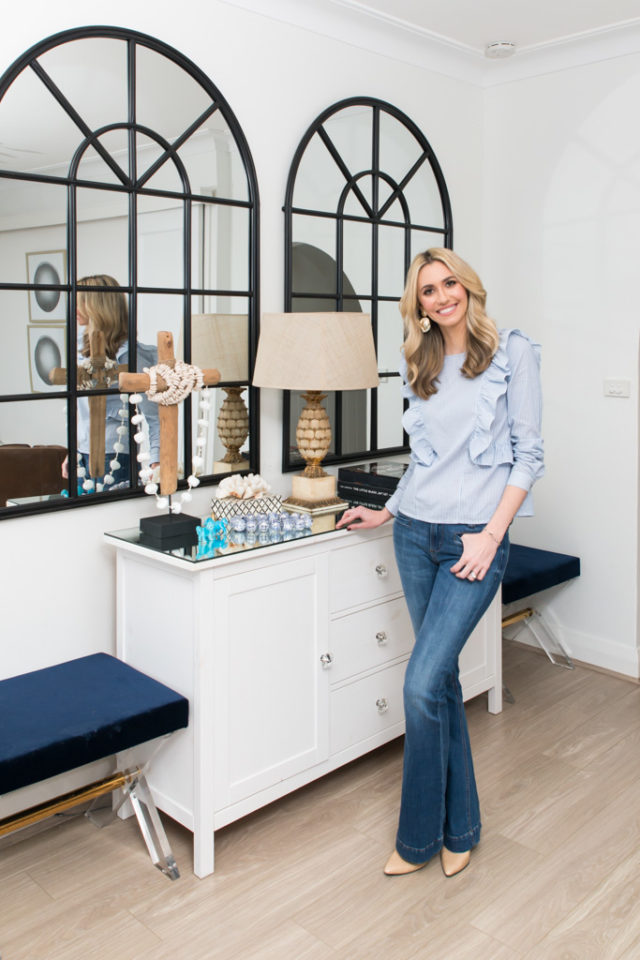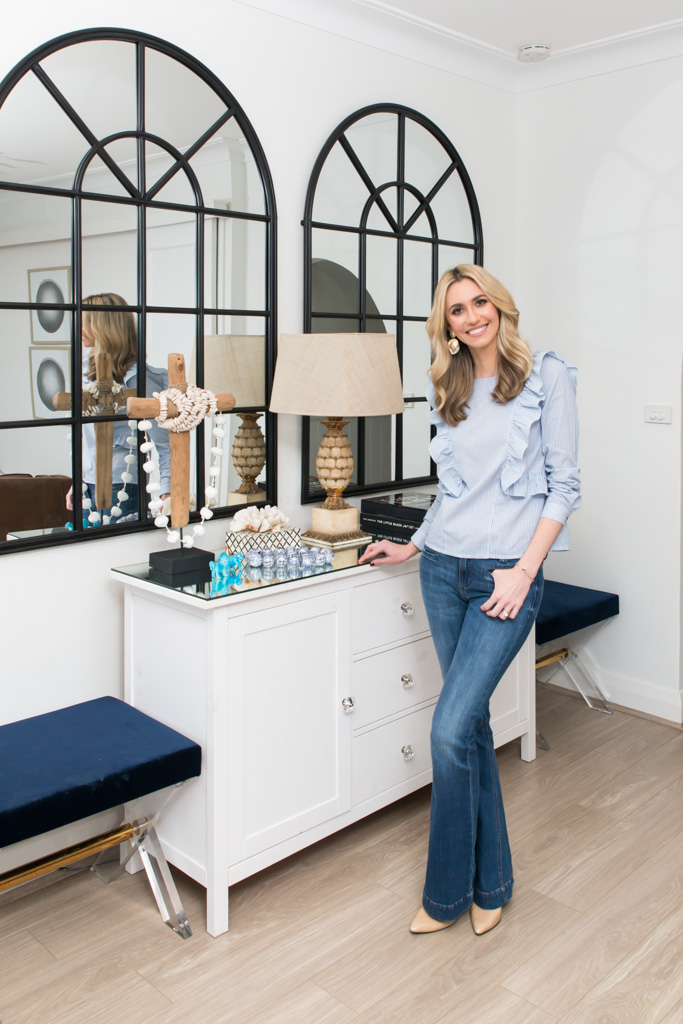 The couple recently moved back to Sydney after living on a farm in the country (which they've kept hold of) for a while. "It's by the beach, so we spend a lot of time down there. When we moved in, the walls were all sponged mustard yellow, with dark mahogany built-in furniture and beige carpet. I basically just whitewashed all the walls and built-ins, put in a new limewashed timber floor, sisal rugs, and some furniture with slipcovers in white and blue, mostly navy. With Charlie traveling for work so frequently, it became too isolating being on the farm. We're much happier back in Sydney closer to family and friends."
The move has also prompted the couple to open a studio together in Woollahra's Edgecliff Road, under the Inspired Exteriors banner. "It's a great little design precinct now, with Porter's Paints, No Chintz, Candana Bathrooms, Cameron Kimber Interiors, Sambag, Sonoma and Cotton Love Home right next door, so we're in good company! Our design team is in the front office, and we have a separate office at the back of the block for the landscape construction team, so it is perfect for our business. We have a gorgeous little display window out front which I am having great fun decorating."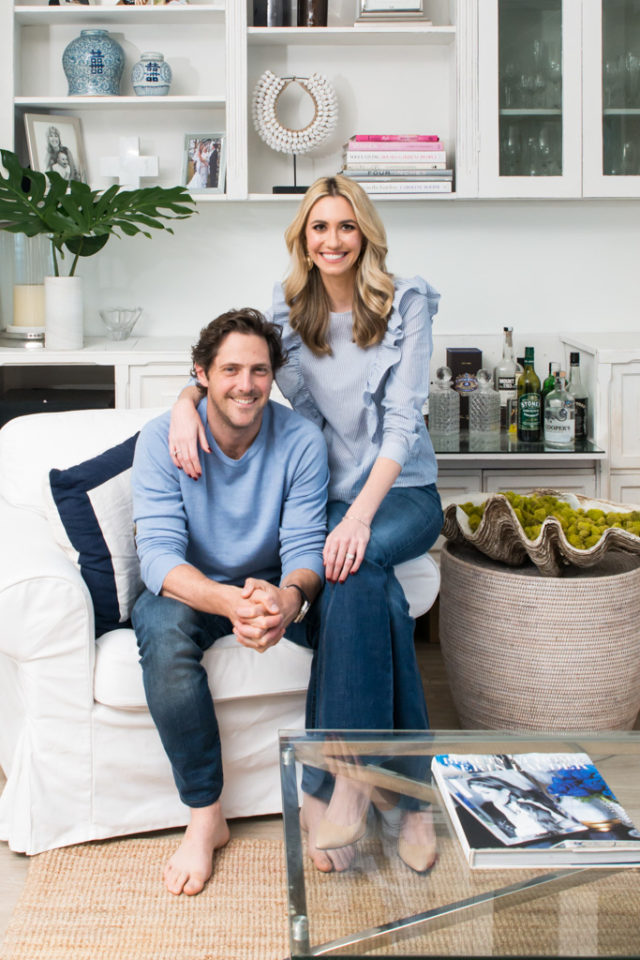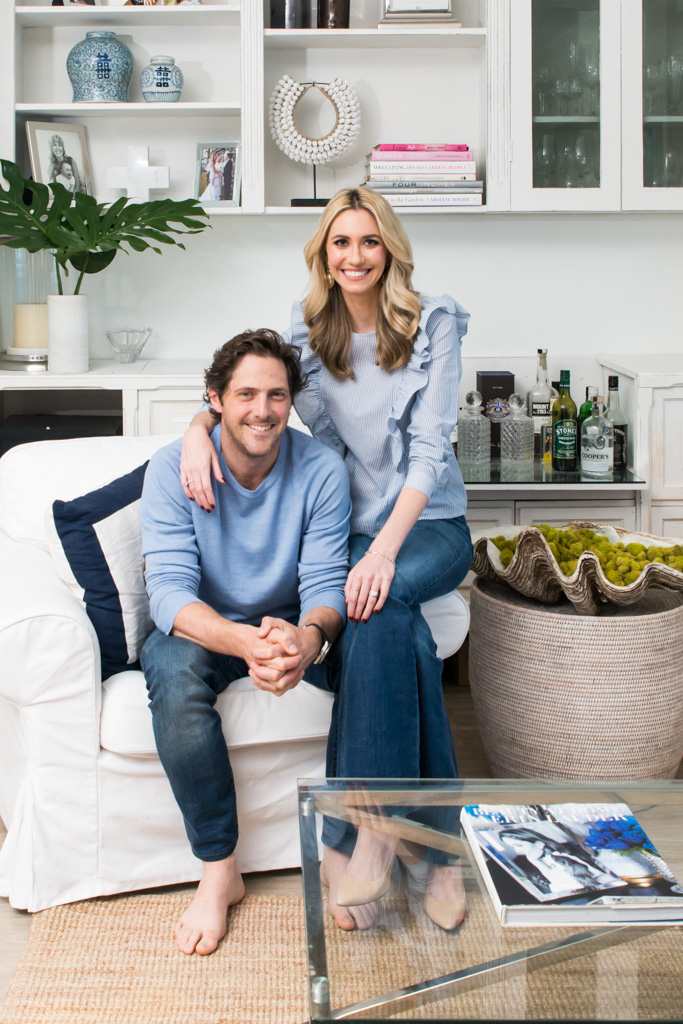 Parents and parents-to-be will be delighted to hear that a child-friendly house doesn't have to be a boring one! Juliet tries to strike a balance between a home that feels 'adult', and one that sons Leo and Hartford can enjoy and be carefree in. "I am conscious that I've seen a lot of homes where, once a baby arrives, all sense of personality is lost; every item taken off every surface. I don't think it has to be that way. My mum told me that she made it very clear when I was a child what was off limits, and I steered clear of those things. I have tried to teach the boys the same thing and so far it works well! They know there are (just a few) spots in the house that they can't make their play area. The coffee table is one of those spots. I also have a tan leather sofa that hides a multitude of sins, and armchairs and dining chairs with slip covers that I can throw in the washing machine, so the kids don't feel like there's nothing they can touch!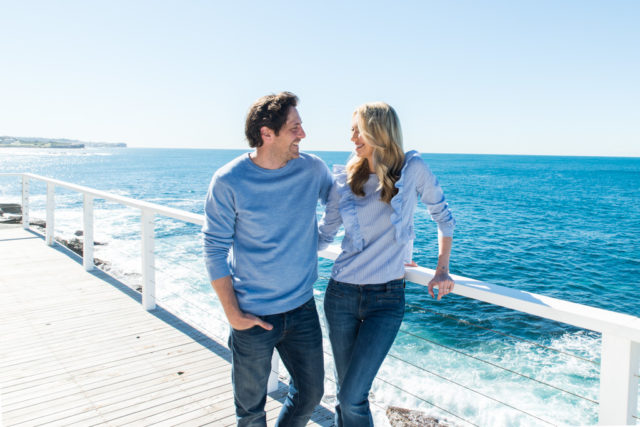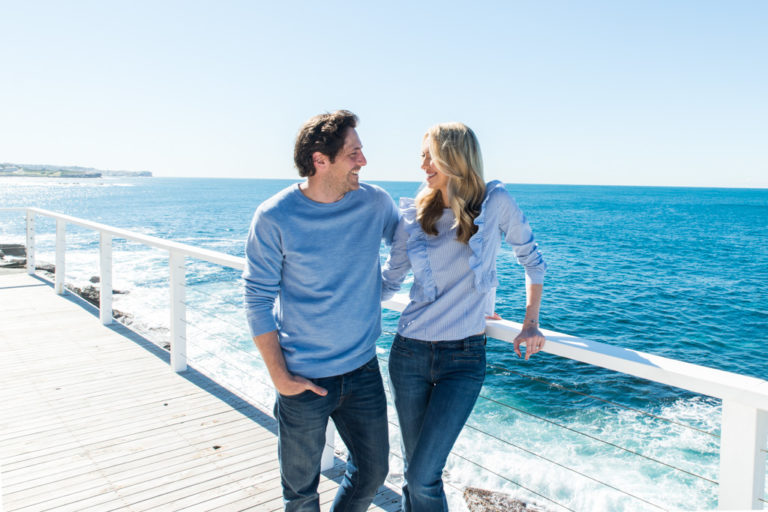 "It certainly doesn't always look neat and tidy, in fact mostly it's a chaotic mess! I often feel like I'm in Groundhog Day because the tidying is endless, but I also wouldn't have it any other way. I love the way the children add laughter and fun to the house."