This week's coffee table belongs to Jess Bandiera, one half of award-winning interior design duo Verandah House, with her mother, Judy Elliott. Based in Brisbane, the pair favour the classic American look.
"My coffee table is the hub of my home and is a place my partner and I love to enjoy. If you come to my place, you can be guaranteed I will always have a bunch of fresh flowers and a candle burning. I love styling my coffee table with my favourite décor books. I love to add a touch of antique; this antique blue and white bowl is a favourite of mine given to me by my mother, I love its rich colour and subtle texture. I bought the glass, cowie shell candle holders from a trip to Bali and can never go past a piece of coral to add an organic touch. My little marble bowl is perfect for a little bunch of blooms or when I change it up, I add my aged terracotta pots with maiden hair ferns. The greenery is perfect for lasting colour."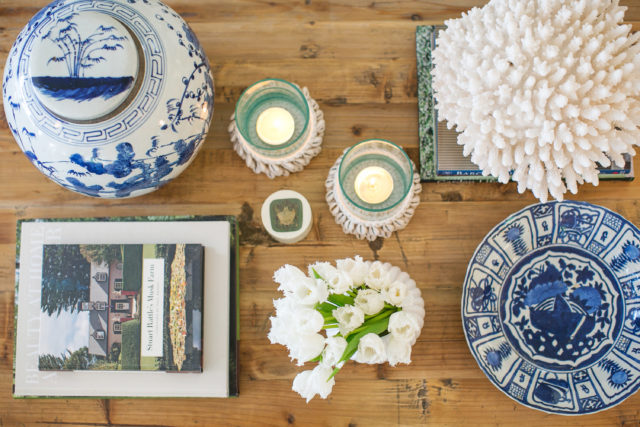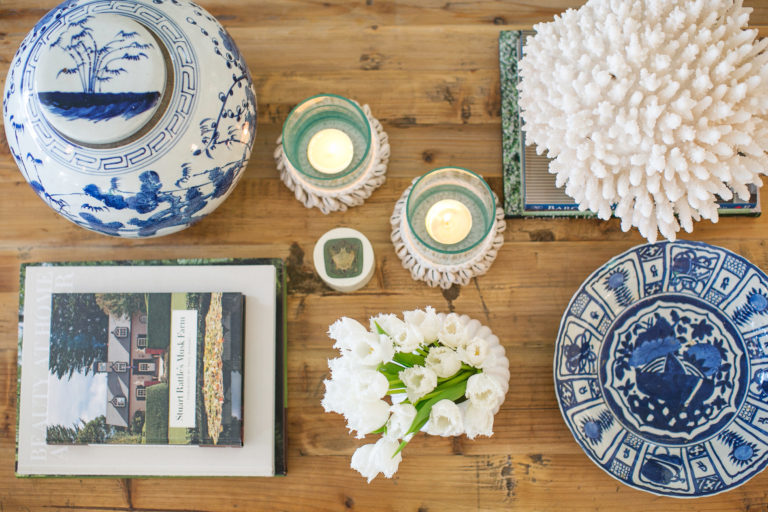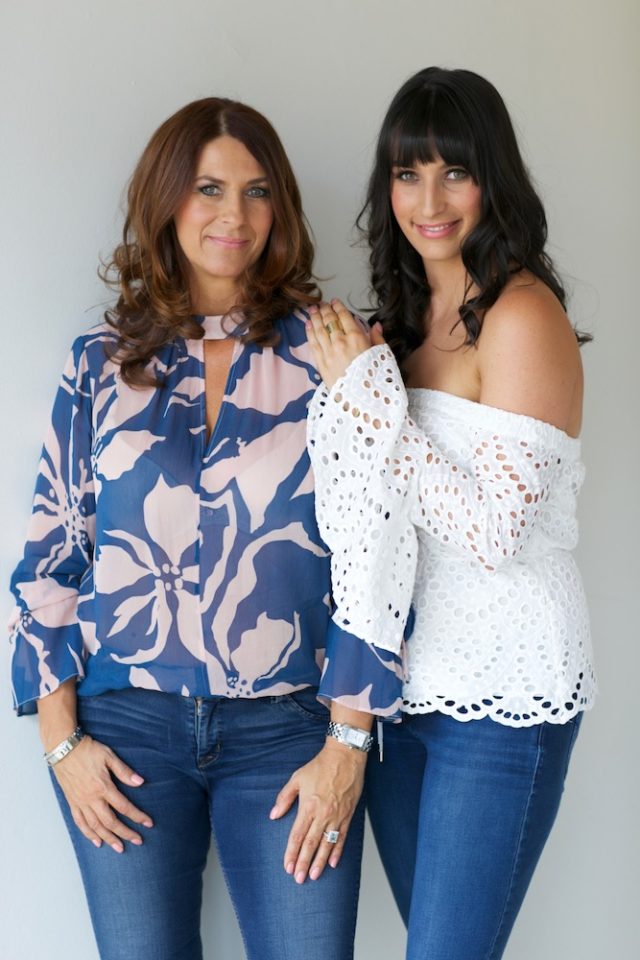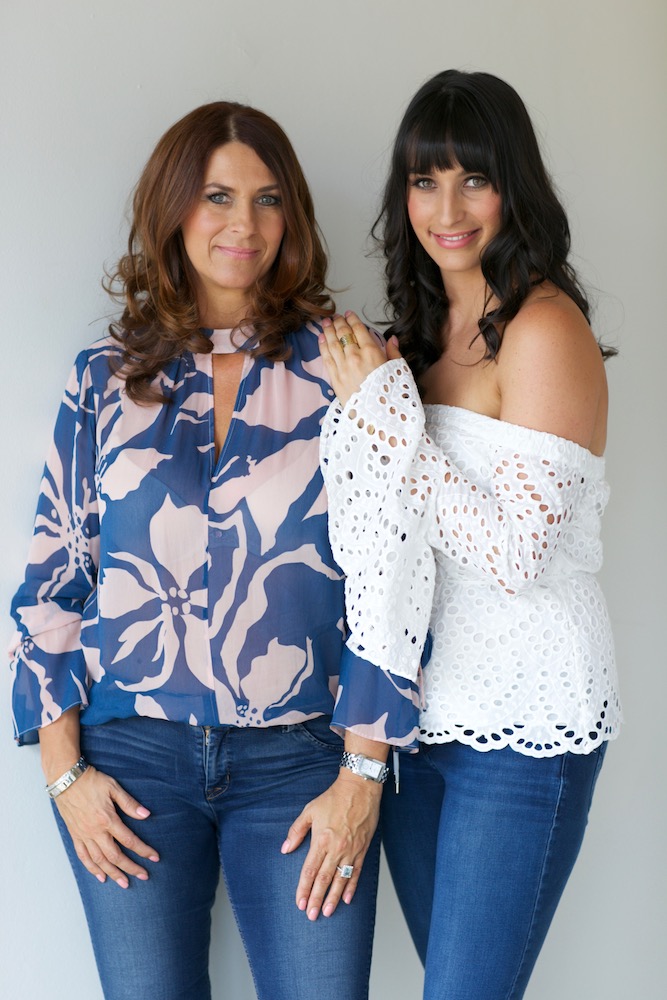 Jess chose a rustic timber coffee table from Portobello Home to add warmth and depth to her space. "I also knew this area would be used daily so I wanted something hardy and not too precious," she says. "I love the subtle scallop edge detail underneath which adds a feminine touch to a rustic piece."
A coffee table allows you to create a statement in a room, says Jess. "From the size, shape and finish, a coffee table can speak volumes about the style of your home and your personality. It's the perfect place to display treasured pieces from your travels and welcome guests into an inviting space with the addition of fresh flowers and candles. I also love that you can style your coffee table based on the time of year. For Christmas, I love adding acorns into the blue and white bowl for a festive touch."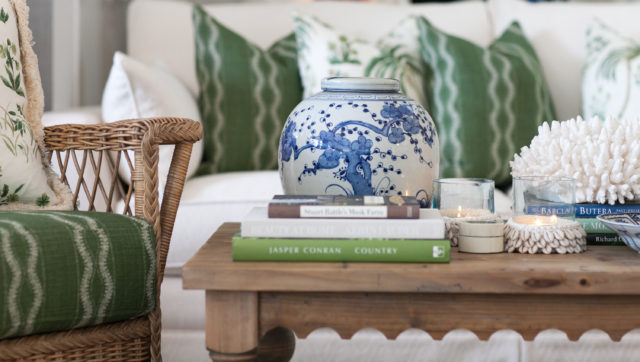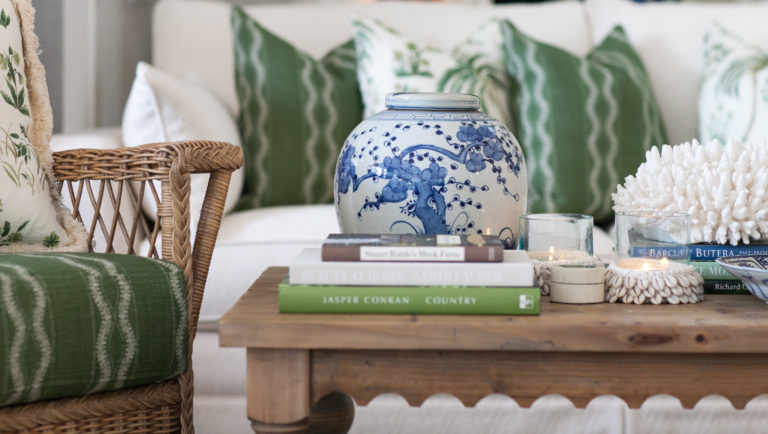 To avoid a display of favourite trinkets looking cluttered, Jess suggests grouping them in a tray. "That way they are grounded by the tray and have purpose rather than looking bitsy or out of place." Secondly, always add a touch of something organic, such as a piece of coral or if you have a more contemporary space, try adding a piece of agate or a geode crystal. "Boxes are a great way to fill a space and allow you to hide away remote controls."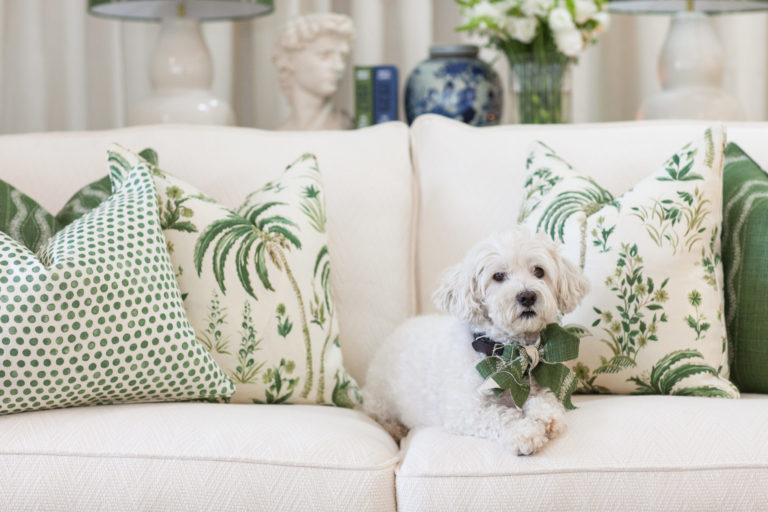 Jess loves changing the look and swapping things around on her coffee table. "It keeps it looking fresh and inviting. I'm often inspired to revamp it when I come home with a new coffee table book or find a new décor piece. I style my coffee table with the things I love, and that is ever-changing so it's fun to mix things up every once in a while."
What's on the table and where is it from?
Blue and white ginger jar from Portobello Home

Blue and white antique plate (a gift from her mother).

Décor books from Book Depository

Glass/cowie shell candle holders bought in Bali

Small marble vase and large piece of coral from Verandah House

Small green jar with lid from an antique store
Verandah House's next 6-week online Styling Your Home course starts on Monday 4 September and costs $199. Find out more.