If you're contemplating or even midway through a bathroom reno, you'll know the pain that can sometimes come with choosing your fittings and fixtures, in particular, the bath! While some renovators choose to do without, those with families, or who hope to market their property to those with kids, know the importance of the humble tub. So how do you choose the right one?
We've rounded up the hard and fast rules about how to choose the right bath for your bathroom to take the stress out of your decision making.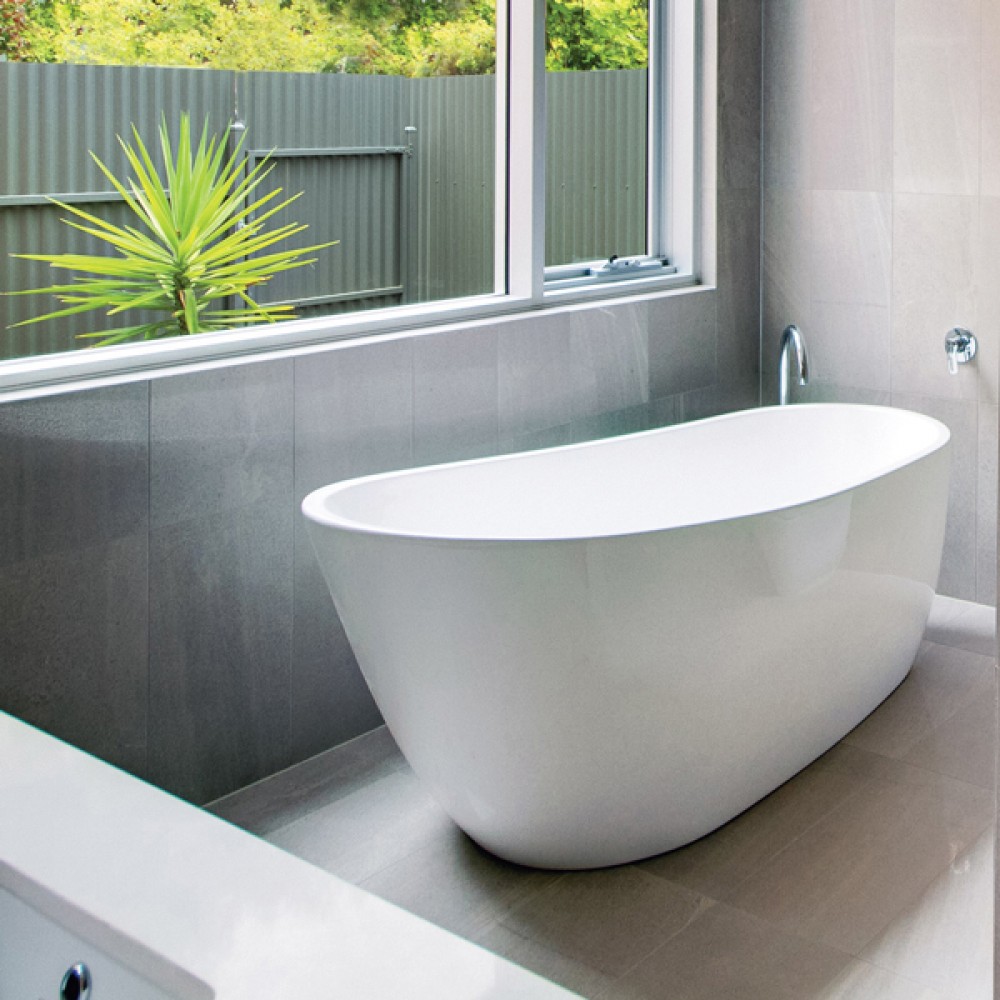 Image source: The Blue Space
How to choose the right bath for your bathroom reno
1. Consider your space – There is nothing worse than a bath that overwhelms a room, or conversely, gets lost in the bathroom. It's important to consider the space you're working with and map out where the bath is going to go to get a clear idea of the exact dimensions you have to work with. Consider whether the bath will be positioned in a corner of the room, common in narrow and smaller bathroom spaces, or set out from the wall. This also helps you to choose the right style.
2. Where is your plumbing? You might have grand ideas for a beautiful freestanding bath in the centre of the room but if your plumbing doesn't support that, you might be in for a very expensive ride. Make sure you're aware of the current plumbing set up and bath waste position so that the bath you choose fits with those requirements.
3. What are you using it for? A couple who enjoys long, leisurely soaks are going to have very different needs to a family of 4 with two toddlers who need to be bathed every evening. Working out who will be using the bath is one of the most important considerations as it helps you decide which style of bath is not only going to fit but work best (and be the safest if kids are a consideration) for the family.
4. Choose your style – Baths come in 3 main styles:
The tiled flange which had the bath edge tiled into the wall and is often used in conjunction with a shower, making it a popular choice for smaller bathrooms.
The freestanding tub which, as the name suggests, stands alone, away from the wall and makes quite the bathroom statement.
Island bath which sits away from the wall, usually on a tiled 'island' and offers extra room around the edge, ideal for toys/candles or a sitting ledge.
5. Which material? Baths these days come in a variety of different materials, ranging from the cheap to the ultra luxurious (with a price tag to match). The most popular materials include lucite grade acrylic, steel and engineered composites or 'solid surfaces'. Your choice of material will really come down to your budget and the style of bath you choose.