It's not often that we feature an overseas home but this one is so full of colour and whimsy that we just had to share it. Located in Canada, the beautifully renovated home was designed by Reena Sotropa In House Design Group with a particular emphasis on green and coral pink. "Our clients have an incredibly colourful and playful personal style that they wanted to reflect in the redesign of their home," says the project's interior designer, Alanna Dunn.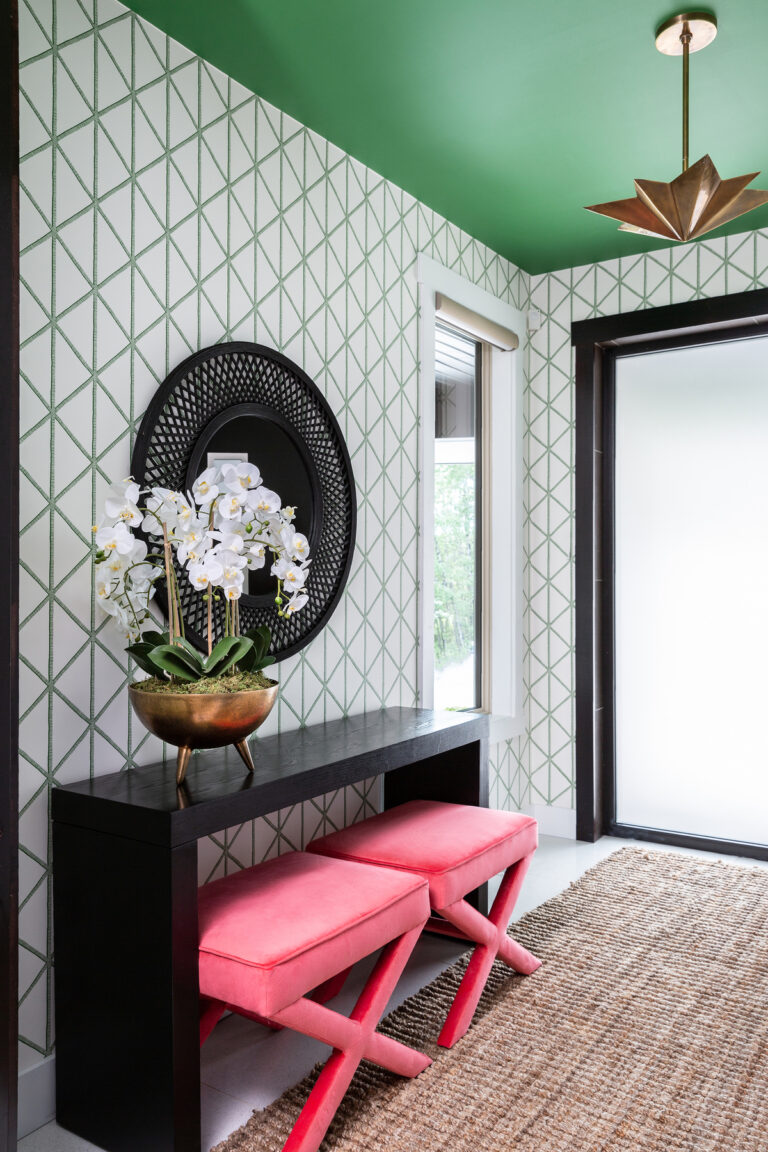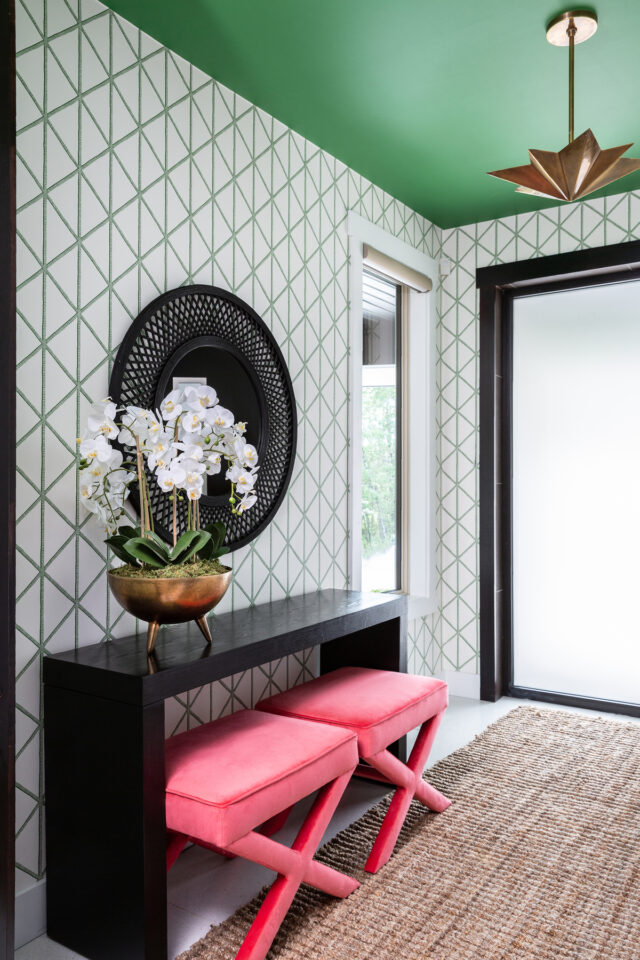 The owners' colour obsession is established upon first entering the home – a saturated green ceiling is paired with bamboo trellis print wallpaper and a pair of bright coral upholstered ottomans. "Coral and green are our clients' two favourite colours!" says Alanna.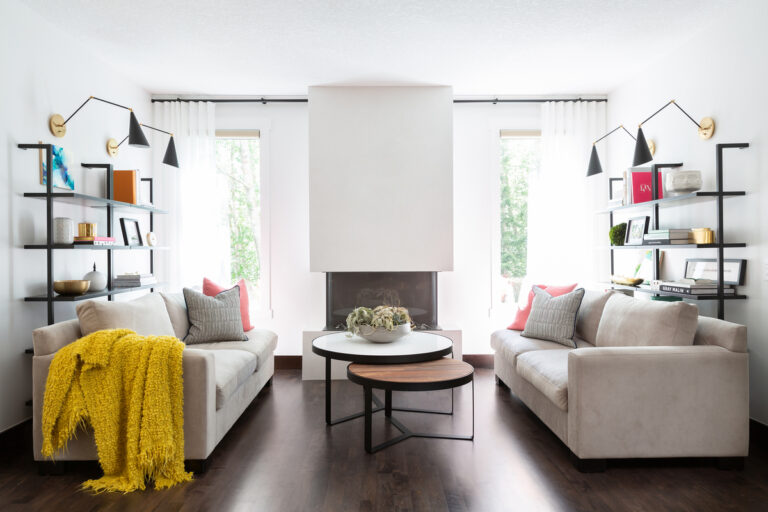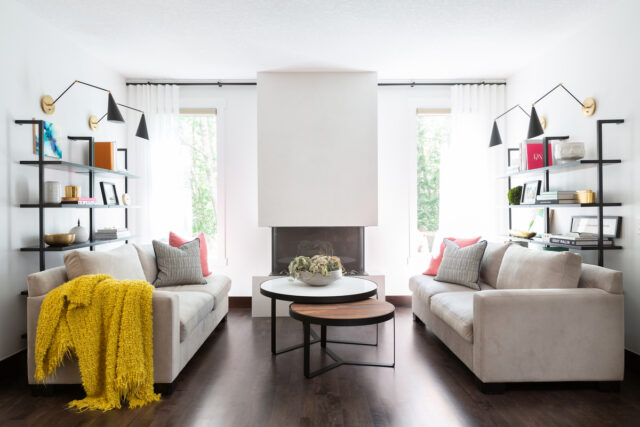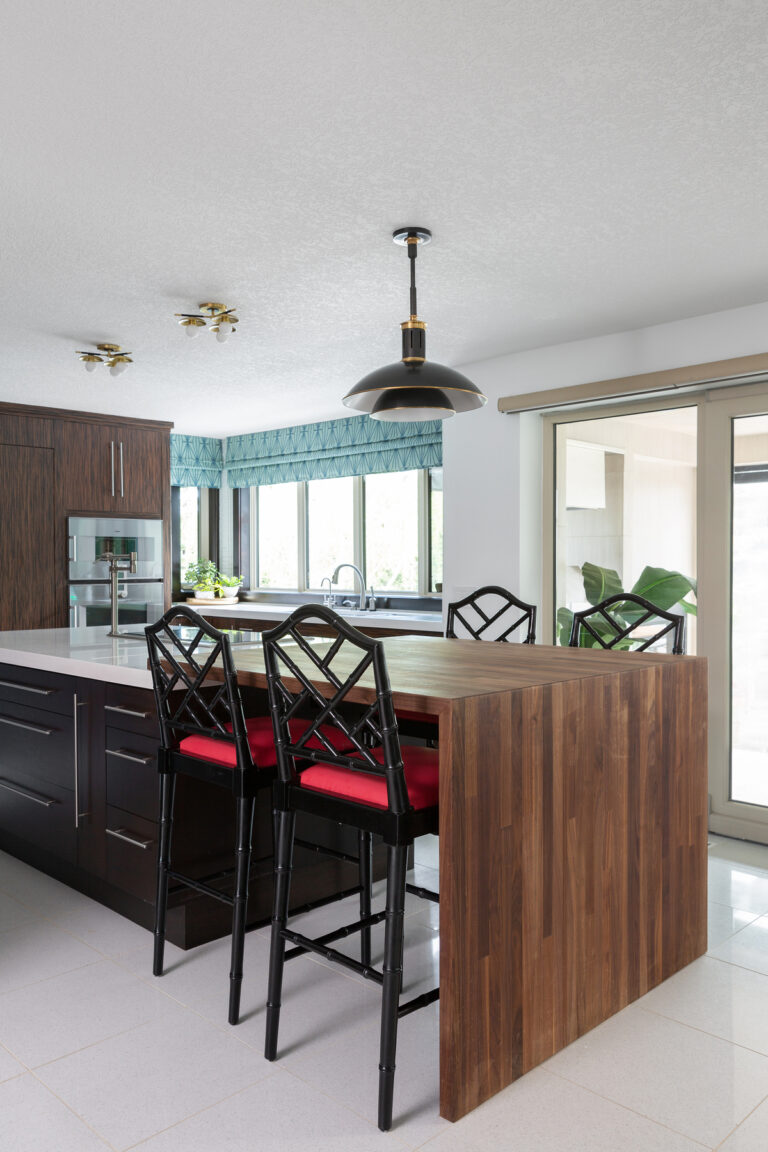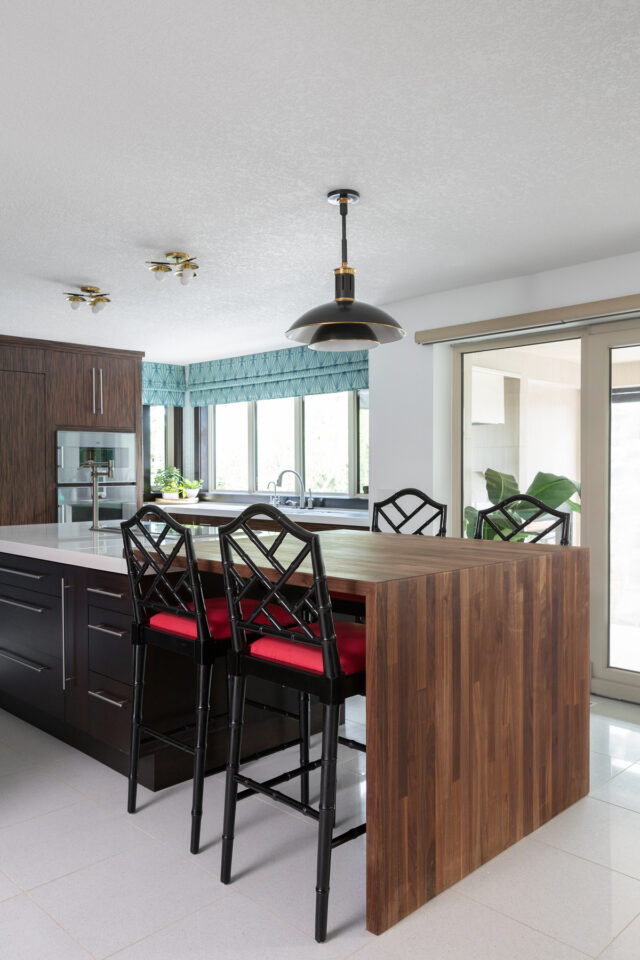 Keen entertainers, the redesigned home features maximised spaces that make it the perfect party house. Clever space planning resulted in the main floor TV room being opened up onto the adjacent living room to serve as a formal dining room and this space boasts some of the boldest patterns in the home. An oversized floral fabric features in the form of two sets of curtains and a nearby upcycled green cabinet draws the eye.
"The green bamboo hutch in the dining room was a serious secondhand score! Our client found the Thomasville cabinet for a steal of $200! We had it refinished and lacquered in Kelly Green to bring a big dose of personality into the dining space," says Alanna.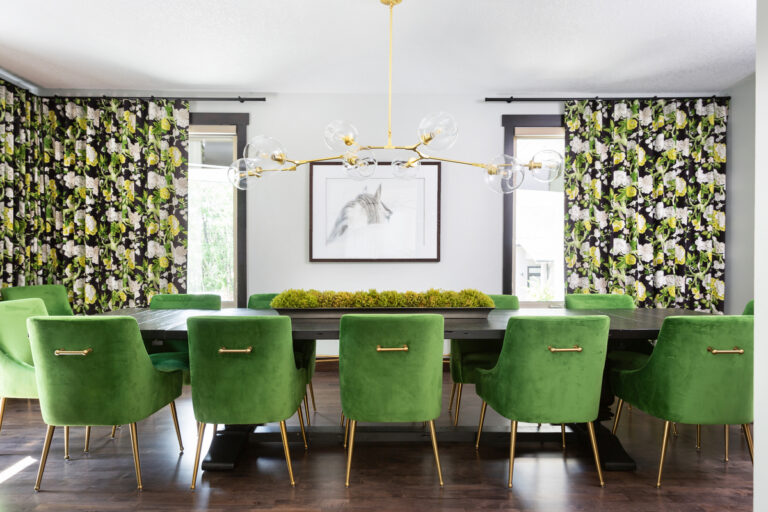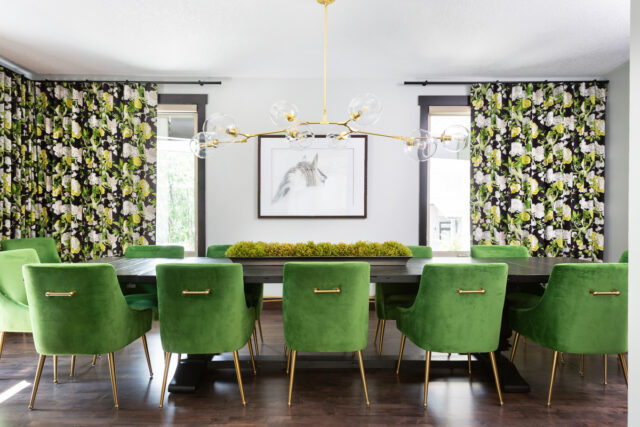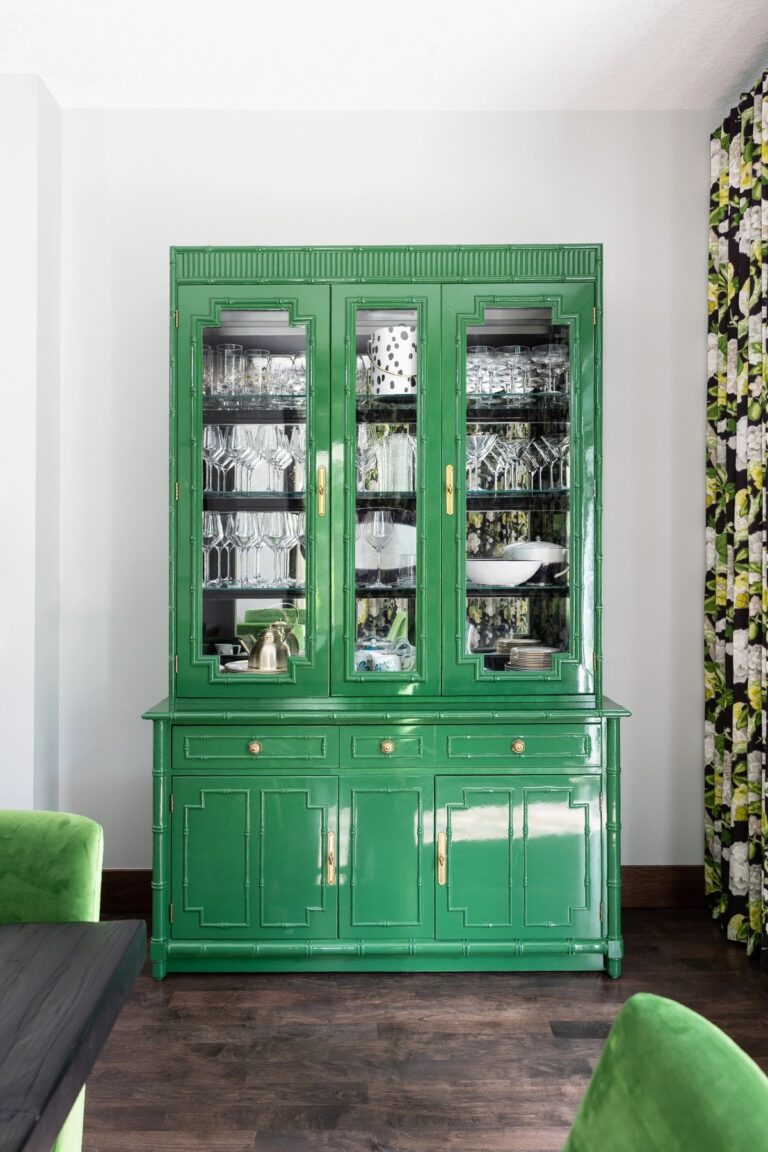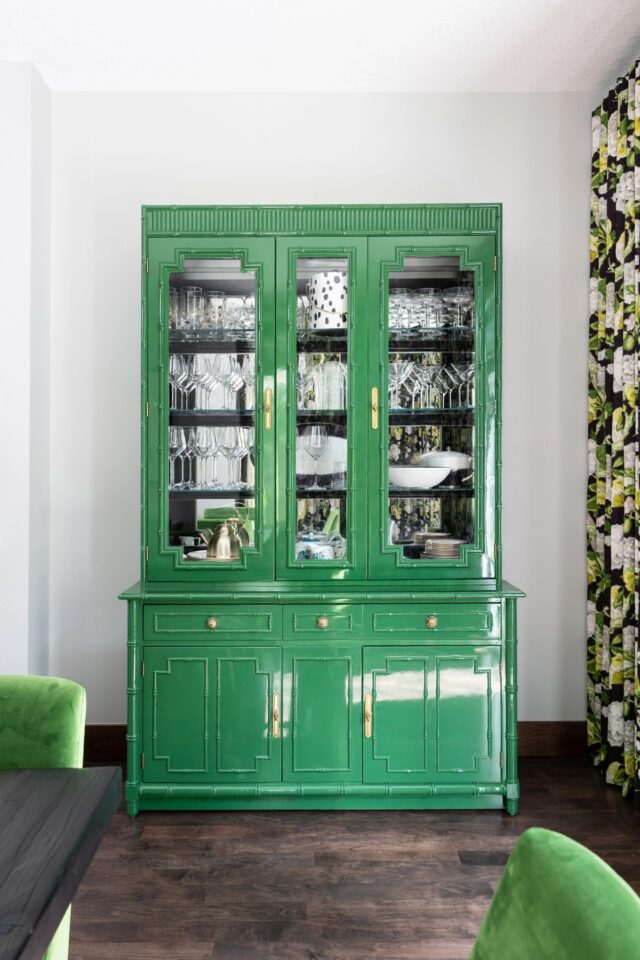 Upstairs, an existing bedroom was opened up onto the adjacent hallway to create a playroom for the family's two young children. A super cute playhouse was built into the room (within the eaves of the roof) before being clad with scalloped cedar shingles.
"We chose to wrap the playroom with half-height wainscoting to protect the walls from the littlies who would occupy this space. Kate Spade wallpaper brings a big dose of colour and charm to the otherwise white monochromatic interior."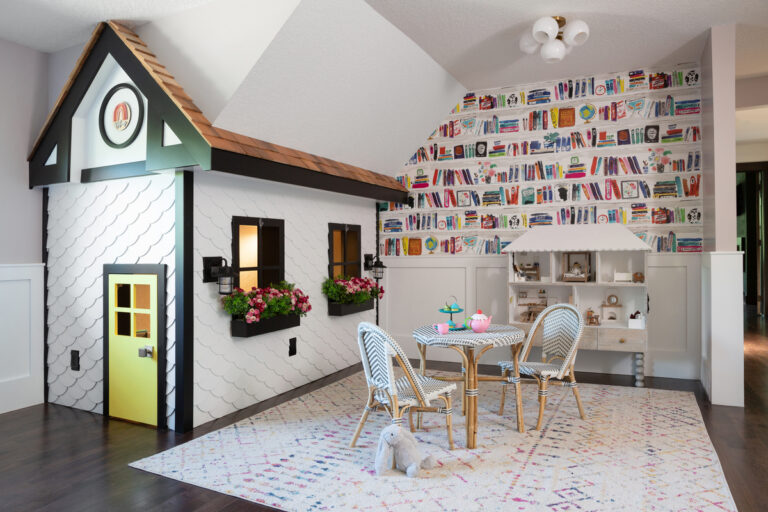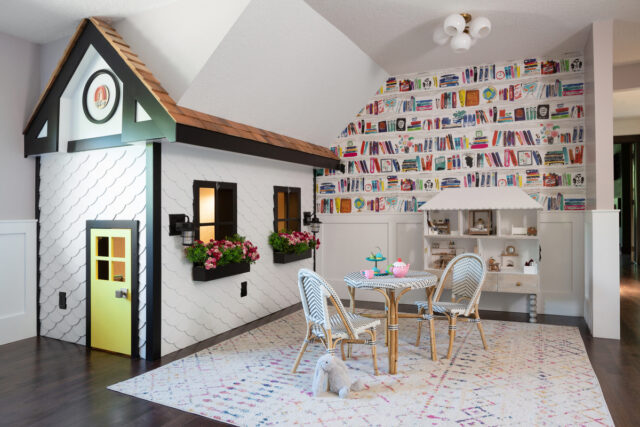 The room features lovely personal touches including a large gallery wall installation that includes art, prints and treasures.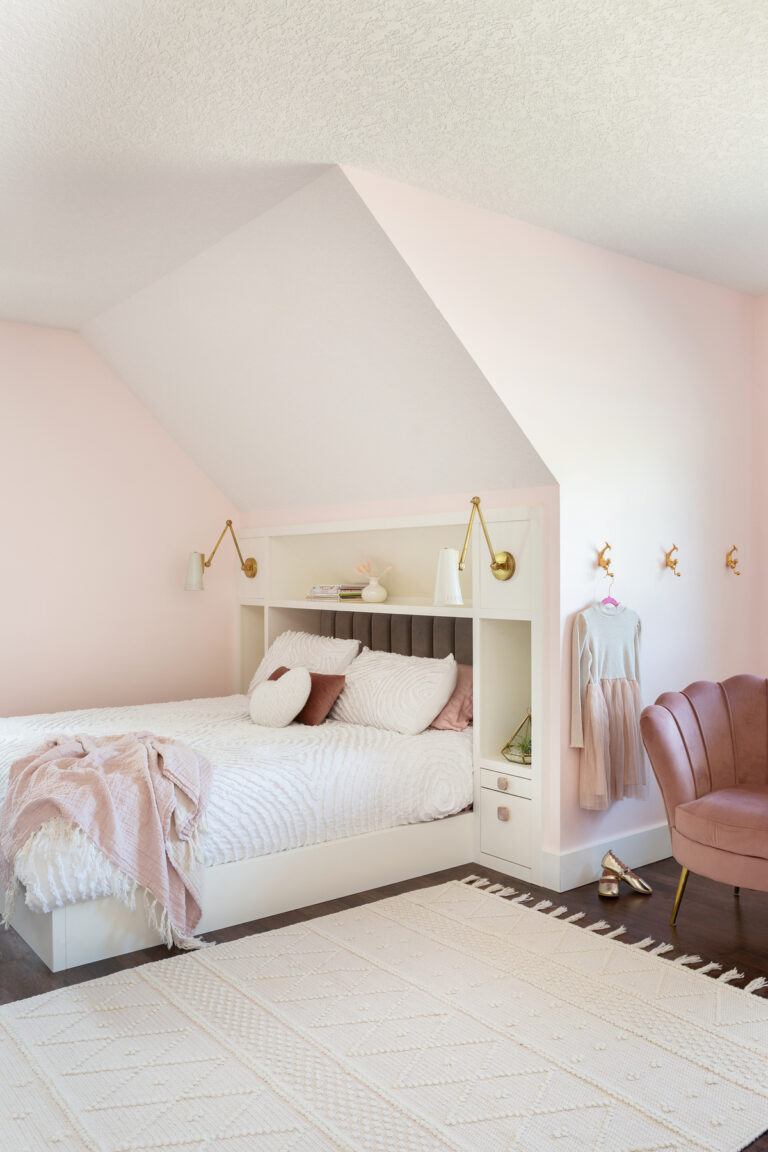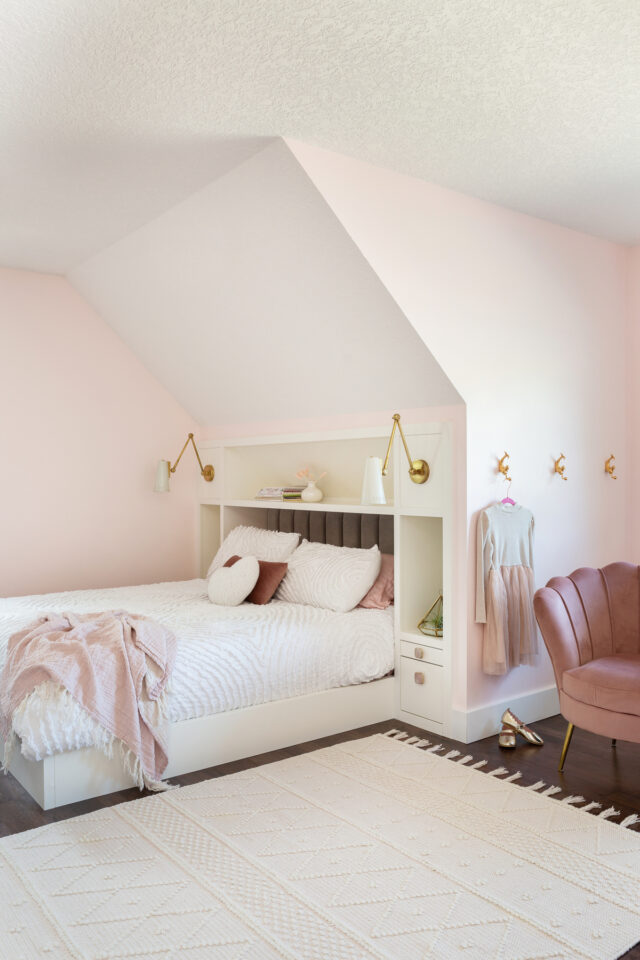 The master bedroom features a statement brass framed canopy bed that sits centrally against geometric textural wallpaper in grey and olive tones. Running off the master, an enviable walk-in closet/dressing room features purse-patterned Manuel Canovas wallpaper and a statement green island joinery unit for accessories.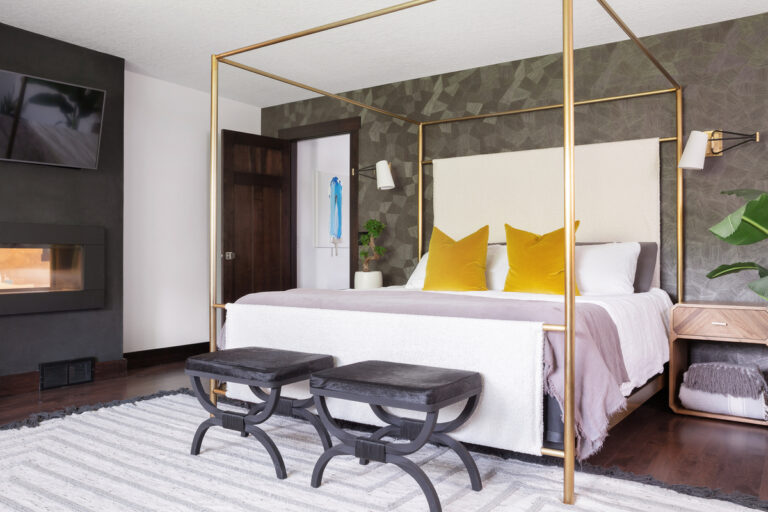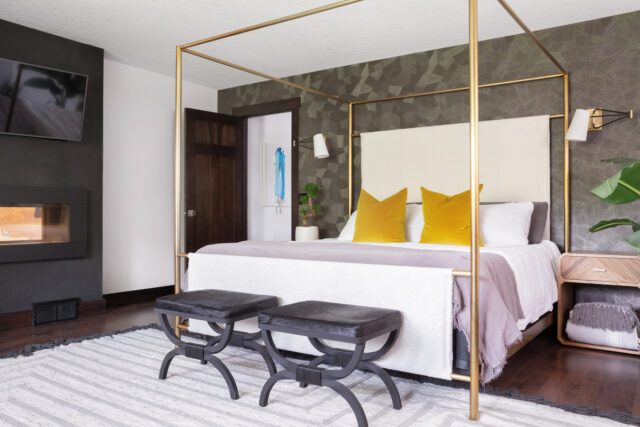 "Like the rest of their home, our clients wanted their bedroom to better reflect their fun personalities and tastes," says Alanna.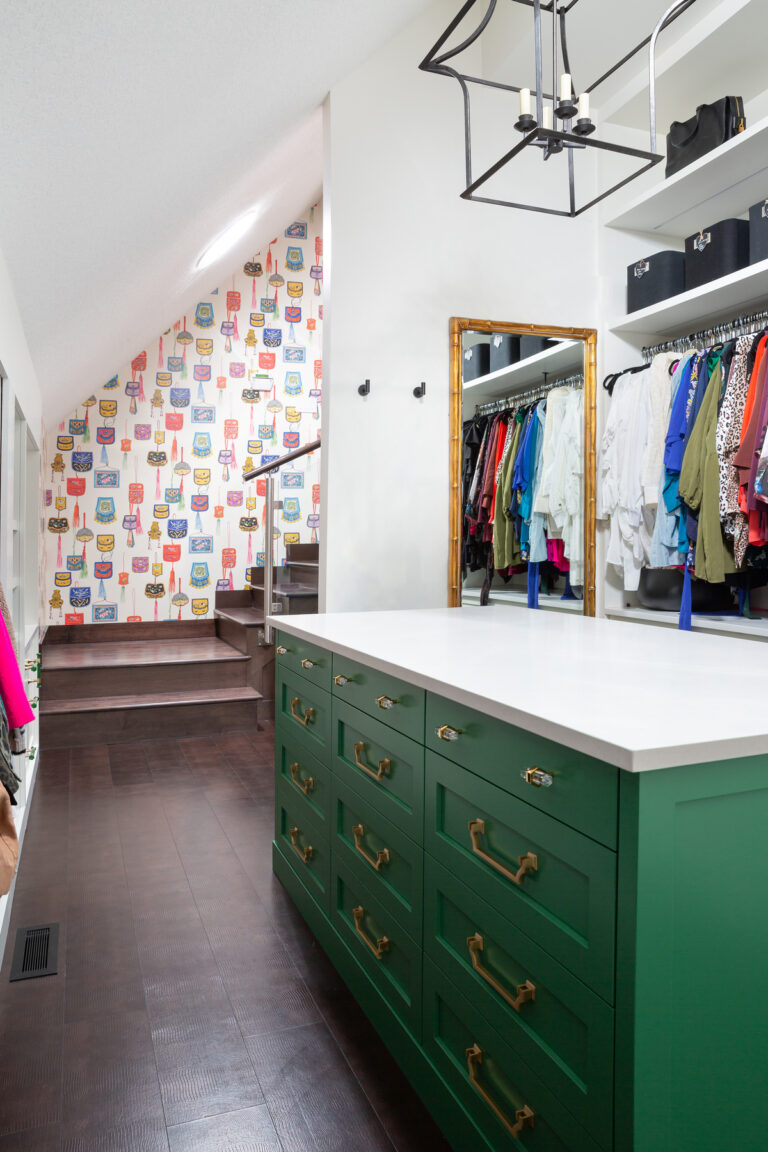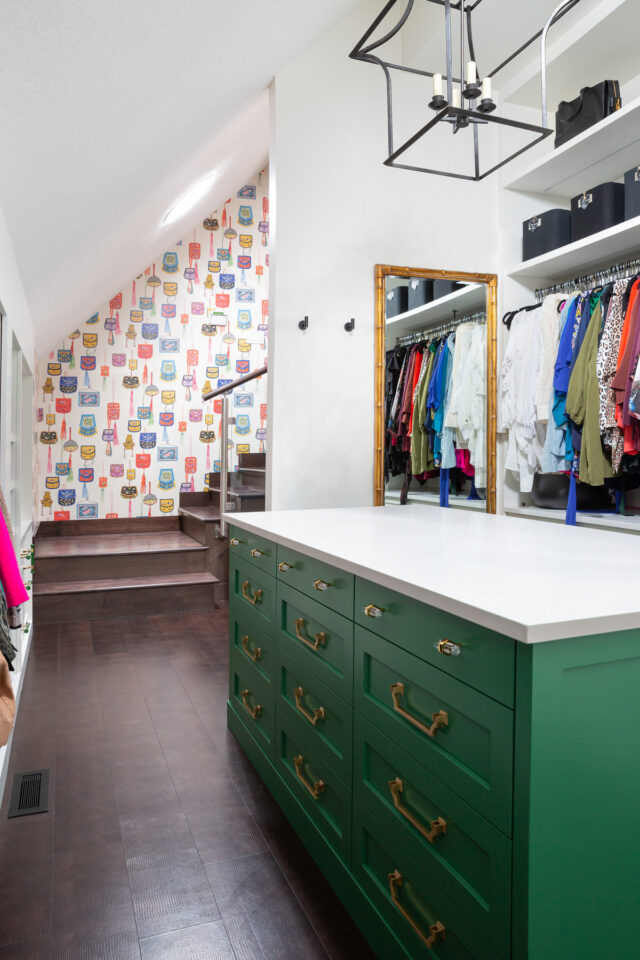 And rather than hanging traditional artwork, a gorgeous series of kimonos and fans take centre stage. "The kimonos hanging down the white hallway are all heirloom family treasures belonging to our client, her mum and her grandmother!"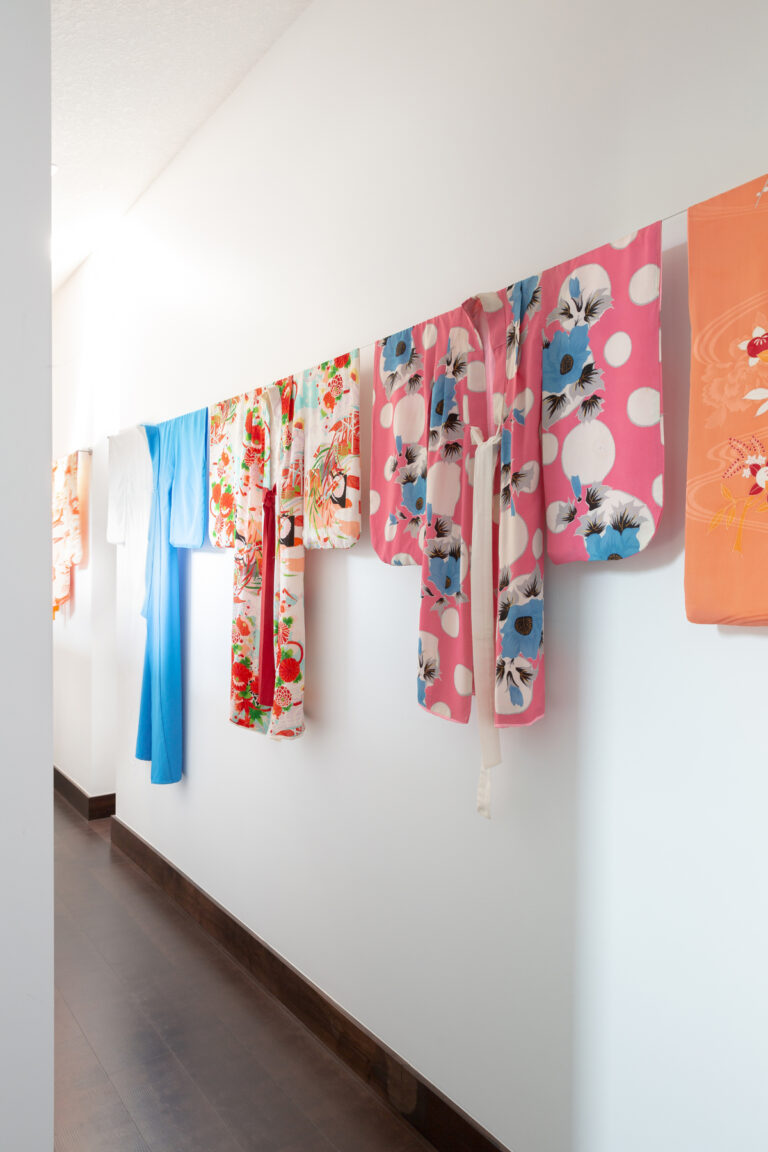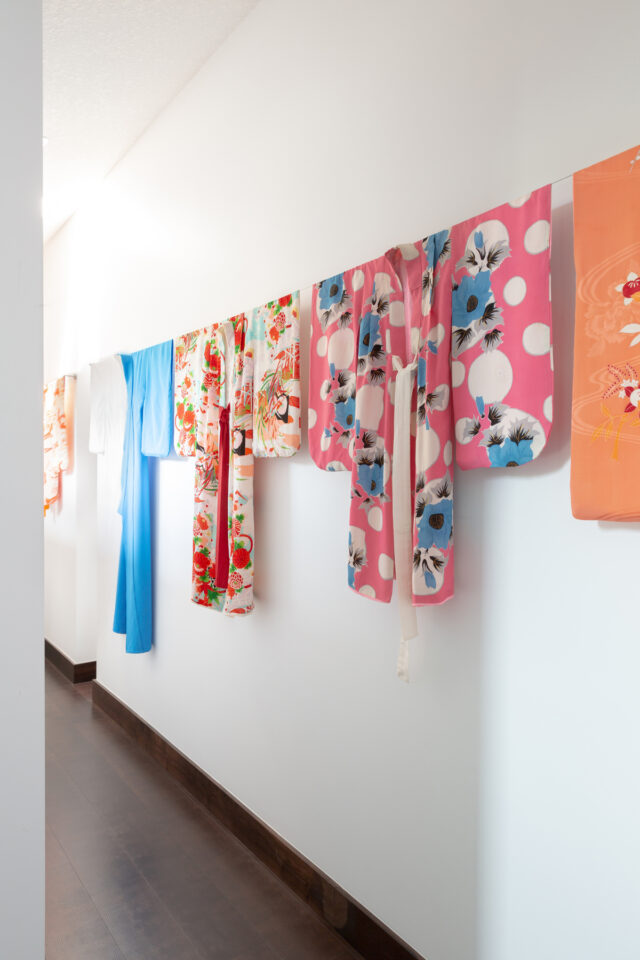 Photography: Phil Crozier
For more on Reena Sotropa In House Design Group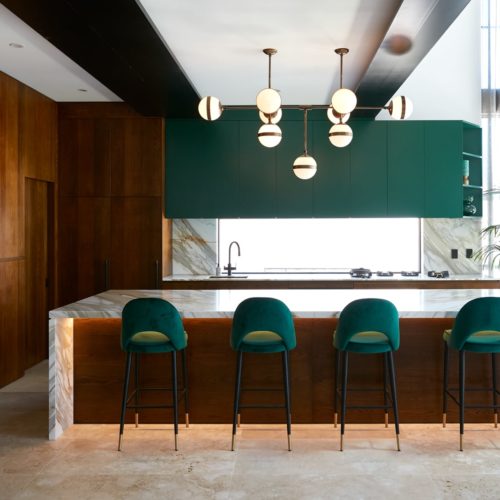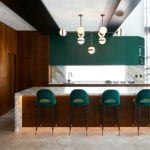 Green makes statement in Art Deco meets Miami kitchen
"The perfect kitchen functions seamlessly, with all the necessities, but doesn't necessarily feel like a kitchen. Choose materials that excite…