We gathered some expert advice to find out what the 2022 Australian bathroom looks like; what's on trend, what's out and what we can expect to see more of. The over arching themes were warmth, texture, curves, colour and spa vibes!
Award-winning Sydney interior designer Lynne Bradley says: "The past two years have been challenging to say the least but it is an exciting time in design. We have faced up to how well our homes meet our demands and with the bathroom being the hardest working room in our homes it is seeing the greatest transformation post lockdown. Now more than ever we need a well resolved pamper zone with spa-like features to unwind and retreat to for a sense of calm and wellness."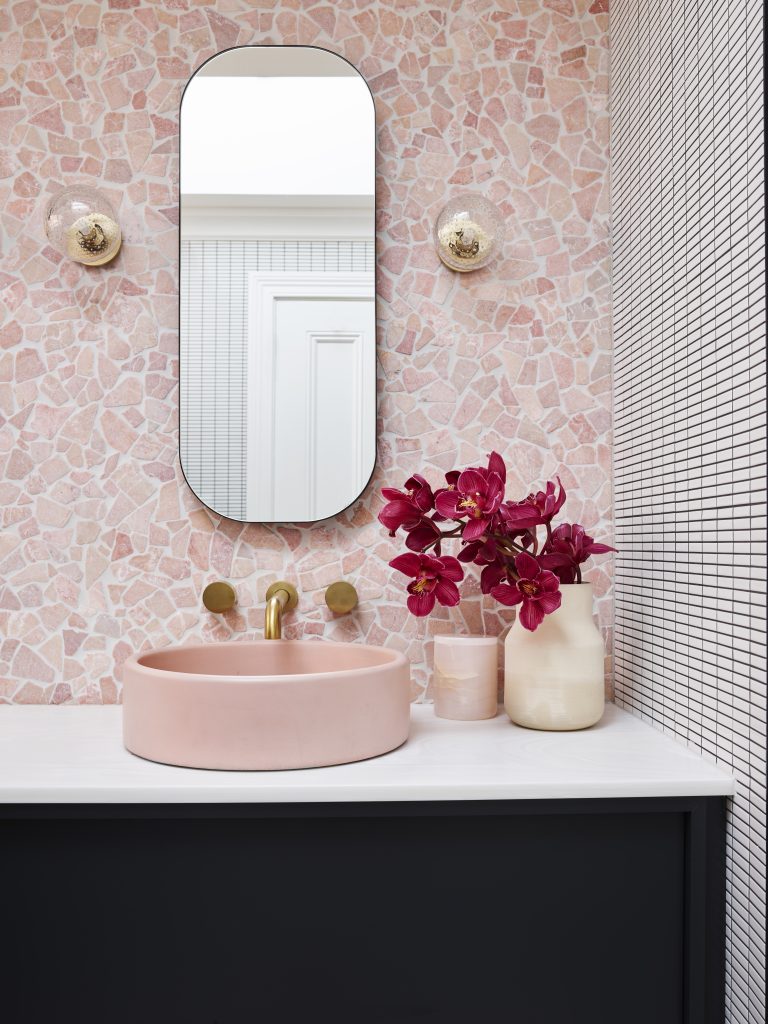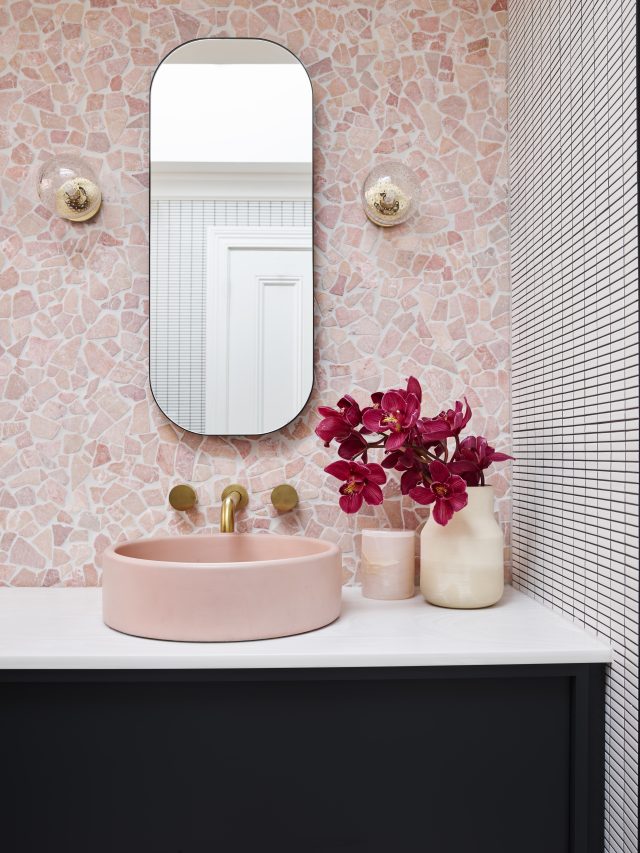 She said one of the most popular things right now is the creation of a wet room zone where the bath meets the shower. She is seeing more walk-in showers and less doors and glass screens defining them. "Rather, we are building nib walls that are finished in tiles or Venetian plaster to define this area."
Life's luxuries are in demand with the use of underfloor heating (electric and hydronic) and furnishing bathrooms to be more like living rooms. "Statement lights as artworks, curved edges, coloured grout, natural stone and mixed textures are very popular and we're using more waterproof wallpaper," Lynne adds. "I'm often asked to incorporate high tech toilets, bench seats and long ledges in showers, and our clients are getting more confident to incorporate colour and texture.
"Terrazzo is still in demand and we are seeing bolder colours and bigger chip sizes. There's a lot of choice in metal colours and textures and there is less focus on any one colour. There's a comeback to chrome but brushed nickel is fairly popular. The top colours for bathrooms include earthy tones, yellow and pinks through to terracotta, blues and greens."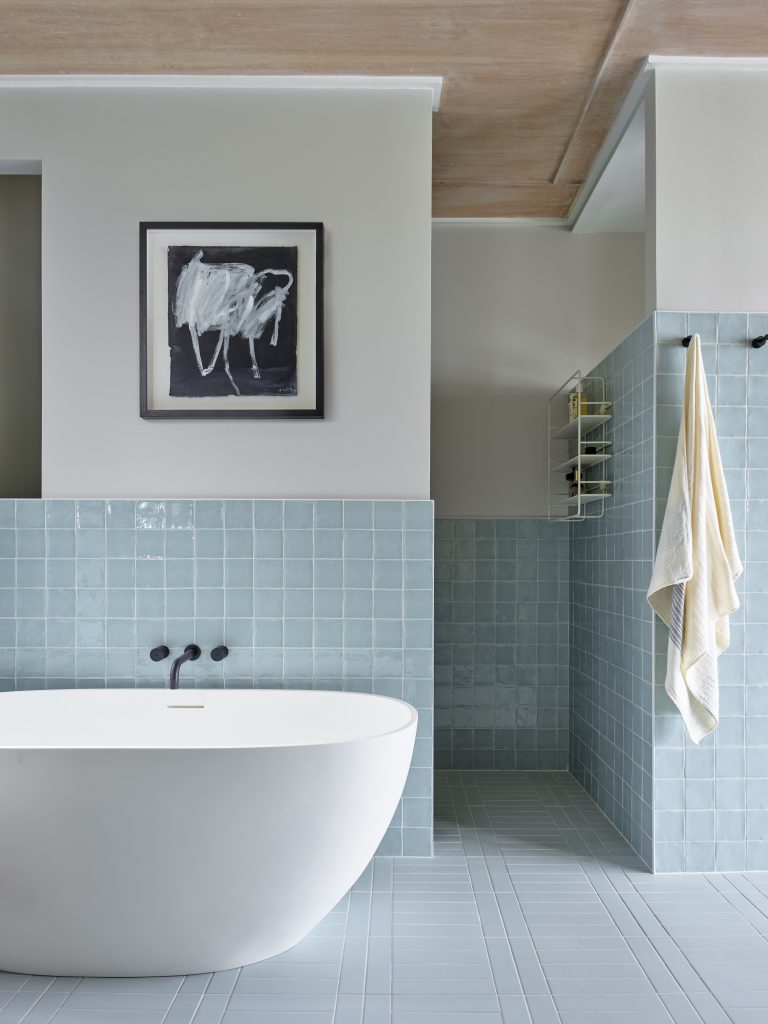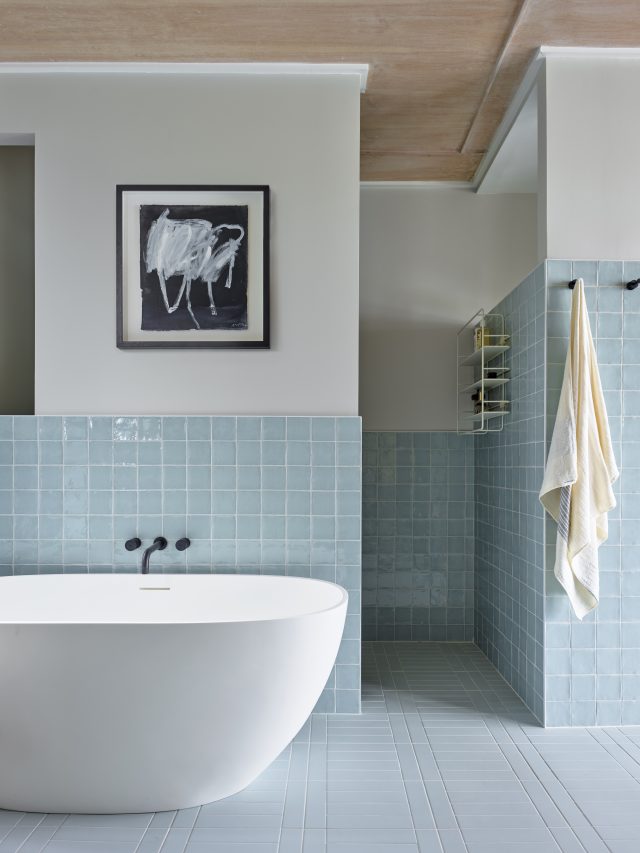 Lynne says a clinical approach to the bathroom is becoming a thing of the past. "All in all, the bathroom needs to be harmonious and beautiful, hygienic and not clinical. Practicality in the layout is at the forefront of bathroom design as is making sustainable choices on an environmental and personal level."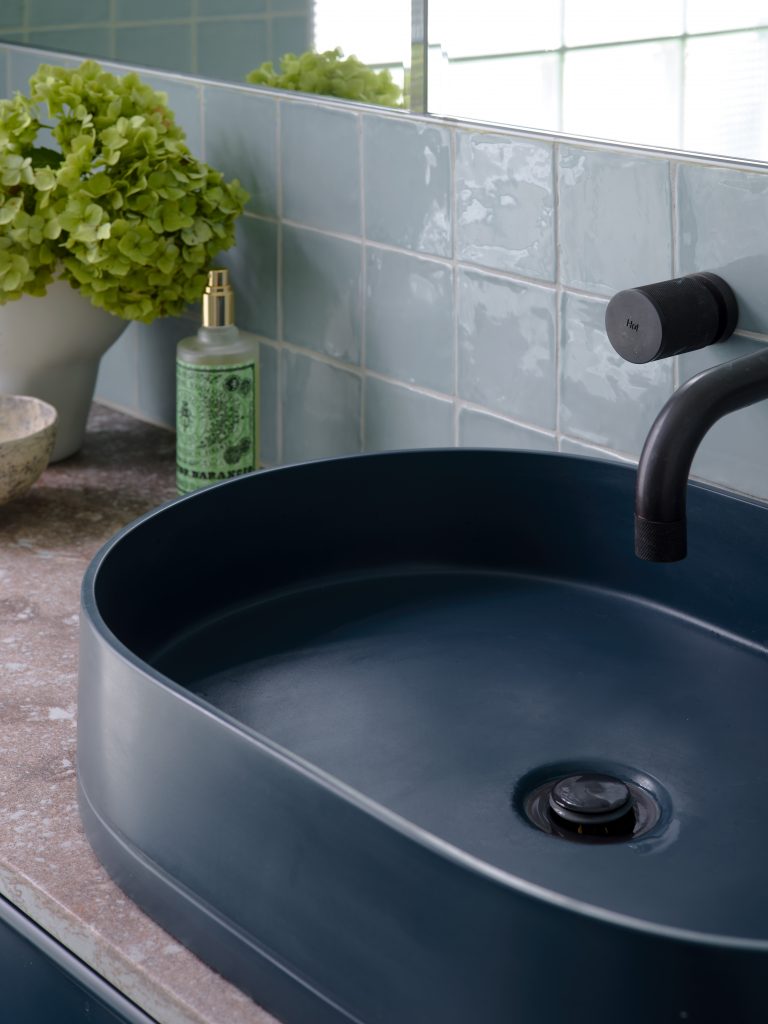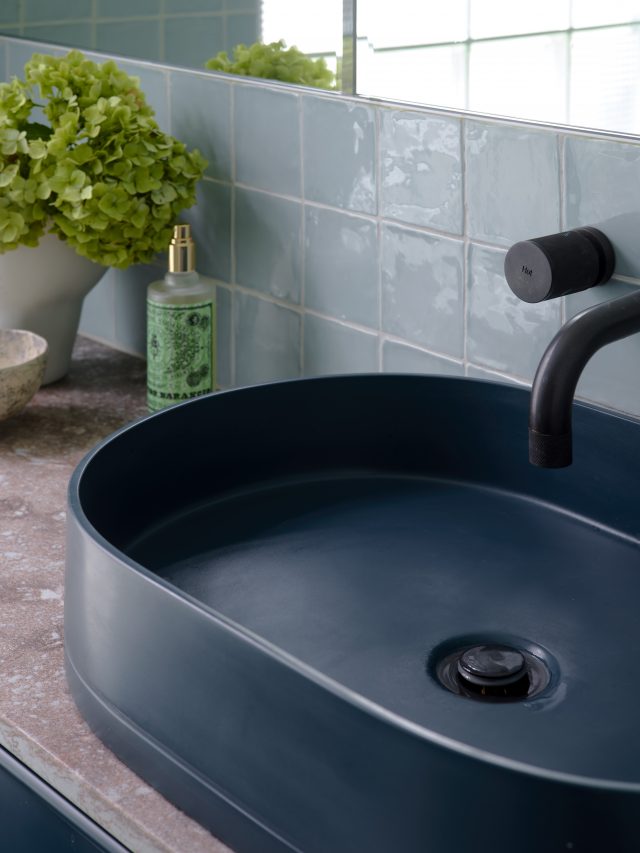 Florence Kelly, head of creative at tile retailer TileCloud says: "2022 is all about mixing textures together. Colour blocking is a thing of the past and we are no longer seeing flat surfaces. Everything is textured or has detail. This can come in the form of handmade tiles, a shaker profile on vanity doors, brushed taps, a timber shelf, or stone-look tiles on the floor."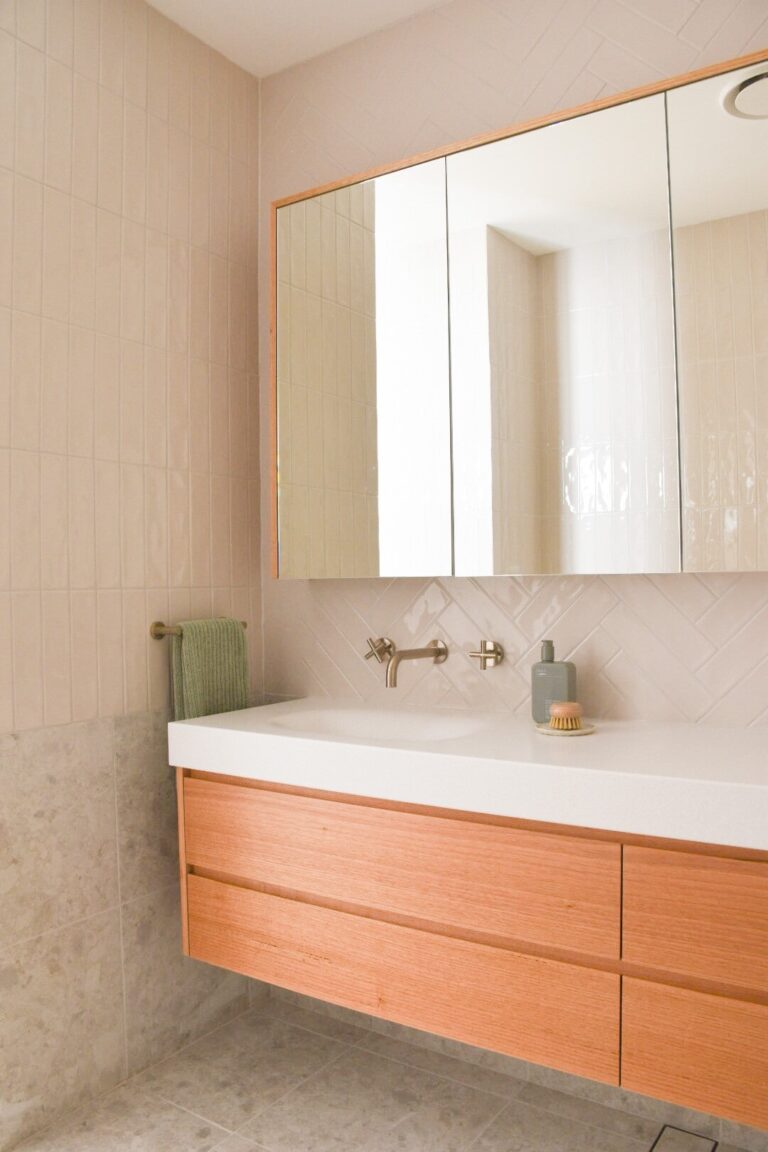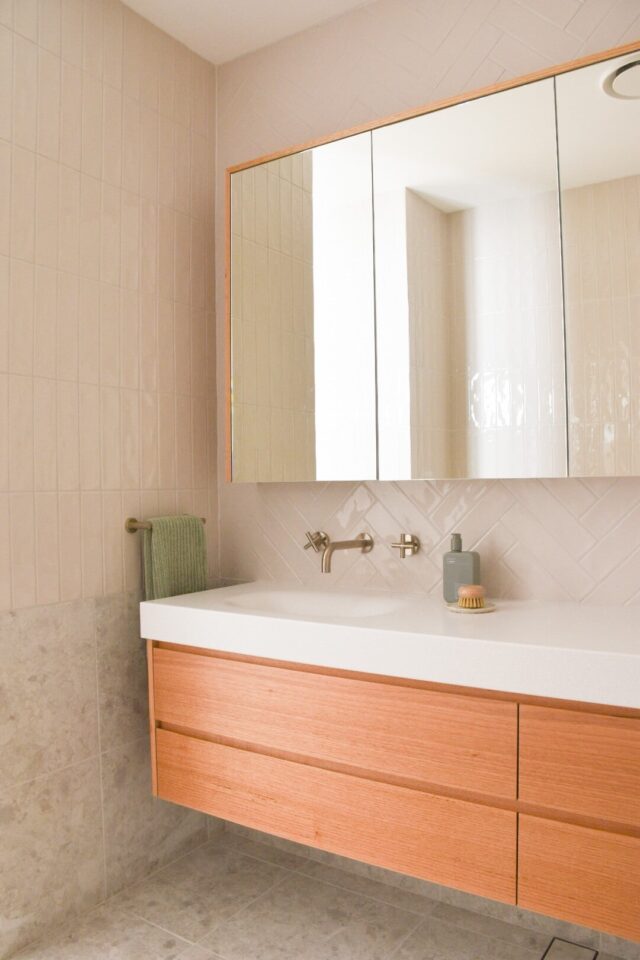 She adds: "The colour white is not going anywhere but we will be moving away from large format white tiles and will be seeing more small tiles used. The sizes we will be seeing mostly are 75x300mm and 100x100mm. We will also be seeing gloss finishes a lot less with people opting for matte finishes as they diffuse the light and make the room feel more relaxing. Playing around with lighting will also be a key trend and this can come in the form of skylights or handmade wall lights."
Marc Reed, owner of Candana Bathroom Ware, says the industry has faced many battles in the last few years including a slowdown in building supply and a huge increase in the building market. "What has not been affected by this is creating new trends in the home," he notes. "Warmer tones and textures have definitely taken over. Marrakesh rendered walls in bathrooms and earthy tones in tiles have meant that tapware, basin and toilet suppliers have had to adapt to this."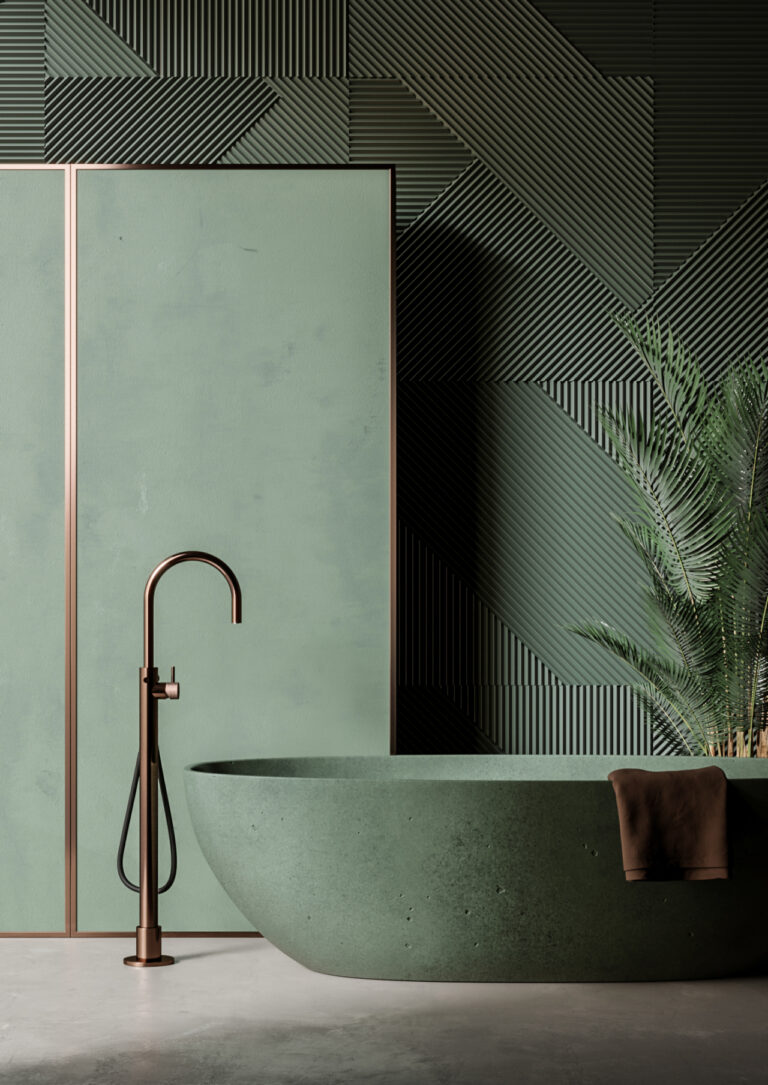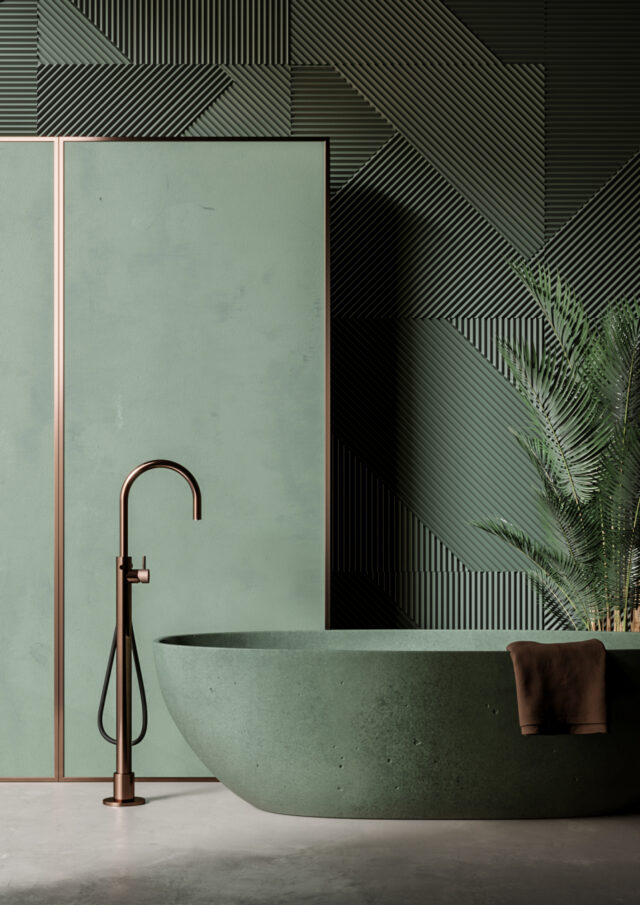 Matte white toilets and baths are becoming more common. "Even Duravit, being one of the world's largest ceramic suppliers, have designed a range by Starck in matte white."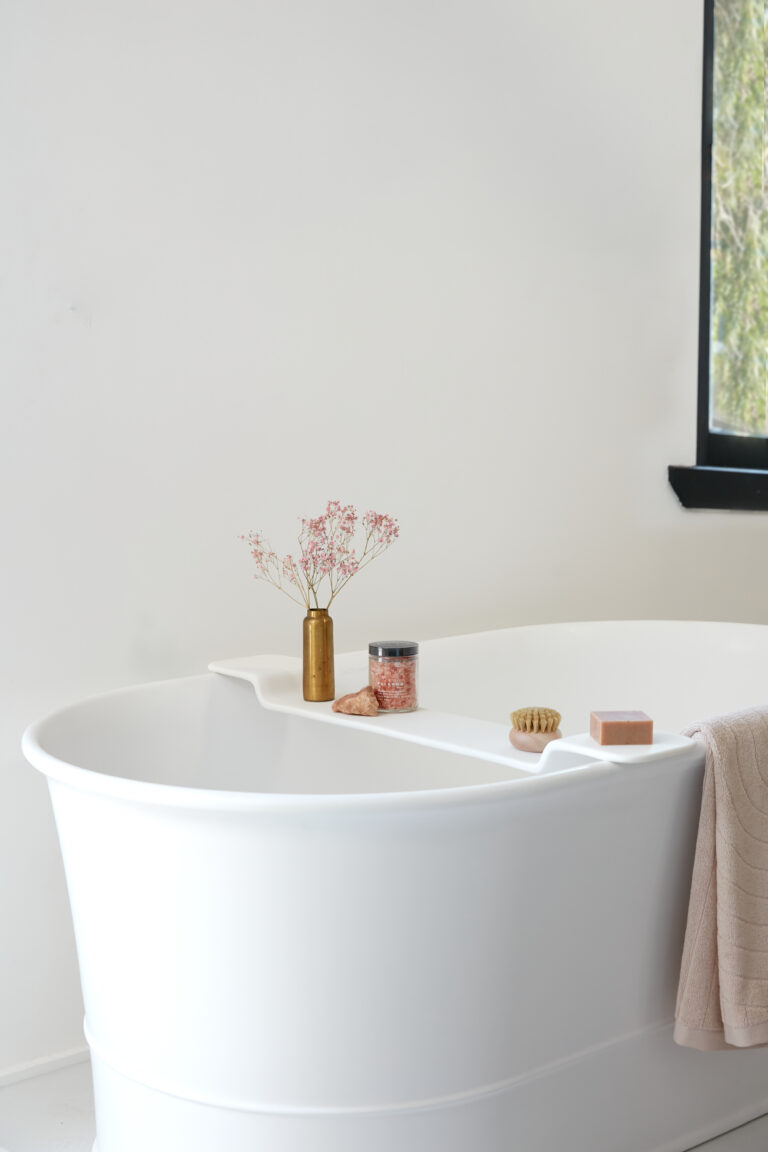 Marc has seen "a meteoric rise in demand" for basins with surface texture and tactile qualities. Concrete Nation's range is a prime example of this new aesthetic. "At Candana, we have seen huge growth and demand for their products due to the natural textures that make each of their products unique and special.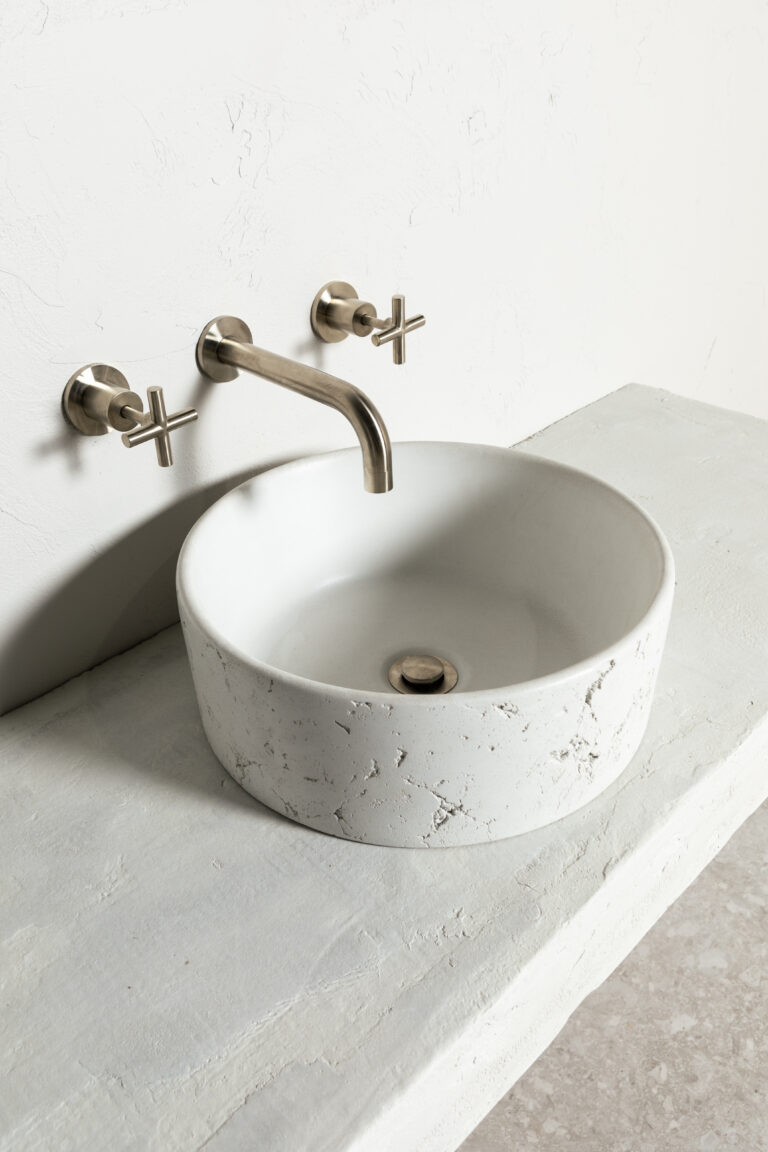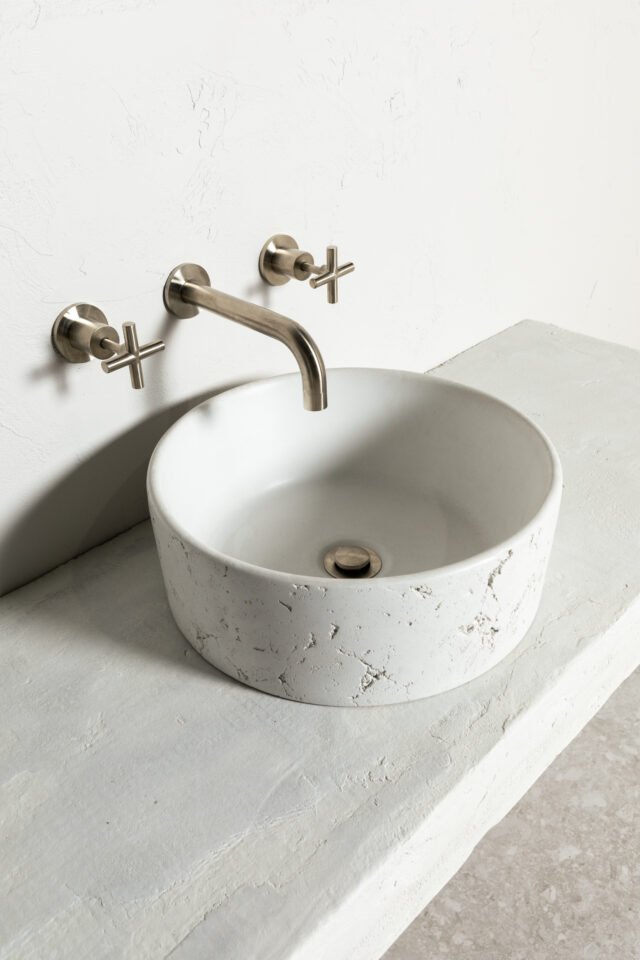 "Overall, we are seeing strong movement in the bathroom (and throughout the house) towards neutral tones, soft, organic shapes and matte textures. It's an exciting time to be involved in an Australian industry that is leading world design."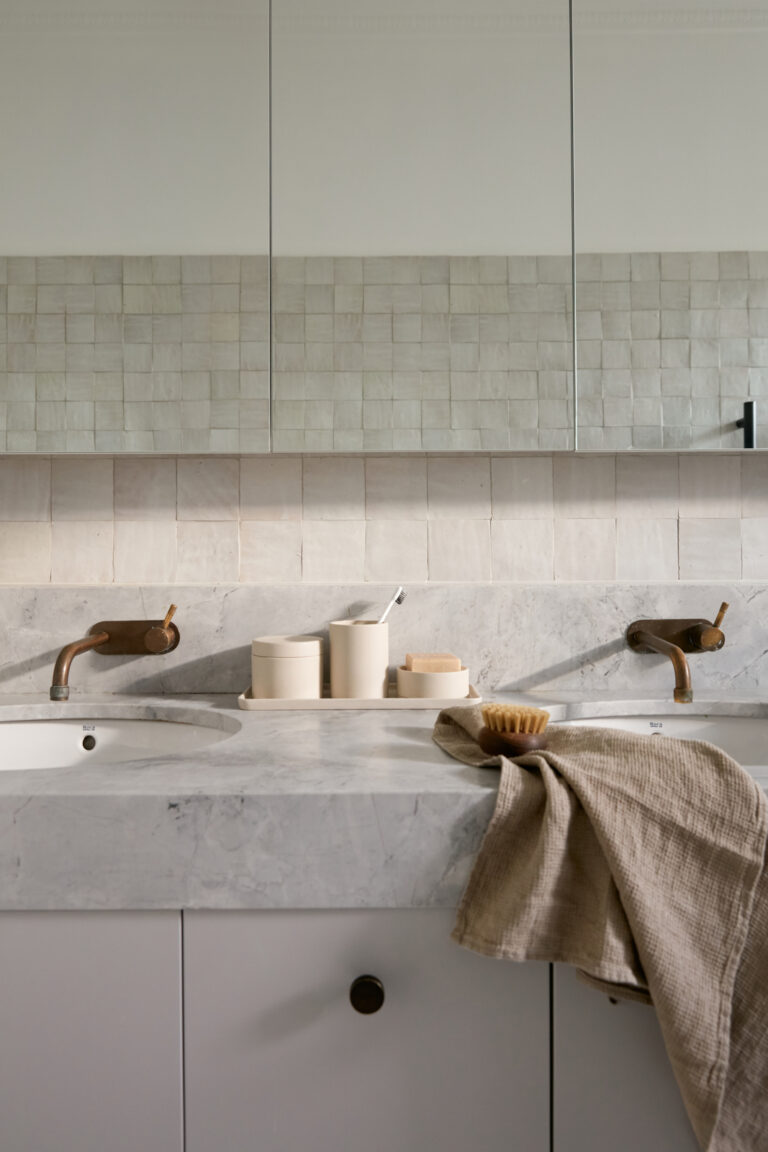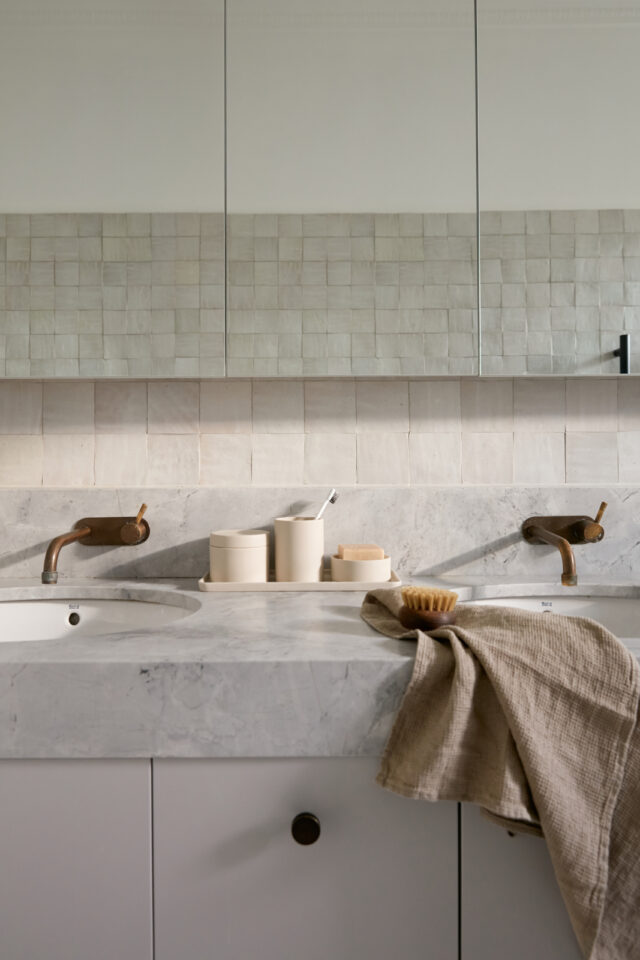 At bathroom accessories brand Oliver Thom, Kaety Thompson also notes the resurgence of warm tones and textures in the bathrooms of 2022. "Although there is still a place for greys and cooler tones, we are seeing lots more earthy browns, terracotta and sandy neutrals being introduced. This further enhances a much more furnished look to the bathroom, pulling it away from the cold, sterile environment of times past."
The use of deep brown towels, matte ceramic accessories and timber accents transform the bathroom into a spa-like oasis. "The focus on self-care means customers are spending more time in their bathing space and therefore wanting it to be an extension of their home aesthetic, including artwork and home fragrance such as diffusers and incense. We've also found a focus on good quality and ethically made hand soaps. Two of our best-selling ranges, Frama and Works, are supplied in beautiful glass bottles that can be refilled, reducing the need for single-use plastic."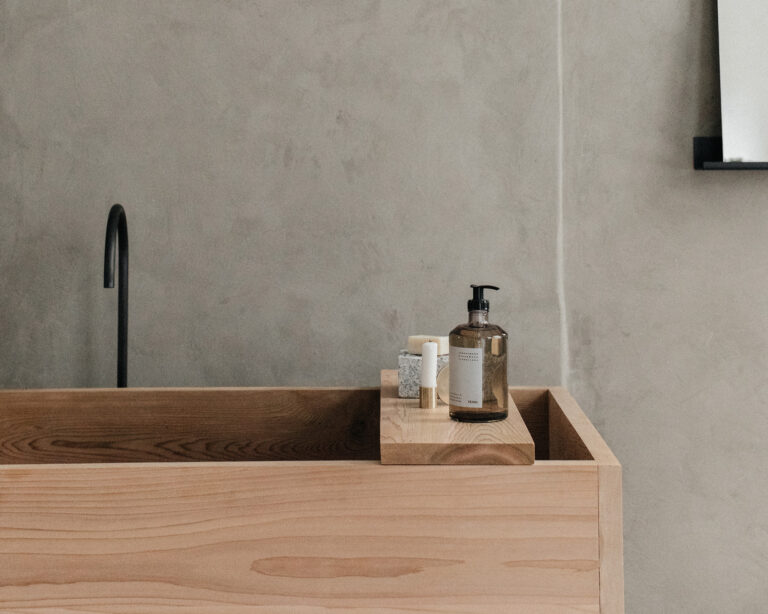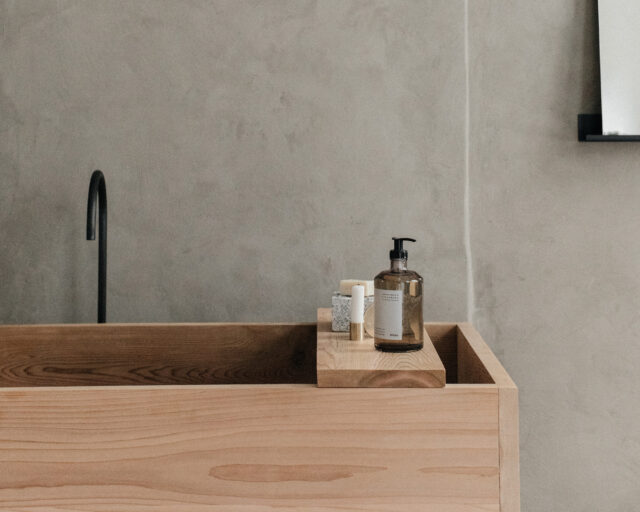 Rick Bazerghi, CEO of Melbourne tapware brand Meir, says: "Rounded fluid forms are proving to be popular among splash zones, with curved silhouettes as the preferred choice in tapware design. Round tapware magically captures a room's lighting to create depth and dimension, creating visual interest intriguing at every angle. By opting for curved contours rather than square shapes, timeless style can be achieved, producing a sense of elegance and luxury."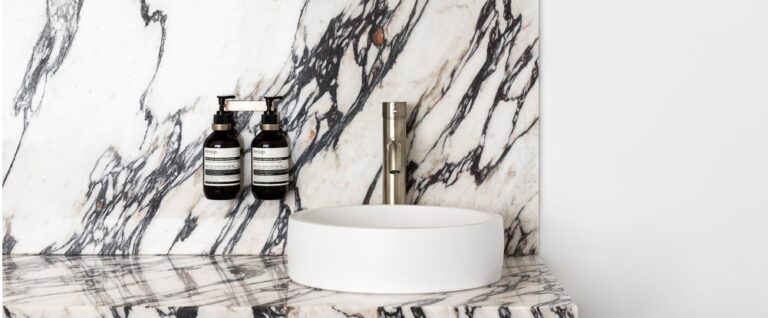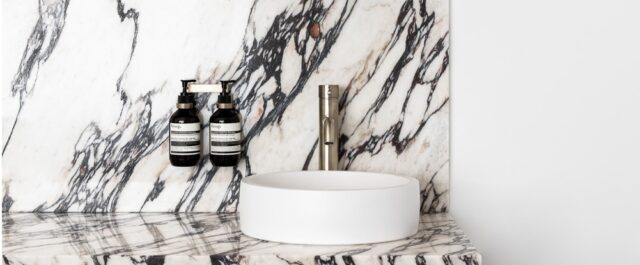 Incorporating a splash of colour is another trend he's seeing. Meir offer Matte Black, Tiger Bronze, Champagne, PVD Brushed Nickel and Polished Chrome. Rick suggests pairing coloured tapware with the same coloured basin (coming soon from Meir) for a cohesive look, or opting to mix up finishes and add two colours for a contrasting one.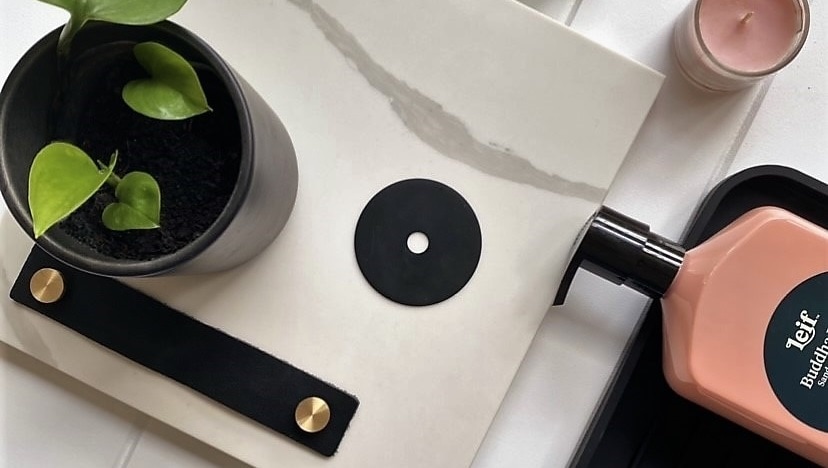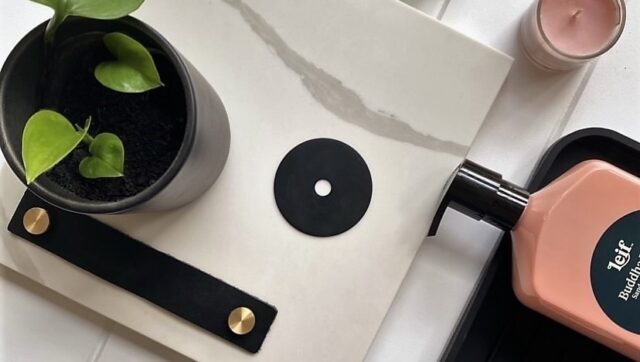 "We are seeing more customers striving for ambitious designs in the bathroom with natural materials being prominently featured. The likes of marble, terrazzo and timber create a statement finish when paired with luxurious fixtures and finishes to complete a bespoke look."
In terms of colours, concrete basin brand Nood Co report that ivory, pastel peach and blush pink are their most popular at the moment but they're about to launch new hues. It all goes to show we are moving away from all-white bathrooms.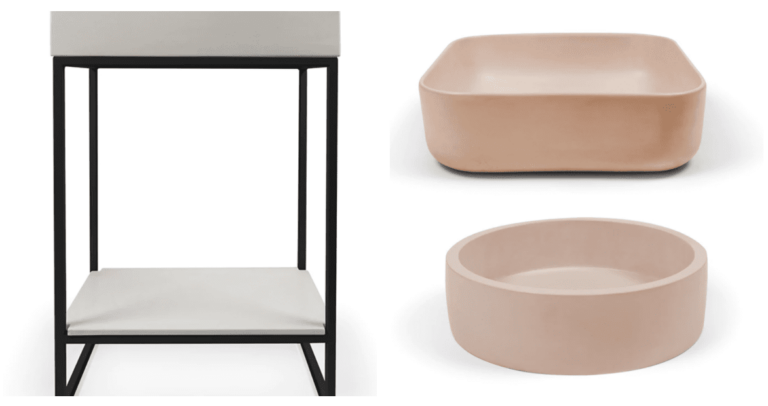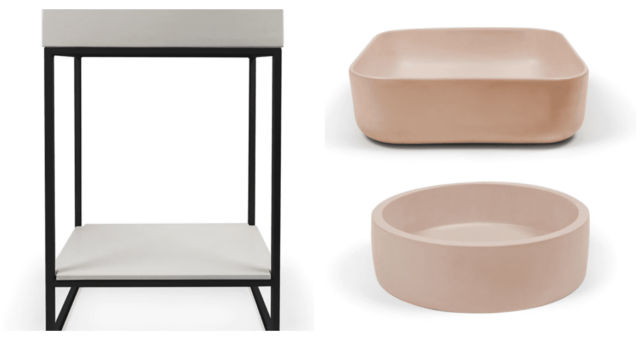 We all know bathroom renovations can be the most expensive in the house! Would you be brave enough to add a little more colour and texture to yours? Or have you already? We'd love to hear about it in the comments!
For more more on Lynne Bradley Interiors, TileCloud, Oliver Thom, Candana, Meir, Concrete Nation and Nood Co.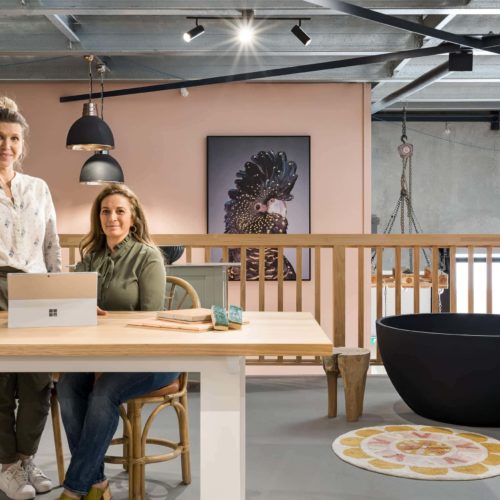 Unique one-stop bathroom & kitchen reno business in Sydney
Started by best friends Leah Peretz and Galit Eskenazy, Just In Place is a unique offering within the design and…