If you watched Offspring or The Block, you may have coveted Ali McNabney-Stevens' colourful artwork, which has been in a few magazines recently. Behind the scenes, this very humble Melbourne artist and mum is just delighted to be doing what she loves day in, day out.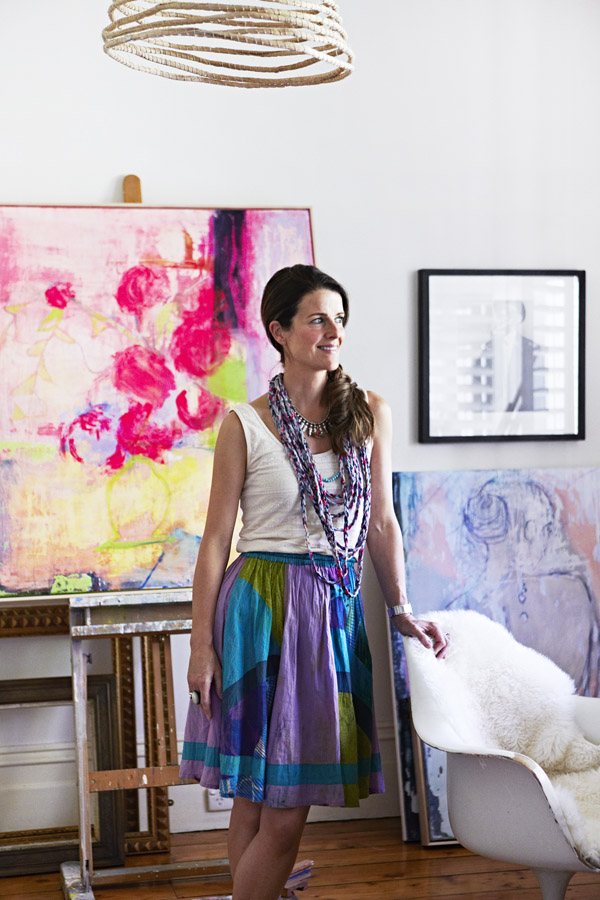 A fellow Pom, she moved here in 2001 after marrying an Australian. "After 5 years in London, he missed the sunshine and we decided to come for 2 years and that was 12 years ago!" There's no doubt her surroundings have affected her work, with Melbourne's bustling art scene and cultural diversity a constant inspiration. "Right from the get-go the artistic side of me was fueled. I am a very happy person here and I like to think that my art is happy. It gives me great pleasure in producing it and I guess I hope in turn that it gives others pleasure to hang it on their walls."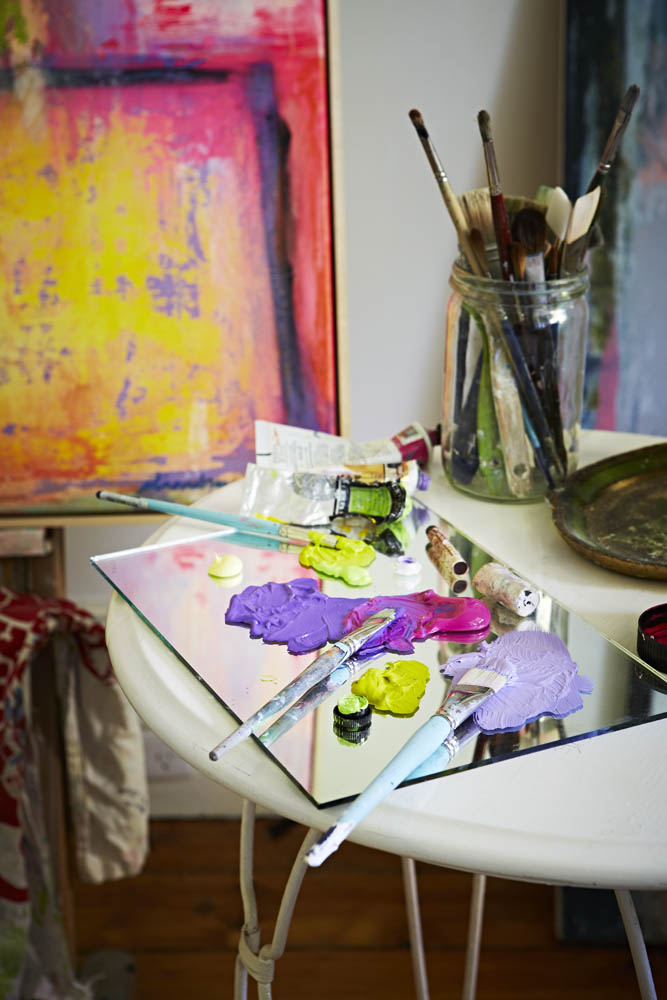 The starting points for her paintings come from all around her. "I think my work comes out of an ongoing dialogue between abstractism, landscapes, flowers, everyday objects and is also informed by my passion for literature. I really do believe that everything you do feeds into the art funnel and once you start the art, it just comes out somehow. Sometimes a beautifully written line in a book can conjure an image in my mind, or simple glassware on my shelf can be enough. More often than not, it is the visual imagery in my mind of a landscape that is so close to my heart, which seems to come to the fore.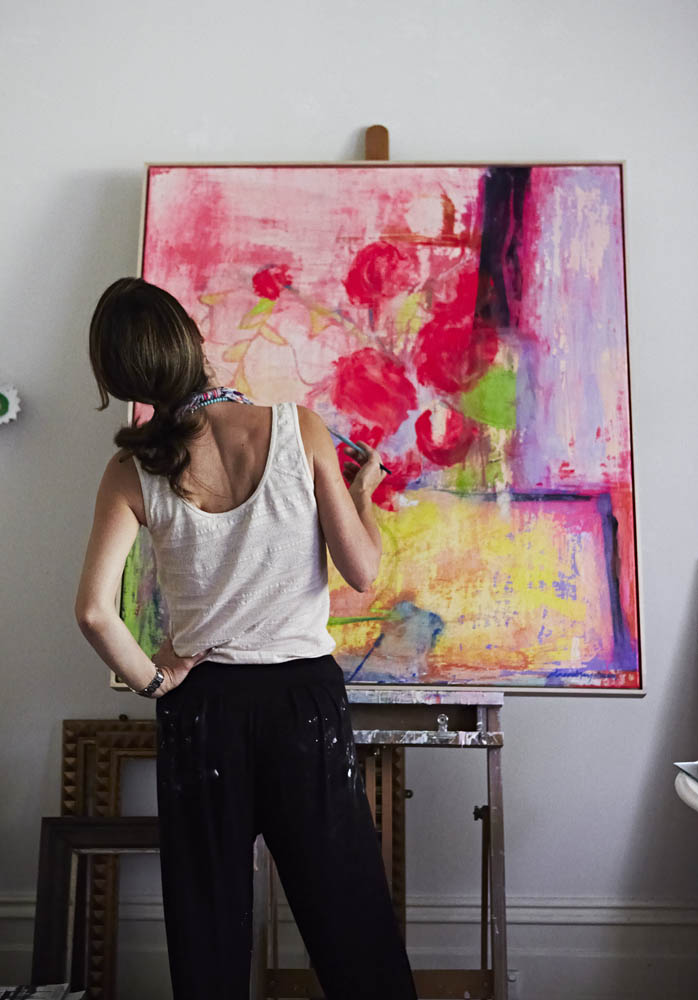 "Abstract fields of colour leap onto the canvas without me even having to think too hard about what it is I am doing. At art school, there always seemed to be an intellectual snobbery about much of design and contemporary art, which often left me feeling on the periphery. The cry from the tutors would often be "but will it be understood?" For heaven's sake, one doesn't have to understand something to wear it or put it on their wall. You just need to love it, want it (buy it!) then enjoy it!"
Her mantra when finishing a work is: "Do I like it? Do I think it works? Do I feel it's right and does it resonate with me?" If the answers are yes then she's satisfied. What's more, Ali definitely subscribes to the Interiors Addict slogan of 'style without the snobbery' and having recently produced limited edition prints of 4 of her works, they're now available at a much more affordable price point.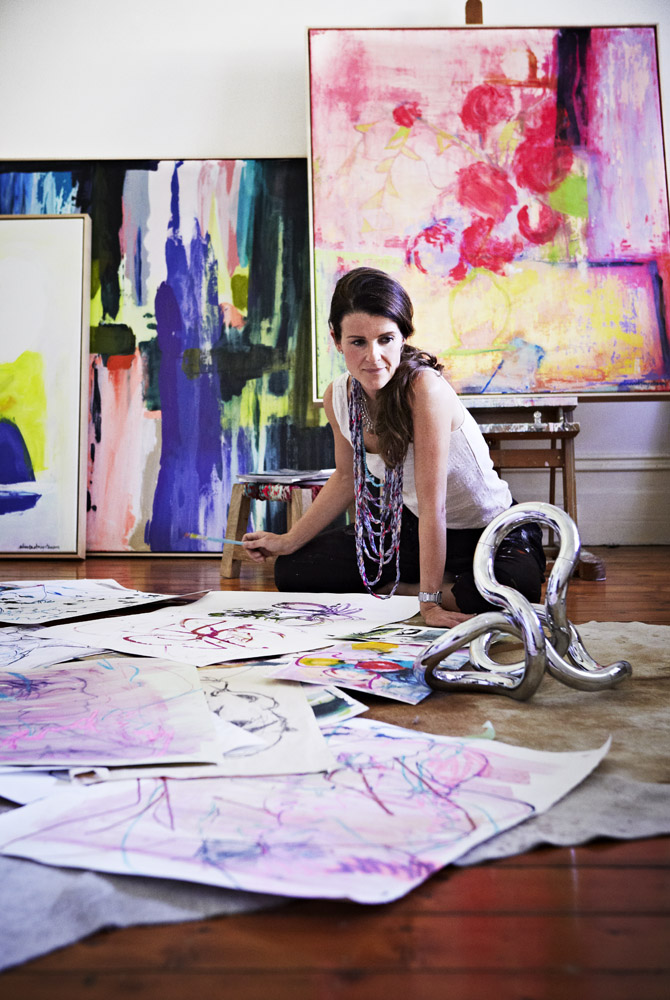 "It is so important for everyone to have some art, which is where price point and affordability are key," she says, although you can never beat owning the original. "For me, the canvas has a heartbeat. You can see the brush strokes, you can see where something has been reworked, accidents become interesting and if an original artwork really does capture you, then perhaps it is nice to see something new or different each time you look at it.
"But the prints were borne out of a need to satisfy demand. My originals take me a long time to produce, so a wait list of 18 months is not ideal for someone wanting instant color on their walls." She did her research before committing to prints though, choosing one of Melbourne's top printers, Karl Stamer, as the man for the job. "I am so thrilled with the finished result," she adds. "I use top quality archival paper and the overall result is breathtakingly good. They are still a boutique offering and people have loved them so far."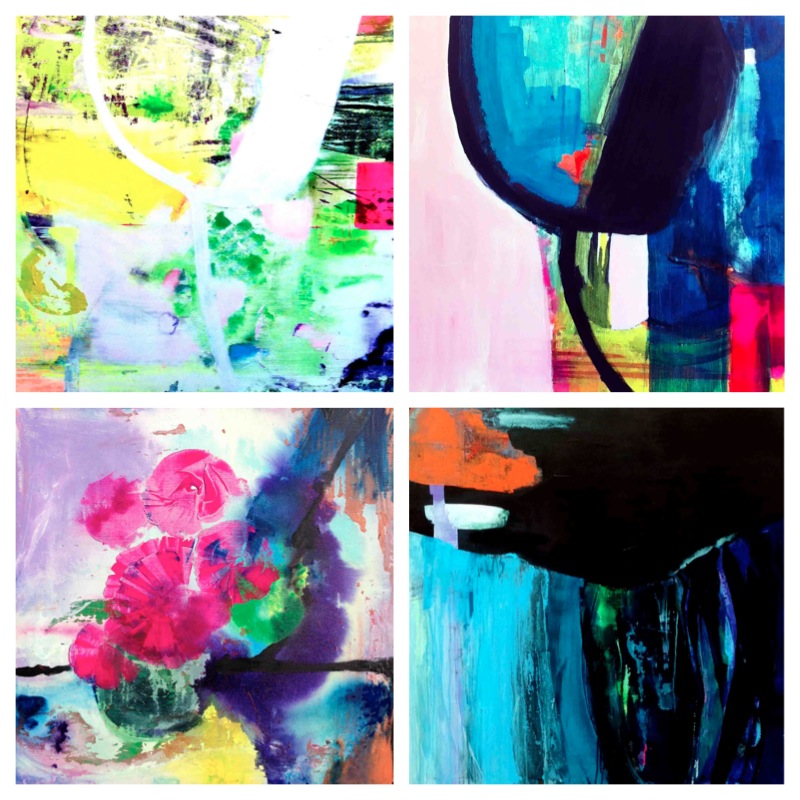 Like many other artists (including Emma Cleine of Lumiere Art + Co who I interviewed recently), it was taking on stylist Julia Green as her mentor and manager that saw awareness of work (and the PR, popularity and sales that followed) grow to the point where she could finally become a full-time artist. "I lived in Hong Kong in my late 20s and it gave me this belief that you can do anything you want. It was a life changer for me. However, after moving countries for the millionth time, the birth of children and getting married, I think life's practicalities can get in the way and you forget that belief that you had. Julia has reminded me of that belief. She is the client-facing part of this team which leaves me to get on with my studio work. Seeing my work on Offspring and The Block was surreal. Truly!"
Her use of vibrant colour is relatively new, believe it or not. "At art college I was more conservative. Once I got to Melbourne, I went to various art classes and life drawing classes and it seemed to appear. I think overall, colour just makes people feel good. It's emotive, and it makes me so happy when I'm sent photos of my work in clients' homes, with comments suggesting they look at it every day and feel happy. Doesn't get any better than that.
"I also find that the color combinations I play with are endless. I am loving exploring the depths of blues and greens at the moment on inky backgrounds. They look iridescent, it's quite magical."
Juggling work with being mum to Molly, Louis and Charles (11, 9 and 5 respectively) is probably no different for Ali than most working mothers. "I guess I work hard as an artist between 9am and 3pm (and again after 9pm!) and then flip it to Mamma at 3.30pm. Outsourcing has been essential. I now have a bookkeeper who I refer to as my Fairy Godmother!"
Their family home was originally meant to be a stopgap, but not living in the pristine, finished house Ali dreams of, has turned out to be quite liberating. "I truly believe this house has allowed us to grow not only as a family, but as individuals. Nothing is precious about it. I love Grand Designs and Kevin McCloud and I heard him recently say that sometimes people change houses but sometimes, magically, houses can change people, and that is certainly true of me and my house. It's allowed me to reinvent myself, be non-precious, grow as an artist and mother and focus all my attentions on what matters." 
Ali is hoping to branch out into textiles before the year is out. You heard it here first. Watch this space!
The prints cost from $150 to $1020, depending on size, including GST. More information here.
WIN
If you'd like to win your choice of one of the 4 limited edition signed prints by Ali (worth $1020), simply comment (with your email so we can contact you) on this interview by midnight on Friday 13 September 2013 to be in with a chance. Winner will be announced next week.
THIS COMPETITION IS NOW CLOSED TO ENTRIES.
Photography by Armelle Habib, styling by Julia Green.