The final chapter in the home renovation of Adore Home Magazine's Loni Parker, this front garden project was finished recently and it's quite the bright and breezy summer-ready gem. For context, Loni and partner Mark have overhauled their modest brick Queensland home into a fresh, white weatherboard delight with this space the final finishing touch.
"The 'before' was pretty woeful. We started with a humble brick abode with patchy grass and have turned it into a white weatherboard home complete with a lush courtyard perfect for entertaining," says Loni of the garden design that covers 49 square metres and makes excellent use of space.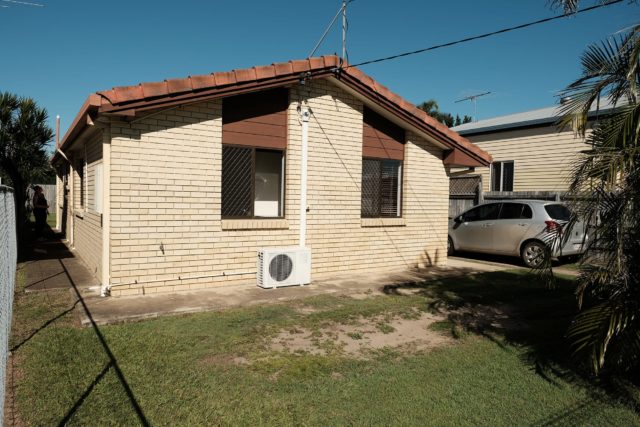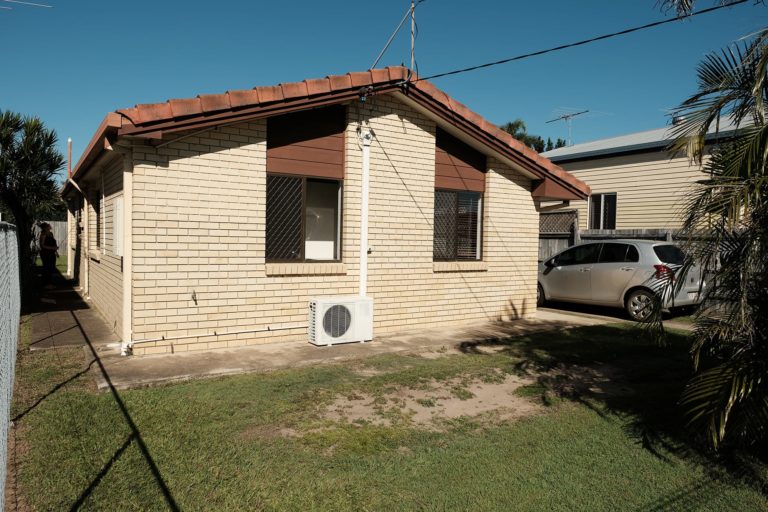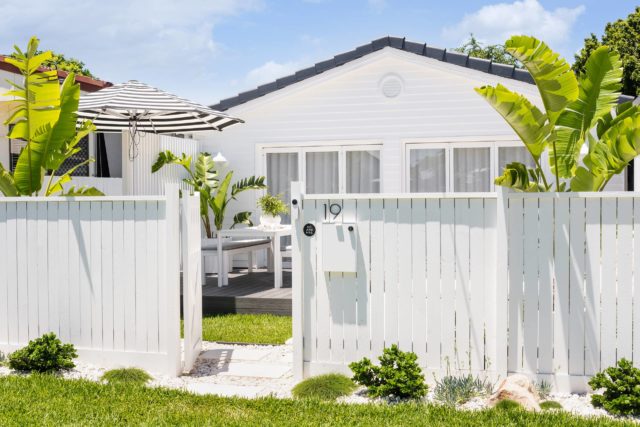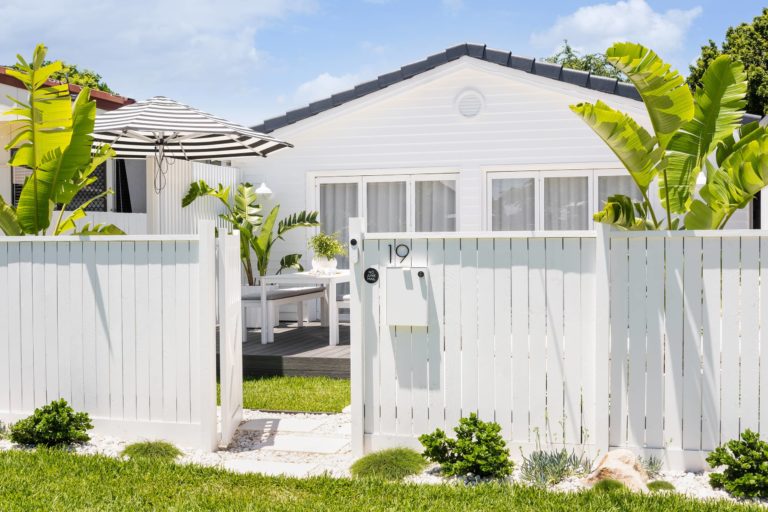 "I designed the front yard myself and the overall vision was to have a little oasis in the middle of suburbia," Loni explains. "I wanted it to feel coastal and go with the exterior of the house. It also needed to be practical and offer us two zones in which to entertain – a dining area on the deck, and lounging area complete with built-in bench seat."
A key moment in the redesign, the front garden now features a lovely deck that runs straight off the kitchen. Made from composite decking (Ekodeck Ironwood), the charcoal colour was chosen to match the home's roof colour – Colorbond Monument. And given it's a composite product, the deck won't need to be sanded, oiled or stained. "It's easy to clean too!" says Loni.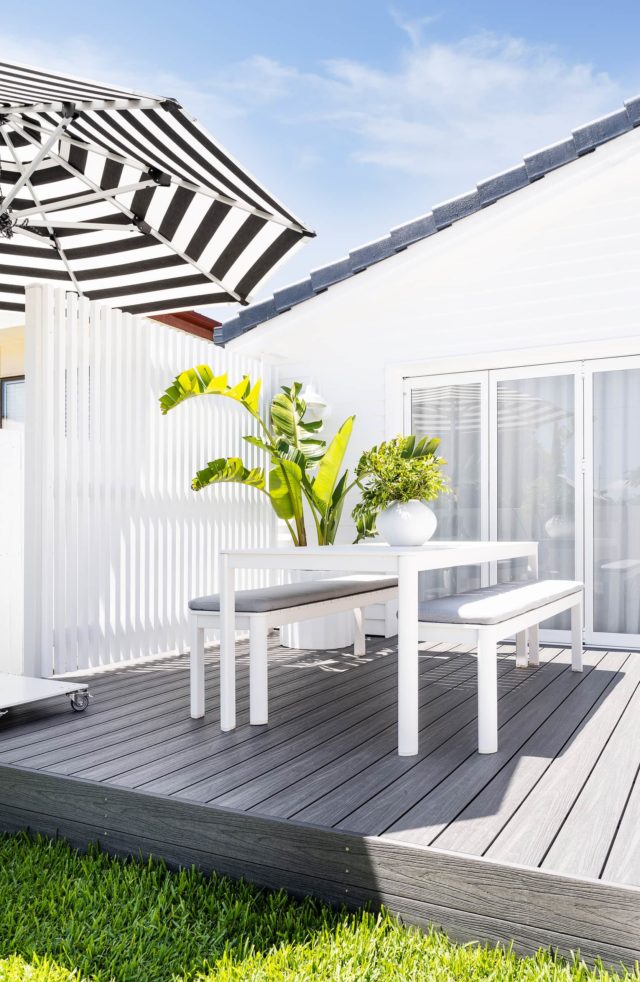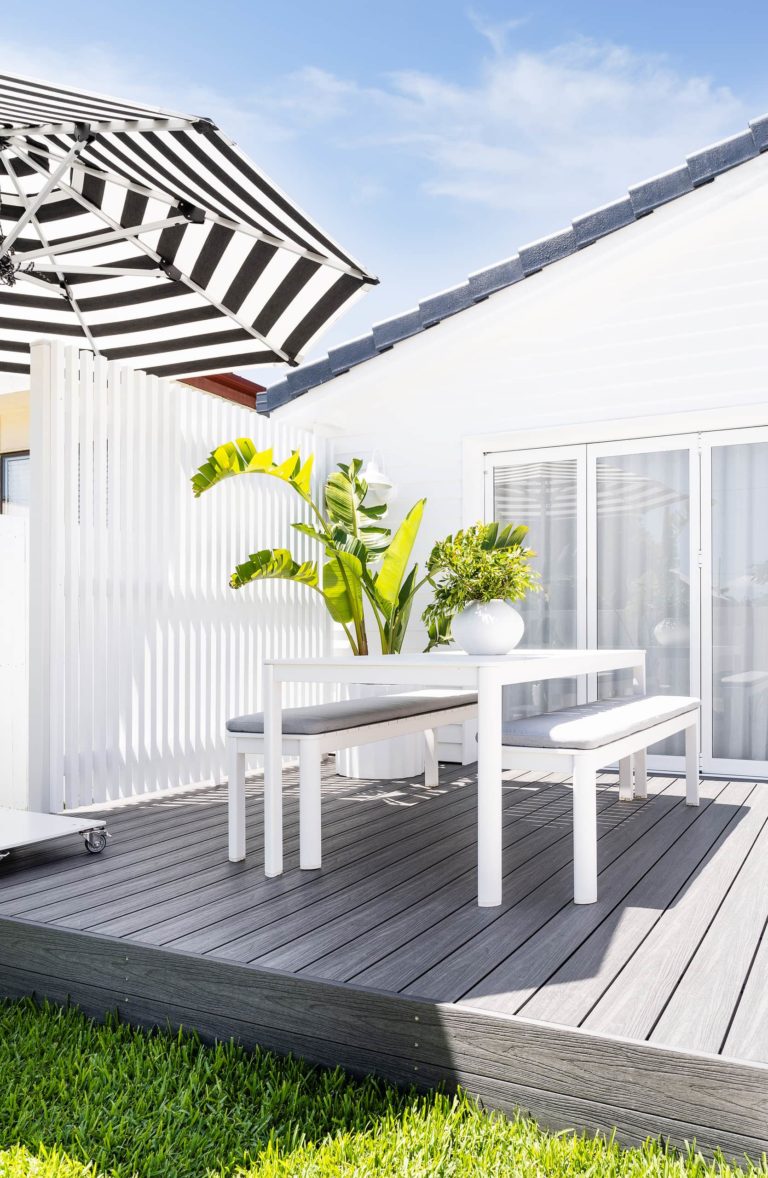 The outdoor table and bench seats from Early Settler, which they've had for years, Loni considers her best bargain. "It's just the best. It doesn't rust or warp in the weather, it's just hard-wearing and built for the elements!" Her favourite thing is the new outdoor coffee table from P&R Styling and the biggest splurge was the deck.
Sun protection, in the bright north facing backyard, is afforded by a large Basil Bangs umbrella. "Basil Bangs' umbrellas are always used in commercial venues, because they're the highest standard. They may cost a bit more but are made to last and totally worth the investment in my opinion," says Loni.
Adjacent to the dining zone is the lounge area which features on-trend crazy pavers on the floor. "My favourite areas of the crazy paving are the larger pieces so if we were to do it again, I would make sure to keep as many larger pieces as possible as opposed to smashing them into smaller sizes. This also means a bit less work when gluing them down," says Loni who, impressively, did the paving herself.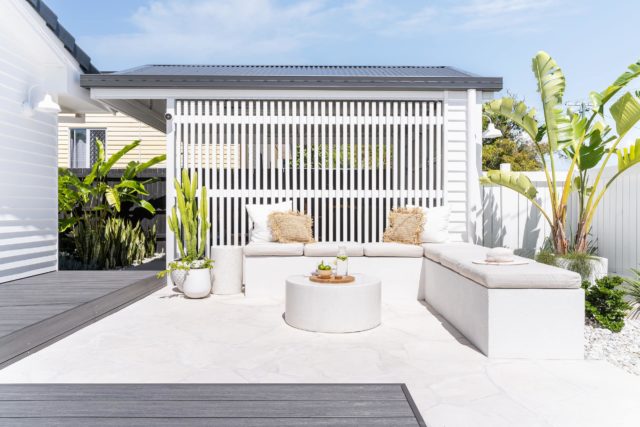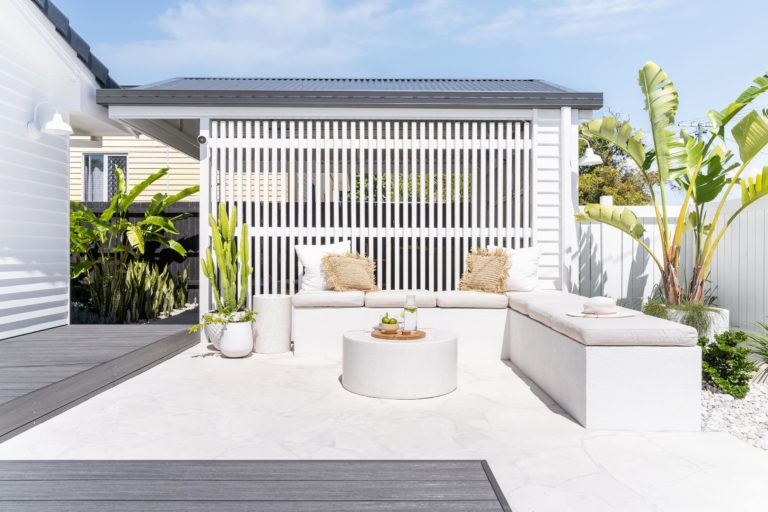 "To save some money we rendered the bench seat ourselves, but we didn't know the masonry blockwork needed to be waterproofed prior. It's resulted in the render swelling when it rains heaps – whoops! Also budget was a big challenge. I had a price in mind and went slightly over. In the end, I just wanted it done before Christmas so hired trades that maybe were a bit more expensive, but were available straight away."
The lounge area also features a stylish timber battened privacy screen, built-in bench seat and terrazzo coffee and side tables that all work to create a hugely welcoming conversation hub.
The whole scene is pulled together by a variety of fabulous white pots filled with a gorgeous array of greenery. Loni chose to pot most of the plants to give her the ability to move them around, further increasing her styling opportunities down the line. "In my eyes, gardens are always evolving, and if something doesn't work, you change or move things around until they do work.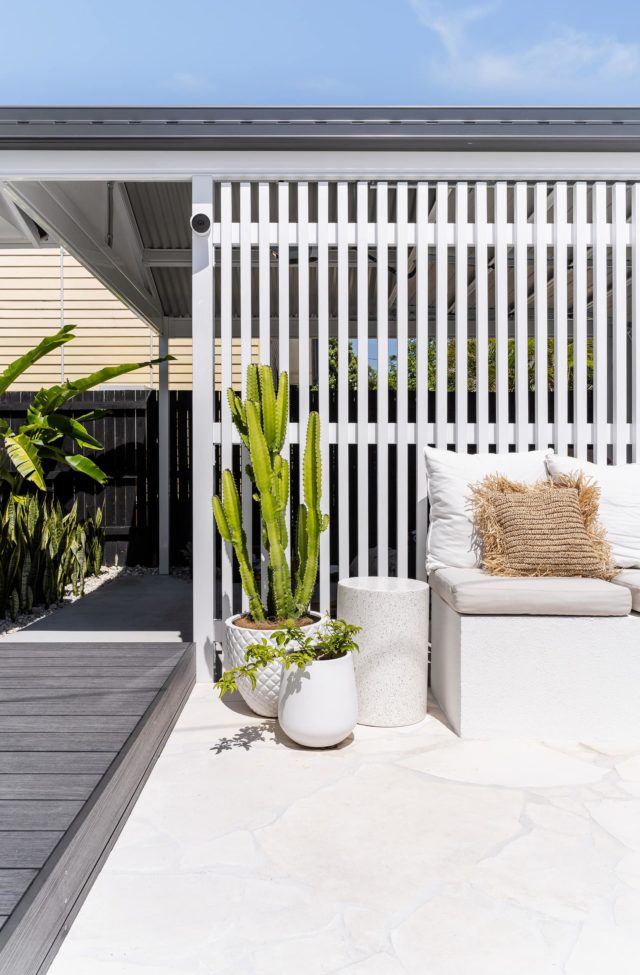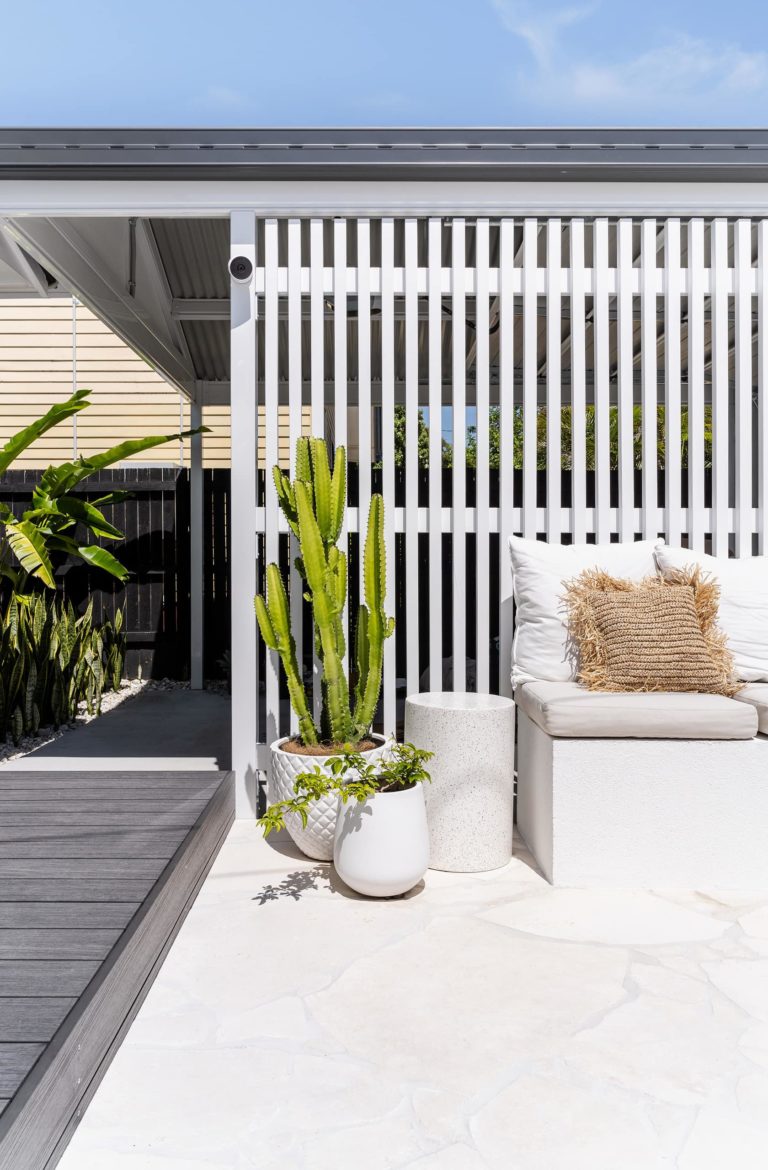 "I look after the new grass like I'm an elderly man! I even trim the grass next to the garden edging by hand with scissors because I don't like the line trimmer flicking grass onto the white pebbles. Yes, I'm next level!
"We always get asked if we hired a landscaper to do the work and everyone is surprised that we organised and designed it all ourselves. I think that's our greatest area of passion when renovating: gardens and the outdoor spaces. There's a real sense of accomplishment watching the plants grow and thrive."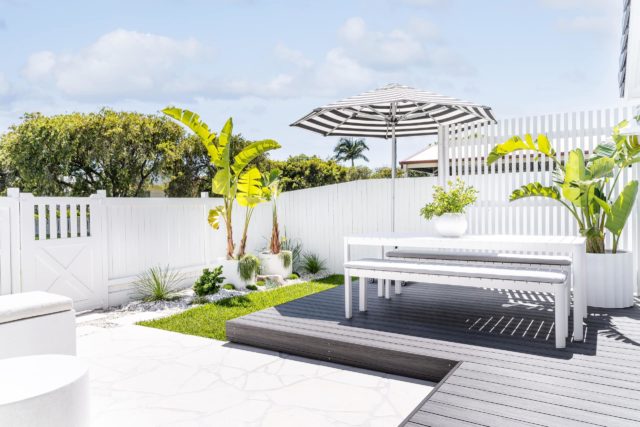 Photography: Coast Park Creative