Woodgrain textures and bold colour combine in this stunning living room collaboration inspired by the classic Allen's lollies. Laminex teamed up with YSG Studio on this project, which follows on from their Fantales-inspired kitchen last year.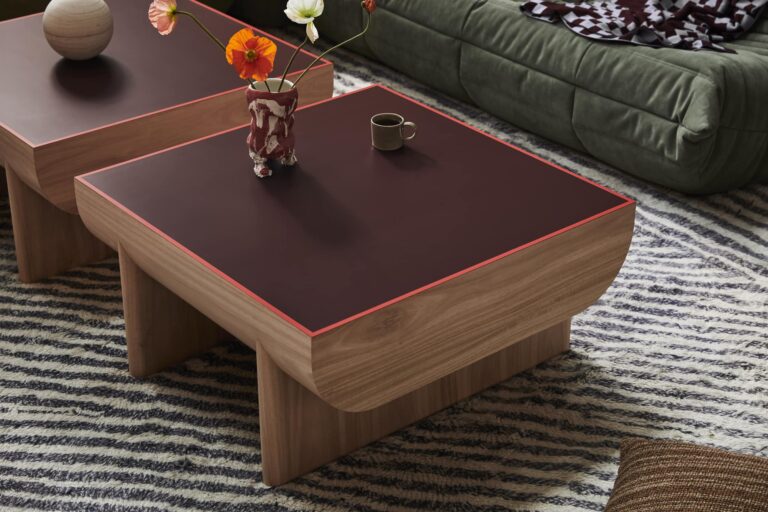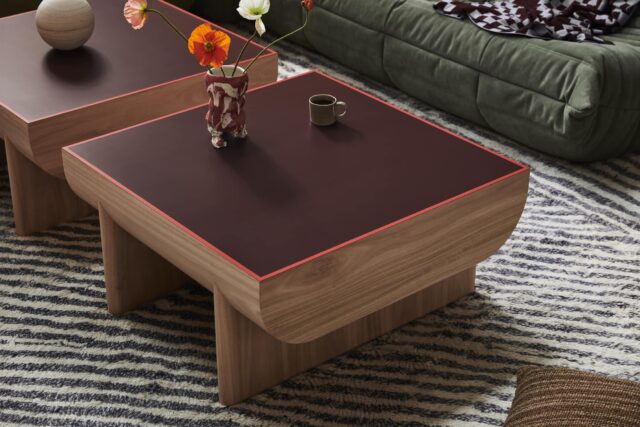 The living space offers a reinterpretation of the traditional living room, creating a multifunctional space that is the ultimate inspiration for the modern home.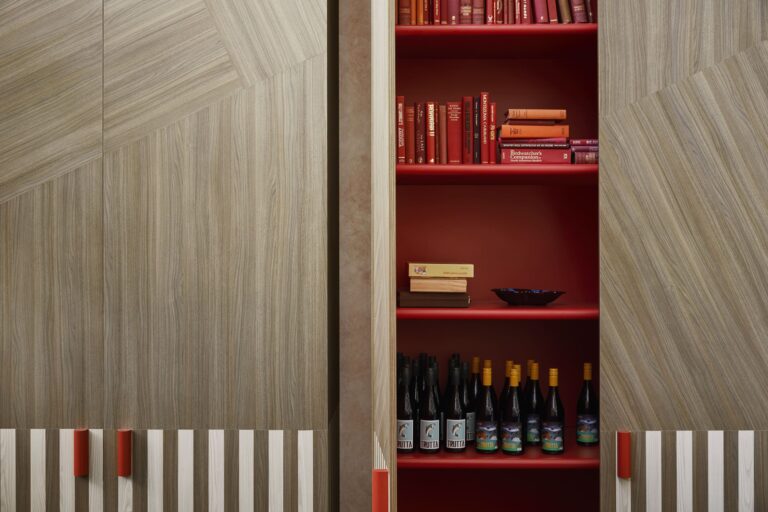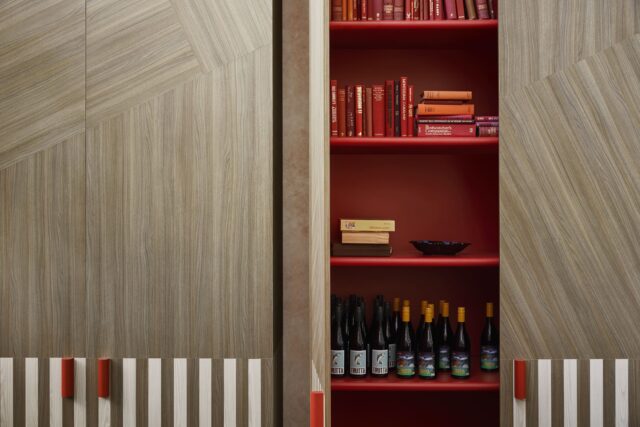 "Larger homes might have separate rooms that can be dedicated purely for office work," says Yasmine Ghoniem, principal of YSG Studio. "But where space is at a premium, the challenge is how can we use each space in multiple ways? Everything you put in has to be really well considered."
Laminex woodgrain joinery in Danish Walnut and Milkwood is teamed with a contrasting wave of soft Porcelain Blush. "You walk from this quite cocoon-like experience of the kitchen into a living space which is a lot brighter and just feels lighter," explains Yasmine. Synonymous with YSG's signature bold style, the living space also features bursts of daring Laminex Pillarbox red, found within the drawers, cupboards, handles, and even the coffee table.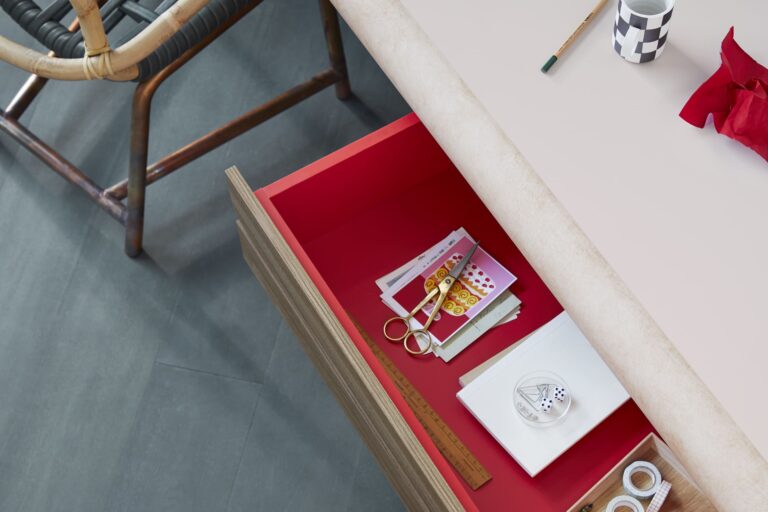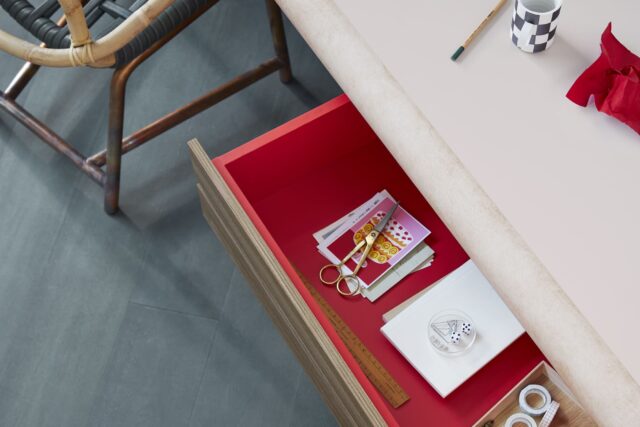 One aspect of YSG's design vital to the multifunctional performance of the space is the study nook. A highly practical area with ample desk space, drawer storage and shelving, the nook embodies ultimate flexibility. Featuring an operable screen system made from Laminex Danish Walnut laminate, the nook can be easily accessed through the sliding screen, which can be closed at the end of the day to conceal any office mess, and even more importantly, visually separate the work day from recreational time.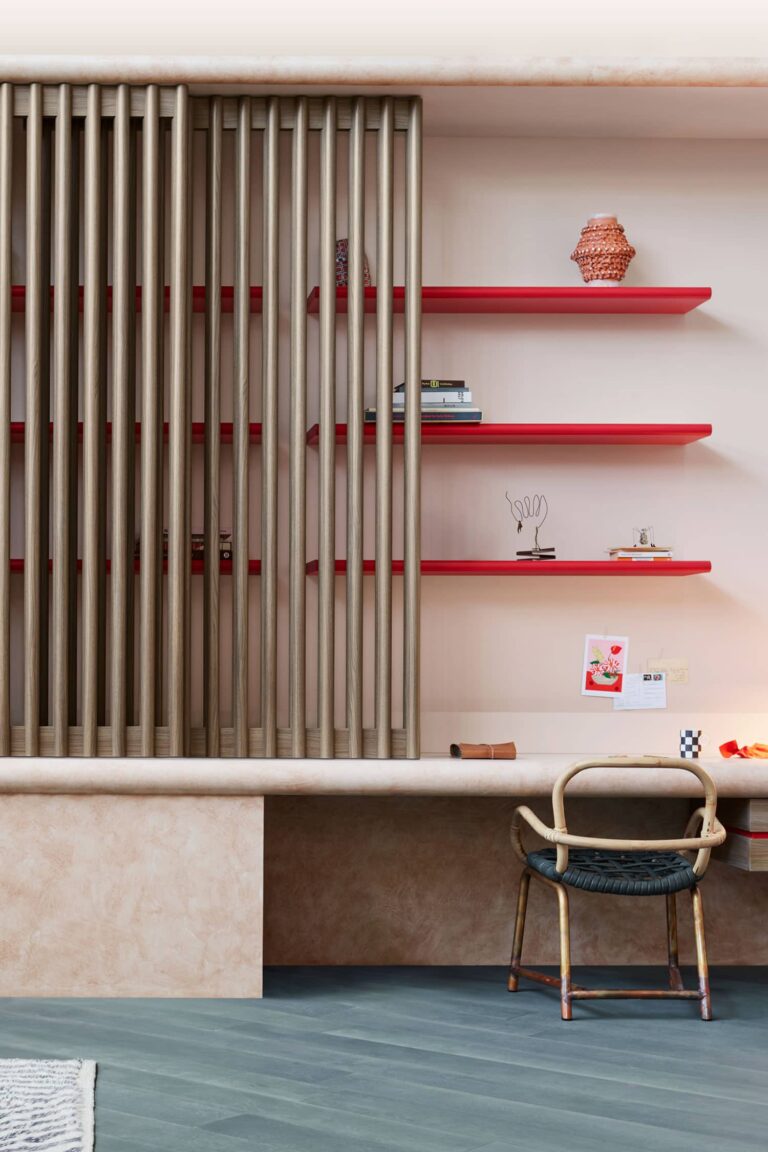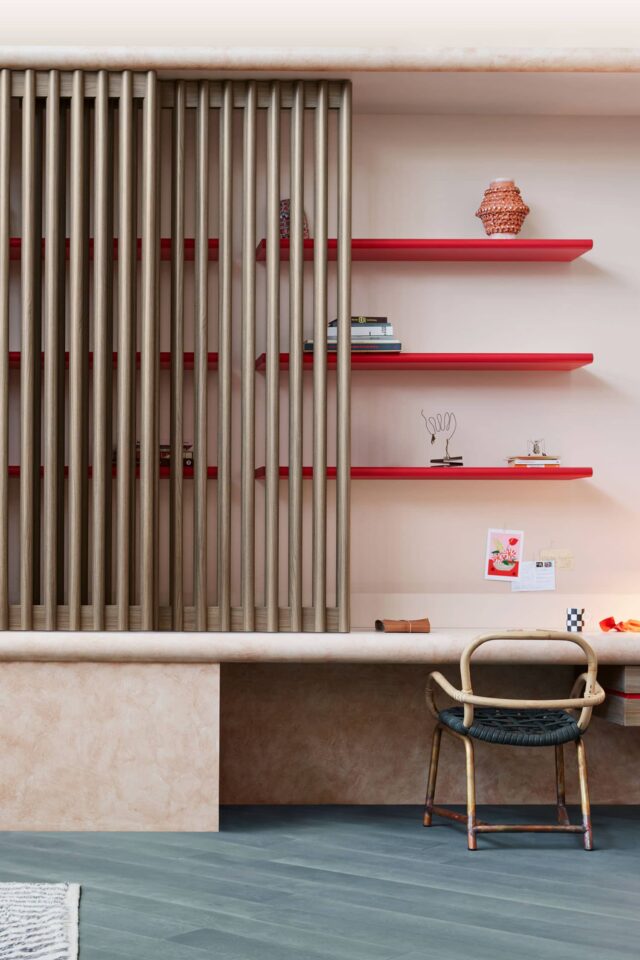 The study nook also features open shelving in Pillarbox, allowing the study nook to double as a display area for books and personal objects. Even when the screen is closed, its partial transparency creates a sense of visual interest and depth. This functional versatility allows for optimal personalisation.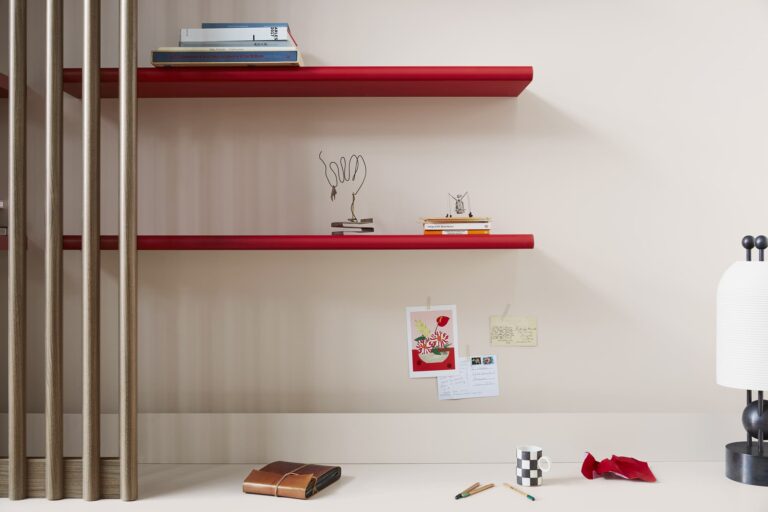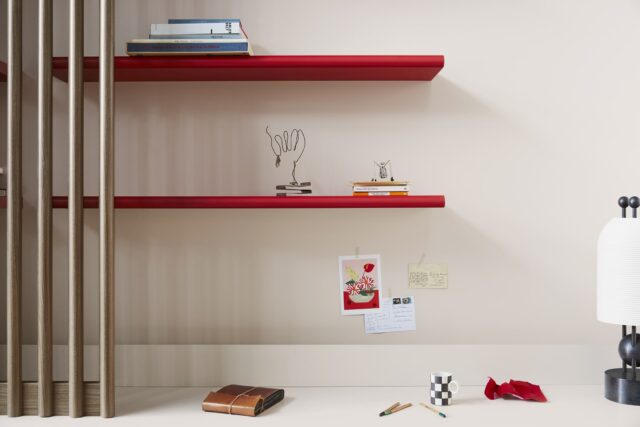 Perhaps the most explicitly decorative element in the interior of the Fantales Living Space is the front surface of the tower cabinetry. Two units sit side by side, their doors featuring a captivating inlaid laminate design. Along the bottom edge, Milkwood is paired with Danish Walnut in alternating stripes of light and dark, almost like a piano keyboard. Above, sheets of Danish Walnut have been laid at angles to each other, creating a subtle geometrical pattern from the woodgrain texture.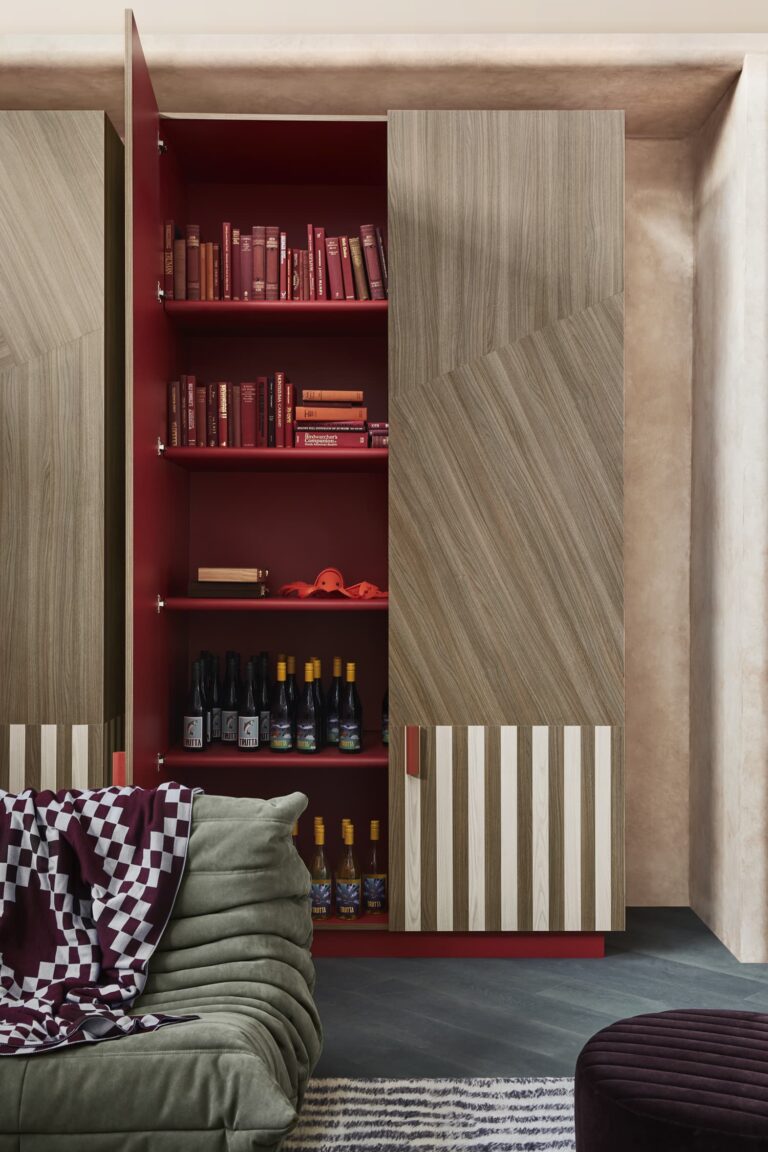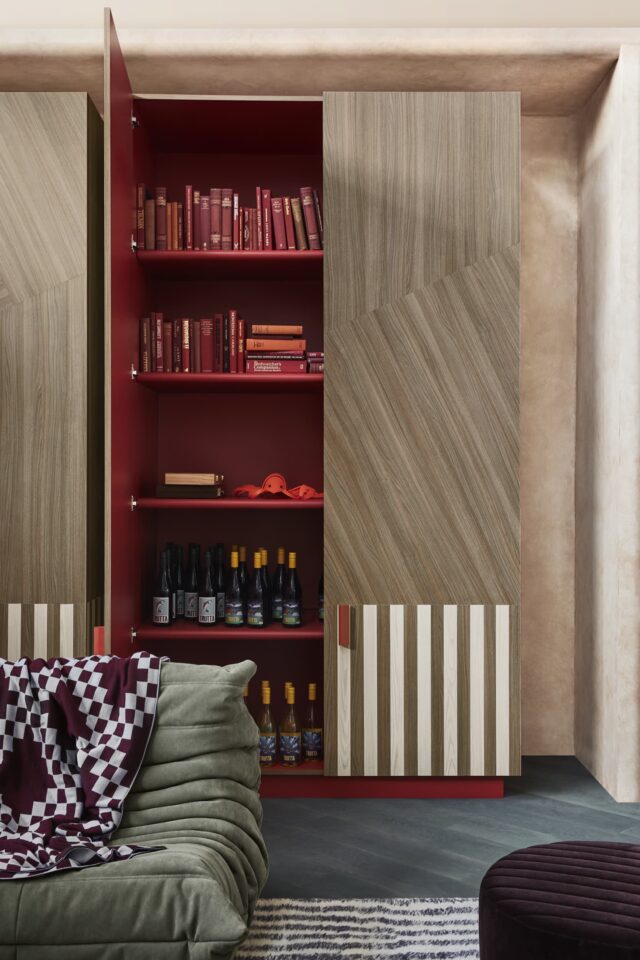 From the woodgrain cabinetry to French-washed walls, texture is abundant. With each structural element harnessing the design flexibility of Laminex laminate, a harmonious relationship between curved and linear shapes is introduced in every corner. The screen and shelving elements are fabricated with a bullnose profile, highlighting a shapely consistency throughout the space.
"The Fantales Living Space marks a distinct change in the way we use our homes," says Sacha Leagh-Murray, general manager sales & marketing at Laminex. "Expertly designed to be just fit for work as it is for rest and leisure, the living space is perfectly curated to suit modern living.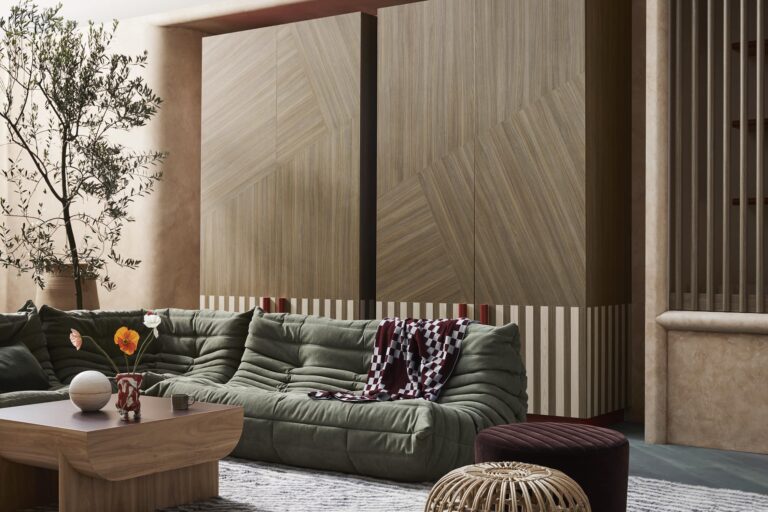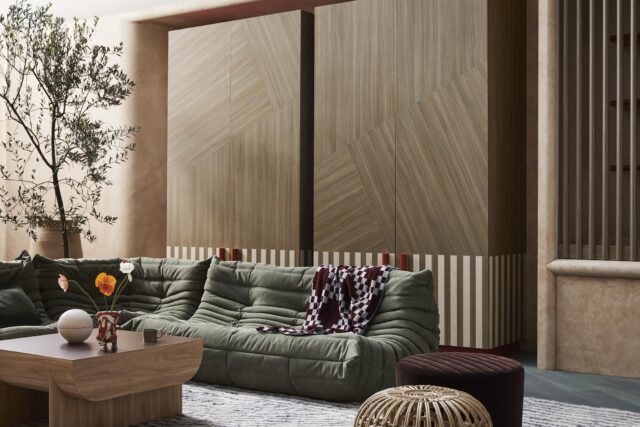 "Marrying Yasmine's unique design perspective with the design flexibility of Laminex laminate, the Fantales Living Space encapsulates the notion of finding joy in the small things, emphasising vibrant details and textured finishes."