Christie Barry recently transformed her modest kitchen, giving it a calming mint green Hamptons look with DIY Shaker doors and other clever cost-saving tricks.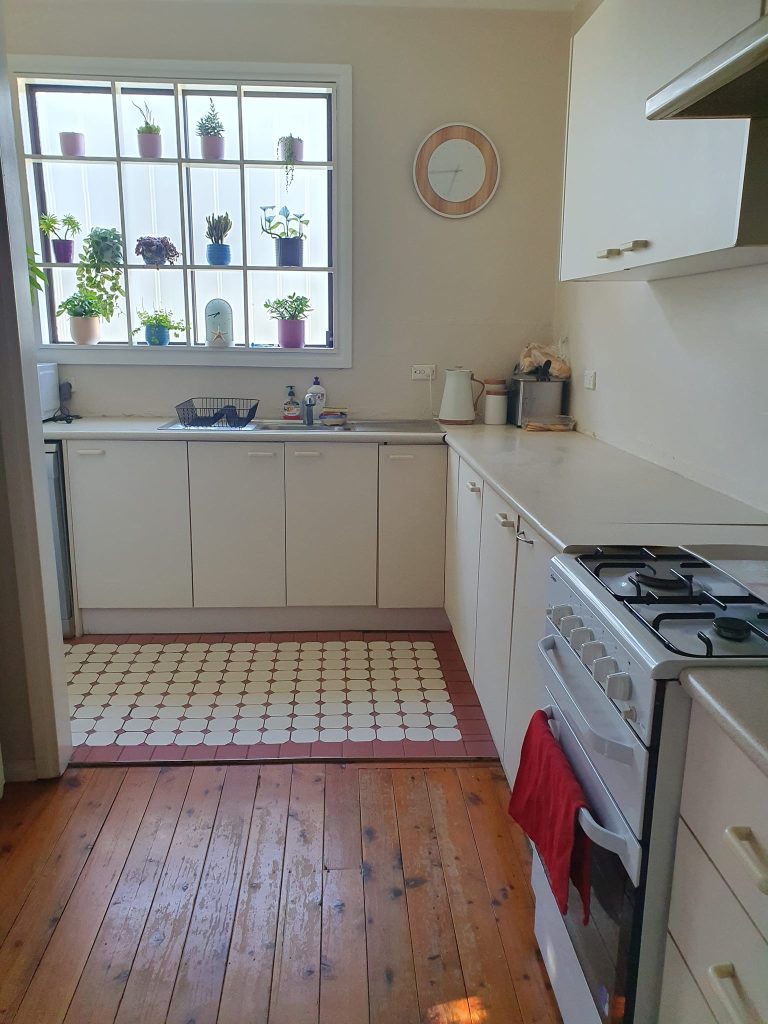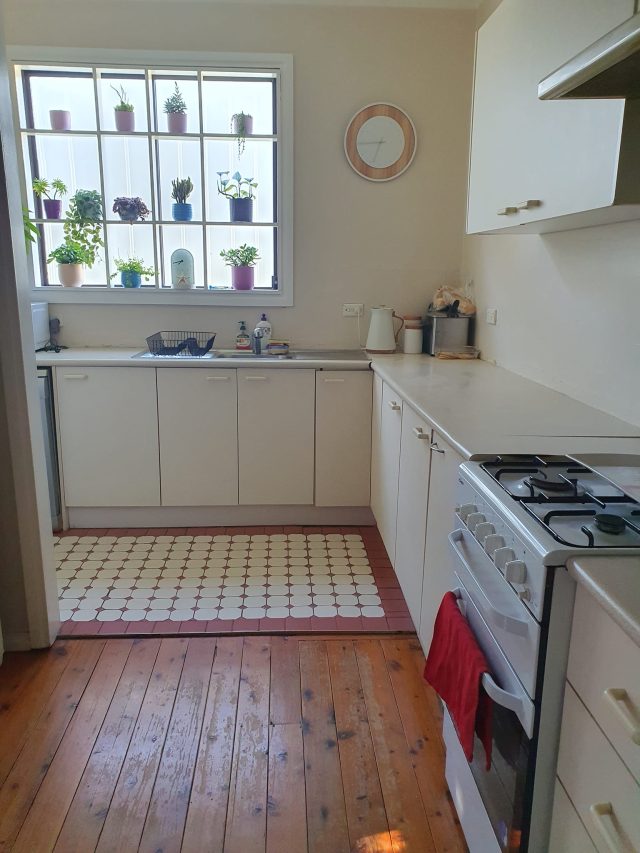 She lives in Lithgow NSW with her husband Damien and two grown up children, in a house originally bought by her late father 27 years ago, for $57,000!
"He completely gutted it and renovated it," she said, explaining the house holds great sentimental value. "My dad passed away from cancer 20 years ago and it's taken me a long time to want to change anything as everything in our home was done by my dad. In saying that, I have tried to keep as much of his work as possible."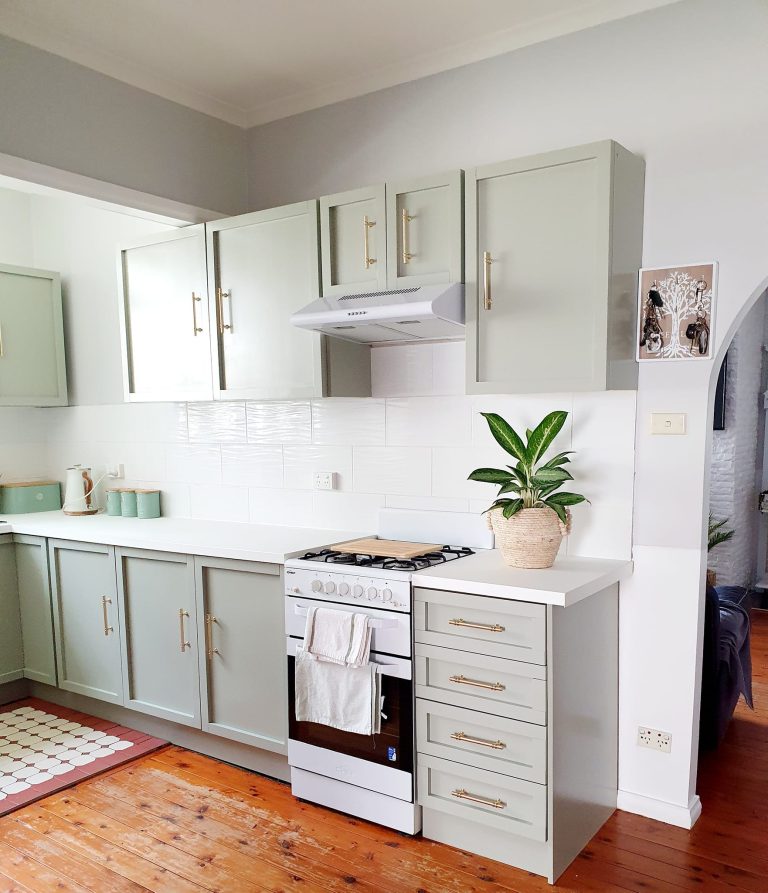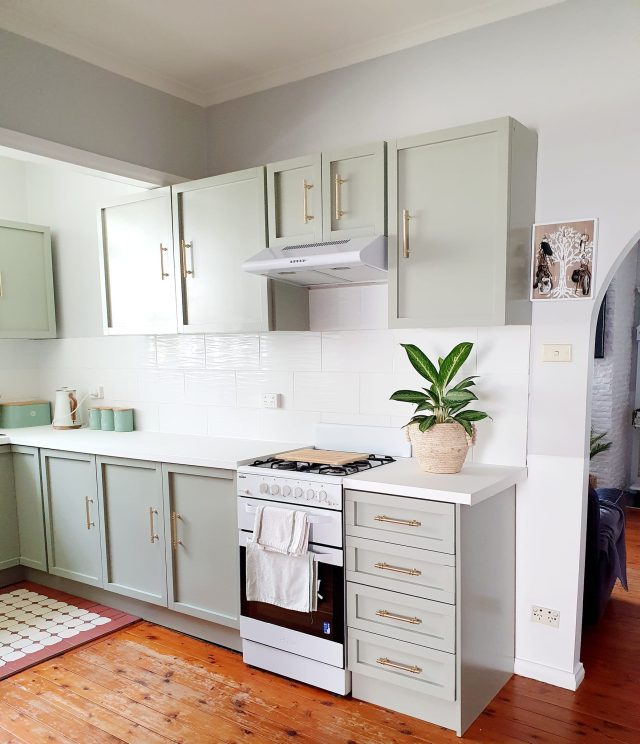 The kitchen was an old laminate one and Christie wanted to give it a glow-up to fit with the Hamptons touches she is adding to the rest of the house. "The kitchen was quite ugly but I could not afford a new kitchen, so I needed to think outside the box on how I was going to transform it on a very strict budget!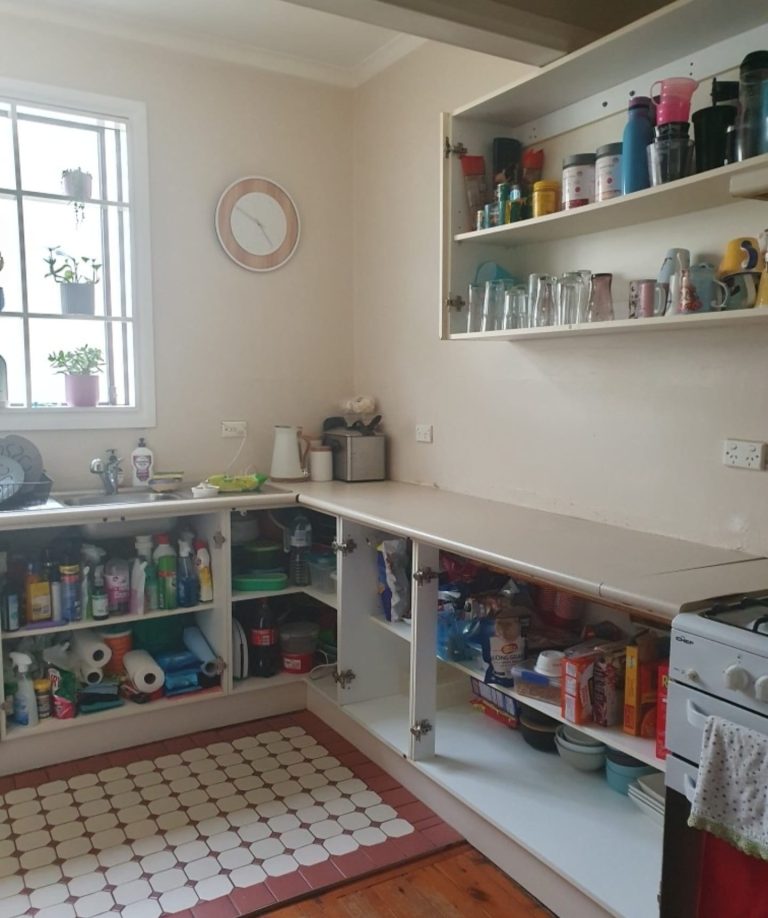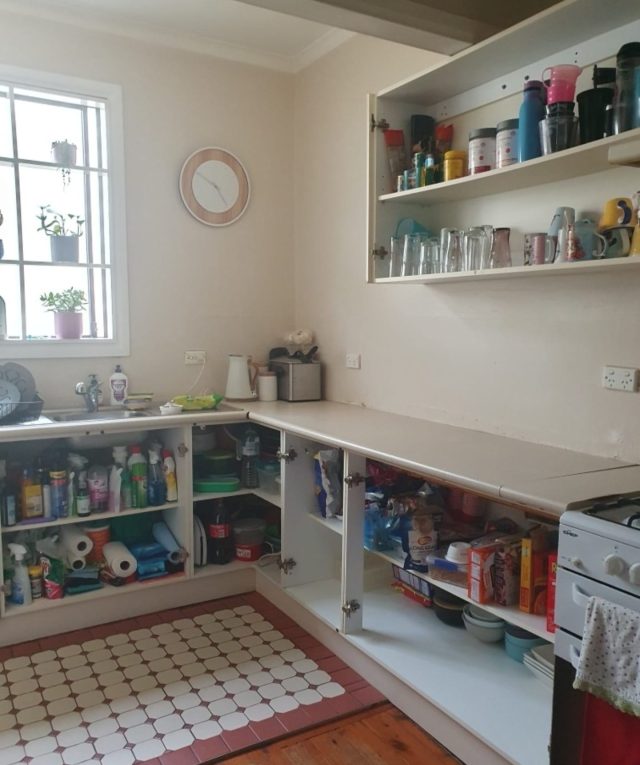 "My benchtop was old, chipped and different colours so that was the one thing we had to replace! The cupboard shells were still quite strong, so we just needed to jazz up the doors and splash a bit of paint around."
Christie added timber to the existing doors to give them a Shaker profile, then painted them in primer then two coats of laminate paint in the Dulux colour Moorland. They ordered a made to measure new laminate benchtop from Bunnings for around $1,000 which was the biggest splurge but easy to DIY install. Her and Damien also did the tiled splashback themselves with Johnson Tiles from Bunnings.
The biggest bargain were the brass handles at just $6 each from Catch.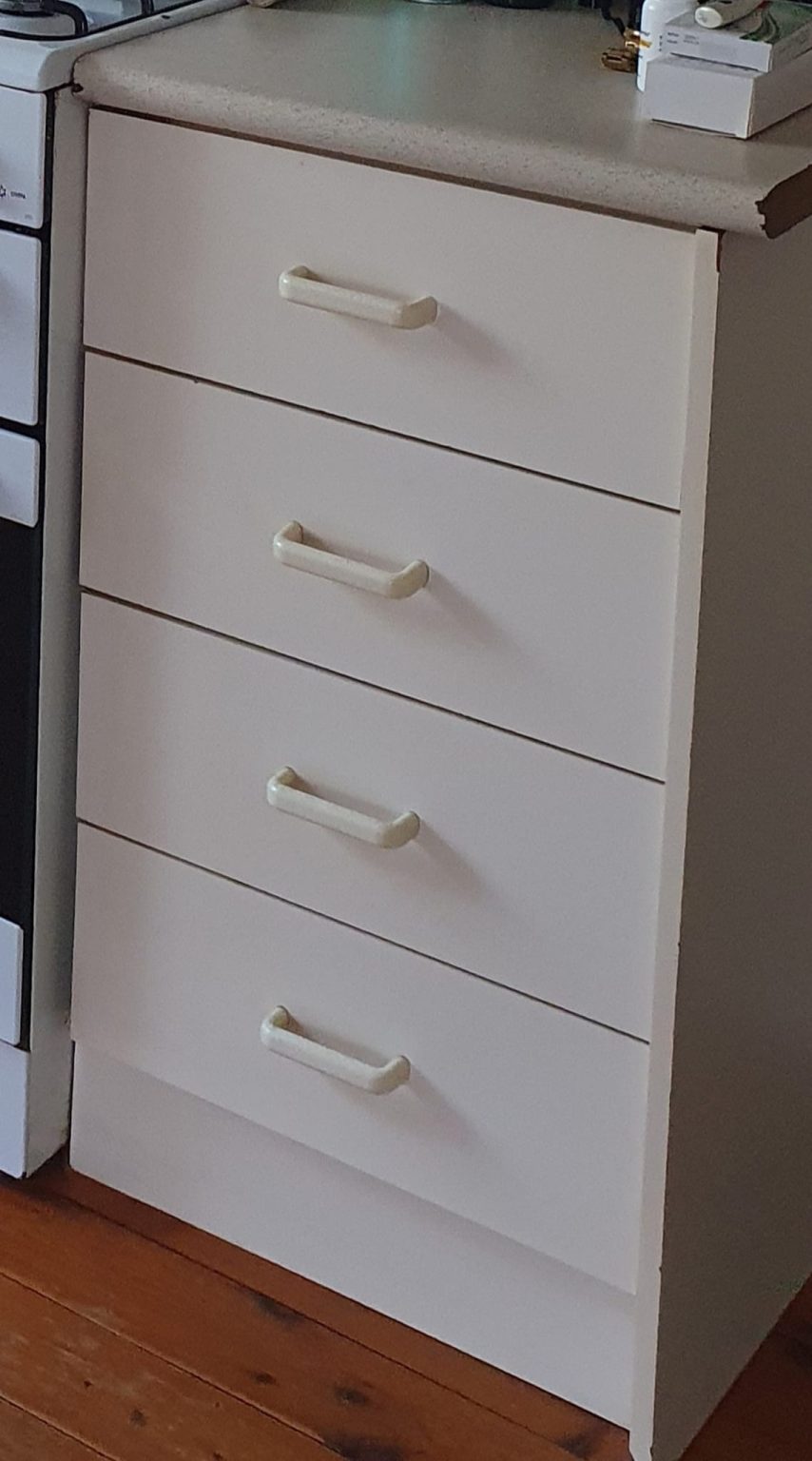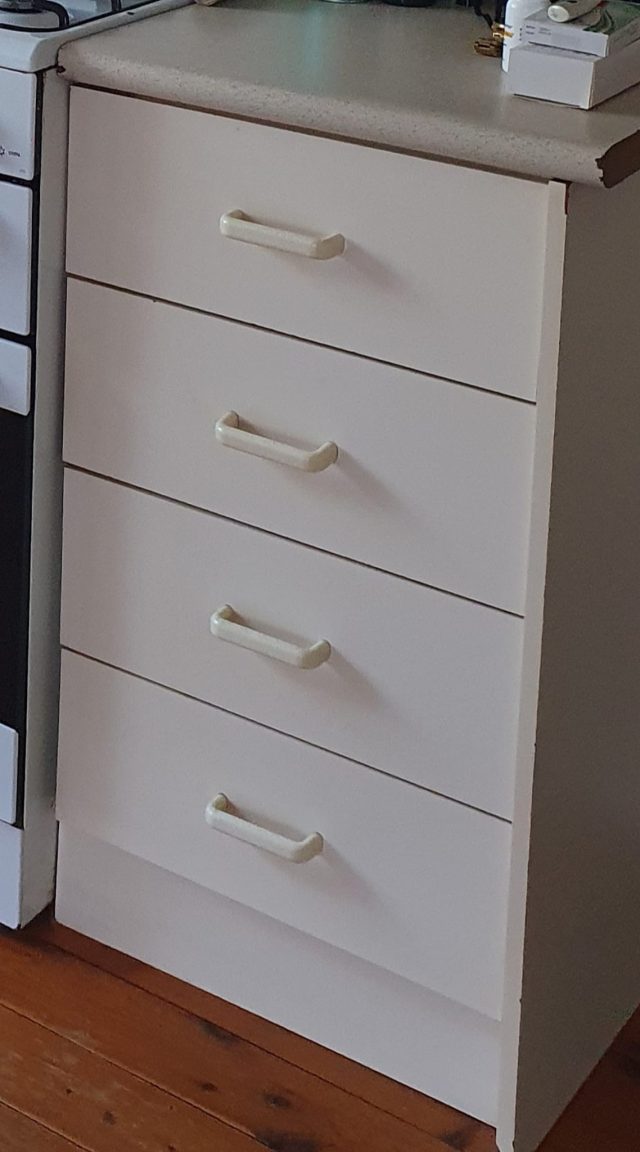 "We made the window frame a few years back to accommodate my plant obsession. It was simple to do, we just made the frame to the window size and slotted it in and gave it a coat of paint."
Christie is thrilled with her new kitchen. "I absolutely love the space we have created with very little funds! I love the colour and the way it has brightened it up. It turned out way better than expected since we have never done anything like this before. My husband is a concreter not a builder!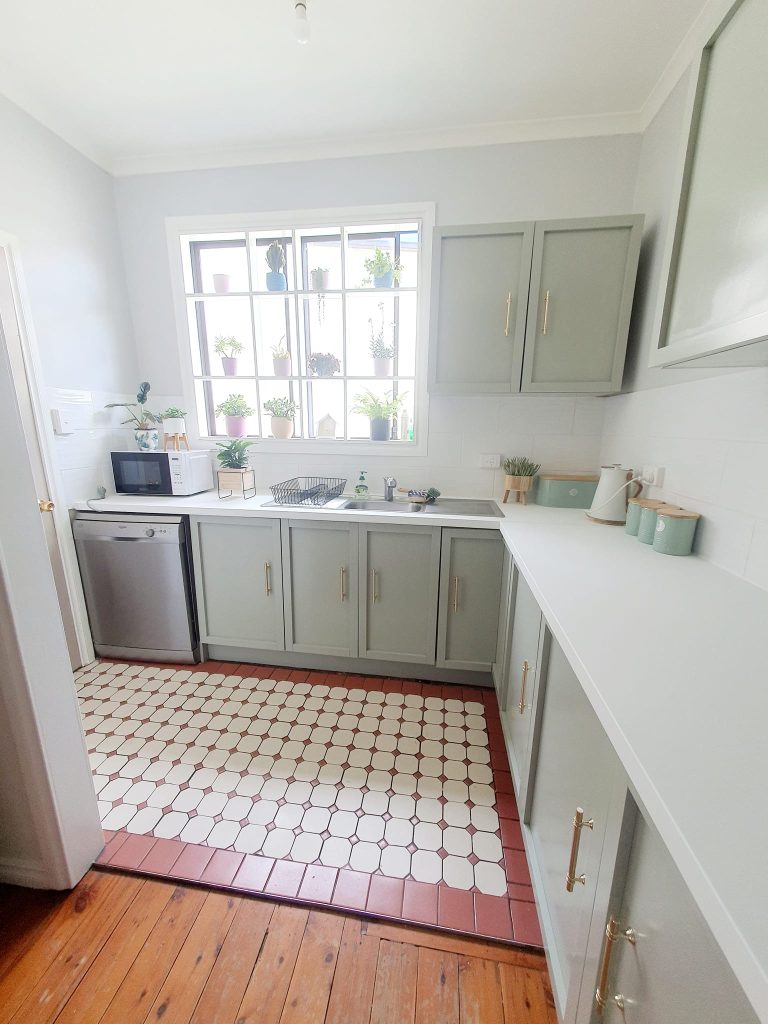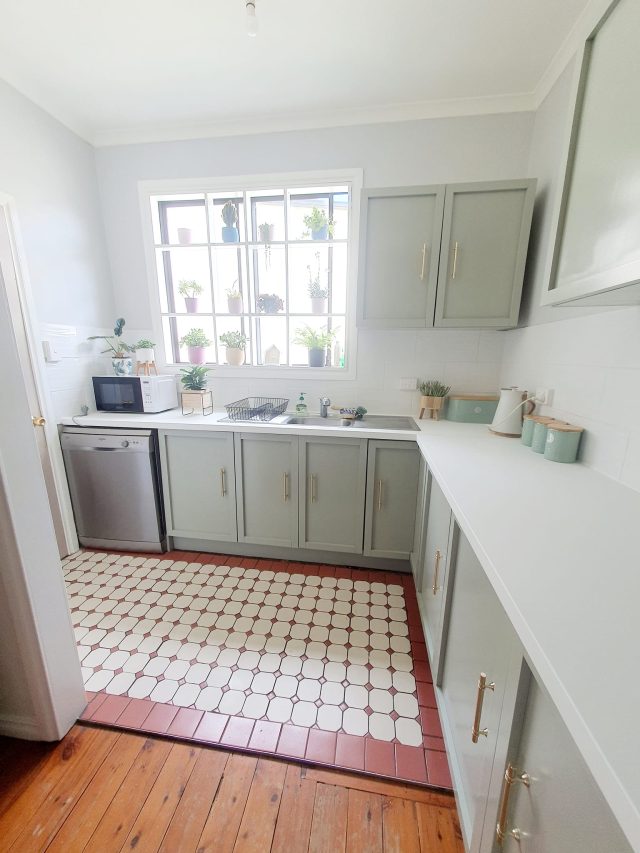 "I never expected it to look like a brand new kitchen and I'm overwhelmed with the comments I have received about how beautiful it is."
The total cost was just over $1,500 with $1,000 on the bench top, $150 on tiles, around $300 on timber, primer and paint (White Knight Renew Tile & Laminate Primer and Tile & Laminate Paint) for the doors and just over $100 for the handles.
Everything except the handles was bought at Bunnings.
Got your own budget reno to share? Drop us a line!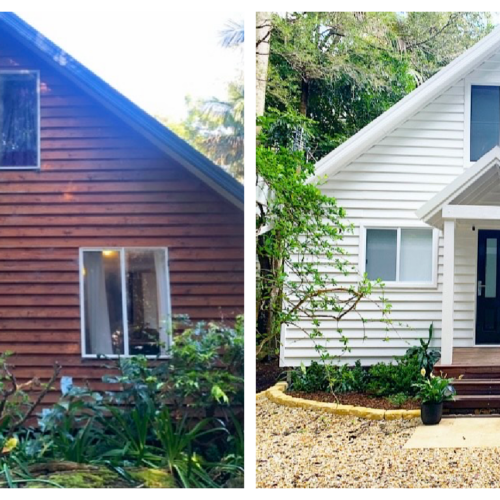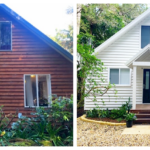 Before & after: cabin in the woods becomes Hamptons haven
We're so in love with this Hamptons style transformation which owner Michelle was keen to share to show you don't…