There's a new Hamptons on the Aussie block in 2022. Melding classic Hamptons with modern Australian design, the new Contemporary Hamptons is an audacious hybrid which catches the eye and sparks conversations.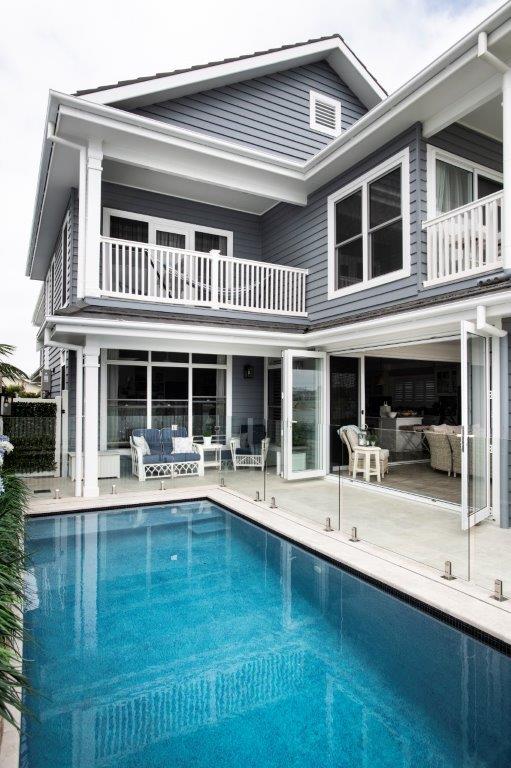 Dialling down on the classic Hamptons opulence but increasing the bold colours and lines of modern design, Contemporary Hamptons is delivering a high level of sophistication.
Long considered the domain of beach and waterfront prestige property, classic Hamptons is now being reinterpreted, with this new Hamptons expression expanding to suburbs across Australia. Homeowners are desiring the look's seamless cohesion that marries the exterior façade with al fresco living areas and striking interiors.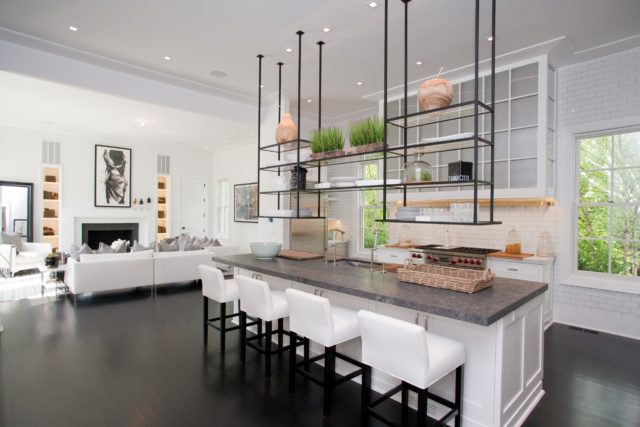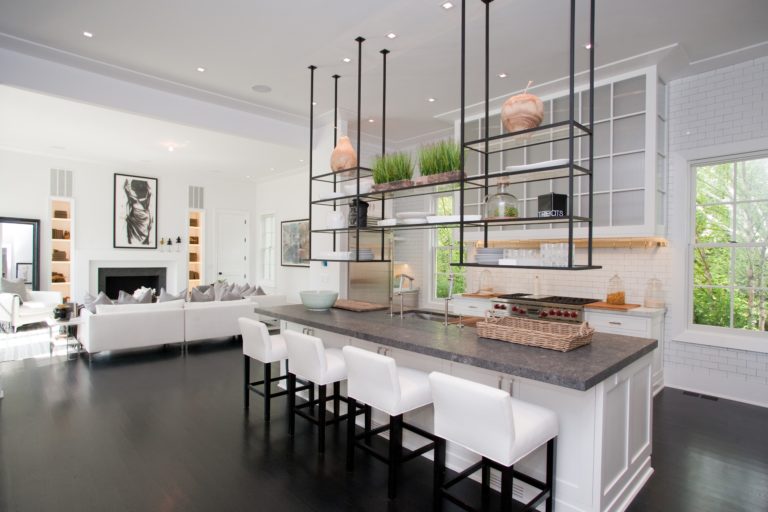 The Contemporay Hamptons look is much more pared back compared to the traditional Hamptons style. Immediately noticable are bold gables, façade articulation, and high contrast trims on dark or white weatherboard exterior walls. Internal colour schemes are more dramatic than classic Hamptons.
"The refined Hamptons look has really taken off, creating a unique modern style which is now popping up in the suburbs and city outskirt areas," says Hamptons design expert Natalee Bowen of Indah Island. "The elevation of a Contemporary Hamptons home fits well into new suburbs as they tend to be more aligned with newer build homes and a younger demographic. Now more sophisticated builds and designs are coming through with a grander feel even if on a smaller block, but still featuring the modern elements."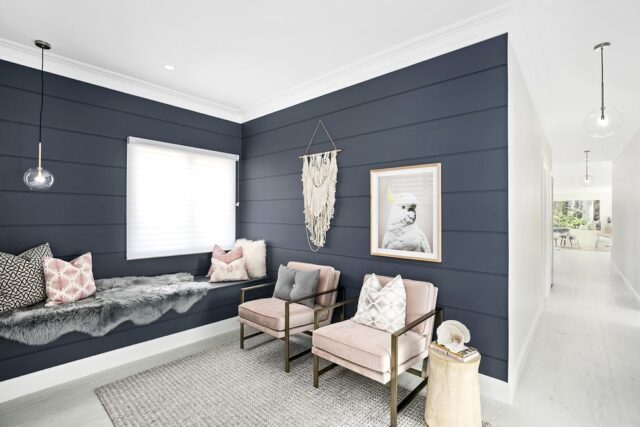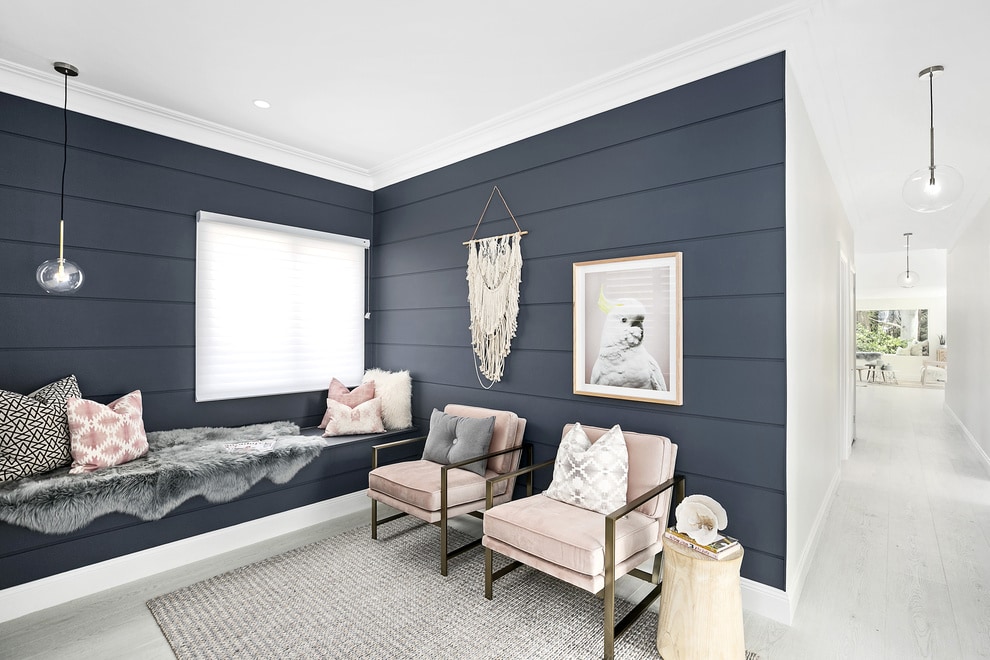 A trademark feature of Contemporary Hamptons is its clean-lined exteriors extending to alfresco living, becoming fuss free and more refined. "Rather than wooden decks we'll see pavers or a continual concrete indoor outdoor open-plan effect, with slider or bifold doors rather than French doors," said Natalee. This creates open plan to the next level, feeling like the al fresco is an extension of the space. Modern furniture such as wrought iron works well in these spaces rather than the traditional rattan.
The façade is all about achieving street appeal and colour plays a big part according to Natalee, where a more dramatic use of colour such as darker greys, black, and deep navy create a clean profile on straight-lined balustrades, architraves and windows.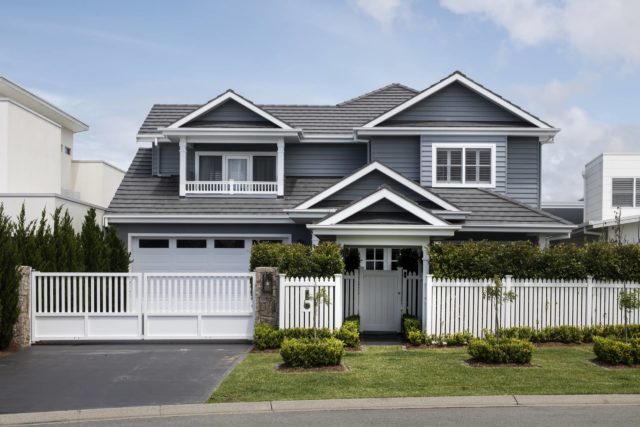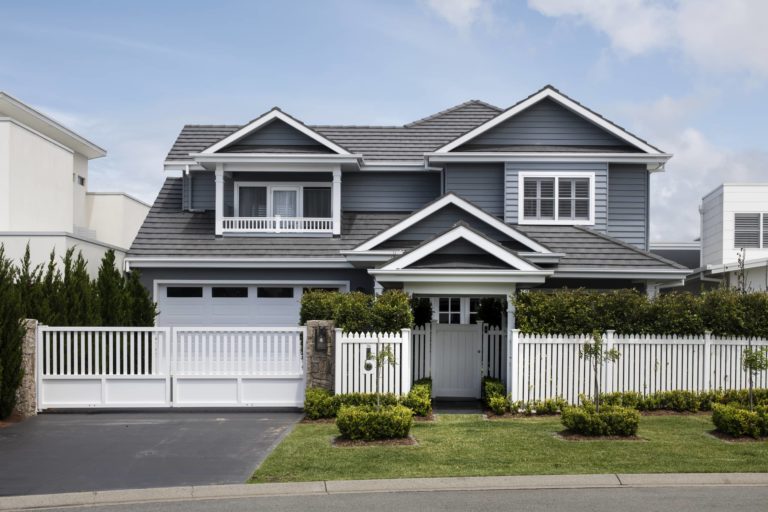 Linea Weatherboards by James Hardie are the perfect exterior cladding solution for this style with their distinctive, sharp, uniform shadowline giving a timber look, a universal trademark of the Hamptons appeal. "I love the clean horizontal lines of Linea Weatherboards as they work beautifully to bring style and individuality to a modern home," says Natalee. Being fibre cement, the cladding is resistant to fire, impact, termites, rotting and warping while requiring minimal maintenance. Unlike timber, it can be painted dark colours without concerns.
A more modern look inside as well as outside is part of the contemporary trend. Concrete or tile flooring replaces traditional wooden flooring. There's shiplap instead of wainscoting, and modern furniture such as metal and glass can be seen instead of wooden styles used in the traditional Hamptons look, according to Natalee.
"Instead of the layered look, Contemporary Hamptons is very uncluttered," she says. "Floors are quite bare with fewer rugs, while lighter fabric colours and textures are preferred for soft furnishings. Contemporary Hamptons also leans a little towards an industrial feel, with signature styles like floating wrought iron or brass shelving in kitchens and visible piping under bathroom vanities, as an example. We're also seeing encaustic tiles, or patterned tiles being used in wet areas to modernise the flooring and walls. Although the tiles are patterned, they bring a freshness and modernity to the space."
Al fresco areas take on a new importance as the additional room, with furnishings being an extension of interiors. Exterior wall panelling such as Linea Weatherboards, or Matrix Cladding chosen for its bold industrial architectural aesthetic, provide an interesting textured backdrop for styling, and plants complement the architectural design. Natalee suggests the use of more architectural plants like the yucca. "Succulents and dragon trees all work well with this look. Fiddle Leaf Figs internally are used instead of palm trees."
Natalee's top hallmarks of the Contemporary Hamptons look
1. Contemporary Hamptons homes are all about cleaner lines and a pared back look.
2. Use of darker colours on weatherboards set the scene, however, white can still be used with uncluttered detail.
3. High contrast trims create a more modern look. Aim for a bold contrast, such as dark weatherboards with white trims or black trims with white weatherboards.
4. Façade articulation rules for an architect-designed feel. Allow rooms to project, especially cantilevered upper storeys, while others recede, to create interest and individuality.
5. A less is more approach. Less layers, less details inside and out: clean straight balustrades in aluminium with thinner hand rails, no corbel detail, straight architraves and mouldings (if any). Lighting also has a more industrial feel with downlights being seen.
6. Windows with no beading and with thicker more pronounced profiles to enhance the heavier modern look. Sliding doors replace traditional French doors.
7. A black and white interior palette is favoured instead of the mid-blue and white associated with classic Hamptons. Bold colours on walls can be teamed with pastel furnishings for another take on contemporary. Choose black modern hardware for door handles and tapware.
8. When it comes to kitchen cabinetry, statement colour kitchens are on trend, with bold navy or deep green favourites. Cabinetry is pared back with no handles and clean fronts instead of a shaker style. Floating cabinetry in wet areas is also a defined look and means there's no protruding kickboards on kitchen islands.
Download the Hamptons Look Book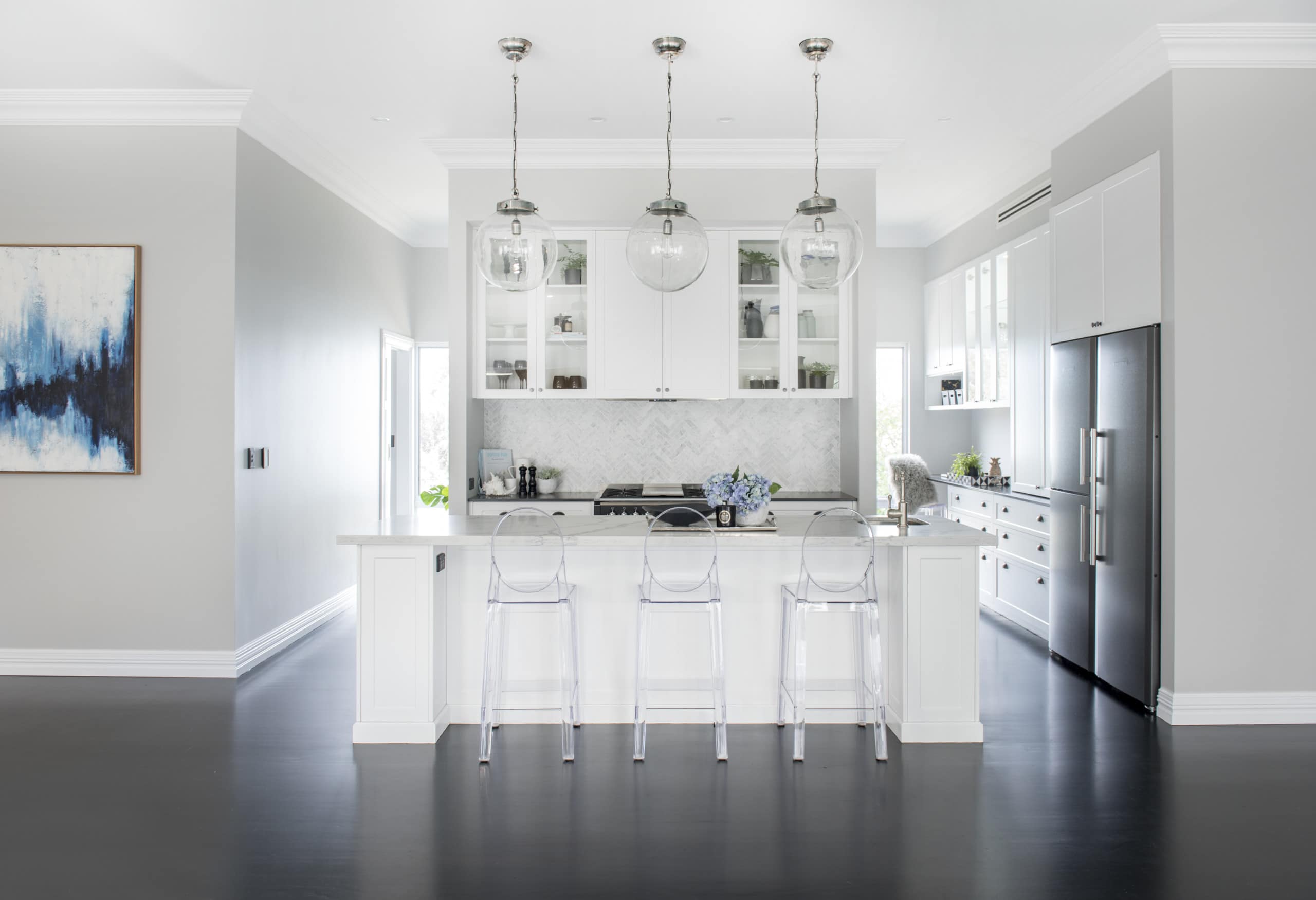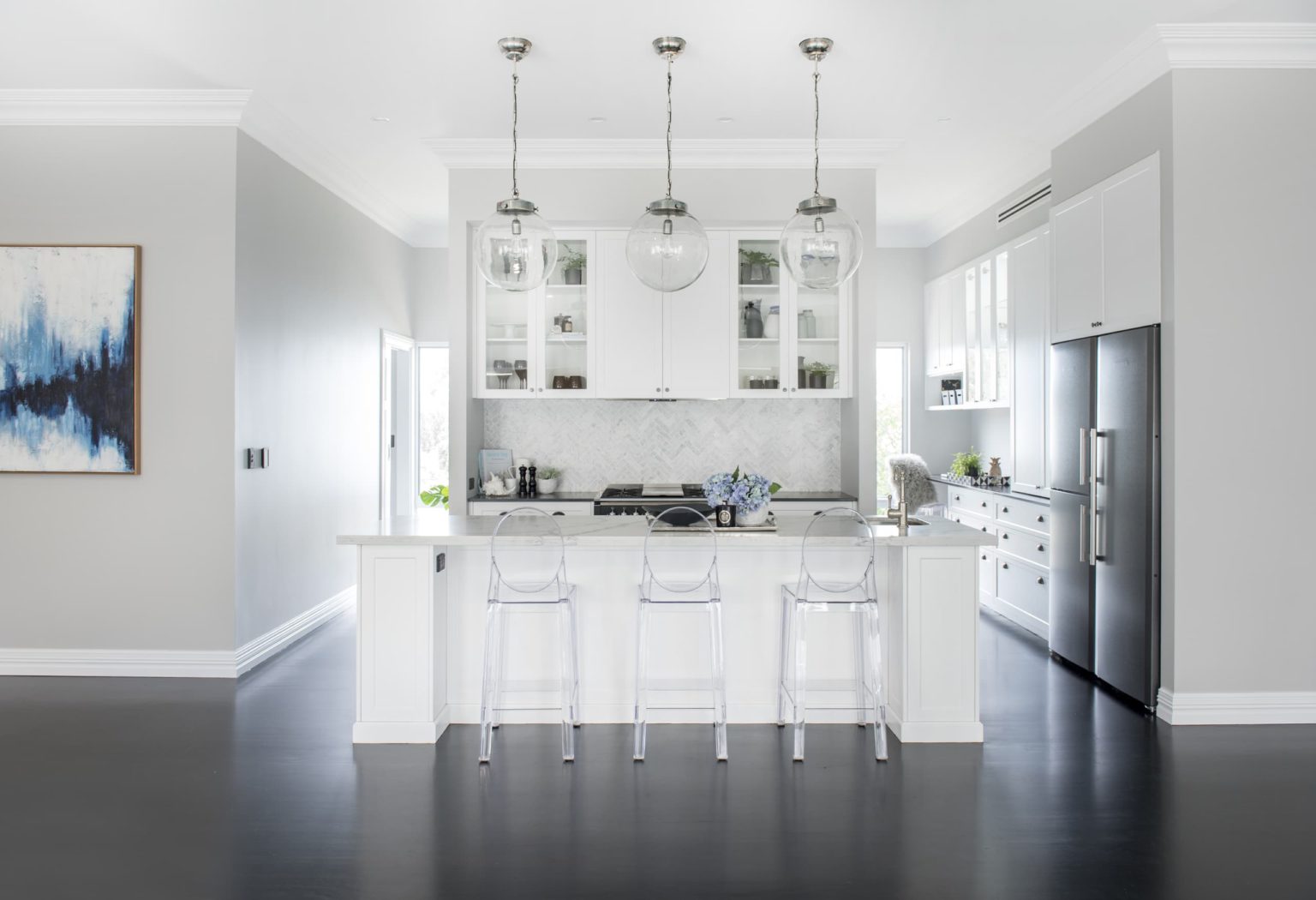 Interior designer works with heritage features on Hamptons makeover
While it's hard to compete with the many charms of a heritage home, the ubiquitous jarrah floor can be a hard one to reconcile with contemporary interiors – mainly because…