I never thought I'd get excited about a stroller until I had a baby. And then I became aware of  whole new world of good looking baby transporters which showcased great design in form as well as function. And you can't go past market leader Bugaboo in both stakes.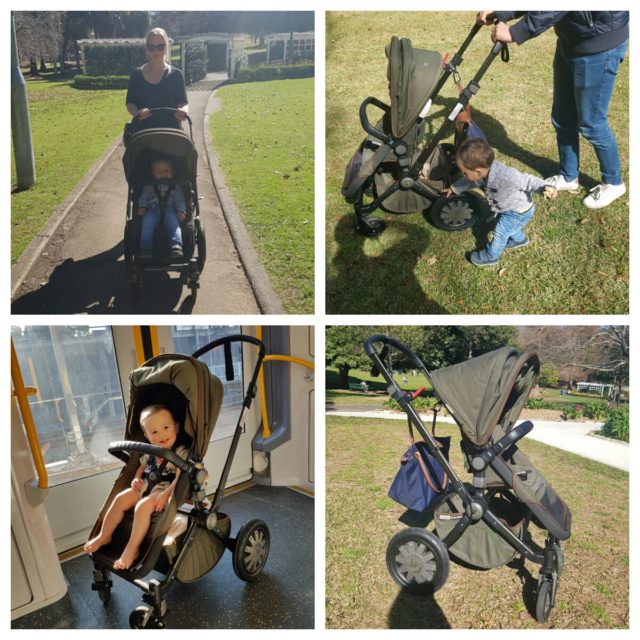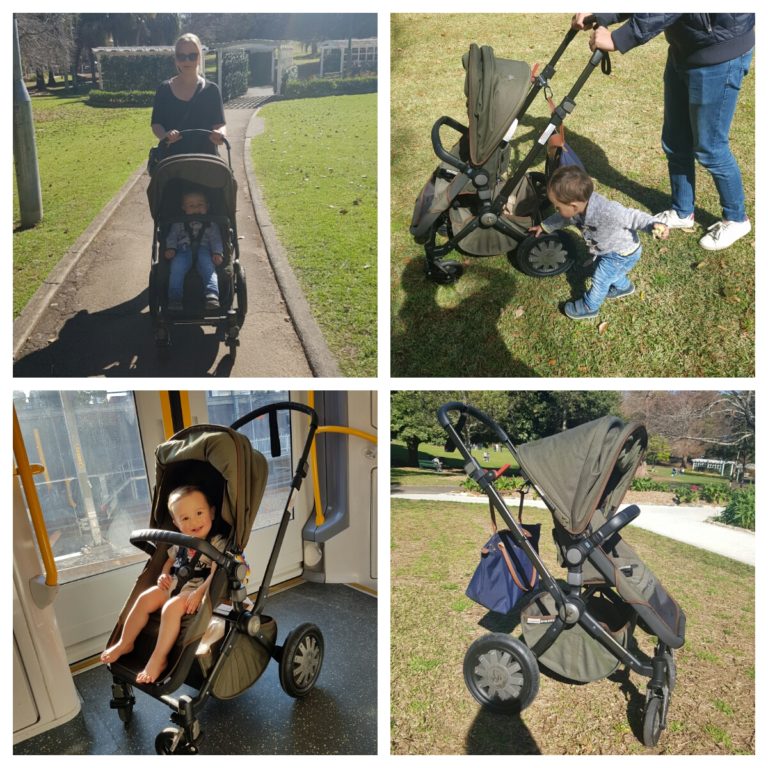 We started our stroller journey with the Bugaboo Bee3 (with bassinet). We loved that neat little pram (and I loved the fact you could choose everything from frame colour to seat and hood colour, not to mention the bevy of accessories…). We went for a grey and blue combo, safe in the knowledge if we used it for a second (one day!) baby and fancied a change, we could simply buy a new hood. Its highlights for me are ease of putting up and down (I'm really lacking in hand-eye coordination!) and its compact size and light weight. Taking tight corners in shops is no problem, even one-handed! It doesn't take up much boot space (we had a Golf when we first got it but have of course now upgraded to a soccer mum car) and it weighs very little. I carried the pram with Seb in it up and down stairs multiple times. This pram also came with us to the UK in a carry case).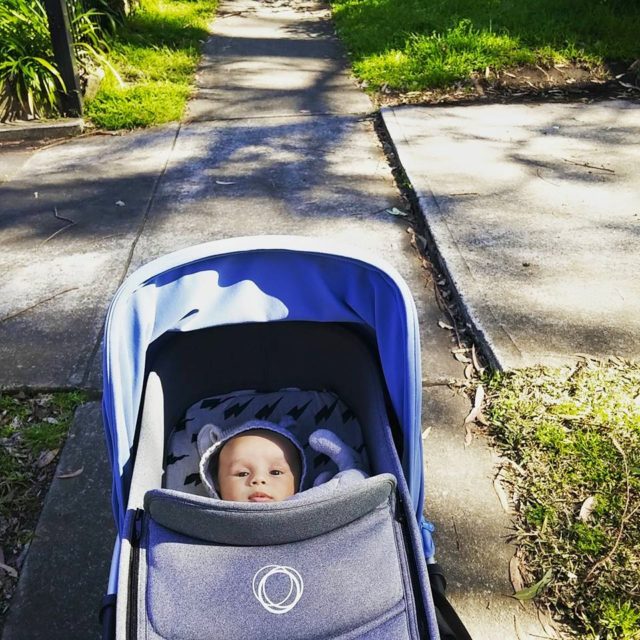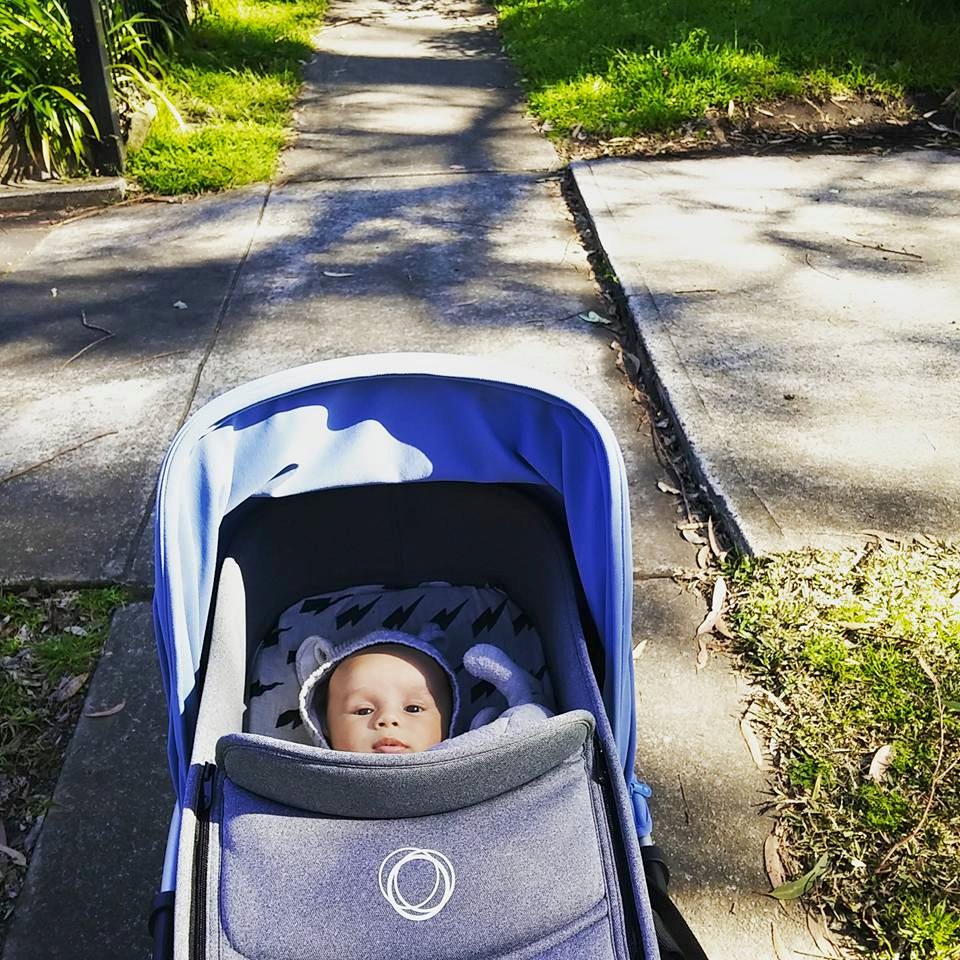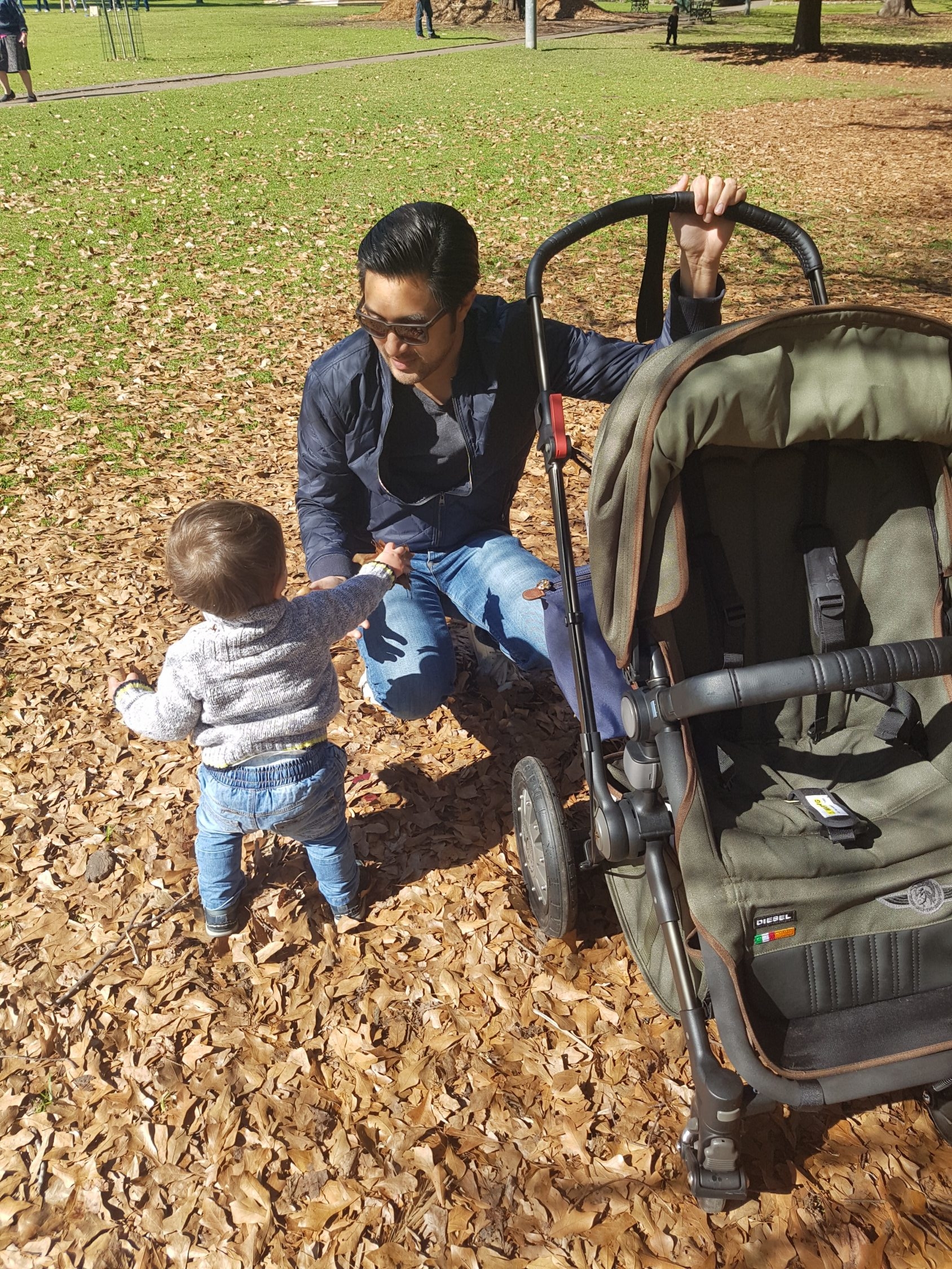 When we moved to the 'burbs of Wahroonga though, I found our little city pram struggled a bit with all the high kerbs so when given the opportunity to check out Bugaboo's well known Chameleon3 with its bigger wheels, we were keen to give it a go! But little did we know how obsessed Sebastian would be with it! We certainly appreciate how much easier it is to get around with but he absolutely loves it too. Perhaps its because it is bigger, he is up higher and he loves holding onto the bar across the front. Or maybe he just loves the look of it! It certainly has style in spades!
Did I mention the useful compartments on the back for storing your keys and phone and the very roomy basket underneath? All very important. In fact I'm not sure what I'm going to do once Seb's out of a pram and I can't use it to lug my shopping around anymore?!
We have the Diesel collaboration Military version and it's a very cool looking bit of kit! Seb even tries to climb into it when we're not out and about and has been known to get back in of his own accord at the park. This never happened before! And he loves trying to push the big wheels along too. Who needs toys?!
Despite being a much bigger stroller, the Cameleon3 easily comes apart and folds flat, taking up way less space in your car than you'd imagine. Check out this video to see how that works:
It has plenty of other cool functions, like the ability to have your child forward or rear-facing at the click of a button (or two), fully adjustable suspension, wheels and handlebar height (I actually find this much more comfortable to push than the Bee3 and because it's higher, I save my back by not having to bend down so much). A bassinet is also available separately. We loved our bassinet for the Bee3, and it was a great place for Seb to sleep when we stayed overnight somewhere too.
We have no issues getting up and down kerbs anymore (although negotiating the tight aisles of the post office isn't as easy as with the Bee!) and on and off the train is also a breeze!
This video shows you all the different seat positions and how easy it is to change between them…
The military stroller was the first of three cool collaborations with lifestyle brand Diesel and there's the denim and rock versions too.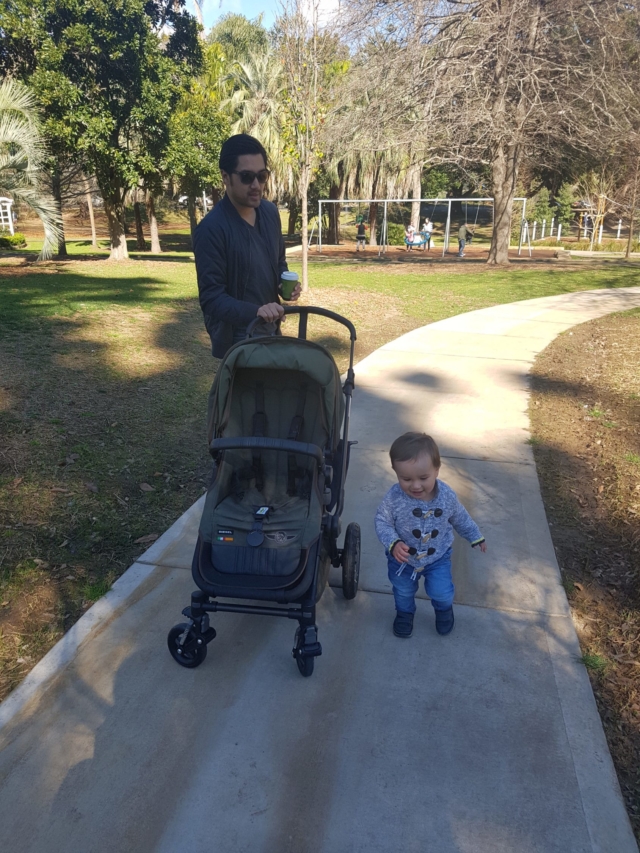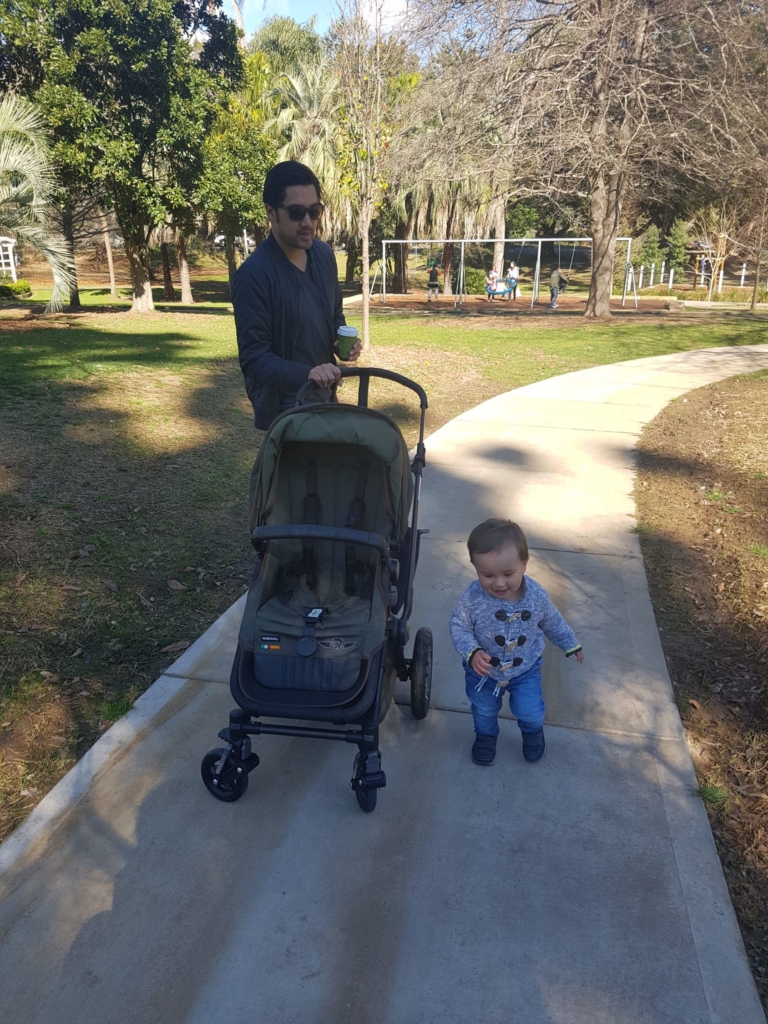 Bugaboo introduced the first Cameleon stroller in 1999, with the idea to create the perfect all-in-one: a stroller that's flexible enough to go anywhere and everywhere. This was the blueprint for today's Bugaboo Cameleon³.  The combination of high performance, long-lasting quality and innovative design, plus countless fashionable special editions, has made it a true design classic.
The Bugaboo Cameleon3 by Diesel retails at $1,699. Matching camouflage accessories are available and include a seat liner, parasol, mosquito net and foot muff.
Find out more about the Bugaboo by Diesel strollers.
Disclosure: We were gifted the Bugaboo Cameleon in return for an honest review.