While I'm no stylist, I've spent enough time around the country's best, read enough books and magazines and rearranged my own furniture and accessories enough times to know a thing or two about the little things which can make a big difference to your home. Everyone needs a couch, a coffee table, a TV, some kind of storage unit and perhaps an armchair in their living room. It's the little things you add to the mix that really create your look and say something about you. Without these little touches, rooms lack personality and a sense of the people who live in them.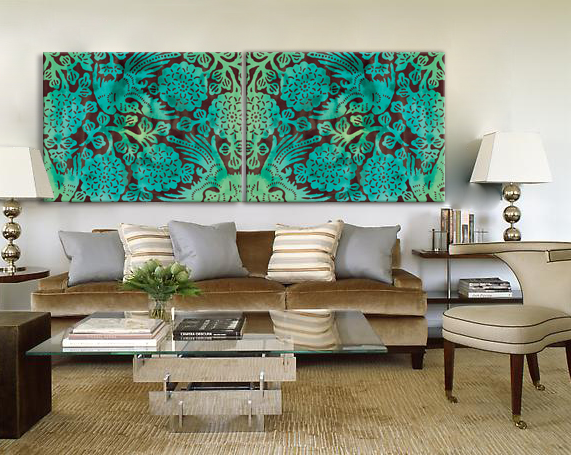 (Above: Inexpensive art from Urban Road)
Here are my top 10 styling essentials. I'd love to hear what yours are.
1. Coffee table books. I have stacks of books everywhere. Some are colour coded, some are themed, some are just groups of favourites and those I reference regularly. Yes, books are designed to be read and their photographs looked at but don't miss out on their wonderful secondary use as accessories! Your choice of books says a lot about your taste and your style and who doesn't want to express themselves through their interiors (I hope I'm preaching to the converted if you read this blog!)? Hardback coffee table books are called coffee table books for a reason. They look great on coffee tables, add personality, colour and are great for arranging little vignettes on top of. (This reminds me of a hilarious post on the blog F*ck Your Noguchi Coffee Table). Yes, some of these styling 'props' so to speak, have become cliche, but there's a reason: they just work. I'd bet at least 50 percent of interior designers' photographed work features THAT Tom Ford book on a coffee table! The coffee table itself probably deserves its own post so I'll save that for another day! (Any excuse to rave about my own vintage marble-topped eBay find again).
2. Cushions. My cushion addiction is a running joke among my friends but I just can't help it. They're such an inexpensive way to change your look, feel, colour scheme, and they're low-commitment. Whatever the current interiors trend, should you wish to follow trends, you can probably incorporate it with cushions, whether they be neon, chevron, yellow or or dip-dyed (you're nodding aren't you?). They're also a great way to add texture and layers, both really important in creating an interior that works. This is my latest cushion purchase. Some of my favourite places to buy cushions online are Ada & Darcy, Table Tonic, Pony Rider, Brown Paper Packages, Xavier & Me, and plenty of stores on Etsy.
3. A great rug. It doesn't matter whether you have carpet, timber or tiles on your floors, you need a great rug or two. You can spend a fortune on a rug (and it can be absolutely worth it because it can really make your room) but there are affordable options too. That said, cheap rugs can look, well, cheap! The best affordable options in my book are cowhide (but it's not everyone's taste) and sisal (which does with pretty much everything and adds a welcome touch of nature to your room). I recently picked up a great black and white striped rug at Ikea and Armadillo & Co have some great mid-priced options which have appeared in just about every magazine going in the last 12 months. If you have cash to splash try Designer Rugs, Cadrys or Tsar.
4. Candles. They add ambient light, gorgeous smells and they can also look great as most of them come in lovely jars or tins these days. What's not to like? I'm currently loving Gascoigne & King and Glasshouse as well as some flameless options from Enjoy Lighting. For a treat though, it has to be Jo Malone (Pomegranate Noir).
5. Fresh flowers. If I don't have these, my room isn't finished. It's lovely to have something living (technically) and from nature in your room. I also have some cacti and succulents (haven't they become trendy lately?) but flowers are great for variety, colour and fragrance. A single stem or a bunch, you can play around with different vessels like chemistry flasks, test tubes, vintage jars and bottles.
6. Trays. Coming back to the good old coffee table, you need a tray or two. One is for your coffee table (it might house that stack of books or it might keep annoying things like remote controls and your pile of coasters tidy), the other might be on your bedside table for your watch and the jewellery you take off before you go to sleep. I have trays everywhere for my bits and bobs. Some are purely decorative and have little collections on them. Somehow everything looks ten times better on a tray rather than 'loose'.
7. Ornaments/objects. They look pretty and they're like art but in 3D. They can be expensive or they can be really cheap. And you can move them around. Glass cloches are really popular at the moment (I find almost anything looks better underneath one!). Other examples are things from nature (coral, barnacles, driftwood), vases, beautiful bowls and candle holders.
8. Art. Paintings, prints, canvases, framed pieces, juju feather hats, posters, maps, the options are endless. Bare walls are a sad thing. I've featured some great affordable options lately from Urban Road and Blacklist Studio.
9. Photographs. I'm a great believer in surrounding yourself with things that have real personal meaning and memories attached to them and what better than photographs? Whether you have one special picture in a gorgeous frame or a mix and match frame cluster wall (again, very in right now), or a family snap blown up onto a canvas, you can use photographs to decorate your home and make it feel like your personal space.
10. Throws. This last one's especially for winter. Throws are fabulous because they're not only decorative (hello again layering and texture!) you can also snuggle under them on chilly evenings.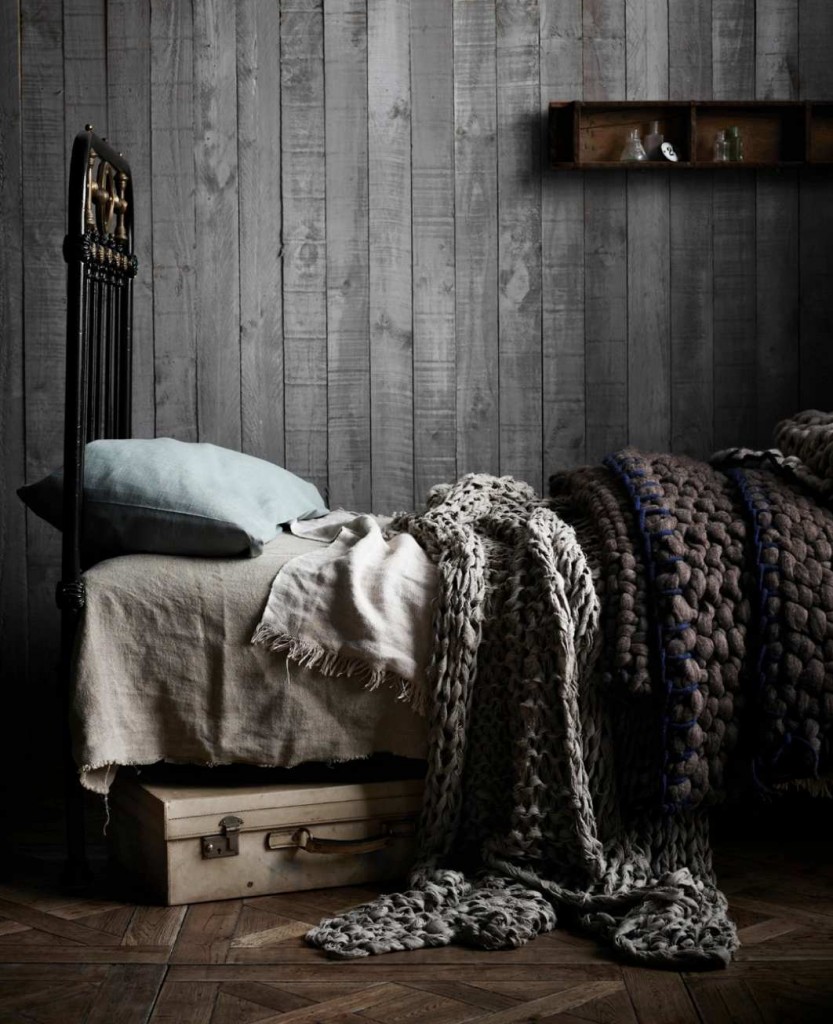 (Above: Mega throws by Little Dandelion)
What about you? What are your styling essentials? What would you add to this list?