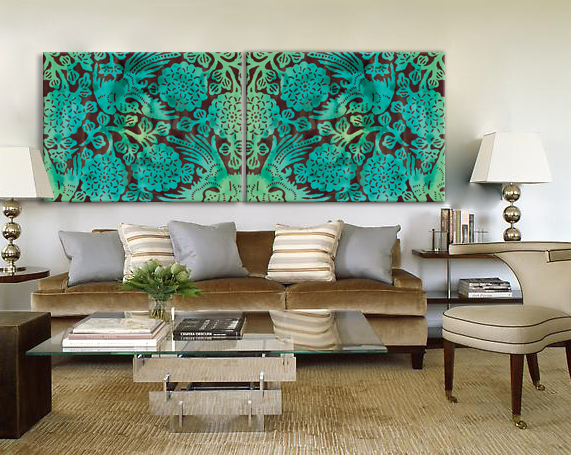 The challenge of finding affordable, stylish artwork is a big one. Trying to find it online sounds like a terrible idea. But Suzie Atkin is making it happen with her growing business Urban Road.
Suzie always loved art while she was growing up. "My parents were crafters and my brother, two sisters and I were their production line," she jokes. "In Year 12 I decided I wanted to be an art teacher, but was encouraged to do business by my well-intentioned father. So, I ended up in IT and I was lucky enough to get a job with a design software company. When I discovered their software I fell in love with its possibilities."
She spent a lot of her spare time tinkering with graphics online but continued down the corporate career path. After she had her first child she started doing illustrations for people, mainly portraits.
"I am pretty fickle when it comes to decorating my house and I like to change colours and styles every now and then, but finding something I really liked that was affordable and would cover large expanses of wall space was difficult, so I decided to create it myself." In 2010, Urban Road was born, with a view to creating fabulous artwork at super affordable prices.
So how does she decide on the designs? "Oh that's easy, I do what I love. When I get an idea I become an obsessed mad woman and have to design it as quickly as possible. They don't all make the cut mind you."
Suzie thinks her art's for anyone who loves to design, renovate or redesign their home, who wants to look like they spent a fortune on artwork without actually spending a fortune.
Key to Urban Road's success has been the online gallery which shows the art in situ and gives people inspiration for how they could hang the canvases in their homes. There's also the option to create things in your own custom colours. Pretty damn cool if you ask me. Suzie supplies a lot of interior designers and started selling through retail outlets last year.
"I don't want to jinx myself but business going great… really great! I have to pinch myself sometimes because I can't believe I actually did it."
Canvases start from $49 (retail) and you can apply for a trade account. Oh, and did I mention free shipping Australia wide? My personal favourite designs are Dreamy Wilderness and Ava Pink. The Ava series can be mirrored in a pair for a striking effect which could cover some serious wall space! Lightweight enough for renters to hang with 3M hooks too…