Can it have really been the last lot of room reveals of the series?! I feel like it's gone really quickly! What about you? Have you enjoyed this season?
Last night, the judges scored the contestants' challenge apartment efforts and once again, with a different room each, I think it made for more interesting viewing than when they're all doing the same rooms, although it's much harder to compare apples with pears, as they say!
It was a great night for favourites Shay and Dean, who got a full marks 30 for their living room, which was indeed beautiful. Whitney and Andy got just half a point less, 29.5, for their dining. It was a very close call all round with Suzi and Vonni taking third place and 29 points for their bedroom, Luke and Ebony 28 for their kitchen and Caro and Kingi 27 for their home office, powder room and laundry (surely the toughest gig?). I felt like all the scores were a bit on the generous side but maybe the judges wanted to go out on a positive note!
Suzi & Vonni's bedroom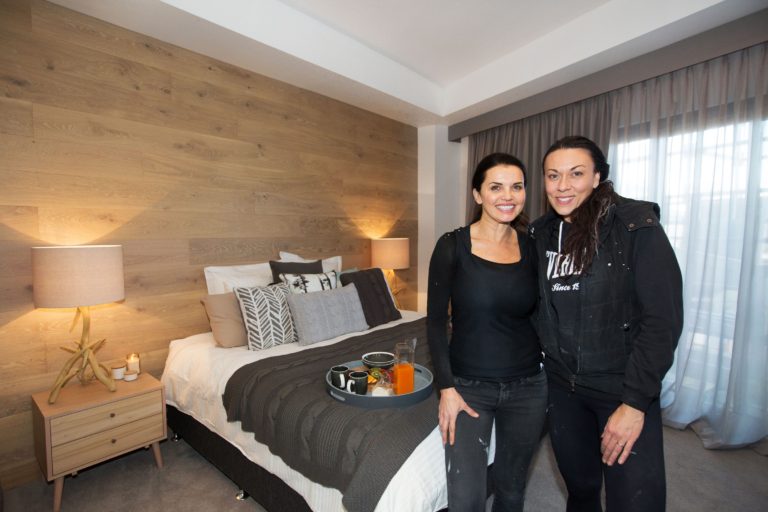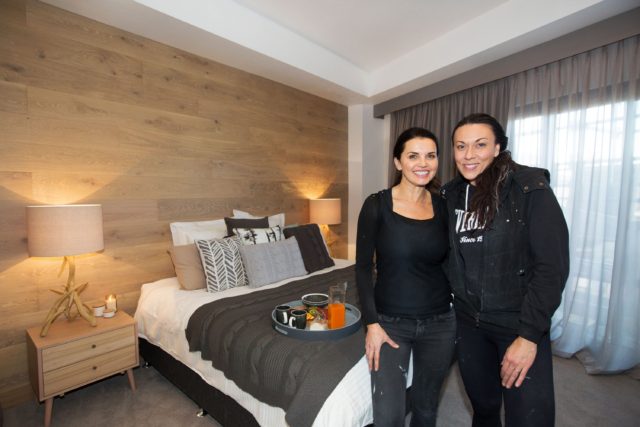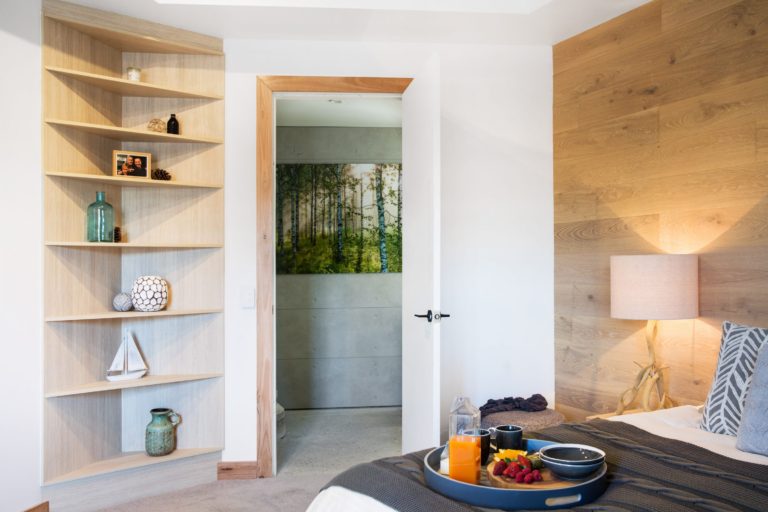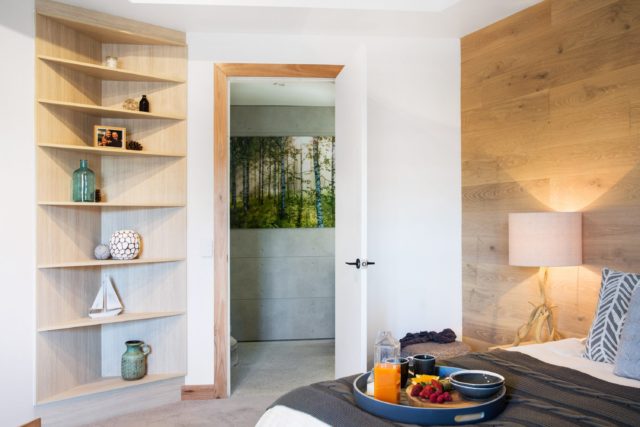 Neale loved the timber walls and Darren, still not knowing whose room it was, said they'd finally worked out how to do bedrooms. Although while Shaynna and Neale loved the cushions on the bed and the styling with a tray of breakfast at the end of it, Darren thought there were too many cushions and the tray arrangement was a little twee. I have to agree with Darren on that one! On spotting the pine cones, Darren was sure it was Suzi and Vonni's room!
Neale said if it was indeed the girls' work, he had to applaud them for  their restraint and sophistication. The judges said the execution throughout was excellent and that they'd nailed it this week.
Caro & Kingi's study, powder room and laundry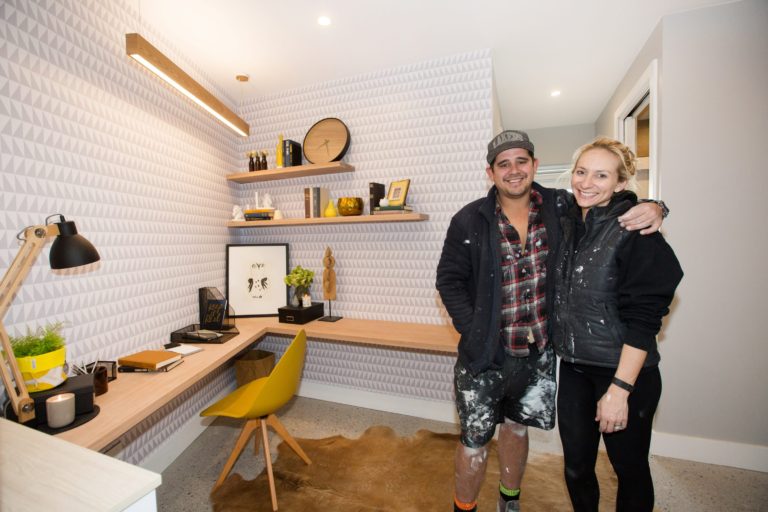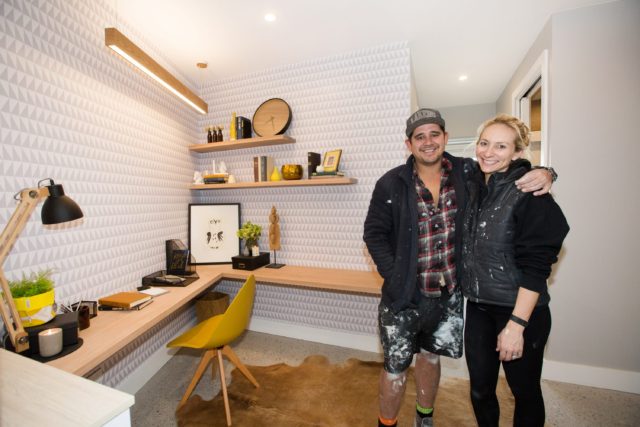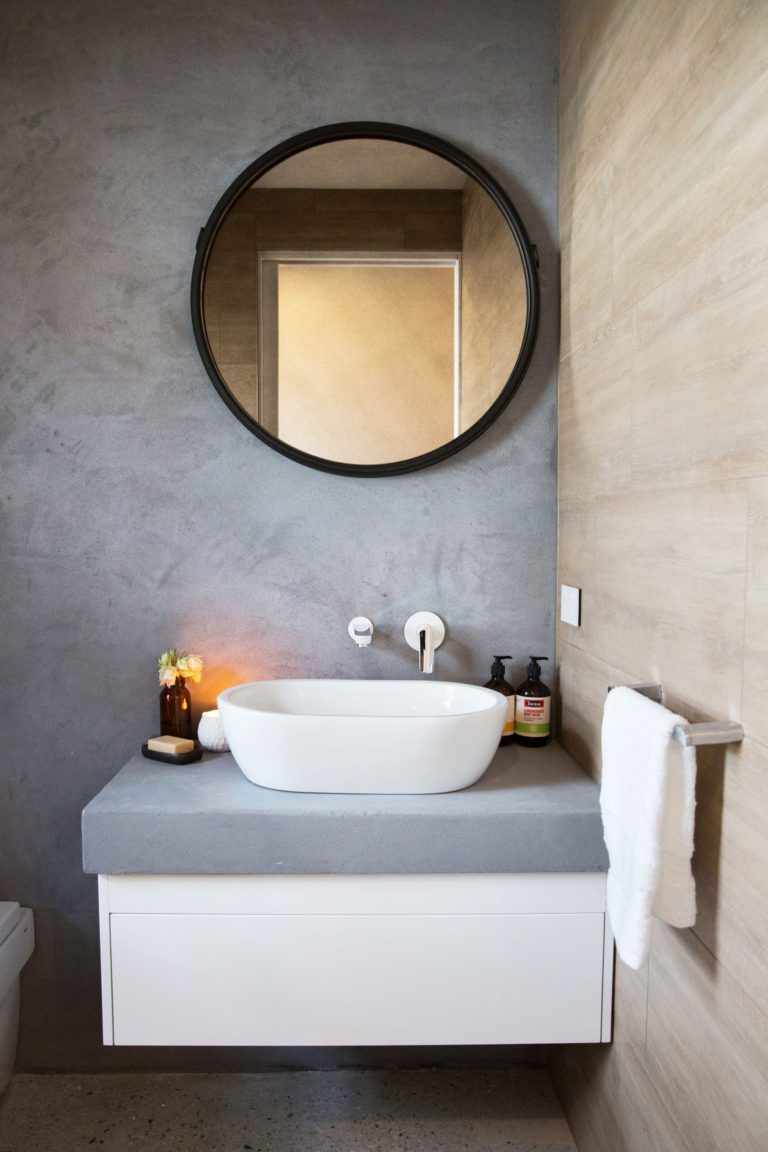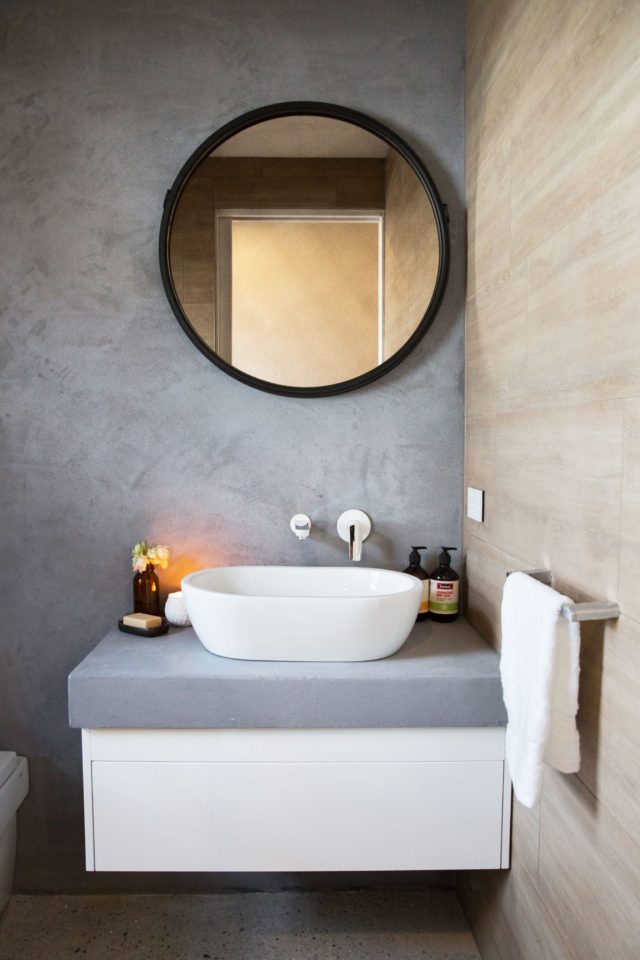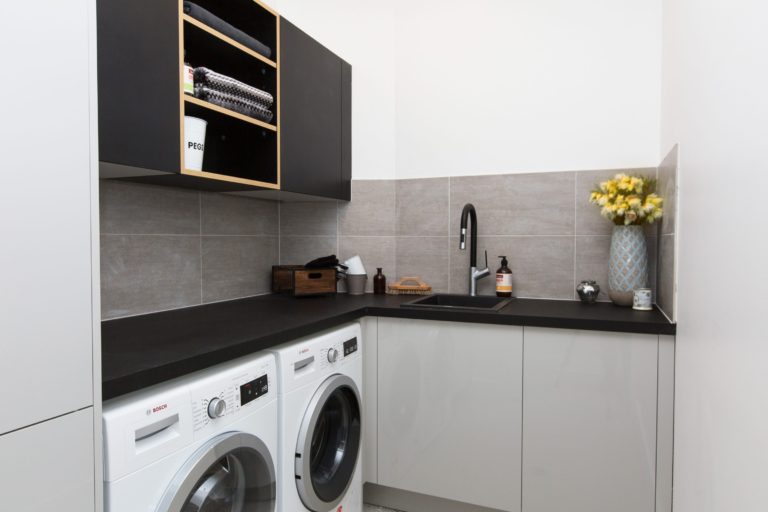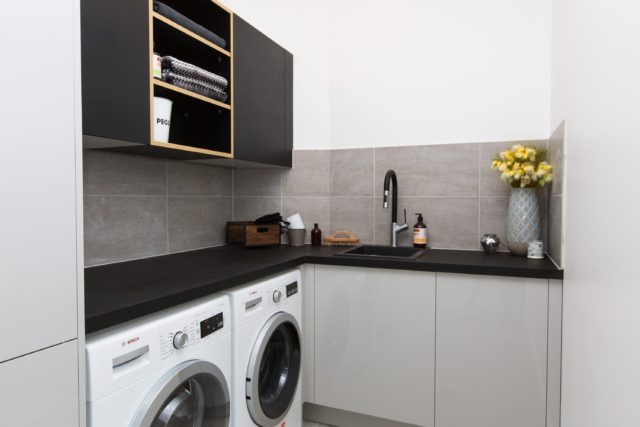 I'm sure having to contend with this trio as well as Caro doing the budgeting for everyone was a case of drawing the seriously short straw and this pair ended up coming last. Coincidence?
Darren said the office was really fun and Neale said it was also really well thought through. Shaynna criticised the shallow desk when there was so much empty space, but at the end of the day, Neale, who wrongly guessed it might be Andy and Whitney's, said it was a credit to whoever did it.
Once into the powder room, Neale was sure it was Caro and Kingi's, Shaynna liked the colour palette and Neale said it was simple, functional and just right; at this final stage it was great they were still giving them new things and not recycling what they'd done before.
The laundry was less successful with Shaynna saying it didn't connect with the powder room or study and Neale saying it felt the least interesting. Darren however complimented the sink, tap and styling.
Shay & Dean's full marks living room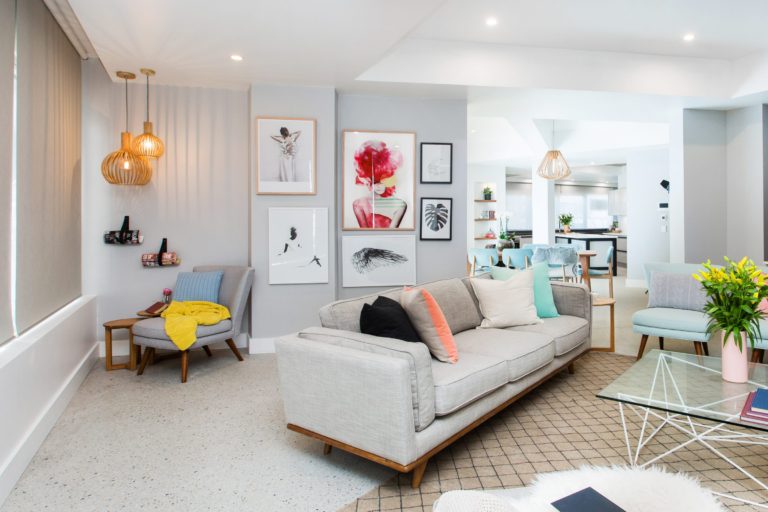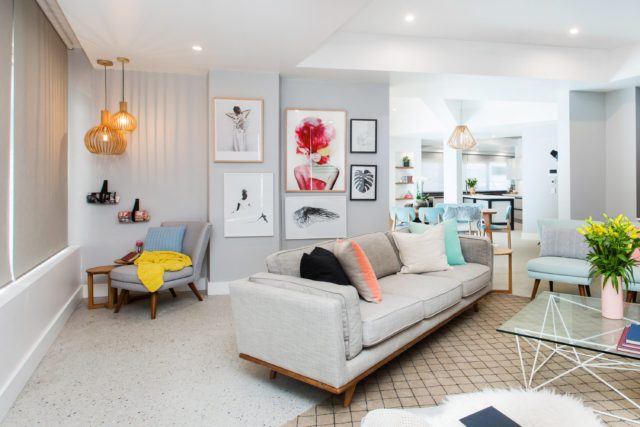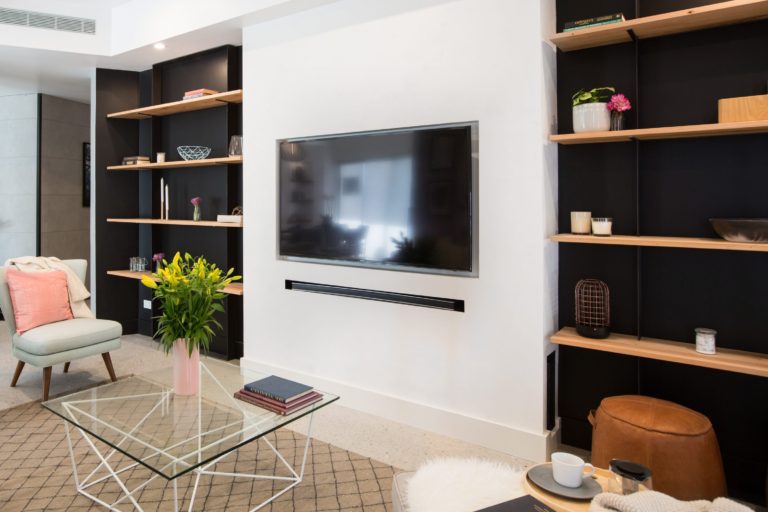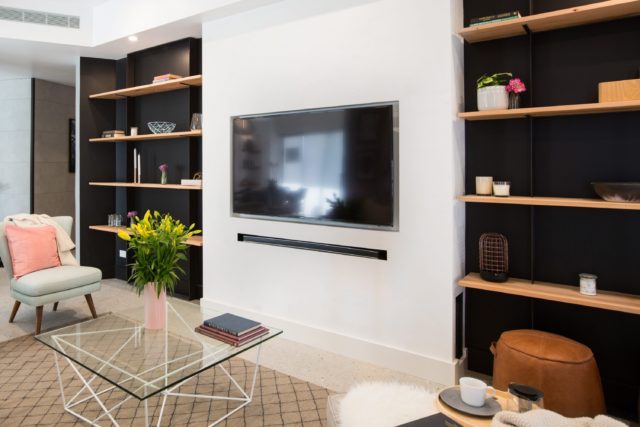 I really liked this room and it was definitely my favourite. Darren loved the black alcoves either side of the TV; a smart move indeed. Neale liked the gallery-styled grouping of artworks and Shaynna said it suggested confidence which made her correctly guess it was Shay and Dean.
Neale said it was the perfect rug, the perfect size, and had been put together by someone with a very very sophisticated eye and good sense of colour. Shaynna said the execution was pretty perfect and Neale added it was the best living room he'd seen this series.
Andy & Whitney's dining room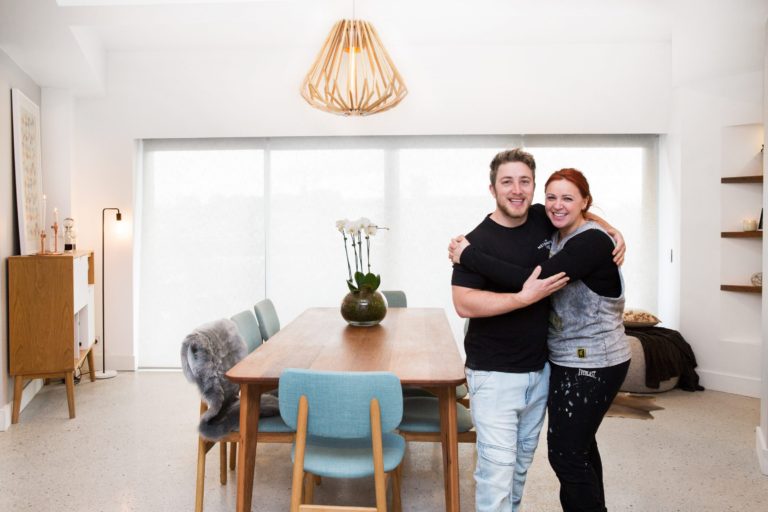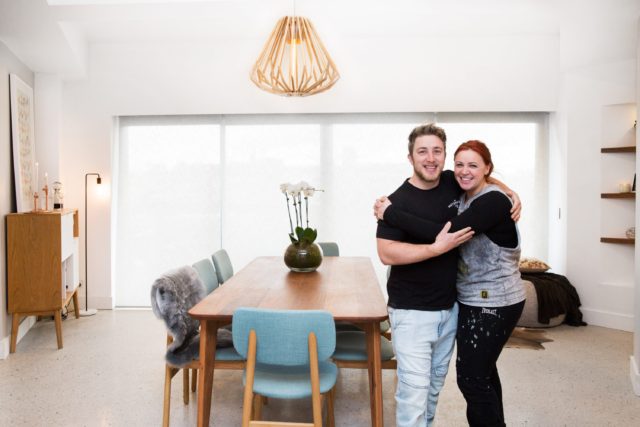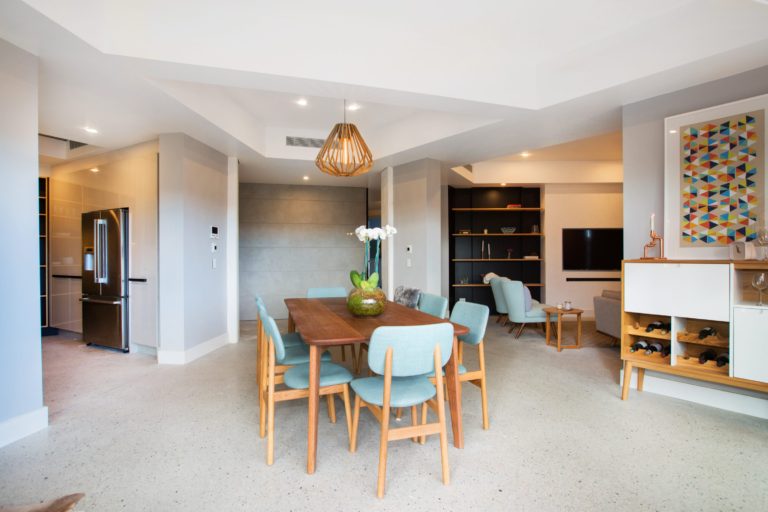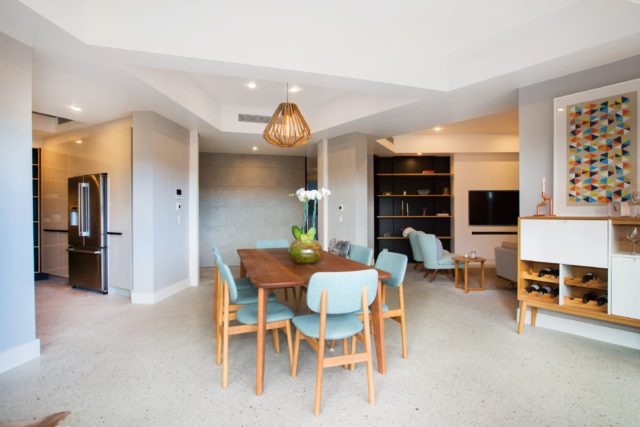 It was a good night for compliments for Andy and Whitney, with Andy commenting afterwards it was a shame they'd hit their stride right as the competition was ending! All the judges said it was hard to believe another couple had created the space because it absolutely went with the living room and felt seamless.
Darren loved the table and chairs  and Neale, the cabinet and artworks. Neale wanted to believe it was Andy and Whitney's, stating he couldn't believe the couple who delivered "the worst room I've ever seen" at the start of the series, could deliver this.
Ebony & Luke's kitchen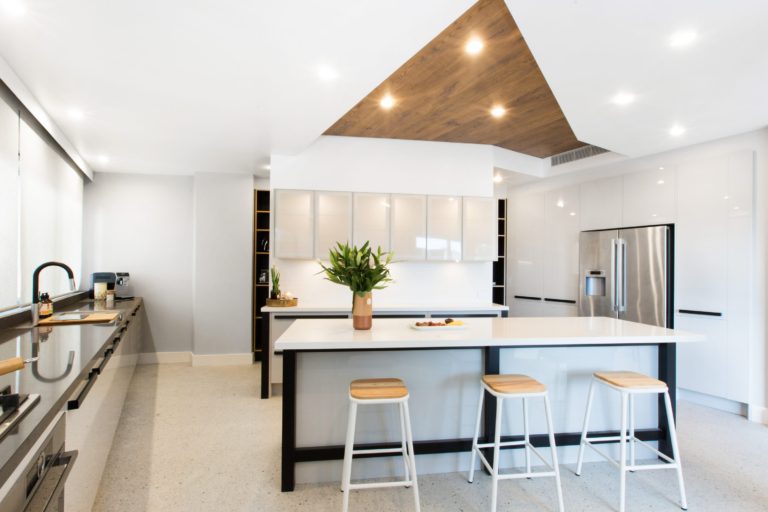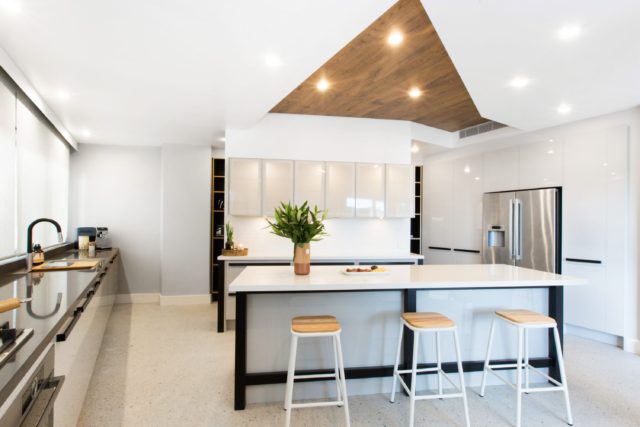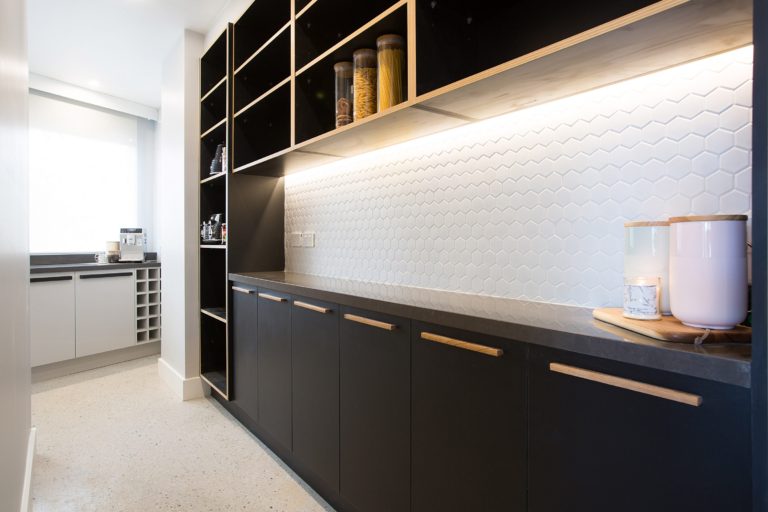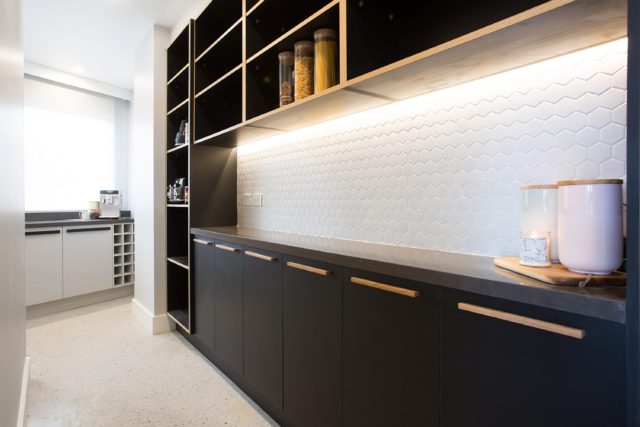 This kitchen and its "pantry plus" as Neale called it, got plenty of positive comments. Darren thought the amount of storage was phenomenal. Shaynna loved the light and dark coloured Silestone surfaces and the long cupboard handles.
Neale said the butler's pantry was really special while Shaynna called it fantastic.
What did you think?
The grand finale is Wednesday at 7.30pm and plenty of drama is promised! Be sure to check in for Olivia's writeup on Thursday!