Firstly, let's talk about what's new with The Block judging this year: defect lists! What a great idea and something that has probably been lacking thus far. Keith and Dan do an inspection before the judges and make a report on any defects, which is then presented to the judges, just in case they were to miss something! Fair's fair, I reckon! A great addition to the process!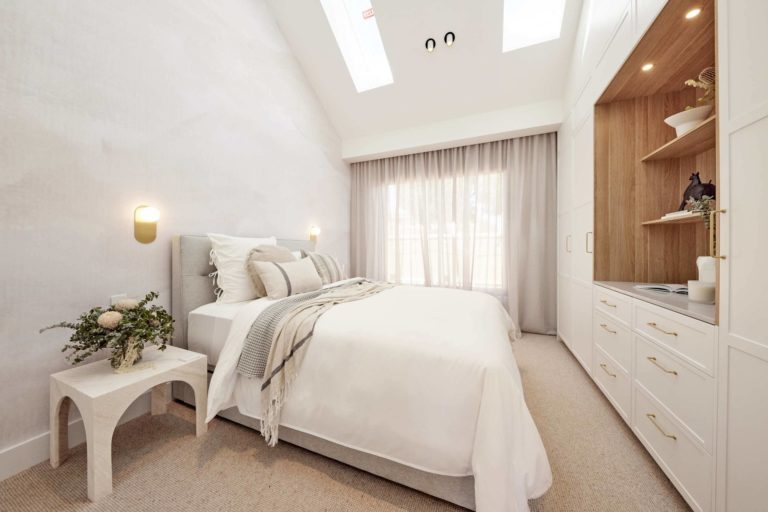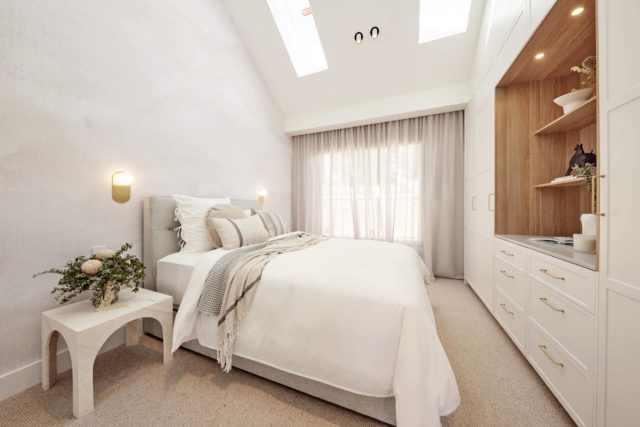 And what an episode it was, with the returning faves taking out both first (Ronnie & Georgia) and last (Mitch & Mark) place! Not to mention the twins staying in a luxury hotel the night before (which is against the rules) and then getting breathalysed and not being allowed to start until they sobered up. And then Luke got sick (nothing to do with the night before, of course!) but the boys still managed to pull off second place.
Poor Tanya and Vito (the sweetest people ever) had to sack their builder after Keith and Dan pointed out how much he had done wrong, leaving Tanya in tears (bless!). She's such a soft touch she went into full mothering mode with hungover Luke!
Anyway, onto the rooms and the judging!
Ronnie & Georgia
Score 24.5/30: FIRST
Spend: $11,305 (the least of anyone)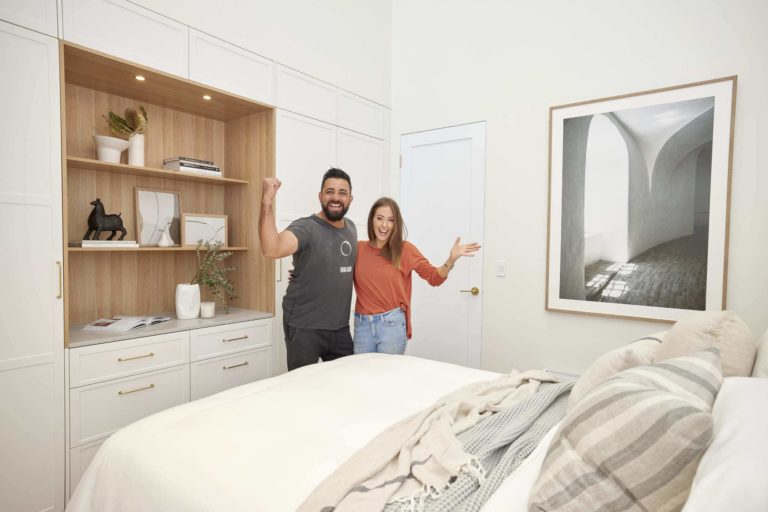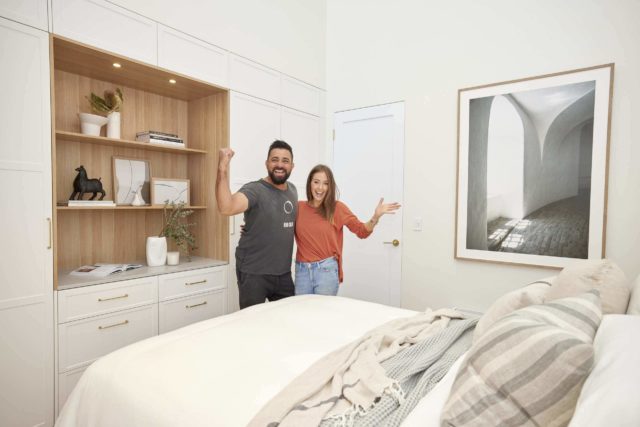 With soaring ceilings and a playful style that manages to be (as Neale Whitaker said) neutral but still interesting, Block faves Ronnie and Georgia showed they were back to win with this stylish room. And win they did!
From the Velux skylights to the perfect layered bedding, this is a room that Darren Palmer called "aspirational classic contemporary". He said it showed how much the pair have grown from the dark and moody palette that was their Elsternwick trademark.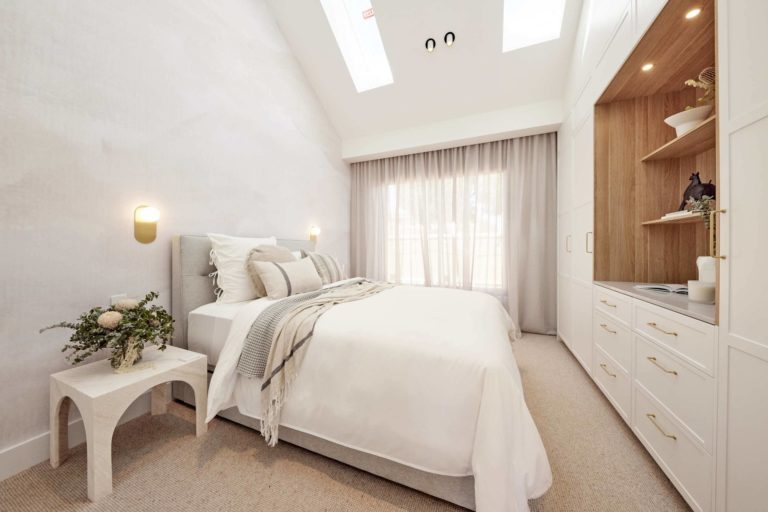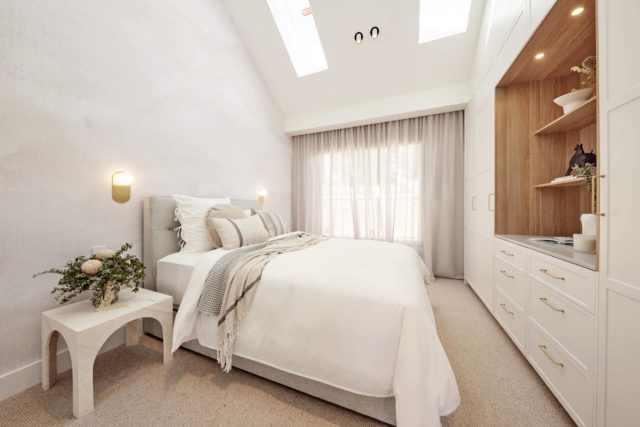 "So impressive!" says Shaynna. "It's so considered, it's frightening and talk about a massive amount of cabinetry." Darren said: "There's so much to love!"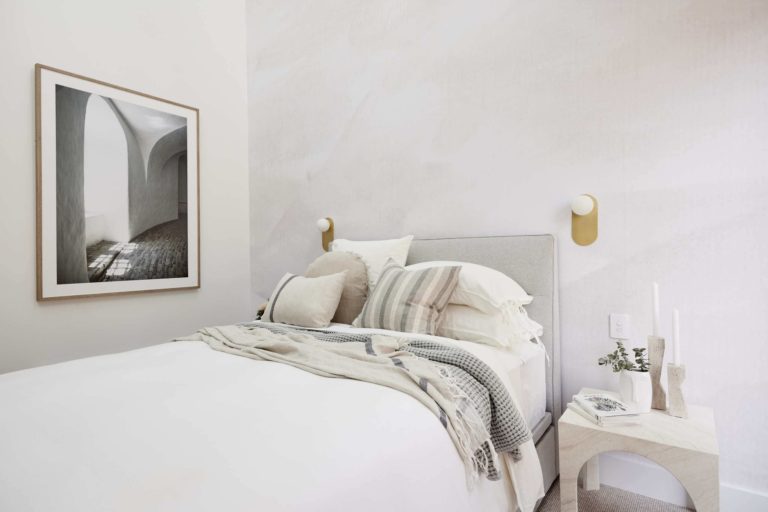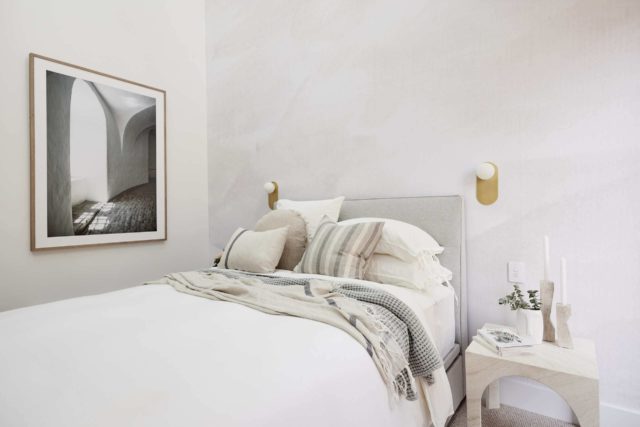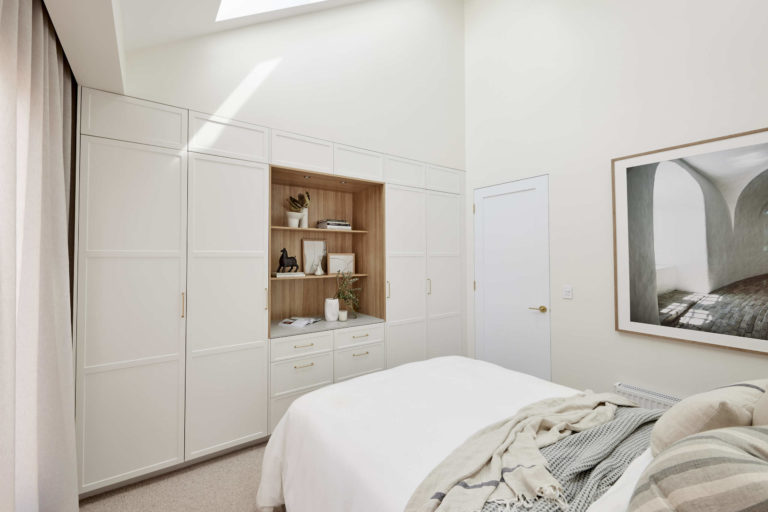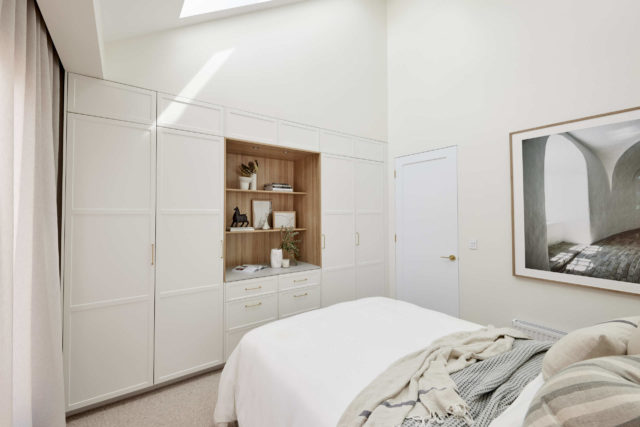 Shop the look: Photographic prints | Arch side table
Mark & Mitch
Score 22.5/30: LAST
Spent: $13,823.20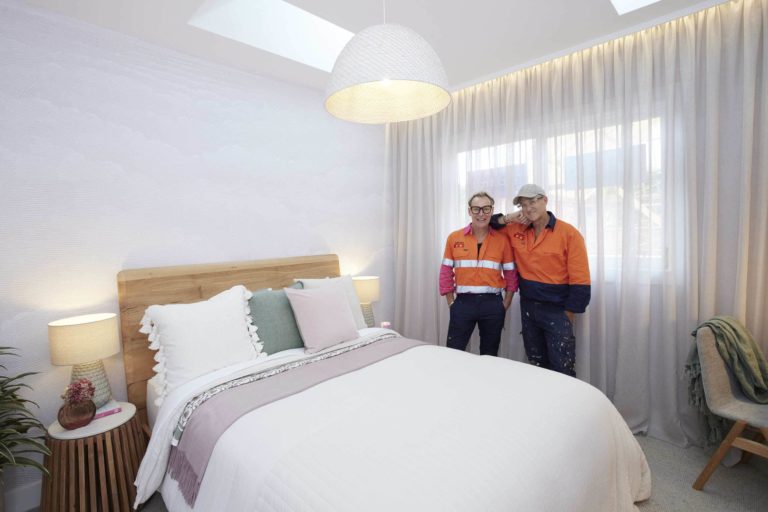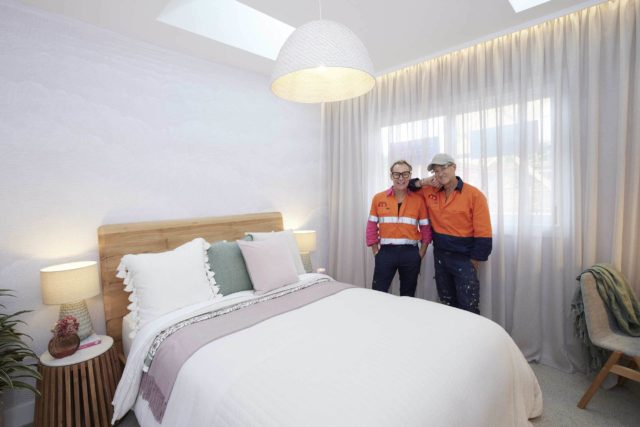 Goodbye Palm Springs, hello contemporary modern said the judges to a guest bedroom that clearly says there is more to Mitch and Mark than their Oslo build showed. With its statement Grafico wall and soft colour choices, the pair created a guest sanctuary complete with study nook (or work space) perfect for a post-covid home, and a sun-drenched extra bedroom.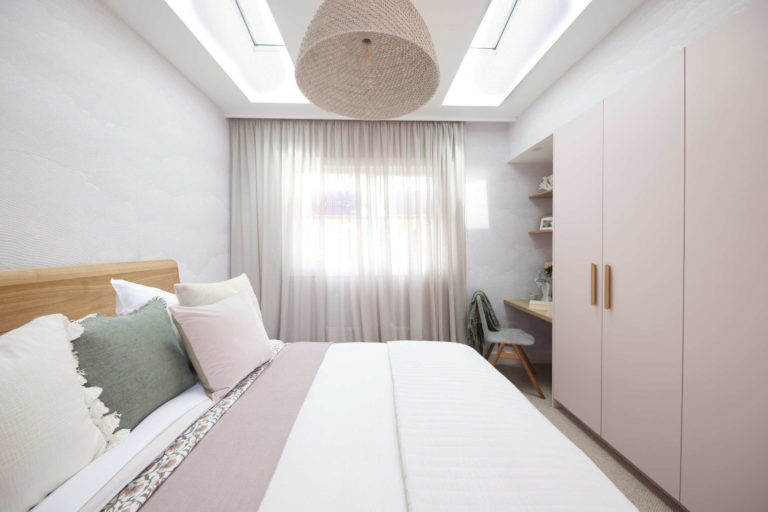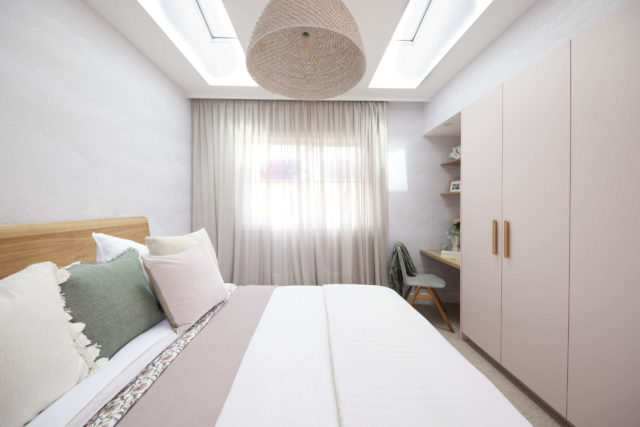 Shaynna said it was great to see them try a new style. Neale's first impressions were that it was small, oppressive even. Shaynna said the desk was too shoved in. And she spotted that the door wasn't fixed. Neale even said it was a little bland!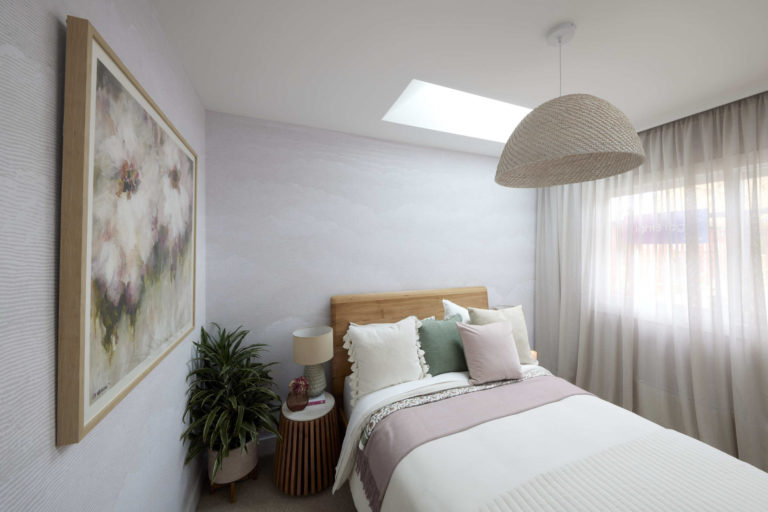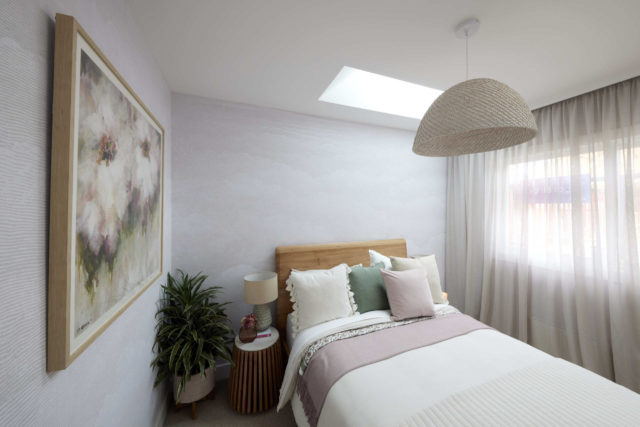 Shaynna loved the pelmet lighting, Darren loved the bed linen and the palette. Neale said he really liked the boys but he felt the room was too generic and he was surprised.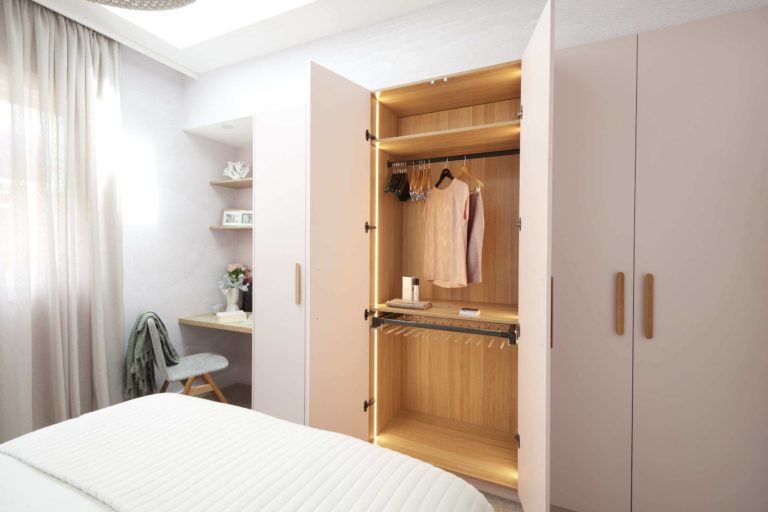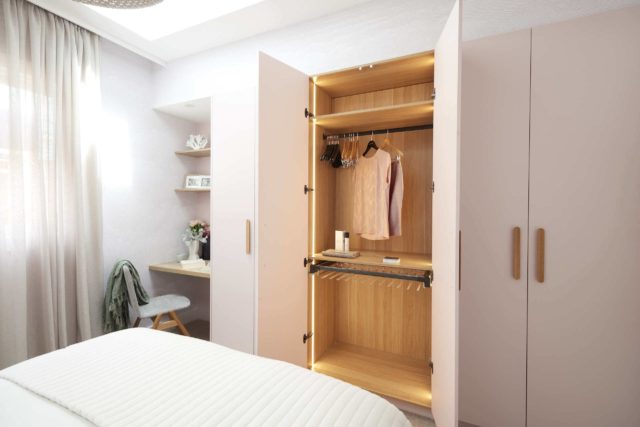 Shop the look: Mitch & Mark's own brand candle | Tall glass rainbow vase
Tanya & Vito
Score 23/30 EQUAL THIRD
Spent: $14,199.98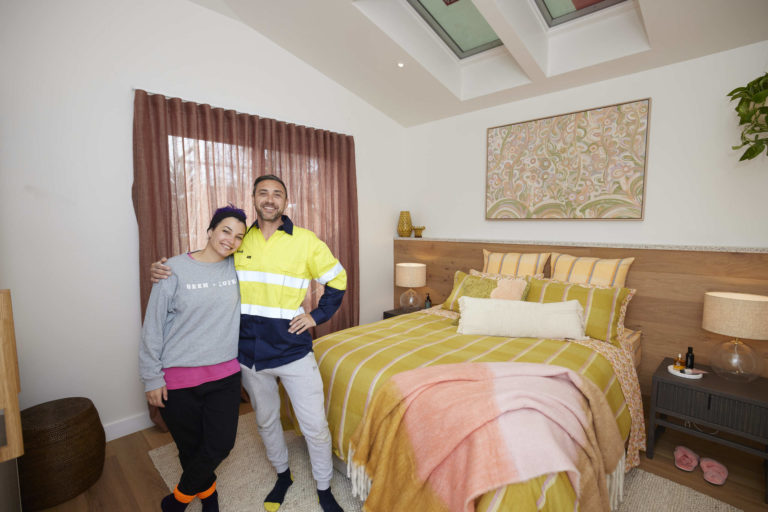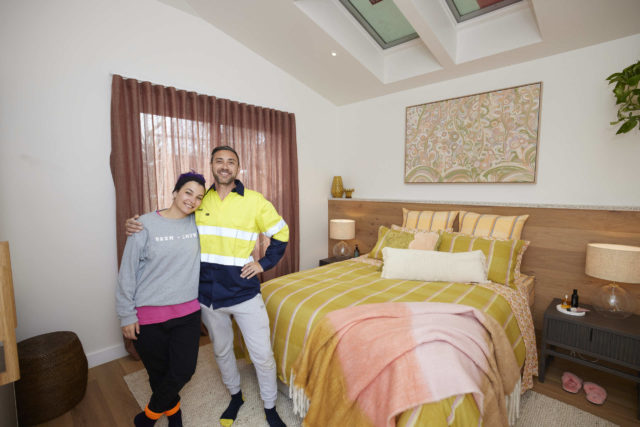 Tanya's unique and vibrant palette brought a sense of fun to the room, with wood panelling topped by a terrazzo shelf behind the beautifully styled bed, flowing sheers over the window, streaming sunlight from the Velux skylights and a hanging plant making this a soft space.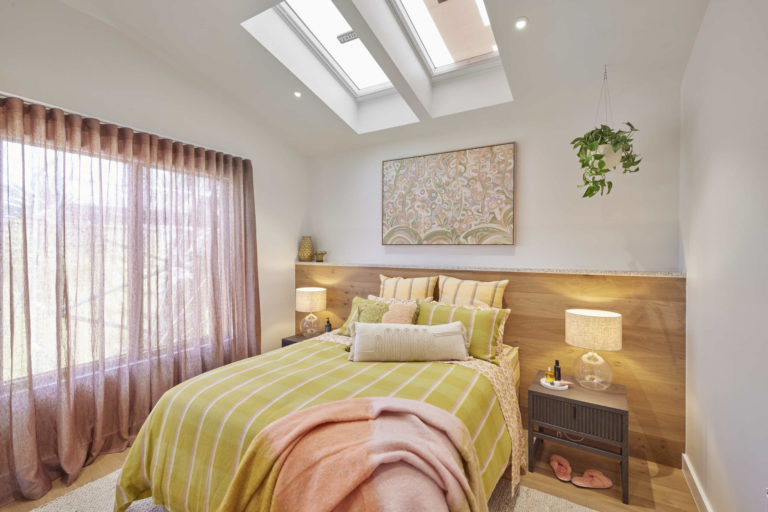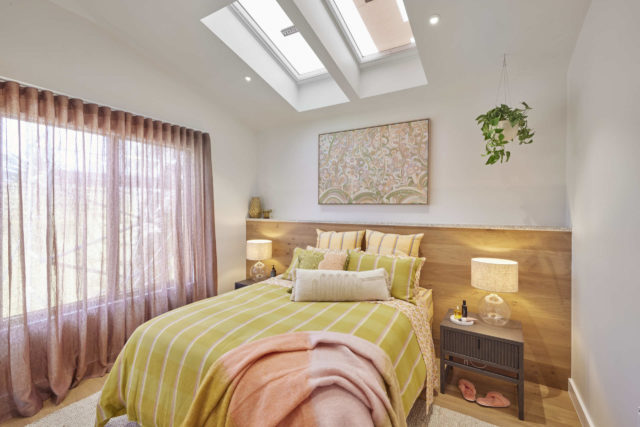 Darren liked the colour combos and the way the art worked with the bed linen without being too matchy-match. But the judges blasted their cheap-looking sheers, especially as Vito works in the window furnishings business!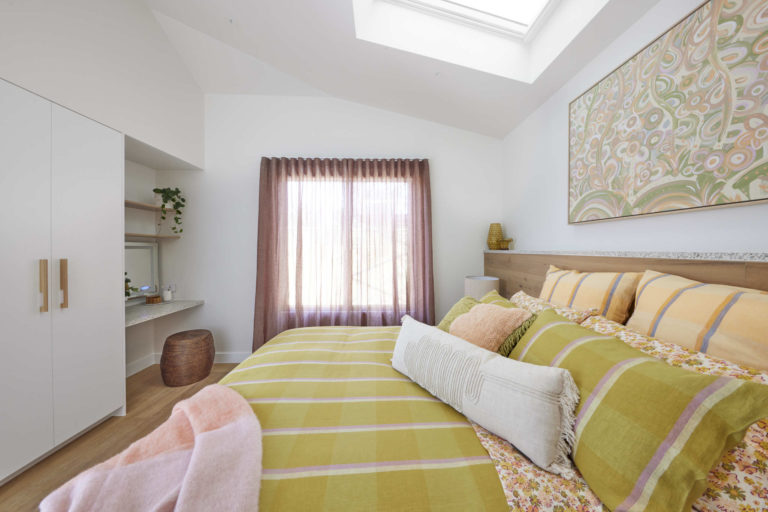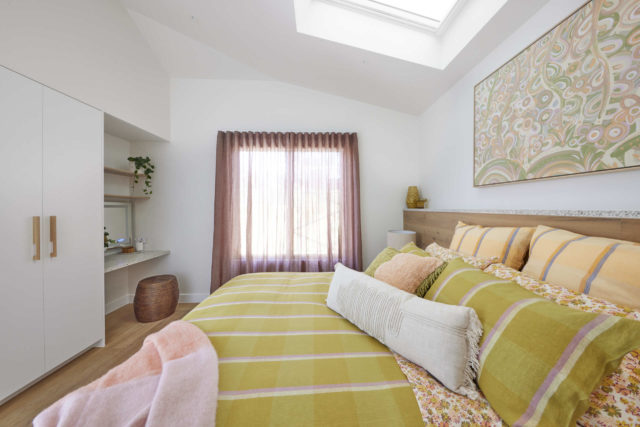 And sadly so many of their (fired) builder's defects were still not fixed. But Neale said there were lots of nice touches and Darren liked the way there was room to swing a cat!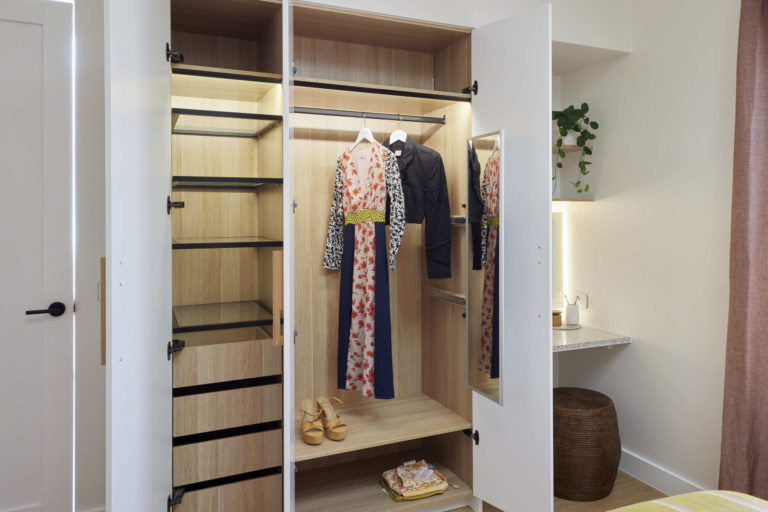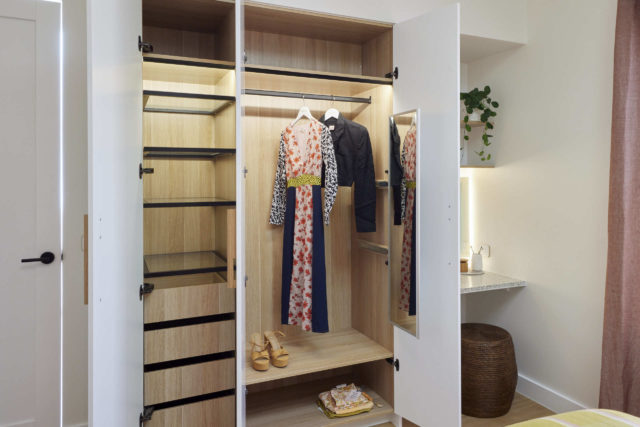 Shop the look: Flower Fields canvas print | Crested cockatoo set
Josh & Luke
Score 24/30 SECOND
Spent: $20,722.80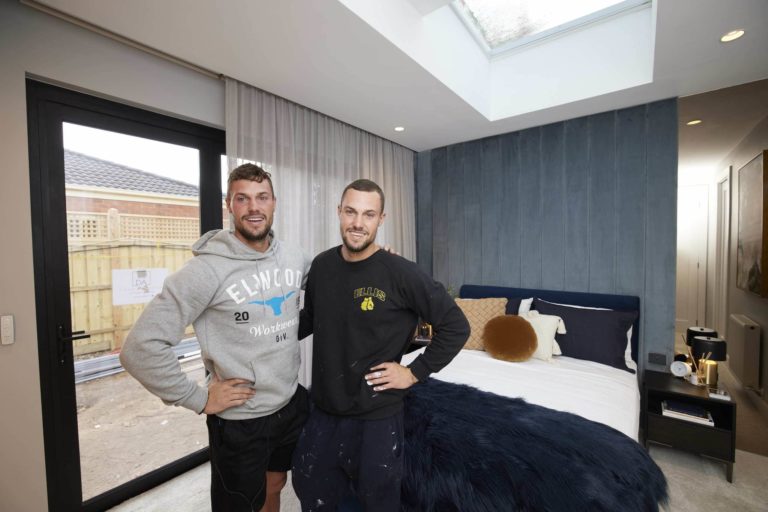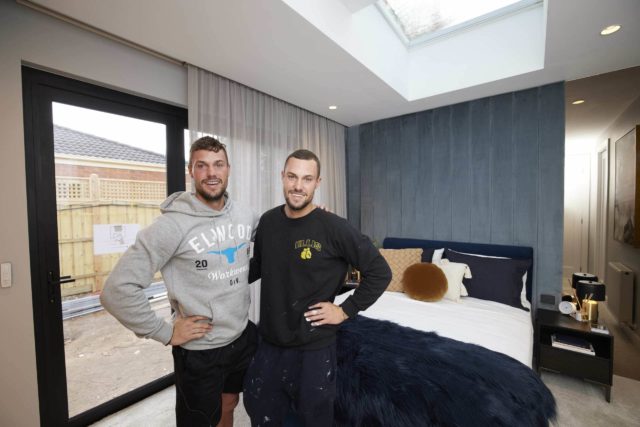 With its dark colour palette accentuated by a beautifully styled bed against a soft-upholstered wall and bold glass-fronted cabinetry, Josh and Luke's guest bedroom is, the judges decided, sexy, cool and very different. For Darren it was the big architectural decisions, such as the bi-fold doors that worked best, and he can't wait to see what they'll open out to when the rest of the house is built.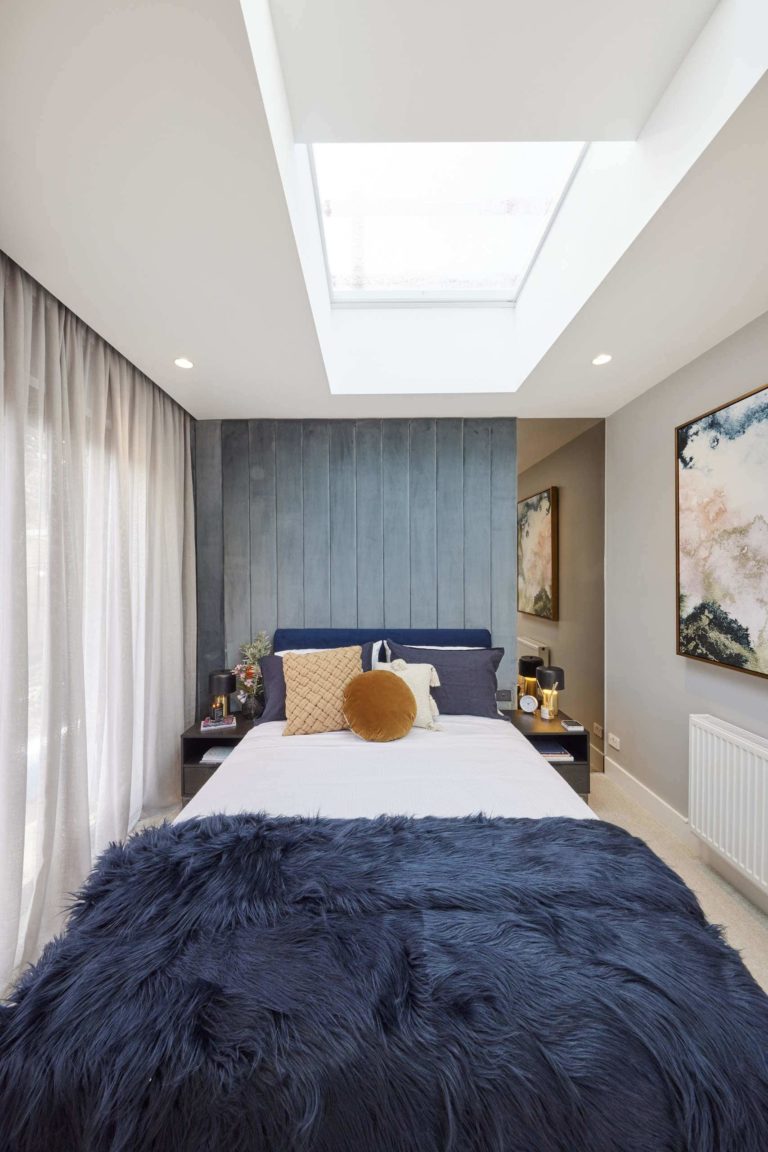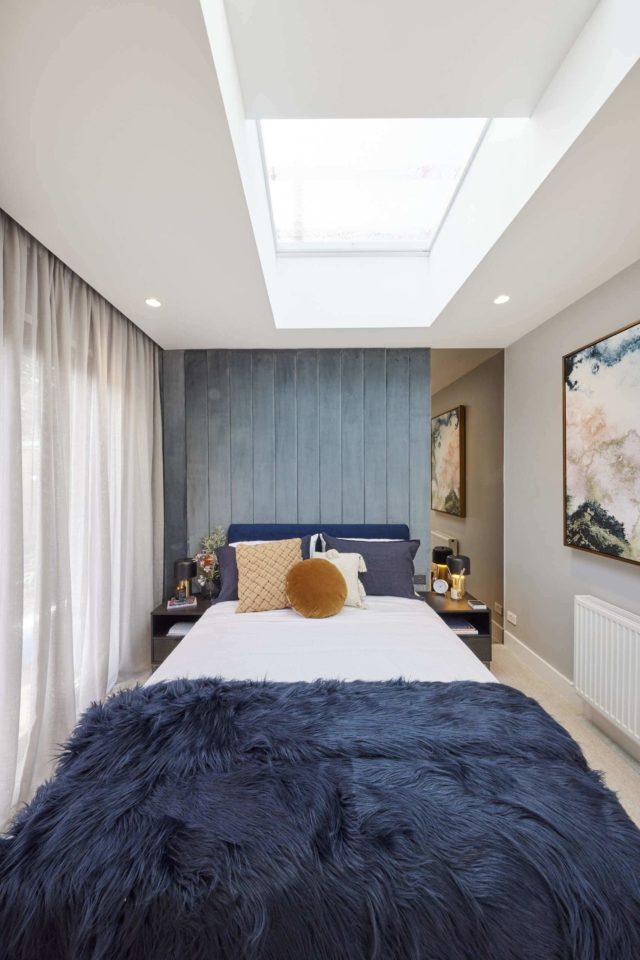 It was definitely one for the boys though. Darren said it was "waaaaaaay better" than last week and was impressed by the glam, glass-doored wardrobes. Neale said it was sexy. Shaynna however, said she hated the wardrobes and they were destined to end up looking a mess in reality! Got to love a bit of controversy!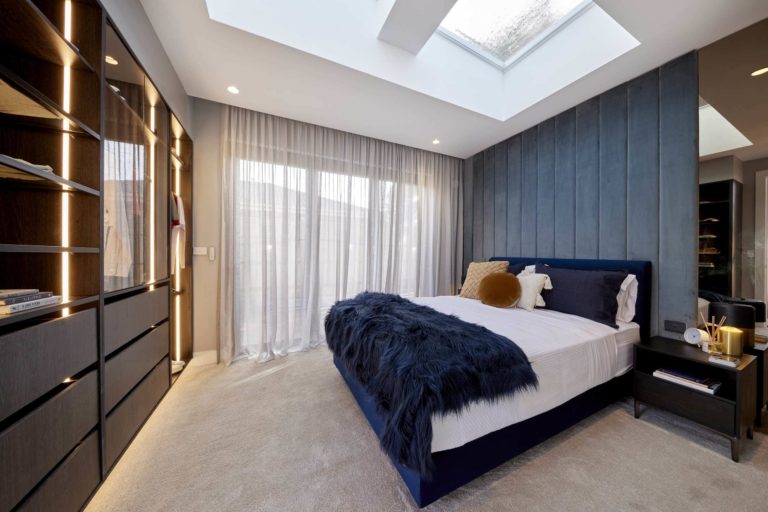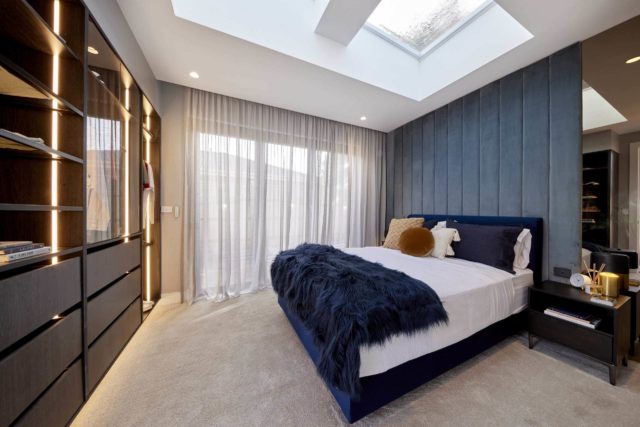 Darren said there was so much he liked and Shaynna said the way they styled the bed (wonder if Mitch & Mark regret helping them!) was stunning. She said they stepped up five levels from last week (have to agree!).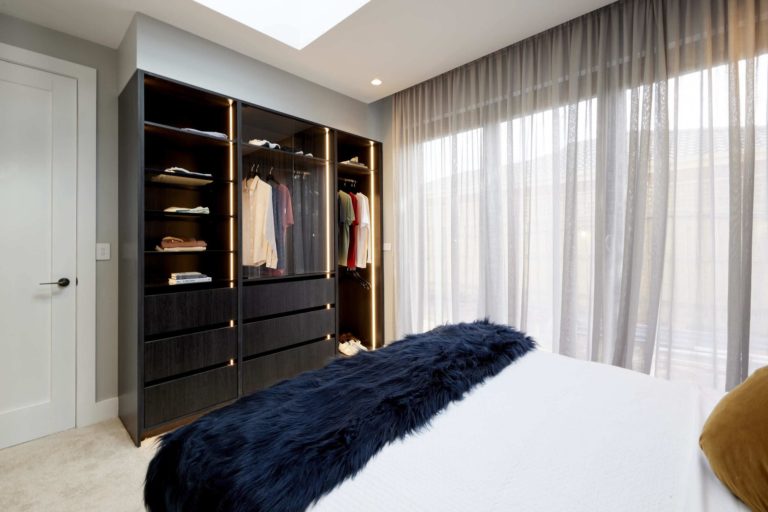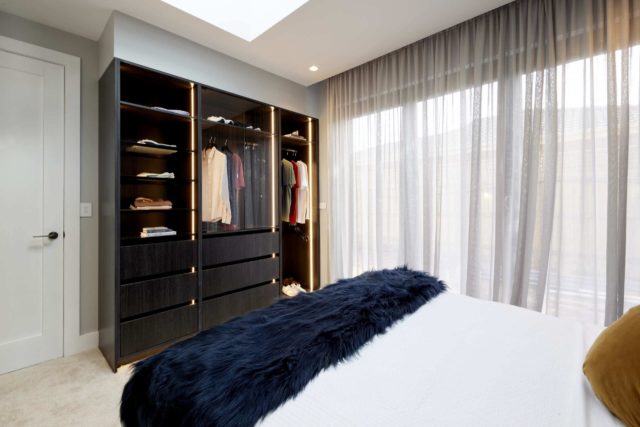 Shop the look: Abstract watercolour canvas
Kirsty & Jesse
Score 23/30 EQUAL THIRD
Spent: $14,757.58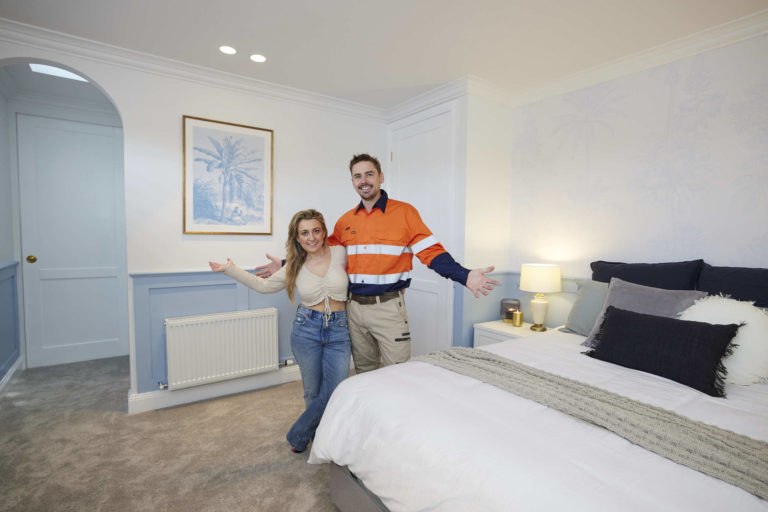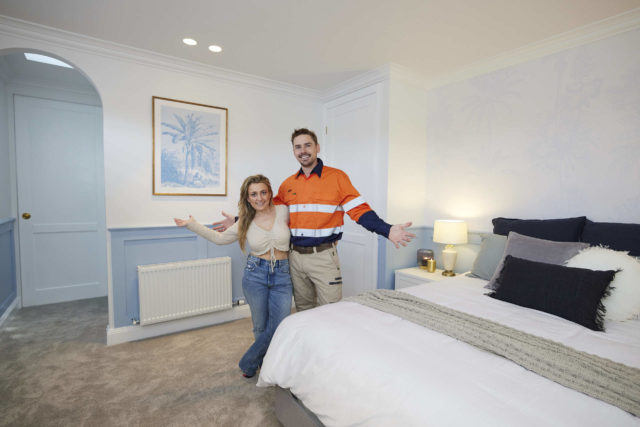 From the soft blue walls with wainscoting and accent architraves to the plantation shutters and highlight window, Kirsty and Jesse created a guest bedroom retreat with an obvious space for a generous en-suite to come. Throw in ample storage courtesy of the twin bedside tables and built-in cabinetry and the result is, to quote Darren: "coastal chic, a little bit plantation and a little bit country!".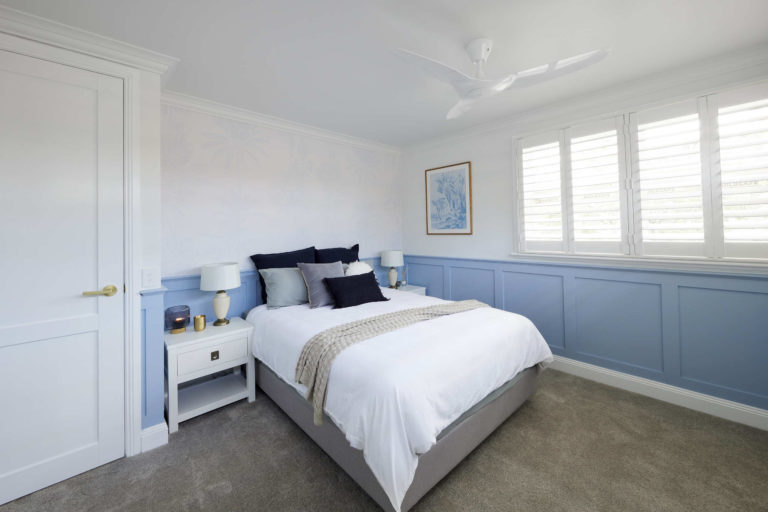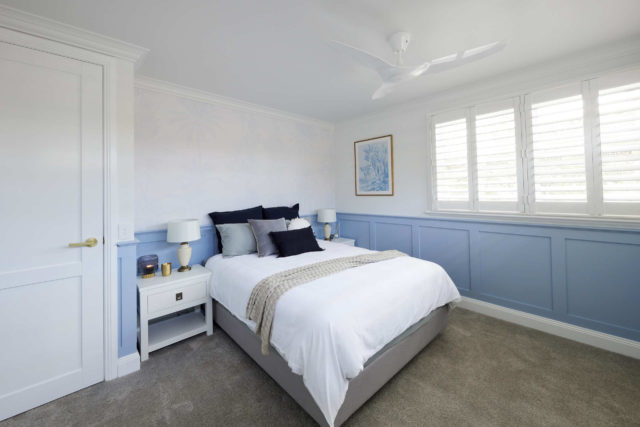 Shaynna said the Hamptons style would be very popular with buyers in the area. Neale said they'd chosen to be very discreet and similar to last week, and he didn't want them to become a one-trick pony. He and Shaynna didn't like that all you could see from bed was a window which was too high to see anything out of. That'll be their expensive new highlight window. Eep.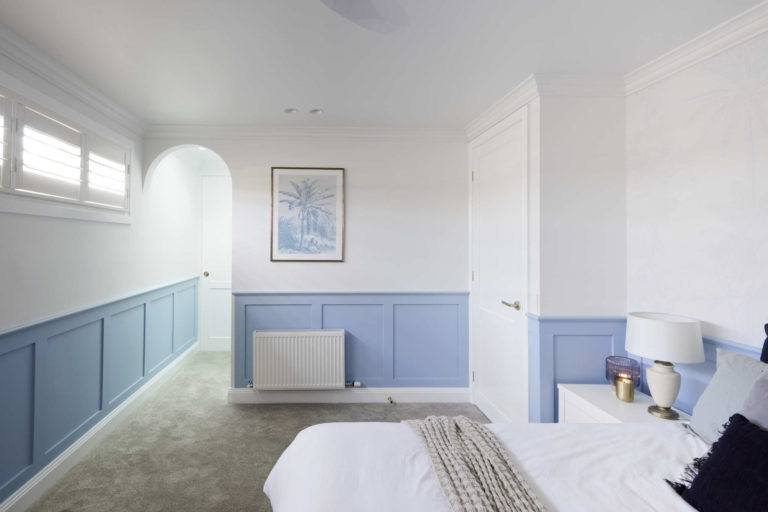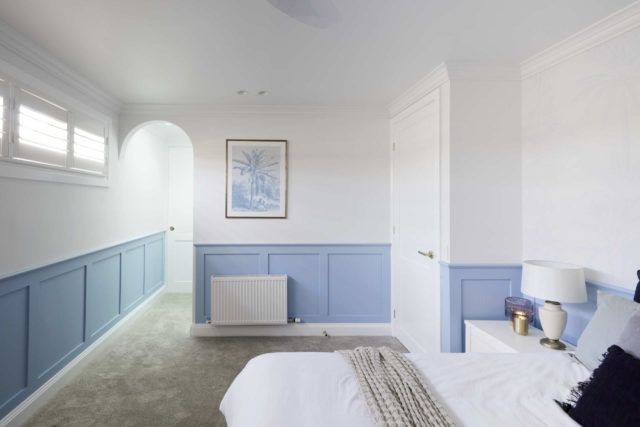 The judges loved the spacious size of the room and the generous storage and said the execution was great but the styling needed to go up a notch.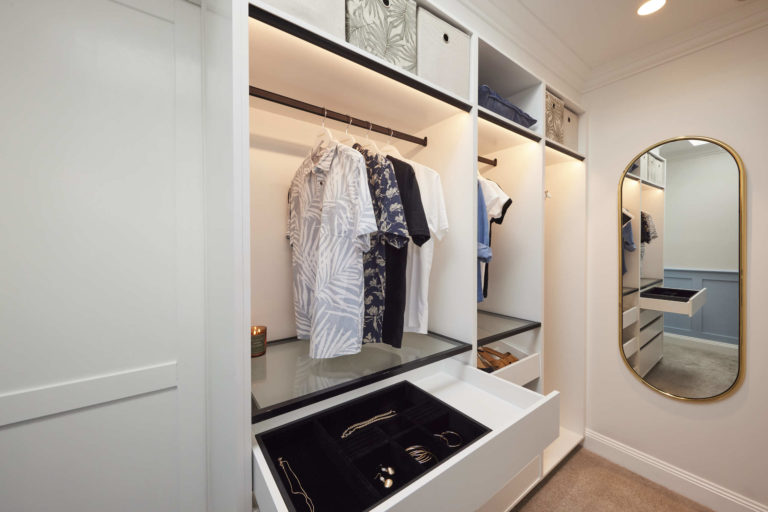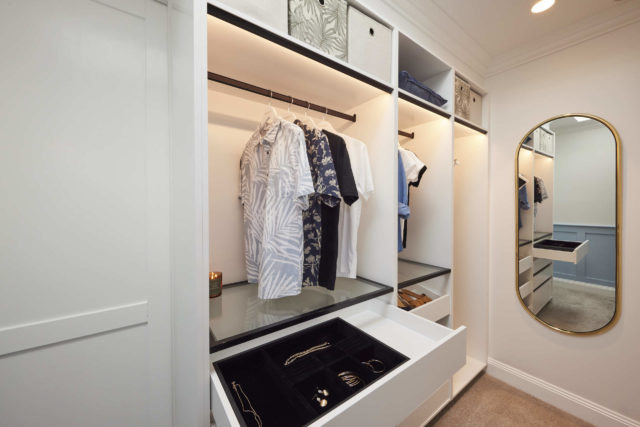 Shop the look: Gold wardrobe mirror
Of course I'd love to know, WHAT DID YOU THINK?
Photography: David Cook Photography