So, for several months now I've been banging on about the Williams-Sonoma Inc big four coming to Sydney. For the uninitiated, I'm talking about Pottery Barn, Pottery Barn Kids, West Elm and Williams-Sonoma. I'll be straight with you, as a non-mummy blogger, I have little interest in Pottery Barn Kids and as a less than enthusiastic cook (I'm going to make a rubbish wife!) I had minimal interest in Williams-Sonoma. Pottery Barn and West Elm however, bring that on! I know you're fans too because posts about these stores have been consistently in my most popular for months! And at yesterday's much anticipated preview, I was definitely not disappointed.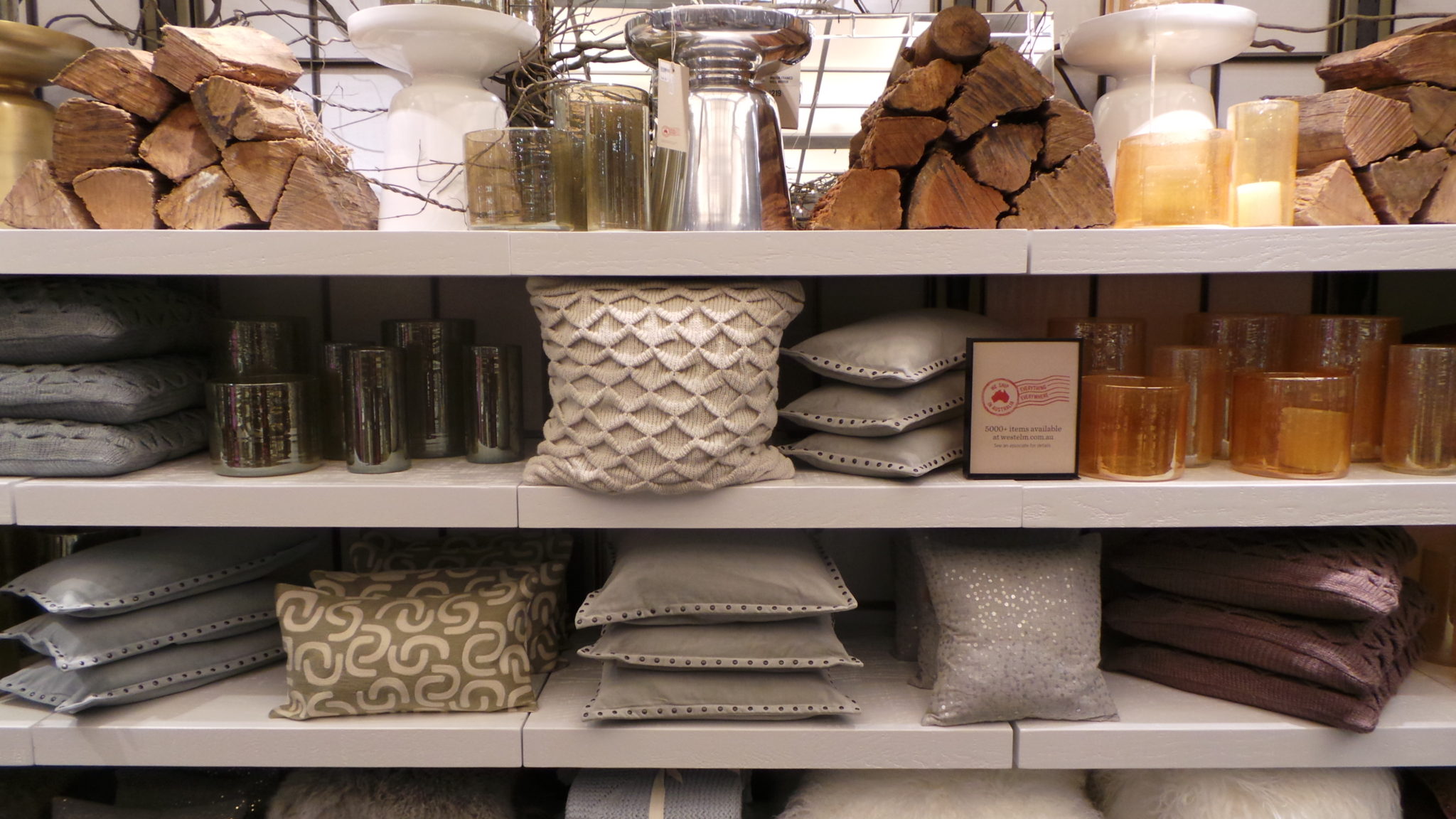 West Elm is SO COOL. I have to admit it's my favourite. Who better than creative director Vanessa Holden, a Sydney girl who made the move to NYC (who I interviewed recently) to show us round? She talked about West Elm's trademark eclectic, global mix of pieces which you're encouraged to mix up as you wish with your existing pieces or family heirlooms to create your own, confident style at home, with the help of their friendly and knowledgable staff.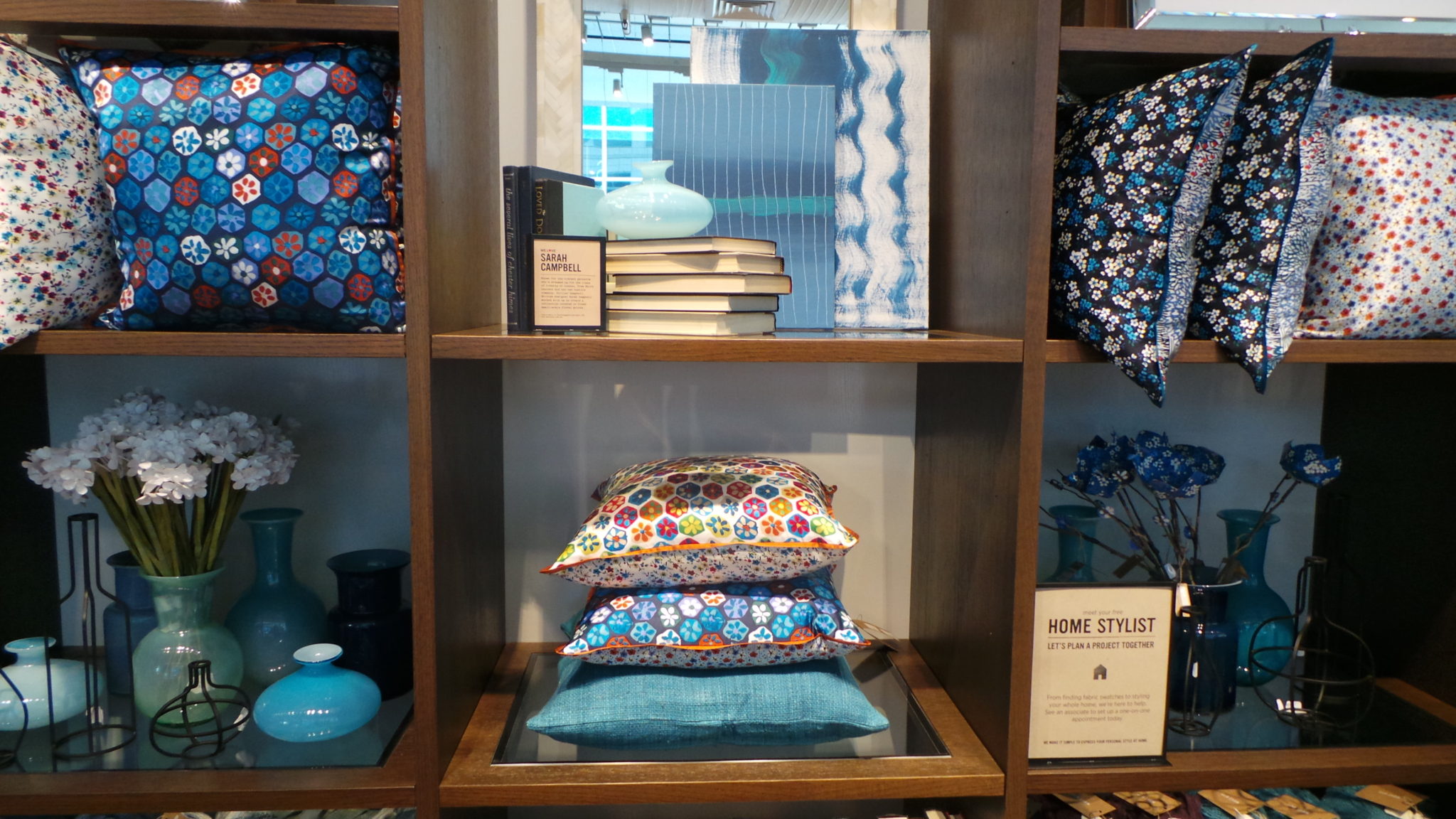 West  Elm is young and cool but not too hipster. It's mix and match, laidback but not too casual. I just love it. Its pieces are more apartment-appropriate than Pottery Barn's larger furniture and well, they just look look like they belong in a warm and comfortable, trendy, young space. You do feel like your parents could equally walk in and find something which worked perfectly with their much loved pieces. It's just that kind of range, and the range will change frequently.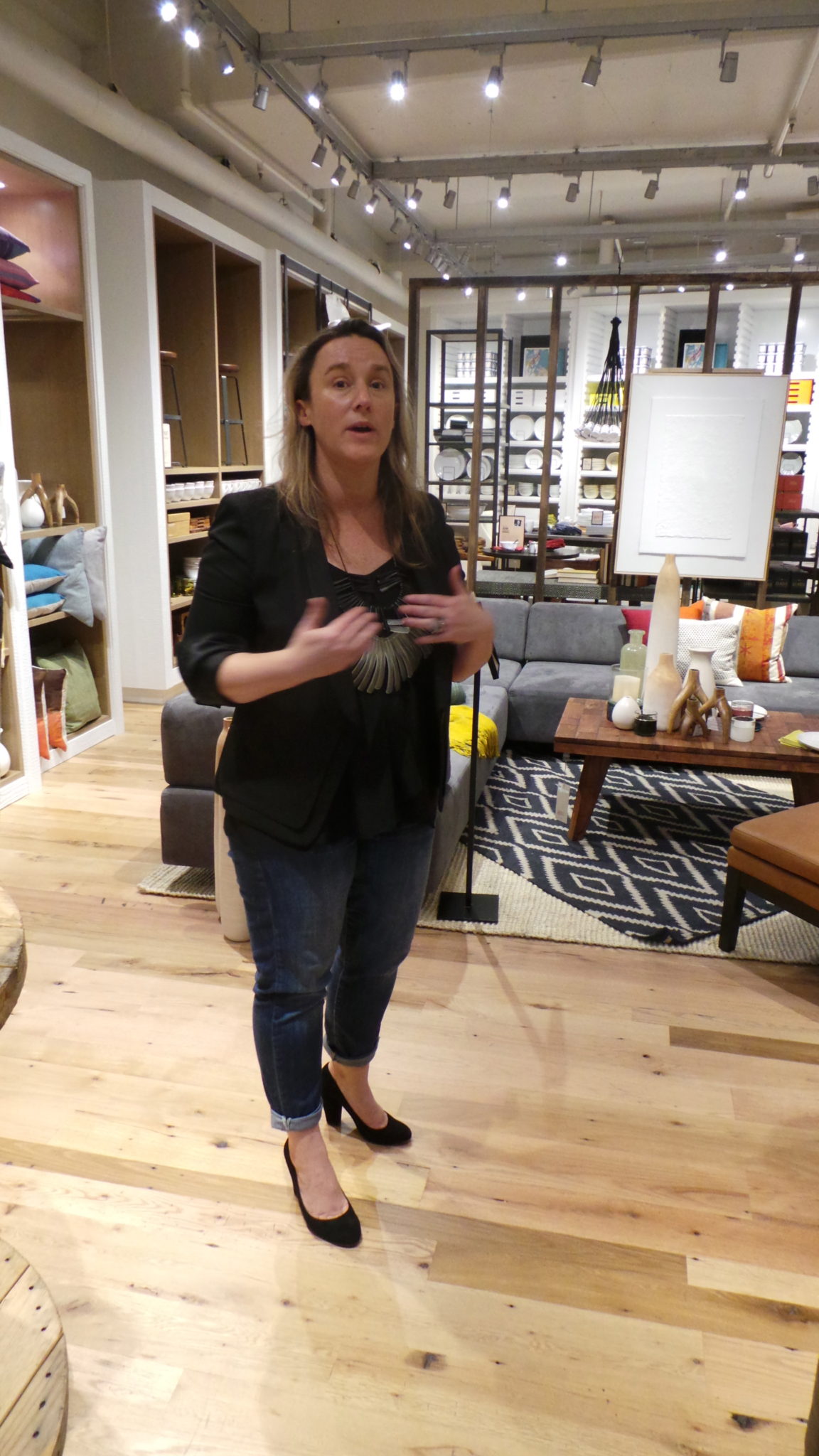 The store's been given a local feel, with a huge 'Brooklyn to Bondi' installation in the window. It still feels very New York though, and so it should.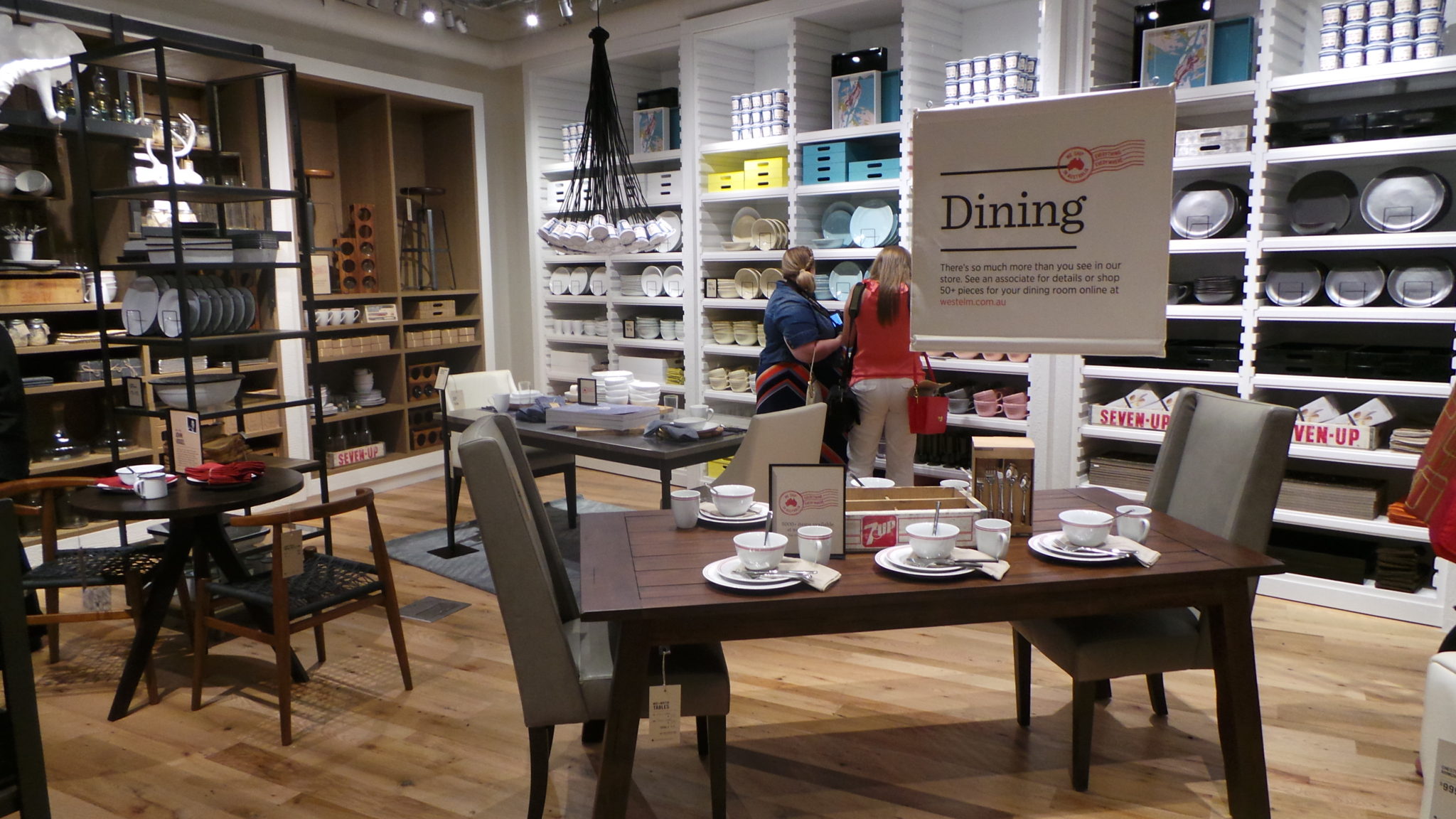 As it does in America, West Elm will have collaborations with local brands (more to be announced soon) as well as Etsy sellers, whose artwork can already be seen, and bought, in store.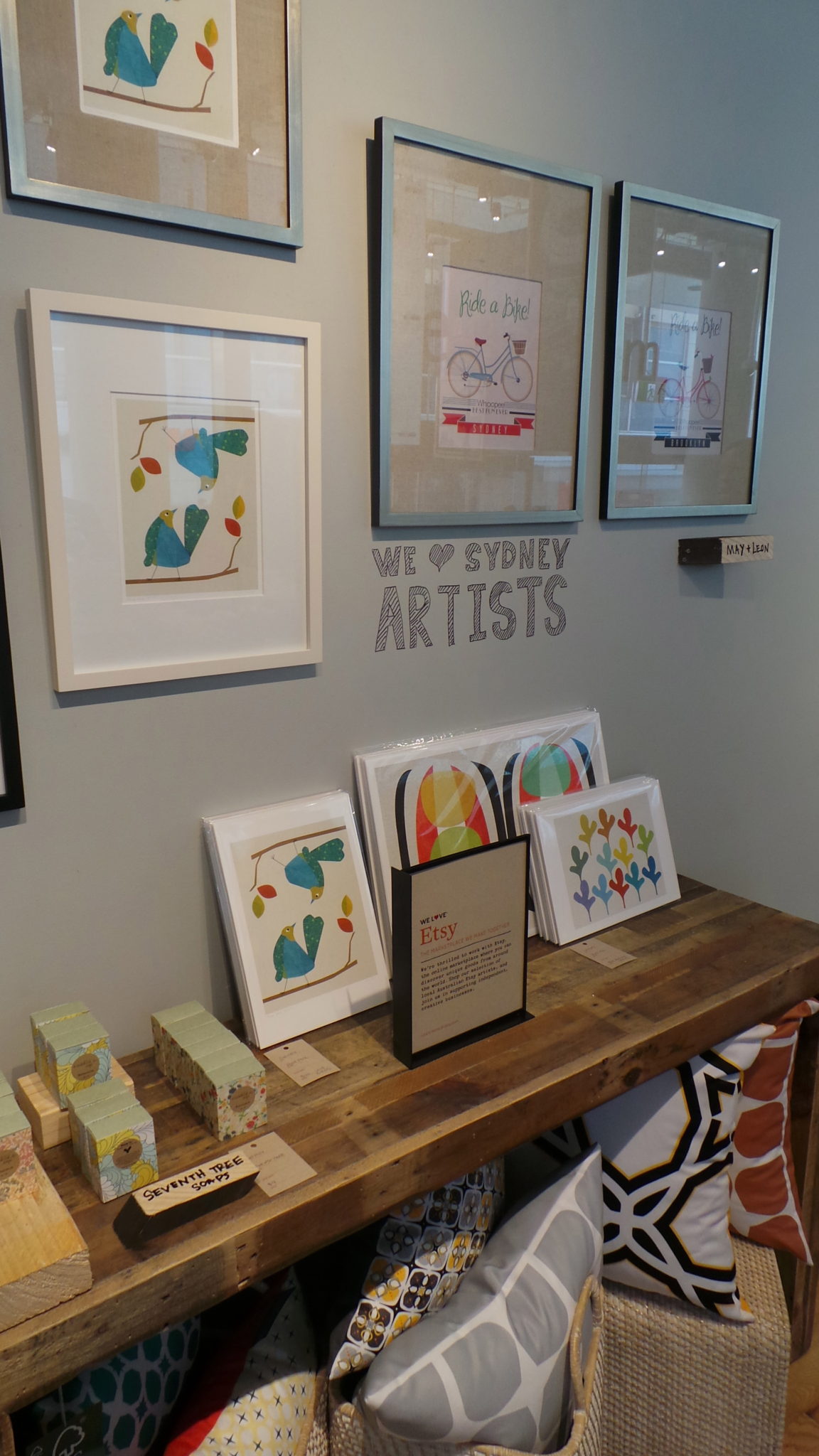 So yes, I heart West Elm. Very much.
And I know you all want to know what the prices are like. I've not gone as far as comparing like with like and American/Australian prices, mainly because I just don't think you can. Things do not cost the same in Sydney as they do in the US (they cost more, and I'm talking staff, rent etc). But the finer details of the prices aren't really my department. (Take it up with them if you really want to!) What I will say is that looking at the prices and taking into account the quality and the price of similar items in other Australian high street furniture and homewares stores, I was very pleasantly surprised and definitely think things are very good value.
So everyone who thought it was too good to be true and the Aussie version would be overpriced, think again. I'm sure you're happy to be proven wrong!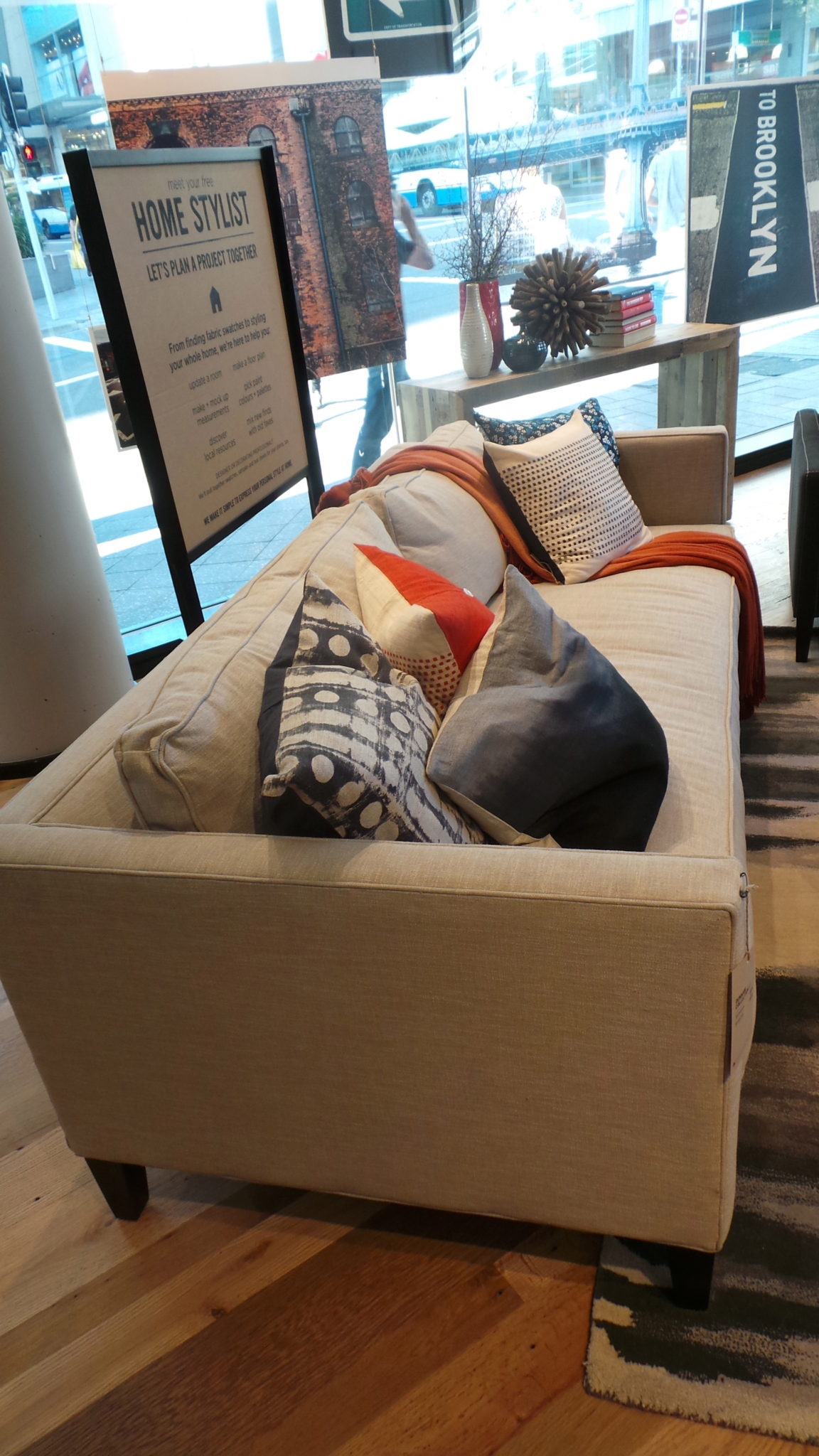 Moving on to Pottery Barn, because we all know it's the biggy, the brand we all know, the one whose furniture was on Friends. (Did I tell you that when my now-fiancé and I first met, I was attracted to the fact he owned a Pottery Barn coffee table book on storage? True story.)  For a store many Aussies have never set foot in, the brand awareness is huge. And although I love West Elm best, I love Pottery Barn too. It's what I want my house to look like when I grow up (at 31, I have no idea when that will be, but no time soon, thanks). It's classic, comfortable, neutral and very American, in a preppy, Hamptons kind of way. Its big, solid beds and super soft white couches are so inviting and luxurious. If you told me I could only have Pottery Barn furniture and homewares in my homes for the rest of my life, I could live with that, no problem.
See what I mean? And yes, that lounge is as comfortable as it looks!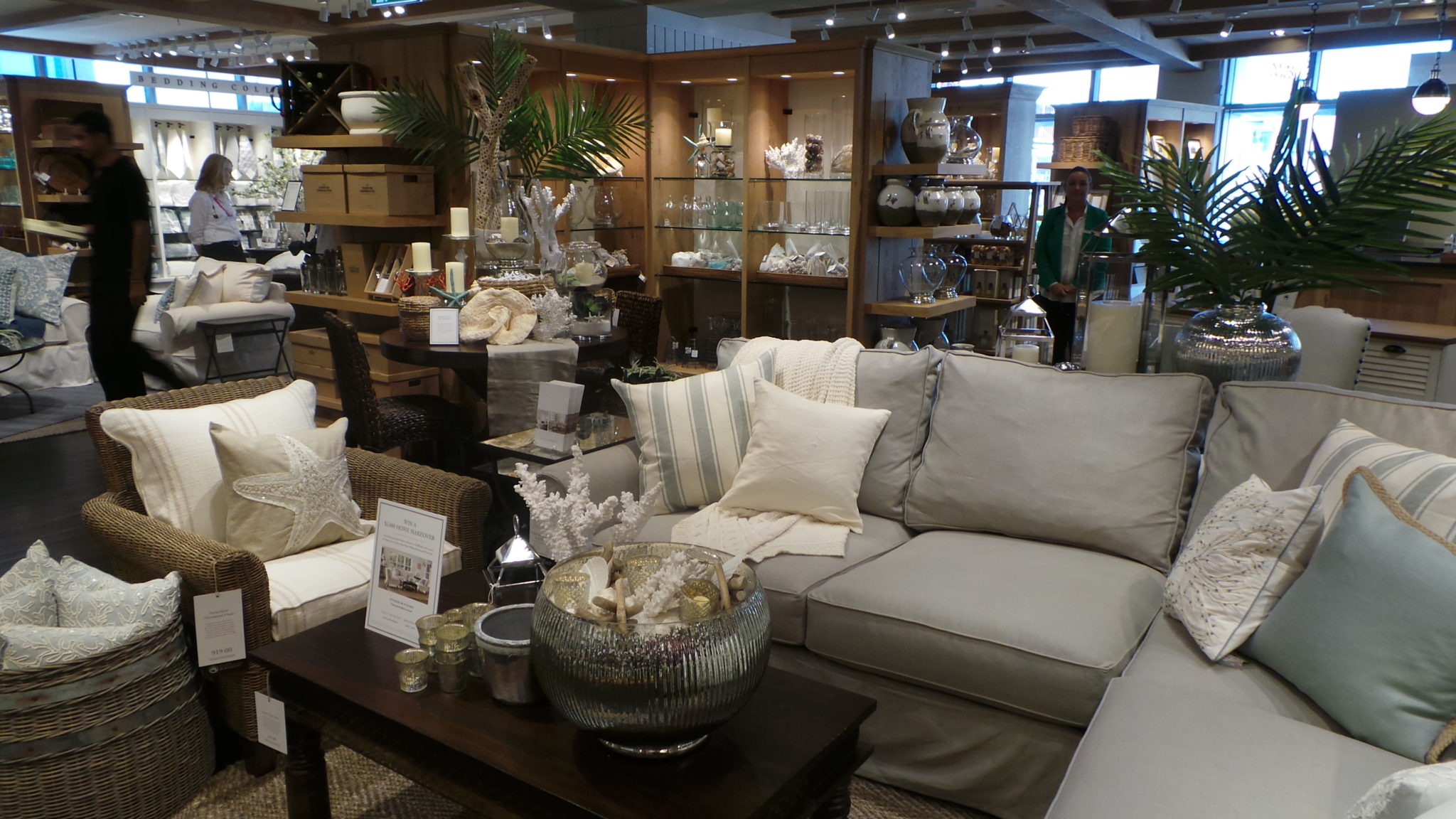 Can you imagine my interiors addict head spinning with all the visual stimulation?! I really need to come back again and look around in a much calmer manner and without a group of very excited bloggers and other media (naming no names, someone declared today to be the biggest day of her life so far, after her wedding and the birth of her kids, OBVIOUSLY!). With all the photographing, tweeting, instagraming, oohing and ah-ing, I was feeling pretty overwhelmed after a full-on couple of hours. I know, tough gig, but someone's gotta do it!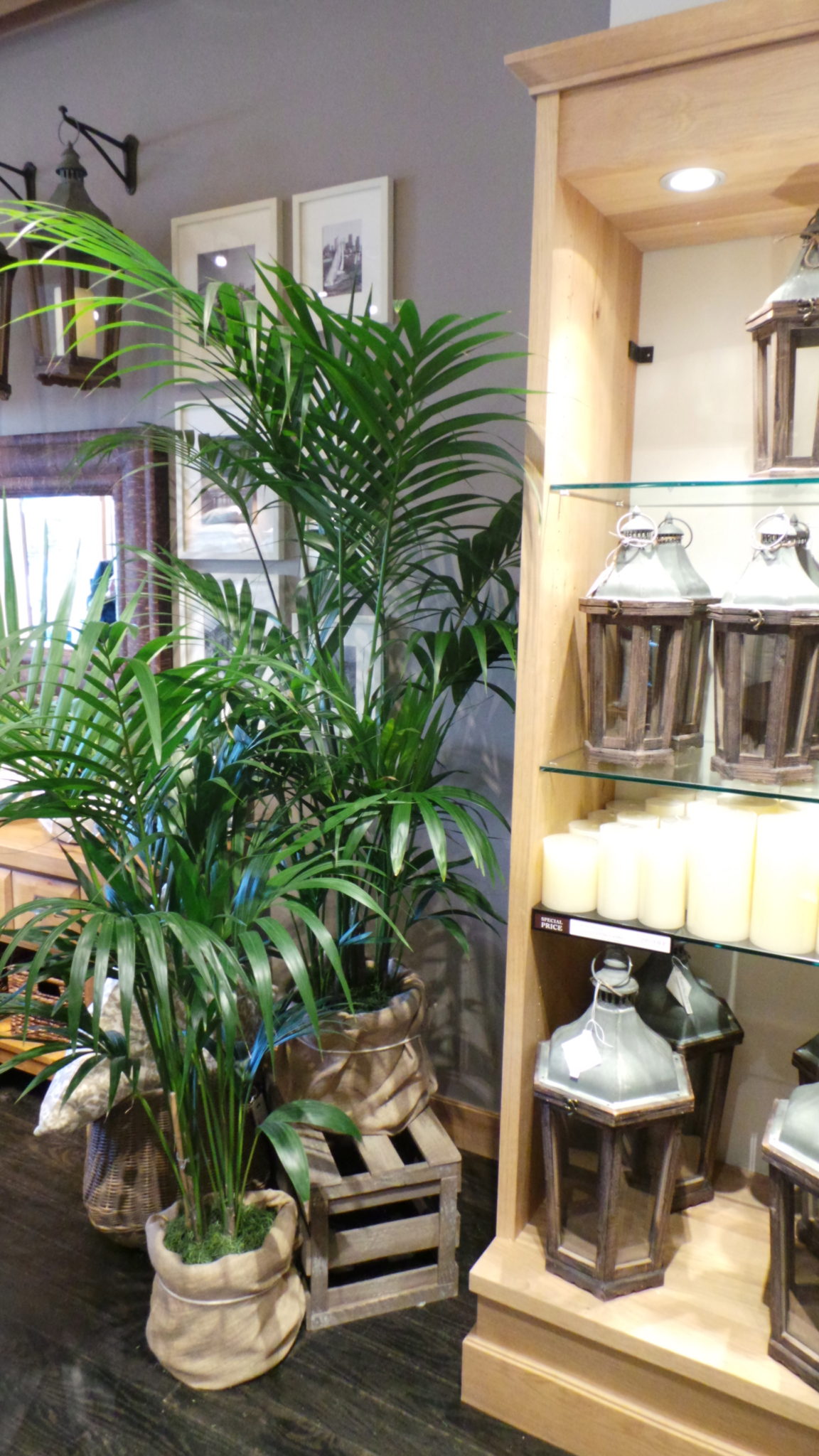 It's not just the product and the pricing (equally pleasant in Pottery Barn. Think not much over $2,000 for a solid mahogany queen size bed made in America) which will draw in the crowds and keep them coming back, it's the extras and the service. Things like free design consultations in store or at your home (West Elm, Pottery Barn and Pottery Barn Kids) with no obligation, story time for kids and while-you-wait monogramming at Pottery Barn Kids, free design classes at Pottery Barn and the ability to take home swatches of rugs, timbers and fabrics to see if they work. Delivery (and in some cases assembly!) is usually $99.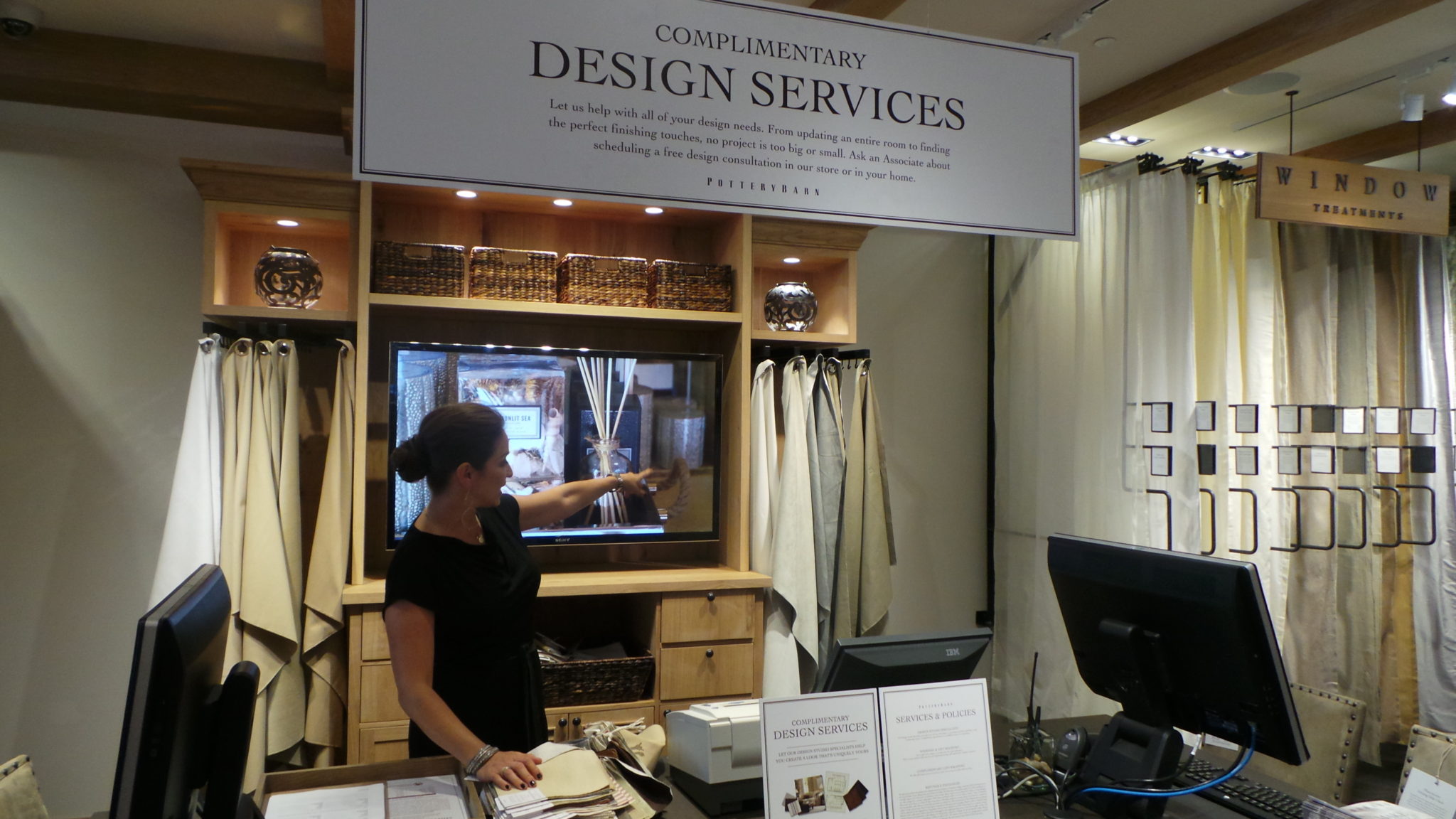 When Pottery Barn, for example, set up entertaining 'stories' in store, they not only illustrate how to lay the table but give you the recipes and the playlist for your evening too. Love that holistic approach!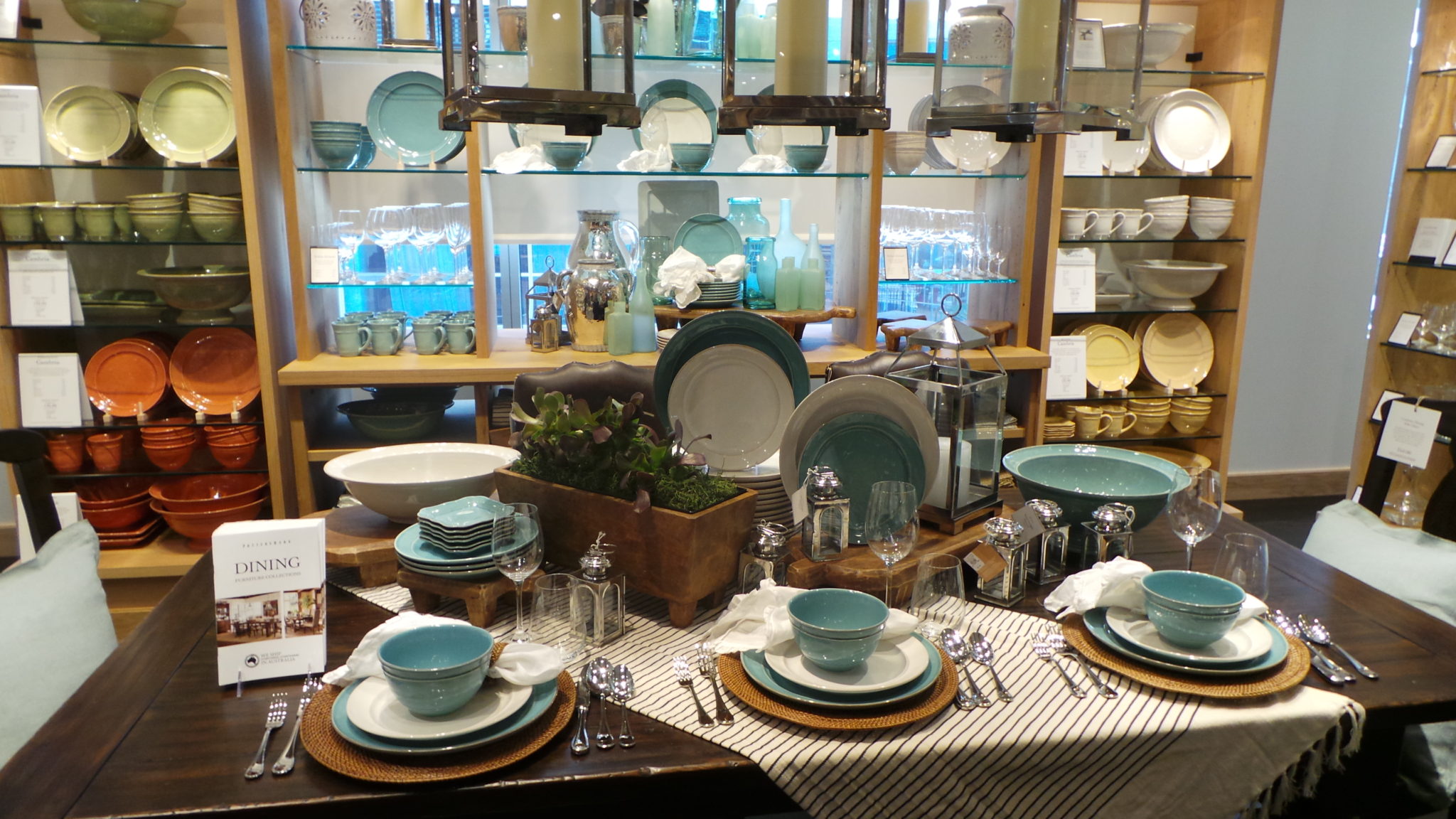 I think I'll leave Pottery Barn Kids to the mummy bloggers (I'm just not there yet, although I did see an awesome setup with a grey and white chevron rug and a crib with navy and white linen, plus I think monogramming is cute), but I will give you a quick tour of Williams-Sonoma! I've never seen serving ware this gorgeous in kitchen shops before and I do like to entertain.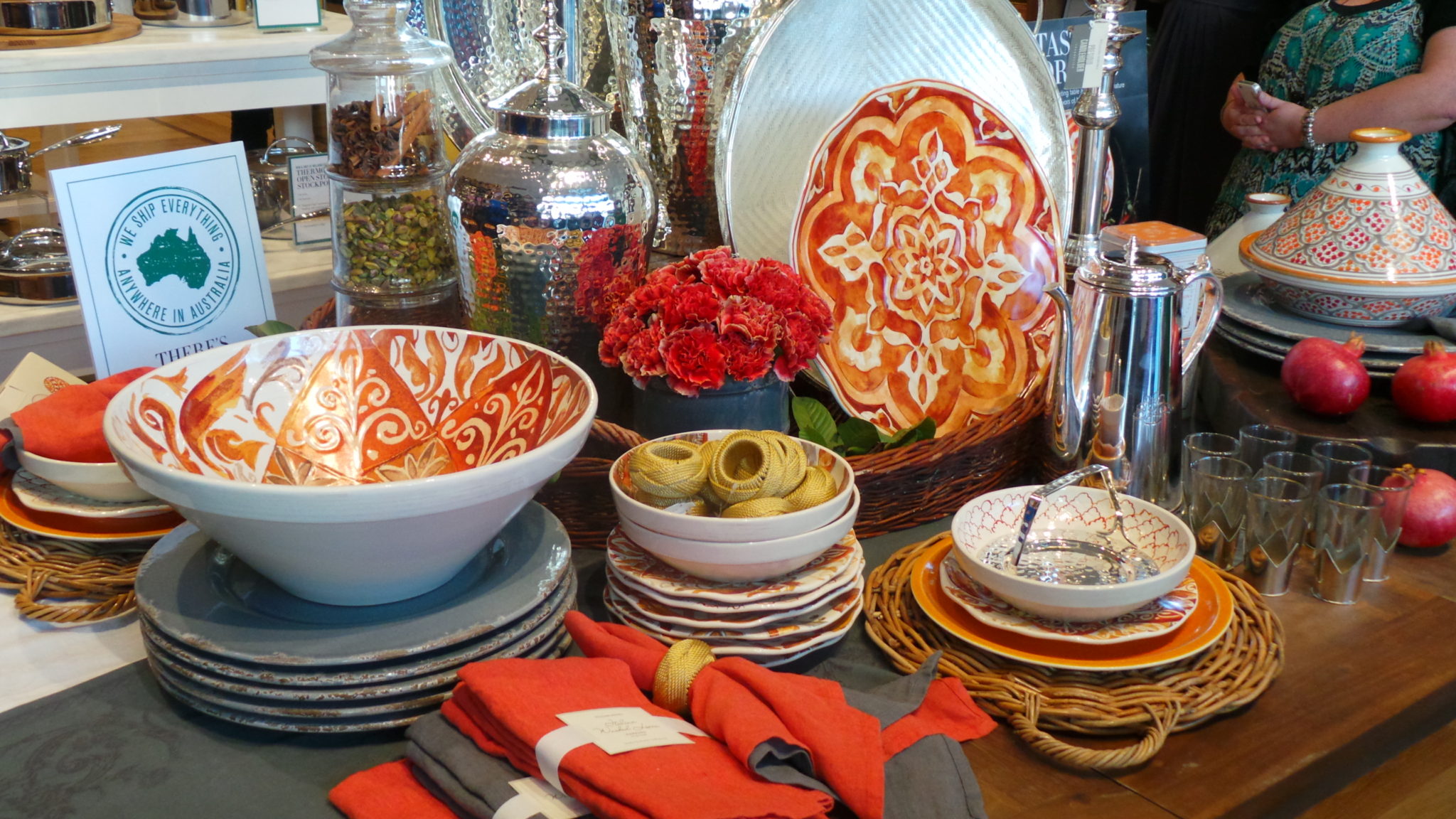 Being that I'm not a great cook (I'm not bad, I'm just not that into it) I think I might have to try out a class at its world first in-store cooking school. Yes, even the States don't have this yet. Go Aussie! It's really gorgeous too, not like one of those clinical industrial kitchens. I wonder if they let you drink wine while you're cooking. Probably not… That's head chef Vlad, by the way, who used to work in Michelin starred restaurants, don't you know?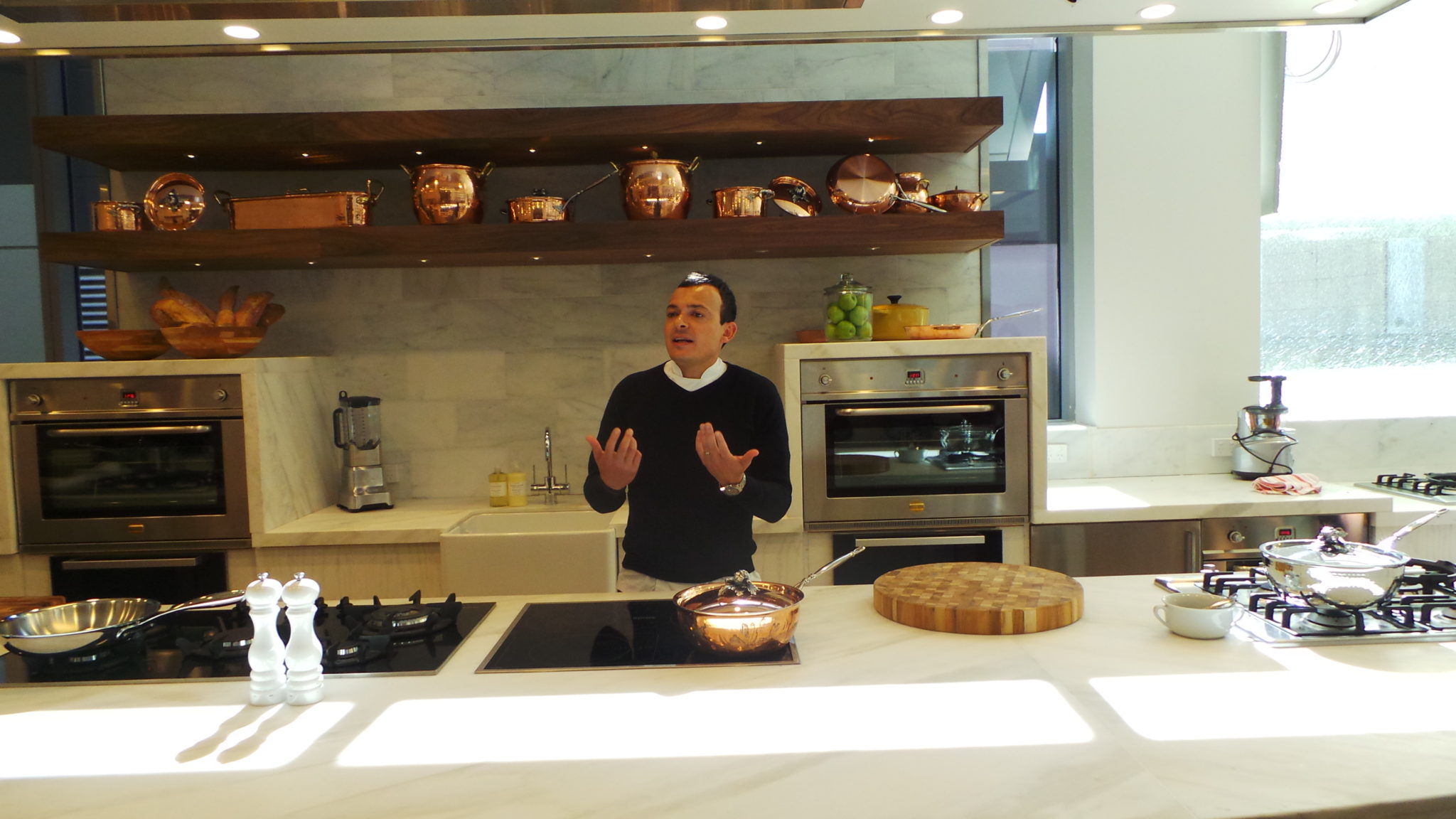 Williams-Sonoma is a foodie's/chef's idea of heaven with all the gadgets, utensils, ingredients, knives and pans you could ever want!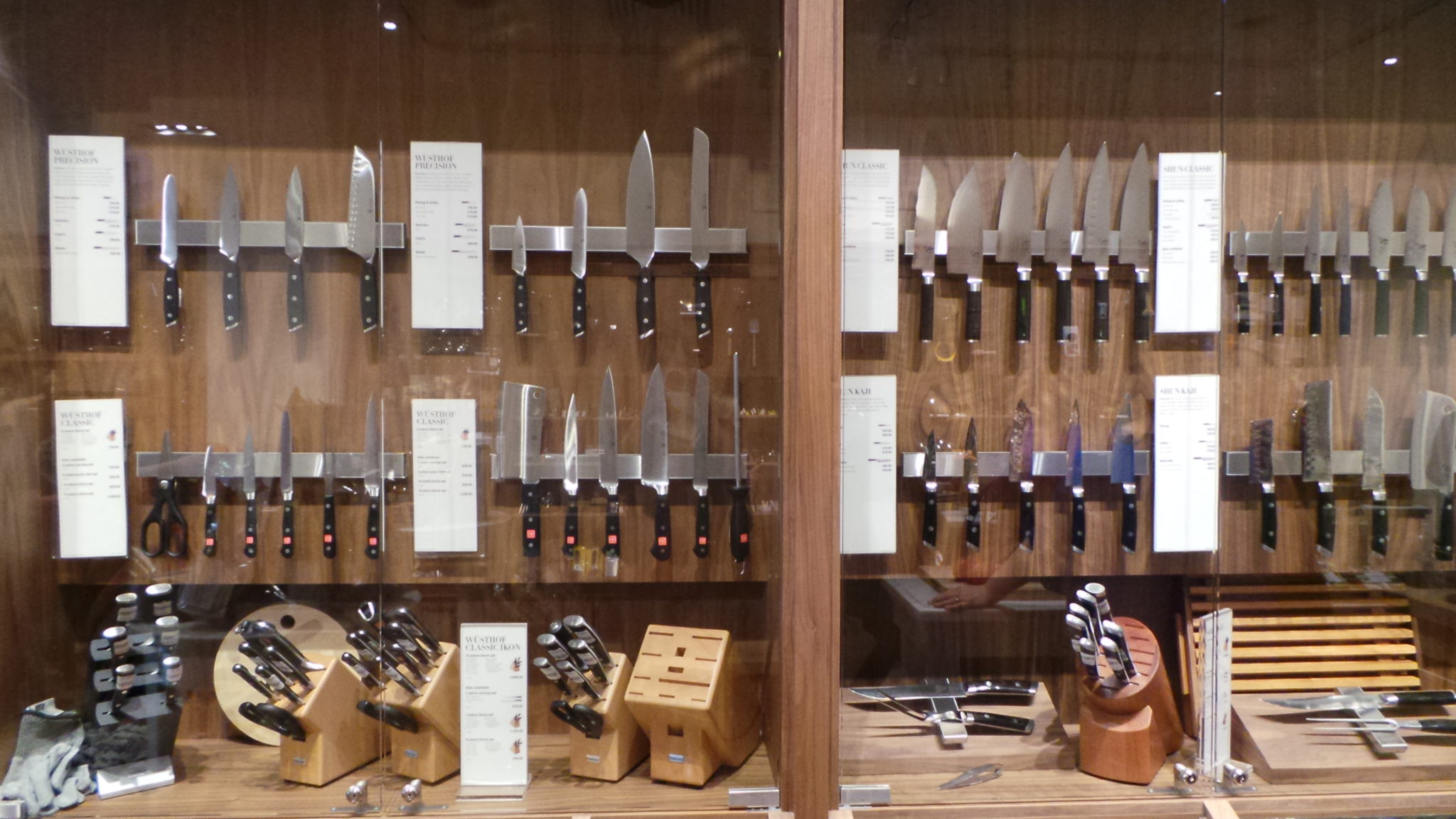 Anna Last (below), the brand's creative director and an Aussie now living in America, like West Elm's Vanessa Holden, showed us around this store. (Don't you think she's a dead ringer for a younger Martha Stewart, by the way?)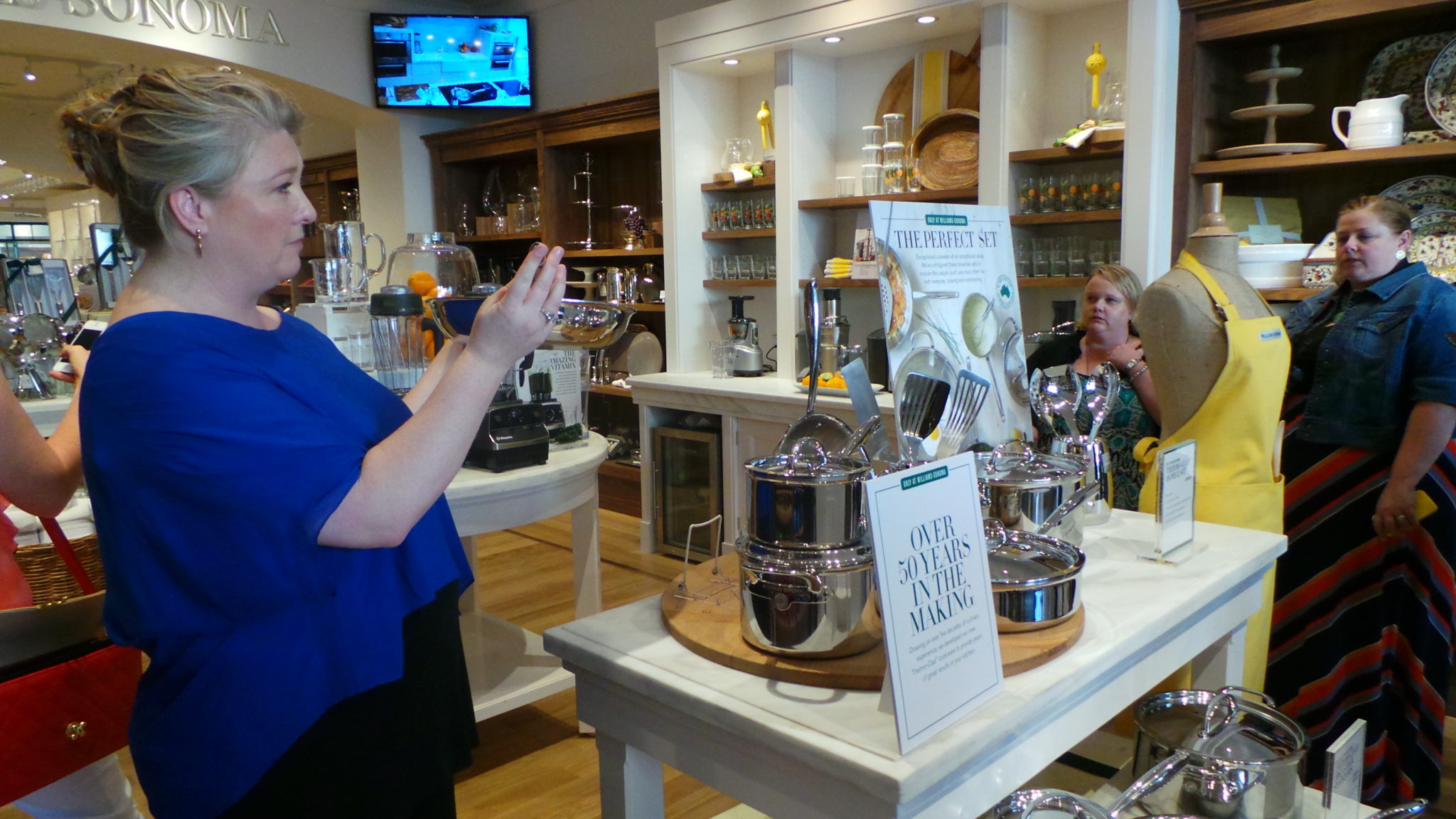 Did I mention the juice bar?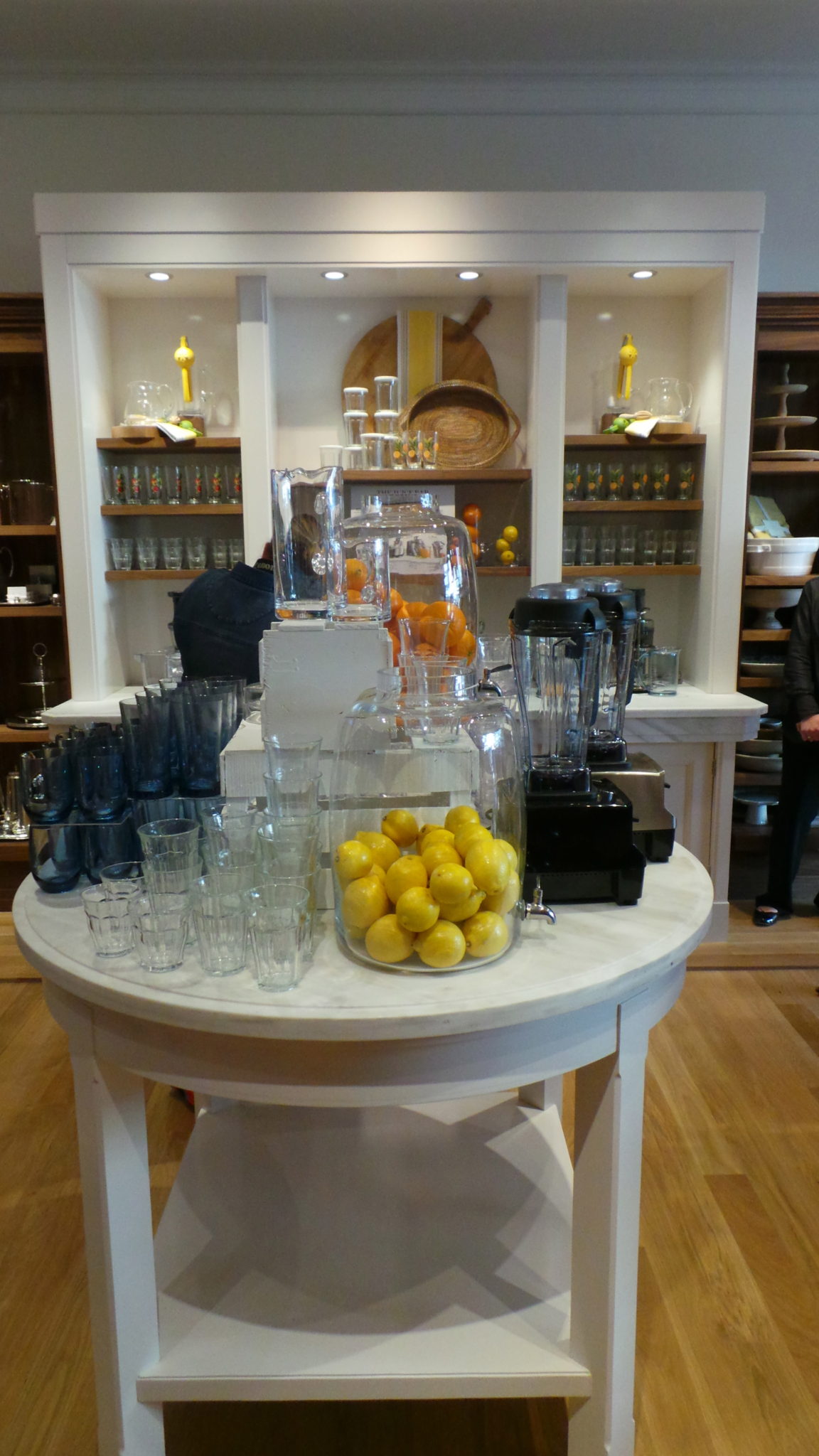 I thoroughly enjoyed this morning (although I didn't buy anything, amazingly). It definitely felt unlike anything we already have in Australia and I think the shopping experience will come to be as addictive as the catalogues. Aren't we lucky to be the first country outside of North America to get these brands? And you know why? Because online orders from here are bigger than from anywhere else outside of the US.
What you need to know
As I seem to have become a little of a Williams-Sonoma tragic expert lately, I thought I'd pull together the answers to some of your frequently asked questions:
When is it open to the public? Today! Yippee!
Is everything much more expensive than in the States? In my opinion, no. While some things may be more expensive on a straight comparison, I don't think it's fair to compare like with like.
I'm not in Sydney. Can I shop online? Yes, all stores ship everything anywhere in Australia. They all launched Australian-specific websites yesterday.
How much is shipping? Standard parcel delivery from $12.95. Home delivery and assembly is $99. Expect to wait 1-2 days in Sydney and up to a week interstate.
Are they coming to Melbourne? Yes, next on the list before Christmas, with expansion across the rest of the country expected but no other locations or opening dates confirmed yet.
Where are the stores? In the Exchange Building at Bondi Junction, right next to Westfield.
Are there trade discounts? Yes, 10 to 20% off. Learn more.