Last night's episode drove me a little bonkers. HURRY UP! I wanted to shout! Seemed like most of the contestants were on a go-slow and nobody seemed to care enough. And when you consider how many people must want to get on the show (I am definitely not one of them, unless they're offering a guest judge spot!) that's a little frustrating.
So I was the last person to expect Neale Whitaker to be saying it was a tough call when six rooms of a high standard had been delivered. That's clever TV editing for you I guess! And I have to say, when it came to the end results, despite some dodgy finishes, I was eating-my-words surprised! I think most of the viewing public expected the ditsy cousins Brooke and Aimee to be a dead cert to be eliminated but oh, how wrong we were! They ended up in second place. So, all in all, it was a good episode!
So, in order of judging…
Tim & Anastasia. Came 5th and stayed in the competition by the skin of their teeth (half a point!):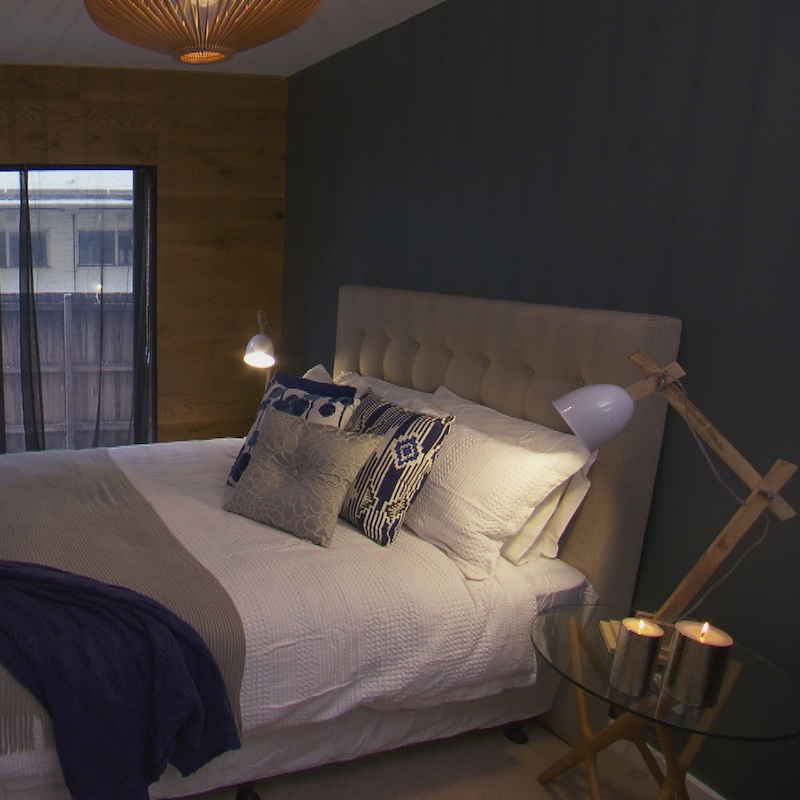 Darren and Neale said completing this room in 24 hours was mind-boggling, but then at this point, they had nobody else's to compare it to. Neale said the artwork was a bold, good choice and set the tone for the whole room. Both loved the timber walls but the dodgy finishing where they met the ceiling didn't escape Darren's beady eye. The powerpoint and TV aerial socket in the middle of the wall were also clangers. But Neale said overall it was a pretty strong start.
OUR PICK: Tufted bedhead by Forty Winks.
Ayden  and Jess. Came 3rd: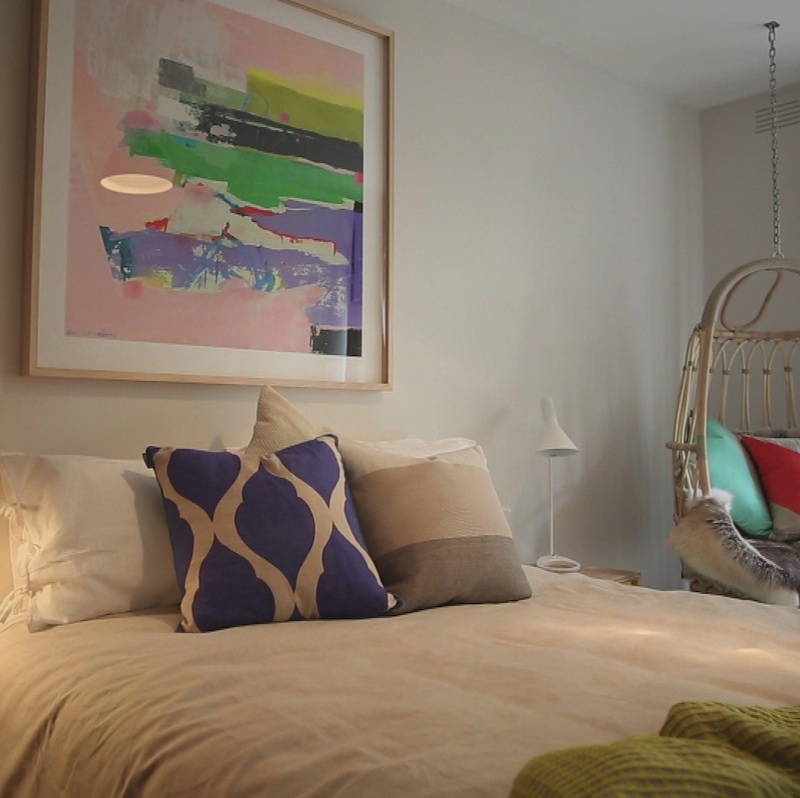 Pre-judging, Ayden described the room as "us on a platter," and said they wouldn't change a thing. I liked his confidence! The judges said it was very fresh and inviting. Darren loved the linen (I have the same on my bed from Aura as it happens), cushion and art choices. Neale said it was young, cool and sophisticated. They both raved about the open-shelved wardrobe but Darren said the paint work and plaster work were a dog's breakfast! And those curtains certainly needed ironing!
OUR PICK: Ali McNabney Stevens print.
Mark & JJ came last and were eliminated. I bet she's glad she doesn't have to be called JJ anymore: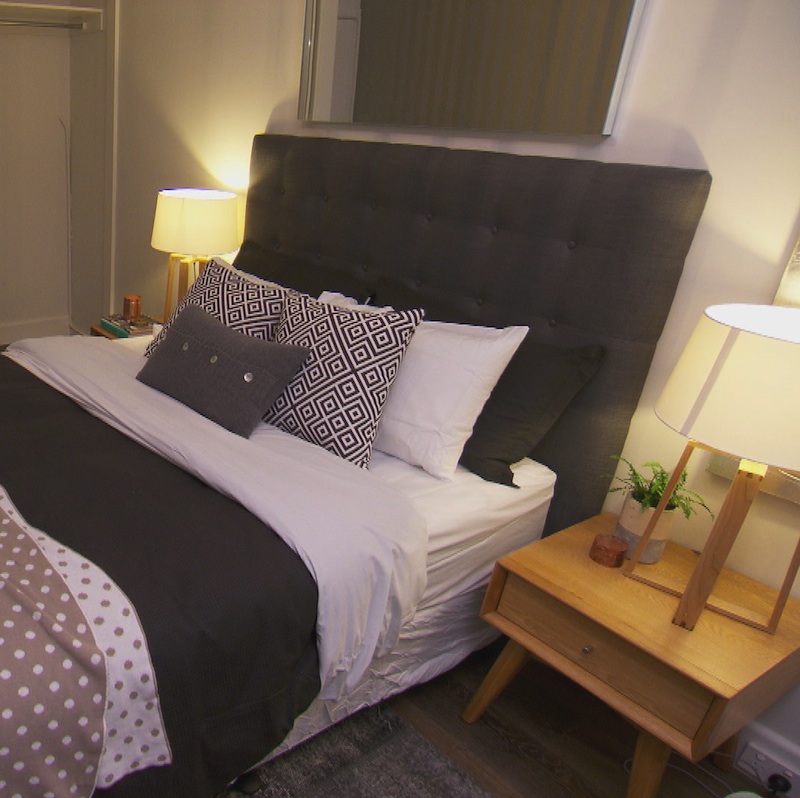 It was clear from Darren and Neale's comments, by the end of the judging, that these two were heading home. Neale said it was hard to know where to look first. Although the wallpaper was very brave and very well done and the mix of retro and contemporary was good, there were too many styles going on and nothing tied together well. And the deal was sealed with terms like "chaos" and "panic styling". Bye bye, guys!
OUR PICK: Sebastian pendant by Thomas Gannan.
Brooke & Aimee. Came 2nd despite looking like they wouldn't even finish: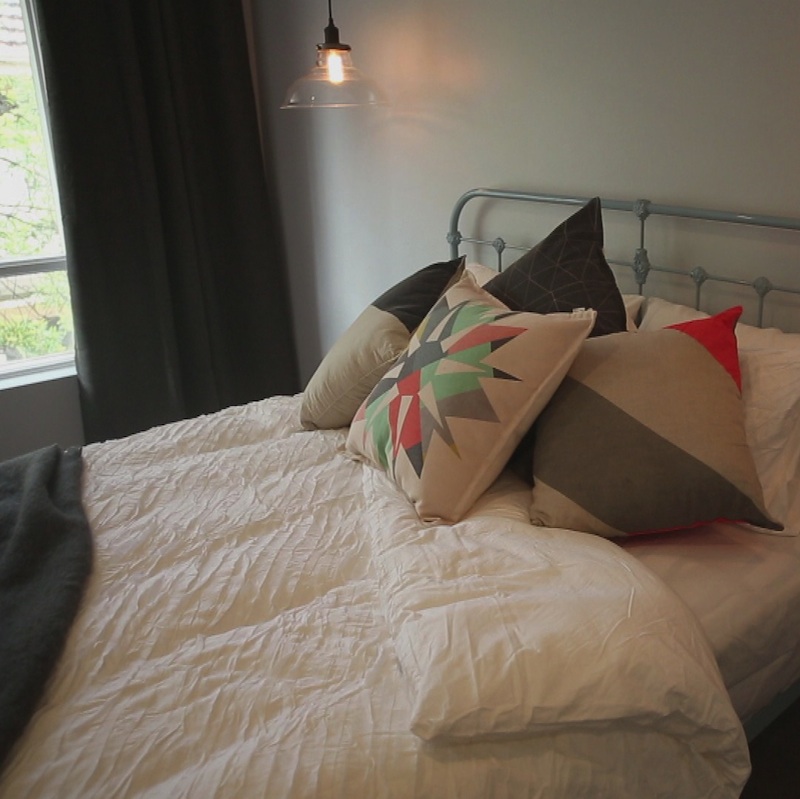 And their door didn't shut either! But Neale really liked it, coining the term 'industrial country' and both judges loved the vintage style, mint green bed. they even said the wardrobe was an extraordinary achievement in the timeframe. But nobody could ignore that black curtain rod, drooping in the middle!
OUR PICK: Pony Rider cushion.
Ebony & Luke came 4th and were visibly shocked to still be in the game: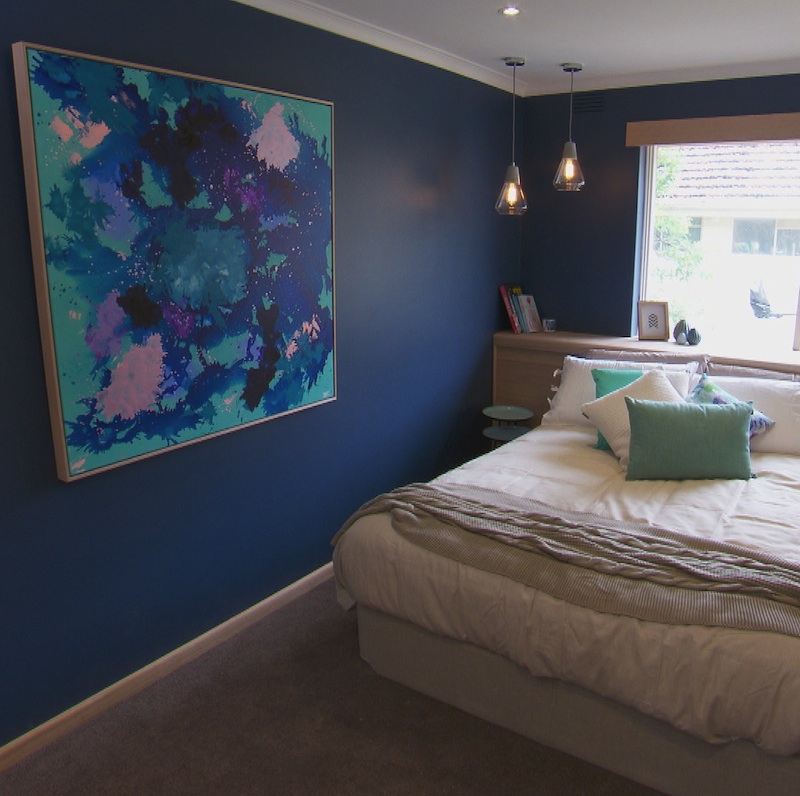 The blue wall went down a treat and the judges noted the rest of the room was subtle and restrained. Darren was not happy with the chest of drawers as the only storage option, or the poorly finished skirting and bedhead. And no window dressing despite a pelmet! Darren said though, that it was a well designed room with good choices, just bad finishes. Neale found it frustrating that some bits were so right and others so wrong.
OUR PICK: Katie McKinnon artwork.
Charlotte & Josh took out the top spot and came 1st with their subtle scheme: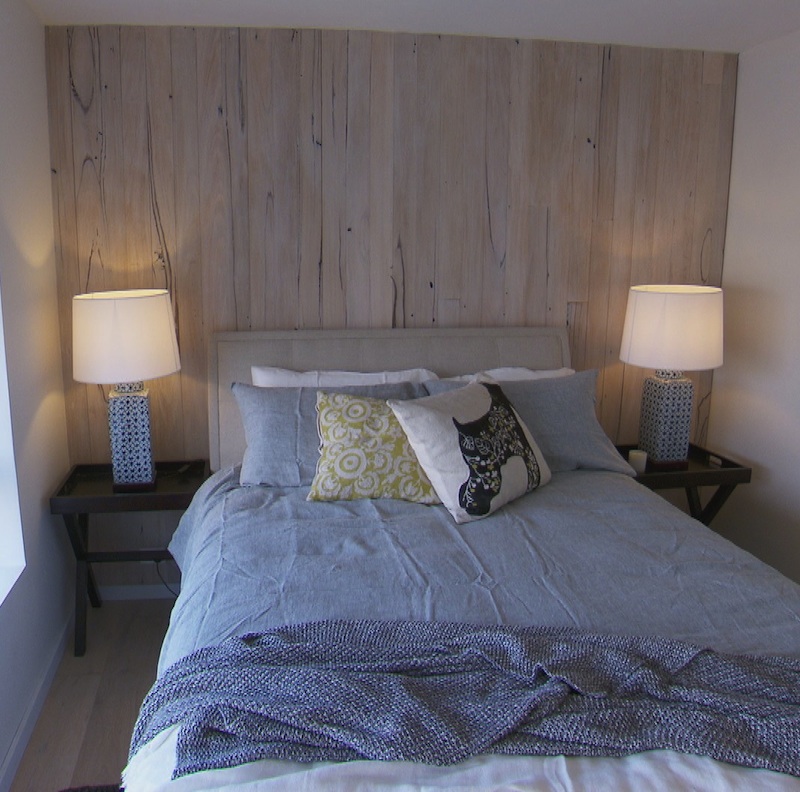 Josh was confident too, saying before the judging that he thought they'd get through to the next stage. On entering the room, Neale and Darren both said wow and they were even more impressed when they realised the timber wall was real and not wallpaper. Neale loved the pared back glamour and called it 'industrial glam beach house'! There's a new one! And Darren said the wall was magnificent for so many reasons. Neale rounded the compliments off with "superb"! The only downsides were the lack of window dressing and the seam of the lampshade facing out to the room.
OUR PICK: It had to be the copper sideboard, right?!