This season, The Block contestants have been tasked with staying true to the heritage of their homes while making them appropriate for a modern day buyer; certainly no easy task! In a new regular feature, interior designer and stylist Jono Fleming tells us what he'd have done on The Block each week and shares some interesting research into the design trends of the 1910s through to the fifties.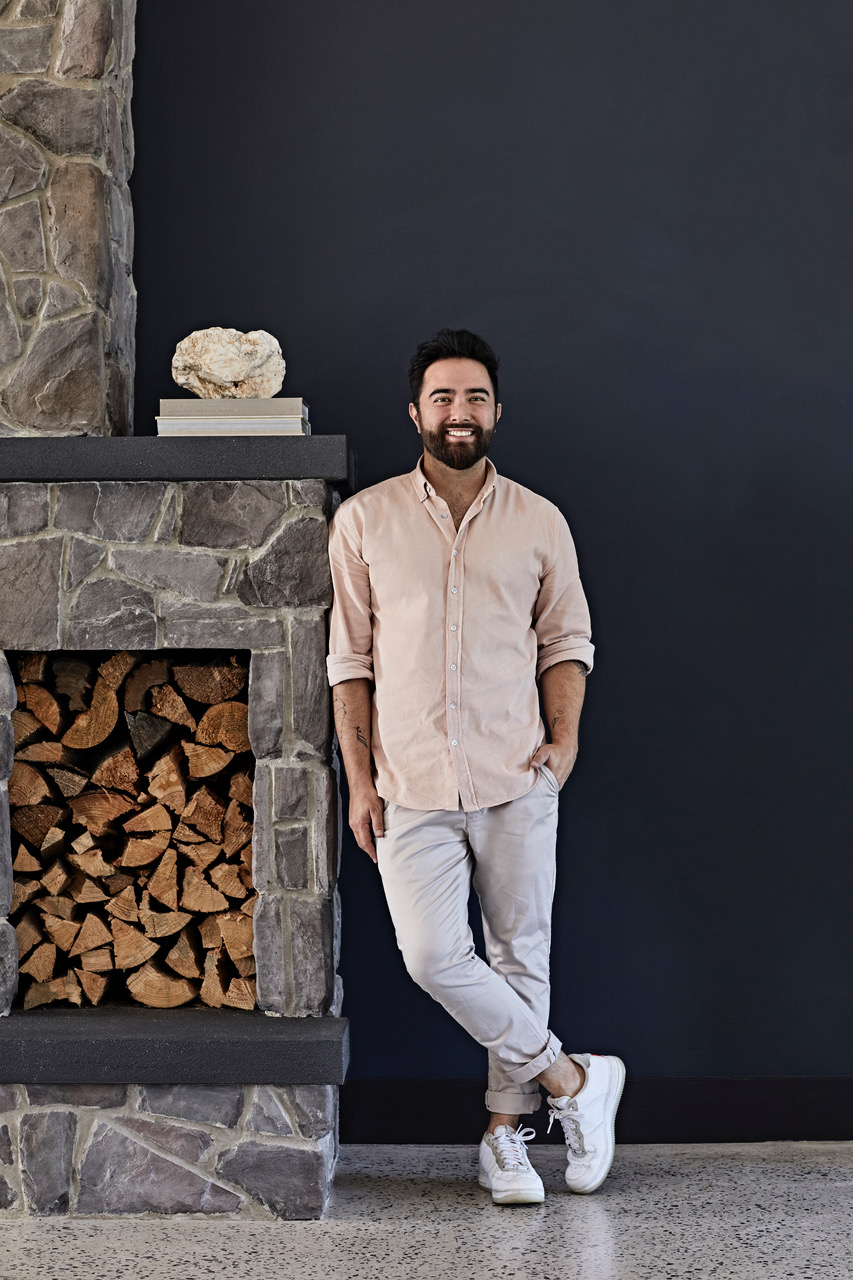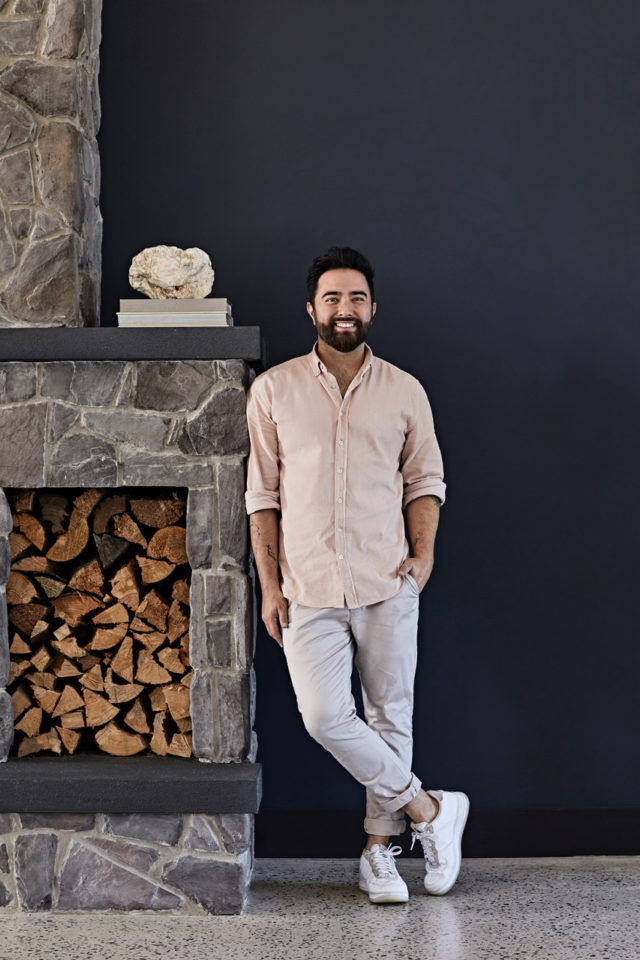 Over to you, Jono…
I'm going to admit it, I'm a huge fan of The Block. As a budding interior designer many years ago, I loved tuning in and, over the last decade, as I've grown as a designer and stylist, I still remain glued to the TV on Sunday nights for those room reveals.
So many incredible designers have emerged from the series –Kyal and Kara, Simon and Shannon, Michael and Carlene to name a few– and I'm constantly in awe of how these contestants can turn around these rooms in a week; it's not easy but they get it done.
That being said, tuning into the show as a fan is one way I enjoy it, but as an industry professional, I look at it with very different eyes. I lament over choices I would have made given the same opportunity, I think about different wallpapers, artworks and side tables I would have chosen. Having worked as style editor for Inside Out for a few years, I was able to acquire a knowledge of product and materials that were on the market so it's inevitable I'd have lots of opinions on what I would have done.
This all leads to the purpose of this post. I love design! I particularly love teaching people about design and with a season so heavily based on the brief of capturing different eras in a modern home, I felt compelled to do my own research. I've studied up a bit on these different design moments in history and decided to share my own takes and lessons I've learnt along the way.
Week one was the guest bedroom week, starting in the front of the houses. I did a poll on my Instagram stories a few weeks ago to see which era people would be interested in seeing my take on, and the 1910 house won out.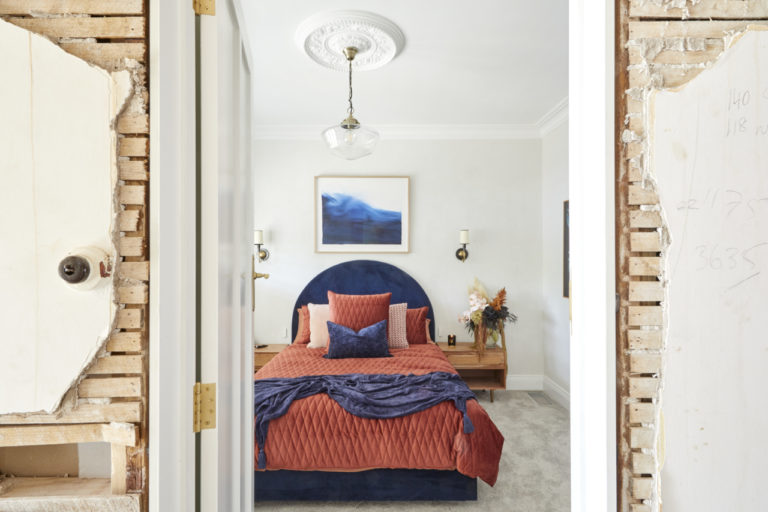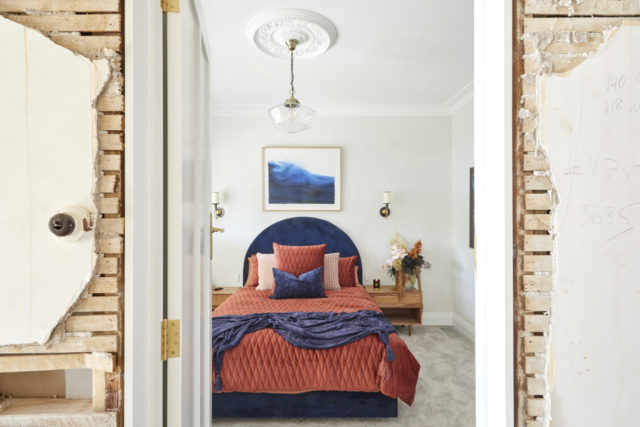 The 1900s are a really interesting time in design. We're out of the Industrial Revolution and well into the Victorian era. However, the beautiful over the top ornate detail we're used to seeing in imagery from this time is not necessarily exactly what was happening here down under. Whilst England and America were still living in the luxury of the approaching Edwardian era (think Titanic, upper decks not the Irish jigging in the cabins), Australia was entering the Federation period, and with that a national visual identity was being formed. This filtered down into our homes creating a wholly Australiana look.
In the 1910s, Australian Federation homes were beautiful red brick bungalows, dotting the streets of the new suburbs with beautiful timber trims and stained glass front windows. Inside the home there were high ceilings, picture rails, and handcrafted timber detailing. Rooms were often wallpapered and in the bedroom, wrought iron was the bed of choice. Decorative pendant lights hung from the ceiling and florals and pattern were inspired by the popular Art Nouveau trends coming out of Europe and America.
What would Jono do?
To take this look into our modern setting, there are a few key pieces I picked from The Block Shop.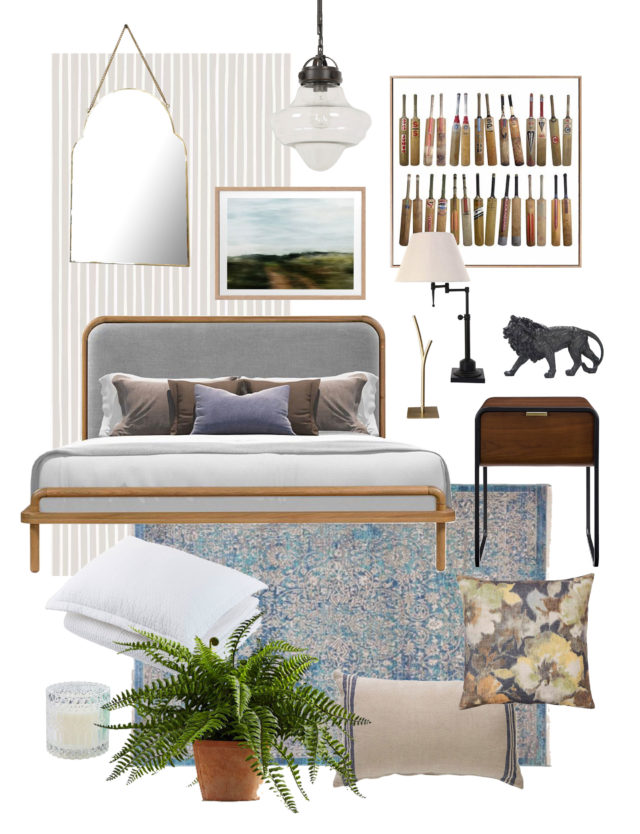 The furniture I chose (see my moodboard above) has nods to the timber craftsmanship that was so pervasive in the period. Hints of pattern were added through a traditional rug and floral cushions. Striped wallpaper in a light, neutral tone was selected as to be not too polarising to a potential buyer, but still true to the style of the home. Australiana is referenced through art choices, landscapes and an array of cricket bats. The wrought iron that was used in bed frames is now translated through lighting and a final touch is adding greenery such as ferns into the room to complete the look.
The goal was to create a room that was sympathetic to the era, neutral with mass appeal but still layered and filled with personality.

Moving onto the guest en suites which were revealed on Sunday night just gone, there were some really interesting points I gathered from my research. From the 1900s all the way to the 50s, pedestal basins were wildly popular. They changed shape, style and colour along the way but they really stood the test of time. Whilst maybe not the most practical for those craving storage (including the judges) these are an elegant addition to a smaller guest ensuite that may not require long haul unpacking room.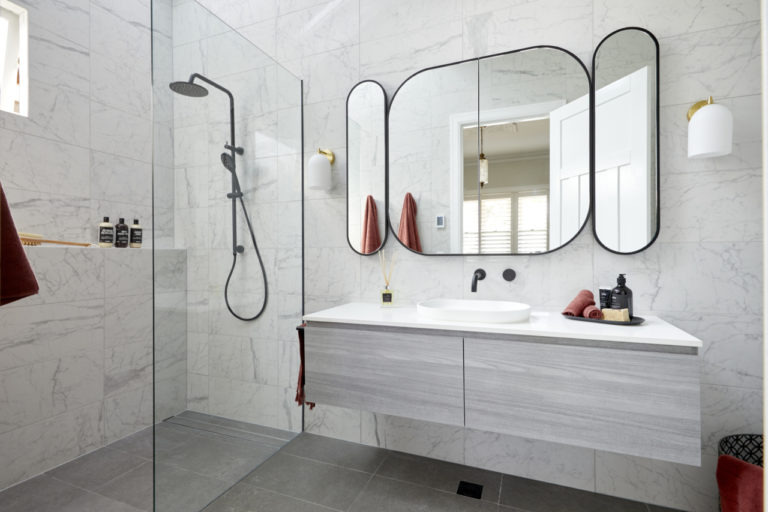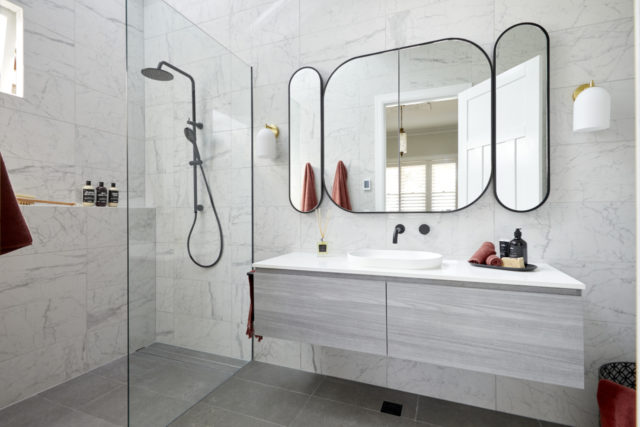 The biggest takeaway from my research, that spans five decades of bathrooms, is that colour crept into the space and only got bolder and brighter as each decade passed. Whilst the 1910s were quite muted, the 20s onwards saw the injection of not only colour but the matching set. The matching set was a the sink, bath and toilet, all in a identical coloured porcelain. Often being pastel greens and pinks, these colours stayed right up to the 50s, sometimes a little more saturated or deeper but always matching.
In the 20s and 30s, archways were built into bathrooms to divide shower zones, something that we're seeing interpreted today in curved and arched shower screens. And whilst trends in bathrooms have come and gone, what this look back into history has shown is that for over five decades, colour, bold colour at that, stood the test of time.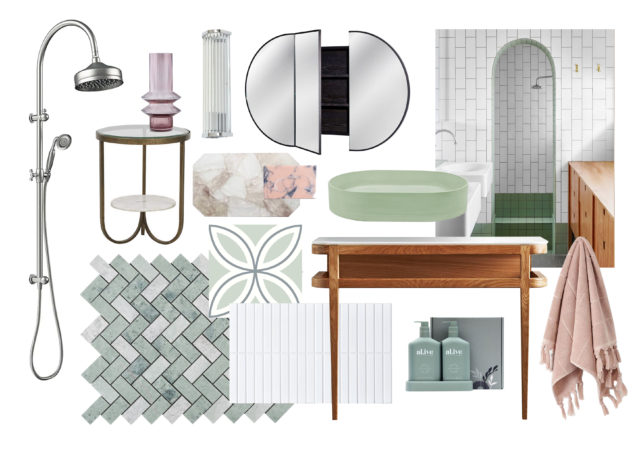 People often look at colour in the home, especially the bathroom, as trendy, or something that will date, but if you do the research and make sure you're referencing the right source images, you'll be surprised how timeless colour can truly be.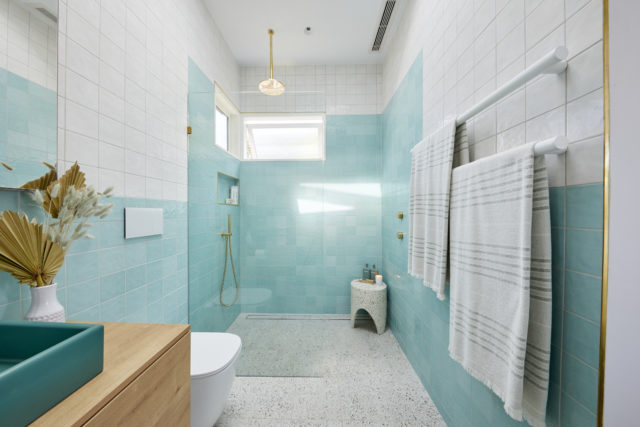 There's so much to learn by researching the past. Not every home needs to be an identical replica of the era it was built, however, to create a rich, layered restoration of a home for the modern audience, it really helps to reference these past design cues. It can not only make your choices when designing your home easier, giving you jumping off points to explore, but it will make your home more unique, individual and interesting.
For more info on the individual eras, check out the story highlights on Jono's Instagram
Tune in for Jono's posts every Tuesday morning, following our regular room reveal recaps on Monday mornings.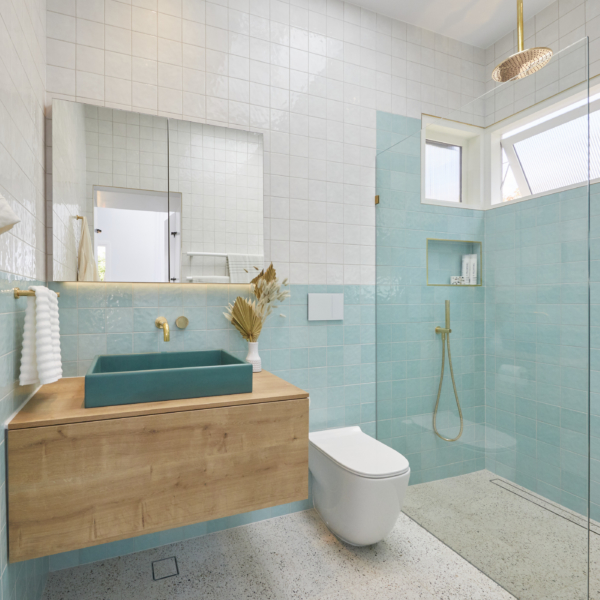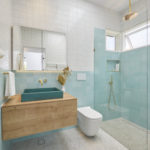 The Block 2020 guest en suite reveals
Jimmy and Tam won for the second week in a row last night. Impressive stuff! And I have to agree their 1950s bathroom (below) was the best. Let's recap what…