As always, The Block's kitchen week was a great watch! I absolutely adored Kirsty and Jesse and Ronnie and Georgia's, which came first and second. But Kirsty and Jesse absolutely deserved the win. Navy, brass and gingham wallpaper? You're talking my language!
Tanya and Vito's mid century kitchen was so unique and quirky but it worked! Aesthetically anyway! Mitch and Mark lost major points for having no pantry (other than food drawers) and took it so badly, swearing and declaring their lack of respect for the "out of date" judges. But the judges were absolutely right this time if you ask me. And Josh and Luke's was very masculine but it ticked all the right boxes.
SECOND: Ronnie & Georgia
Score: 27/30
Spent: $39,396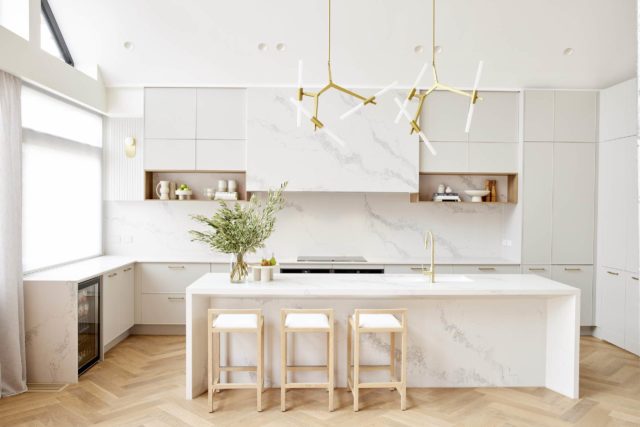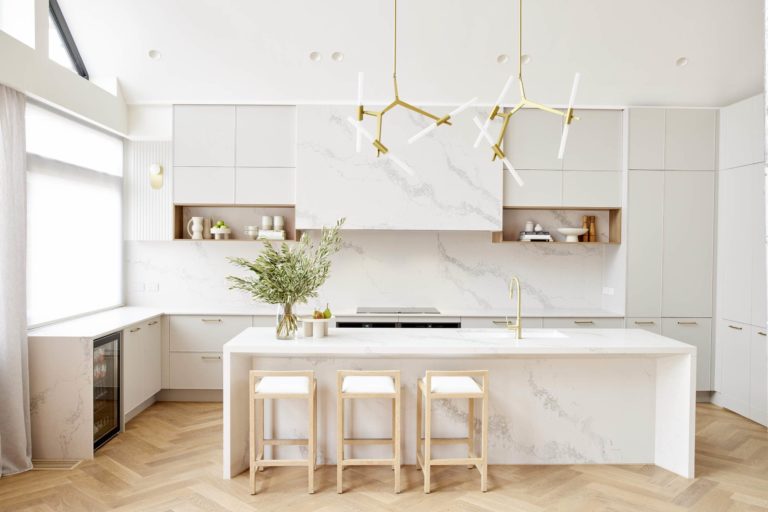 With a generous layout epitomising simplicity of use, Neale was blown away by Ronnie and Georgia's kitchen, calling it "impeccable" in style and "the new classic". Darren agreed, saying the pair had created a control centre for the house that delivers from the ceiling to the floor.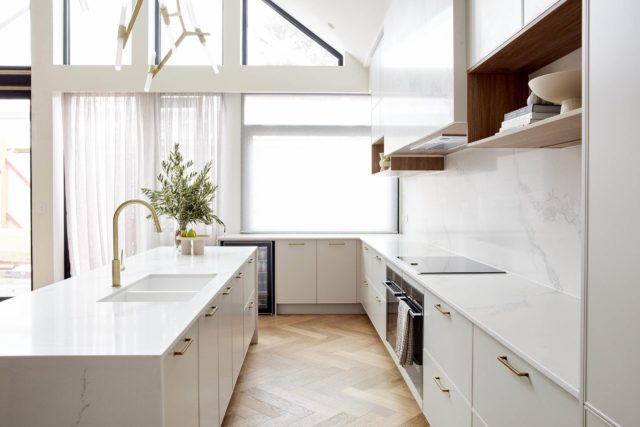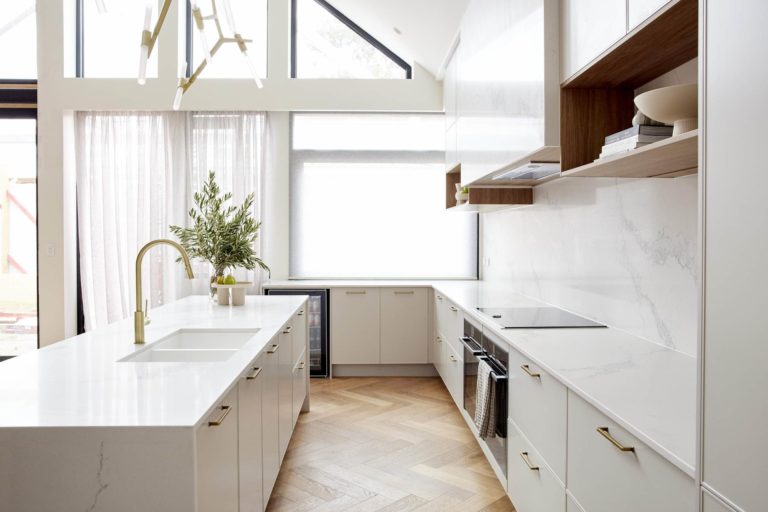 With a huge butler's pantry featuring high end appliances (but sadly no bin!) and Georgia's personal "Georgianised" storage solutions to the huge Gaggenau refrigerator (perfectly styled of course), Caesarstone benchtops and more, this is, Darren sums up, a kitchen to fall in love with.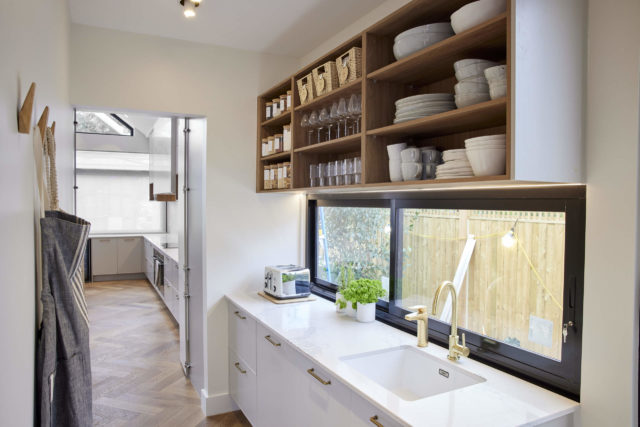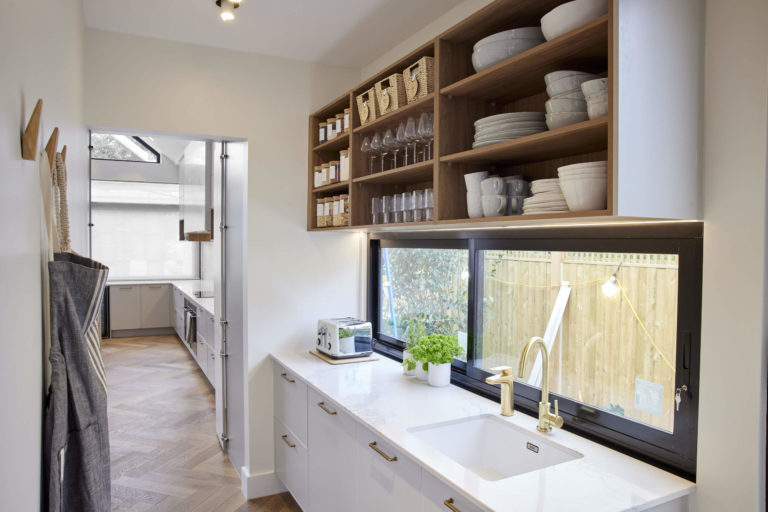 Shaynna personally didn't like the big sink taking up too much space in the island bench where people like to sit and chat. They all thought the pantry doors should have opened into the pantry. Neale said the pantry didn't have the same wow effect as the kitchen itself; a bit like the walk-in of their master bedroom. He added they had to be careful to tick all the practical boxes as well as creating rooms people fall in love with.
Overall, they loved it though, and so did I!
SHOP THE LOOK: Spear six-light pendant
LAST: Mitch & Mark
Score: 22.5/30
Spent: $33,768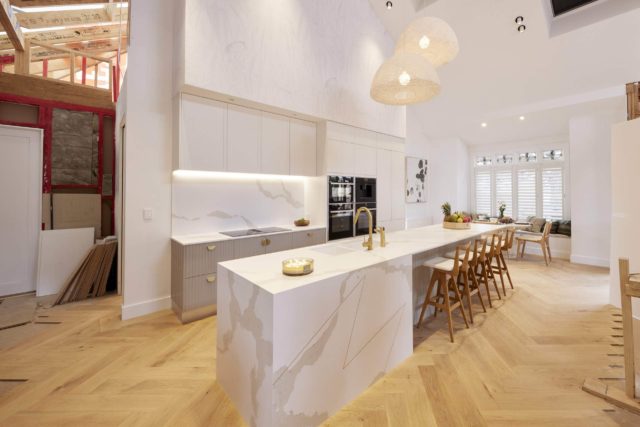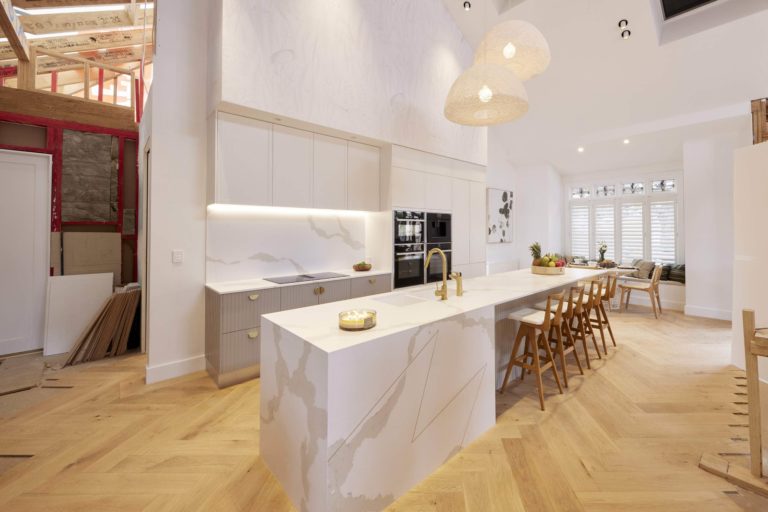 From the brass "M" incorporated into the Calacatta Maximus Caesarstone (not sure about that one!) to the long island bench with enough overhang for seating and a superb colour palette bringing appliances, cupboards, surfaces and more together, Mitch and Mark presented a kitchen that was uniquely their own. "Just breathtaking", Darren declared.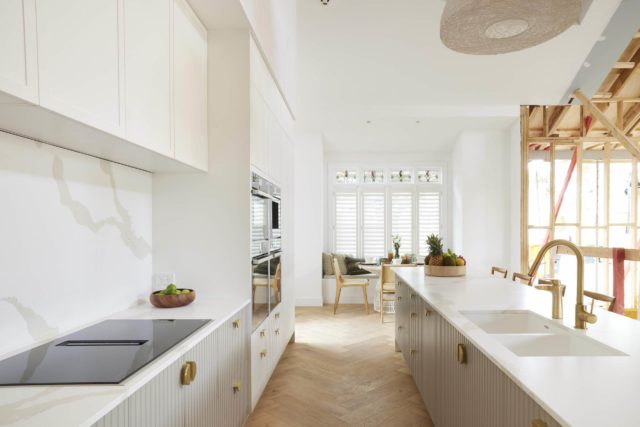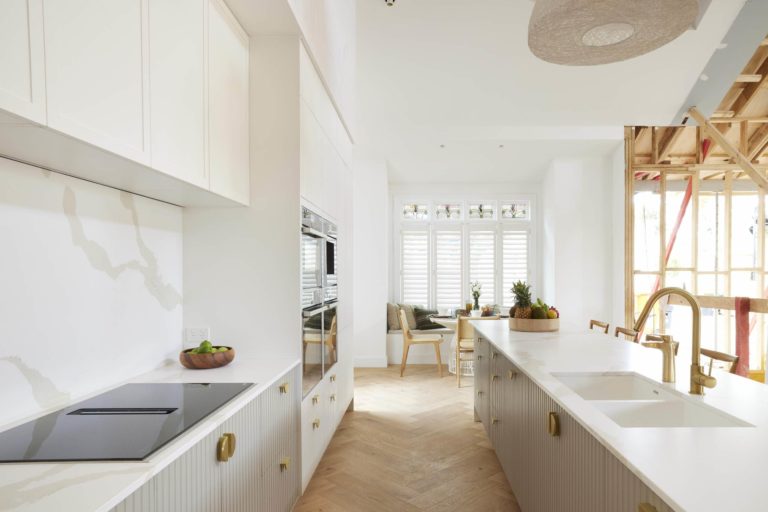 Great layout, visually stunning and with an adjacent breakfast nook, it ticked a lot of boxes… except one. Where's the pantry? And that's where it all came undone for the judges. Darren said it was dumb, Neale said really dumb, and Shaynna said it was crazy. All the food was to be stored in drawers rather than a pantry. "This isn't a kitchen you can work in," Shaynna said. "I hate to say it again but style over substance," added Neale. "I bet this did not go the way Mitch and Mark thought it would go," Darren said. Too right! The boys really didn't agree or take this feedback well, arguing that modern kitchens had pantry drawers and that they had no respect for the judges!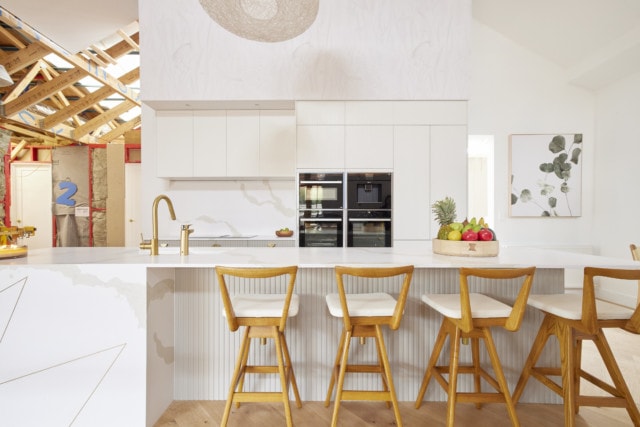 SHOP THE LOOK: Quinny framed art & TH Brown bar stools
FOURTH: Tanya & Vito
Score: 25.5/30
Spent: $27,083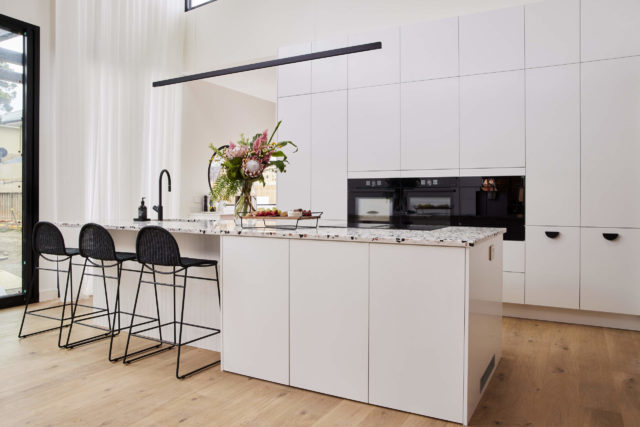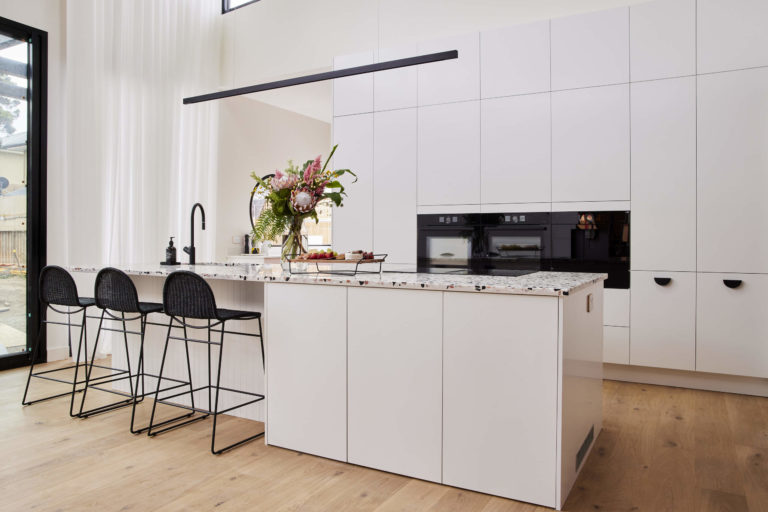 Bold, bright and fun, the kitchen is packed with personality and shows just what Tanya and Vito have been hinting at through the rest of the house. "This is a kitchen that says love me or hate me, but don't ignore me! It's a bold design statement" says Neale.
With the terrazzo the couple have been hinting at throughout the house as the hero on a huge custom benchtop (imported from New York no less), pink cabinetry, round skylights, a curved window, ample storage in the hidden butler's pantry, and a feature pendant, there's so much to catch the eye.
"Round skylights, a triangular window, an oval shaped rounded corner window. Architecturally they are really taking some risks and it's really paying off and really beautiful," Darren said. Shaynna said it was off the charts incredible.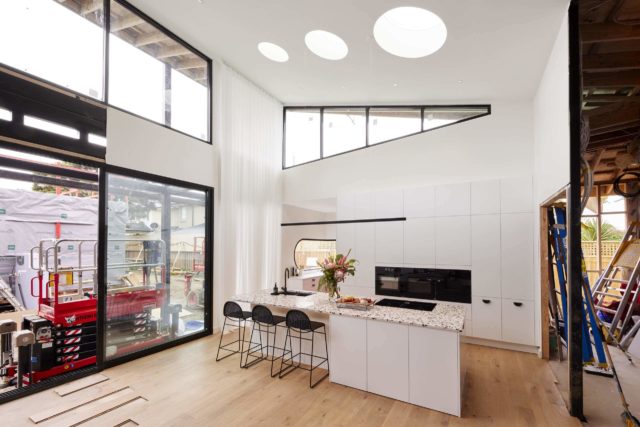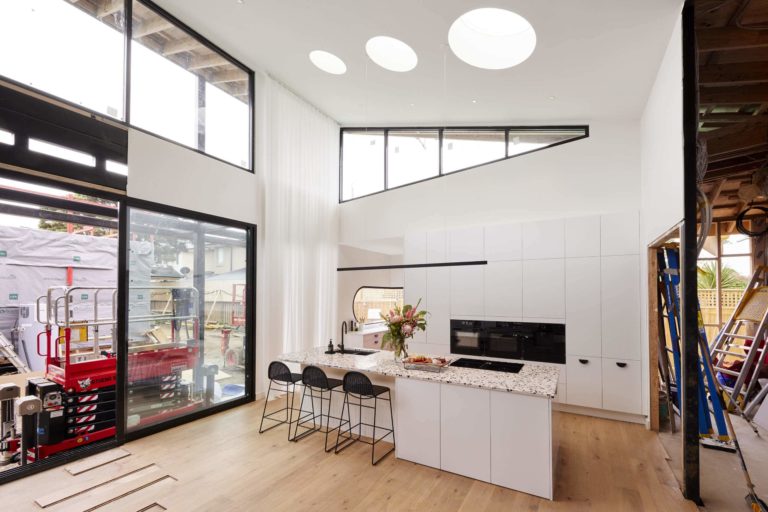 "What it does is matches the house," Darren says. "It's full of risks and ideas. It really feels like a modern interpretation of some of the best parts of mid century design."
But Shaynna also pointed out it had major functionality issues which the others agreed with. The fridge in the wrong place, not enough prep space on the bench and not enough space to seat people or space for a bin. "It makes me want to vomit because they imported this terrazzo specially and it's stunning."
Thank goodness the pantry cheered them up! The curved window blew them away, it was fun and joyful. "Tanya and Vito have really gained confidence in their aesthetic," Neale said.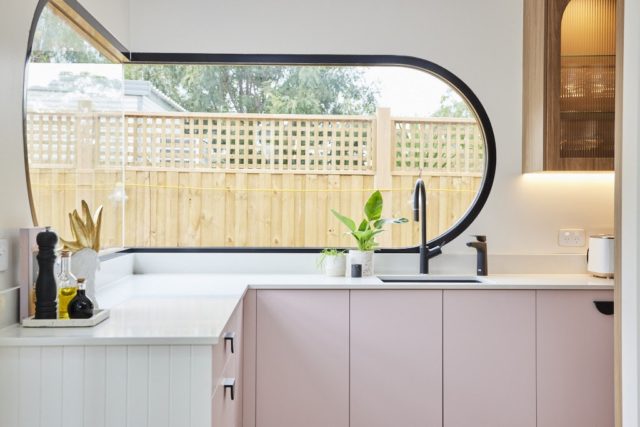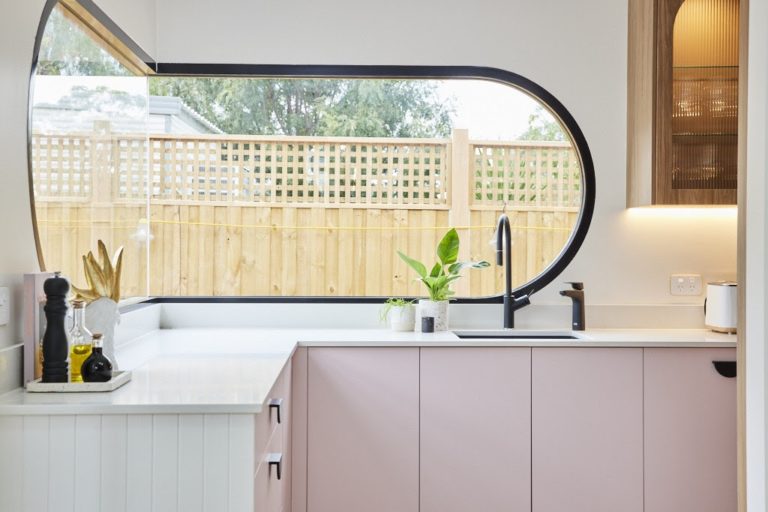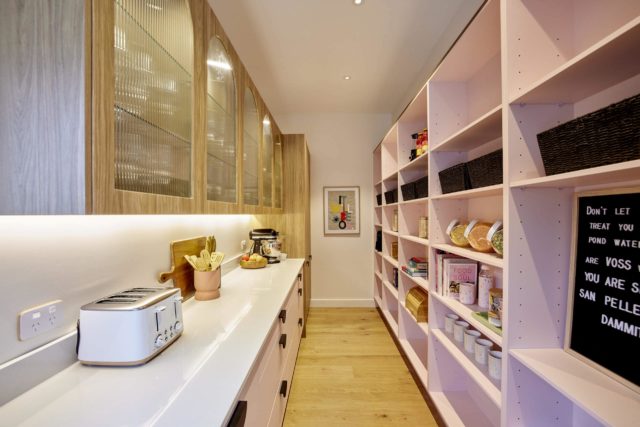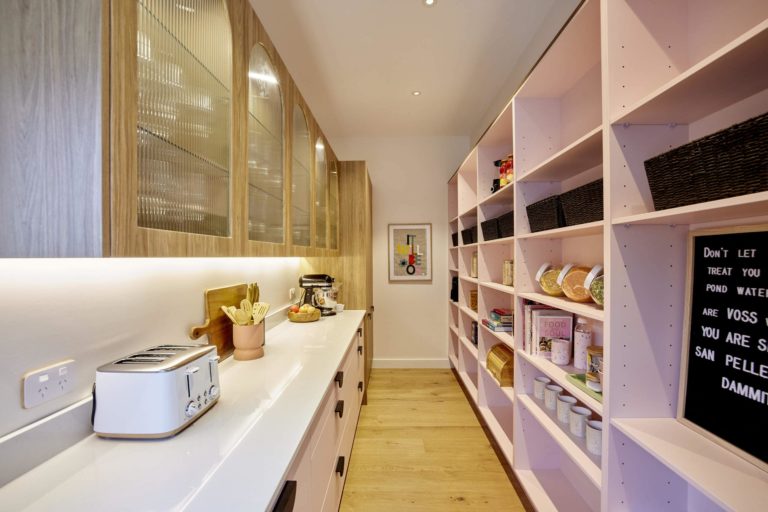 SHOP THE LOOK: Crested cockatoo set
THIRD: Josh & Luke
Score: 26/30
Spent: $33,024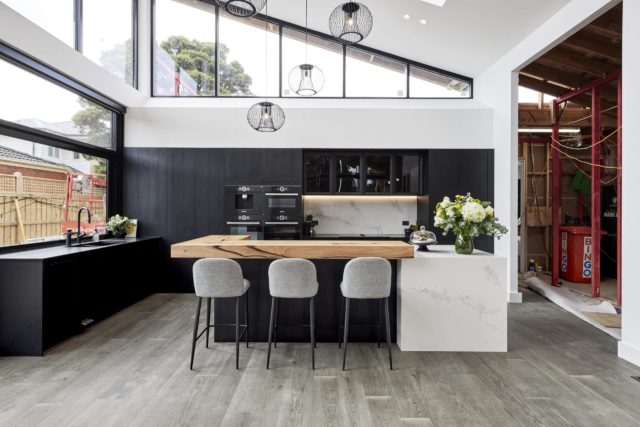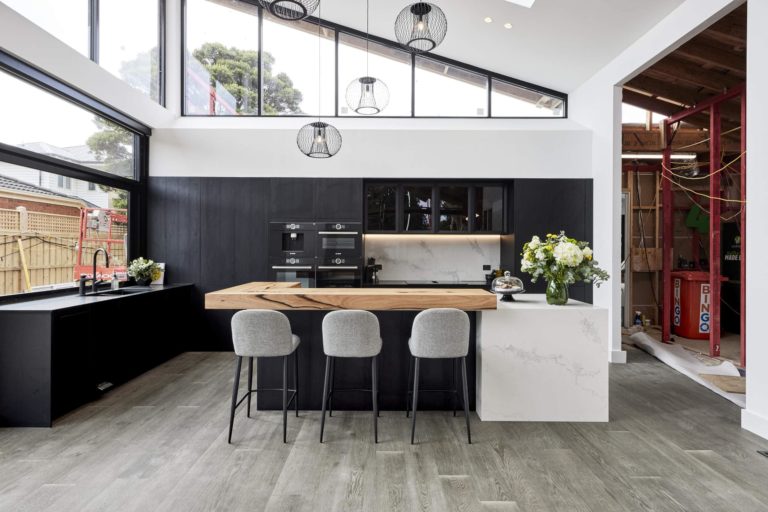 Dominated by a huge window to the tree-filled yard, Josh and Luke's kitchen shows the twins have bounced back after recent losses and learned from their mistakes.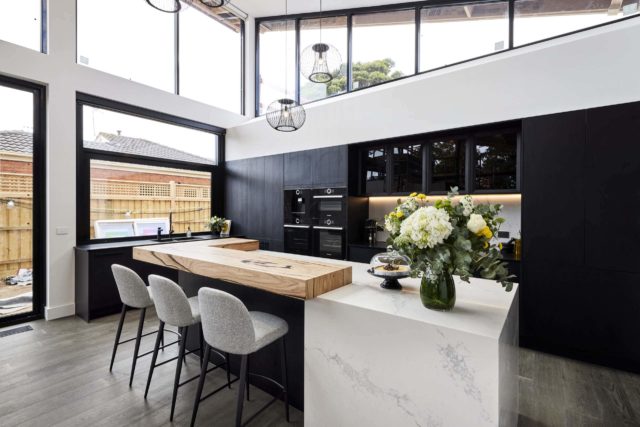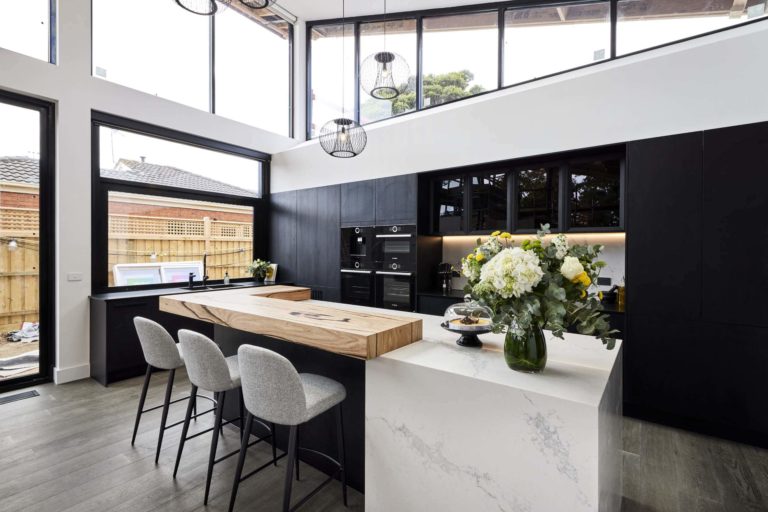 Black and white cabinetry softened by a Christian Cole timber benchtop feature, glass doors with a walk-in pantry for storage, state-of-the-art appliances and an island bench with more than enough space for prep and entertaining, it all added up to a welcome return to form. "It's sexy and refreshing!" Neale said.
"I'm absolutely loving their high contrast of sharp black and white and softening it with this beautiful timber," Shaynna said. "It gives you this lovely soft natural break," Darren added. Shaynna worried the pendants weren't good task lighting. And there were other functionality issues too.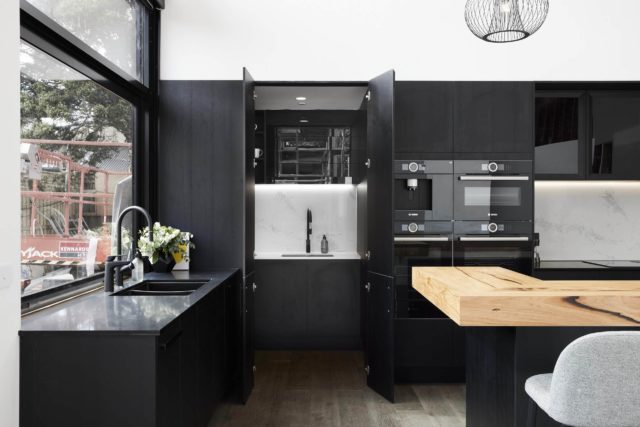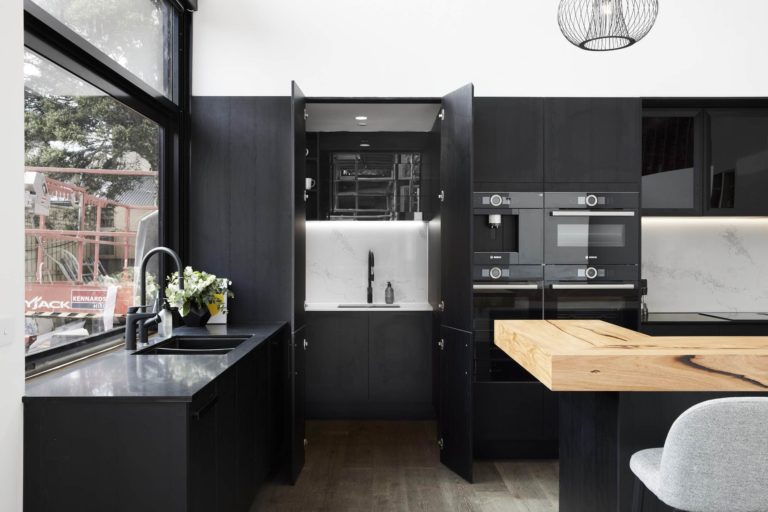 They felt the butler's pantry was more of a walk-in pantry than a butler's.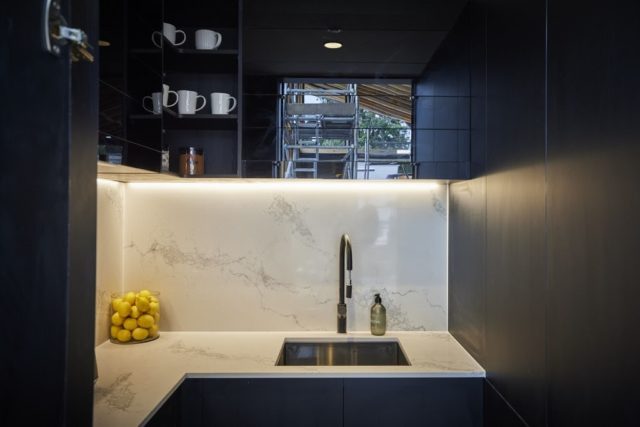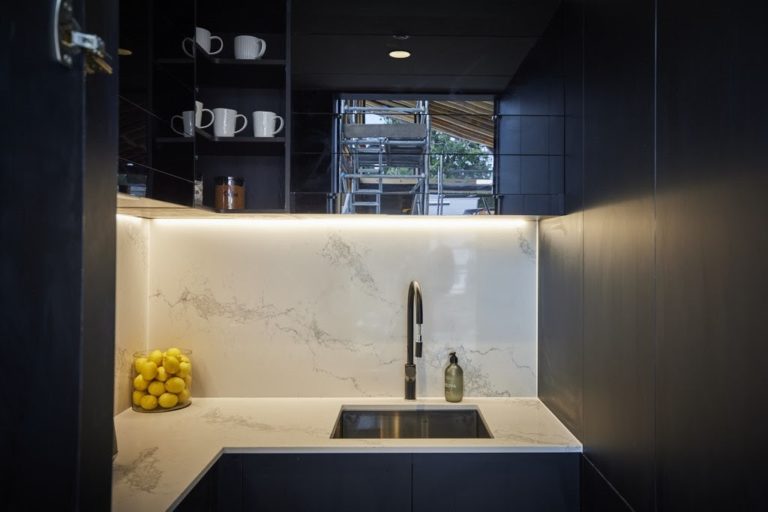 Darren thought they'd taken some notes and improved their styling. "I love that it's a very blank canvas for you to stamp your own personality on," Neale said.
SHOP THE LOOK: Digby kitchen stools
FIRST: Kirsty and Jesse
Score: 29.5/30
Spent: $49,085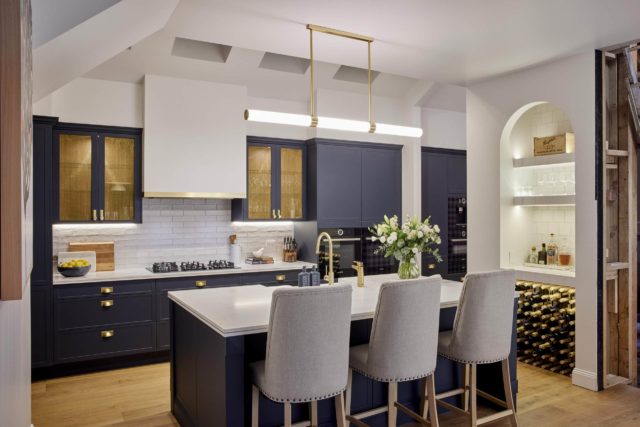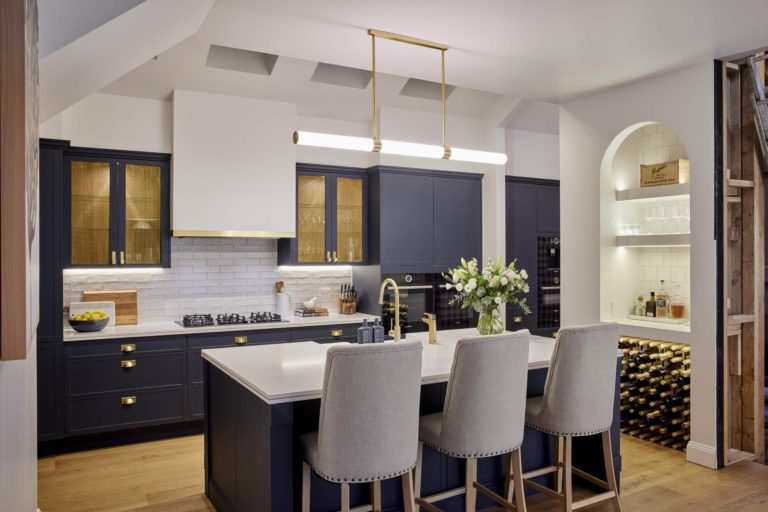 This was so my vibe. I mean navy, brass and gingham?! I'm so in agreement with it winning!
"I am home!" said Neale. "I am dead. This is insane," said Darren. "Wow! It's absolutely stunning," added Shaynna.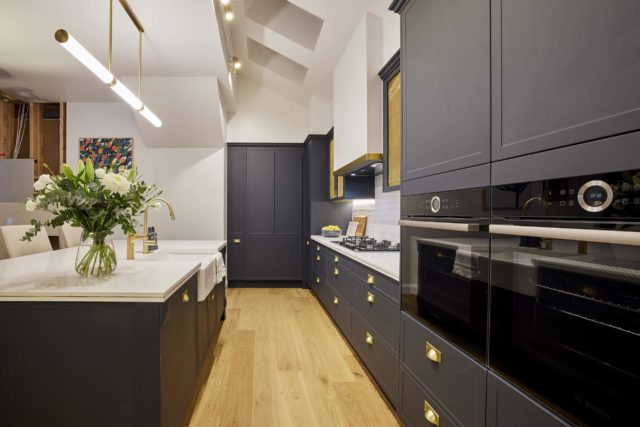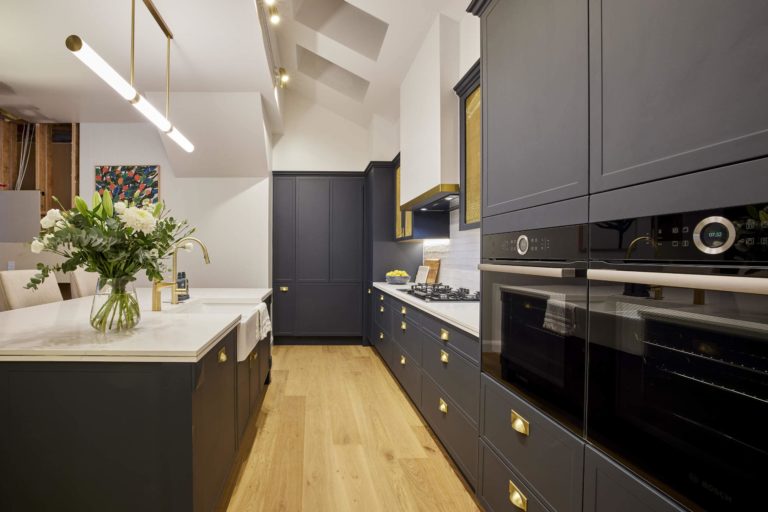 Stunning in navy blue with brass cabinet inserts, a brass accent cut into the edge of the Caesarstone (hot!) and brass handles, Kirsty and Jesse's country meets Hamptons kitchen took the judges' breath away.
"The island bench is so expansive and so functional," Shaynna said. "Dishwasher, great sink, heaps of bench space – and an enormous bin!" She was in love. So too was Darren, with the gingham wallpaper, a perfectly placed fridge with pantries either side, and his much-loved five zones exactly where he wanted them. "Here we are standing in a room that has every single thing we've been looking for," he said.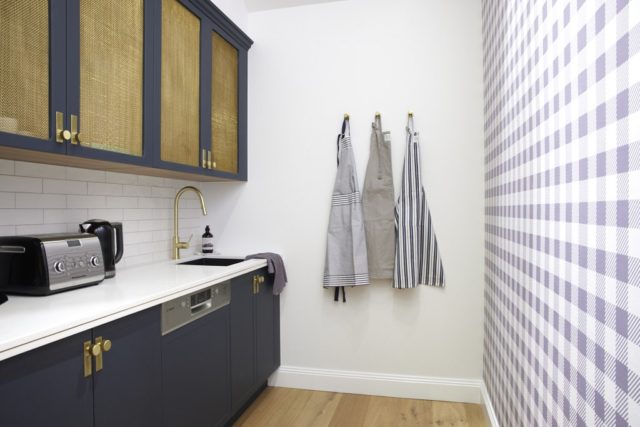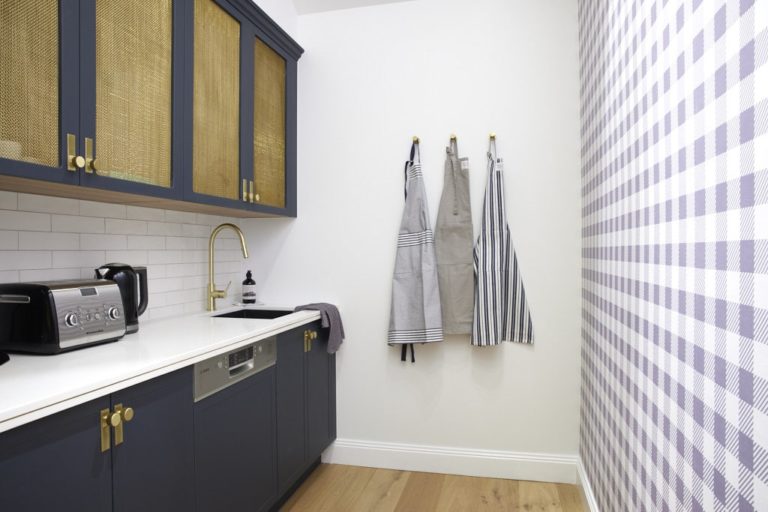 "It's so beautifully resolved," said Darren. Shaynna loved the alcohol display which could easily be used as a study nook. Neale added: "For Kirsty and Jesse, all roads have led to here. It's beautiful." Darren was worried his head would explode because he loved everything so much! "My hair is standing on end, that's how perfectly they have done the five zone kitchen in this space!"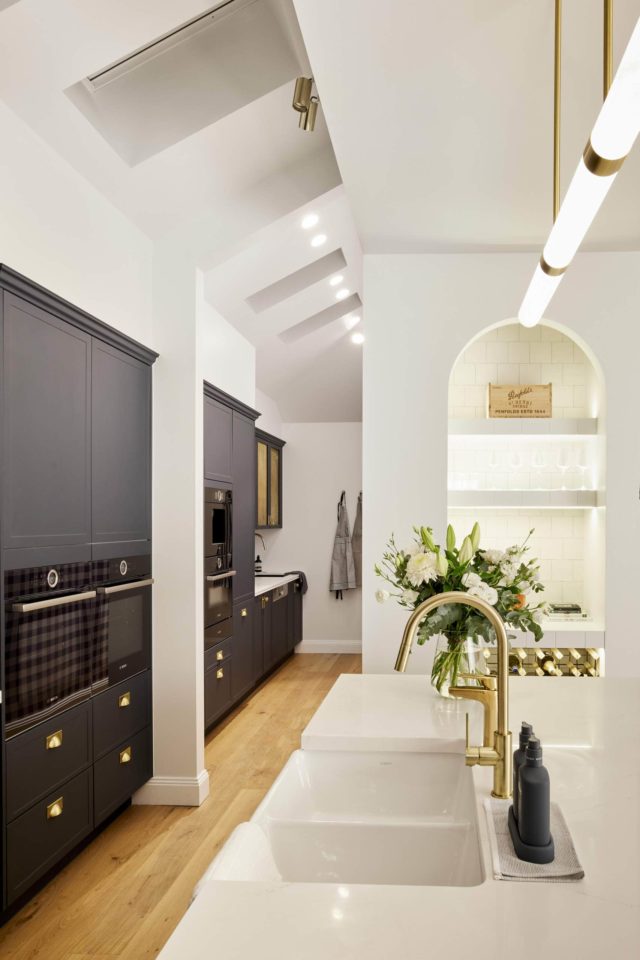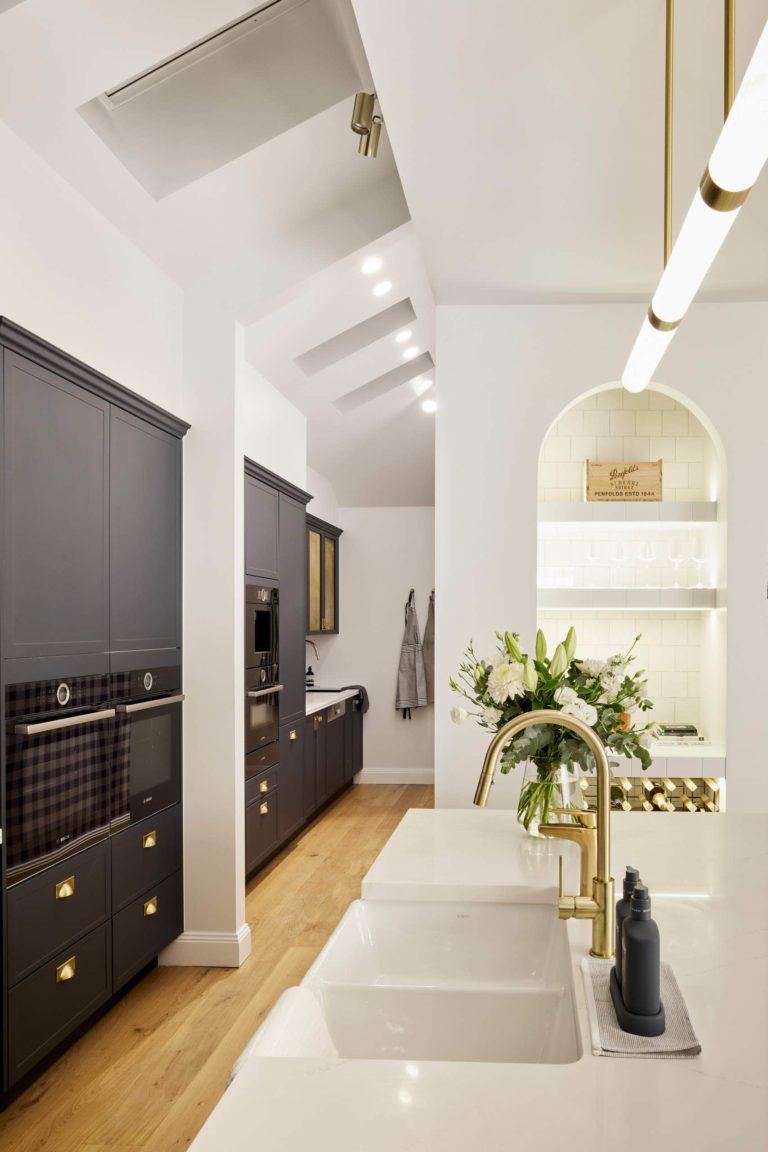 SHOP THE LOOK: Anna Blatman print
What did YOU think?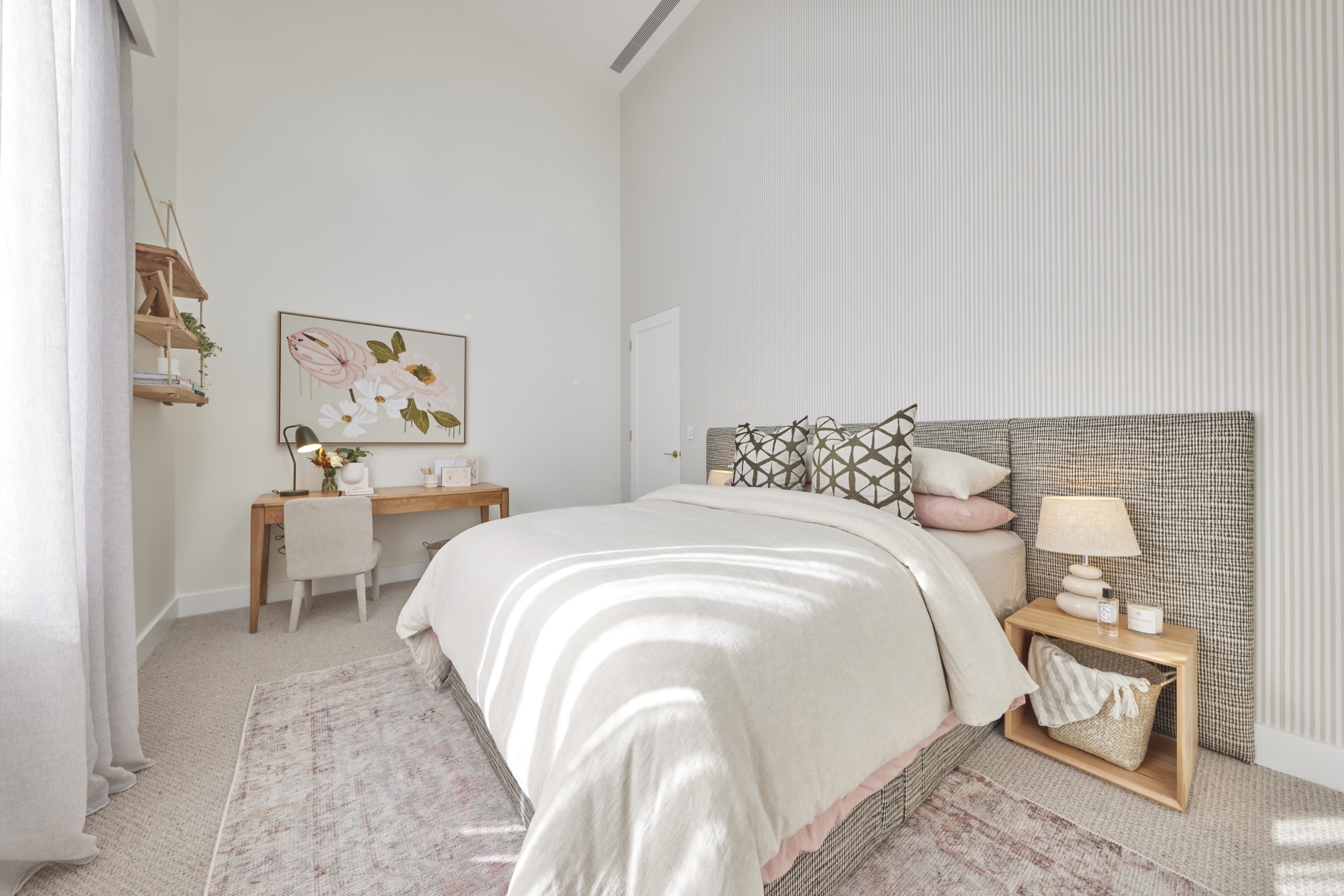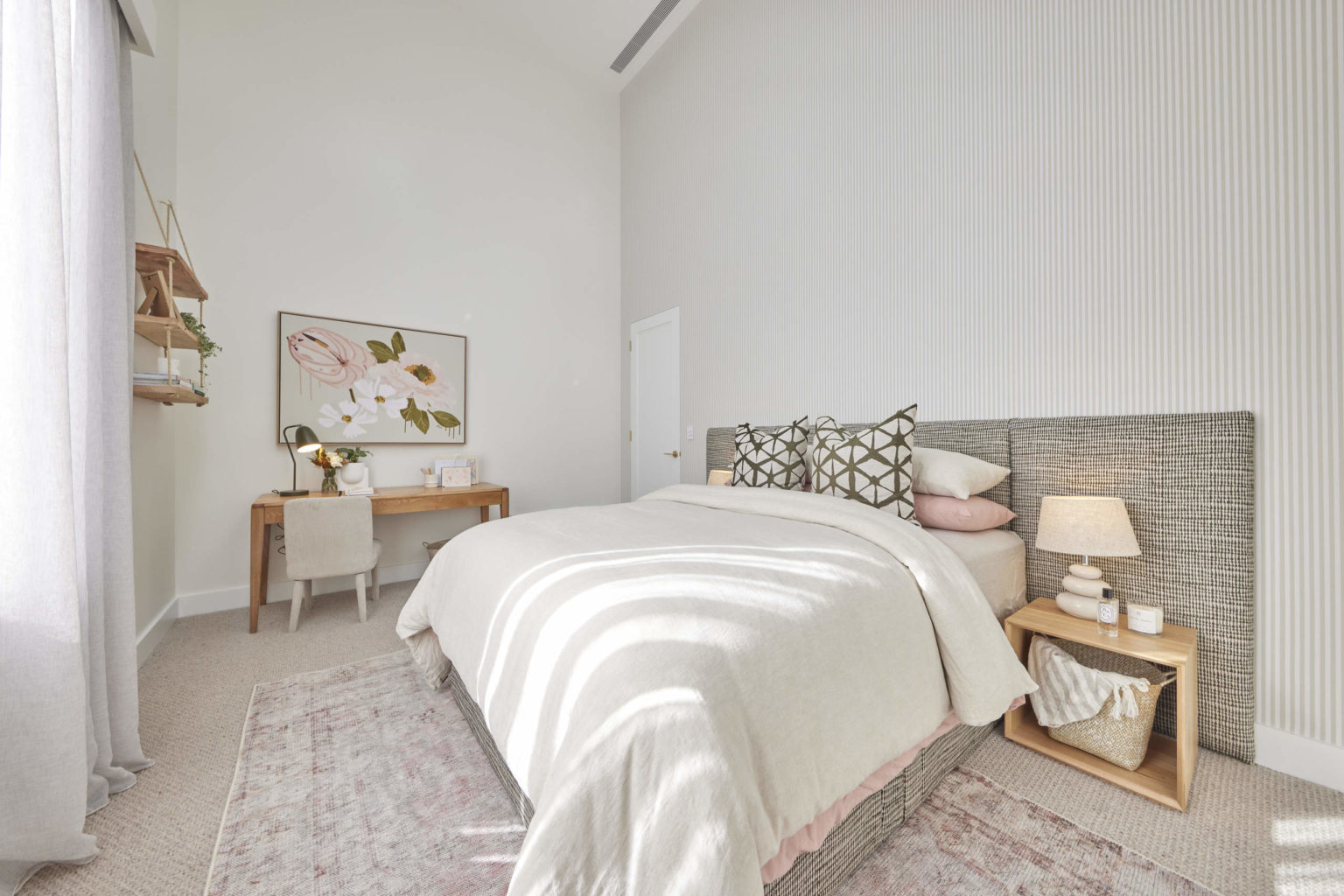 The Block 2021 room reveals: guest bedroom and re-do's
A nice bit of variety on The Block last night with guest bedrooms, kids bedrooms and the re-do rooms. Here are the scores, the judges' comments and where to buy…