I actually really enjoyed last night's Block terrace reveals. They were a really mixed bag and the spaces themselves were very different too. No doubt there'll be a lot of chatter about how they couldn't be judged fairly because of this. Personally, Sara and Hayden's was my favourite but the judges put them third, so what do I know?! Love to know who you rated! Here's a recap from first to last place (and I definitely did agree on last place!)!
1st: NORM AND JESS
Score: 30/30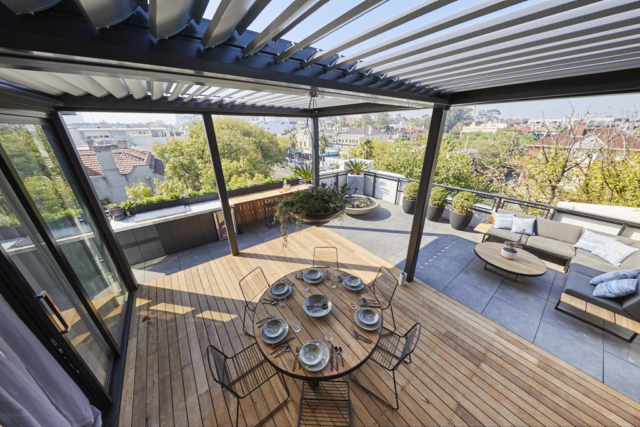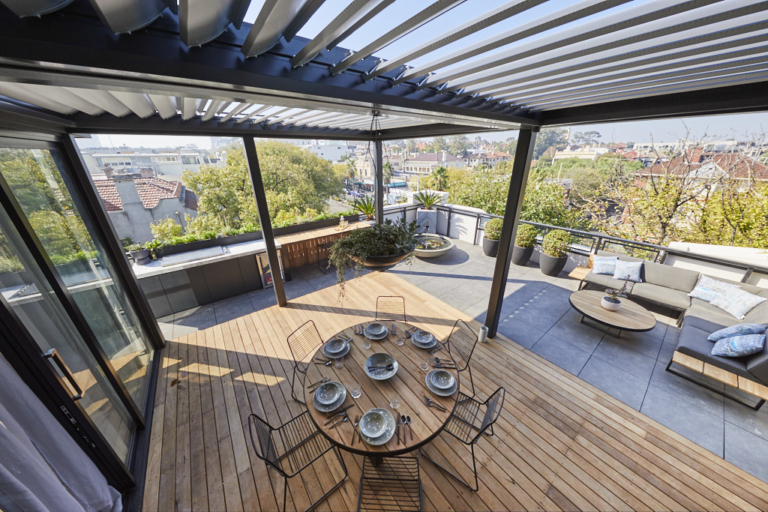 A room win at last! Full marks at that! Norm and Jess continually referred to themselves as the underdogs this week. But boy did they prove everyone wrong, scoring themselves their first win of the season! AND the cover of Domain!
The space came complete with architectural steel sculptural feature, concrete planters, a marble-topped BBQ, outdoor lounge, custom table, water feature – and even a faux grass area suitable for animals.
Clearly the judges were fans! "Wow, wow, wow, wow," said Neale. Shaynna loved the dining table/hanging plant/pergola combo and said the details said luxury. Neale said everything said luxury! Shaynna said everywhere you turned there was another beautiful thing to look at. "If it feels this good on a cold wet day, can you imagine how good it's going to feel on a good day?!" said Neale.
Shaynna's only question was the placement of the sculpture and the seat. Neale thought they were deliberately trying to hide the seat! Darren loved the free space which he said could be the dancing zone! "When you're out here you realise what a prime piece of Melbourne real estate this is," said Neale. Darren was pretty much reaching for his chequebook!
I really didn't like that bird screen and the pond was a bit of a child safety hazard, but overall, it was a great terrace, and I was happy to see them have a win. Not my fave though! And I wouldn't have given it a perfect score myself.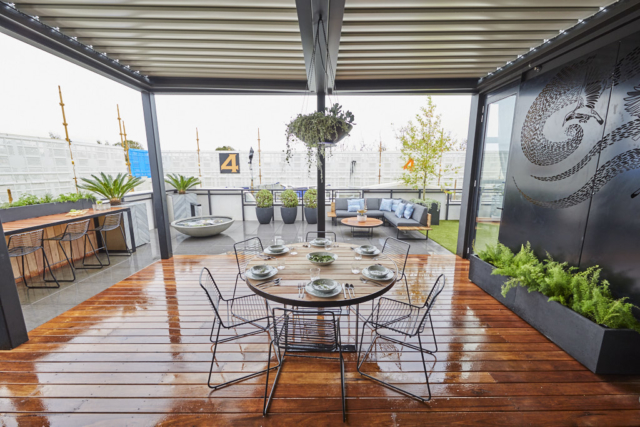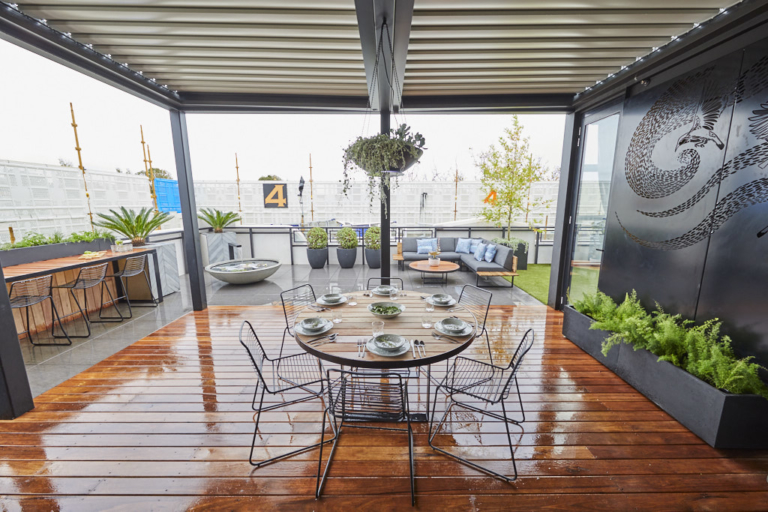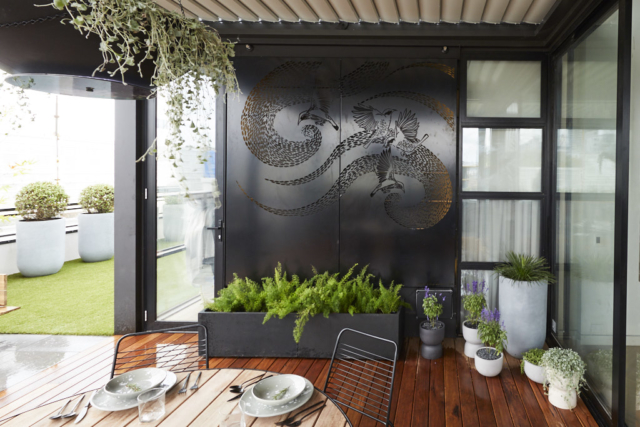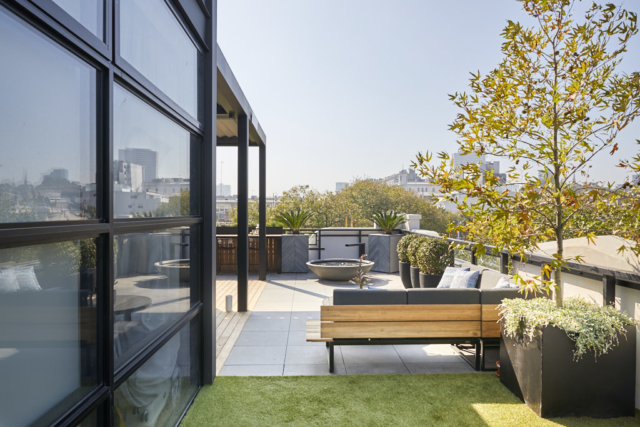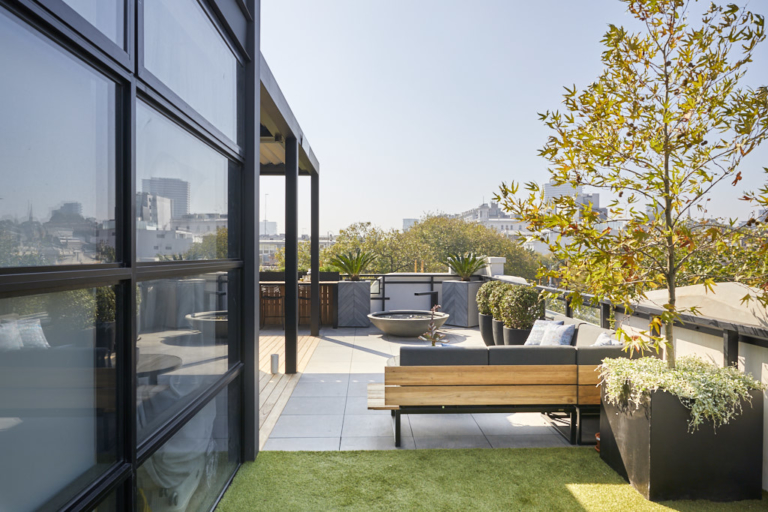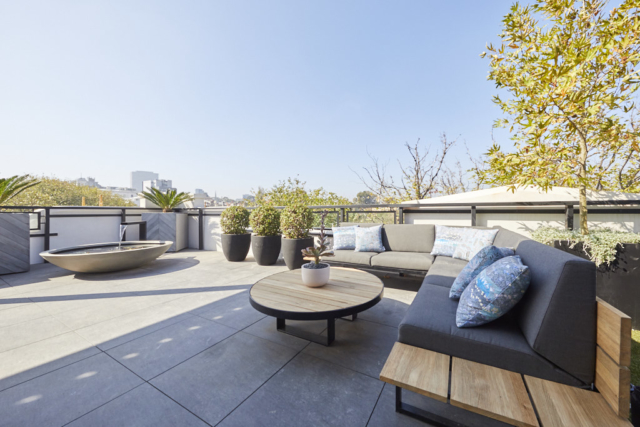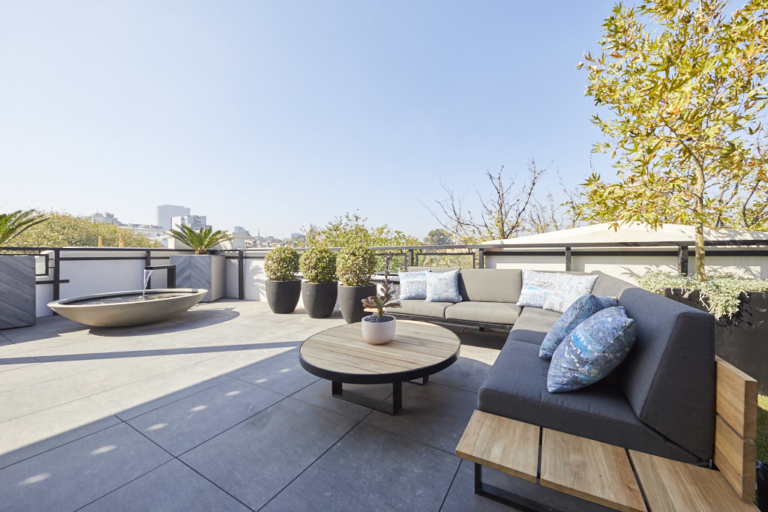 My picks to buy: Raw Earth plant stand by Angus & Celeste and custom round dining table.
2nd: BIANCA AND CARLA
Score: 29/30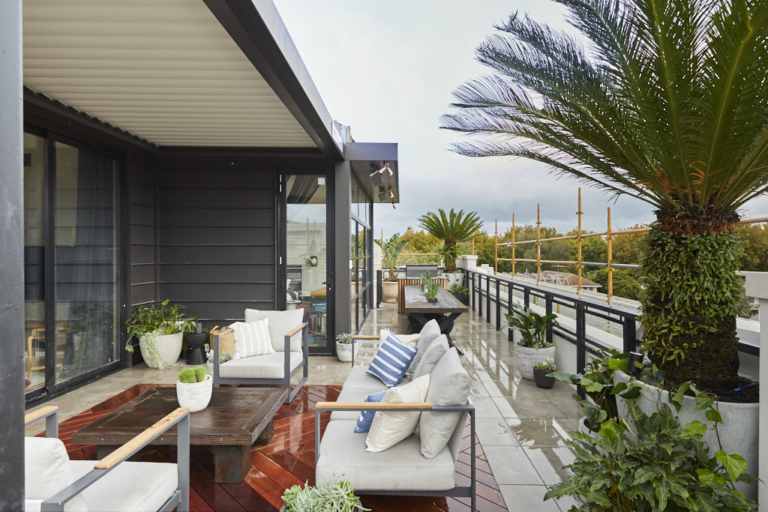 Bianca and Carla called on the services of Dave Franklin, Block garden designer extraordinaire, who delivered a stunning, sophisticated space, featuring a custom-made five-metre long table made from recycled timber, BBQ at the end, those 50 year-old Zycads – and a fireplace, which utilised the original chimney from the old Gatwick. But, arguably the hero was that skyline.
Darren said the view was spectacular and they all loved the fireplace and the huge table. Neale said it was classic, modern traditional and sexy all at once. The couch was badly placed though, out in the elements.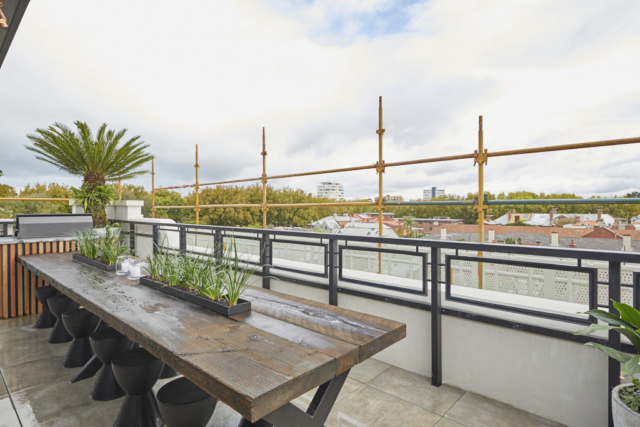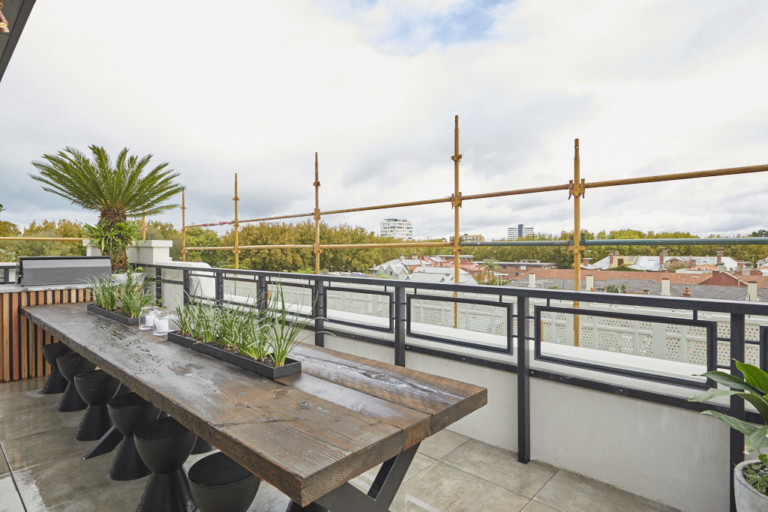 My picks to buy: Thermastrip outdoor heater and charcoal bar stools.
3rd: HAYDEN AND SARA
Score: 28.5/30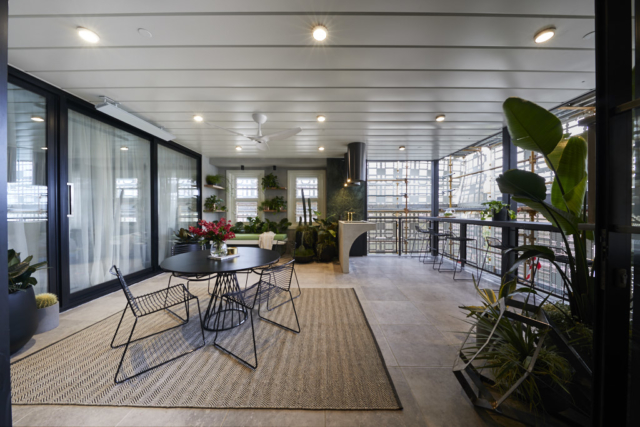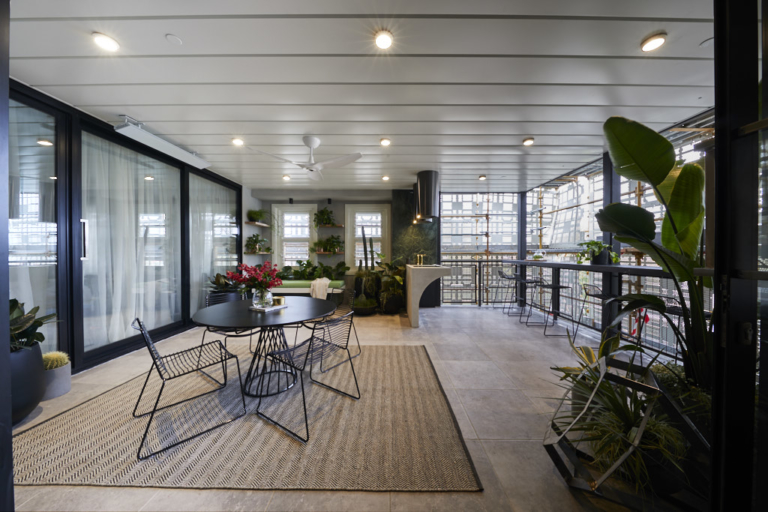 All three judges were unanimous in their praise, particularly Neale, who said he thought The Gatwick had never looked more elegant in its 80-year history. Keeping it super chic with a wraparound bar, they featured a sitting and dining area with custom outdoor kitchen, complete with concrete bench, green marble splashback, teppanyaki BBQ and twin tubular exhaust fans.
"Now that's what I'm talking about," said Darren. Neale said it was "hashtag enough" and Shaynna said it had wow factor. I'm so surprised they didn't come first or second! This was my personal favourite.
"This is what I call selling the lifestyle," said Neale. It was the most sophisticated and resolved he'd ever seen the couple and they'd saved the best for last. "This is exactly what the terrace needs to be in terms of luxury." Darren said they'd really showed how you could live in the outdoor space in all weathers.
Neale said buyers would remember this terrace above everything else in their apartment.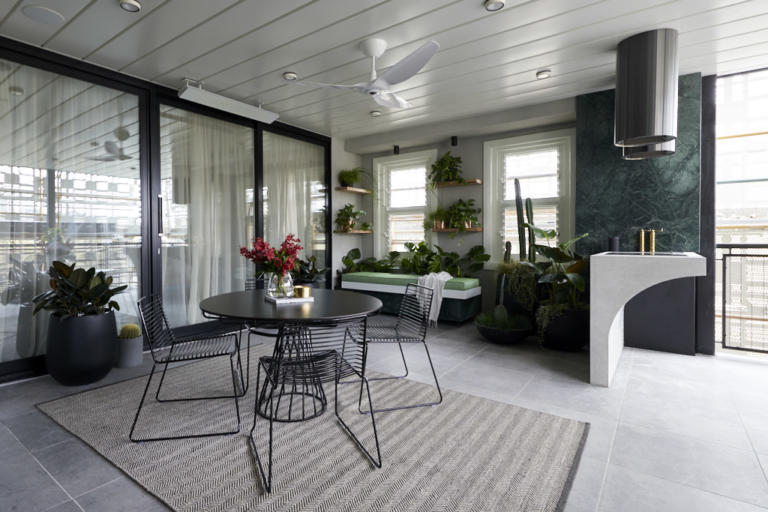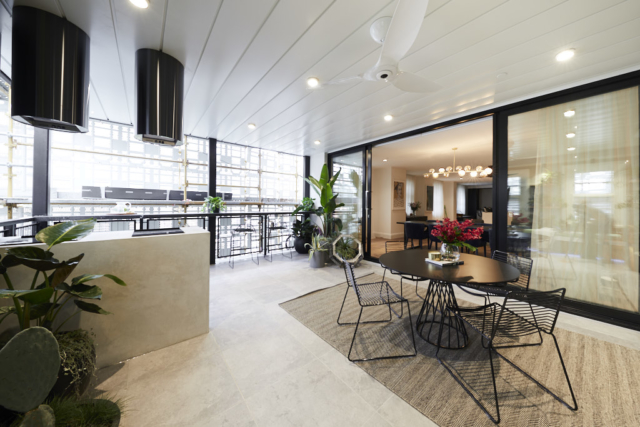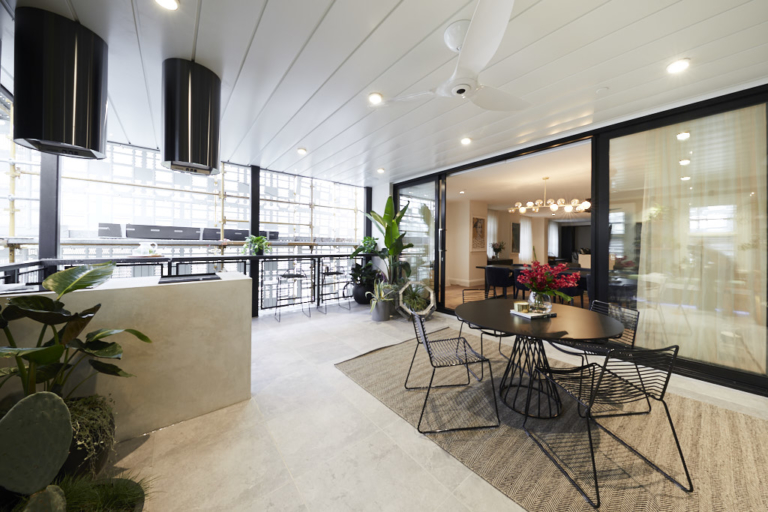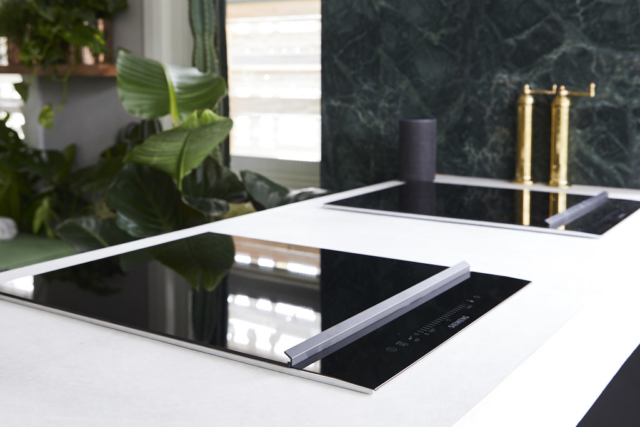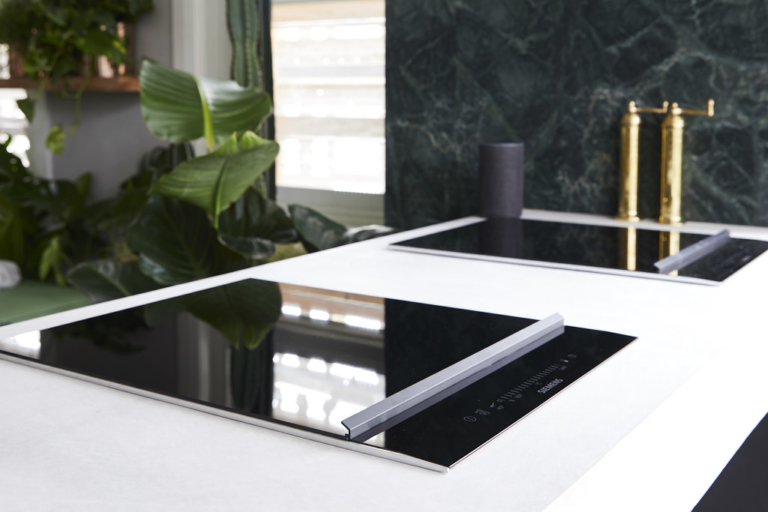 My picks to buy: Velletri indoor outdoor dining table and Lepaar Harden hose.
4th: KERRIE AND SPENCE
Score: 25/30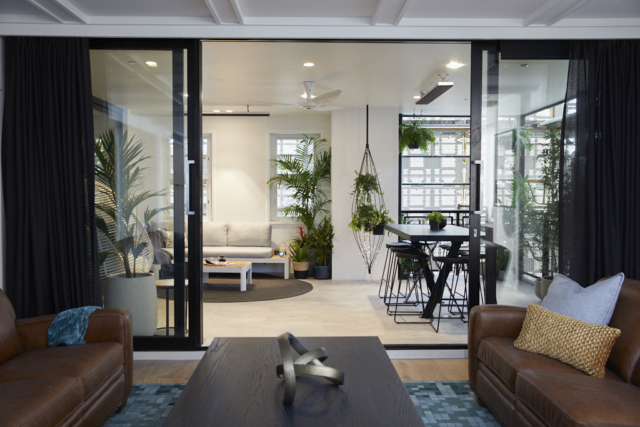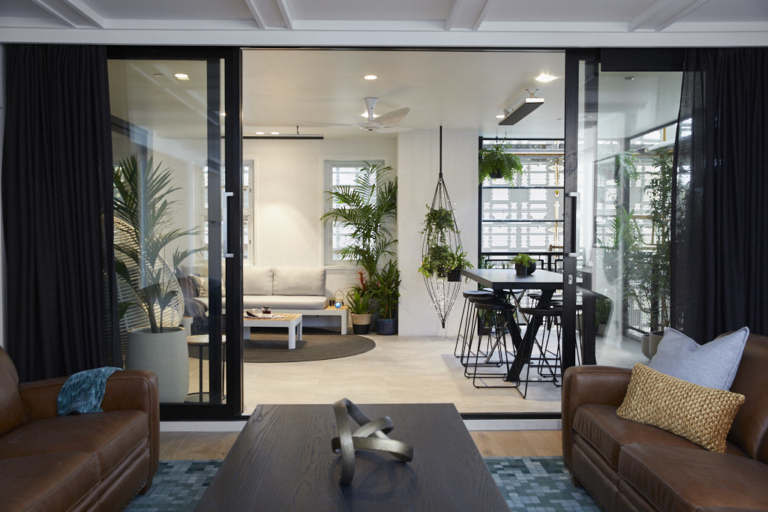 Kerrie and Spence kept it cosy and comforting on their terrace, which featured an L-shaped white and timber lounge, light grey tiles, a dark grey table with eight stools (designed to match their piece inside), dark grey circular rug, a hanging chair and lots of greenery.
Neale said he thought it was really lovely and felt like a proper room. Shaynna said it was a casual version of the lounge room inside. Neale was surprised about the lack of barbecue (the quintessential Aussie accessory for a terrace or deck?). Darren thought it could have been easily incorporated. Shaynna loved the tiered planting and hanging sculpture they created in their challenge. Darren wondered if they'd done enough though. "You have so much expense in the kitchen. I love everything about it but the styling in it is really …" Shaynna thought the bar had been set so high inside, that outside let it down a bit. Darren liked the tile and fan choices. He said the space was full of life. "Kerrie and Spence should be really proud of the job they've done."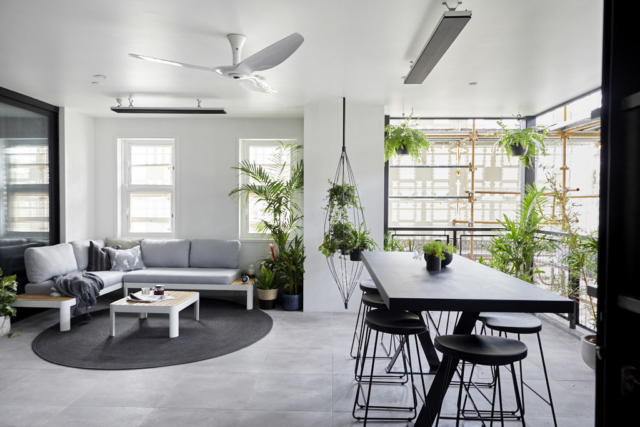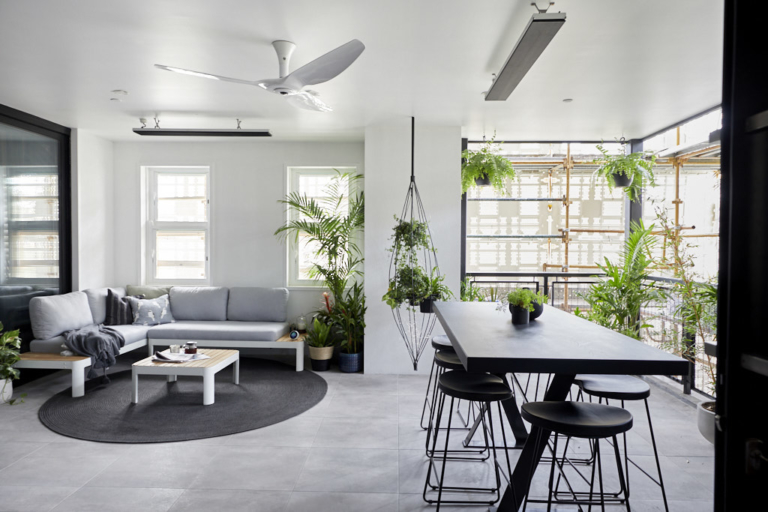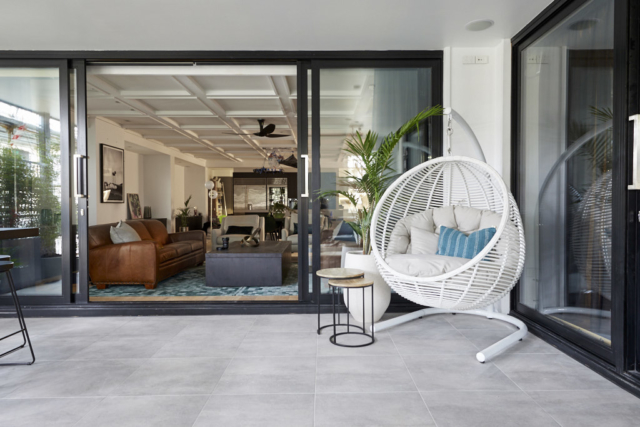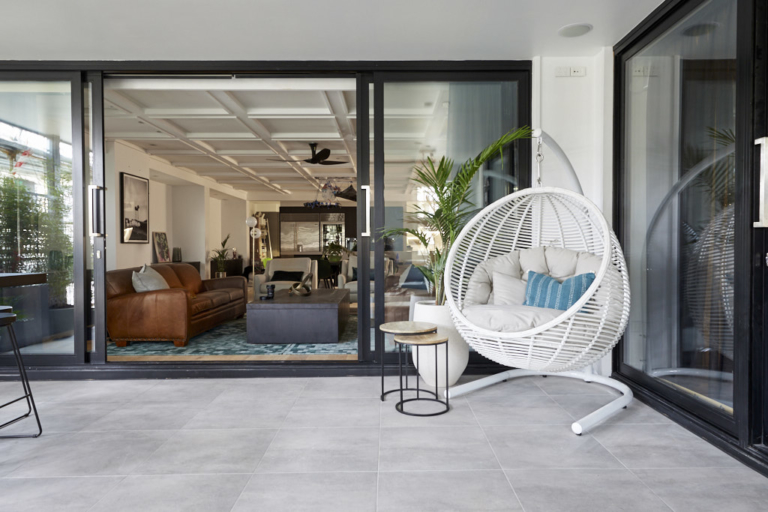 My picks to buy: Alfresco bar table and nest of tables.
5th: HANS AND COURTNEY
Score: 23.5/30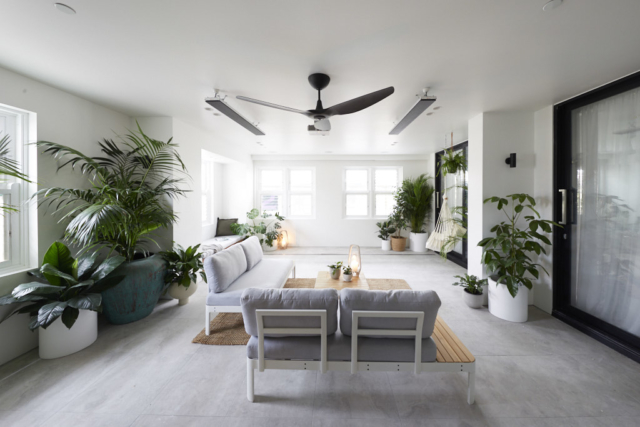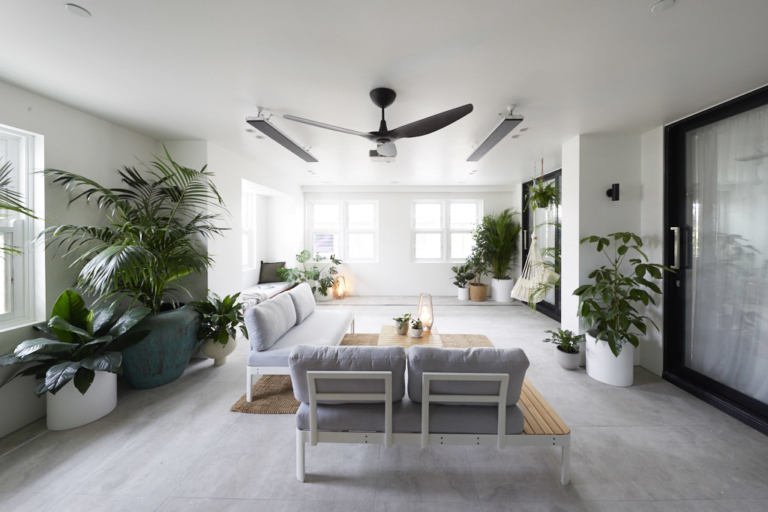 As well as furnishing the area with plenty of green – think giant fiddle figs, Monsteras and palms – Hans and Courtney chose to dress their terrace with simple white and grey furniture with timber accents, a hanging chair and a large jute rug. They finished the space with a hero piece, a copper pot aged to showcase an oxidised light green. And let's not forget the outdoor movie projector!
The judging didn't go their way though, despite Darren being a fan. He thought it was fresh, light and bright and tropical. Shaynna however said it was boring as "bat"! She added she was sick of white walls. (Aren't we all this season, Shaynna?!) She went one further to call it a white clinical box.
Neale didn't agree with Darren either. He said it was Courtney and Hans at their worst, not understanding how to use the space, which wasn't really an outdoor room. Darren defended them though, saying it was considered and the copper pot was a great statement piece. He thought it just needed a dining setting. Neale said it needed to be furnished differently because it was a good old fashioned sunroom, not a deck. Shaynna just got more and more annoyed, saying it was a missed opportunity.
I agree with the judges that this was the weakest room. Sara could learn a thing or two about gracious losing from Courtney though, eh?!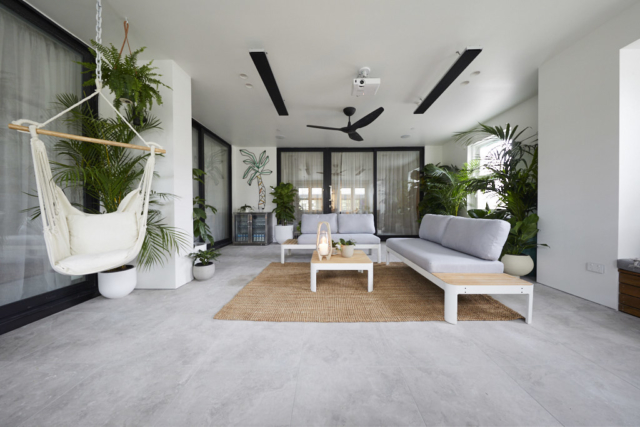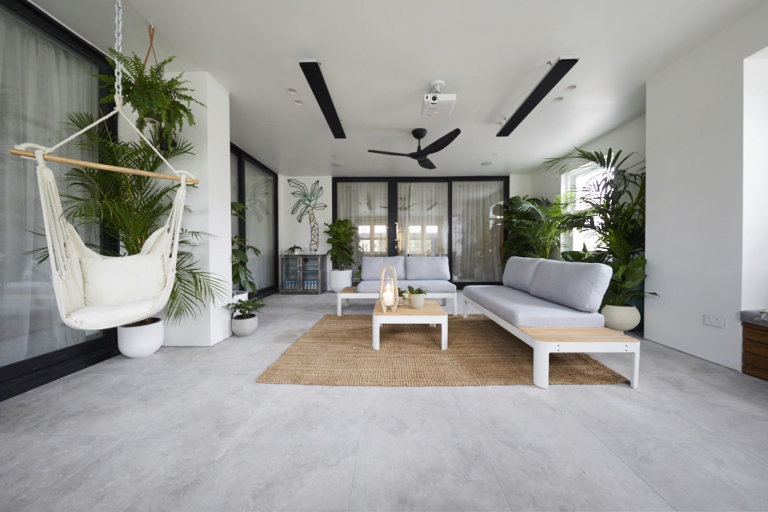 My picks to buy: Noosa hammock swing and Haiku black fan.