Steve Cordony is one of Australia's leading interior stylists, and Style Director At Large for Belle Magazine. We sit down with Steve to chat about interiors and design inspiration, his creative process and what beautiful Australian living means to him.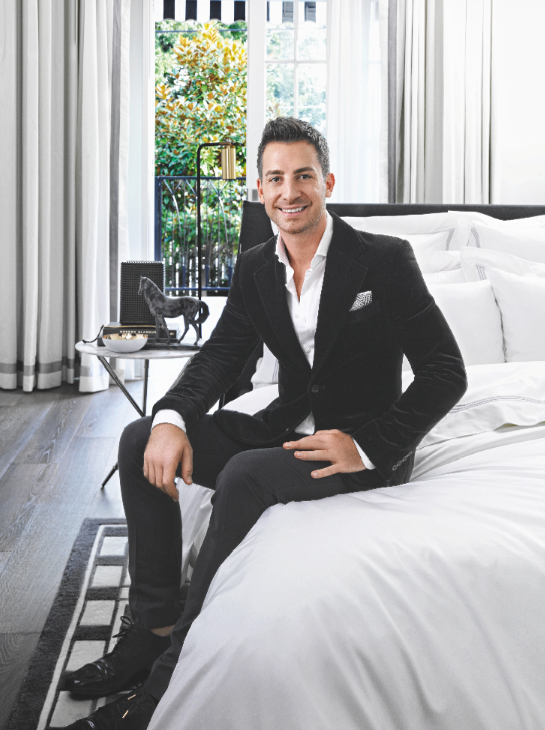 Where do you look to for inspiration?
I love referencing fashion; I am constantly on style.com looking at the inspirations behind designer's collections. Interiors and fashion go hand in hand, from looking at colour combinations to overall trends. I am also constantly travelling which is probably my biggest source of inspiration. I love visiting different countries and cultures and seeing how they interpret colour, style and textures. Blogs, magazines (I spend hours at my favourite newsagent on Oxford Street in Sydney!) and social media platforms, especially Instagram, which is like a constant scrolling feed of visual inspiration, are huge sources of inspiration.
Describe your personal aesthetic…
I would describe my personal aesthetic as modern luxe. As much as I would love to have my home look like an Armani Casa showroom in Italy, I also want it to feel warm and inviting. I love showcasing items from my travels, whether it's fabric from Turkey that I have had made into cushions for the sofa, or beautiful brass lassi cups from India; these pieces add character and a personal touch which go beyond just looking good.
Describe what beautiful Australian living means to you…
For me, Australian living represents a relaxed sophistication and a strong sense of personality. It is important to create a space which represents you and your lifestyle.
Which key elements do you feel make a house a home?
It is so important to make a house feel like a home. Even if your space is ultra luxurious, it is crucial to have those small details which add a sense of personality and warmth. Items and photographs from travels or family heirlooms and memories are the best way to give your space a homely feel.
Tell us about your daily rituals…
[contextly_sidebar id="sSDNwQ21GQWw7gt0X2ne6kZappWoFaMU"]The first thing I do (sometimes second after checking Instagram!) is make the bed – my mother would be shocked to hear this because I never did it when living at home! There's nothing like jumping into a beautifully made and styled bed in the evening. My mood always dictates what I wear that day, so once I've chosen my clothes, it's breakfast and then on to checking emails in the office or hitting the road sourcing for a client or a shoot. At the end of the day, my partner and I always try to have dinner at the table rather than vegging out in front of the TV on the sofa.
What elements in your home are quintessentially Australian?
I've grown up with Sheridan linen and towels and these were the first items I bought when I moved out of home! We have some beautiful artworks by artist Leila Jeffreys of native birds which are stunning and bring the outdoors in, in a contemporary way. I love having books throughout the home, and have so many on Australian design and architecture. I always have greenery or fresh flowers in beautiful Dinosaur Designs vases and vessels and there is, funnily enough, an Akubra lying around!
Which styling tips do you always apply when creating a beautiful space?
My ultimate styling go-to tip is keep it neutral and layer with accents. The starting point for any room is always choose one hero, whether it is a great rug, an artwork or bed linen, and build the room around this. It is also important to edit – restraint is key. When styling accessories, I always love to layer with books to give height to decorative items. Balance, whether it be asymmetrical or symmetrical, is key. Always stand back and look at what it is you're creating – you will know if it feels right using your 'design eye'!
Steve has collaborated with Sheridan to style their Spring/Summer 2015 hotel luxury at home range. See how he styles the look three ways on the blog tomorrow.