Here at Interiors Addict, we just don't buy into the idea that rental homes have to look bland or lacking in style and personality. Rent My Style is dedicated to showcasing the best of our readers' rental home decorating efforts. They're not show homes, they're real homes!
With an artist mother, Bonnie Muir grew up in homes bursting with colour, pattern and paintings. "To me, the little touches and objects wherever you look that show the personality of the people that live in the space, are what make a house a home,"she says.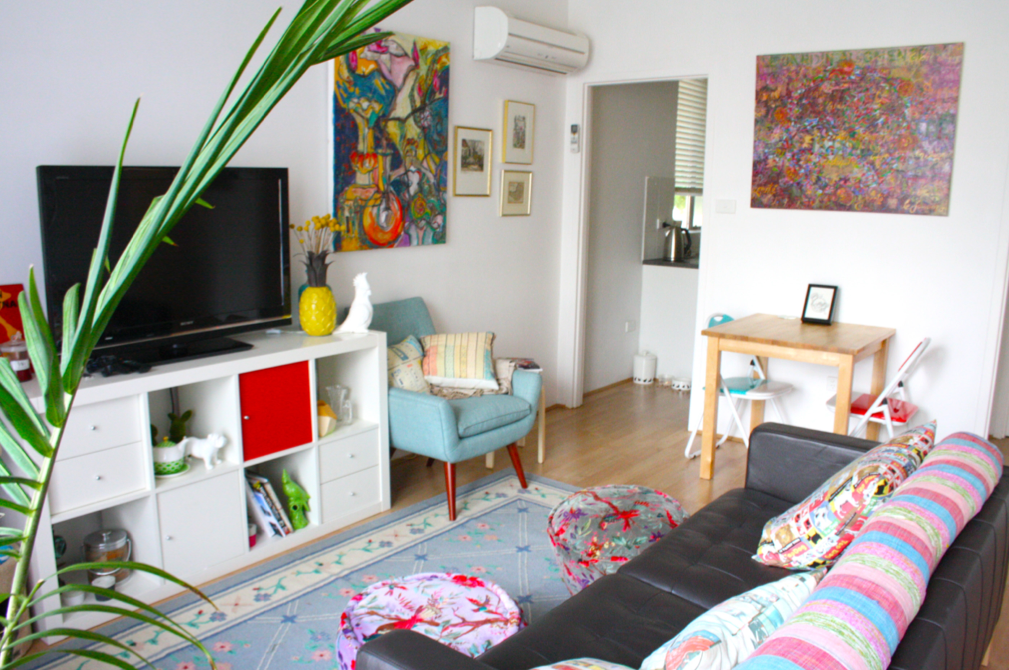 The 22 year old lives here with her boyfriend Samuel, and it's their first home since leaving their parents' nests! They're both students, so can't splash the cash on furniture and homewares, but they've certainly put their stamp on the place in just five months! "I have always loved interiors,"said Bonnie, who'd like to work in the industry one day. "It was really important to me to create a space I love to be in. The thing I worried about with renting, was that I would not be able to create a homely feeling, and that our house would end up stark and bare. I definitely think I had nothing to worry about!"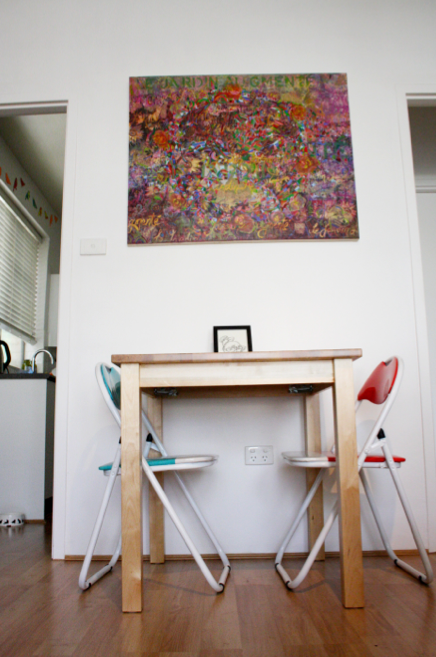 Bonnie had a decent art collection thanks to her mum's efforts which helped fill the walls. "She paints on incredibly lightweight canvases, so they hang on removable 3M Command Hooks, which makes life incredibly easy! The majority of the pictures hanging in the bedroom are bargains that I picked up in secondhand shops. I have always loved dogs and flowers, and so I have been building up a collection over the past few years whenever I see something I like."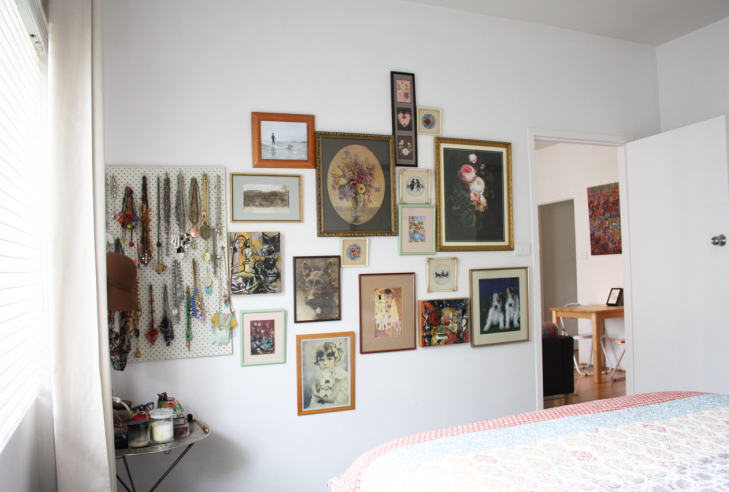 The map collection in her study was one big bargain. "The large ones are wrapping paper prints and were only $8.95 each. The small ones all come from an old mini desk calendar that I pulled apart and put into op-shop frames, all painted white. Again, Command Hooks are the saviour here! I did a similar thing with pages from an old diary in the kitchen. The diary featured images of ads from the 20th century, and I just picked a few favourites and put them in some IKEA frames."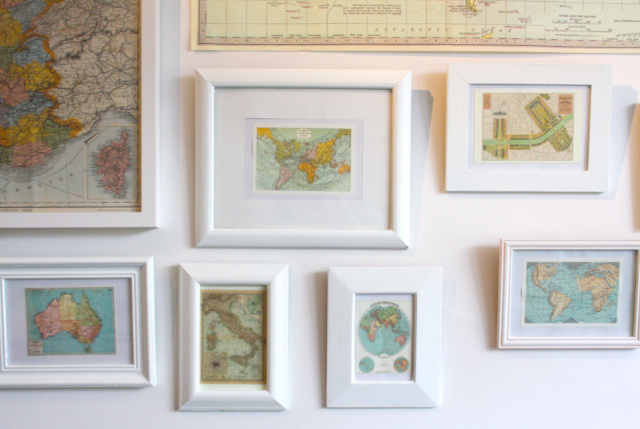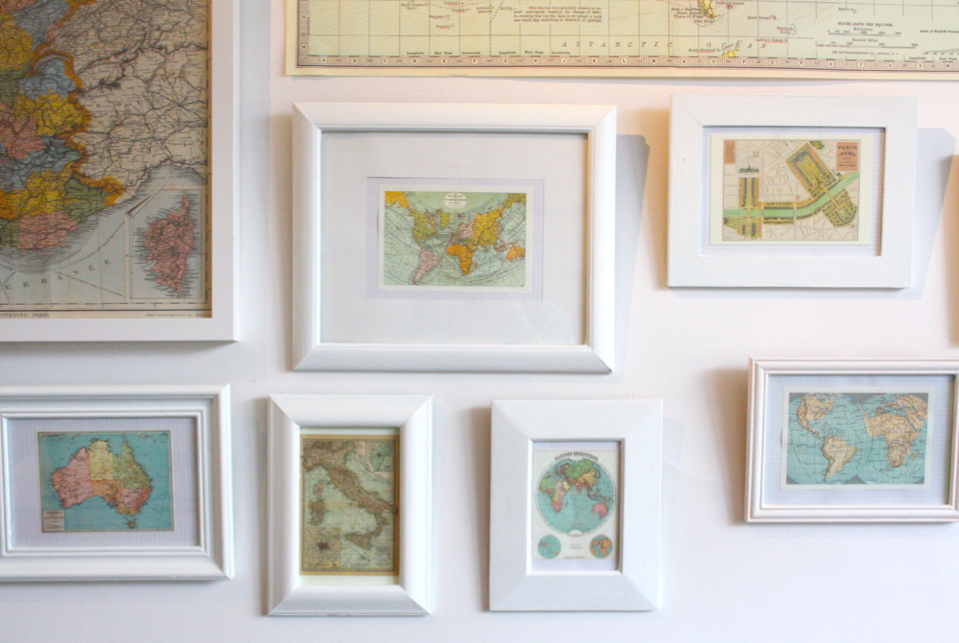 The couple, who live in South Australia, are lucky to have friendly landlords (they even said yes to a kitten!). "There have been two things that I have actually had to put nails into the walls for (the pegboard for my jewellery, and the large map in the bedroom), but I checked with them first, and they gave me the all-clear, so long as I patch them up when it comes time to leave."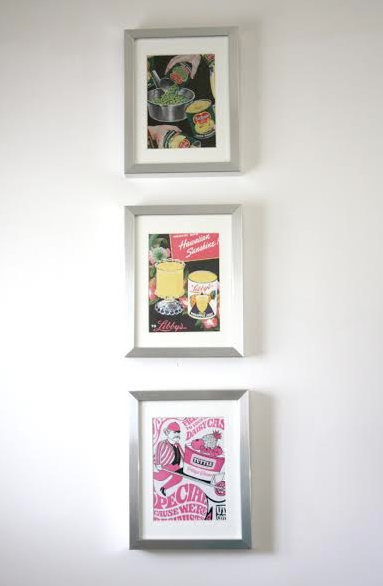 In the living room, Bonnie swapped the existing curtains (putting them away safely to return when she moves out) for a cheap fresh white pair from Spotlight. "It has really made the space a lot lighter and brighter!" When it came to furniture, the students bought their TV unit, dining table and couch from good old IKEA. "We managed to get the couch as an ex-demo for only $500 because of a tiny scratch on the arm. Our dining chair are just fold-up chairs we got from Officeworks for $12 each, but the colours match perfectly and they're all we need."
There are pre-loved Gumtree finds in the mix too. Bonnie's bedside table is an old meat safe with the legs cut off. "It did take some patience: I was compulsively checking the listings every hour for about two weeks each time, but it definitely paid off!"
Her main tip for renters is that it doesn't have to be expensive to put your personality into your home. "Be inventive! Use bits of interesting wrapping paper in a cheap frame to create some artwork, go trawling through junk stores to find things you can update, or even just do something as simple as getting bedding that makes you happy and gives an injection of colour into the room!
"Customise anything you can to get the feeling you want your house to have. The lamp on my bedside table was only about $50 from a lighting shop, and it came with a boring, basic white shade. I had met a woman at a market who made lampshades and pillowcases, and so I got her to make something funky for me. Bargain shops and secondhand shops will become your best friends if you let them."
Bonnie's been surprised at how easy it's been to make her places hers (even though, technically, it isn't). "I honestly thought it would look a lot barer than it does, and that it would also take me a lot longer to get it looking how I wanted it to. The only real challenge I have had was trying to convince Samuel that it would all actually look good together! Because I have quite eclectic and colourful taste, in the moving van it all looked like a hot mess! He has really let me take the reins on decorating here (which I am very thankful for), but I think I've managed to create a space that we can both share and enjoy. I'm very proud of the home I have created."
We think you should be, Bonnie! Thanks for showing us around and sharing your tips!