By Louise Reeves
A few months ago, I moved into a house with a very interesting little spare room in the form of a converted garage. The room was good for a few reasons; the previous owners had installed floorboards and tongue-and-groove built-in wardrobes, the windows were super cute, it's on ground level and gets plenty of light.
To serve the purpose of a spare room it was totally fine in its original condition, it's one of those rooms that would barely ever get used unless guests came to stay. Really all it needed was a few pieces of furniture and we'd be set. But where oh where is the fun in that? I saw this as a great opportunity to try out some risky ideas I'd been toying with for months, the kind of ideas that would be a little too scary for most clients, but really exciting to test in a risk-free environment.
And so began the quest for the perfect blue… I've long dreamed of navy walls and the instant chicness they instil upon a room. They are a staple on many a Pinterest board of mine so it was a no-brainer, this would be a blue boudoir. It was however, a little trickier than I first anticipated as it turns out there's only a very fine line between sophisticated decadence and full blown aquarium. I can't even begin to explain the frustration I felt after assuming I'd scored the ultimate paint chip only to paint one wall with a sample pot and feel like I was standing in Bozo the Clown's dressing room. Here's my tip for nailing navy: aim for grey. When you're looking at all those chips at the Dulux store, the brighter hues mess with your perception making the best dark blues look grey, but when you get them on their own and pair them with other more subdued tones like whites and greys, you've got yourself the perfect blue: understated, refined and elegant for days. I settled on Dulux Surf n Dive, it's impeccable.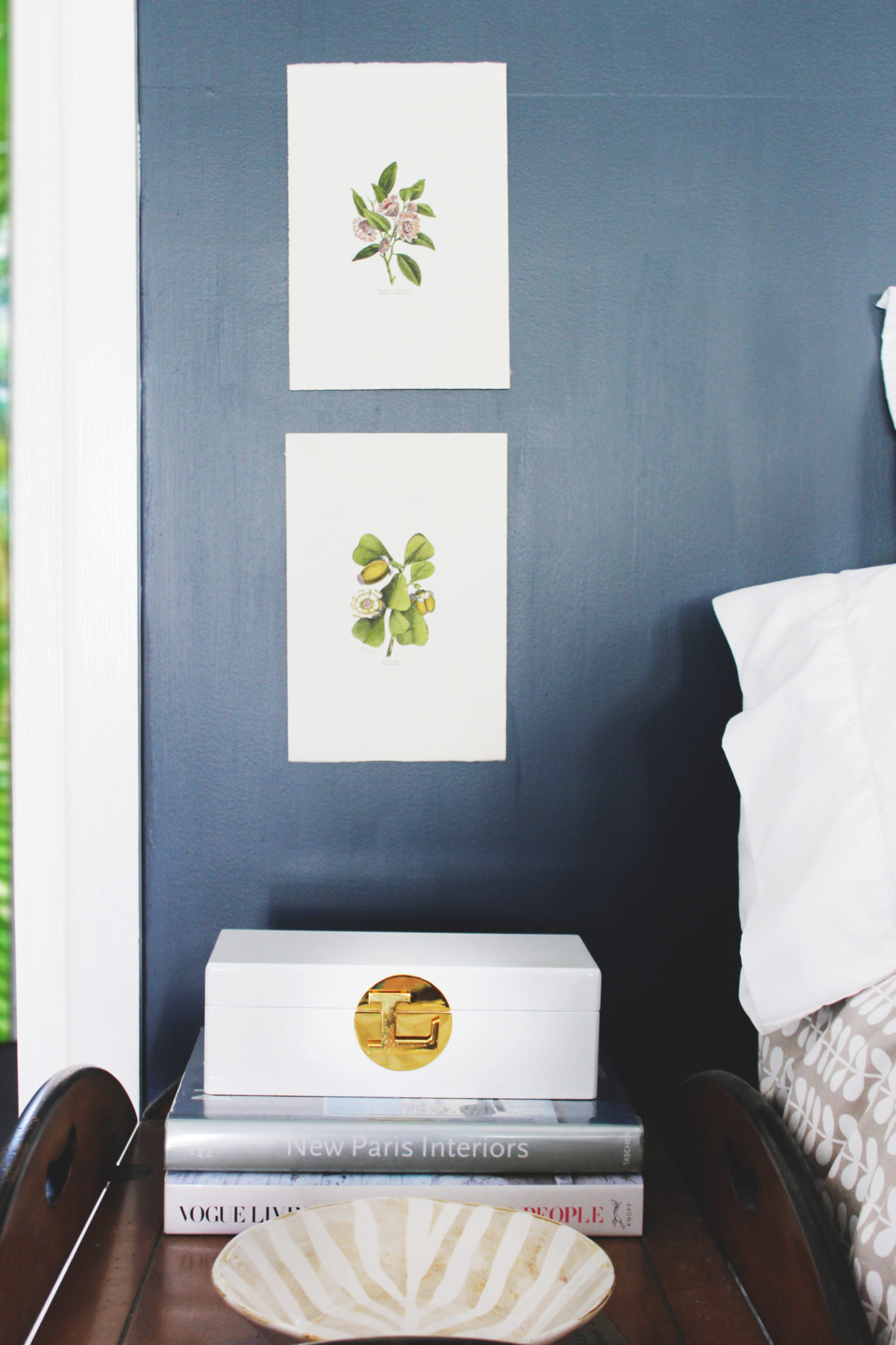 The next big ticket surface was the floor. Ever since posting about painted floors on my blog earlier in the year I've been dying to try it out and here I was with a fresh set of floorboards begging to be reinvented. We're all loving a bit of a diagonal stripe lately and I won't lie, the ease with which it could be applied was rather tempting, so I got to taping up in 15cm increments. After making sure they were all in place and the tape firmly pressed down to avoid any sneaky paint messing up my perfect lines, it was two coats of Porters Perfect Floor Paint and voila. Porter's Floor Paints are fantastic; they have exceptional coverage and are tough as nails, which is great for the likes of stiletto-wielding chickas like me. White was the colour I went with and although I know it's going to mean a whole lot of mopping, the end result is worth the effort, and against those blue walls it's really something special.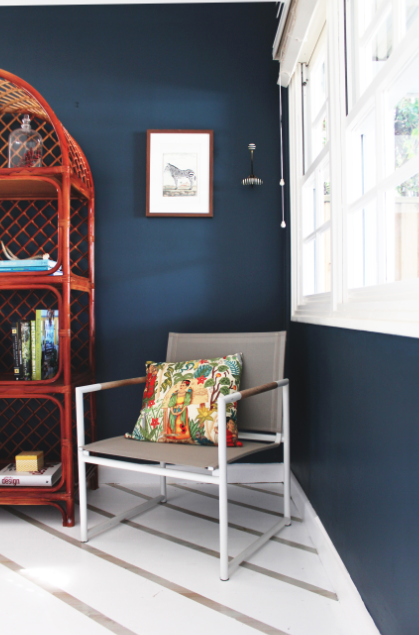 Furnishings (AKA the really fun part) was next. Cane is about to take off in a big way which is amazing news for the thrifty amongst us. I scored this incredible bookshelf (above) from Vinnies, yes, Vinnies, for $25. I was going to paint it as I do everything but once I got it into the room the red-toned cane lent a warmth that could not be tampered with, it was just perfect. All of the art came from the incredible Brooklyn Flea Markets along with many of the decorative accents. My favourite is the Tully chair from Eco Outdoor. Their furniture designer Peter St Hill takes inspiration from interior furniture and uses the most hardwearing materials to create outdoor masterpieces, their whole range is divine but I love the modern silhouette of this stunning chair. Are we over pineapples yet? I certainly am not and I can't help but smile at my Freedom doormat every time I see it.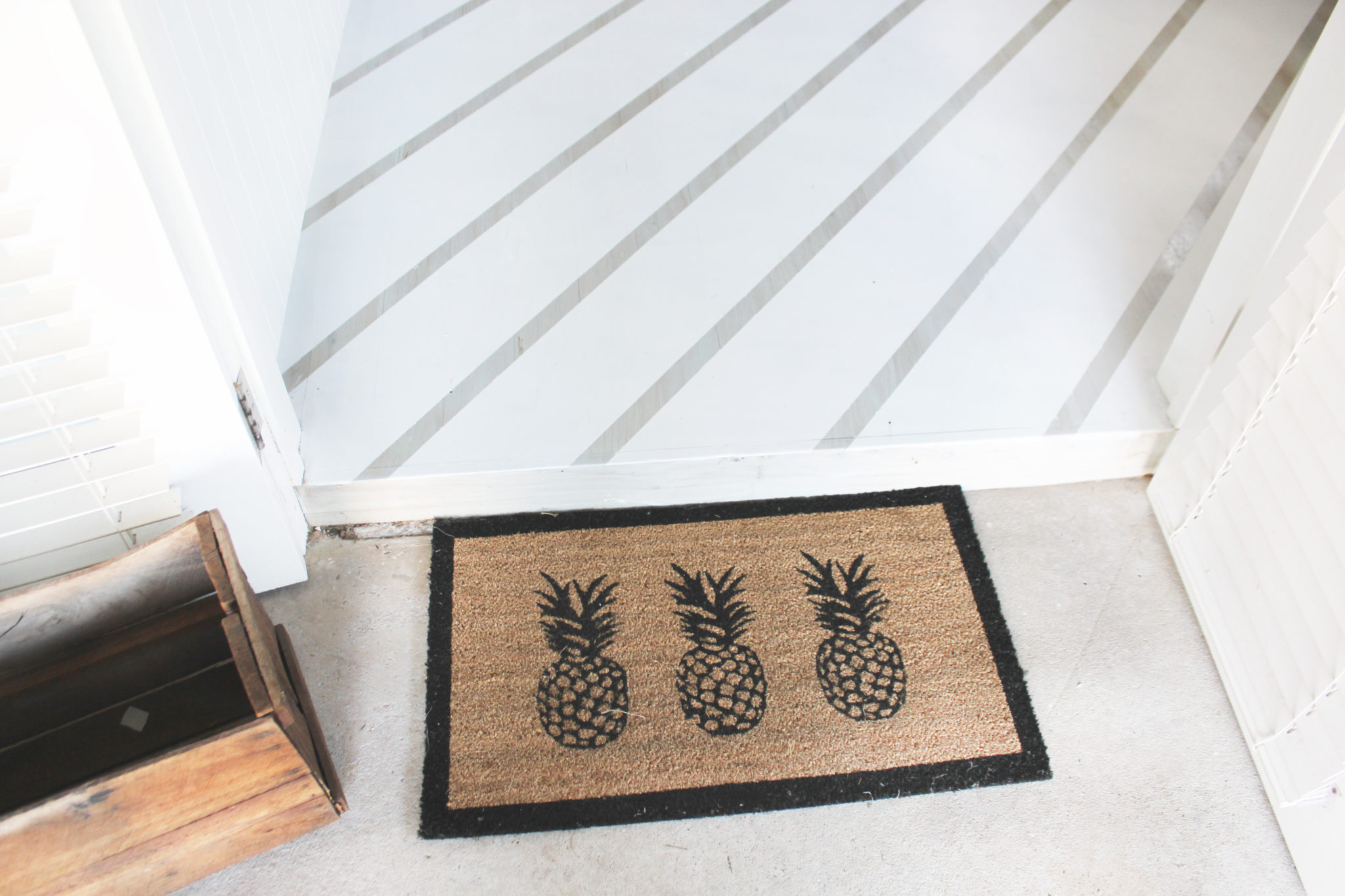 Life is about taking risks and the same goes in the world of decorating. You've got to push yourself if you want to pack a punch; think about every surface and what could be done with it, blend styles and search far and wide for treasures that will steal the show and make you and your guests feel at home. My number one piece of advice is do not be afraid of colour! We instinctively shy away from bright walls but they can be the defining characteristic of a knockout room, you just have to be patient and willing to go through a few sample pots to find your perfect hue. Now all that I need are some guests. Any takers?
Louise Reeves is a Sydney interior designer and stylist and blogs at The Ooh! Blog.