From time to time, we stray from our Australian-homes-only rule when we uncover something we really love! This project, by 2LG Studio (and also the interior design duo's own home) is featured in Ornament Is Not a Crime, a new coffee table interiors book by Sydney-based design writer Rebecca L Gross. The following is an extract.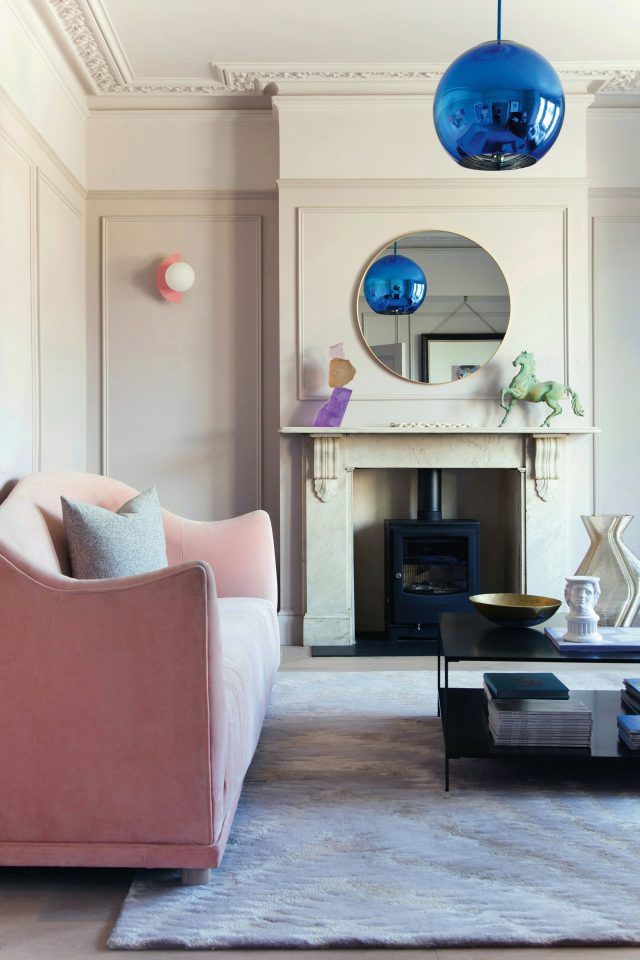 Jordan Cluroe and Russell Whitehead, the interior design duo behind 2LG Studio, transformed their rundown 1870s Victorian house in London into a creative and expressive home and workspace called The Design House that hits the sweet spot. Achieving an aesthetic they call 'joyful minimalism', Jordan and Russell honoured the heritage of the house, layered it with jubilant colour and modern materials, and infused the home with personal memories and references. 'We wanted to achieve a space that did not adhere to any rules, and that expressed who we are,' Russell says.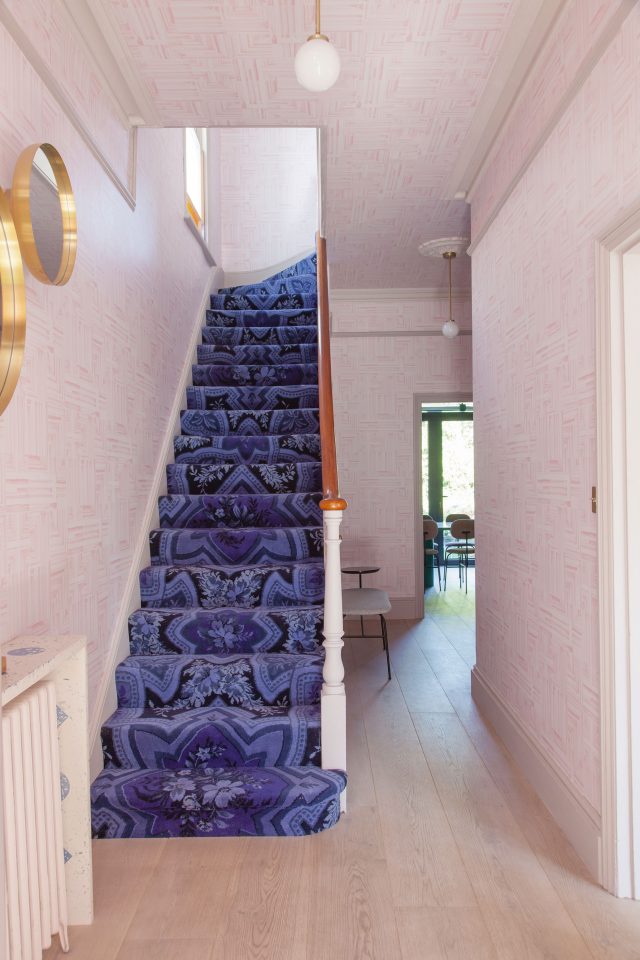 The house needed fixing up and modernising when the couple bought it, but they instantly connected with its 'beautiful bones' and 'wonderful soul' as well as its remnants of colours: pastel-pink walls in the entrance hallway and deep-green carpet on the stairs.
Challenging the divisive conventions of colour, pink takes pride of place through the home. 'It feels like a queer statement in very basic terms, as we were always told as men we were not allowed to wear pink or live in pink spaces. We don't like boundaries or closed doors. We tend to drive straight through them,' says Jordan.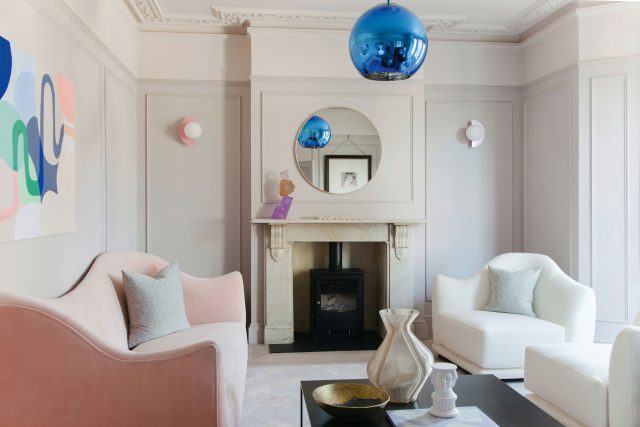 In the entrance hall, the pink hand-drawn wallpaper, designed with felt-tip pens, is a playful contrast to the grandeur of the deep blue carpet, which is based on an 1870s design in the archives of the carpet manufacturer Brintons.
The front sitting room is light and airy with soft pops of colour, sculptural forms and reinstated wall panelling and period details. Splashes of colour intensify in the kitchen and dining area, where the doorways are framed with squiggles of fairy floss pink, inspired by Ettore Sottsass's Ultrafragola mirror.
'It's lipstick for doors, and breaks the convention of period architraves,' Russell says. Pale pink prevails through the kitchen, where two tall arched cupboards maintain a minimalist aesthetic and the curves bring a light-hearted spirit to the design, breaking strong lines and hard edges.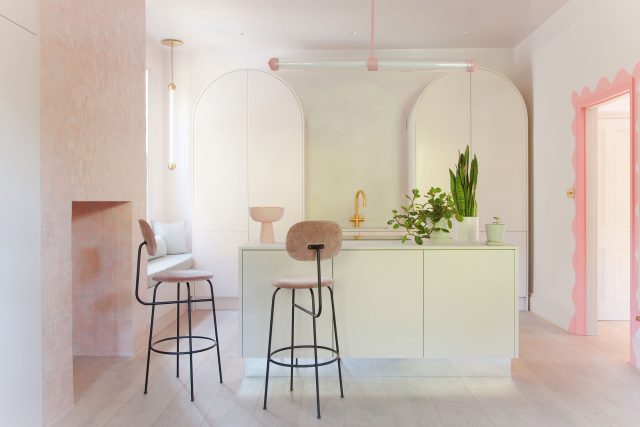 These forms are repeated in the cupboards in the dining room, where the juxtaposition of bright green for the wall and table enlivens the look and feel. 'When we designed the Jesmonite table with Olivia Aspinall in 2017, the 1970s crazy paving style of the large chunks felt boundary pushing and the marbling of the colours was an experiment that we ended up falling in love with. It's called Stanley. After Kubrick. We love his work and design aesthetic, and pop culture often infuses our designs,' says Russell.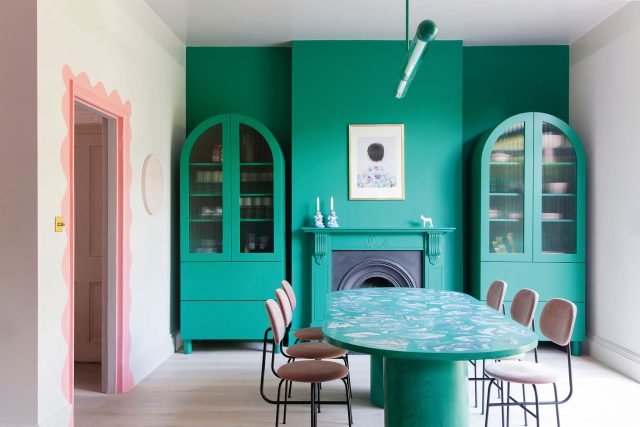 Creative collaboration was key to this design. The pair reached out to makers, designers, friends and brands to create bespoke and meaningful pieces with them. This includes the sofa, chairs, beds, joinery and capsule strip lights, as well as the wallpaper in the entrance and the powder room, nicknamed the Wonder Closet (WC). The powder room wallpaper is handprinted with metallic details based on a tiny ditsy floral wallpaper that was uncovered beneath layers of paint and old wallcoverings. 'It's like a little jewel box when you are in there. It makes for a fun conversation with dinner guests,'Jordan says.
Upstairs, there are two bedrooms, a dressing room and a writing room overlooking the garden. Bright blues, pretty pinks and lavenders continue on the walls, joinery and ceiling, with lime green and vivid yellow thrown in for good measure. They used bright blue for its energising qualities, upholstering the curves of the bedhead in blue velvet and painting the ceiling of their writing room in Yves Klein blue.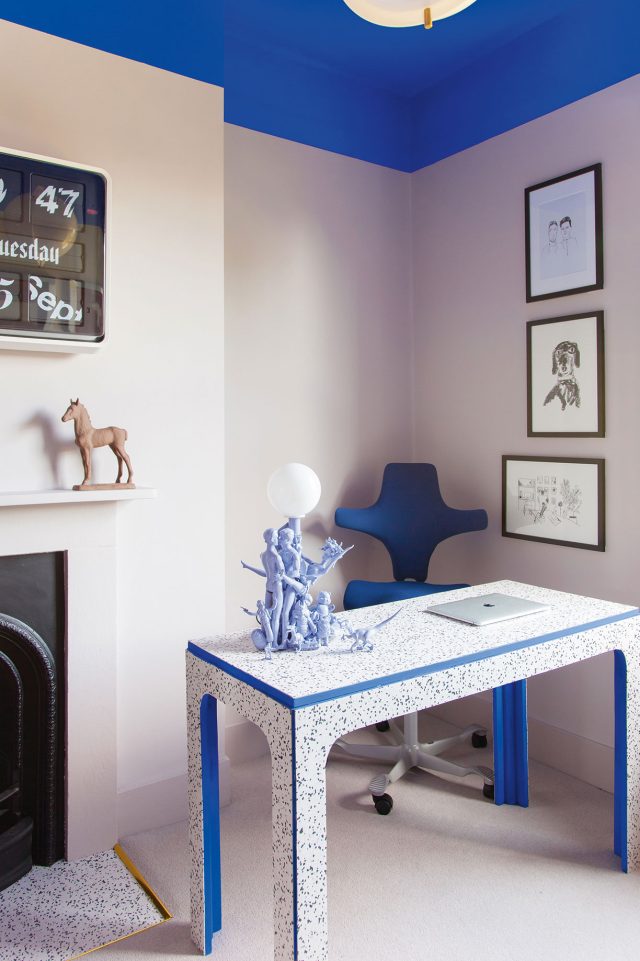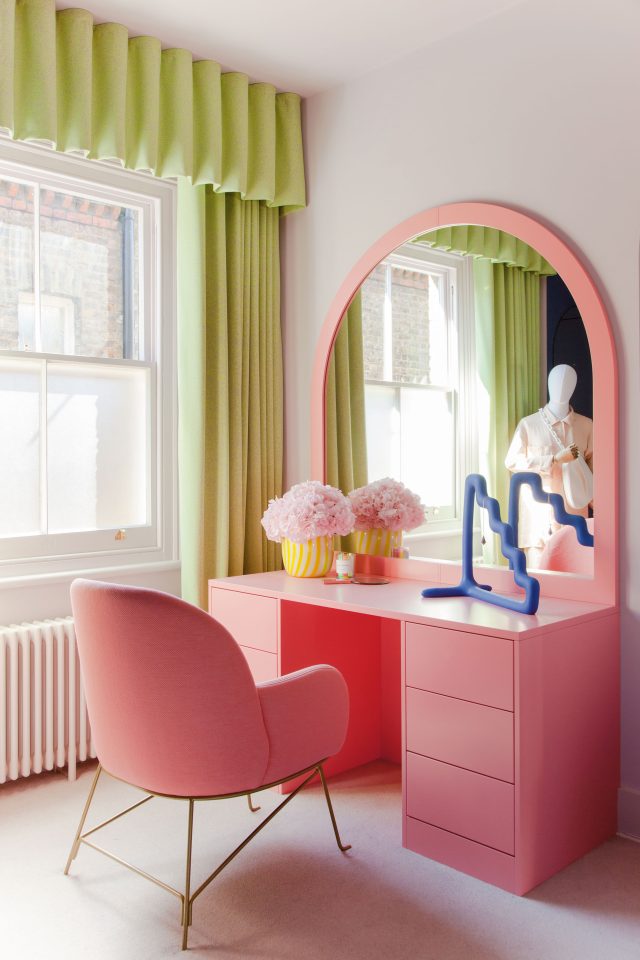 Filled with a candy-coloured assortment of playful shapes, saturated surfaces and collaborative endeavours, Jordan and Russell's home is a total delight. It embodies their vision, expresses their personalities and celebrates creative freedom. 'When people come to our house, they immediately look around wide-eyed, like children in a sweet shop, and that is wonderful to see,' says Russell.
Ornament Is Not a Crime: contemporary interiors with a postmodern twist, is published by Thomas & Hudson next month.
Photographer: Megan Taylor