Carly Saban loves creating beautiful things. She's also a huge romantic! So when demand increased for the custom side of her artwork, she decided to create something for lovers!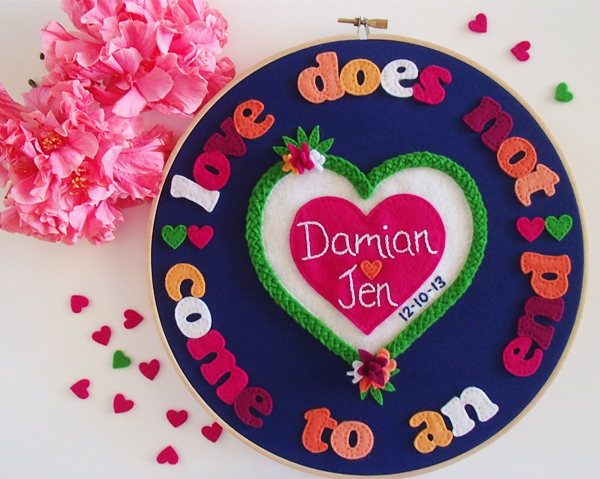 I was lucky enough to be gifted this memento of our recent wedding by Carly, of Bowerbird Living. How sweet?! She made it super personal and special by incorporating part of the bible verse my dad read in church, and the vibrant colours of our wedding flowers. I love it!
"I love to commemorate special events, moments and people in my life," says Carly. "Over the past 6 months, the custom made artwork part of my business has grown tremendously, so it was in combining those two concepts that I created the Love Letters range, just in time for Valentine's day.
"These artworks are completely customisable and would make a fabulous gift for engagements, weddings, anniversaries, birthdays, the birth of a baby or even just to hang in your own home. The only limitation is your imagination."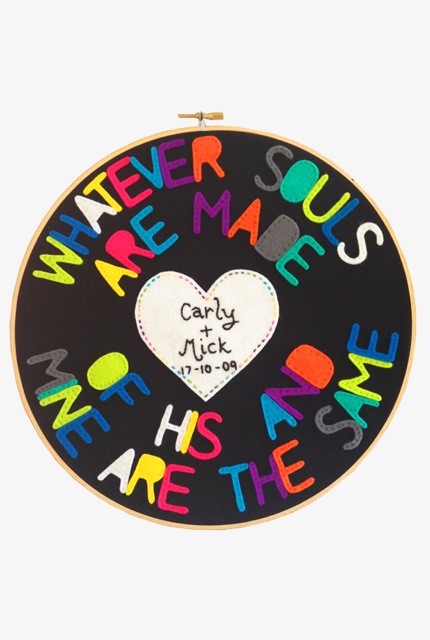 You can include a special poem, song or quote and the names and date of your choice. They can be made in any layout or colours, and Carly's happy to match your décor or work with the colours of your special day or occasion. These artworks can be made to any size and framed or stretched onto a decorative embroidery hoop (like mine). She can even send them unframed and you can do this part yourself, or with your local framer.
The artworks are 100% hand stitched and sewn with needle and thread. It's amazing they're so neat and perfect!
I'm also an old softie so I love this concept, as well as supporting small local businesses making lovely creative and beautiful things by hand.