Hmm… Pantone's new colour of the year, Radiant Orchid, has left me screwing up my nose a bit. Really?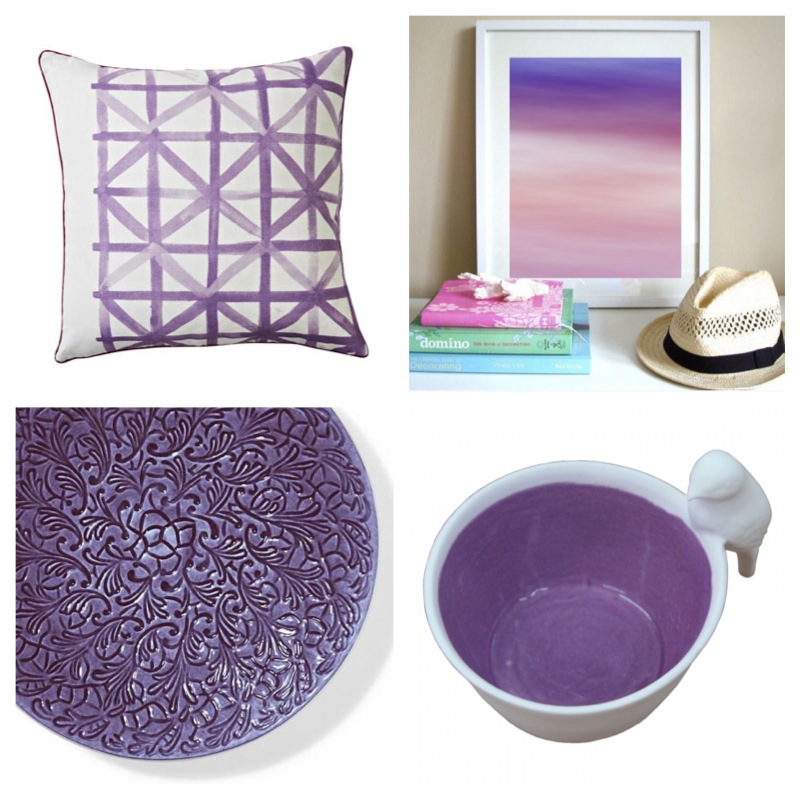 I mean, it's pretty and all, but I've just never been a purple person, with interiors or fashion. Same goes for red. Give me a nice pink or fuchsia any day and don't get me started on my love affair with good old classic and dependable navy blue (check out my wedding stationery).
I didn't like Tangerine Tango a couple of years ago either, but I have come around to certain shades of orange (more coral, really), especially when paired with navy (what a surprise!). But I'm not sure Radiant Orchid and I are going to get along. What do you think? Are you a fan?

For the purposes of this post however, I thought I'd try damn hard to find some purple furniture and homewares I liked the look of and the above 4 are changing my mind with their loveliness. Maybe I could have small pops of orchid in my home? It is rather pretty…
(Above) Clockwise from far left: Bonnie and Neil check floor cushion in lilac, $185; Lona de Anna Purple Sky print from Down That Little Lane, $25; Have You Met Miss Jones mini purple bird feeder bowl from Hard to Find, $23; Mateus lace accent plate in purple from The Wedding Nest, $132 for a set of 4.
NB. If I'm really honest with you, even though these products are really nice, I'm still not vibing Radiant Orchid. There, I said it!