While lockdown got us all talking about working from home, home office and study nooks had already been an increasingly sought-after feature for some time. With many of us living in smaller spaces these days, creating a home office that doesn't take over an entire room, is a great option. Here, we round up some great examples.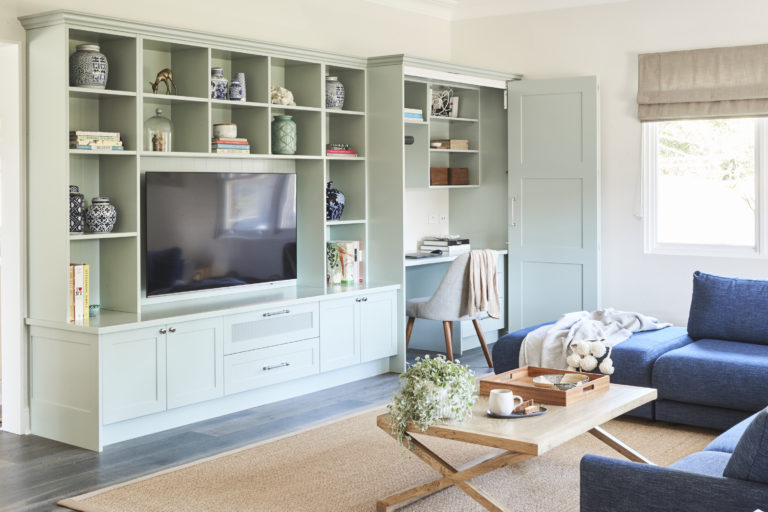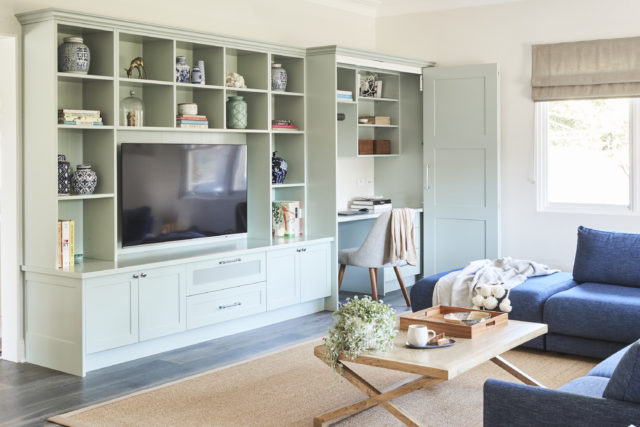 Interior designer Kate Maguire designed this space (above) to be a part of the joinery in the family room of her own Sydney home, as they don't have a separate office space. "It is tiny but mighty and functions very well, though it doesn't usually look this tidy! I use it every day, as I work and study from home."
Previously Kate, of Kate Maguire Interiors, had a hutch desk in the same room, but admits it didn't look or function half as well! The joinery was part of a larger renovation, making the home a lot more functional in general.
Kate's expert tips for creating your own office nook:
Think about how you plan to use the space and make sure you consider everything. Not pictured is my big ugly A3 printer, which is essential for my work, so I had to make sure that the desk area would be big enough for me to work comfortably and still have space for the printer to live.
Consider the placement of powerpoints and IT equipment. This will help to keep the space tidy and clutter-free.
Shelving with baskets, as well as drawers, helps to give everything a place, which again makes it much easier to keep the space tidy.
Task lighting will help to make the space more comfortable to work in.
Apartment dwelling forced interior decorator Briar Stanley, of Sunday Collector, to get creative with storage in a previous home, where she created this office nook: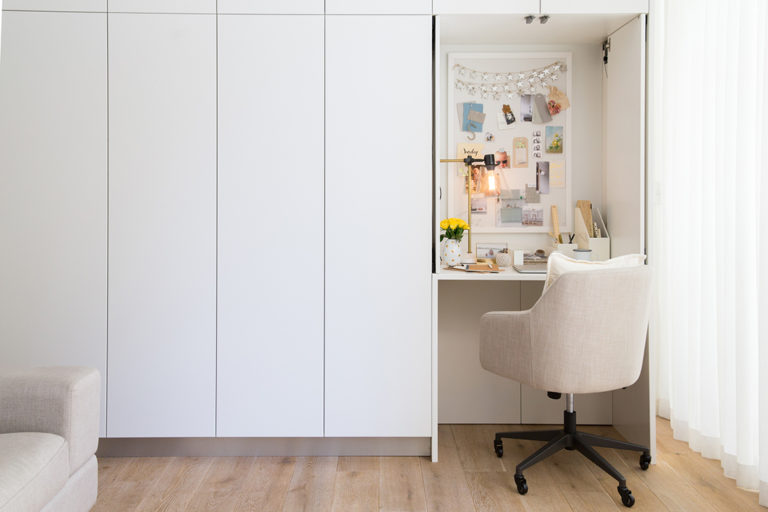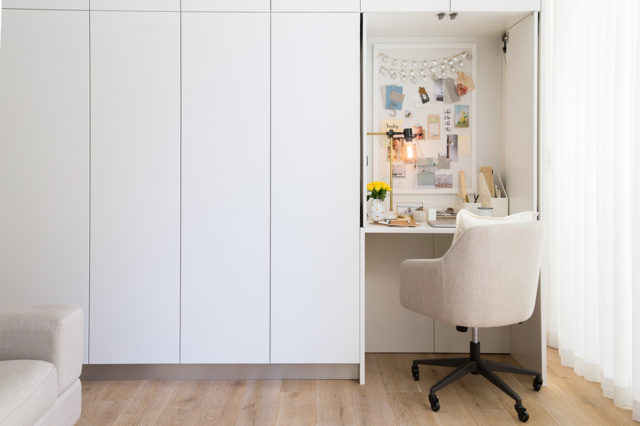 When renovating the kitchen, she had the extra cupboards added for all her work samples. They sat alongside a handy desk nook with pocket doors that hid away the clutter when she didn't want to be thinking about work.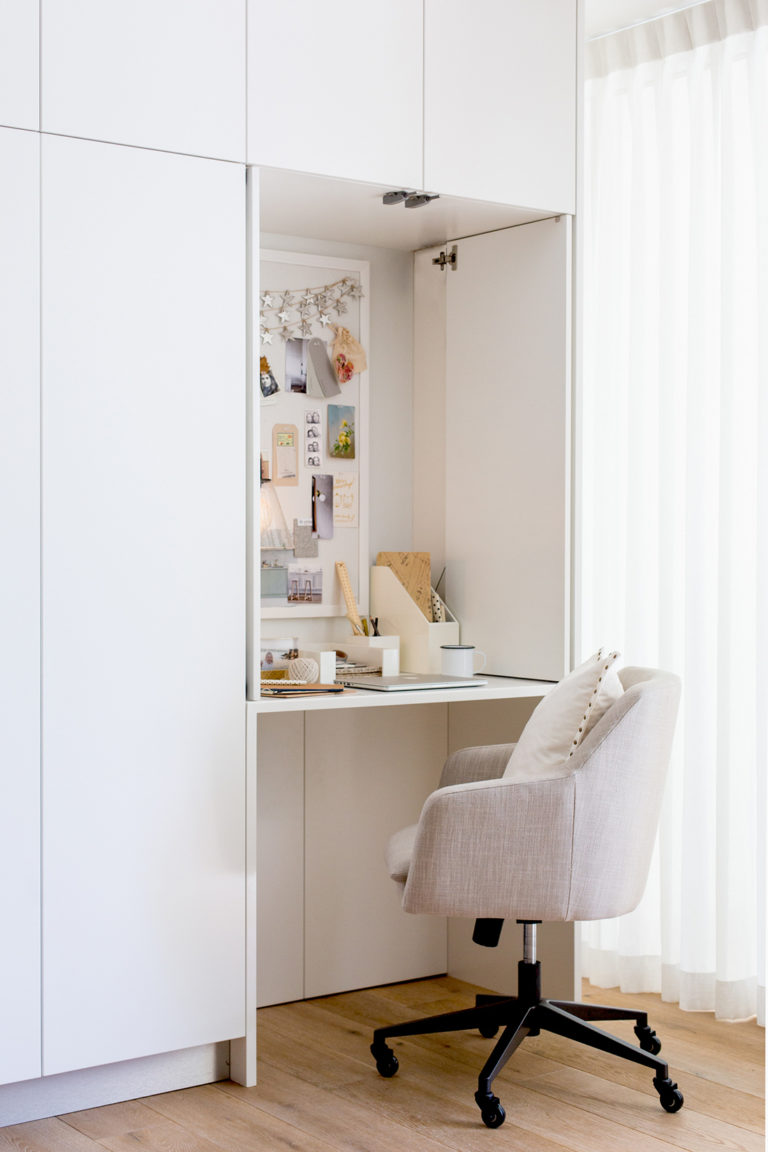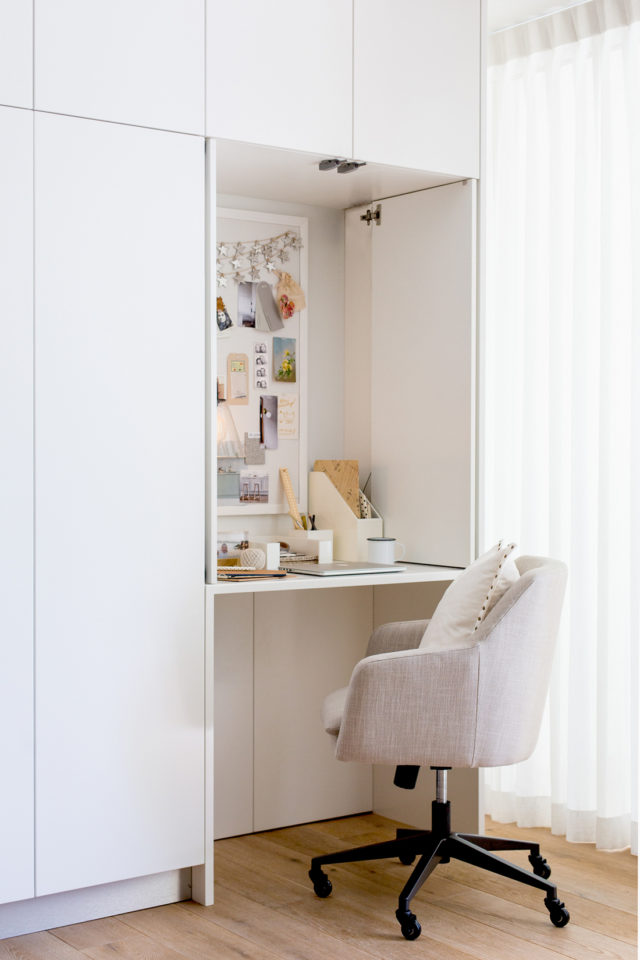 Fellow apartment dweller Ellie Jeffery, says her husband thought she was slightly mad when she suggested this office nook when they renovated their laundry!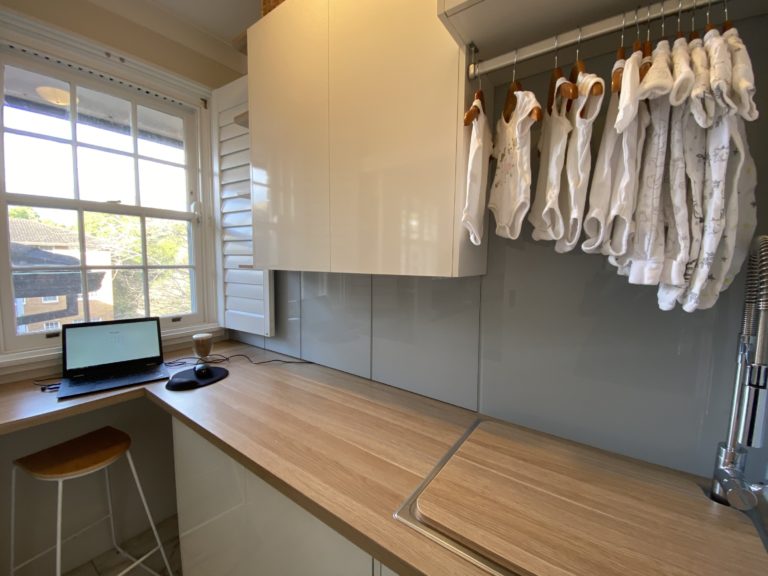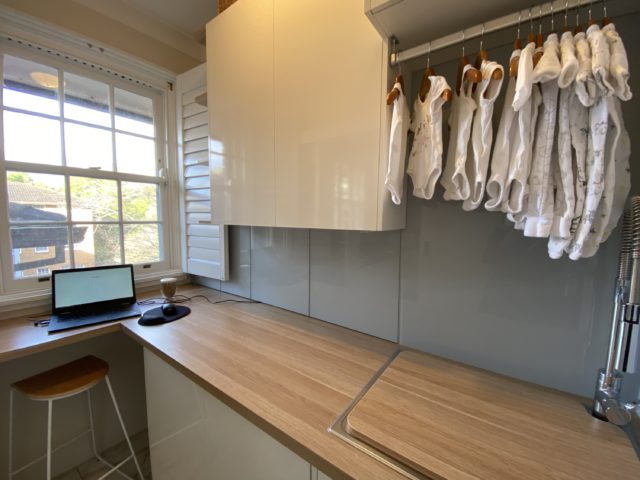 "I've been watching a lot tiny house tours on YouTube and I love the concept of having multiple uses for a room or piece of furniture. It makes perfect sense, particularly when you live in Sydney and real estate is so expensive! So when we decided to redo the laundry, I thought it would be good to make it as versatile as possible. A study nook just made sense."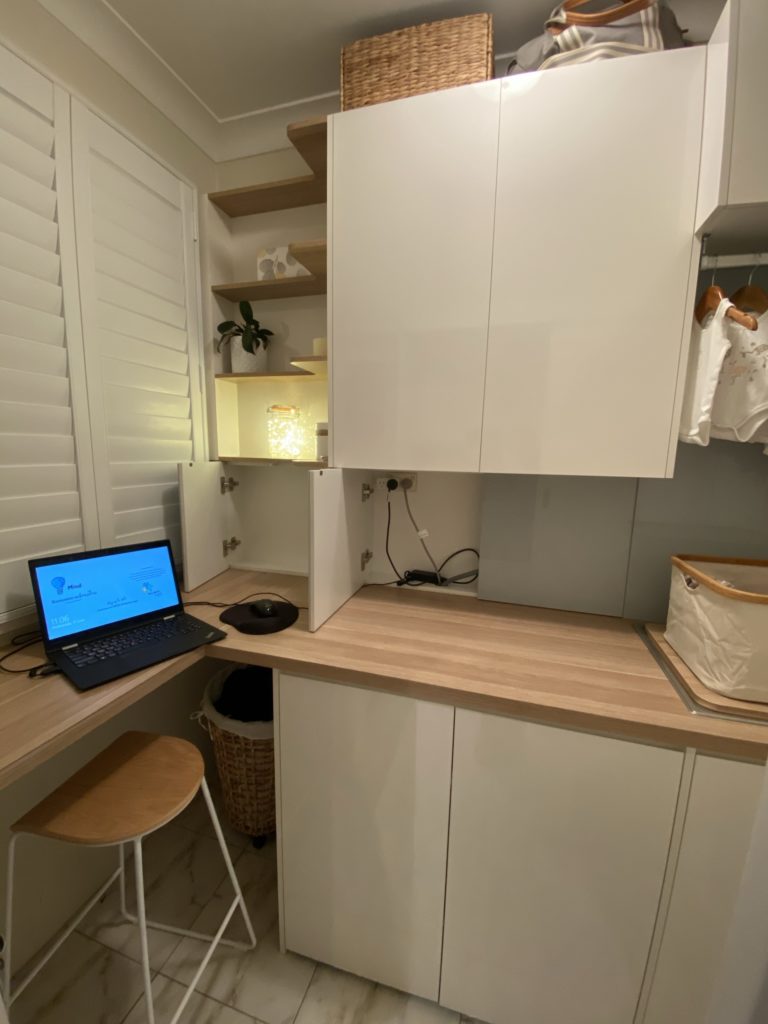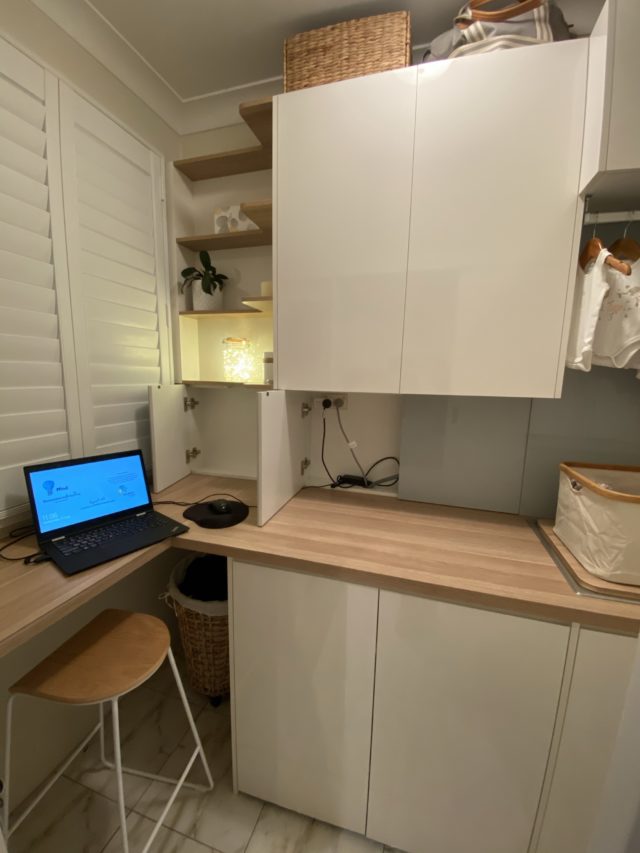 Ellie lives on Sydney's Upper North Shore in a two-bed apartment with her husband, young daughter and another baby on the way. The office nook was completed just as lockdown began. "It was great timing. I will definitely be using it going forward. I usually work a day a week or so from home."
The financial controller has also set up her dining room to do double duty as a playroom, making their home work for their growing family. "Having watched all the amazing things you can do with a tiny house, I definitely don't think it's necessary to dedicate a whole room to one use. One of the working from home tips I see frequently is to pack away at the end of the day. It's so easy to do that with my study nook and it does help me switch off."
Belinda Rosenbaum painted the mural in the study nook for her girls, below, which was created by cabinetmakers J and K Badewitz: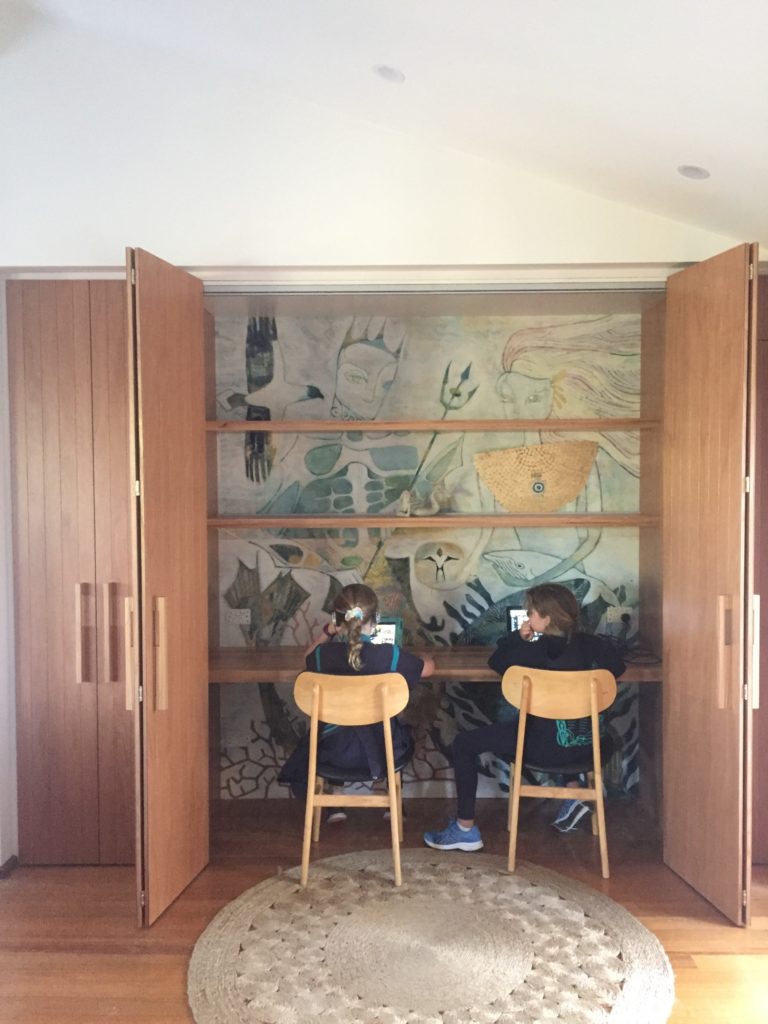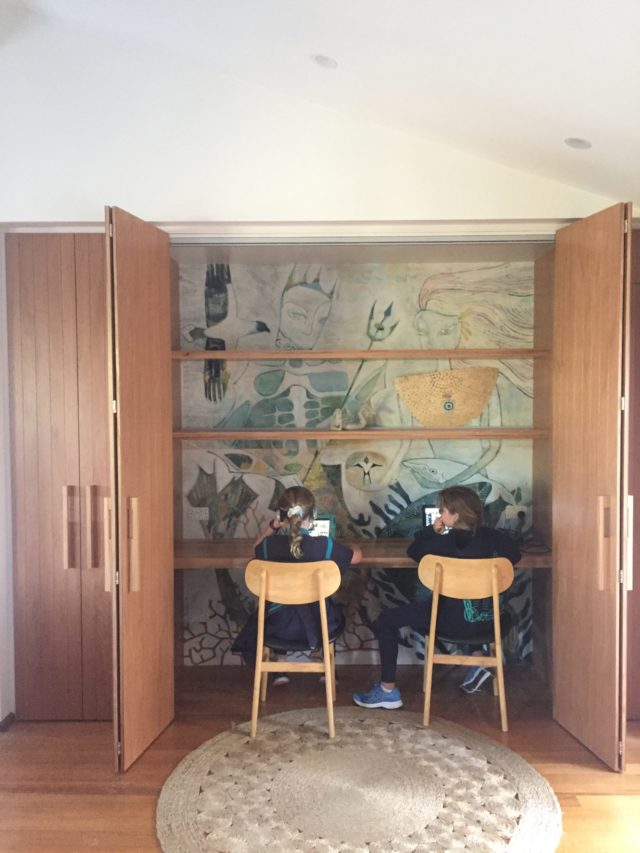 "Our little house in Merimbula (a holiday shack in its previous life) is pretty tight on space so this was like adding a whole new room!"
Shelley Boyd's home office (below) is tucked under the stairs. "It's a great use of dead space which has been turned into a room of its own. My advice for utilising spaces like this is to introduce storage options so that paperwork and mess can be moved out of eyesight. Lighting is also important for both practicality and atmosphere. My space has lots of natural lighting as well as a statement desk lamp."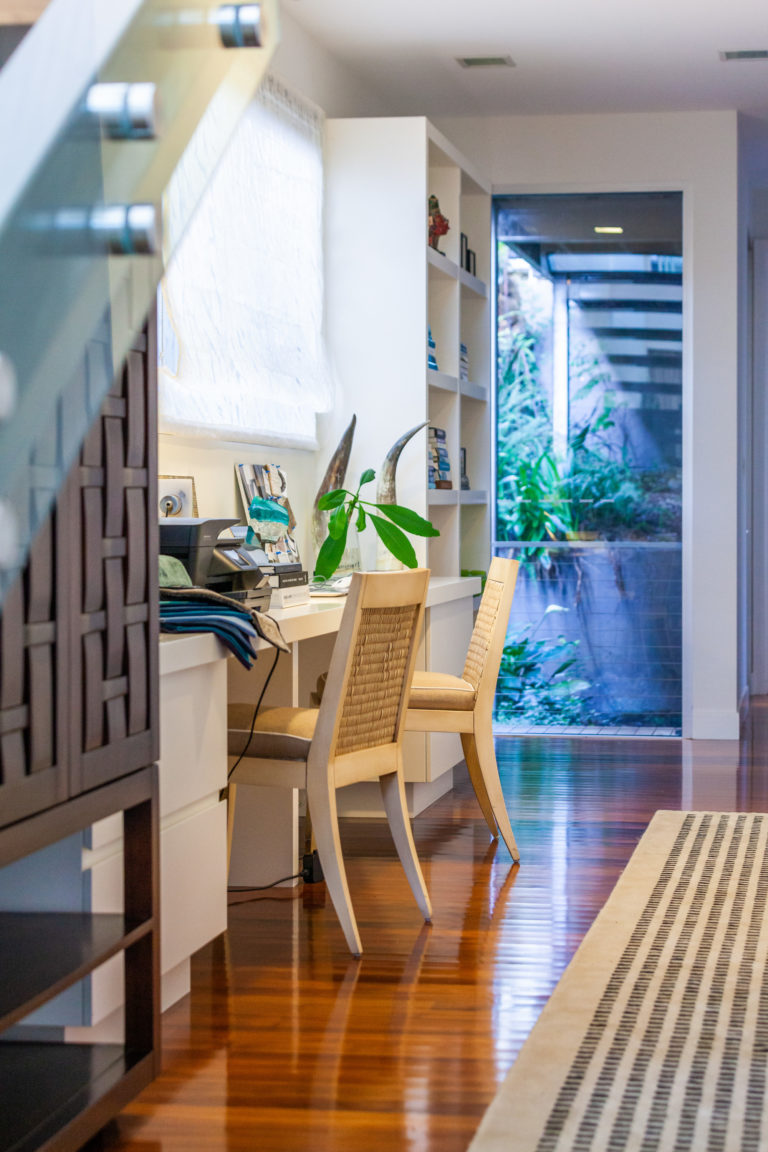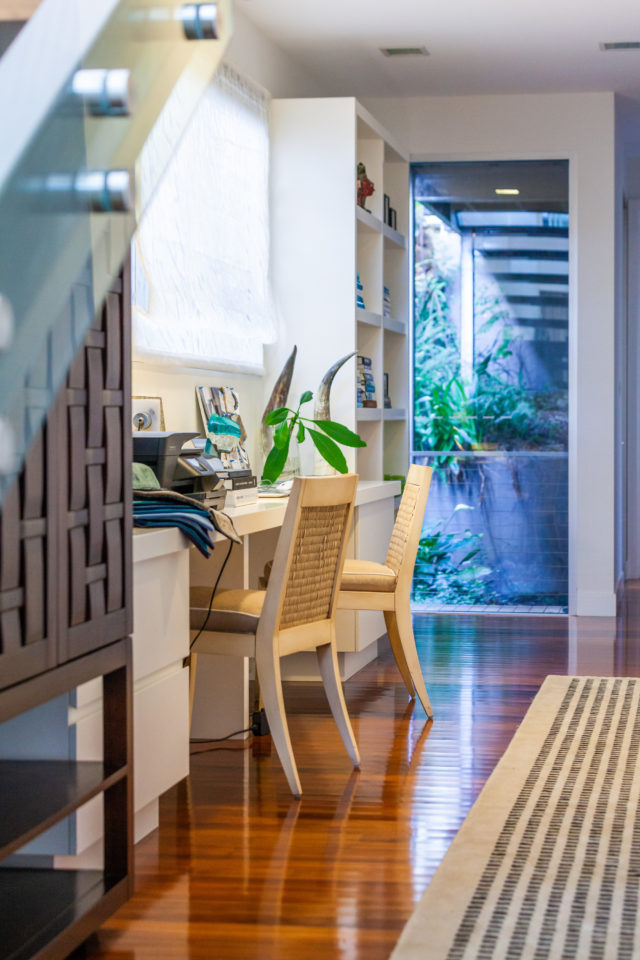 The Boyd Blue owner says: "I am inspired by bold colour, texture, tone and hand crafted finishes and my office is filled with samples, inspiring images and an array of knick-knacks I have collected from various travels across the world. My fur babies Hugo and Daisy are never far away and I love the company they bring."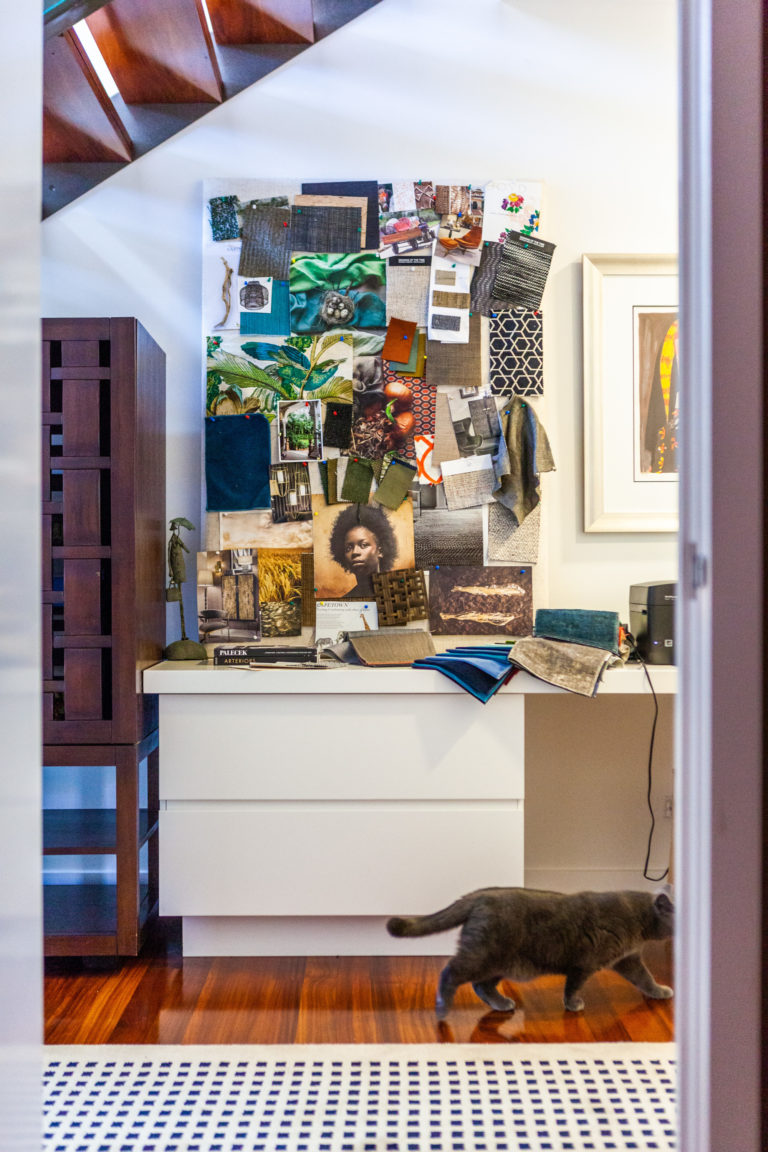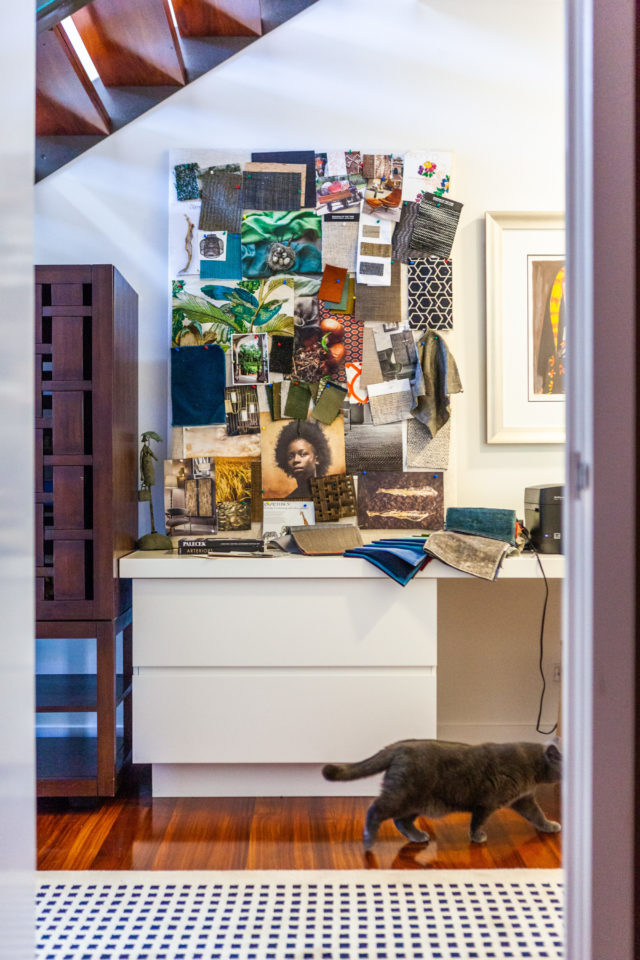 The last three examples below, are by Brisbane interior design duo Anju Designs, who are experts at getting the most out of smaller homes.
Incorporated into the custom joinery with floating shelves, this study area works beautifully adjoining the kitchen and dining area, and provides a generous workspace in a two-bedroom apartment: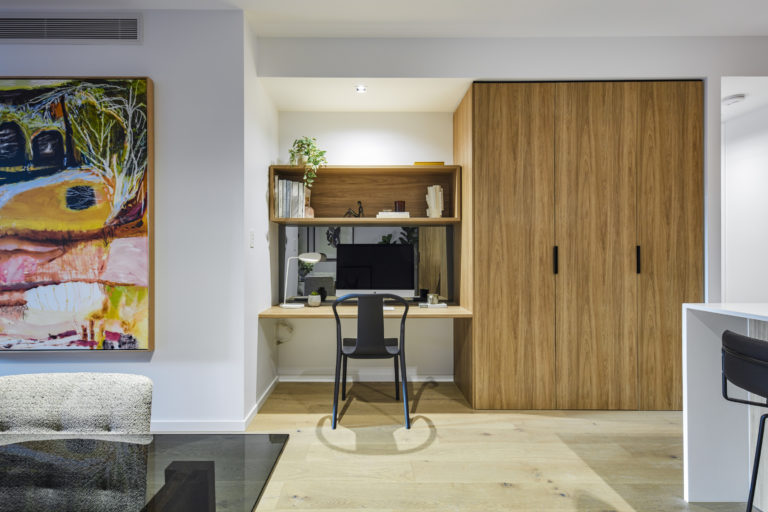 The architecture of this bedroom allows for the perfect little study nook. A small space with lots of natural light, and great use of an area that otherwise would have had no purpose: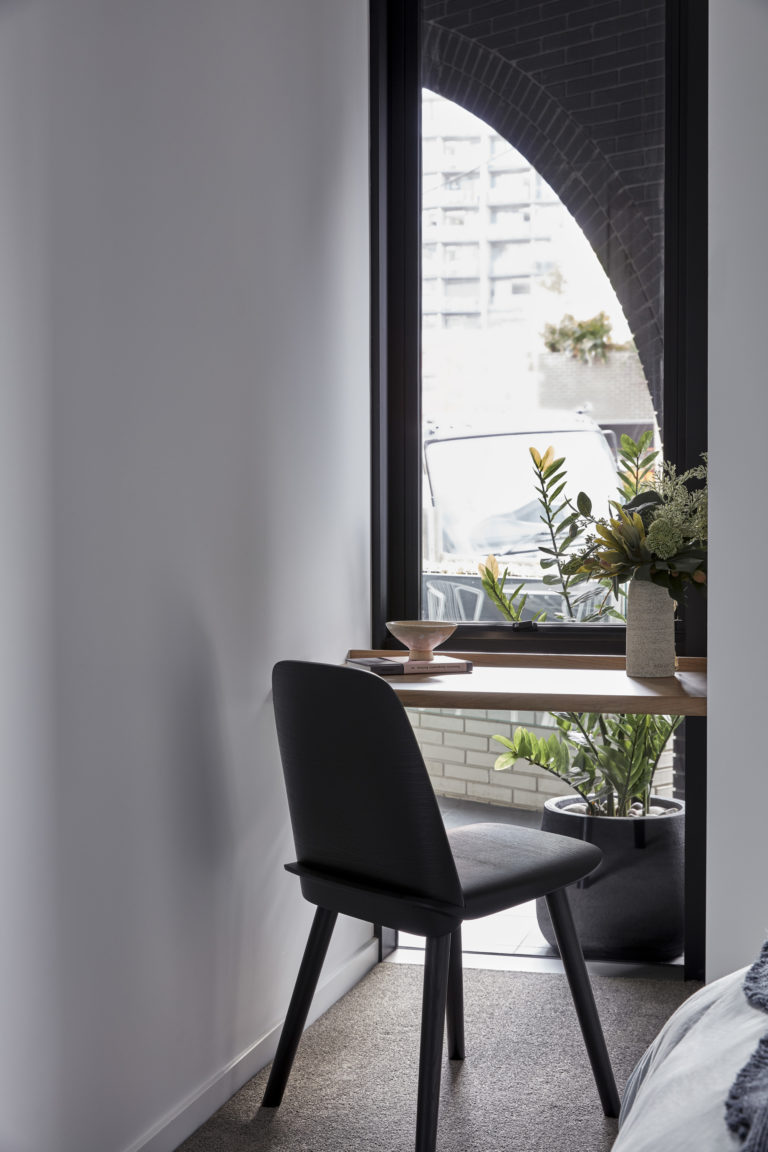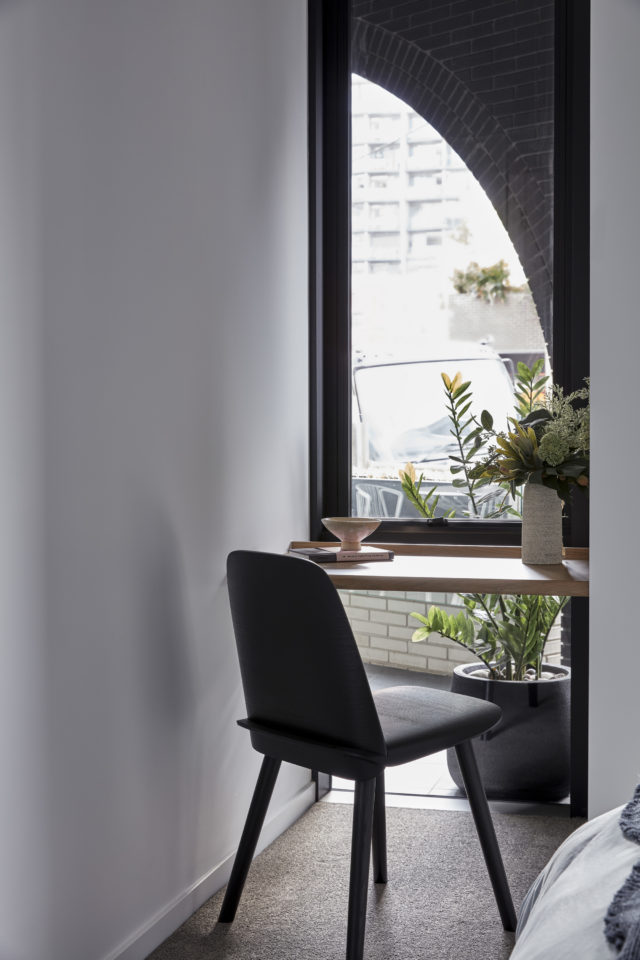 This study nook utilises a walk-through space adjacent to the kitchen which leads through to the laundry. The built-in shelving provides ample storage space but by keeping it open, the area still feels light and spacious: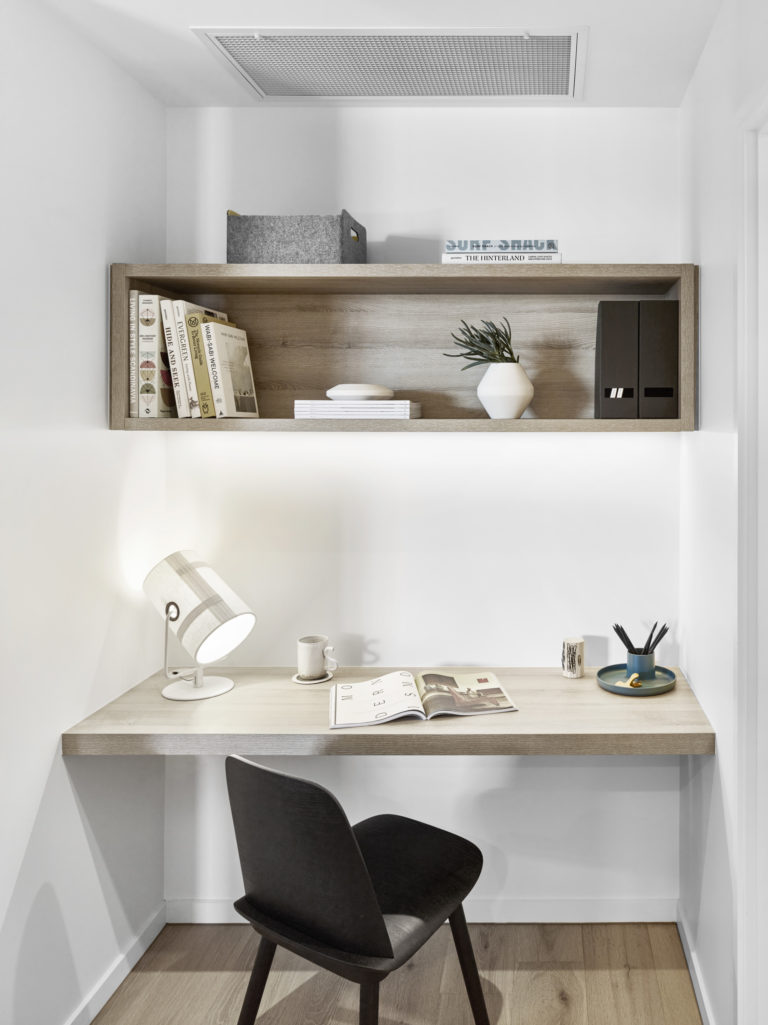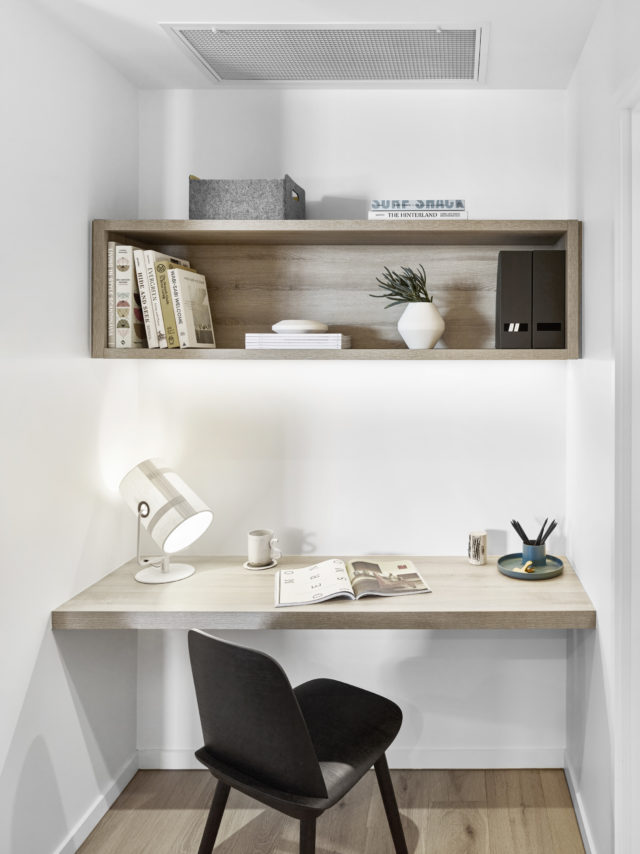 So, if you thought you didn't have space for a home office, it may be time to think again!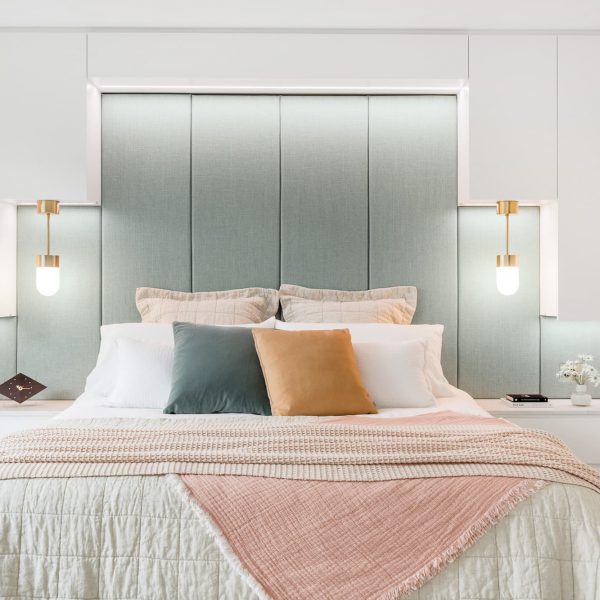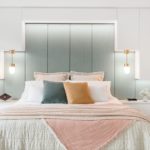 Small space design ideas: a beautiful apartment reno
Size, as they say, isn't everything, and Anju Designs made the most of every inch in this stunning Brisbane apartment makeover. We take a closer look at all their clever…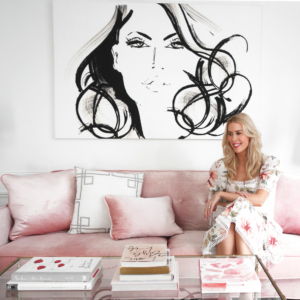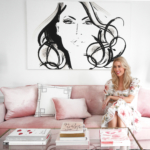 Kerrie Hess: Illustrator's chic home office
The creative tools are never too far away for illustrator Kerrie Hess who let us take a peek inside her chic home office recently; an ultra-feminine, largely monochrome space that…