When considering the overall 'kerb appeal' of your home, it's likely that the poor old front door barely gets a look in. A door, is a door, is a door after all, isn't it? Not exactly, it seems with experts finding that a new front door can quickly and easily change the entire exterior of the home.
Innovative door experts, Corinthian Doors, have pulled together their top tips for improving the kerb appeal of your home simply by selecting the best possible front door.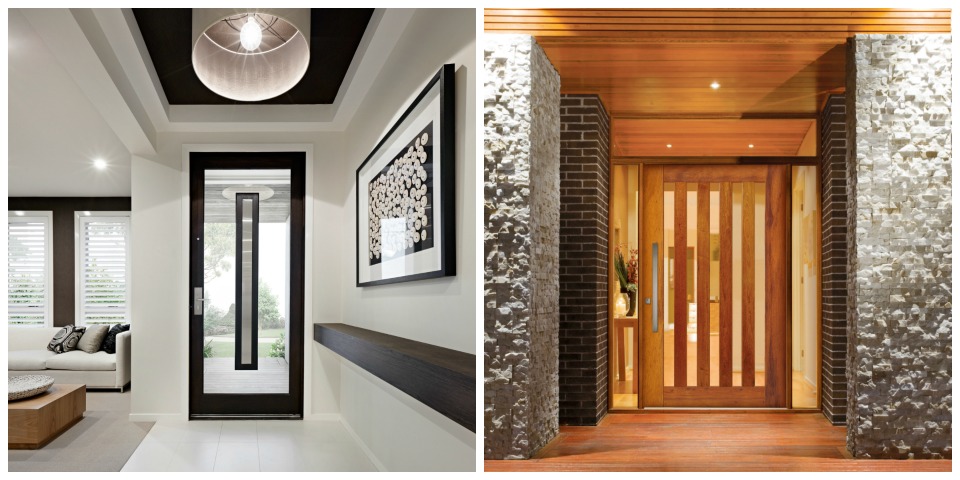 5 top tips for choosing a stylish, value adding front door
As one of the first parts of a house to capture the eye, it's important to choose a front door that complements the style of your house while giving an indication of your own specific tastes. Make sure to consider:
Size – While the standard front door is usually single sized, measuring in at 820mm wide and 2040mm, more and more 'feature style' front doors are appearing in homes, especially new builds and those that have been recently renovated. Corinthian Doors National Marketing Manager Athina Solomou has noticed the popularity of the taller, larger front door which perfectly suits the pivot door design. "A pivot door tends to be wider and taller," says Athina, "making it best suited to handle the extra weight of a larger door while providing a smooth and secure opening." A pivot system means the weight of the door is carried at the top and bottom rather than on traditional hinged jambs. Athina also thinks that the right pivot door can aadd valuable curb appeal. "It's easy to take your home's entrance from bland to grand with one simple upgrade and installing a pivot door," says Athina.
Frame – There is plenty of variety when it comes to door frames these days. Single, double, French, single with sidelight, double with double sidelights, the list is extensive and can be confusing. Athina recommends taking the architecture and size of your entrance way into consideration before making a choice. Her pick if you've got the space? A front door with sidelights. " Glass panels will allow for sunlight to come through, providing a lighter and fresher atmosphere on the internal side," says Athina. For privacy and aesthetic reasons, there are a number of glazing options available depending on the door design. This includes decorative and coloured stain glass options for complementary sidelights.
Material – When choosing a material, it's important to consider both aesthetics and practicality. Those who live in suburbs where bushfire is a risk should always check what BAL (or bushfire attack level) rating their property requires before purchasing a door. BAL ratings range from BAL-low up to BAL-40 with the correct choice of materials required for each zone. For those who live in hot and humid areas, you may want to consider choosing a material with a low shrinkage/expansion rate like Merbau.
Design and colour – Once the more practical aspects have been sorted, you can consider exactly how you'd like your door to look. A colourful or interesting entry door design will provide an inviting preview of what is to come. It's also a great chance for homeowners to release their inner stylist and experiment with design and colour. Look for something that suits the rest of the house and surrounding area while offering your property a point of difference and standout feature.
Corinthian doors offer a wide range of products that pair innovative manufacturing and design techniques with the beauty of natural timbers.