Sponsored by Castlery
It's been about 18 months since we gave our master bedroom a moody new look with deep navy walls and a luxe custom velvet bedhead. While I still love it and have zero regrets about going dark, I felt it was time for a little refresh.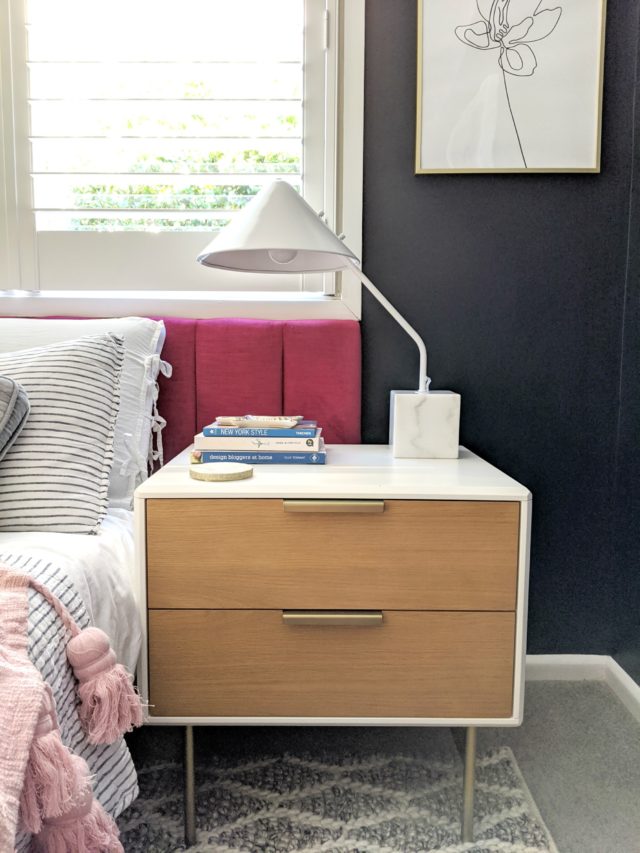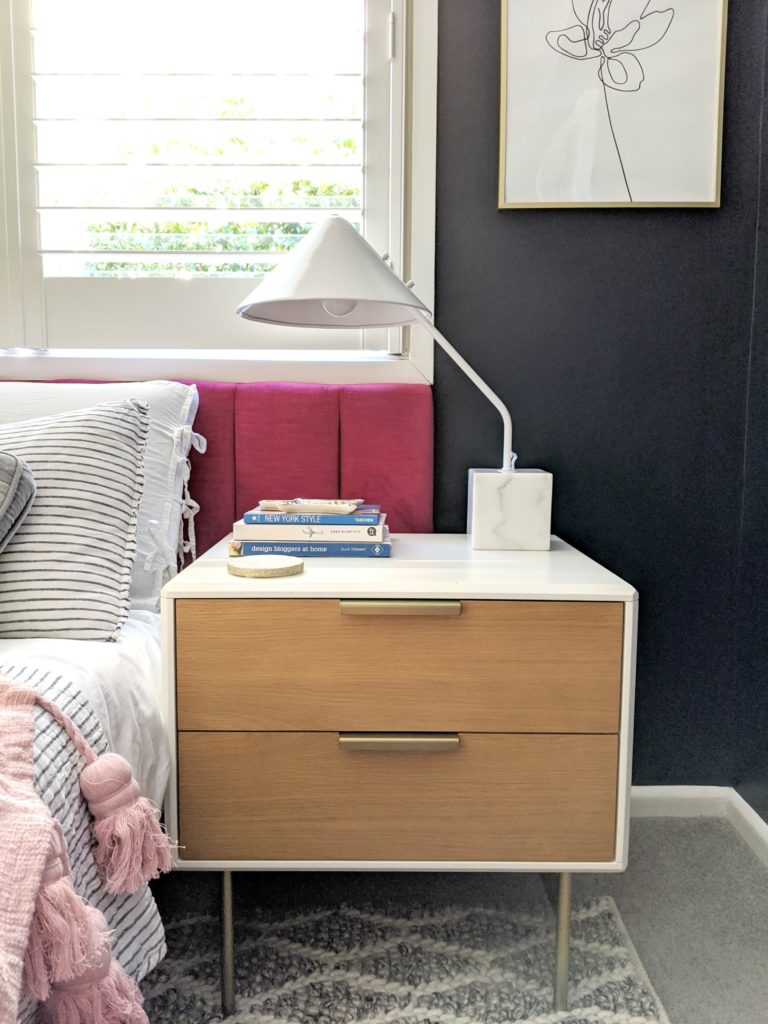 Updating a space and giving it a new look and feel definitely doesn't have to mean replacing everything and starting again (and it's actually a bit like a hobby for me!). I can't imagine painting over those navy walls (never say never!) but I wanted to lighten things up a little and go for a bit more of a casual vibe, and have done so with some new white and timber bedsides and lamps from Castlery.
A new design from the online brand, the Isla bedside tables are a generous 60cm wide and if you have the space, I fully recommend going as wide as possible with your bedsides. It means you can have bigger lamps too.
Our previous bedside tables were navy, and while they blended in perfectly with the dark walls, the white of these new ones lifts the room and I like it! It's also the first introduction of timber to this room from the drawer fronts. Just the perfect amount if you ask me!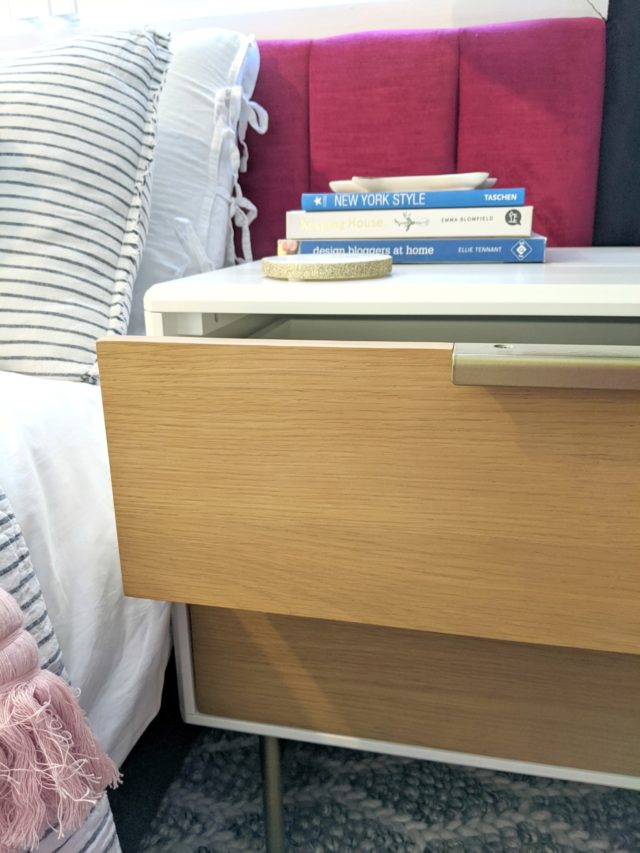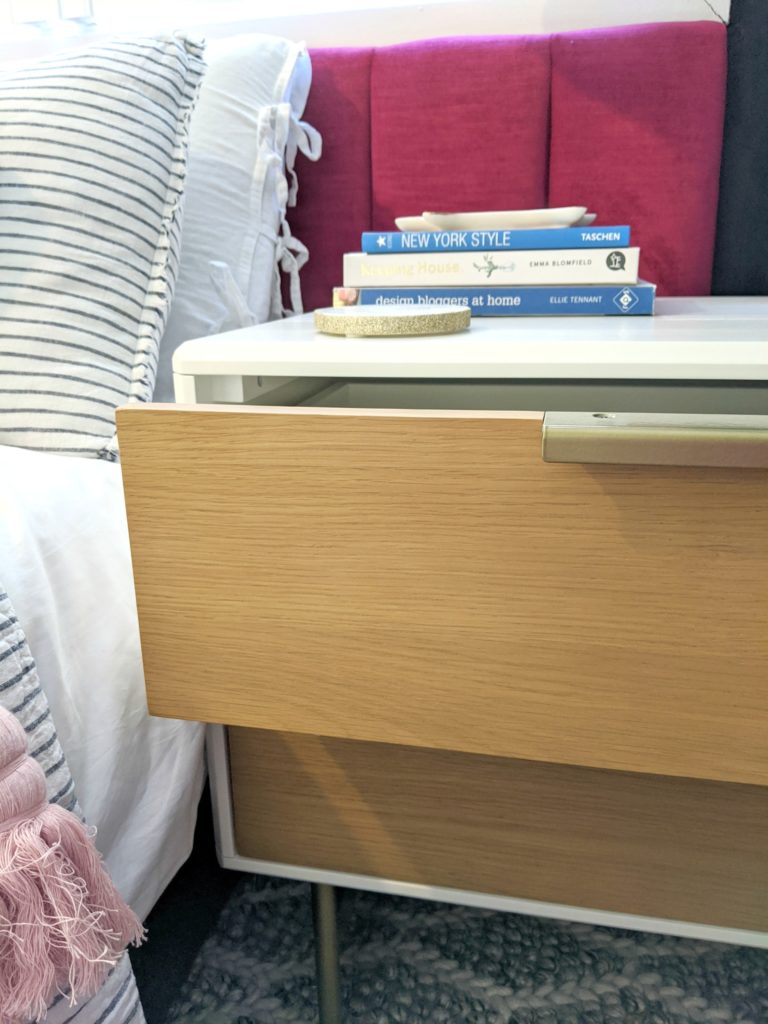 Similar to the previous ones, these also have brass handles and legs, in keeping with the many other gold elements in our home, like tapware, kitchen cabinet handles and the coffee table. But I love how the white is tying in with the plantation shutters and artwork and lighter bed linen makes it seem more fresh and relaxed.
The bedsides also have two drawers and I'm all about storage. Much as I love some of those fancy options with nothing more than a shelf, I just can't do it. I need to be able to hide stuff away and lots of it: skincare, books, magazines, my laptop, headphones, and all the other things I can't leave out because they'll look messy and my toddler will walk off with or break them! I'm also loving the extra width of these for both the styling opportunities and because I can easily put a laptop (I watch too much Netflix in bed. So shoot me!) down next to my morning coffee, night cream and jewellery (as well as the stuff that's just there to look pretty!). Never underestimate the importance of a well styled bedside table to elevate your bedroom!
And of course, it helps that I can swiftly sweep all the "stuff" on top of my husband's into a drawer (did I just say that out loud?!) when it's looking too messy!
I'm super impressed with the quality of these furniture pieces and they were really simple to assemble (basically, just attaching the legs). They have decent metal runners, the drawers have a soft-closing mechanism and they're very substantial and heavy. Bedsides get a real workout and daily use so I do encourage spending a bit more on these otherwise they'll quickly show their age or you'll become annoyed with bad quality drawer runners and the like. The two-year warranty on these is good for peace of mind.
There's also a matching dresser, sideboard and TV console in the Isla collection.
This isn't my first experience with Castlery and many readers ask about our Adams sofas when I show them on Instagram. I've had these for over a year now so I feel I'm in a good position to give a thorough Castlery review! The honest truth is, they look exactly the same as they did when we got them. Yes, they're the palest grey and I have two grubby boys, but the two can coexist!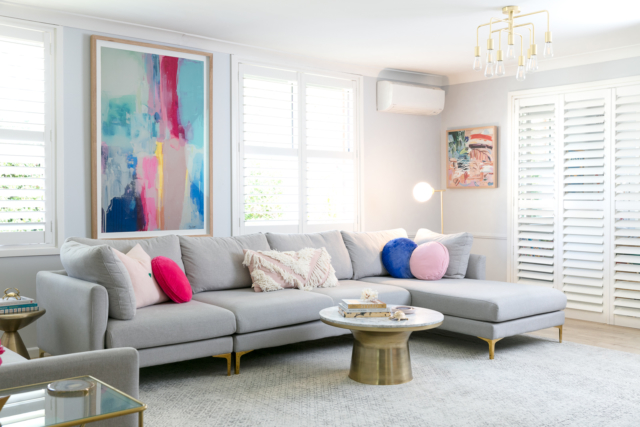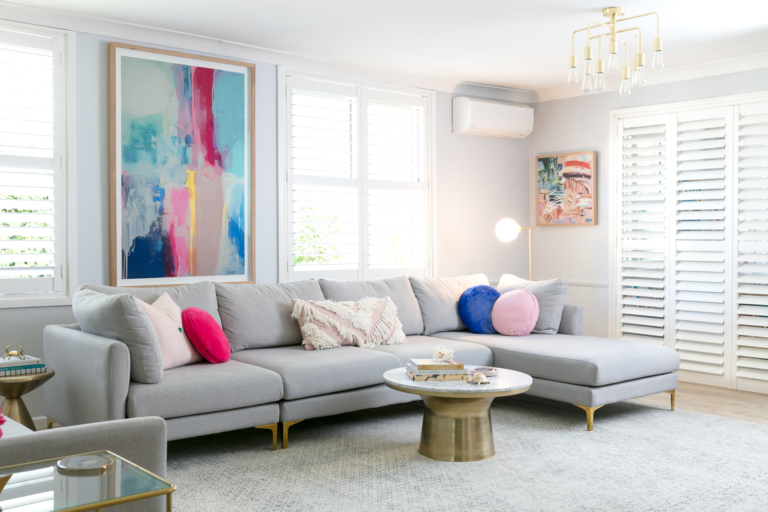 The sofas' saving grace is that they have removable, machine washable covers. All the seat cushions have been washed at least twice now and although it's a workout getting them back on because they're a snug fit (do not attempt this job alone!), it's totally possible and they look like new. I give any stains a spray with Koh, wash them on a cold wash and then leave them to air dry (for fear of shrinkage in the dryer). While we are on the subject of Koh (and no this is not sponsored), I get the majority of Vegemite fingerprints and the like off using a spray of this, which is why the covers have only been washed twice!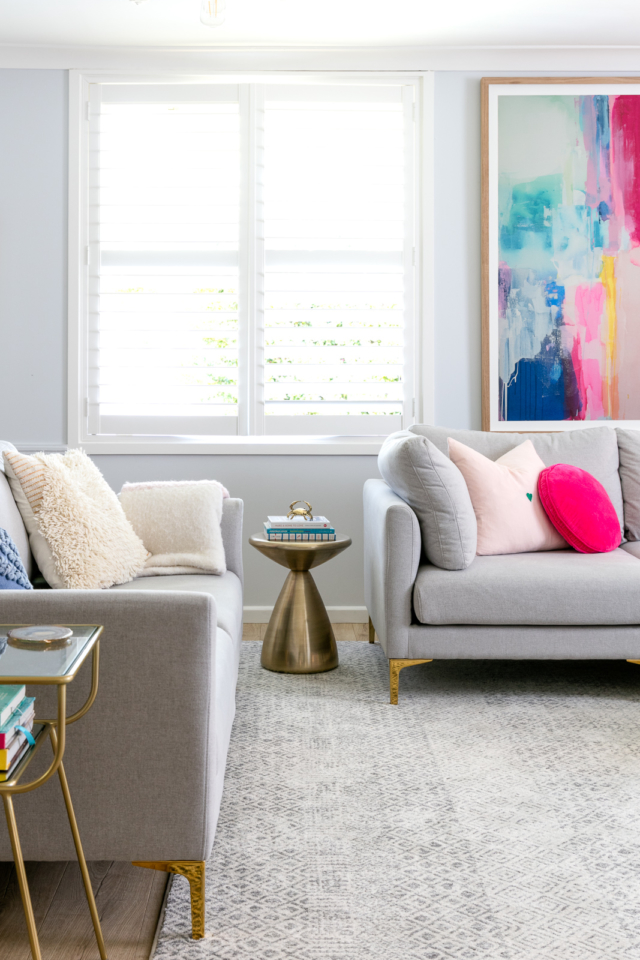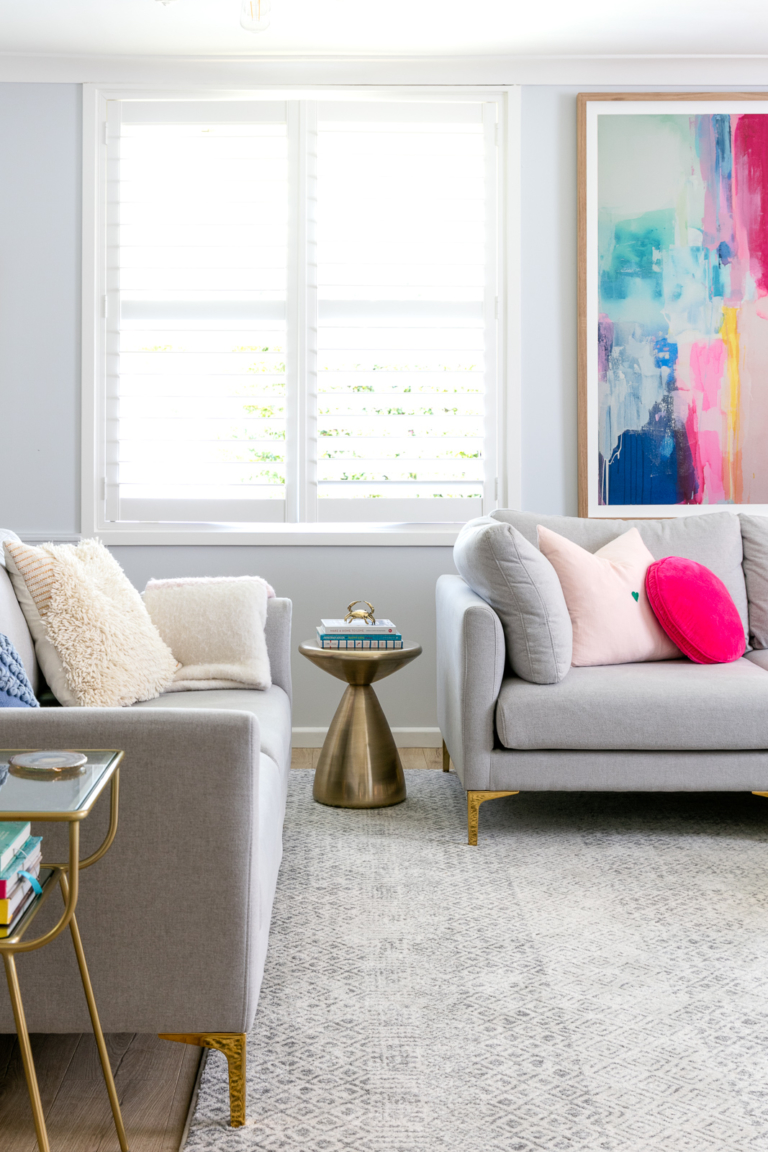 The question I get asked the most about this sofa is whether it's comfy and that's a hard one to answer because it's so subjective. Obviously I wouldn't buy an uncomfortable couch, but it isn't a big squashy, feather-filled one so it's not that kind of comfy. We used to have one of those and while it was comfy on the face of it, it actually lacked support too, and we really like the height of the backs and arms on the Adams. And of course I love the gold legs (but you can also choose silver or black).
The Adams now also comes in a darker grey (but don't feel you have to choose this for practical reasons!) or three different velvet colours including navy (hmmm…. navy velvet and brass legs… you're speaking my language!).
The seat cushions are foam, which is why they don't sag and they look the same as they did the day we got them. This is handy when your kids jump (and run) on the couch, no matter how many times you tell them not to! The back cushions are fibre-filled and squashier, but equally haven't lost their shape over time. I haven't had to wash any of those covers which is, frankly, a miracle!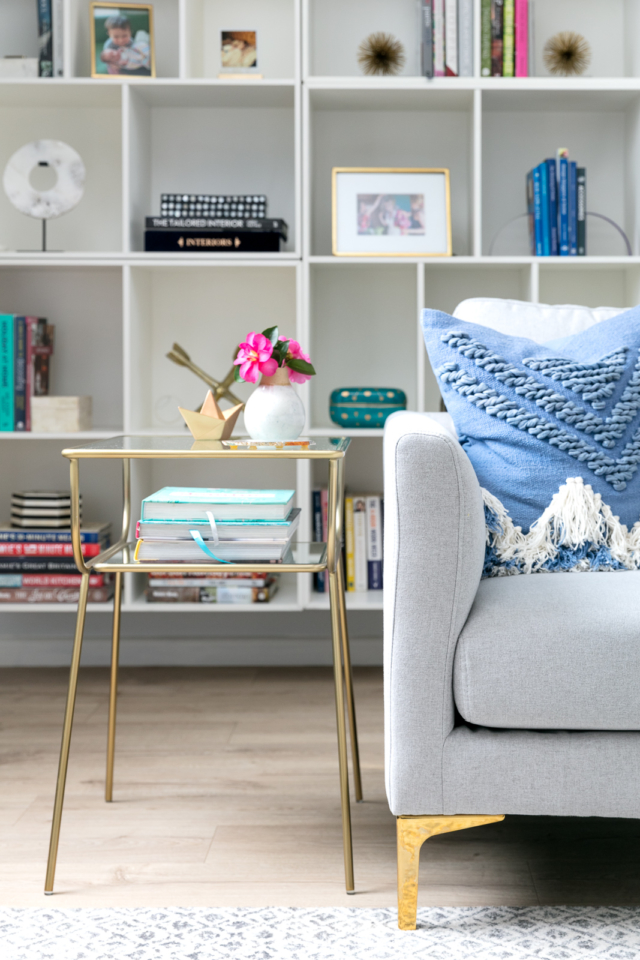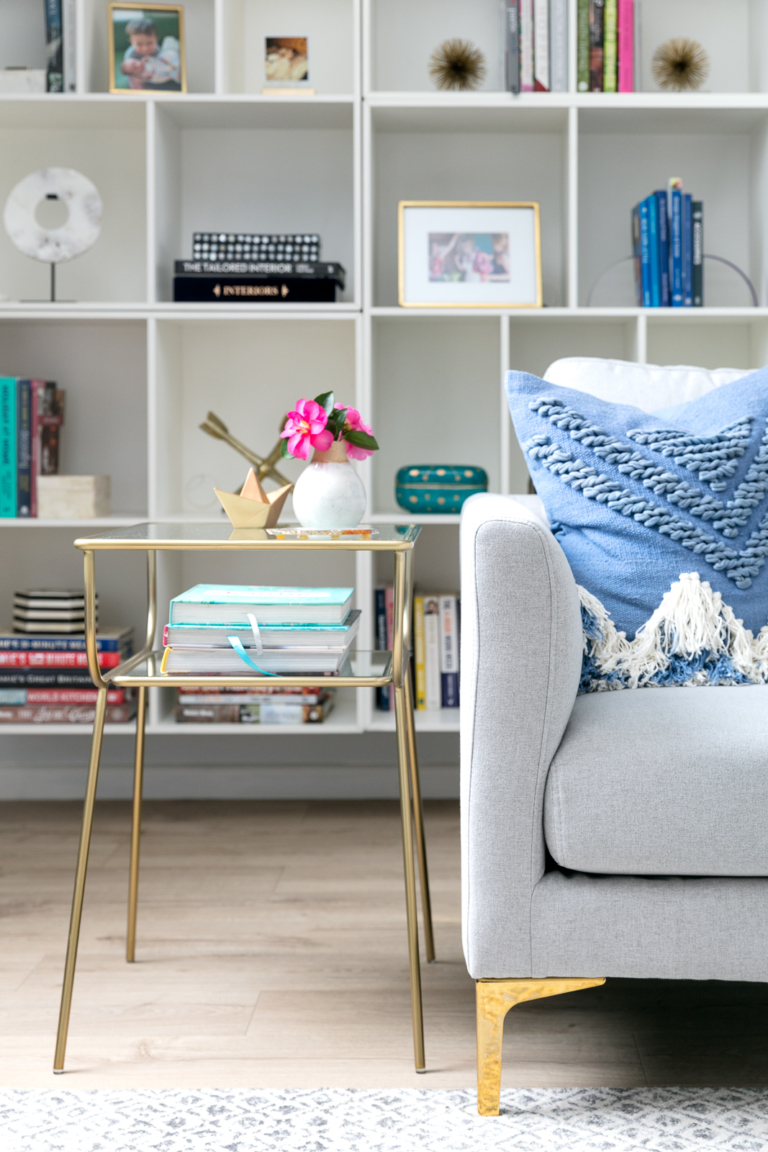 Another great thing about the Adams is that it comes in a multitude of different combinations, pretty much as long as you'd like, with or without right/left chaise and there's also a footstool/coffee table and an armchair.
You can't physically try a Castlery sofa as they don't have a showroom to keep costs down, and I know this scares some people, but you can order free fabric swatches and they do have a 14-day returns policy if you aren't happy. You must keep the original packaging and receipt, the item must be undamaged and you have to pay for return delivery. Refunds are processed within seven days.
There are a lot of benefits to buying furniture online with Castlery's model in my opinion. Their stock levels are up to date and they hold a lot of stock, so you're unlikely to be waiting 12 weeks for your sofa! If they say it's in stock, it is! If it's not in stock, you'll see a realistic timeframe for when the item could leave the warehouse. And the prices? Hard to beat for the quality. Our extended chaise sectional (comfortably seats five) is $2,169 and our two-seater (easily seats three people), $959. That's a lot of seating for just over $3,000!
Shop the Adams Collection | Shop the Isla bedsides