Bright fuchsia carpet, pastel blue and pink walls and emerald green velvet make for a fabulously opulent feel in this Melbourne family home that was renovated recently by the team at The Stylesmiths, with lead designer Danielle Brustman at the helm. The homeowners were keen to create a more 'adult-friendly' vibe given their children have grown up, and what emerged certainly filled the brief.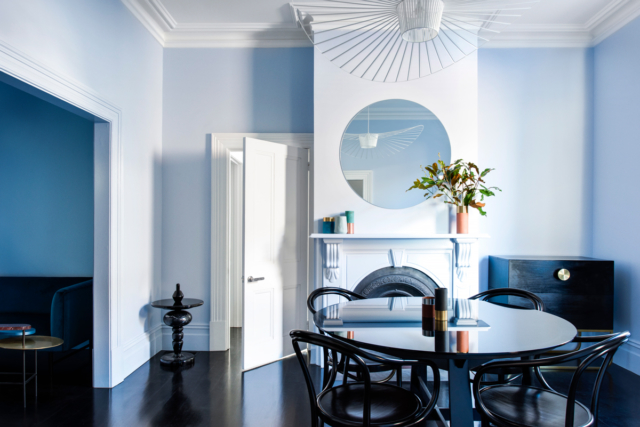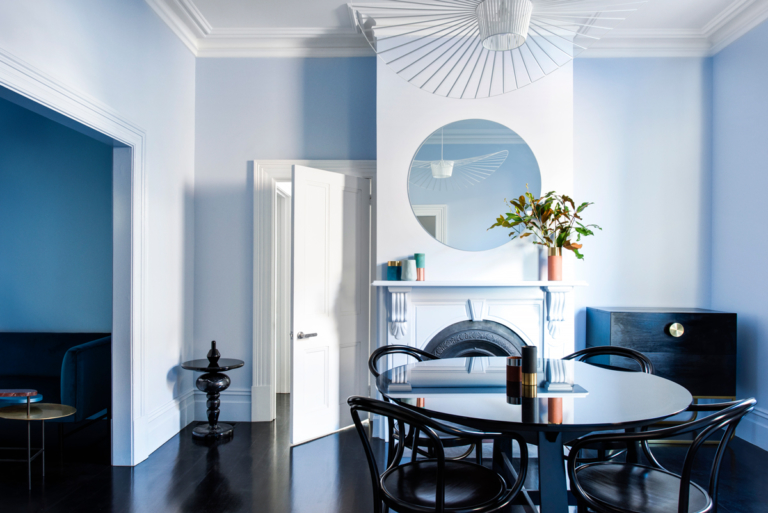 "The makeover was inspired by the clients' love for the fabulously eclectic New York apartment of American-Italian model Carmen Dell'Orefice which is artistic and chic but not too precious. The project aim was to create a mix of re-purposed vintage furniture with the kitsch, embracing the client's poster and print collections," says The Stylesmiths creative director Richard Misso of the 19th Century Victorian weatherboard home.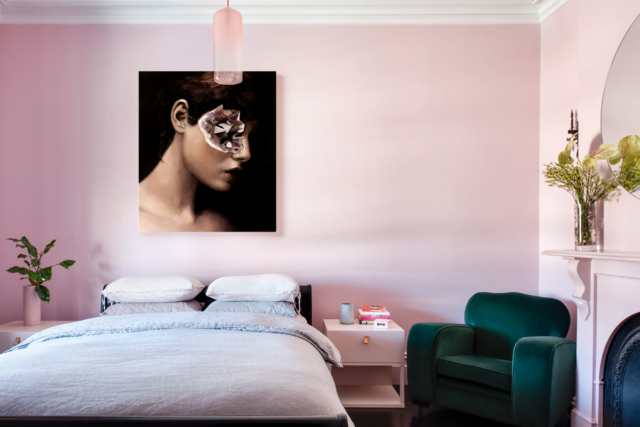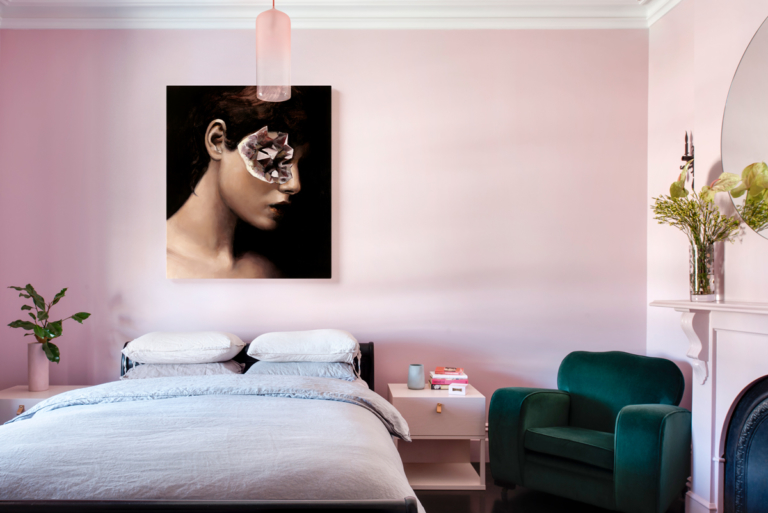 "The lead designer Danielle, with an eye for colour, materials and composition felt that the furnishings, surfaces and fixtures were outdated, which made the home dull. Bringing fresh eyes we injected more personality, colour, elegance and style. Receptive to these changes the clients entrusted in The Stylesmiths to integrate their original pieces of art with sentimental family value, whilst considering a matching palette that incorporated a broad spectrum of colour throughout," says Richard.
And they certainly embraced colour! Each room is painted with a different colour swatch including base tones made up of soft, muted pastel pinks and blues. As a colour fan, I love how monochromatic each space is and I'm not surprised that the project was a finalist in the 2018 Dulux Colour Awards.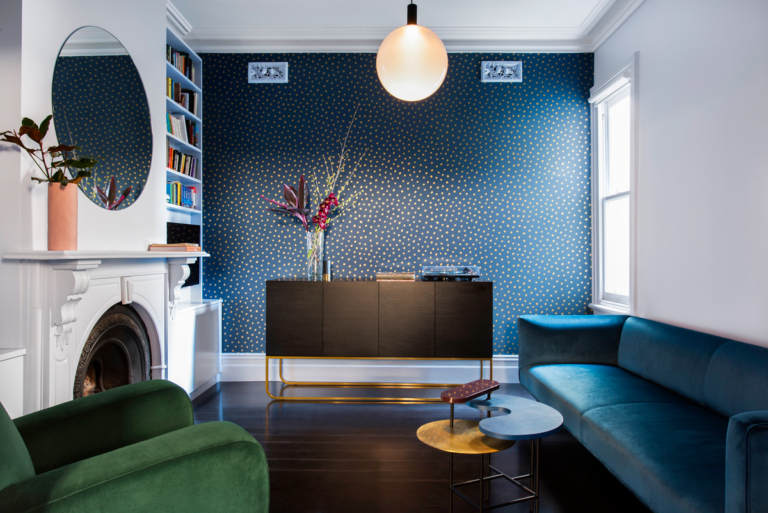 "It was important to look at the house and scheme as a whole. The process involves creating a spread of swatches, fabrics and materials throughout the home to ensure that the balance works throughout the entire scheme," says Richard who explains that strong contrasting tones formed the icing on the cake. "Deep green, navy, black, gold and magenta were layered via furnishings, paint, wallpaper and surface treatments," says Richard.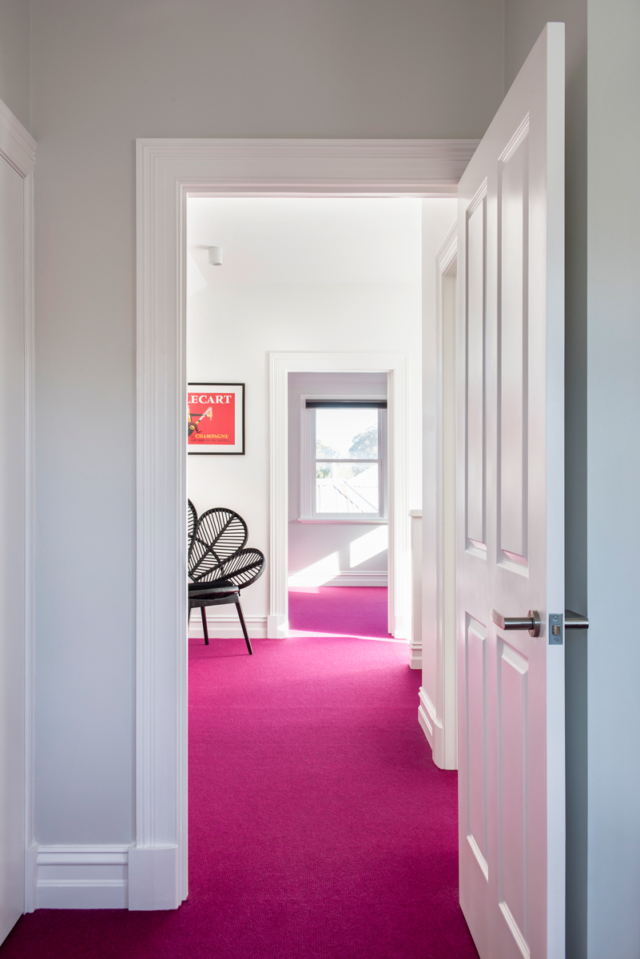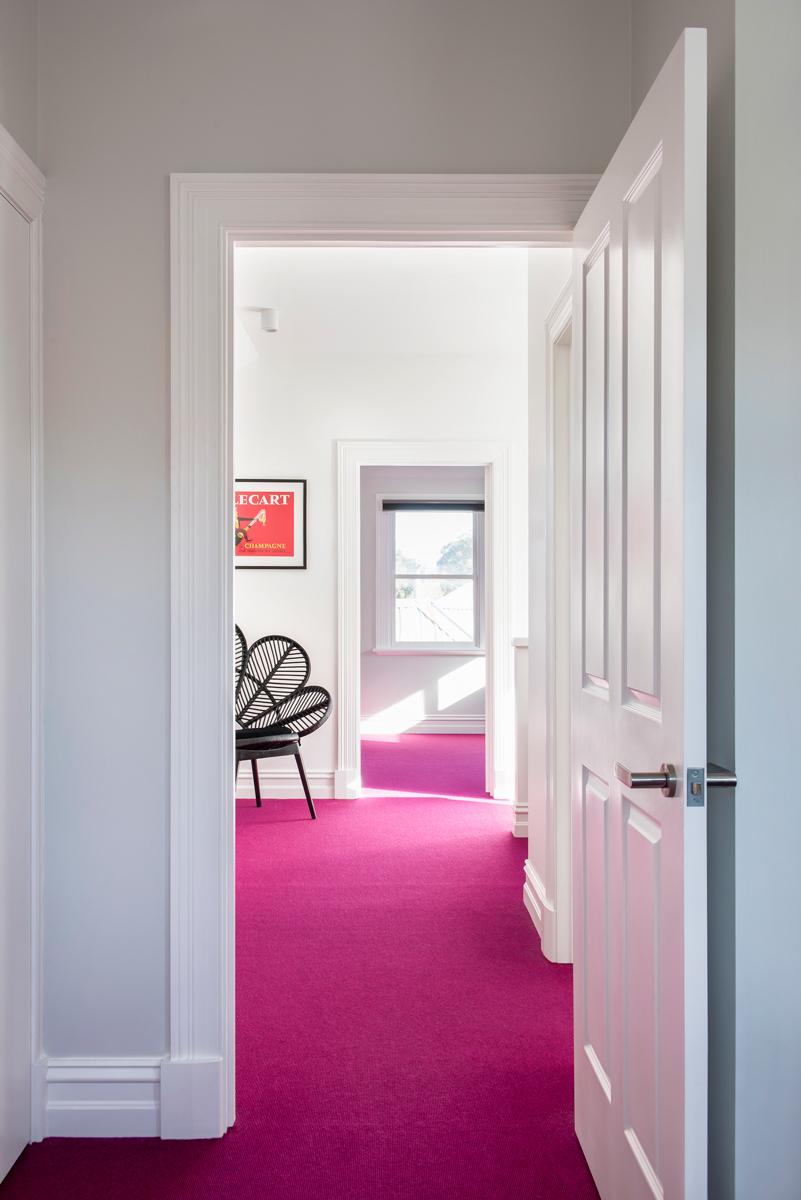 The renovation included several fabulous upcycling projects too. The living room features reupholstered, well-loved art deco chairs that look completely fresh courtesy of a sumptuous bottle green velvet and the family's circular dining table now features Japanese black lacquer legs and a black glass top.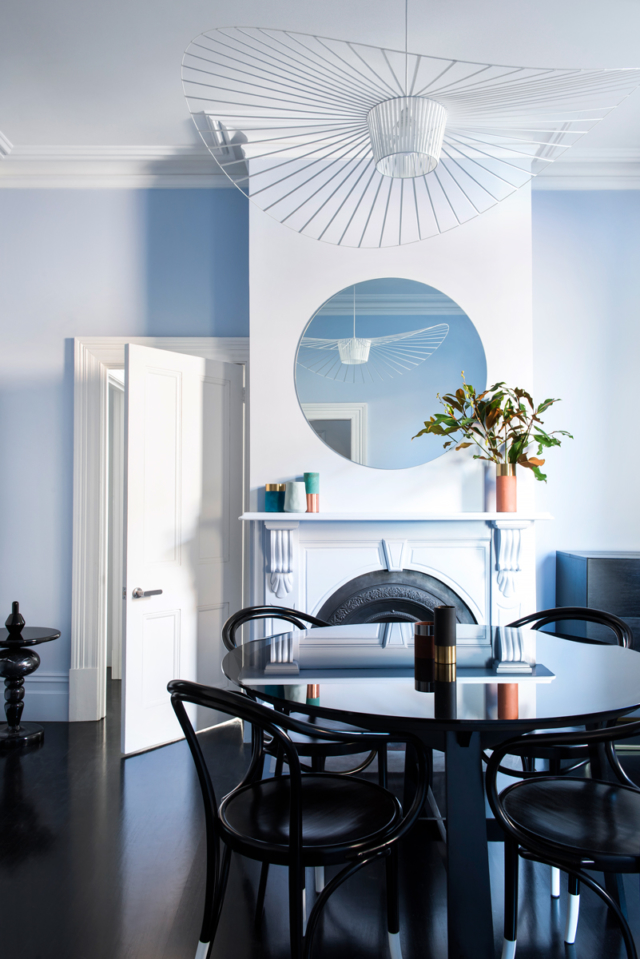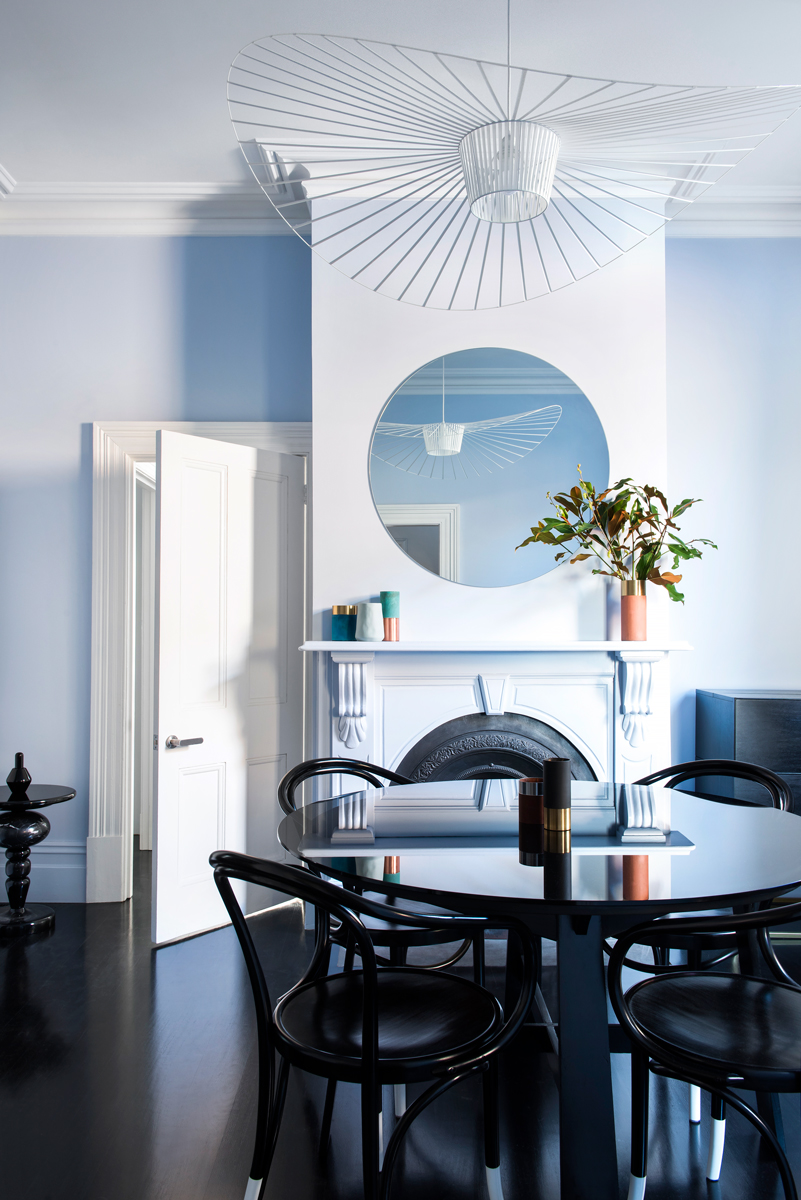 The home also boasts an abundance of texture. "We worked with layers of texture to mix things up. We used a combination of very shiny and reflective glass surfaces alongside rich velvets and earthy wool/linen and leather textures. Mixing it up gives each space a unique feel. We went to town with velvet on this project too," says Richard.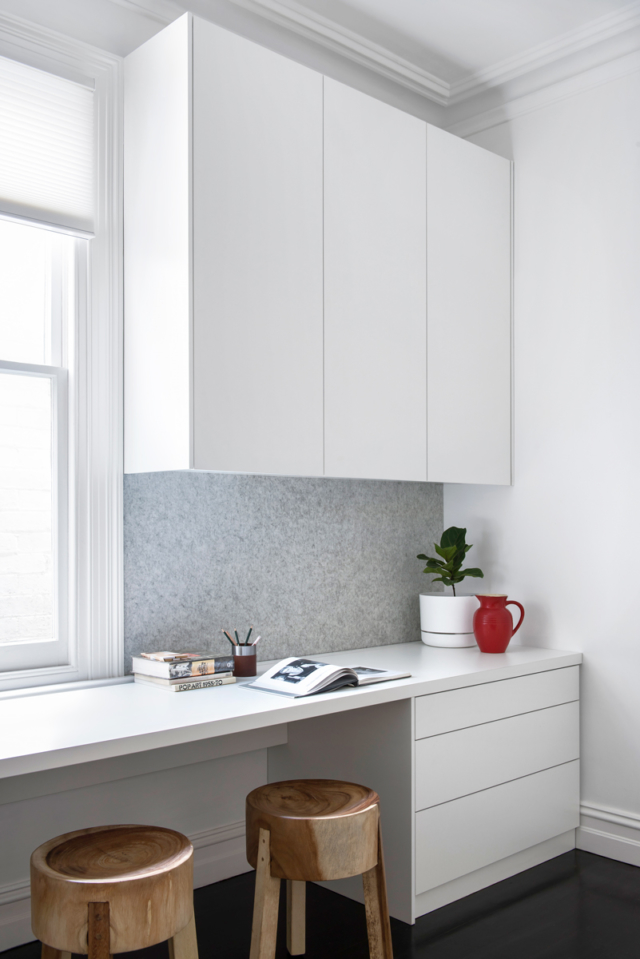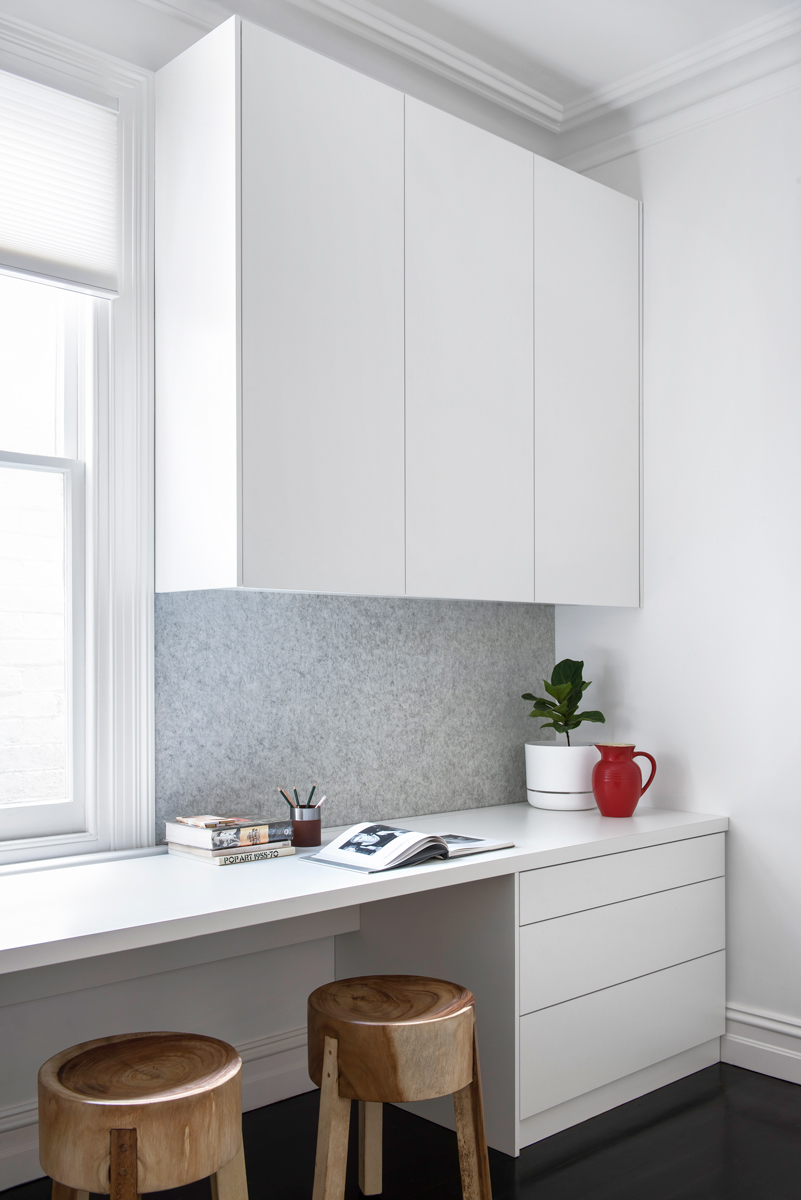 Photography: Nicole England