A contemporary update on classic Hamptons style, modern Hamptons takes traditional Hamptons elements and pairs them with modern ones. With classic Hamptons potentially at saturation point, it's nice to see a new interpretation of the trend; it's one that walks that fine line between traditional and contemporary.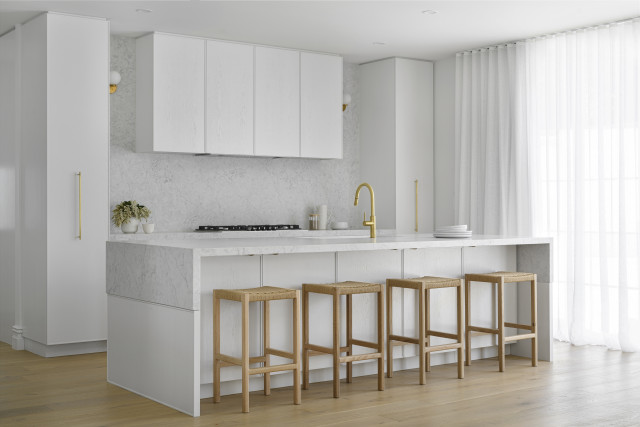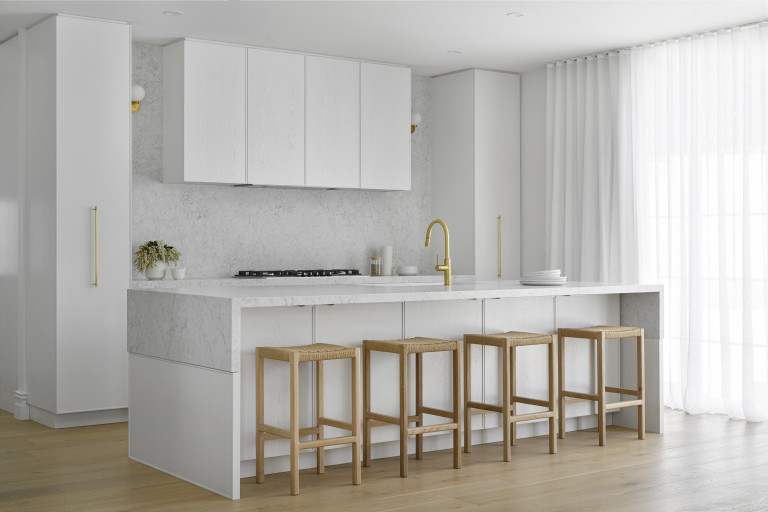 "Modern Hamptons is a synergy of traditional and modern home design. It incorporates traditional elements like wainscoting, decorative skirting boards, round windows, panelled cabinetry and wide-plank hardwood floors with contemporary features like minimalist furniture and statement lighting fixtures. In modern Hamptons, Hamptons style clearly dominates, however it's restrained," says Zephyr and Stone's Ania Forster. Her and her sister Kasia Clarke are the design duo behind this gorgeous kitchen which is a great example of the aesthetic.
Today, she shares her top tips for creating a modern Hamptons kitchen:
Windows
While glazing is important in most homes, it's especially vital in creating a modern Hamptons look. "Large windows, plenty of natural light and an open plan layout with good flow, are all essential in a modern Hamptons kitchen and any kitchen for that matter," says Ania.
Cabinetry
Unsurprisingly, a panelled cabinetry profile is a must in a modern Hamptons kitchen as It truly reflects Hamptons style while connecting with any wainscoting, panelling or shiplap features in the home. "Shaker-style cabinetry is such a staple Hamptons design feature, and by paring back and opting for a slimline shaker profile, we were able to give this kitchen a more contemporary edge, with a nod to classic Hamptons," says Ania.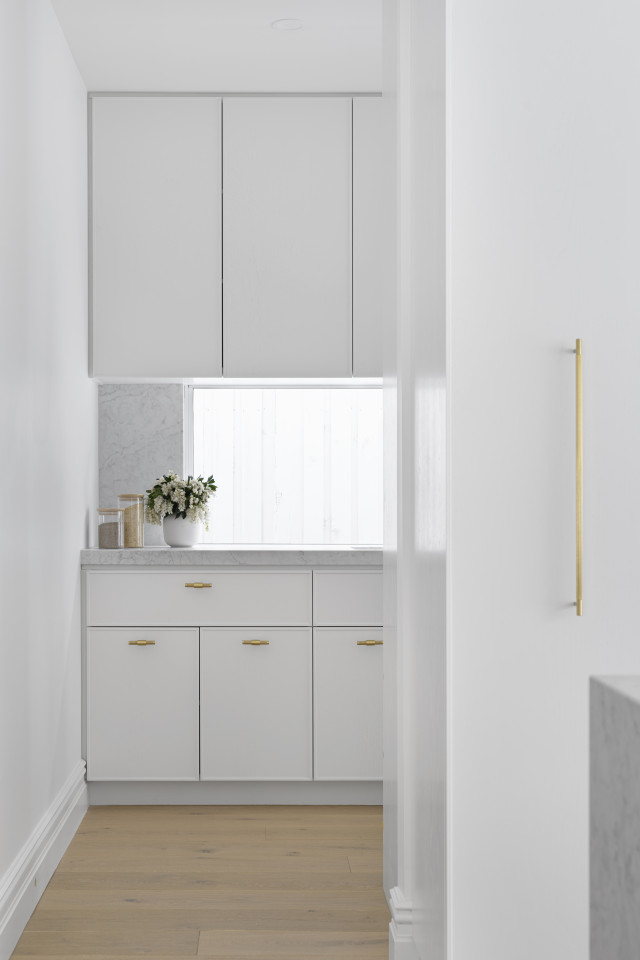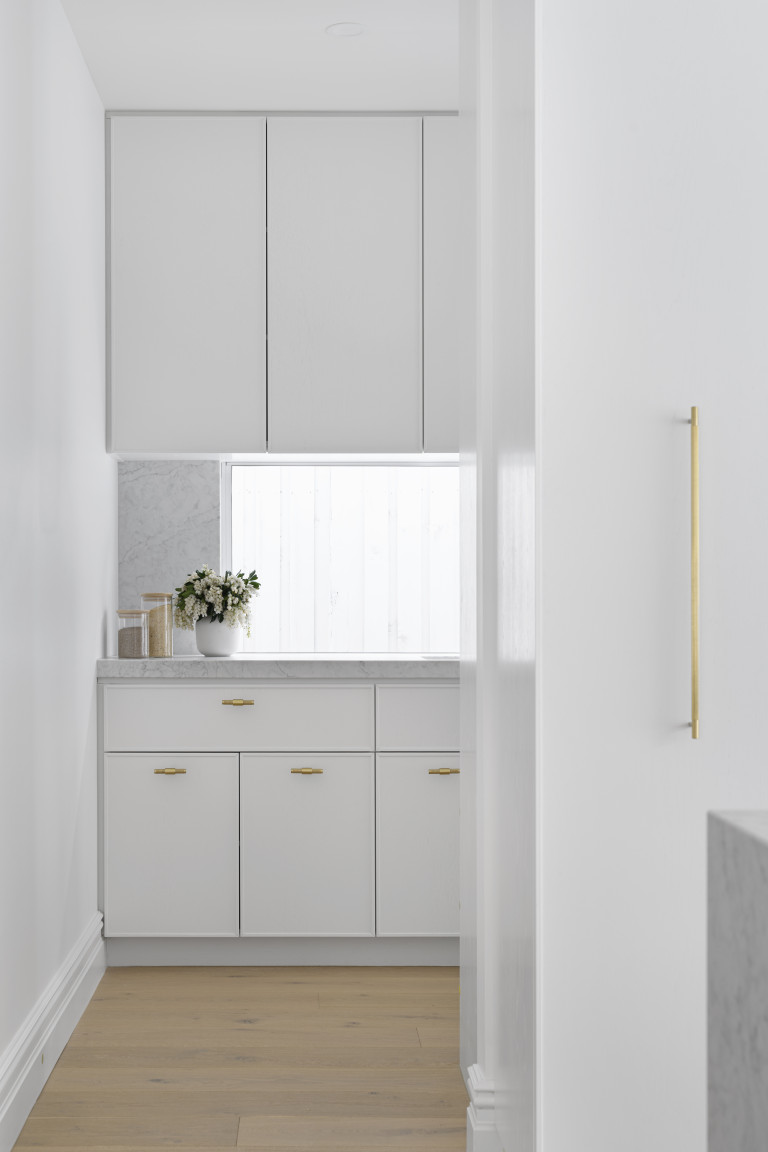 Light colour palette
"Whites and pale greys are classic Hamptons colours, and they're very contemporary too! To create a modern Hamptons kitchen, adopt this signature Hamptons colour palette and combine it with modern conveniences like engineered stone benchtops and other low maintenance finishes and surfaces," says Ania.
Statement hardware
Contrasting statement hardware is a common feature in Hamptons homes. It creates interest and balances the mostly light and pared back features. "We opted for Brushed Brass hardware, however black or chrome hardware are equally synonymous with Hamptons style," says Ania who suggests combining statement handles with minimal tapware and lighting that has contemporary and classic lines. "The metallic touch adds sophistication, and warmth," says Ania.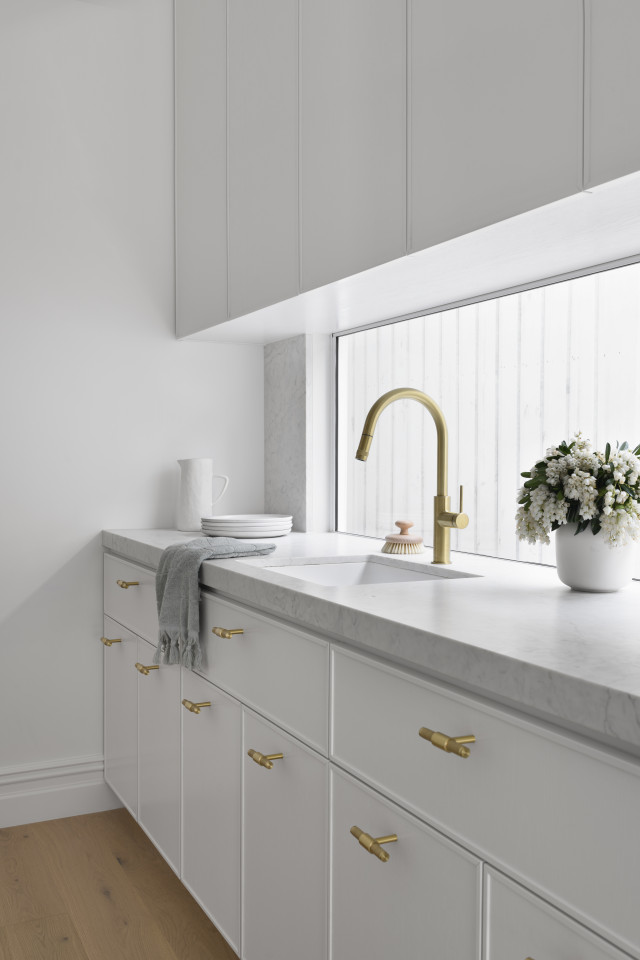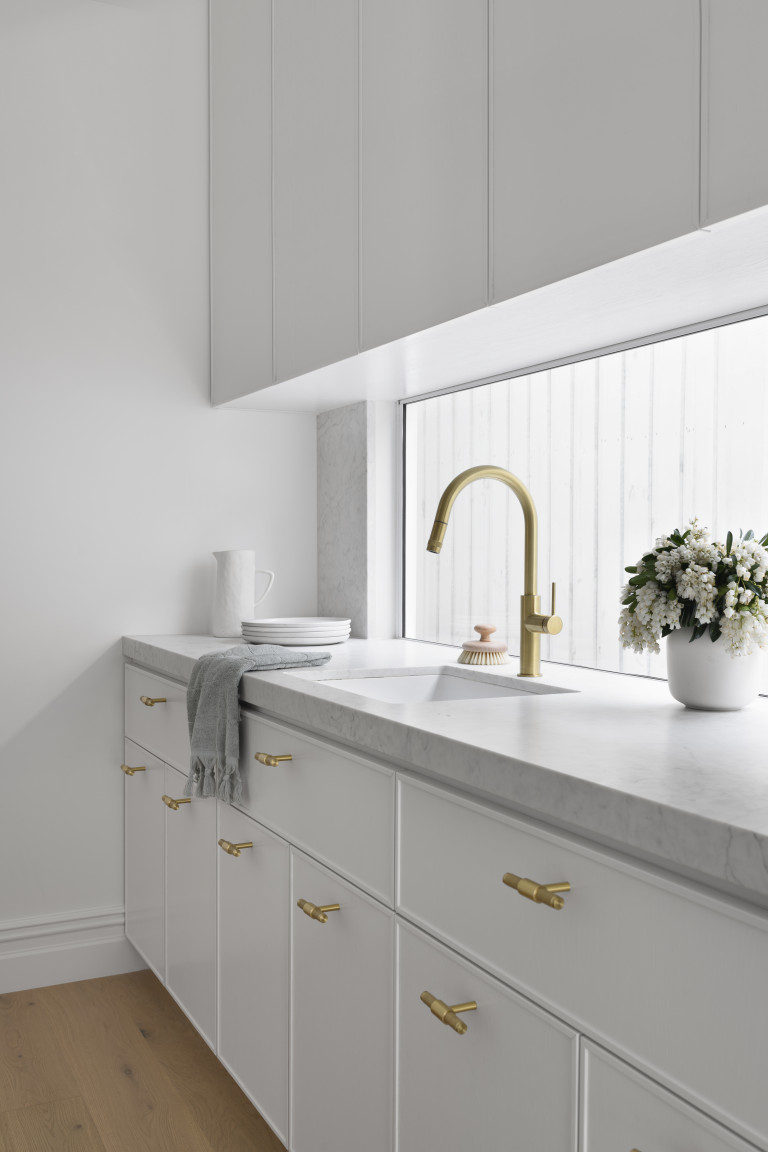 Appliances
Where possible, try to conceal your appliances (rangehood, fridge and dishwasher) behind cabinetry or hidden in a butler's pantry. "For the cooktop and oven – you can either integrate as we've done or opt for a traditional slide-in oven with gas cooktop," says Ania who also suggests hiding small appliances inside a scullery or custom-built appliance cupboard.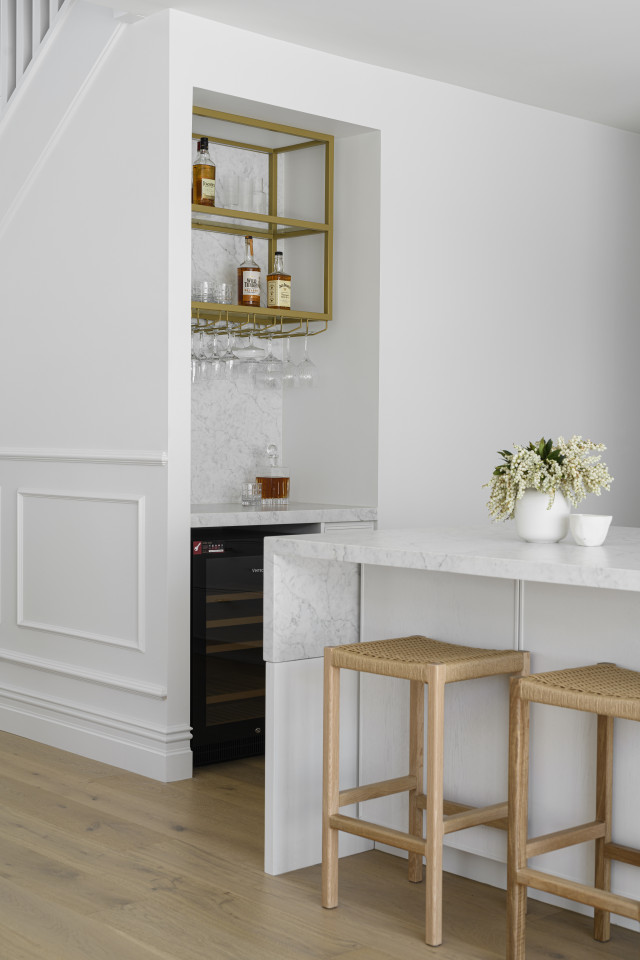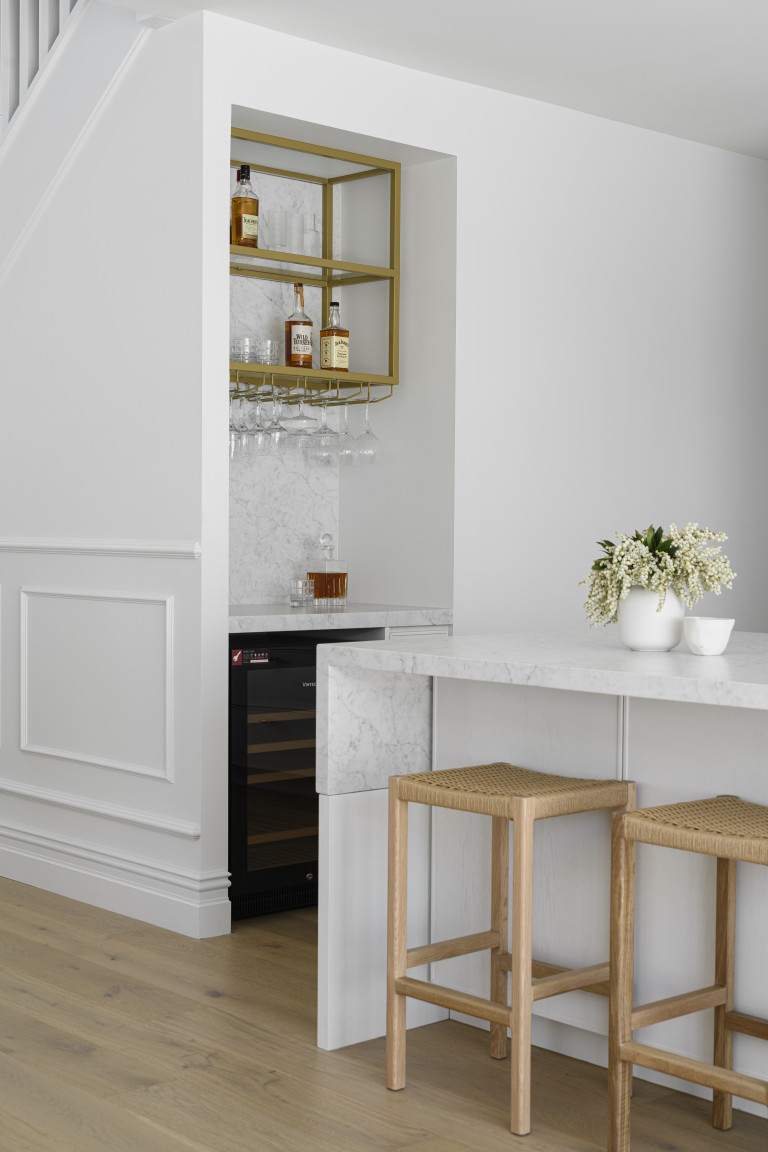 Create clean lines
A modern Hamptons kitchen should be fuss-free and include clever concealed storage and all the mod-cons. Ania suggests keeping overhead cabinetry pared back by opting for finger-pull openings rather than handles, to emphasise clean lines. "Also, opting for square set plastering rather than cornices in the kitchen and throughout the home, creates cleans lines and allows you to take cabinetry straight up to the ceiling in every room," says Ania.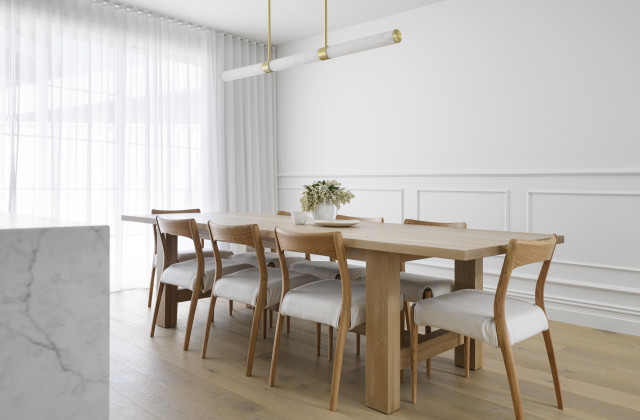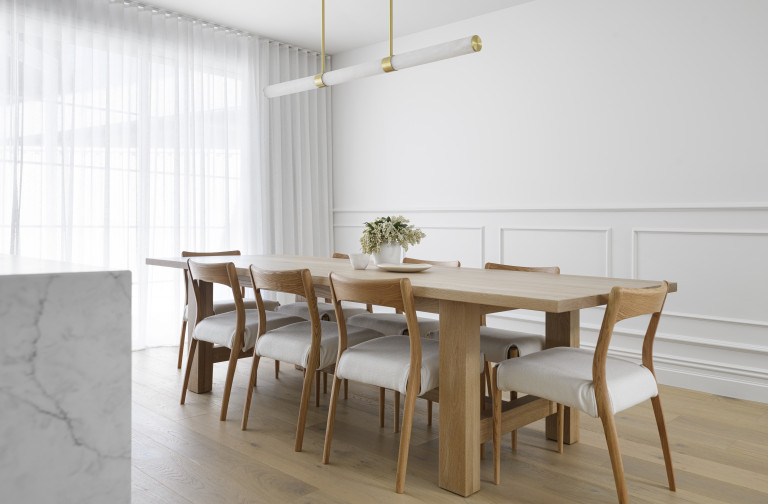 Furniture and homewares
Modern furniture, homewares and art are key to creating a modern Hamptons look; bold colour and pattern and statement accessories can really elevate the look. "But don't overdo furniture and accessories – opt for quality larger pieces that serve a purpose. Embrace art, and accessories with geometric or art-like patterns and choose traditional furniture finishes like timber and rattan. Then pair them with contemporary upholstered chairs," says Ania who suggests adding sheer curtains for softness in the kitchen where possible to ensure the space feels light, open and airy.
For more on Intrim | For more on Zephyr and Stone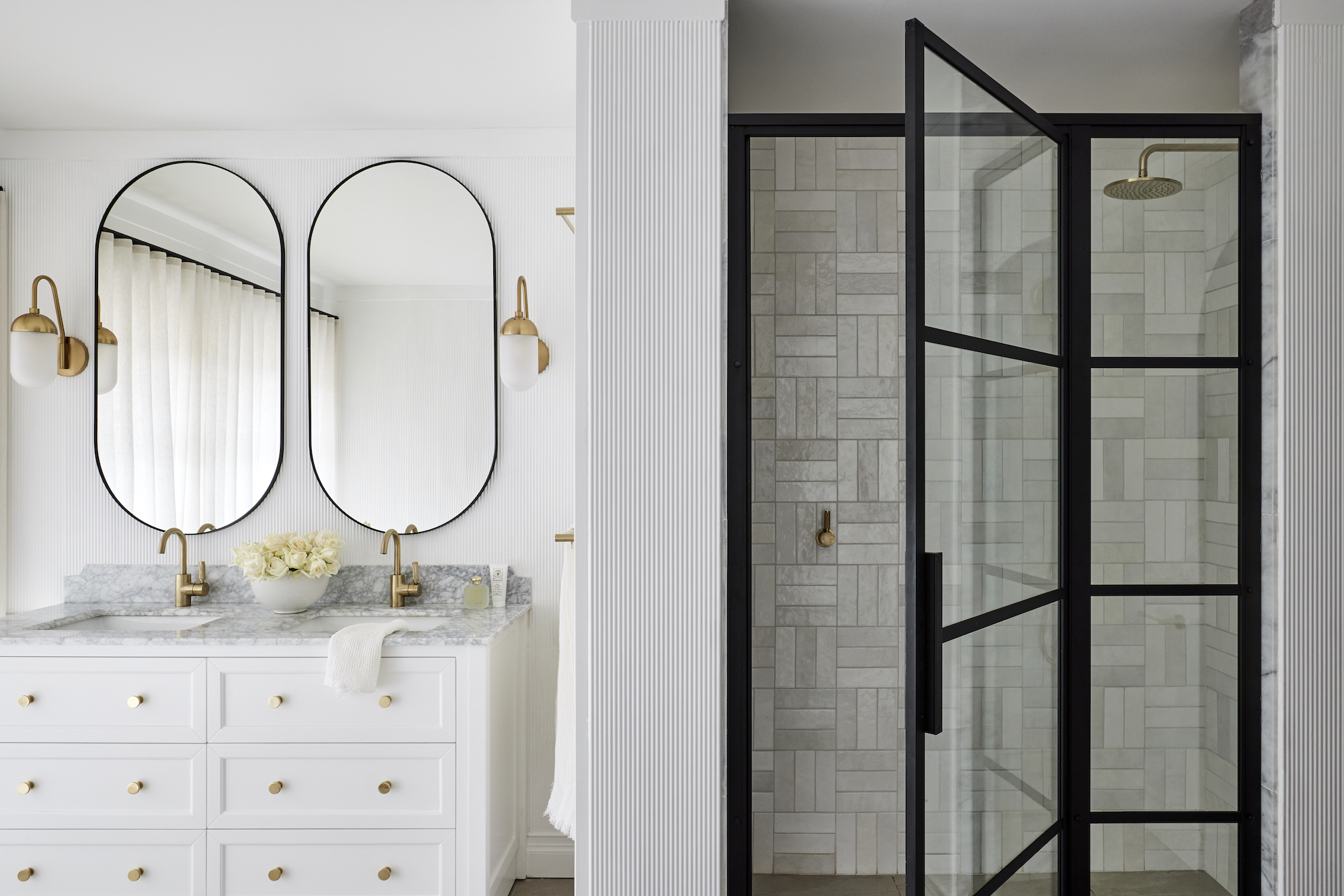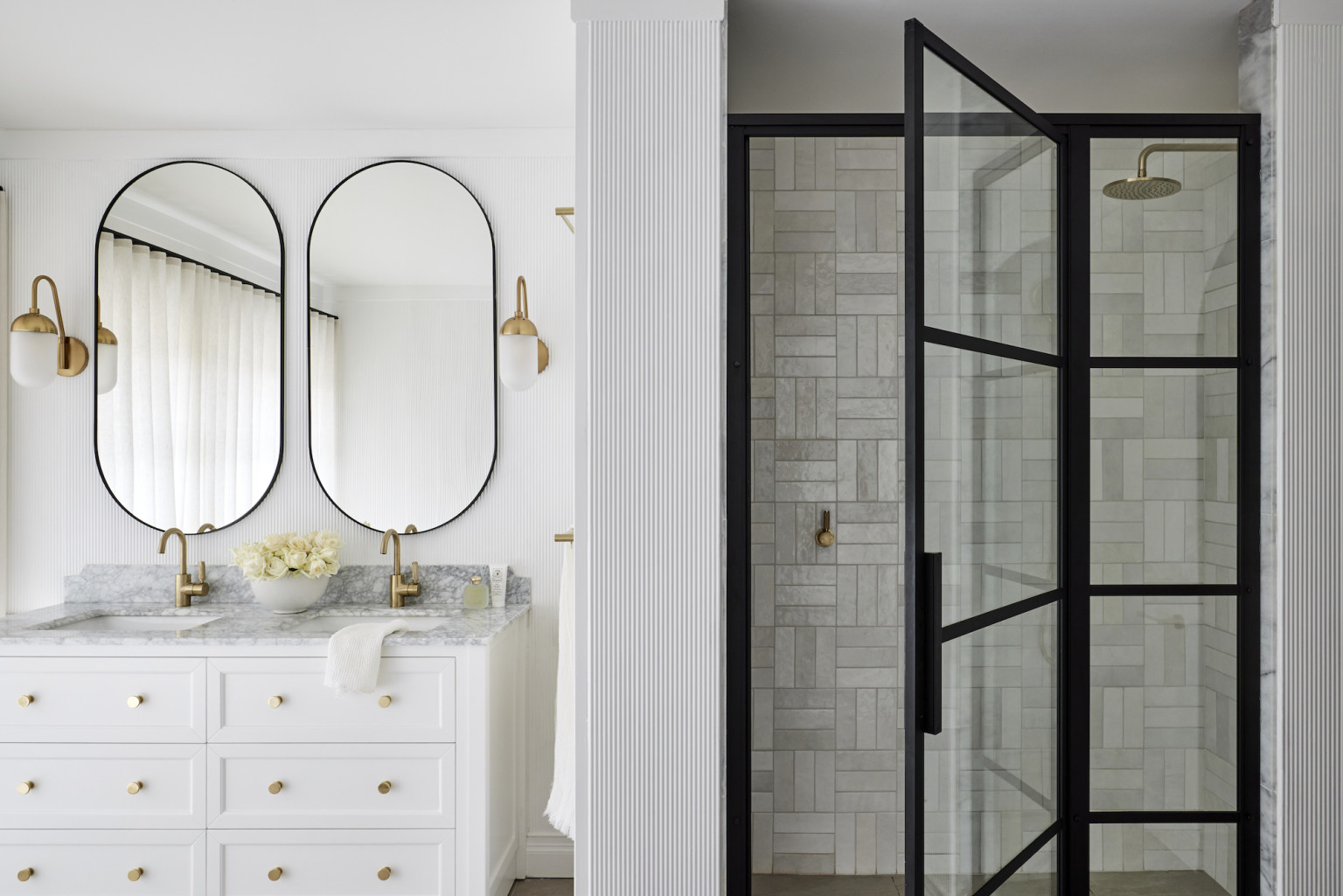 Timber moulding trends 2023: Coastal, modern farmhouse & Hamptons
Sponsored by: Intrim The latest Intrim style series sees us look at three very different homes and the way in…