Expert renovators and hugely popular former Blockheads Kyal and Kara Demmrich have wrapped up their latest project – a three-bedroom family home and studio just metres from Blue Lagoon beach on the NSW Central Coast. Drawing inspiration from a frangipani tree in the front yard of a small fibro cottage, the couple were able to realise their vision for the home – the ultimate beach house for their growing family where Australian coastal meets Mediterranean villa.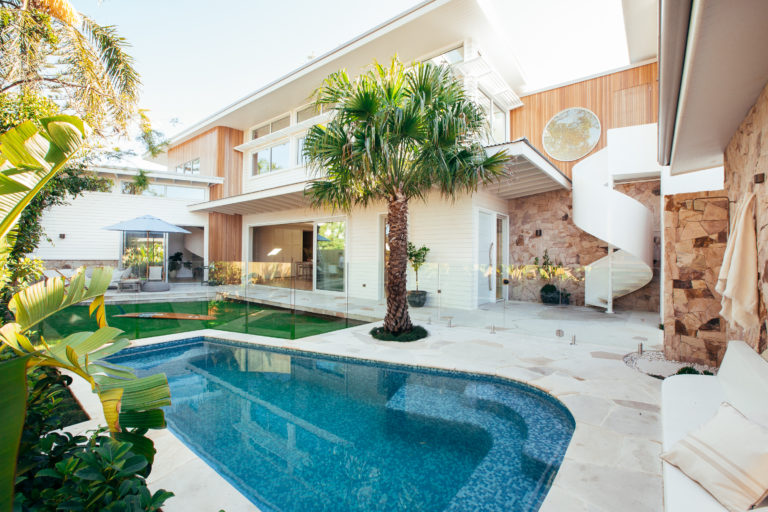 Purchasing the house a few years back, the 'fibro shack' was demolished and their first ever new build started. With a goal to design a family home that was built to last, the importance of high quality and carefully selected materials was imperative.
Their hard work has resulted in the jaw-dropping transformation from a beach shack to a dream surf house with touches of Mediterranean style in both the architecture and interiors, where a focus on soft round curves offers a sense of relaxed drama and personality.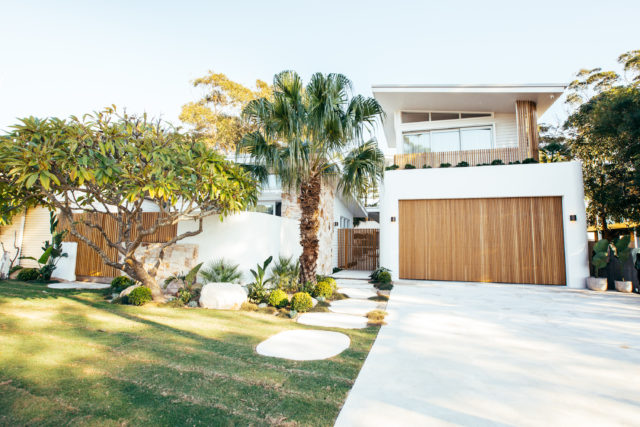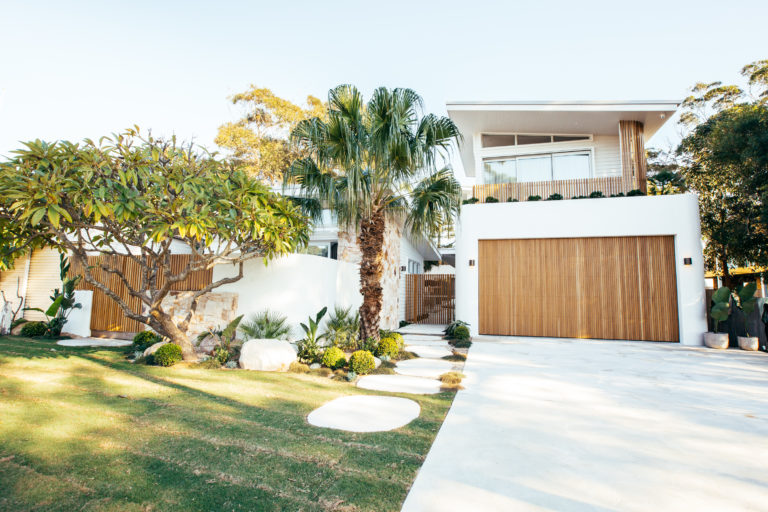 "In keeping with our Australian coastal meets Mediterranean villa vision, we've incorporated subtle curves throughout this build, beginning with the garage at the very front of the property, which is rendered to a rough Mediterranean-look render," says Kara. "The curved features continue inside with arched doorways, rounded walls and a showstopper curved staircase taking centre stage of the living room."
The front façade offers a stunning first impression with blackbutt timber decking, blending beautifully with hand-laid sandstone walls. The interior boasts soaring 3.6-metre raked ceilings, a neutral colour palette and an abundance of natural light.
An open plan kitchen, living and dining area is the true heart of the home, perfect for a family that enjoys entertaining.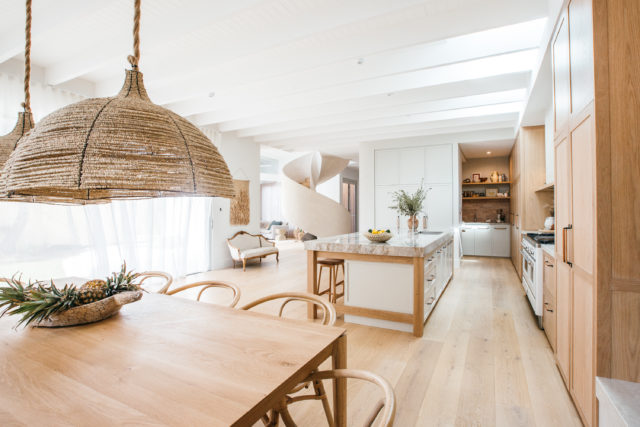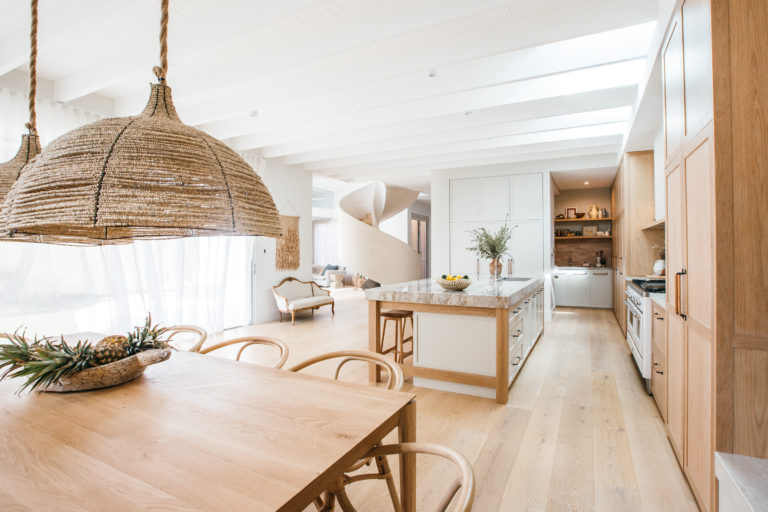 To ensure the home not only looks great, but feels comfortable and can stand up to the knocks of everyday living, Kyal and Kara needed a solution that was impact resistant and sound insulating. "We've used Gyprock Superchek in the high traffic areas as we wanted to ensure it will withstand the impact of life with our energetic, boisterous kids who are at times literally bouncing off the walls! As its three times tougher, Superchek has enhanced resistance to dents, scuffs and scrapes, as well as improved noise resistance – perfect for our crazy two and their friends," says Kara.
The rumpus room has curved helical stairs made smooth with Gyprock plaster compounds, that can be seen from the kitchen into the hallway and rumpus beyond, providing a link to the other curves in the home.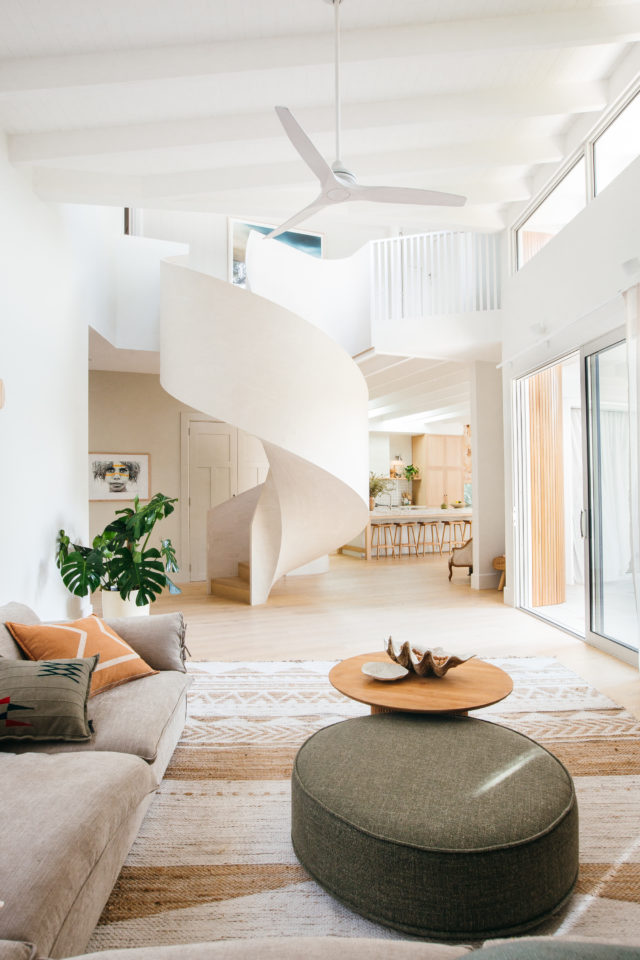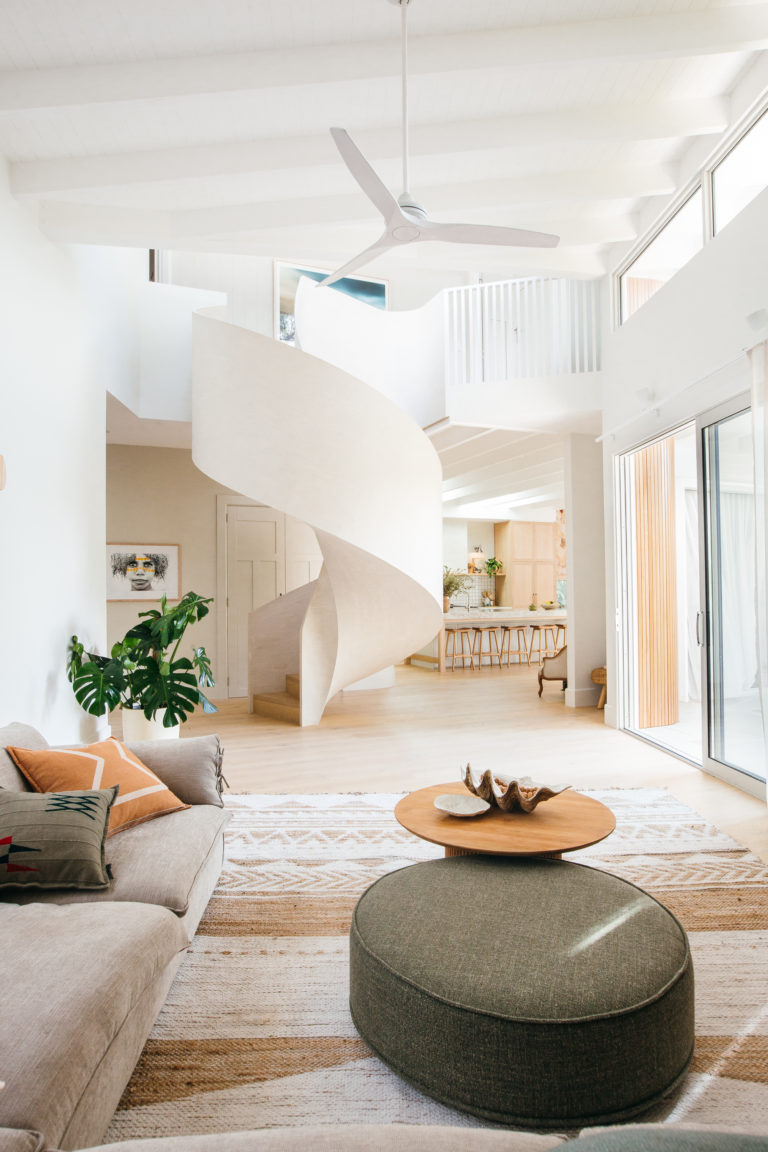 One of the couple's favourite rooms is the master bedroom and a few key features make it special. "Throughout the home, we've used curves as a design element," says Kyal, "and we wanted to do the same and add that architectural feature in the master bedroom." The curved wall that leads from the entrance of the bedroom around to the walk-in robe is a stand out feature and really softens the look of the space, and feels luxurious.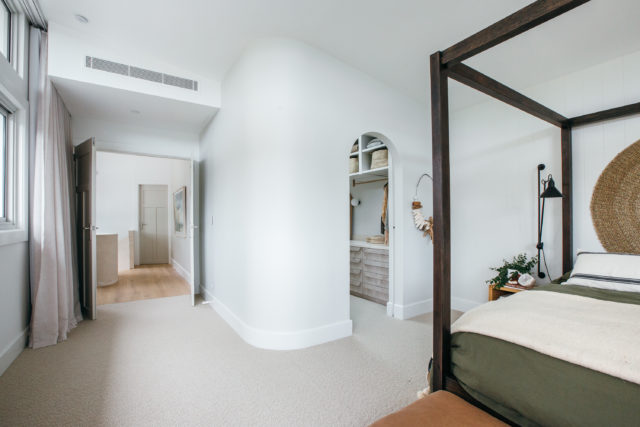 "Gyprock Flexible was the perfect plasterboard to see our vision come to life. Versatile and easy to install, the thinner-than-usual boards can be layered on top of one another to create unique shapes whilst maintaining strength," adds Kyal. "We also selected key doorways around the home to create arch entryway features," said Kara. Having the two arched doorways into the bathroom gives a sense of design continuity throughout the bedroom and ensuite and really frames the beautiful finishes.
The ensuite is a great example of using varying textures with similar colour tones to create a room that's interesting and packs a punch, with round mirrors and tactile accessories.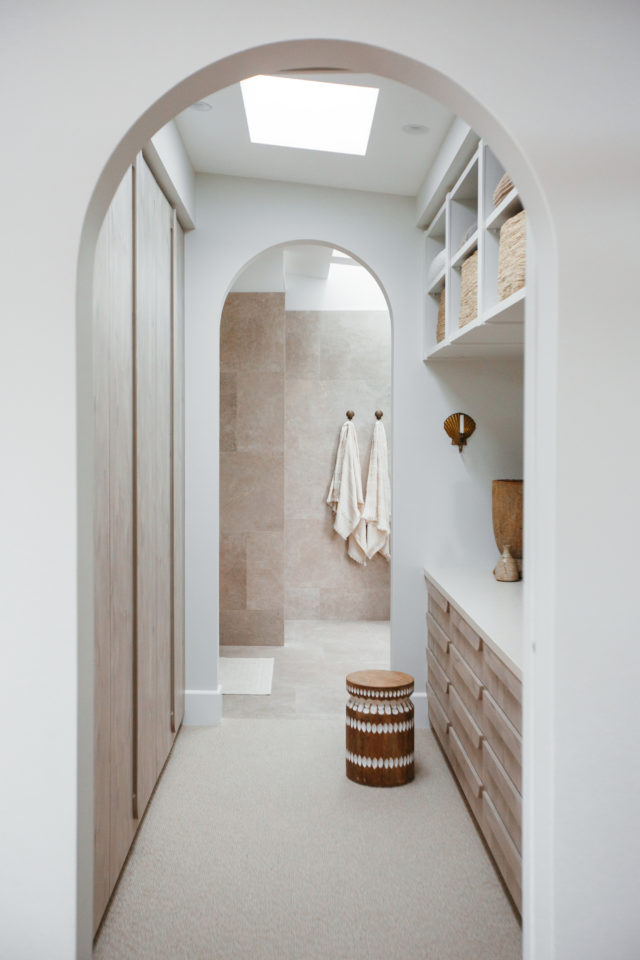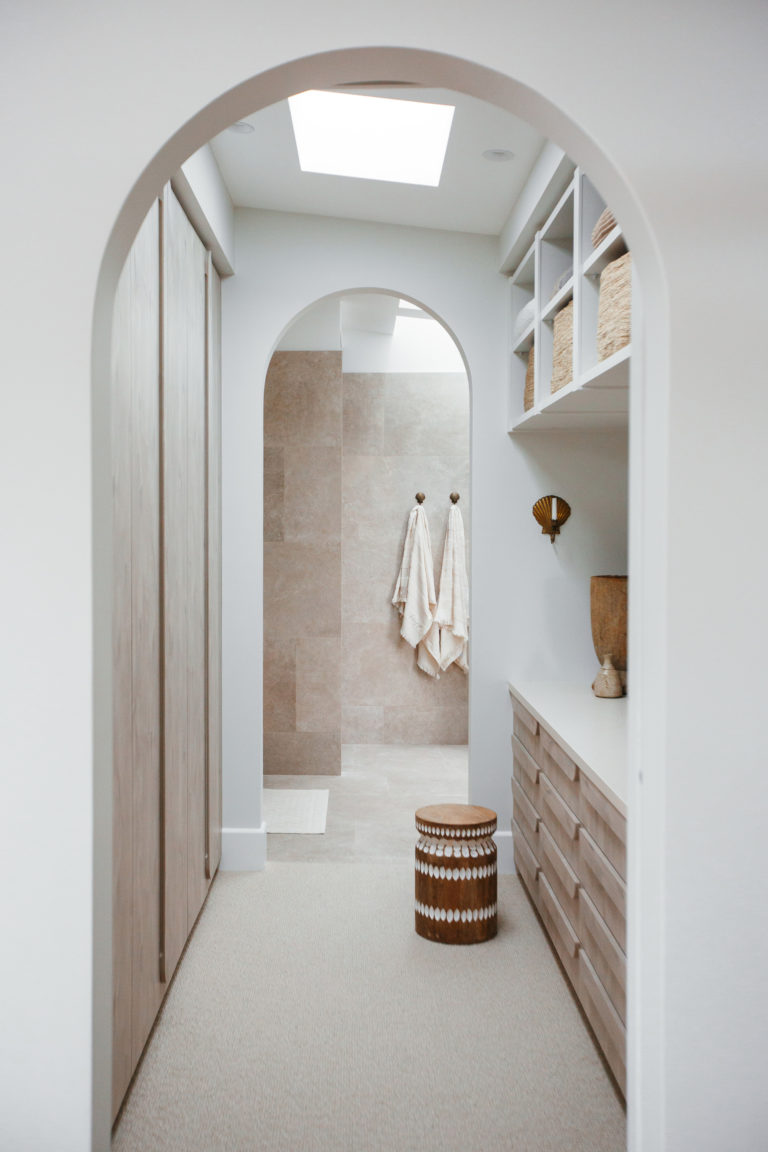 The guest studio offers accommodation for visitors and a retreat to escape to. It also acts as a way to create a 'villa' style yard for the main house, creating plenty of privacy from the front. With bespoke features, custom fitout and dreamy styling, the studio is one to inspire.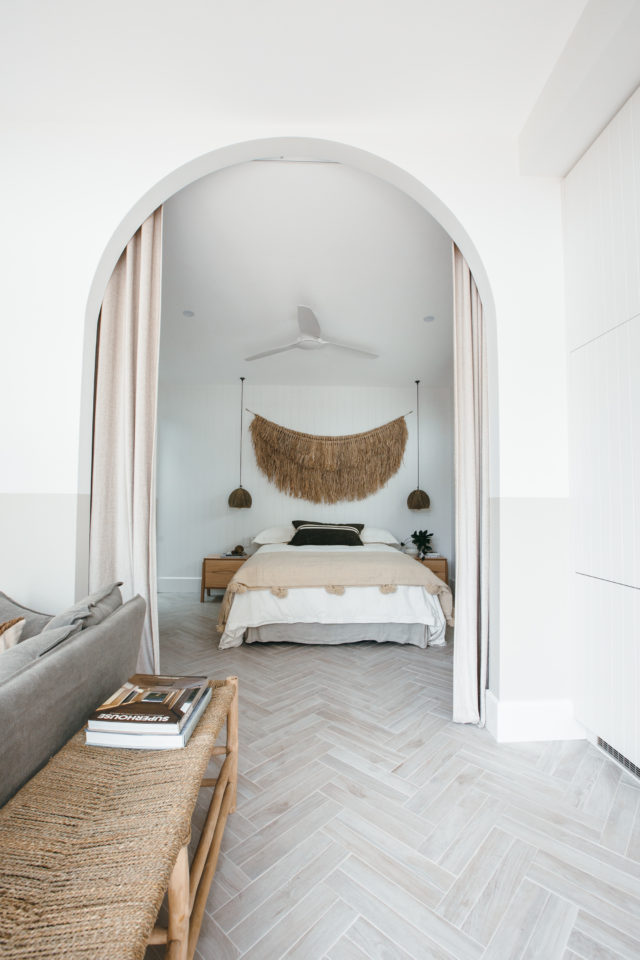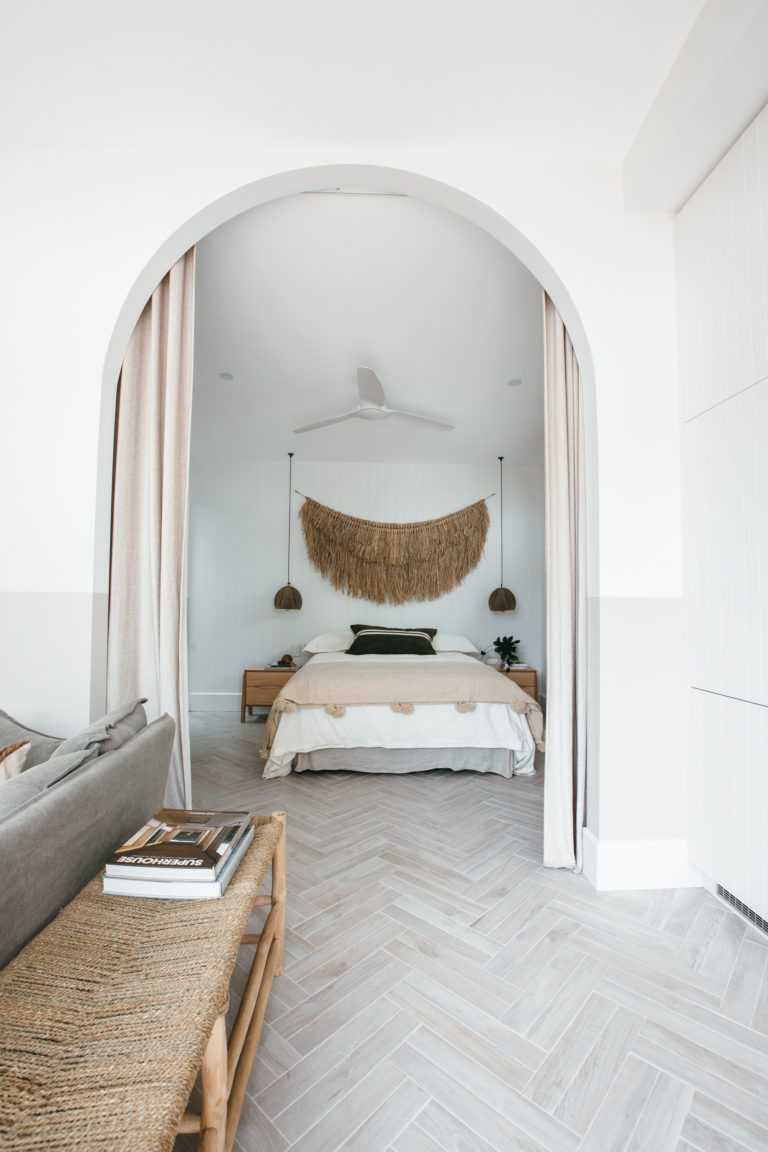 "We wanted to create a sleeping zone without completely closing off the bedroom with a wall. The arch doorway was something we created on the fly using Gyprock Flexitone, and is now one of my favourite features in the studio as it frames the bedroom perfectly. We obviously needed to be able to block the light to this room for those who like to sleep in, so we factored in floor-to-ceiling curtains which provide drama and a sense of luxury," say Kara.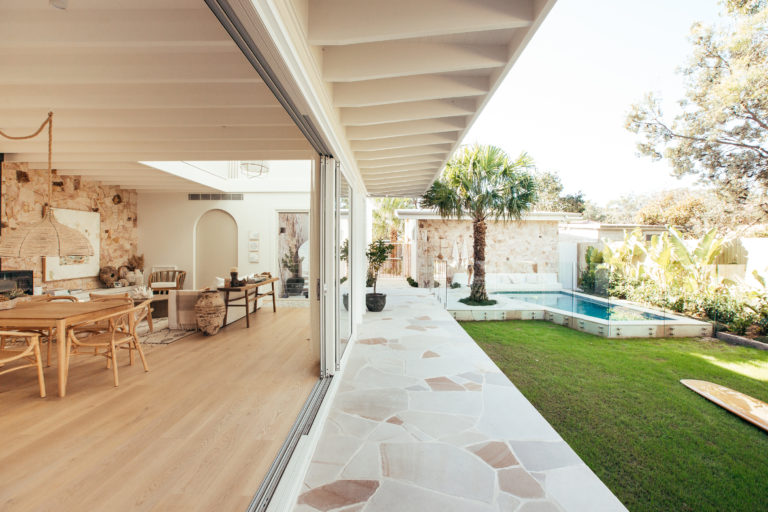 The house has an abundance of natural light with large and highlight windows throughout, and mostly raked ceilings offering a stylish yet unobtrusive, well thought out design element. "All this natural light is going to show up any flaws so we've used Gyprock Superceil. This product sets the standard for plasterboard on ceilings as it's made with fibreglass to increase strength, prevent sag and reduce glaring light issues, creating a flatter ceiling. We've used it throughout the house," says Kyal.
The crowning glory of the home is the outdoor entertaining space, featuring a gorgeous mosaic tiled pool, lush greenery and a stunning stone wall. With the beach just a stone's throw away, Kyal and Kara have created an idyllic seaside escape in their own backyard.
For more information on Gyprock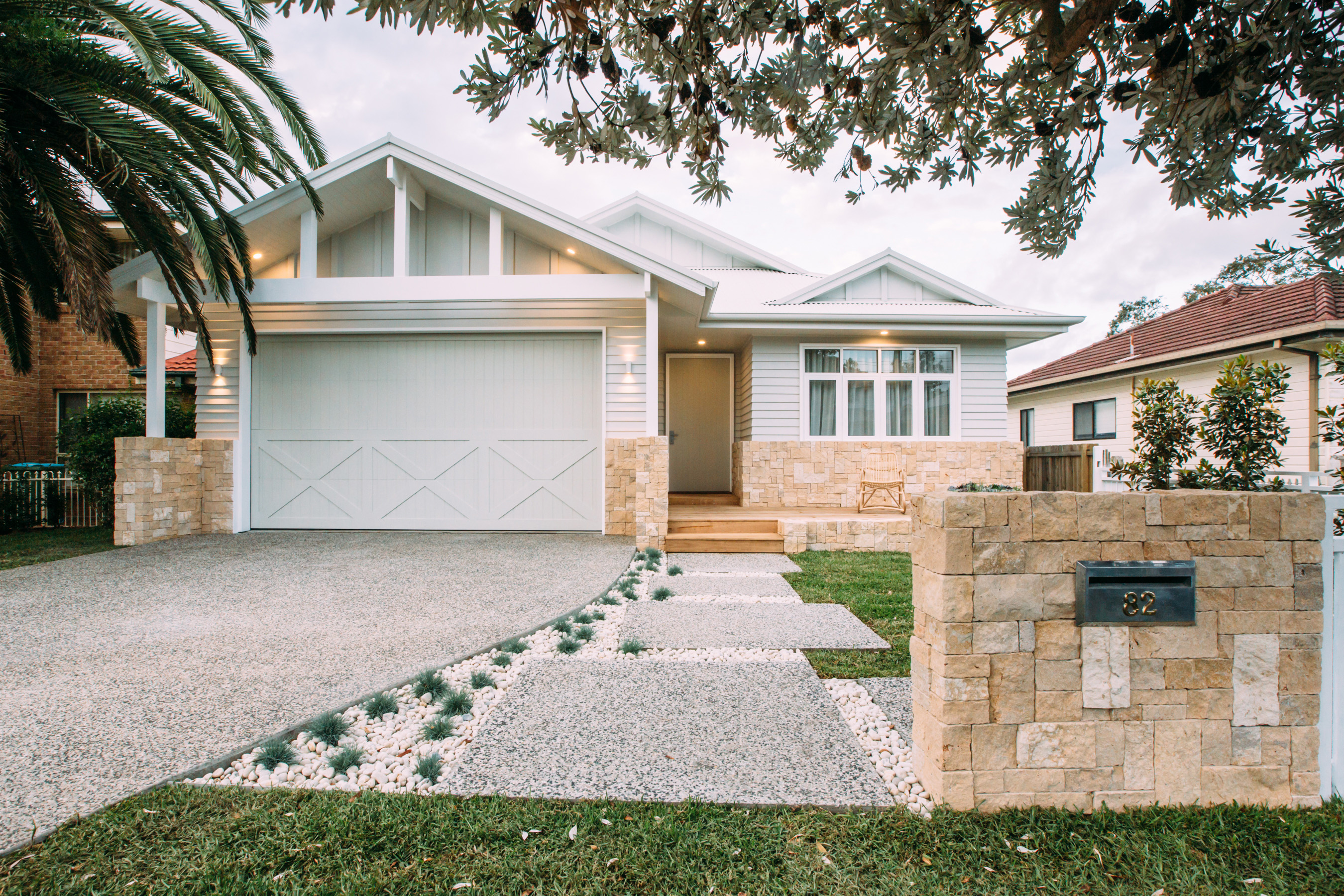 Real reno: Blockheads Kyal & Kara's beachside sanctuary
Located on the NSW central coast, it's hard to believe that this four-bedroom, three-bathroom coastal dream of a home was once a simple fibro cottage.  "Our goal was to create…