I don't think we were the only ones who fell for The Block's first brother and sister duo Ebony and Luke with their down to earth attitude, sense of fun and that brave pink wall choice. So it was a shame to see them eliminated last week after a bathroom nightmare. But Ebony Haythornthwaite, who happens to be an Interiors Addict fan, says she doesn't regret a thing.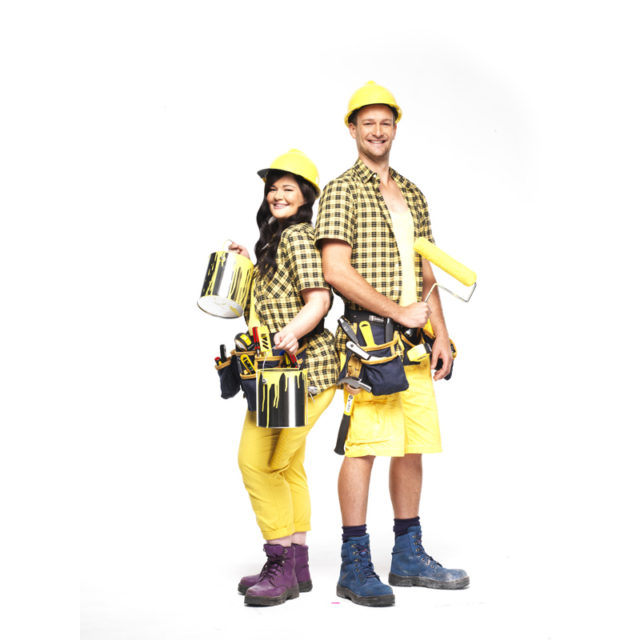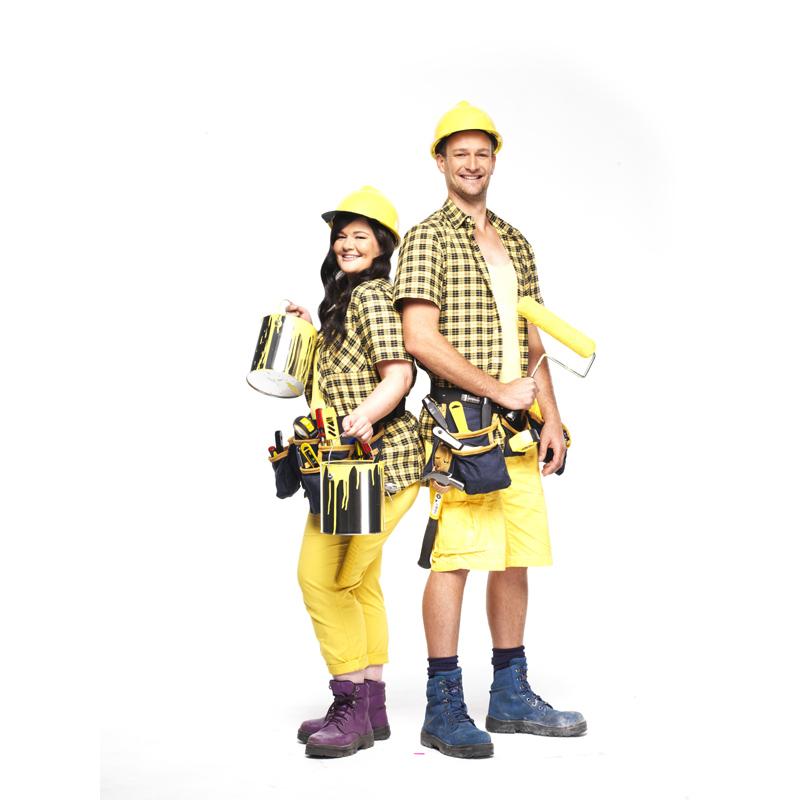 Like thousands of others, Ebony and big brother Luke had always watched The Block and wondered if they could do it. This was before Luke was a qualified carpenter and long before Ebony had made a decision to study interior design. "Two years ago, after continuous encouragement from friends and family, we applied," says Ebony. "We got to the interview process, but sadly, we missed out. So we tried again in 2014 and we were successful!"
Although the bathroom, for which they got eliminated, was a bit of a disaster from start to finish, Ebony says she doesn't regret going on the show. "You brush that off because it's about the experience, not just the result. And the experience was phenomenal. I don't think anyone can fully understand unless they've been in the same situation. The Block is obviously physically exhausting; however it is more of a mental challenge than anything else. Getting your head around the constant cameras, the lack of food and sleep, plus the pressure of room reveals and looming deadlines; it is all pretty intense. I wish that the audience got to see all of the laughs and jokes which went on with the teams. We honestly all got on so well."
The pair's second room, the living/dining, was well received by the judges and viewers, despite the somewhat controversial peachy-pink wall colour choice. "I am so proud of what Luke and I achieved," Ebony says. "We knew that everyone would either love it or hate it, but we took the risk. Plus, it gave us a chance for the judges to see our style."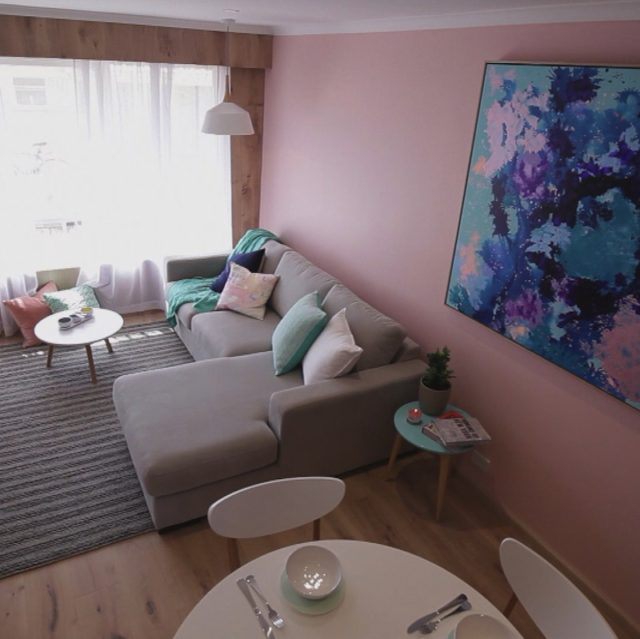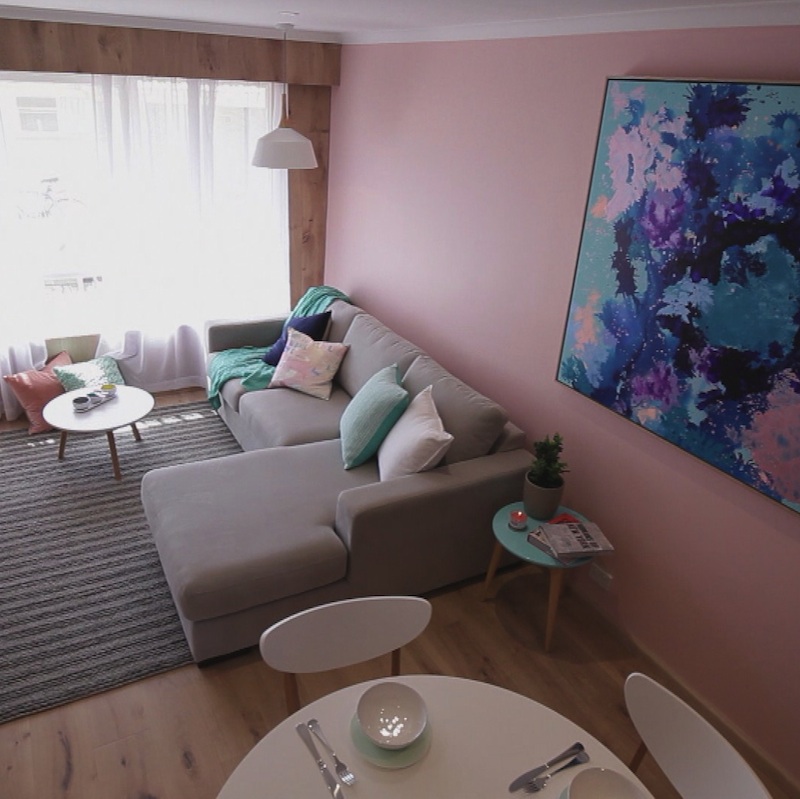 Their bathroom however: not so good! "Unfortunately there are times when nothing goes according to plan; this was one of those times! Luke and I struggled to nail down our trades at the beginning, then we had difficulties with our products being delivered and we had to change pivotal fittings due to restrictions that we weren't aware of. But more importantly, in the wee hours of the morning of reveal, we realised that we had been supplied with incorrect products. But the only way to deal with it was to see what we could purchase quickly and try to at least finish. This meant buying a cheap vanity unit from Mitre 10. Let's just say it didn't quite go with the large tap I had purchased for the original vanity."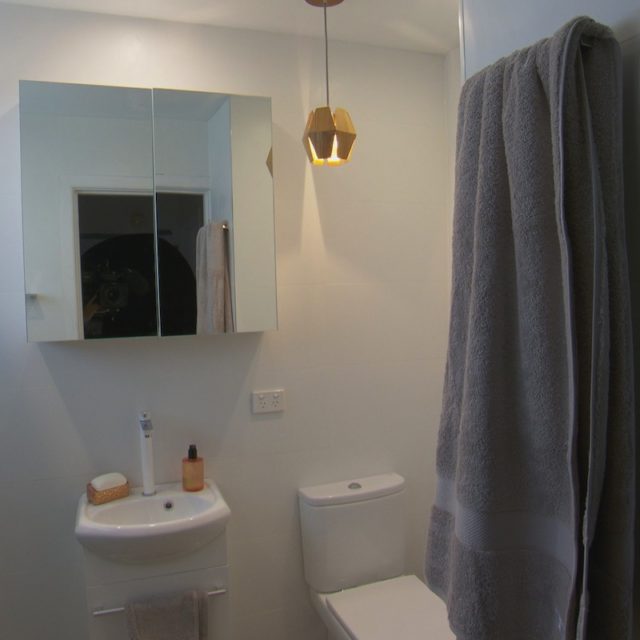 [contextly_sidebar id="Ec8teCdm0f0gKWvt511mu96erKGKmTMP"]Ebony describes the other contestants as hilarious and genuine which bodes well for the rest of the series. They certainly don't seen a particularly bitchy crowd but who knows what will happen this week when more people are thrown into the mix! "They enjoy a laugh and more importantly, all have the ability to laugh at themselves," Ebony said. "I thoroughly enjoyed meeting them." The only judge she got to meet was Neale Whitaker, and not under ideal circumstances. "It was prior to the living and dining room judging. I was taking the only two minutes spare you get on The Block and brushing my teeth. Unfortunately, it was behind a sofa in the parking lot. Neale saw me and thought it was hilarious. I was mortified! Neale Whitaker had just seen me brushing my teeth behind a dirty old sofa!"
Yet if the opportunity came up, Ebony would be involved in The Block again. "Now I know a little more about the mental strength it takes to deal with the pressure, but it would still definitely be challenging." As fleeting as their 15 minutes of fame was, Ebony is pleased it highlighted hers and Luke's skills in a positive light. He's gone back to his job as a carpenter for Landscapes WA in Perth and since being on the show, she's moved from her hometown of Busselton to the WA capital and started working for herself (you can find her business on Facebook).
"I am really proud that we were the first brother/sister duo to be on The Block. I think it brought a totally different dynamic to the show. Experiencing this with Luke was really great. He's my big brother who I've always looked up to since we were little. I guess I knew that if I went on the show with him, I'd be pushing myself every day. My biggest fear would be letting Luke down."
Naw, bless! We wish Luke and Ebony every future success.