Bathrooms can be one of the most fun but also one of the most challenging rooms to build or renovate, due to the staging and co-ordinating of various trades, fitments and plumbing requirements. It all starts with a clear vision, brief and design, which will direct the project and team. When designing your dream bathroom, you need to understand the requirements of those using the space. One of the key elements to think about here is access for people who might have mobility issues later on in life.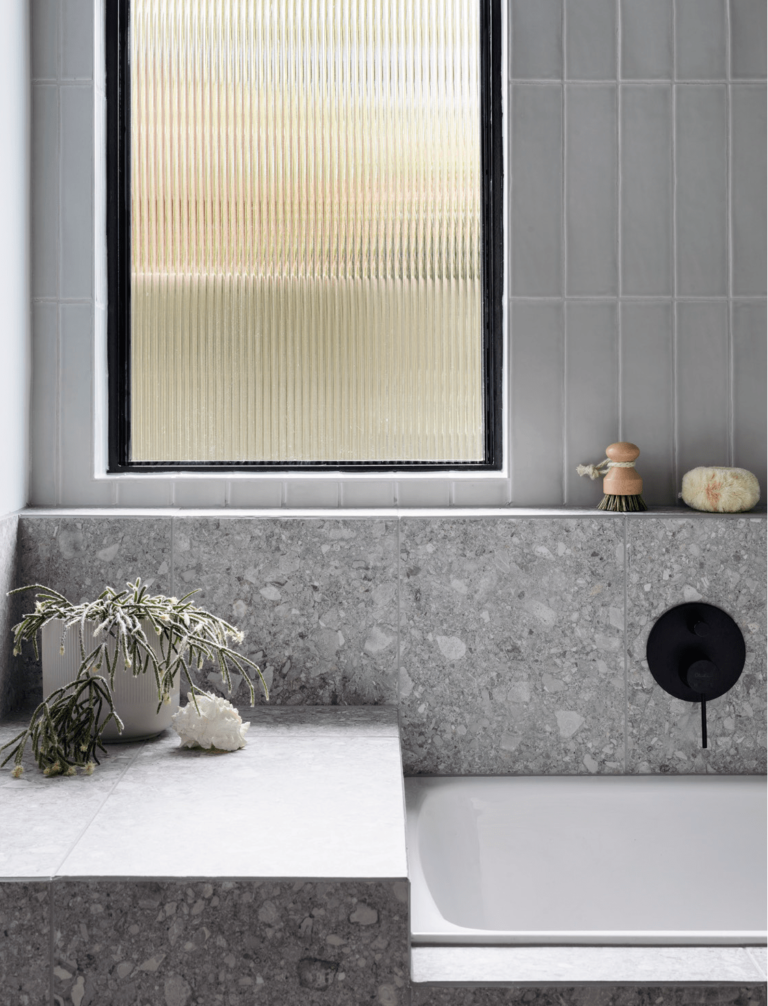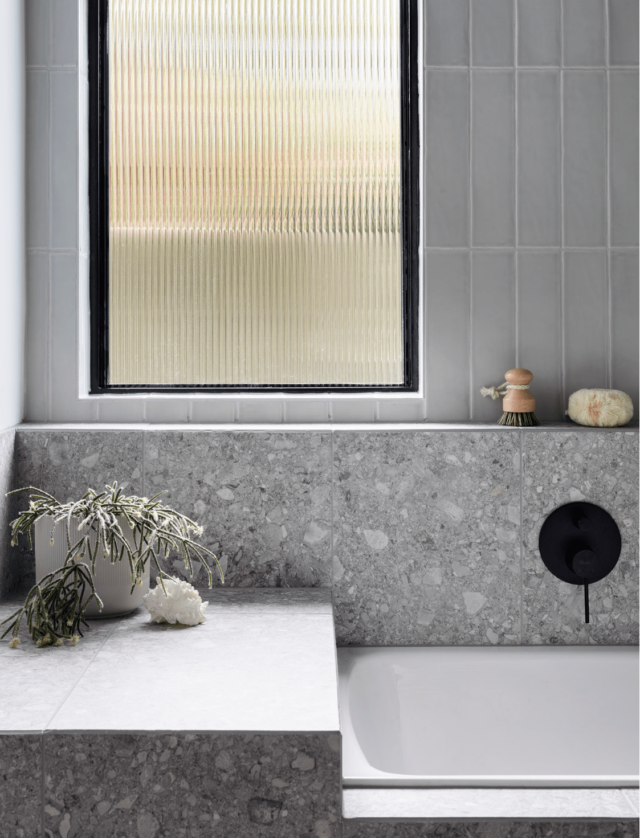 Essentially, all bathrooms are about combining the following items: the vanity sink and mirror, shower, bath and toilet. Yet there are so many scenarios of how this can be achieved, it can seem like an epic task! If you are renovating, then begin by identifying where the plumbing is currently and what it is about the layout you would like to change. Moving plumbing isn't necessarily hard if you have a lot of underfloor clearance; however, if you are on a slab or in an apartment, then it may be prohibitive. If this is you, then try sketching up what you would like to achieve, and then have a fallback plan which keeps all the plumbing positions in the same location.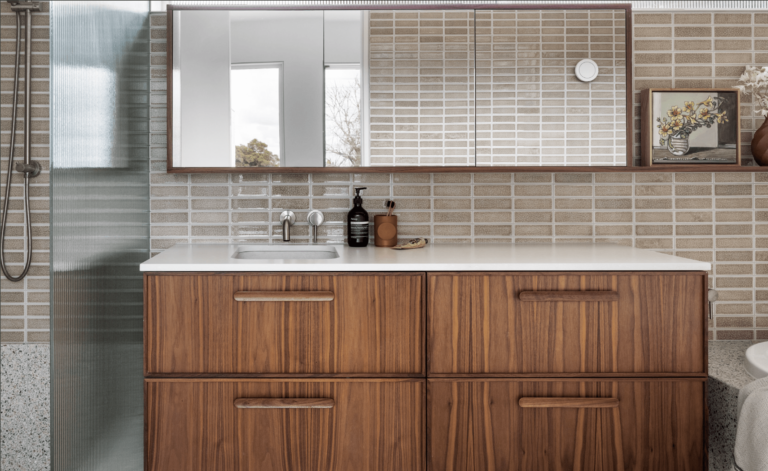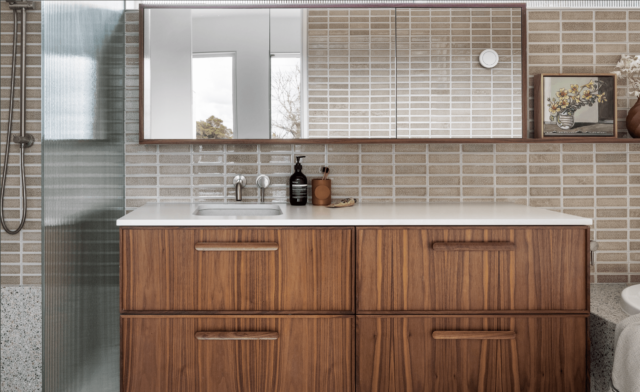 The trades required to install or renovate a bathroom can include carpenters, plasterers, painters, joiners, electricians, plumbers, tilers, caulkers and glaziers. Many of these trades need to come back several times throughout the process. For example, the plumber will need to rough in (put the pipes in the wall) before the plastering and then return at the end of the process to fit the fixtures. Organising the co-ordination of these trades, and having the correct materials on site when required, is critical to keeping costs down. It can be expensive and frustrating to get people back many times to do a job that is not ready, so make sure you understand the process before you start, to facilitate a speedy renovation or build!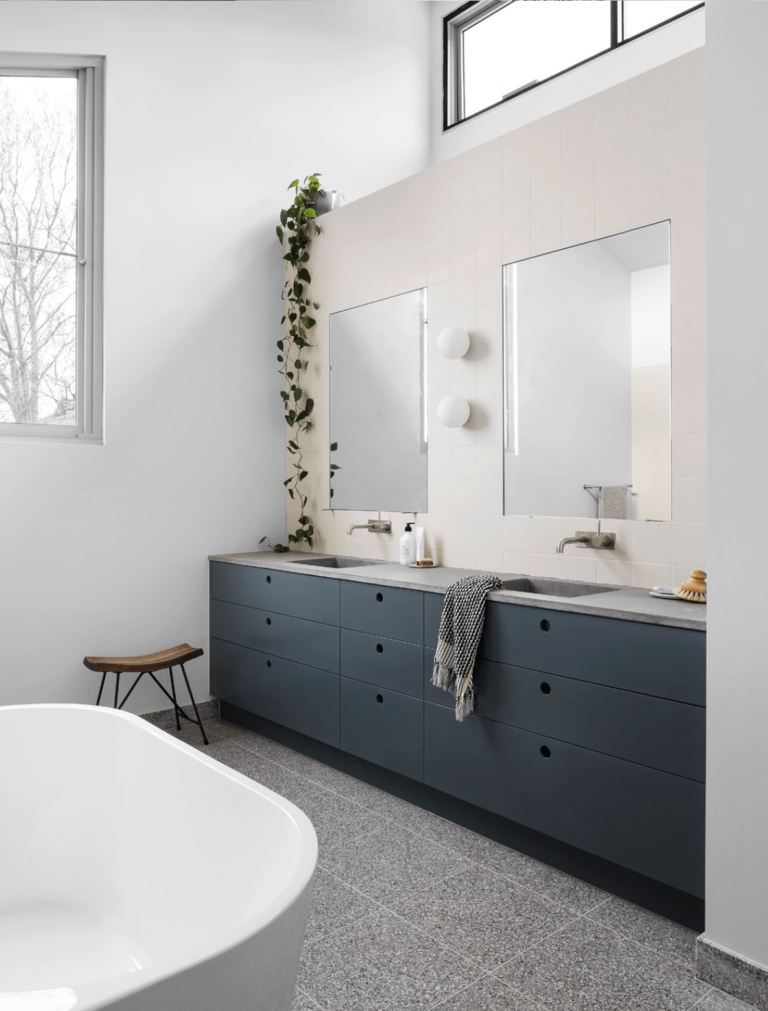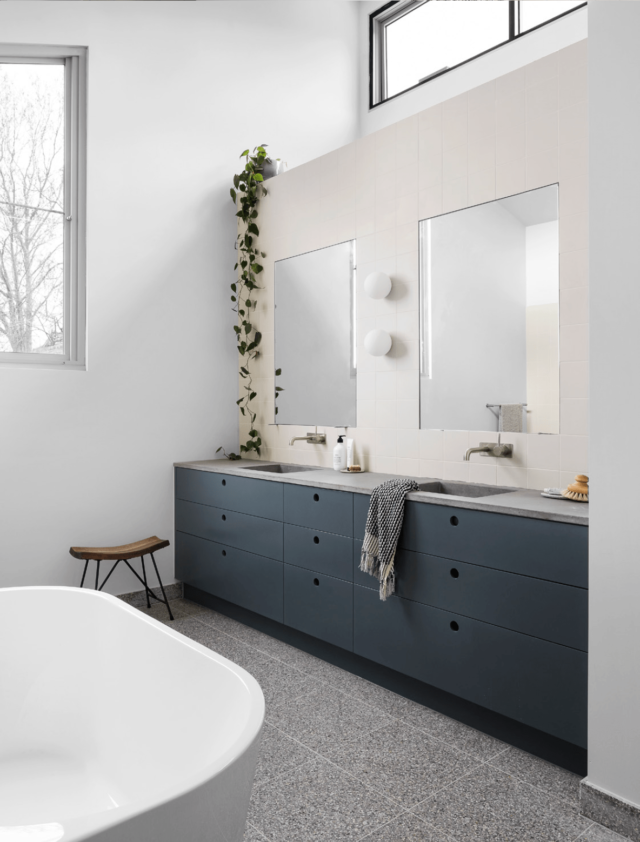 You might have heard that bathrooms are one of the most expensive areas of the house and this is purely because you need multiple water-resistant materials and qualified trades to install them. Each trade will complete small sections of the renovation over a series of days, and every return trip adds to the overall cost, especially if your schedule is delayed by trades letting you down or materials arriving late. If you are hiring individual trades yourself, make sure you lock them in ahead of time. Conversely, if you are using a builder make sure you understand their timeframes ahead of proceeding with the job.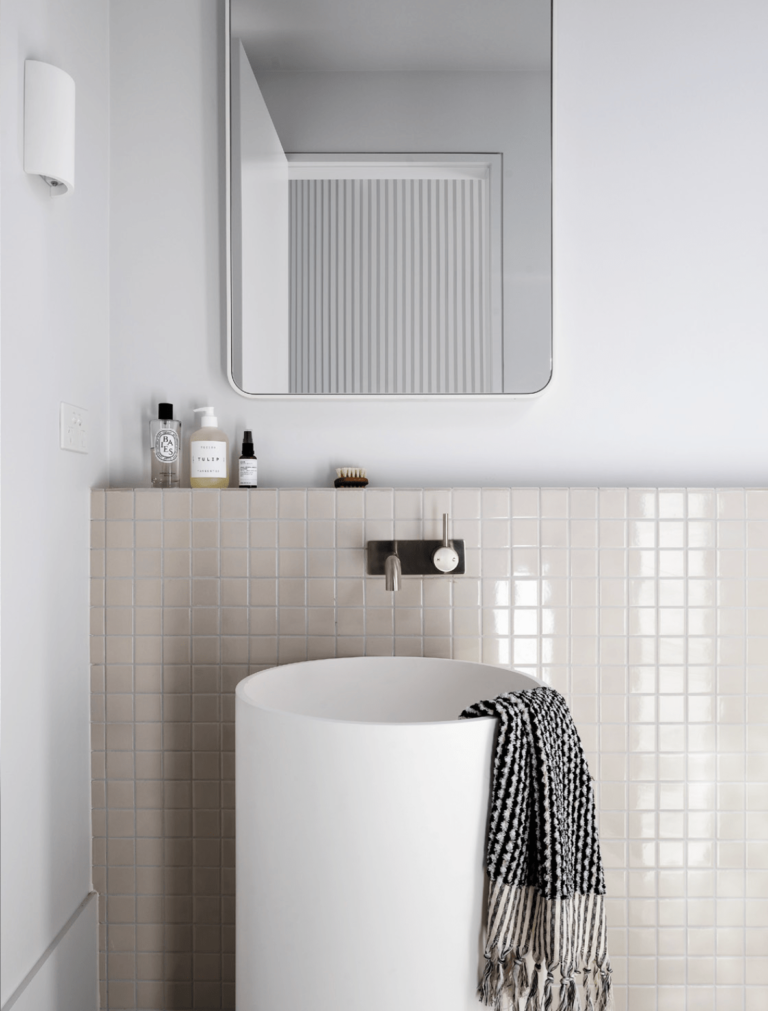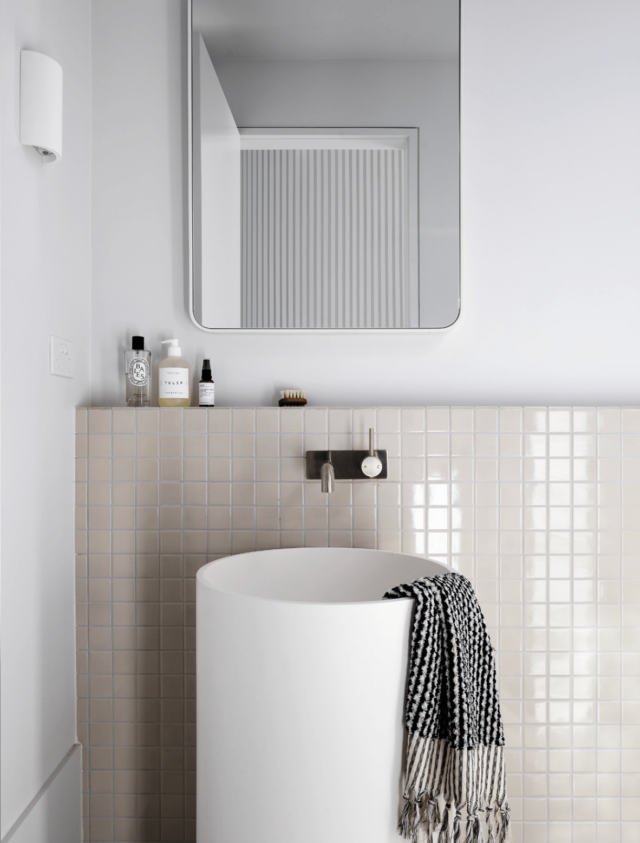 A sample bathroom build might follow the following process:
· Demolition or stripping out the space
· Repairing any structural work or water damage to the timber – this can also include dropping the floor joists to allow for level tiles, or raised floors for inbuilt showers
· Plumber rough-in – installation of pipes and services
· Electrical rough-in – installation of wires to power points and lights (we like the electrician to work after the plumber as it is easier for them to run wires around pipes instead of the other way around)
· Floor fit-out
· Plastering and sanding of the walls and ceiling
· Painting of walls and ceilings (we like to do this before tiling, but it can also be done afterwards)
· Waterproofing
· Plumbing of built-in bath, if you're having one. A free-standing bath will be installed after tiling
· Tiling and grouting
· Installation of vanity and cabinets
· Depending on whether there's an underslung sink or not, vanity tops can usually be measured now.
· Final fitting of electrics and plumbing including lights, powerpoints, taps, bath and sinks
· Installation of shower screen and mirrors
· Final cleaning and styling.
Which kind of bath?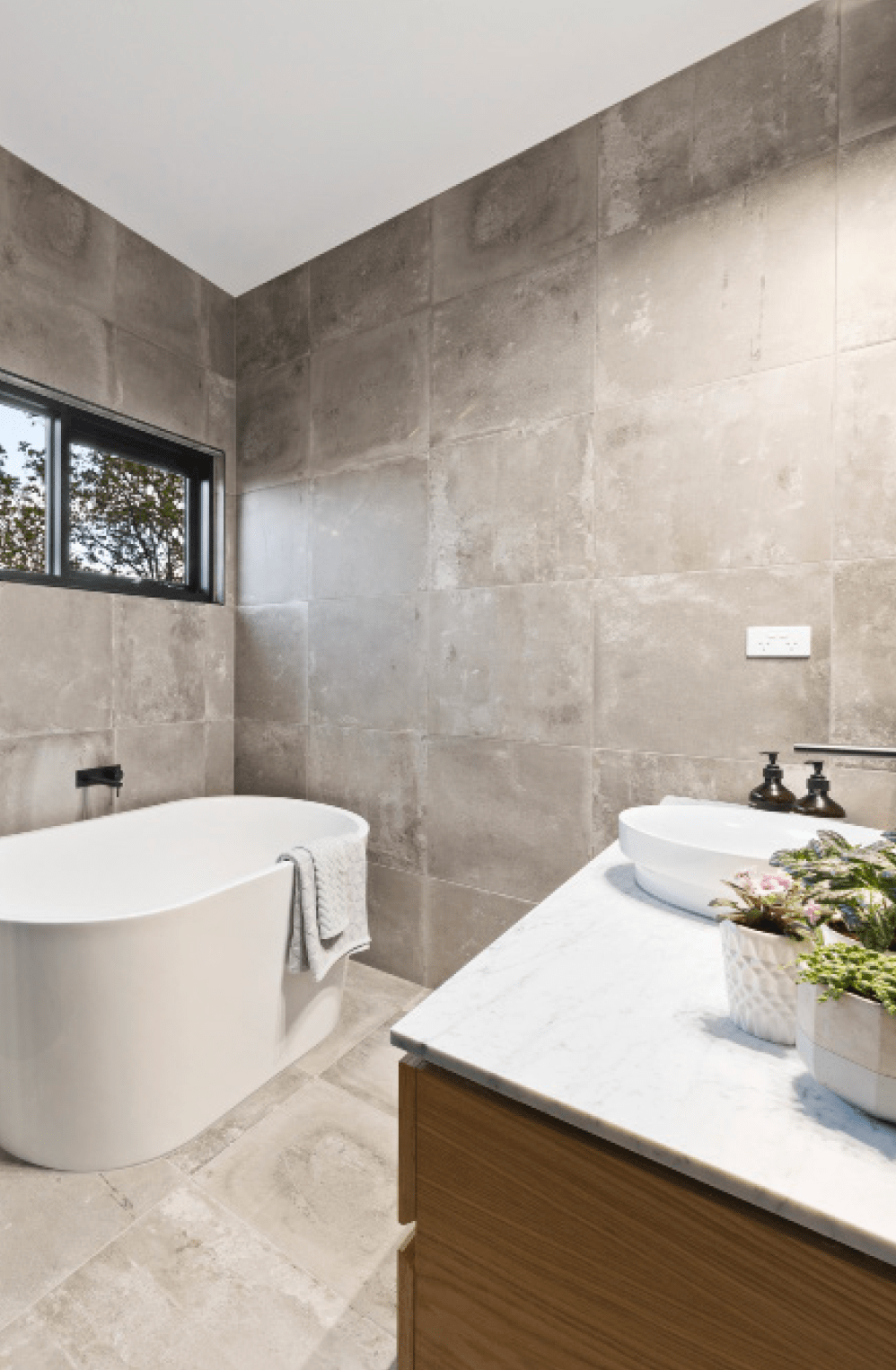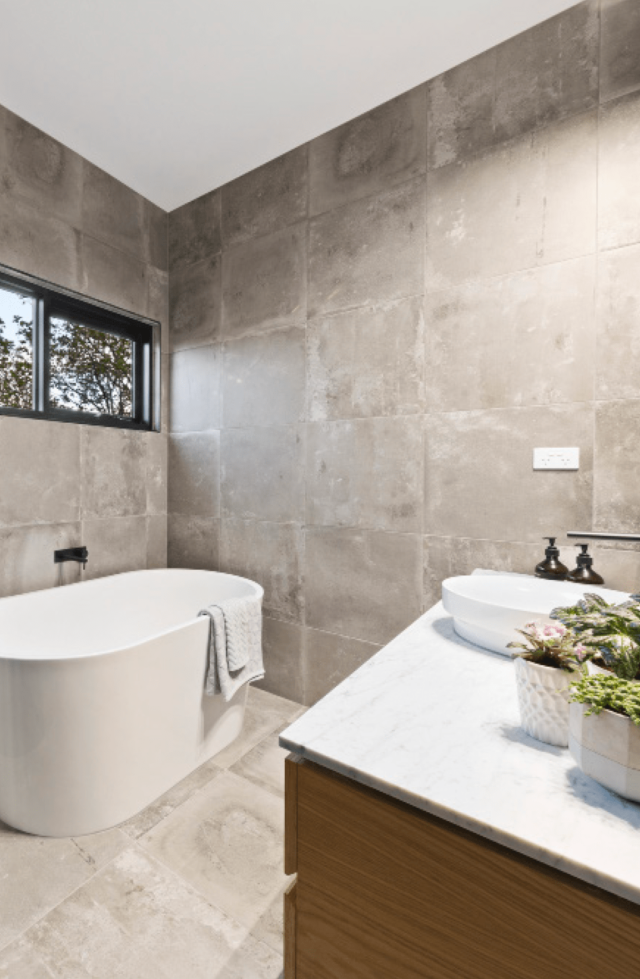 The built-in versus the freestanding bath is a popular debate. People seem to be very solidly in one camp or the other. The pros for a freestanding bath are that they look lovely, they can be easier and more cost-effective to install and take less time to complete. The built-in bath creates a different aesthetic, requiring more coordination with the trades, but it is arguably easier to clean as you don't get water between the bath and the wall and it has a ledge around it, which you can use for styling. We actually like both and will often recommend either based on the available space in a bathroom or who will be using it most. That is the magic of building – there are so many wonderful options to explore. It's up to you and your values!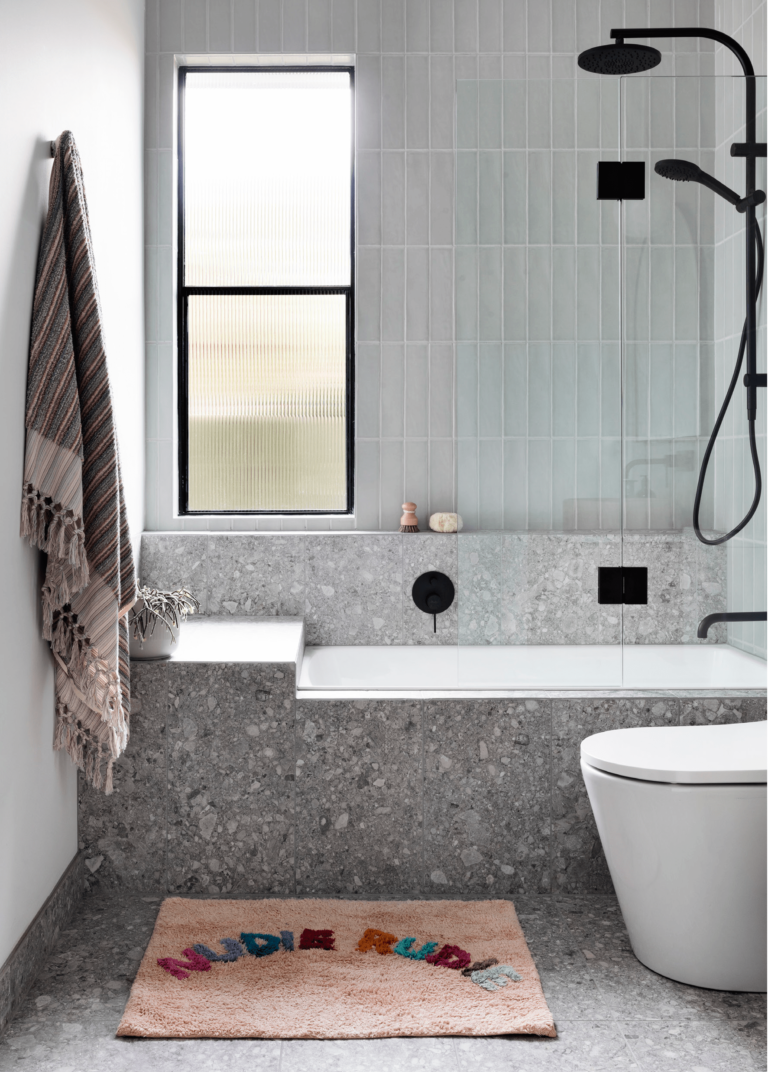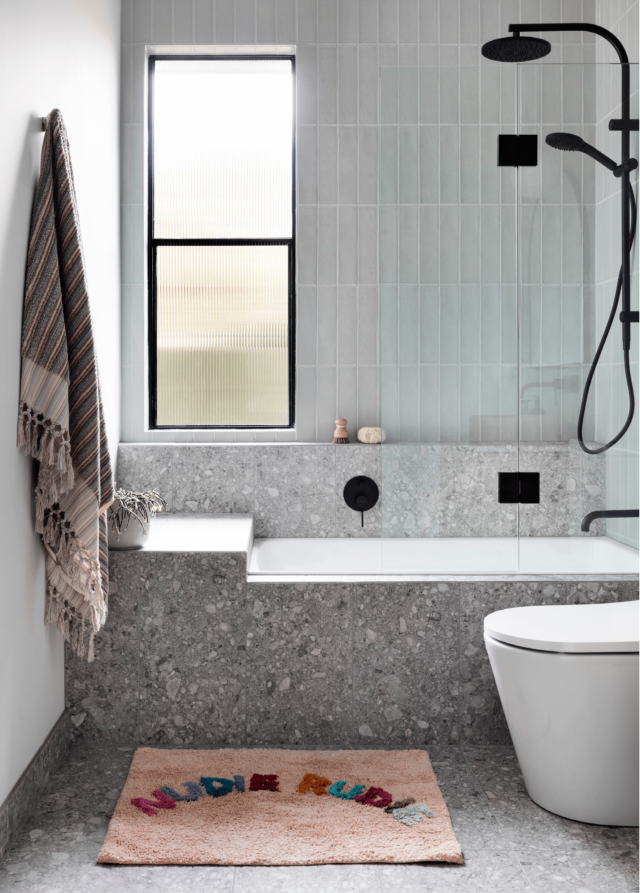 TOP TIP 1
A walk-in shower with a hose is a brilliant addition as it has so many uses: washing children and pets, watering plants, cleaning the shower and keeping your hair dry. Consider this type of fixture for maximum flexibility.
TOP TIP 2
Place plug sockets in one of your drawers for easy access to a hairdryer and straightener without the trouble. If you use an electric toothbrush think about power in your mirrored vanity, too.
TOP TIP 3
If you plan to include a skylight in your bathroom, think about its location early on in the renovation process. We like to place them over the shower where possible, but it's more important to have a natural relationship with the room as a whole, providing light where needed.
-Extracted from BuildHer by Rebeka Morgan & Kribashini Hannon, out now from Smith Street Books, RRP $45
FIND OUT MORE ABOUT BUILDHER COLLECTIVE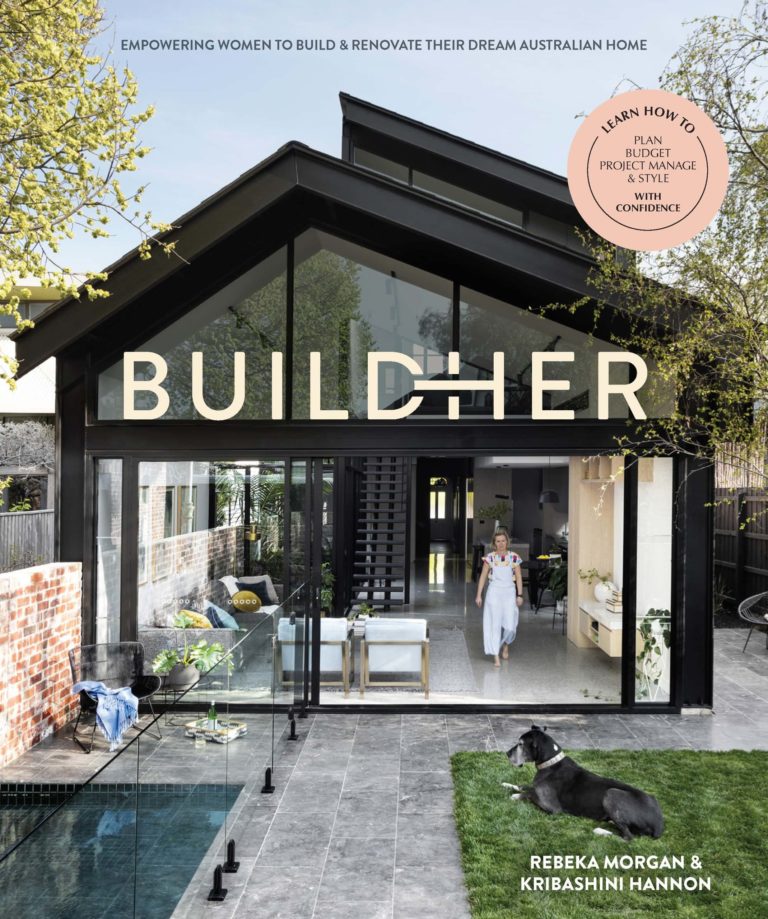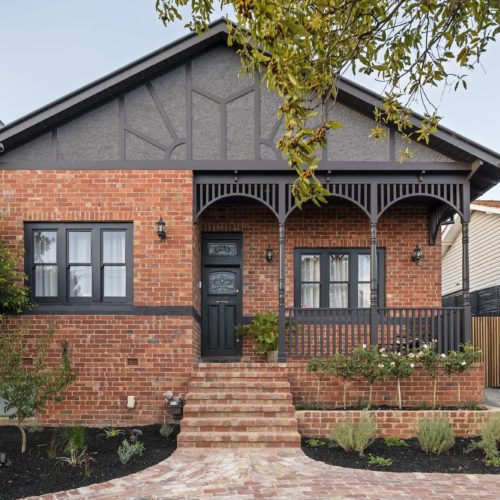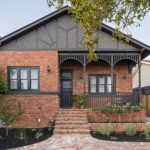 Edwardian beauty revealed under 80s facade and saved from demolition
After working in oncology for 15 years, Yolanda Aarons decided to scratch the renovation itch via a home in Melbourne's Northcote that was in dire need of an overhaul. After…