With Valentine's Day coming up this weekend, this tart takes a bit of work to make, but the result is well worth the effort and will definitely please your Valentine! It's essential to use a good-quality chocolate with a high cocoa content.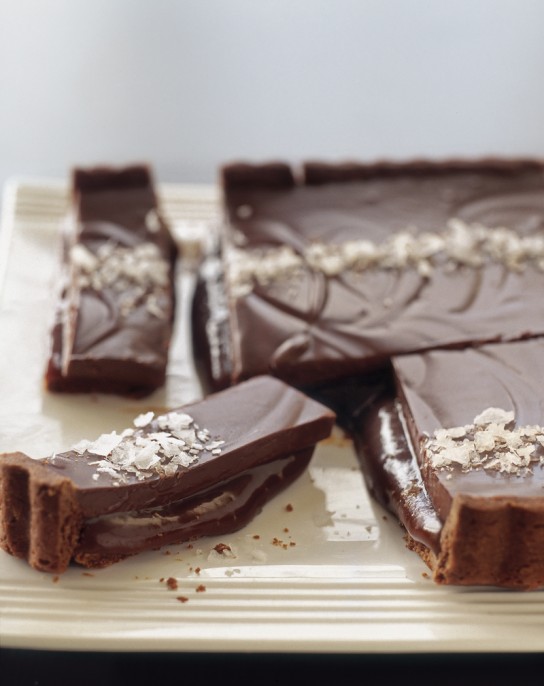 Williams-Sonoma has a fabulous range of bakeware, including Gobel Tart Pans that are perfect for this recipe. With a removable bottom to support the baked crust as you slip off the pan's outer ring, this tart recipe will be a cinch to prepare at home.
Ingredients
1 ¼ cups of plain flour
¼ cup unsweeted cocoa powder
230g unsalted butter, chopped and divided evenly into two portions
½ cup plus 1 tbsp icing sugar
1 egg yolk
1 tsp vanilla extract
½ cup water
2 cups caster sugar
¼ cup glucose syrup
2 cups plus 2 tbsp double cream
285g 70% dark chocolate
Fleur de sel, to garnish (can't find it? Williams-Sonoma has you sorted)
Method
Sift together the flour and cocoa powder into a bowl. Set aside.
In the bowl of an electric mixer fitted with a flat beater, beat together 115 grams of the butter, the icing sugar, egg yolk and vanilla until just smooth and creamy. Add the flour mixture and beat until a dough forms. Do not overwork. Transfer the dough to a work surface, shape into a ball and wrap with cling wrap. Refrigerate for at least 1 hour or up to overnight.
Remove the dough from the refrigerator. On a lightly floured work surface, roll out the dough into a 24cm tart pan. Press the dough into the bottom and up the side of the pans. Cut off any overhanging dough and prick the dough in several places with a fork. Refrigerate for at least 30 minutes or up to 1 hour.
Preheat oven to 175°C.
Line the dough with baking paper and fill with pie weights. Bake until the sides are cooked through and base is almost cooked through and slightly flaky, 25 to 30 minutes. Remove the pie weights and baking paper and continue to cook until the base is dry and set, about 8 minutes. Transfer the pan to a wire rack and let cool.
In a saucepan over medium-high heat, combine the water, caster sugar and glucose syrup. Cook, stirring occasionally, until the sugar turns into a deep amber-coloured caramel, about 10 minutes. Remove from the heat and, very carefully and slowly, pour in 1/2 cup plus 2 tbsp of the cream (the mixture will spatter). Add the remaining 115g butter, 1 piece at a time, stirring until smooth. Pour the caramel filling into the cooled tart shell and let cool, then refrigerate until firmly set, at least 30 minutes.
Put the chocolate in a heatproof bowl. In a small saucepan over medium-high heat, bring the remaining 1 1/2 cups cream to a boil and pour it over the chocolate. Let stand for 2 minutes, then whisk until smooth. Pour the chocolate ganache over the caramel and refrigerate until set, at least 30 minutes. Remove the tart from the refrigerator 10 minutes before serving. Garnish with fleur de sel.
Serves 8, or 2 this Valentine's Day.
–Enjoyed this recipe? You can try many more at the Williams-Sonoma Sydney Cooking School. Whether you're a beginner or an experienced cook, book yourself in to learn a range of different techniques and cuisines.