Tucked behind the bustling main drag of Sydney's vibrant Newtown, this small 1980's era terrace was transformed into an urban sanctuary recently by the talented interior stylist Jessi Eve. "The owner is a female entrepreneur that was looking to create a home that suited her social, laid-back lifestyle and mindful values," says Jessi who deftly guided the transformation.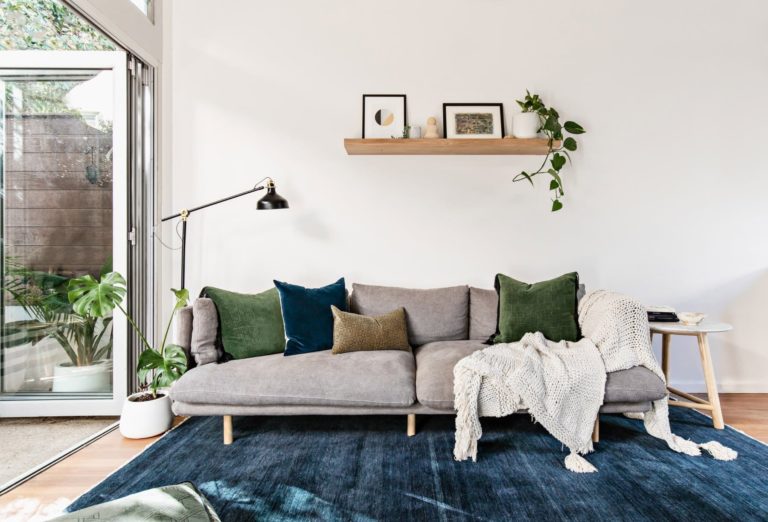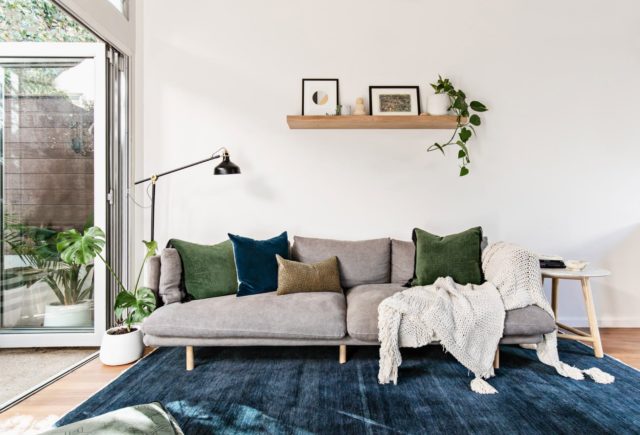 In keeping with the owner's eco-conscious values, Jessi selected quality investment furniture and homeware pieces that are built to last; selections that shouldn't end up in landfill as trends change. "We favoured ethically sourced, natural materials and supported local artisans and businesses along the way," says Jessi of the quality Australian wares that pepper the home.
The master bedroom's minimal timber furniture suite was handcrafted by surf coast duo Al & Imo Handmade. It sits atop a textured wool rug by Melbourne's Armadillo & Co. whose rugs are also featured in the living area. The lounge room's stylish linen sofa is by the talented Aussie-based designer Sarah Ellison.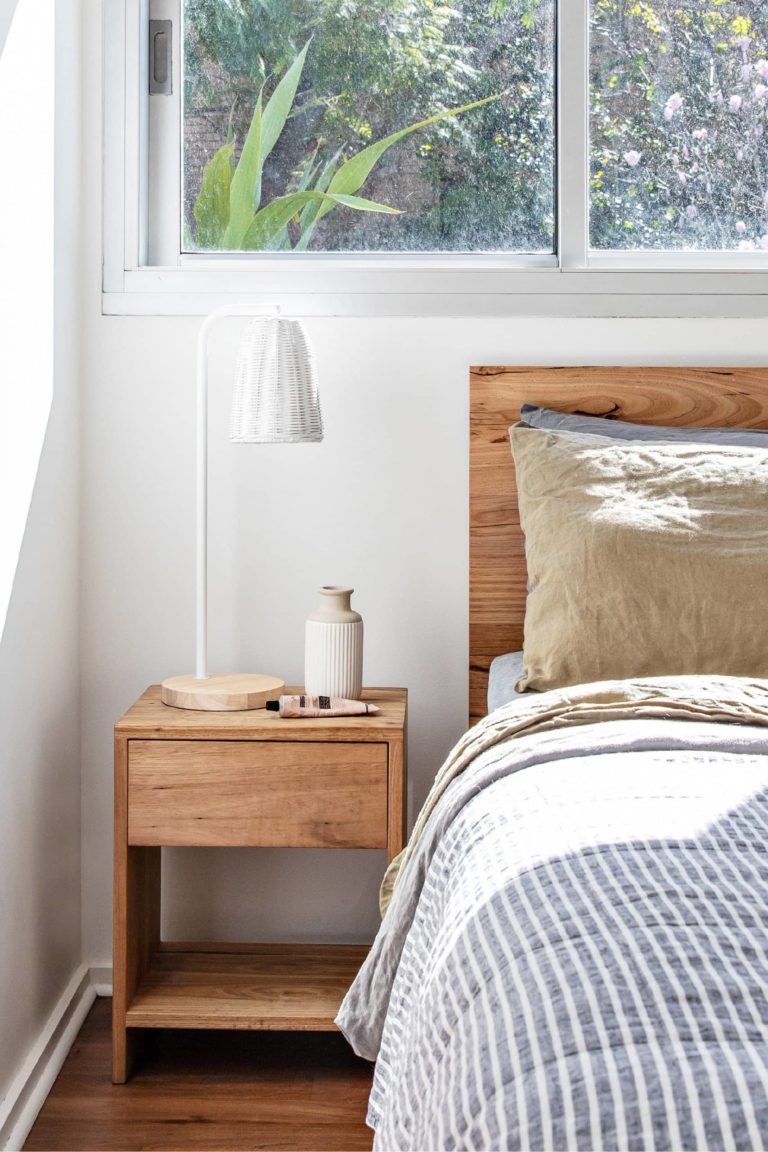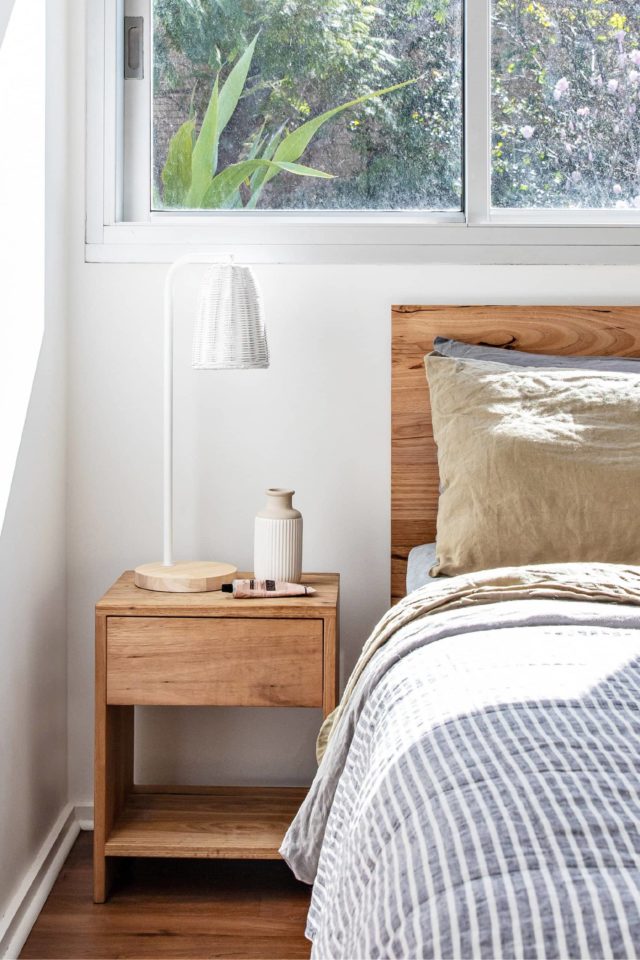 The dining table setting is by Aussie father and son duo, Icon by Design. "They have a strong focus on creating quality-crafted, timeless, designer-calibre furniture made with natural, ethnically-sourced materials, minus the high-end price tag," says Jessi.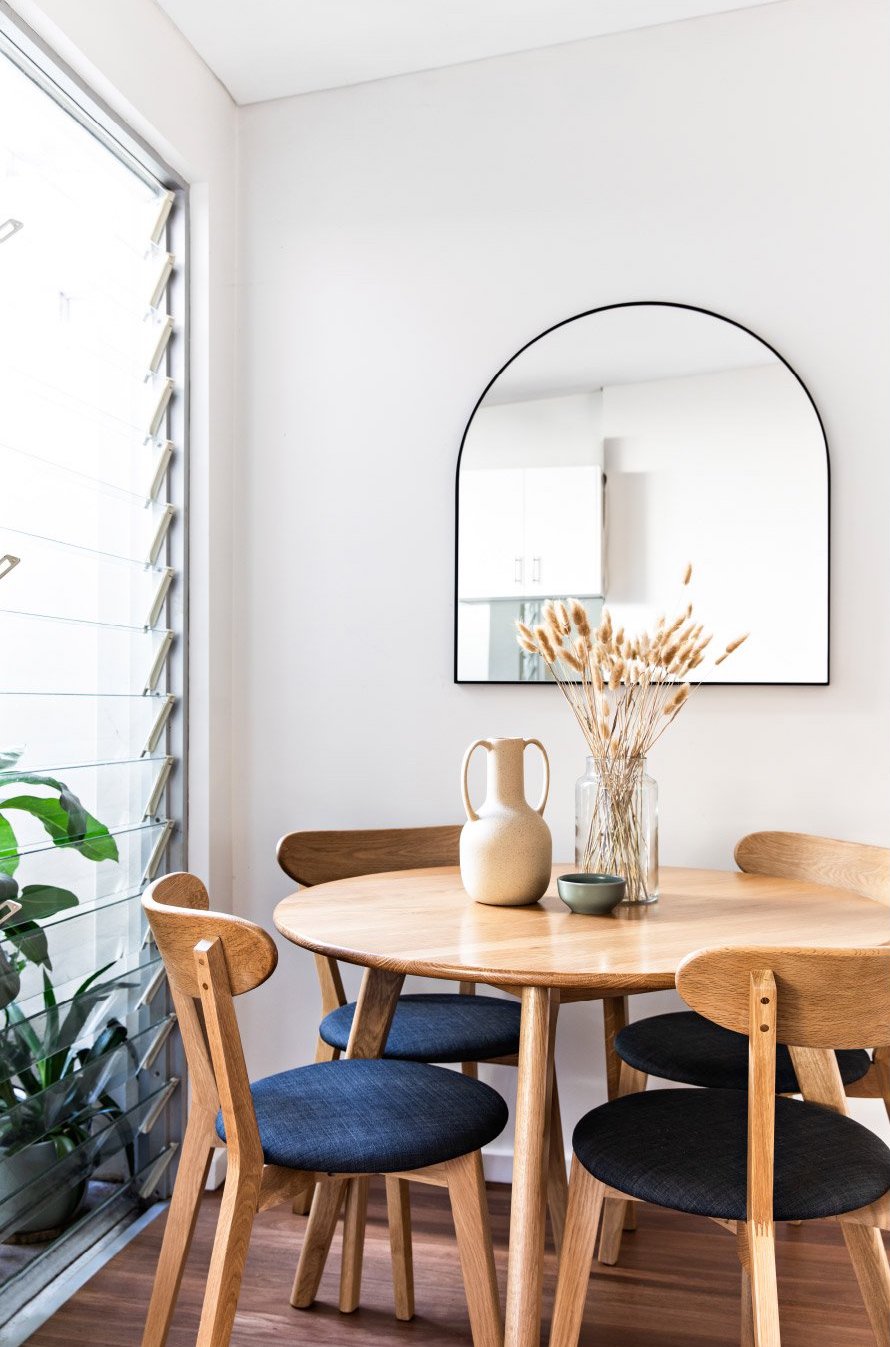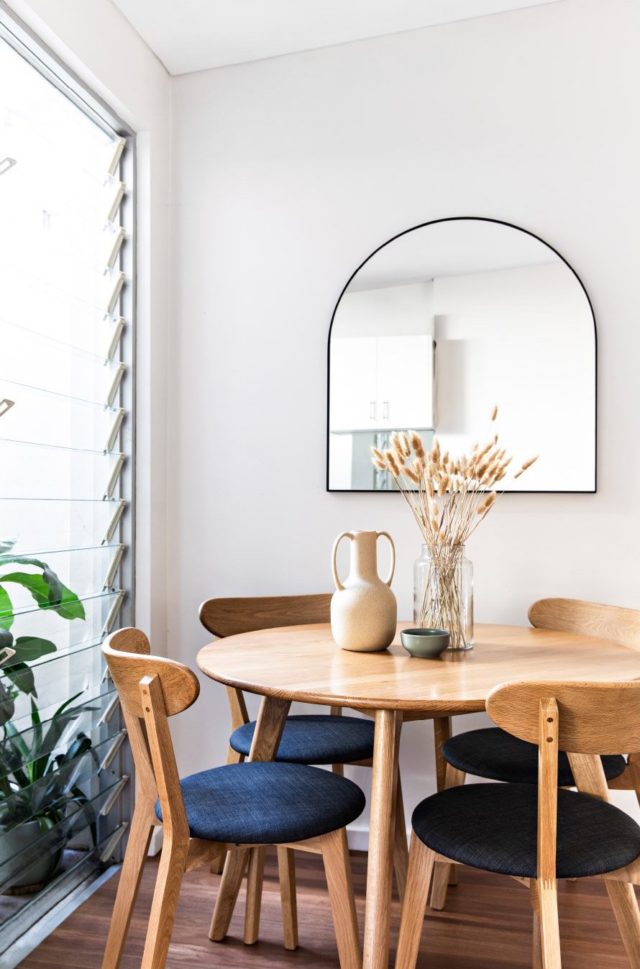 More local flags fly in the guest bedroom where planter pots and the guest bedside table/stool are by Pop & Scott, and the bed linen is by Cultiver and I Love Linen. "There's a lot of local talent producing quality pieces that will stand the test of time, that were used in the making of this home," says Jessi.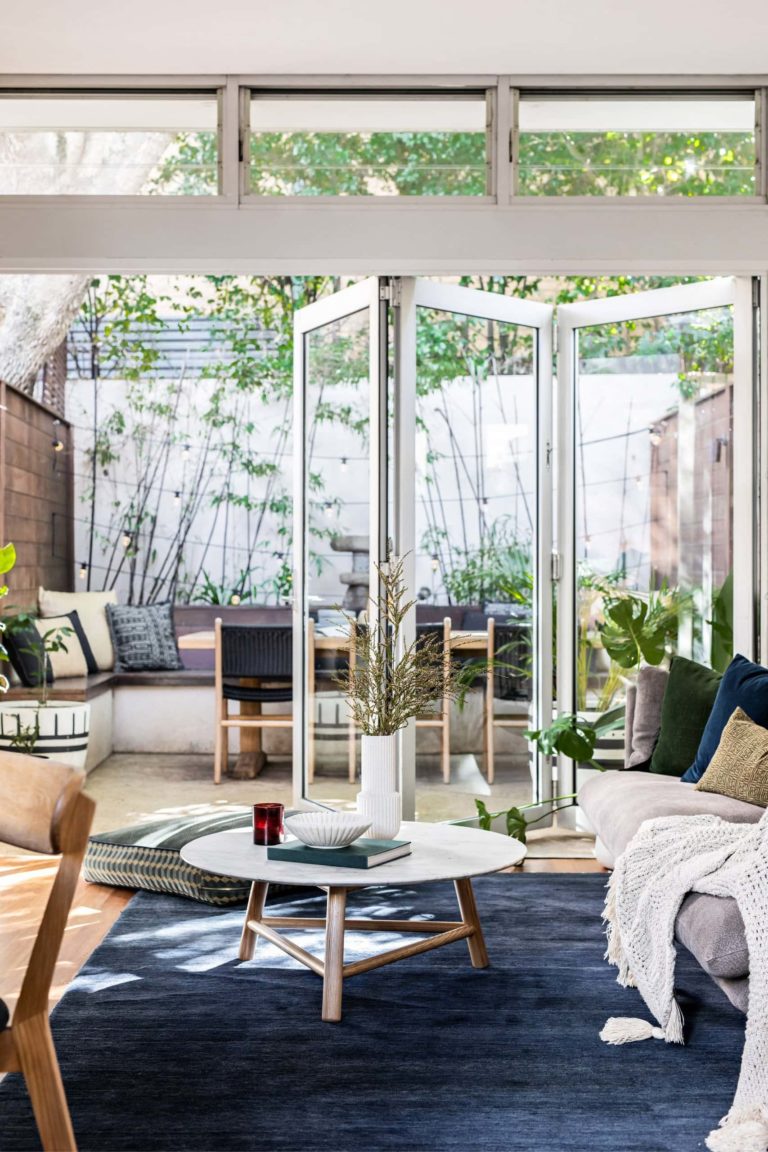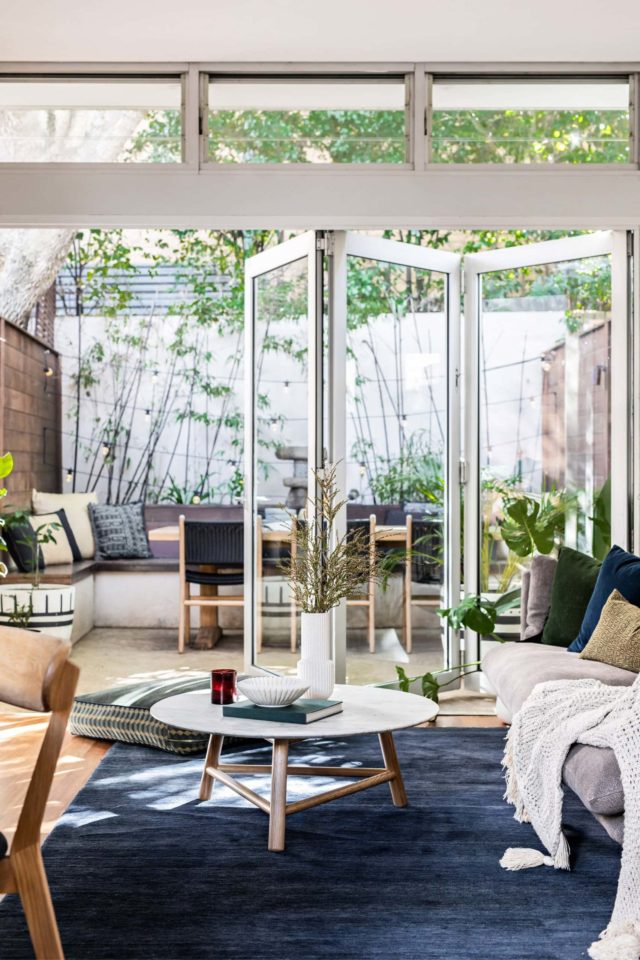 When it comes to the materials palette, the cohesive selection includes timber, marble, linen, wool and pops of velvet. Jessi also disproved the old adage that 'blue and green should never be seen' with the colour combination proving a hit in the lounge room.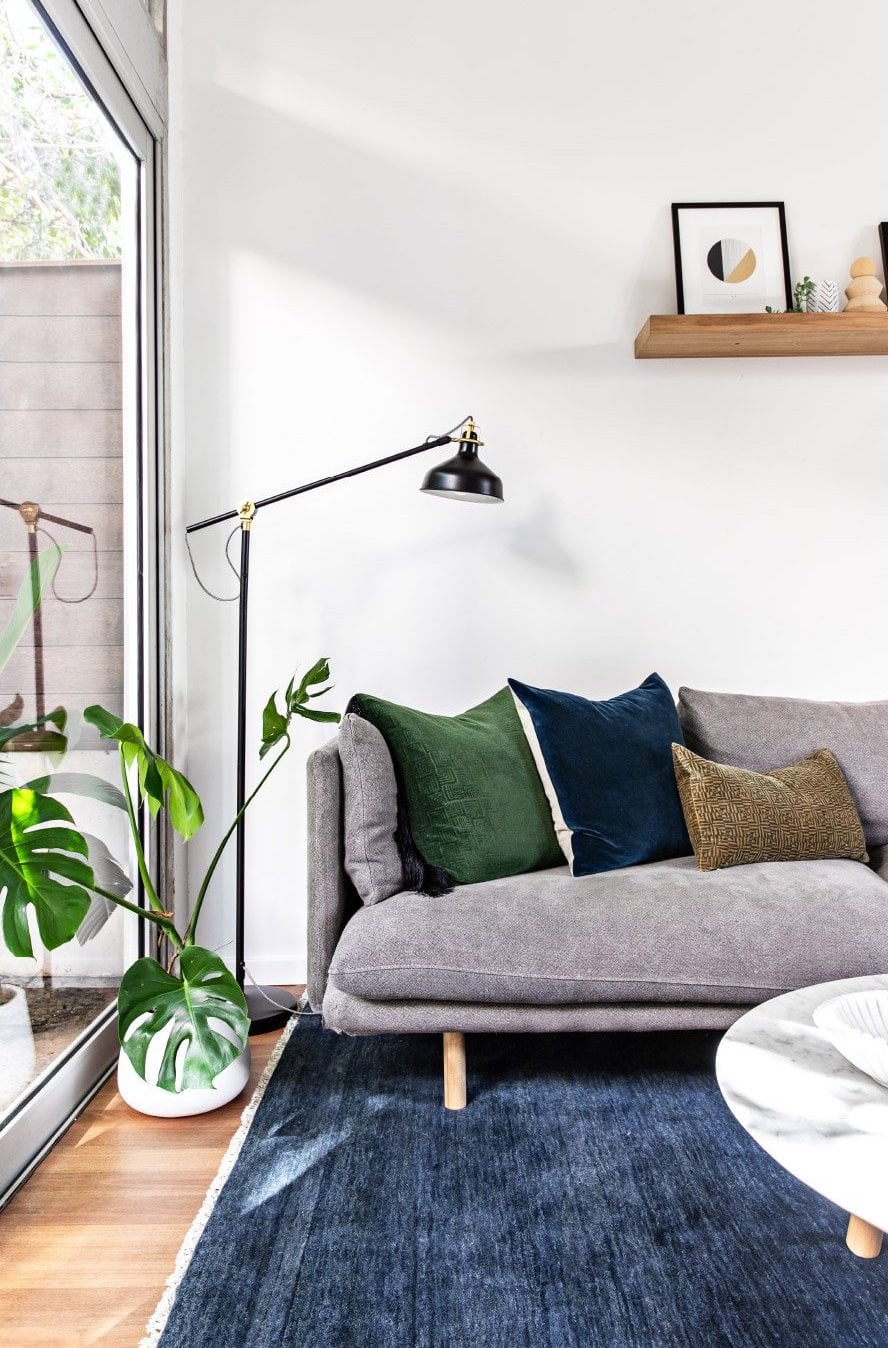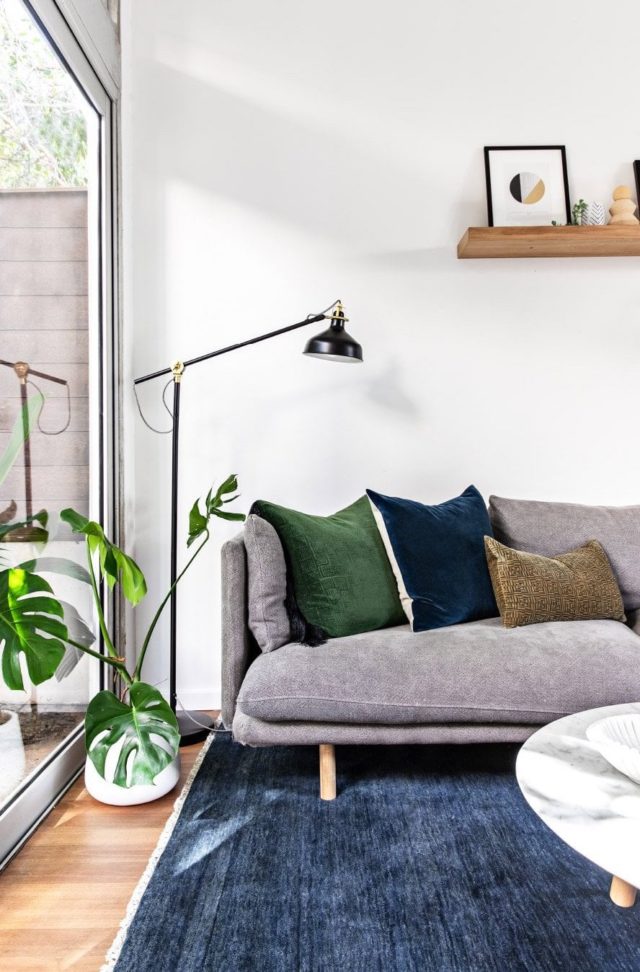 "I don't agree with most of those rules. In fact, I also love a playful combo of orange and pink when the space calls for it! It's all about balancing out those 'louder' elements with calmer ones," says Jessi who paired deeper moodier jewel tones such as navy, emerald, maroon and mustard with pops of natural timber, warm white and soft grey.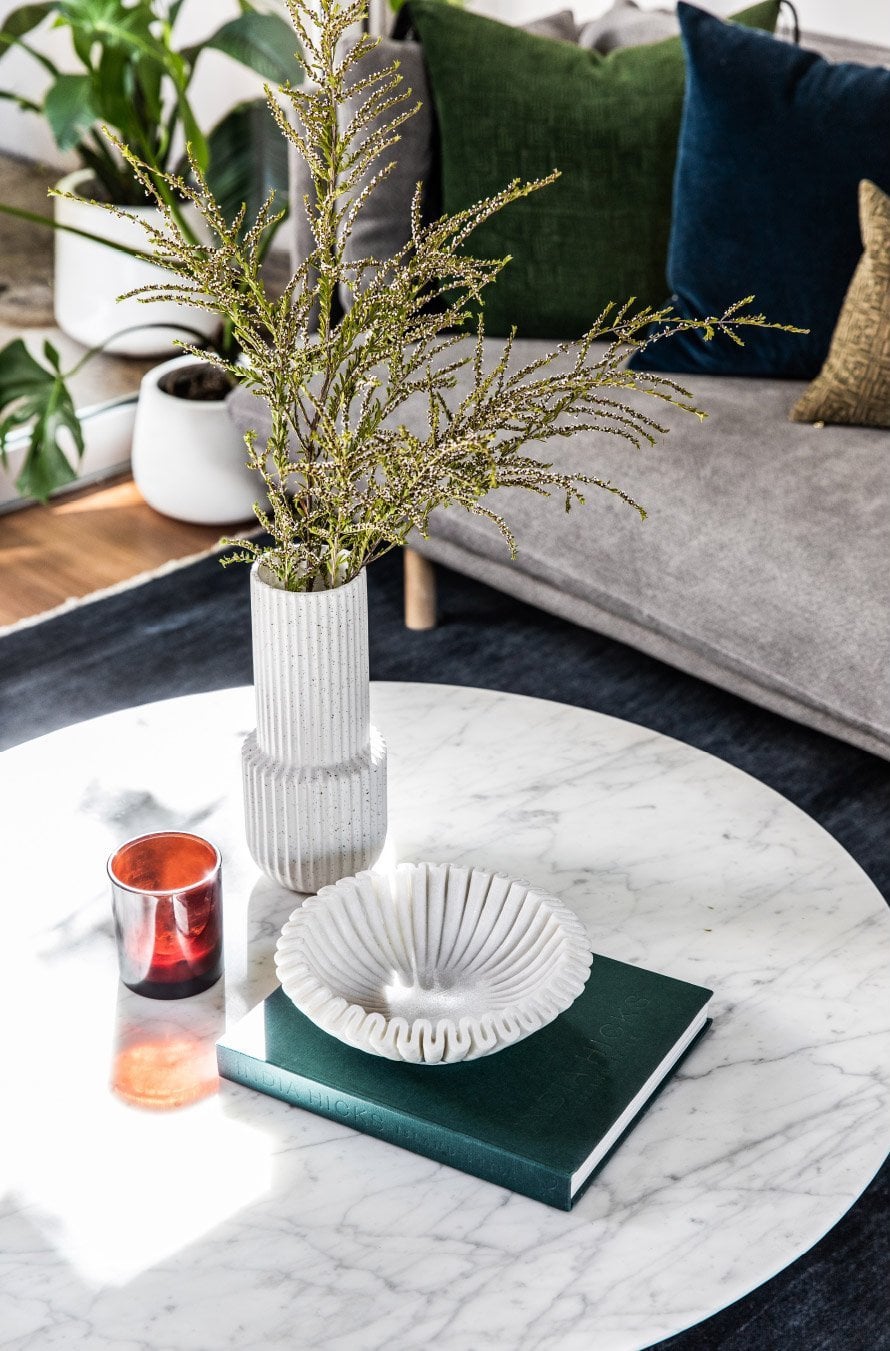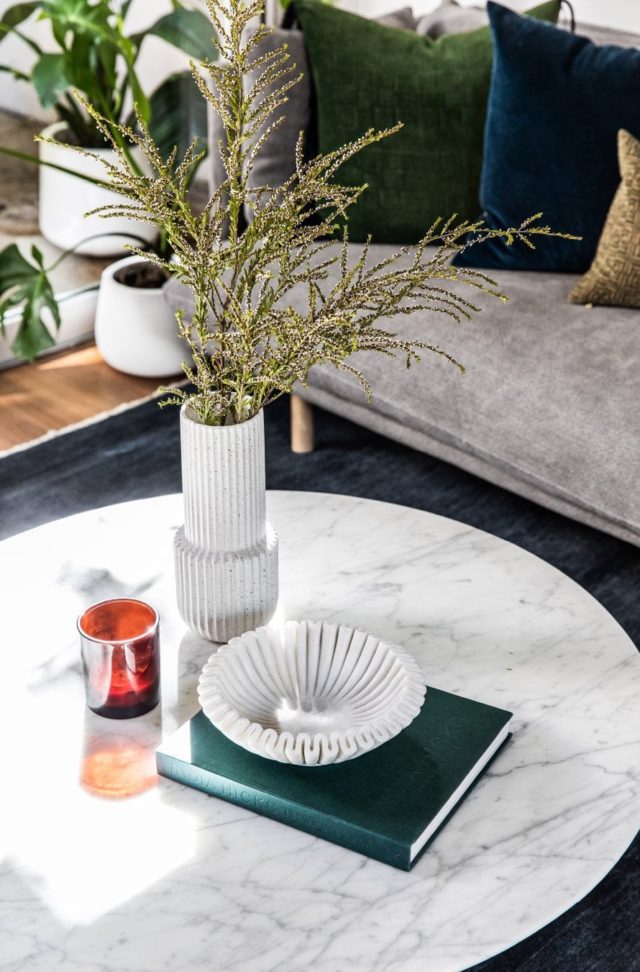 Eco-conscious considerations aside, maximising the home's small footprint was the other main focus of Jessi's design brief. "Custom joinery was added throughout to ensure everything was absolutely fit-for-purpose," says Jessi.
The entry way features a piece of built-in joinery that includes a mirrored coat-closet, shoe cabinet and storage bench surrounded by high open shelving that acts as a library. Talk about multi-tasking!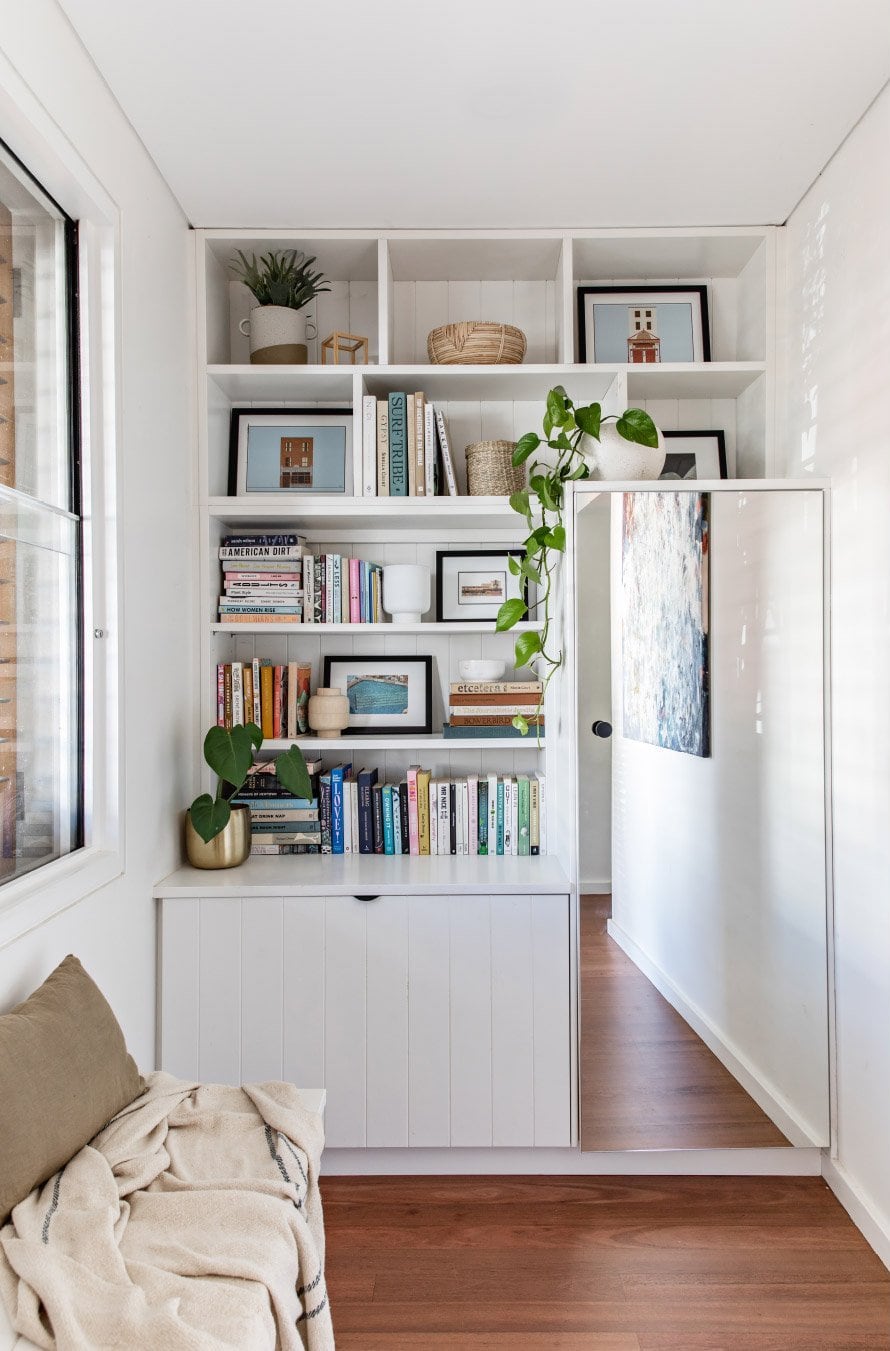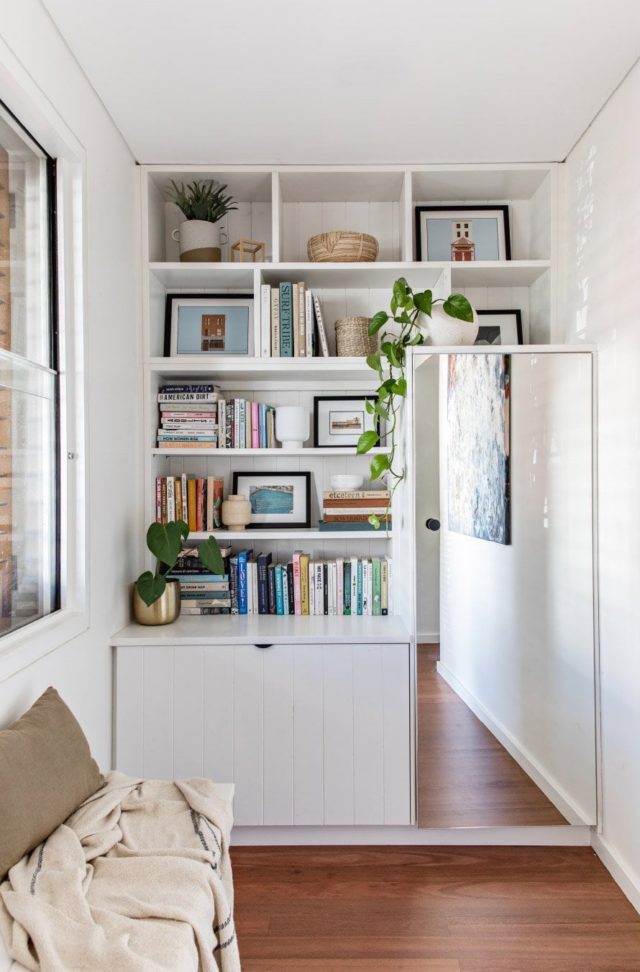 "In the guest bedroom, the bedside table doubles as a stool for the built-in dressing bench which can also be used as a laptop nook. The attic-style storage space, off the master bedroom, was transformed into a custom walk in robe with all the clothing, shoe and accessory storage required."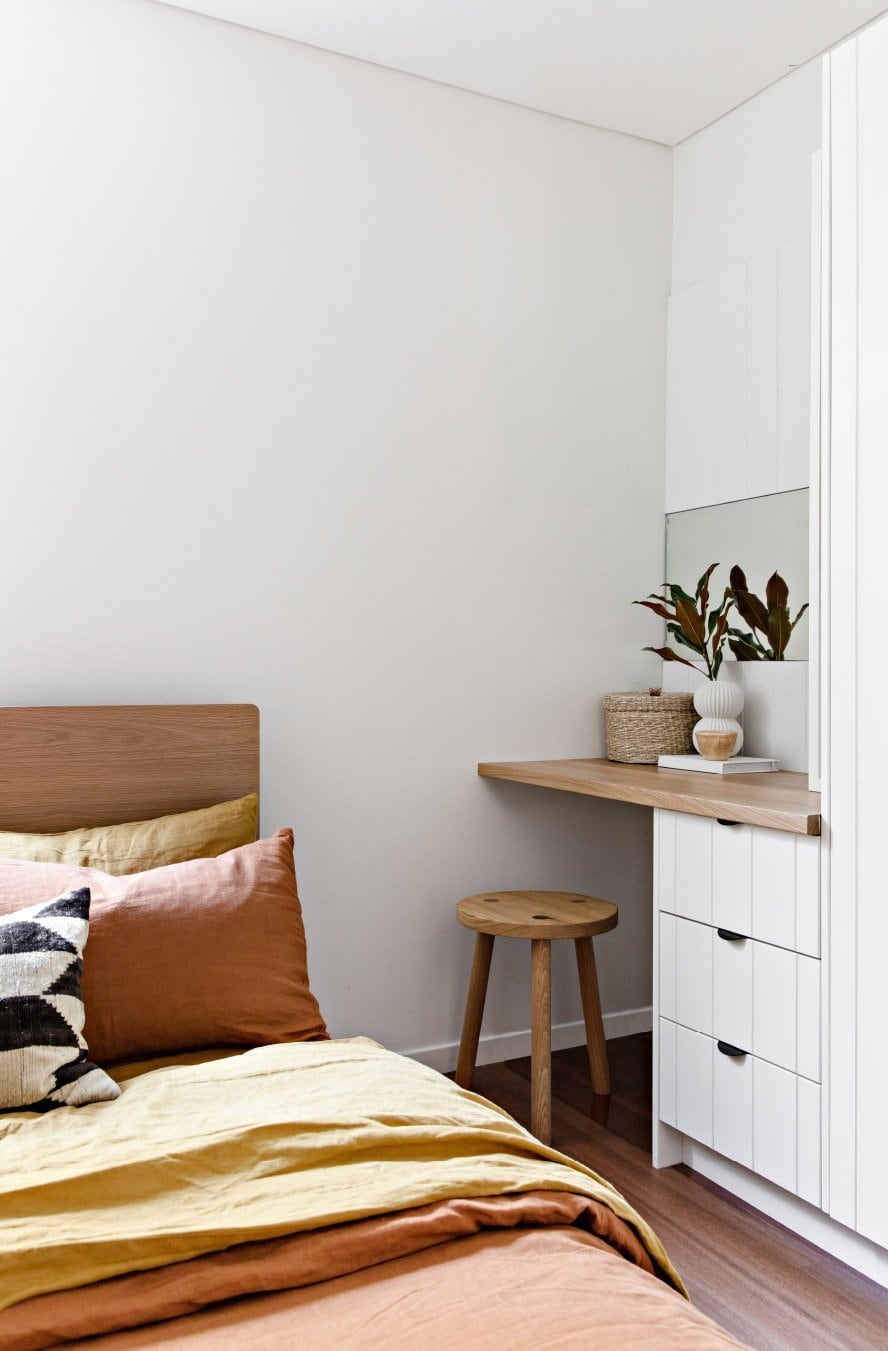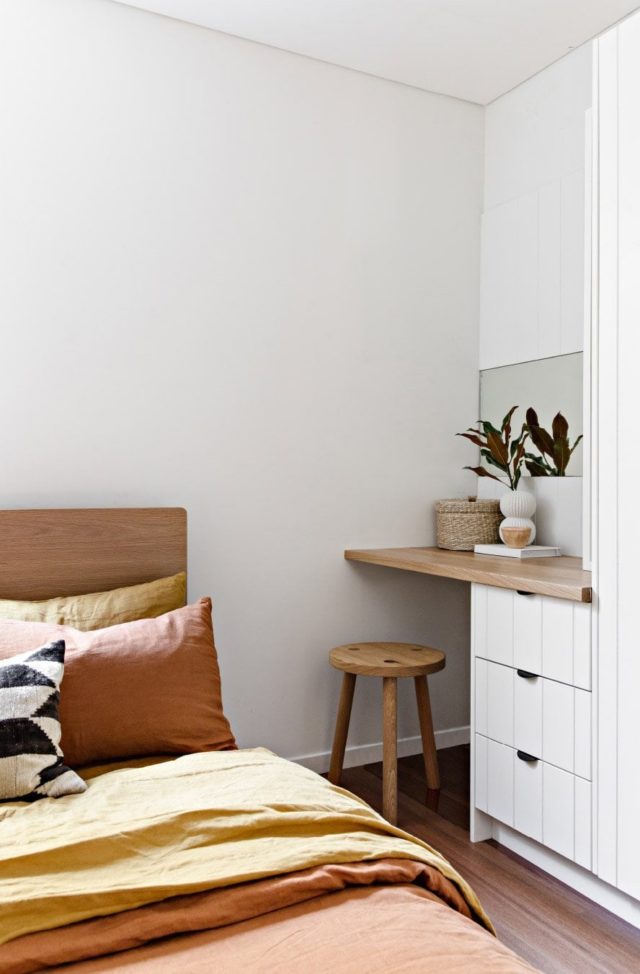 Another home highlight is the charming outdoor area that runs off the living room. "Ultimately, the vibe is casual yet considered, cosy and comfortable with a courtyard fit for an ambient dinner party with friends."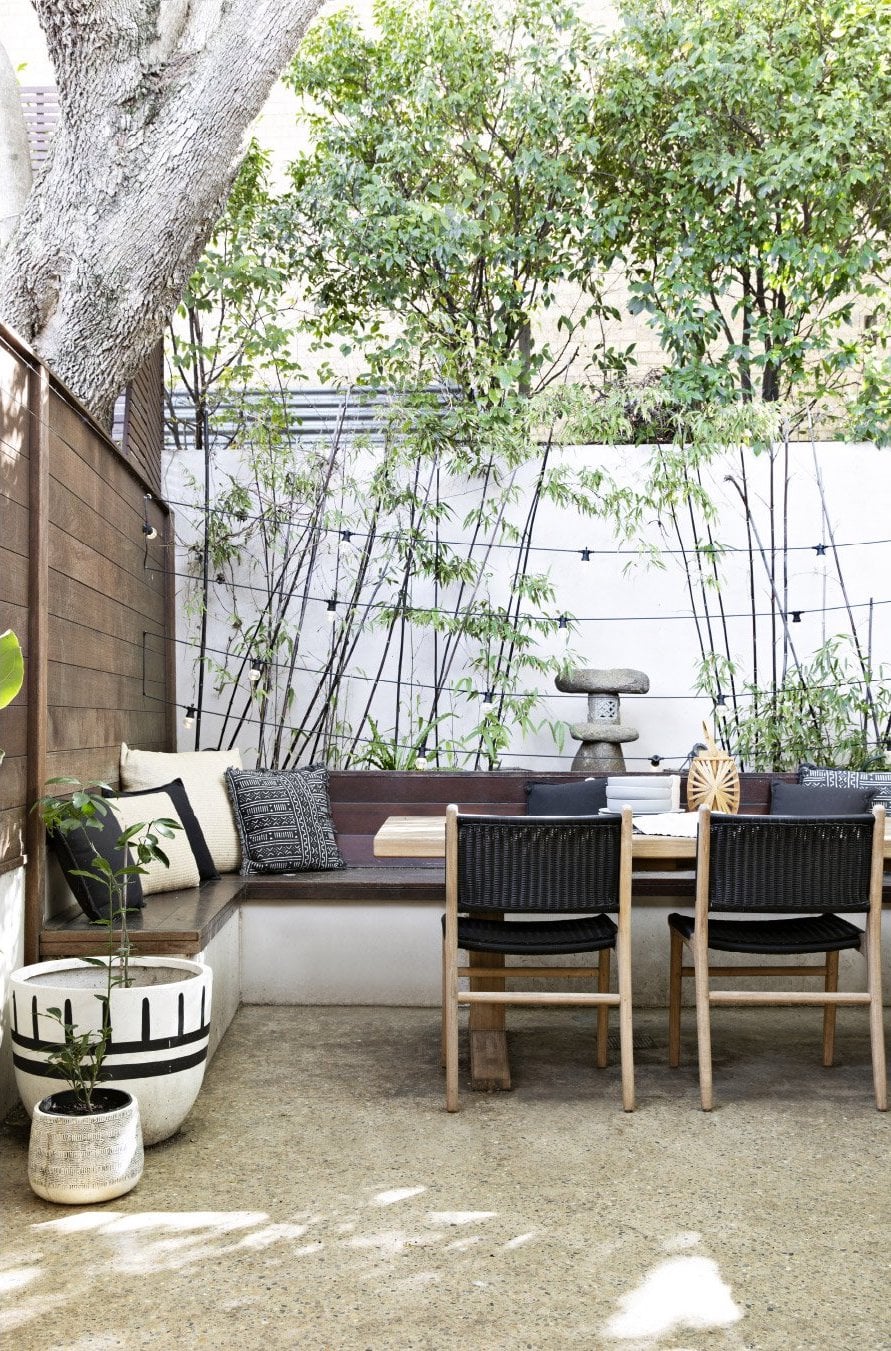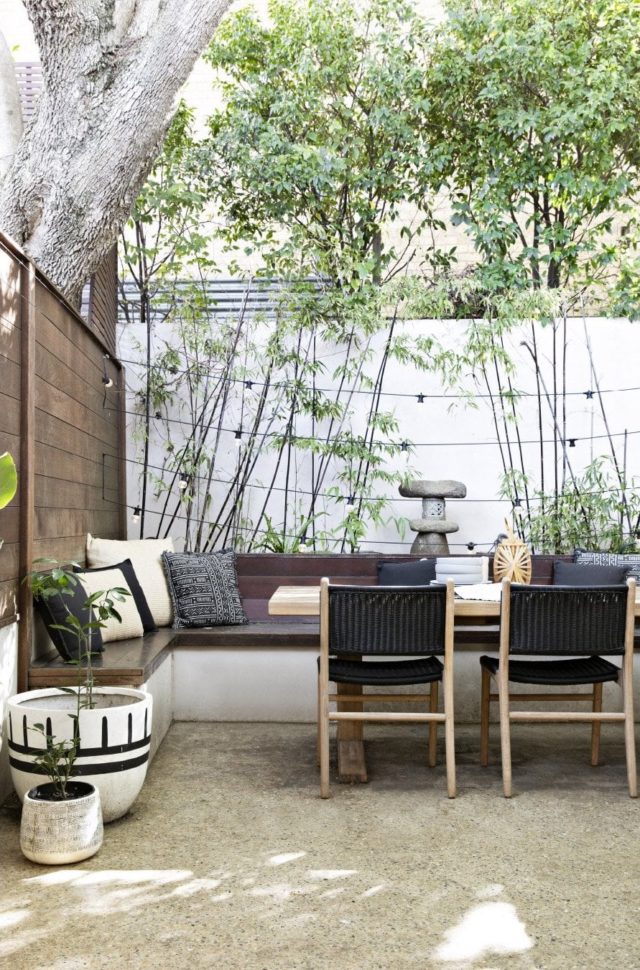 Photography: The Palm Co.