Located inside a grand three-storey home on Sydney's Upper North Shore, this newly renovated kitchen certainly looks right at home in such a salubrious setting. Featuring sculptural curves and multiple luxe finishes, plus two sophisticated shades of blue, the kitchen's talented designer Lynne Bradley has really excelled herself this time.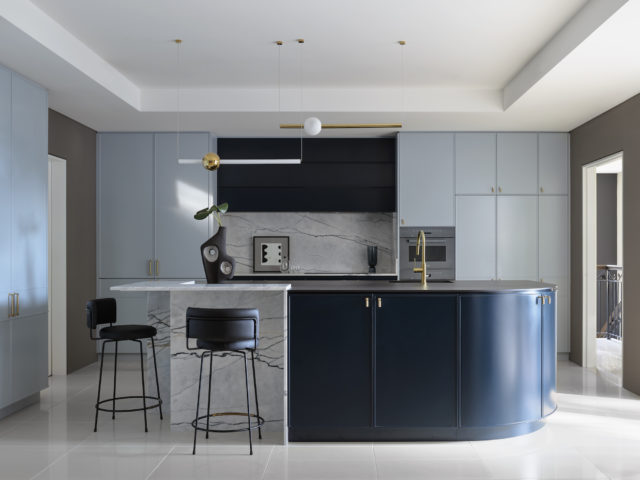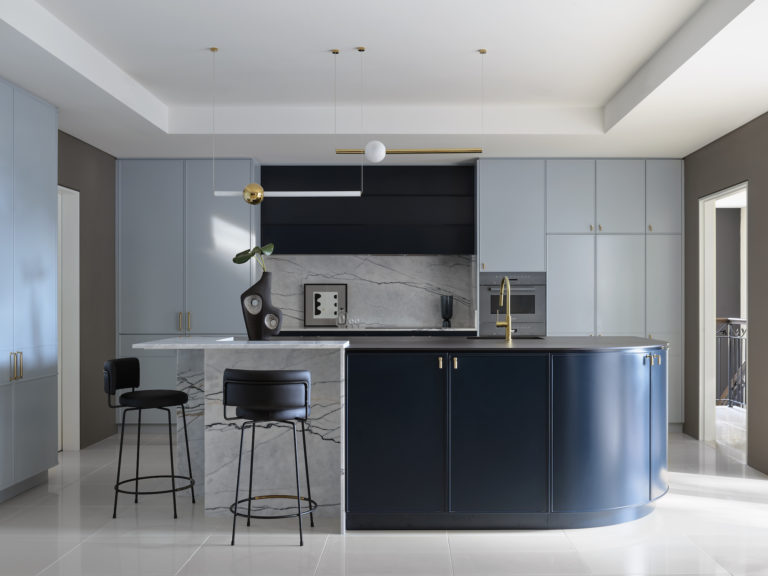 "I used two contrasting blue colours for the purpose of creating scale, depth and design interest," says Lynne who balanced the colours (Dulux's Oxford and Prestige Blue) with two bench surfaces; New York Marble from WK Quantum Quartz and Dekton Sirius in black.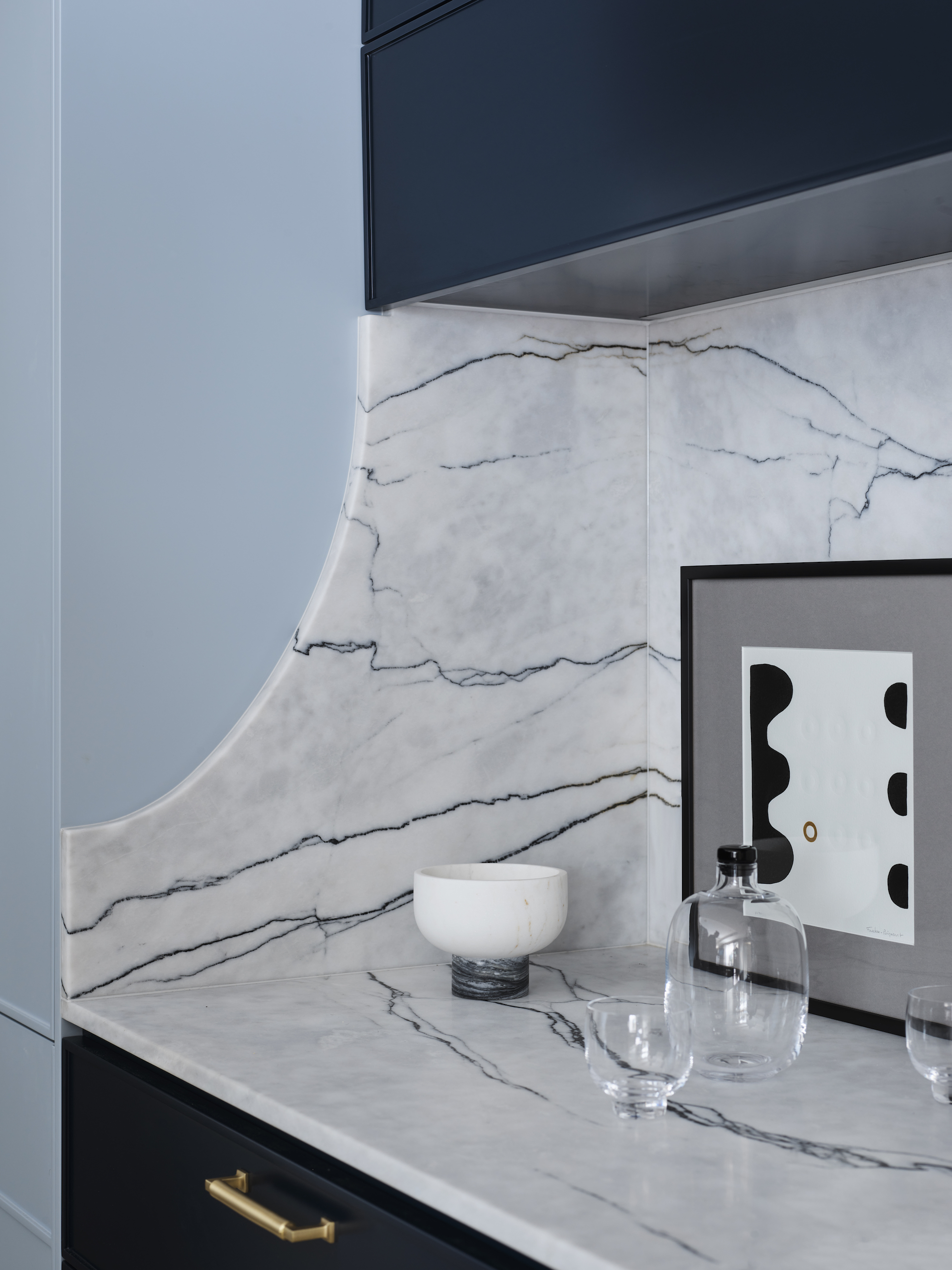 "The use of luxury materials, sculptural forms, curated appliances, beautiful lighting and generous storage with brass hardware, all combine to create a uniquely designed kitchen tailored perfectly to this home," says Lynne. Standout fixtures include a pair of stunning Lee Broom pendant lights that hang over the island bench; they provide ambient and task lighting and contrast beautifully with the dark blue overhead cupboards.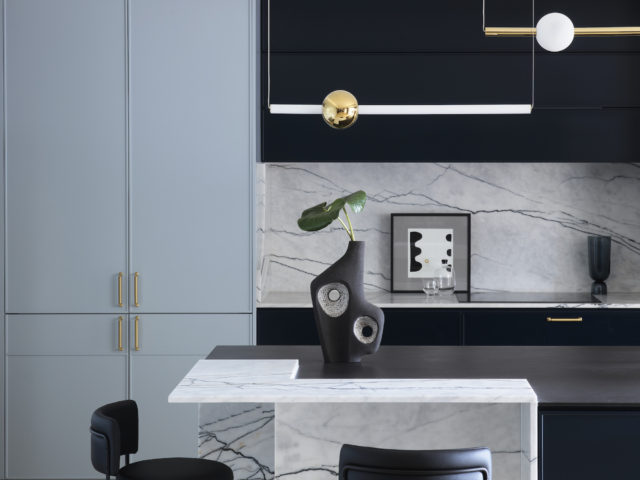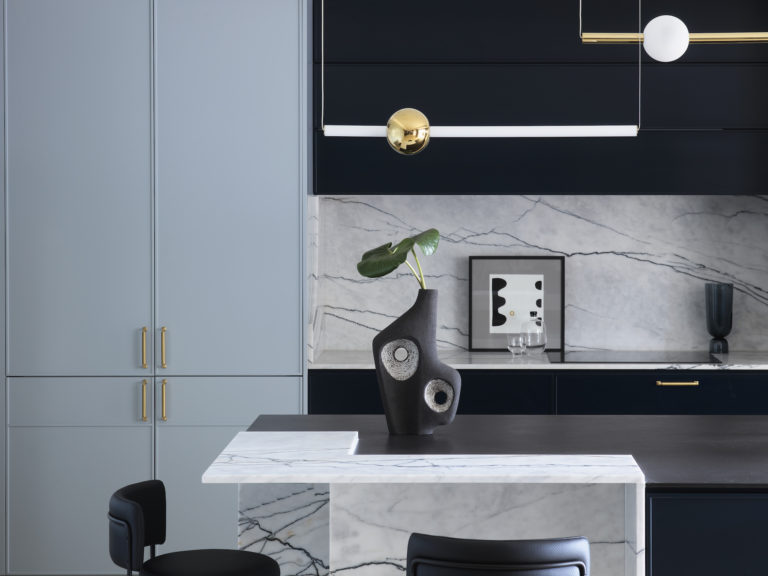 With two adult children still living at home, and grandchildren often visiting, the home's owners love to entertain with the kitchen at the heart. And given the kitchen's location in an open plan living area, Lynne was careful to conceal as many appliances as she could with a dedicated appliance cupboard.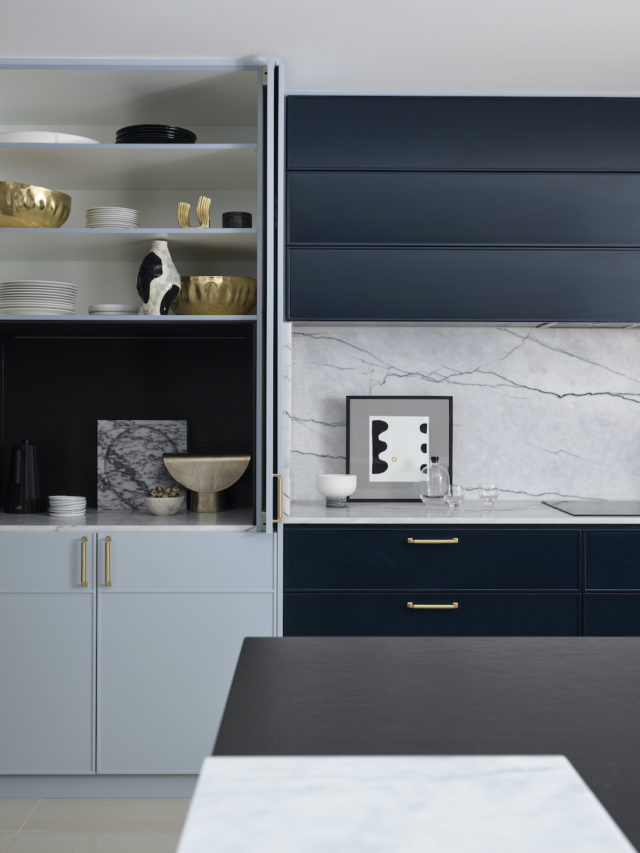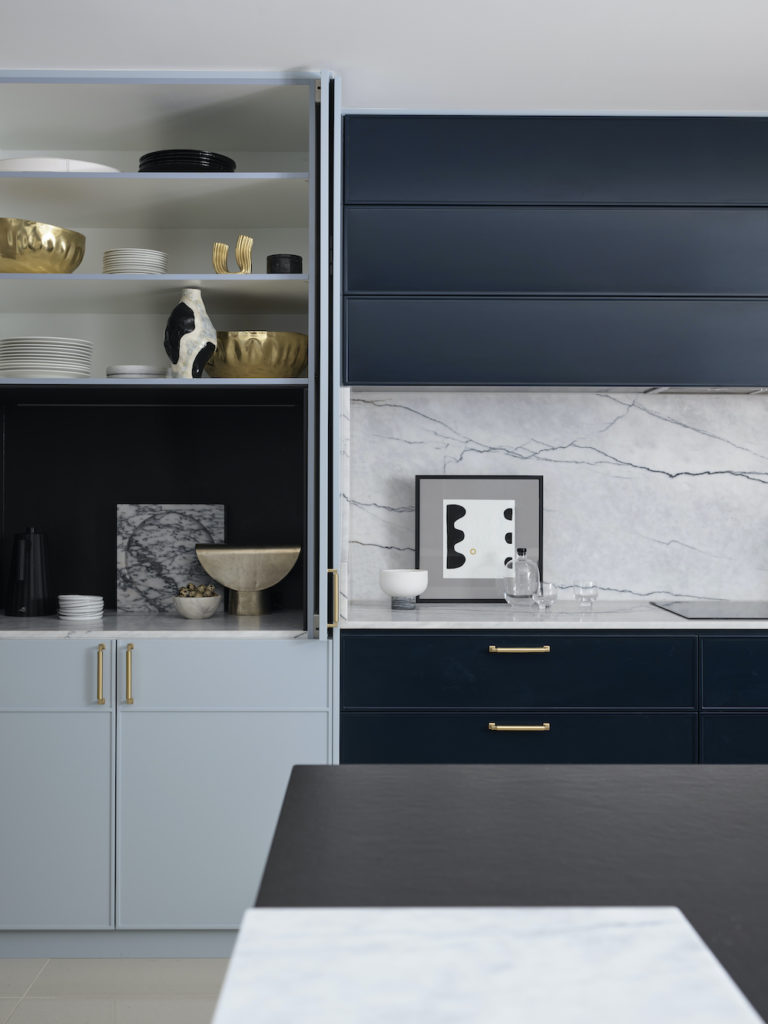 "It's a highly considered cupboard with pocket doors and LED lighting. Also, being fully lined in stone and Dekton, it provides easy maintenance as well as visual impact when opened," says Lynne.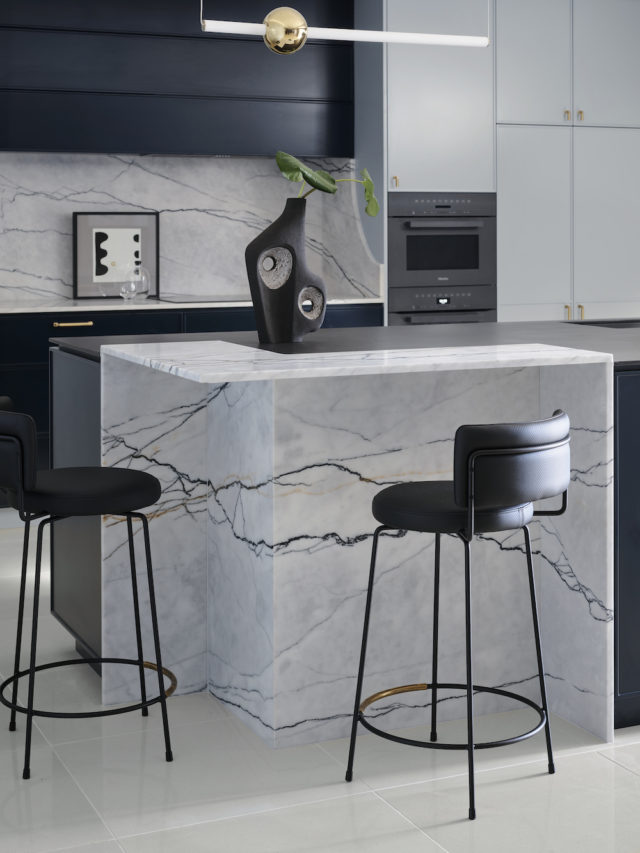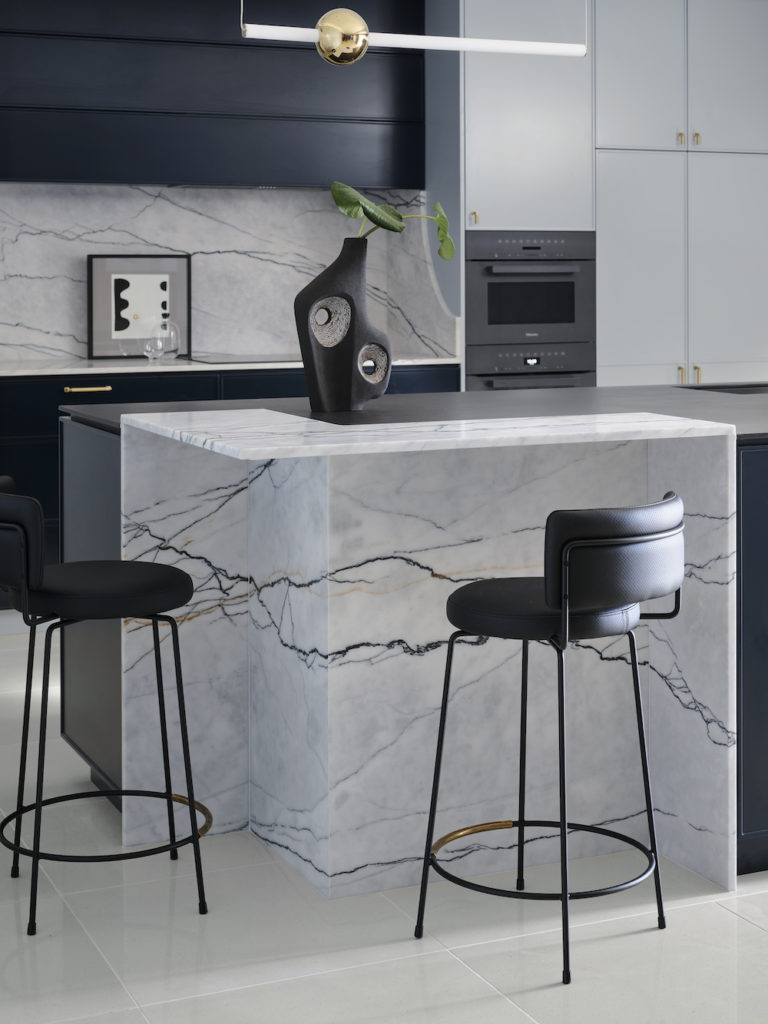 The kitchen also boasts a highly practical breakfast bar area complete with discrete electrical equipment charging space plus two ovens; one for baking and one for savoury creations. "Ultimately I'm most proud of balancing the materials and colour palette as well as creating a sculptural and highly functional kitchen that my clients adore."
Photography: Anson Smart
For more on Lynne Bradley Interiors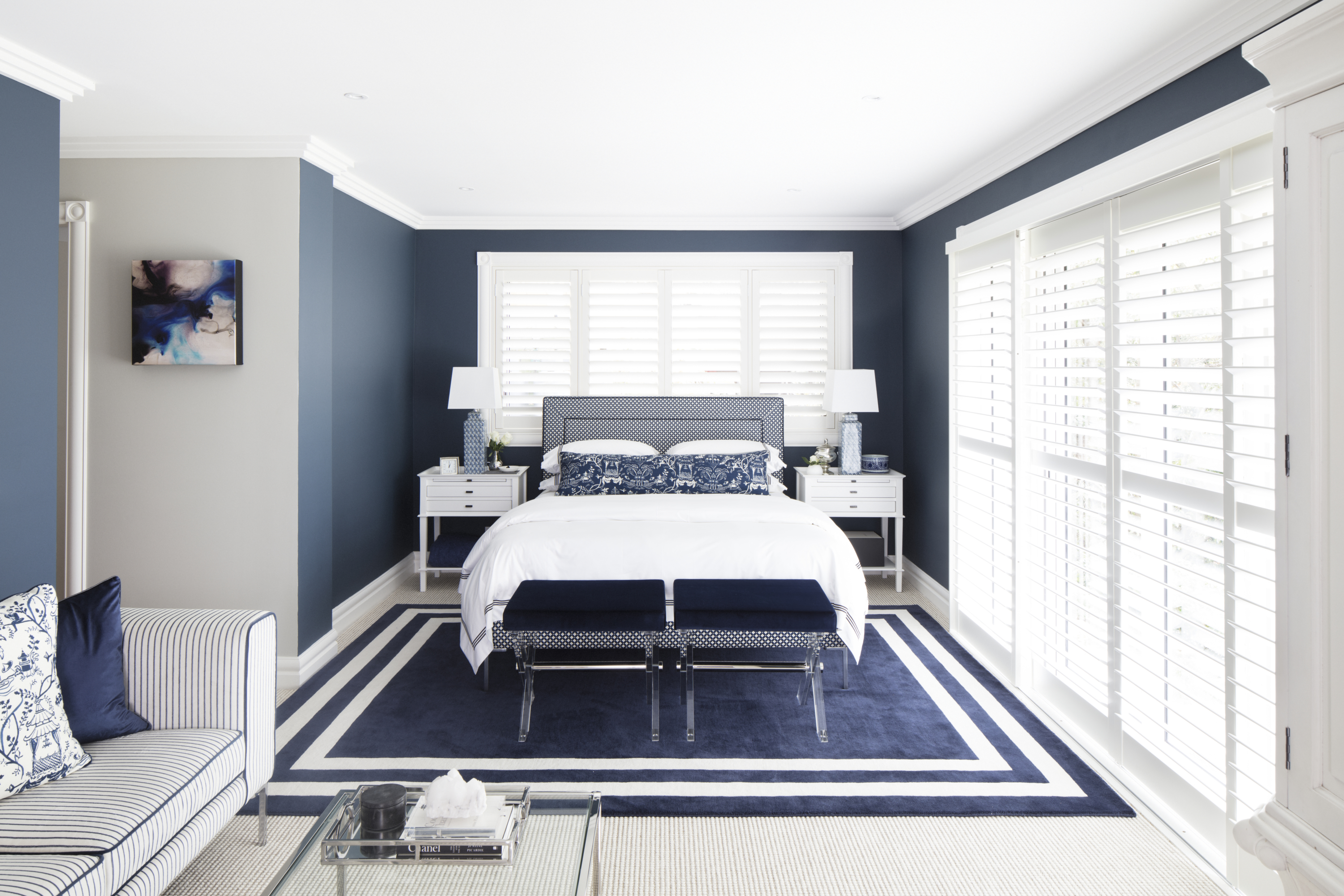 Real reno: A luxe guest suite you'd never want to leave
You know what they say about house guests and fish? Well I'd certainly be doing my utmost to stay more than three days in this gorgeous guest wing, newly renovated…