A kitchen bursting with colour, texture, detail and delight, is the perfect way to describe Laminex's newest collaboration with Melbourne interior design practice, Studio Doherty.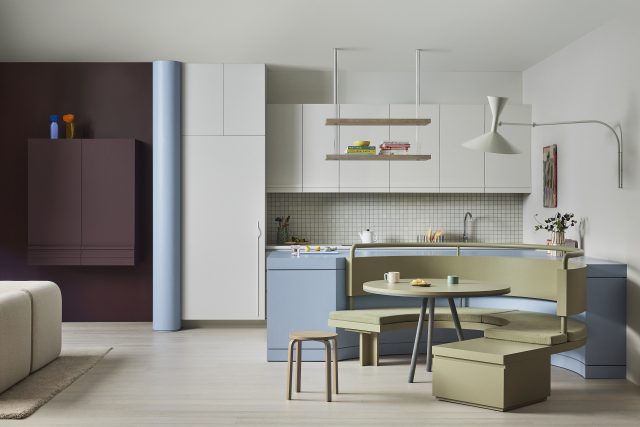 With immense finesse and practicality in such a compact area, Nest sets out to show that an exceptional kitchen doesn't require grand space. Designed with younger families in mind, Nest offers a cleverly conceived, highly functional kitchen, boasting a harmoniously blended, daring colour palette.
The featured shapes and design elements of the kitchen pay homage to the timeless charm of mid-century diners. At its heart is an integrated circular booth, creating opportunities for connection and conversation throughout the day. The distinctive curve envelopes the space with a comforting embrace that exudes a nostalgic aura.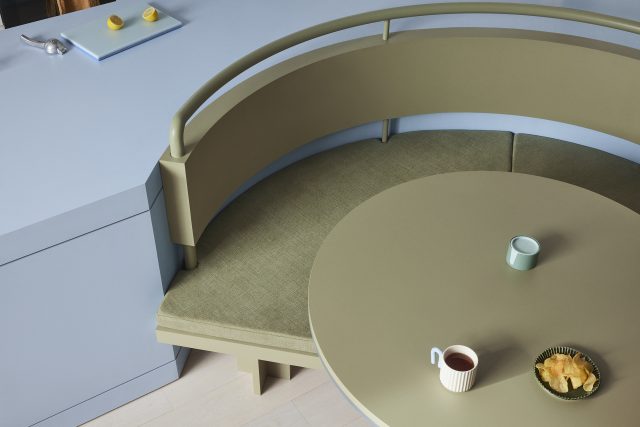 "In a larger kitchen, you'd have a separate dining area whereas in a smaller kitchen, in an apartment, things must work a little harder and the idea of integrating the dining was essential to the success of this design. We loved the idea of having a circular dining section that inserted itself into the island bench," says Mardi Doherty, director.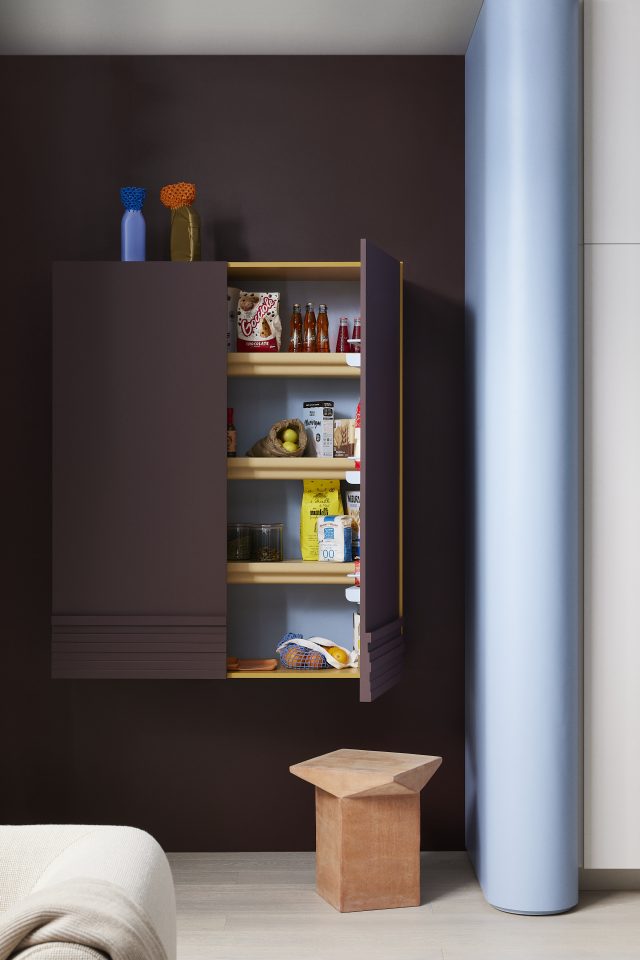 Showcasing an odyssey of tactility and colour, Nest brings a revitalising approach to compact living. A suspended pantry (above) makes for a striking contrast in Laminex Kalamata AbsoluteMatte; a beautifully deep plum-red. To channel a balance of cool and warm, this has then been carefully contrasted using Laminex Coastal Sunrise in the doors and panel lining. Further colour variation shown using Laminex's Just Blue and Pale Honey lined on the back and shelves, creates a playful depth that lives up to Doherty's idea of a fun and friendly space.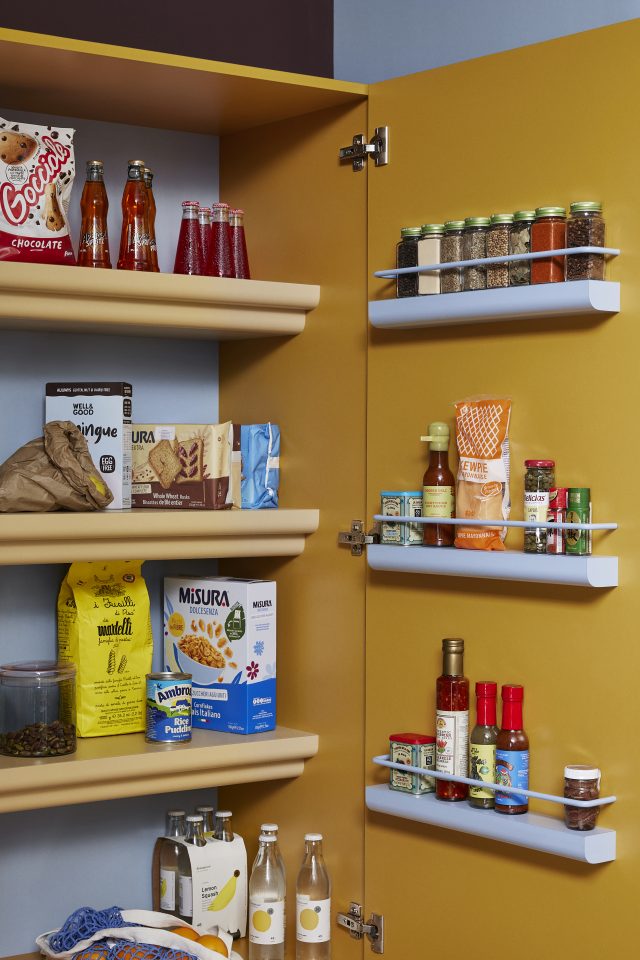 In the construction of the kitchen, several techniques have been employed to highlight the design potential of the Laminex range. Laminex Surf, a slightly dirty white, yellow-based neutral, is applied as a grounding anchor for Studio Doherty's elaborate palate, keeping everything calm to the eye. Shadow line detailing on the counter and central island bench in Laminex Just Blue, ties the kitchen's theme together to help create cohesion.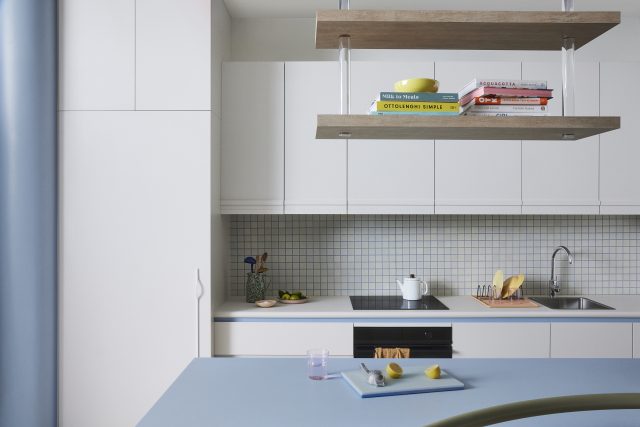 Always playful, but never at the expense of practicality, Studio Doherty has linked each zone with care and consideration. Features such as the drawer at the end of the banquette make an ideal home for kids' toys, picnic gear or oversized platters and plates.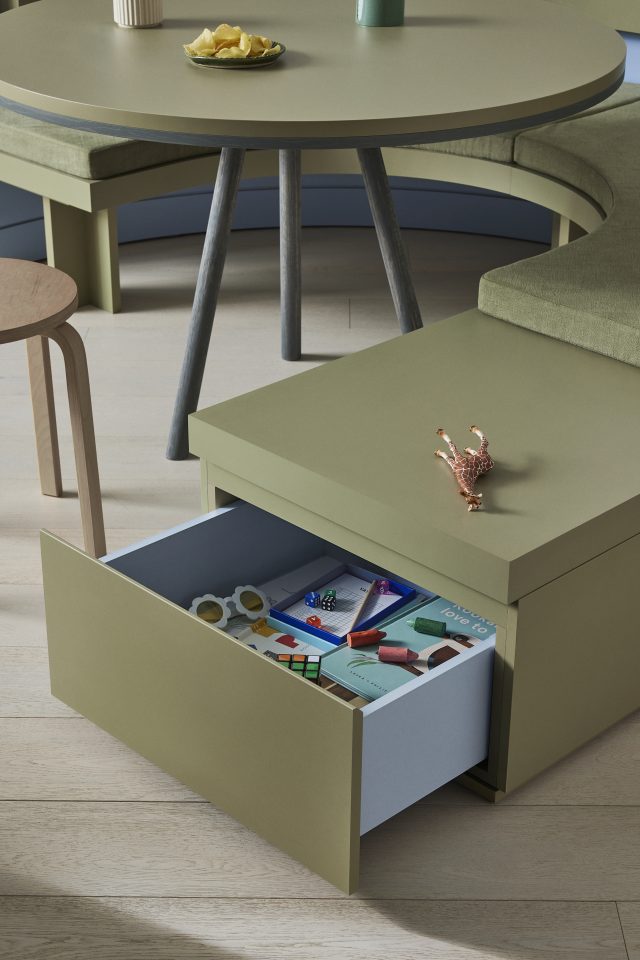 Nest's design strongly articulates the possibility of colour in a kitchen and how the art of being playful can work in all spaces, including smaller areas, when paired with a solid functional foundation.
Read more about the Laminex x Studio Doherty collaboration