When Emily Berlach and husband Dave bought their Central Coast home in 2016, it was a shell with very good bones! Previously built and owned by an artist, it has a European feel with its thick rendered walls, and Emily, who celebrates 10 years of her fashion brand Bohemian Traders next year, worked with her friend, the well known stylist Megan Morton, to make it home.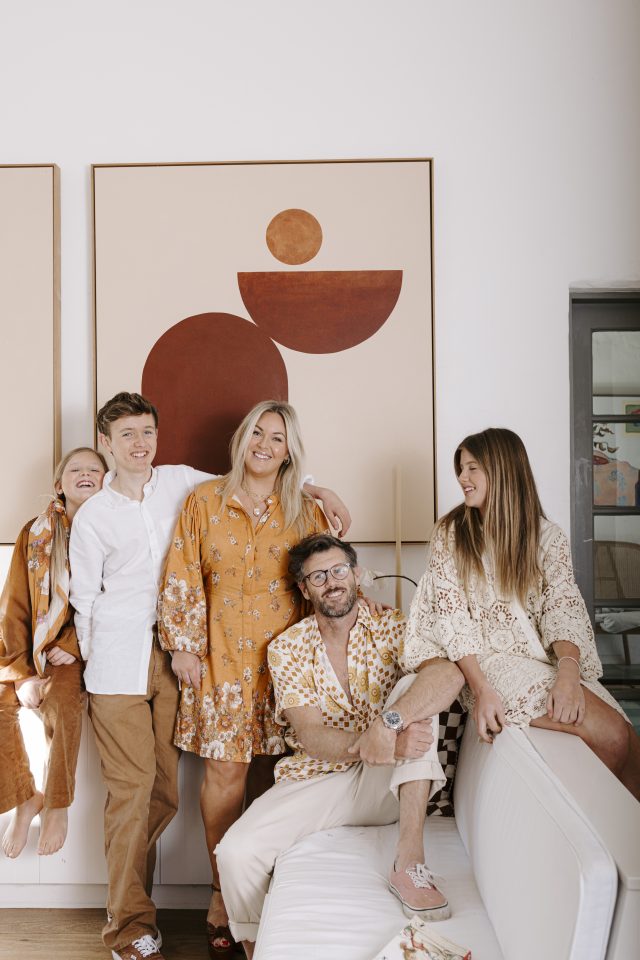 Since moving in, they've added plenty of joinery, extensive landscaping and a new kitchen and en suite, and they have big plans for an extension in the not too distant future.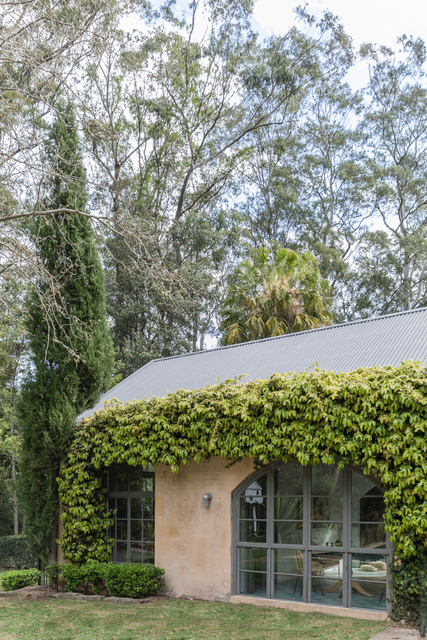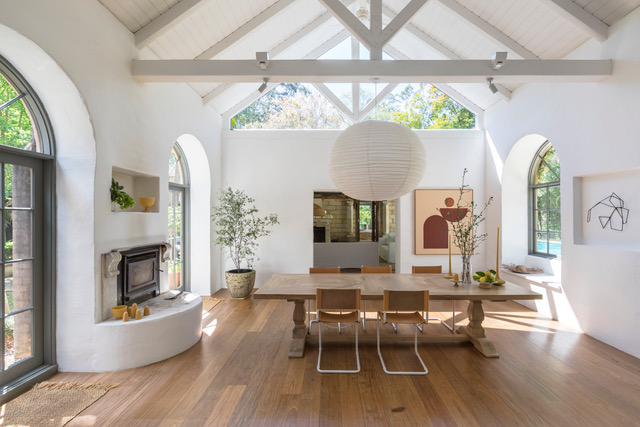 "The well-travelled original owner is a renowned Australian artist who poured his creativity into the construction of the house. Its thick rendered walls are reminiscent of traditional Tuscan villas while the high ceilings give it a barn-like feel," Emily says. "In decorating the spaces, I enlisted the help of my friend and interior stylist Megan Morton, who helped me understand the proportions of each space (the furniture from our previous home looked like tiny free-range tictacs scattered around on the floor!) and purchase furniture to suit."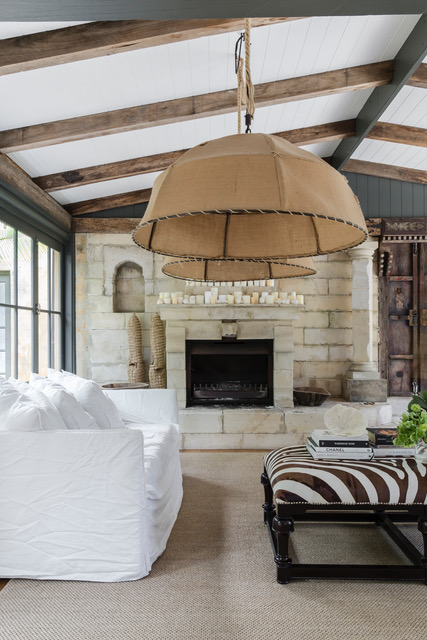 Emily wanted a laidback feel with durable finishes. "Our kids were still very young at the time so things like the MCM House Joe couches were an obvious choice. Over time, we've invested in artwork by some of our favourite Australian artists including Stanislas Piechaczek, Bobby Clark and Laura Jones. These pieces give personality to an otherwise pared back palette. Moving forward, now that our children are a little older and I no longer need to fear breakages and grubby hands, I intend to incorporate a little more colour, texture, and pattern into the spaces – sparingly, of course!"
As a busy working mum and business owner, with husband Dave also in the business as a director, home is truly their sanctuary. "When I walk though the front door and fling off my bra at the end of each day, I'm filled with gratitude!" Her favourite part of the home changes throughout the seasons. During winter, it's what they call the 'record room' with its open fireplace, oversized sofas, and floor-to-ceiling bookshelves. "This is where we listen to music and pour a sneaky whiskey in the evenings. In the warmer months, we live outdoors by the pool or in the northern courtyard."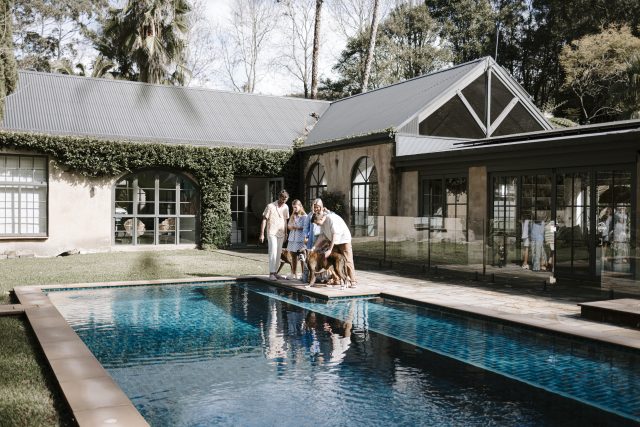 The couple have always steered away from overly precious interiors and truly believe a home is there to be used! "Our hardwood floors are thoroughly banged up from years of wet feet, scraping chairs and of course, scooters and skateboards rolling through the house. That's how we like it. The walls are thick, rendered blockwork and always win in a confrontation with smaller kids. I like things to tarnish and patina, fade and tatter.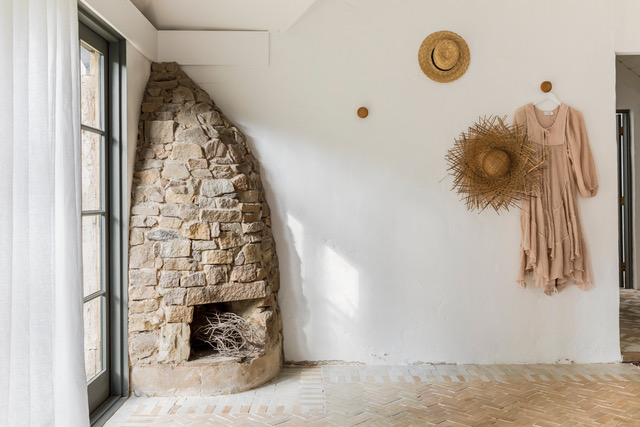 "We adore entertaining and often cook over coals in the mid-afternoon before rolling into a giant bowl of pasta with friends in the evening. We have a guest house up the back that's often put to good use by friends and family after such nights. On Fridays, I have an open house policy where the kids can bring as many of their friends home as they like. We often have well over 10 children here on the weekends. They play in the pool or creek, ride their bikes and dance around in their dripping wet bathers. It's wonderful."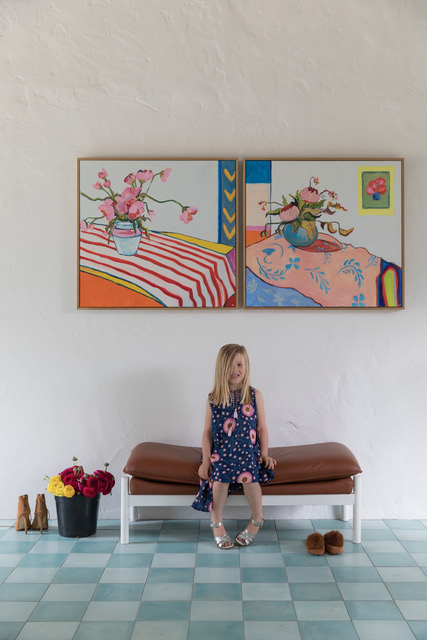 Having studied Fine Arts before going on to become a high school visual arts teacher, it's no surprise artwork features heavily in Emily's home. "I adore the work of Stanislas Piechaczek and once our extension is complete, I intend to invest in another of his giant pieces. They're so expressive with just a tiny hint of pop. I also love the pieces I commissioned from Bobby Clark; they make such a statement in our home without overpowering the space. Currently, I'm crushing on Jade Fisher who we've just collaborated with on a sustainable collection. The bright colours and abstract botanicals are truly joy-inducing!"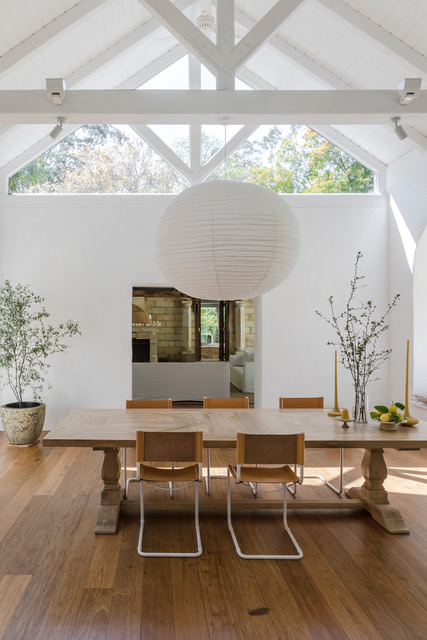 The generous three-metre Florence table from MCM House was an investment piece that Emily intends to have forever. "I hope to make some decadent additions sometime down the road but until this point, we've really focused on durability and practicality! Perhaps art has been our most elaborate, non-essential spend. The biggest bargain would be our outdoor chairs. I picked them up off the side of the road as our timber directors chairs had perished and they've been perfect! I was planning on trying to find the perfect outdoor dining chairs to replace them, but these ones are just so good, and so free!"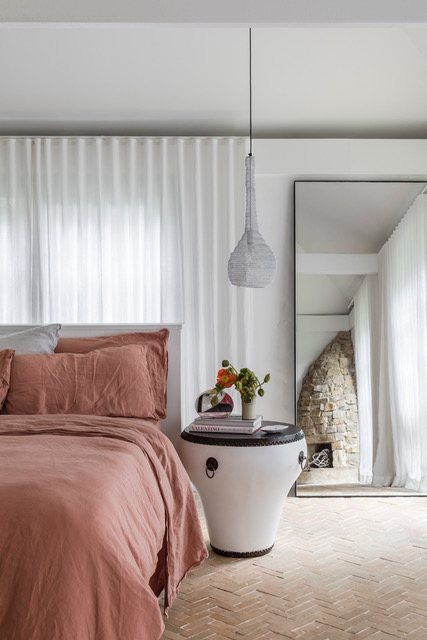 Her favourite shops for furniture and homewares are MCM House, Trit Home, Rachel Donath and Tigmi Trading.
Emily and Dave's fashion brand Bohemian Traders, has seen huge success over the past decade. It emerged as a spinoff of Emily's personal blog The Beetle Shack, which she began writing as a creative outlet after the birth of her second child. Unbeknownst to her, Emily's wit and innate ability to connect with women worldwide through her writing organically propelled her blog's rapid growth and inadvertently built a loyal customer base.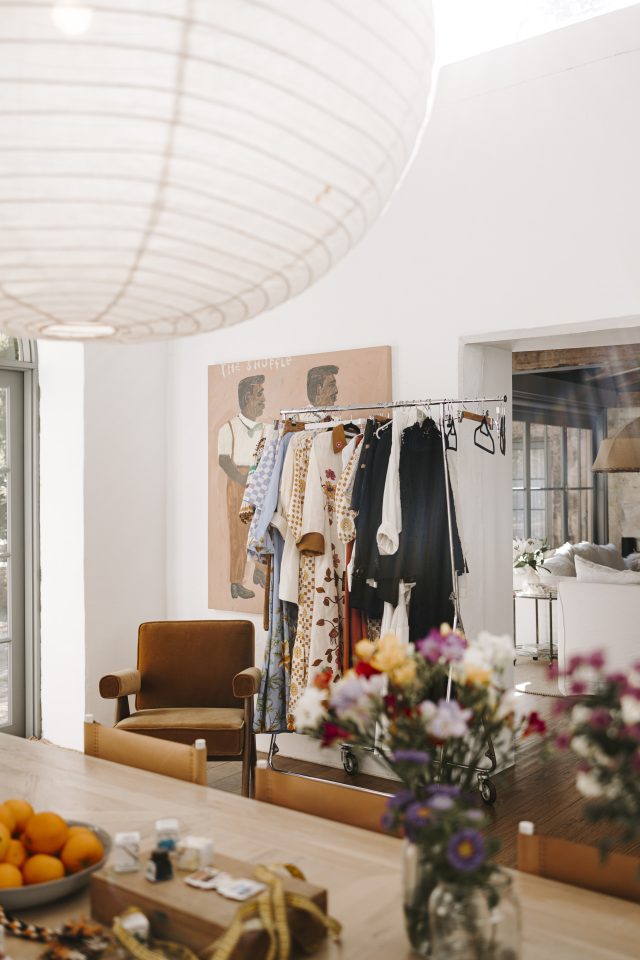 In late 2013, Emily took a bold step and launched a BigCartel store, showcasing a handful of vintage jackets crafted by Indian artisans using recycled Kantha blankets. The response was overwhelming, confirming the existence of a market opportunity. Thus, Bohemian Traders was born. Officially registered in April 2014, the brand achieved remarkable success in its inaugural year, selling over 9,000 products. Emily tirelessly expanded the product range, quickly transitioning into designing and manufacturing her own creations. And the rest, as they say, is history.
"While I do I hope this is our forever home, sometimes I feel the ocean calling me and I could be tempted back to something shoreside at any stage!"
Photography by Pablo Viega and Megan Morton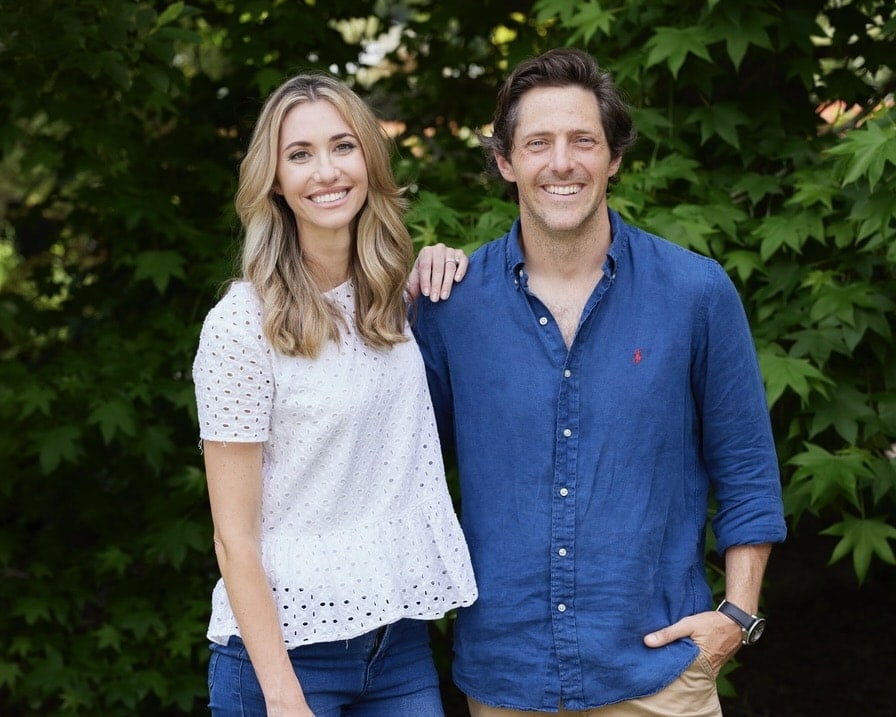 Juliet Love on her new role at Better Homes & Gardens and working with Charlie
A long-time friend of the blog, we caught up with stylist and interior designer Juliet Love recently when we heard she was …