I think I actually shed a tear when underdogs Kim and Chris took out the master bedroom (sorry, suite) win last night because oh my goodness, didn't they deserve it?! It was divine! And massive. And absolutely nothing like the previous week's confused country-style living/dining. It was amazing to see such a change and such progress. I felt so proud of them!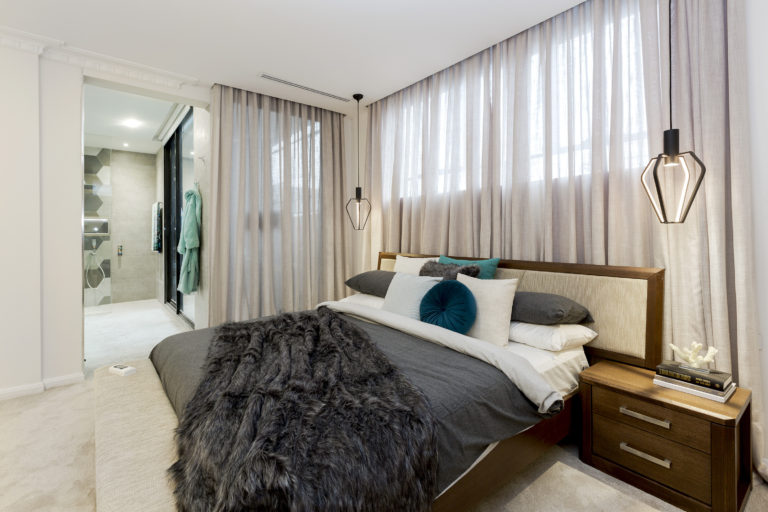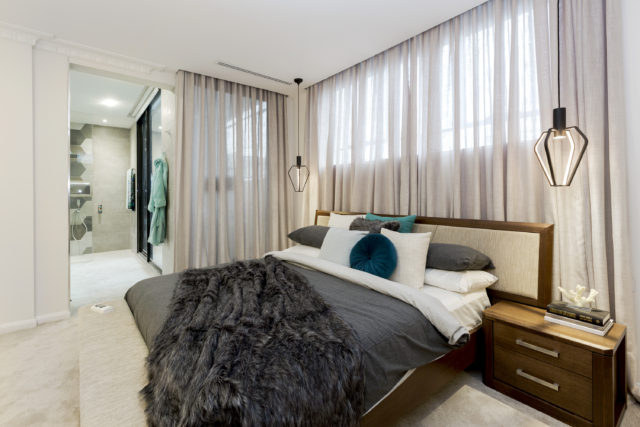 So, the results were:
First place: Kim and Chris
Second place: Julia and Sasha
Third place: Will and Karlie
Fourth place: Dan and Carleen
Last place: Ben and Andy
And here's what the judges had to say…
Karlie and Will
All three judges were wowed by the timber feature wall and rightly so. Wasn't it gorgeous and so much work involved! I always love it when Darren Palmer comes out with comments like "holy moley!" He also said it showed extraordinary workmanship. Neale Whitaker agreed it was absolutely stunning and obviously the big idea they'd been working up to. "It just works."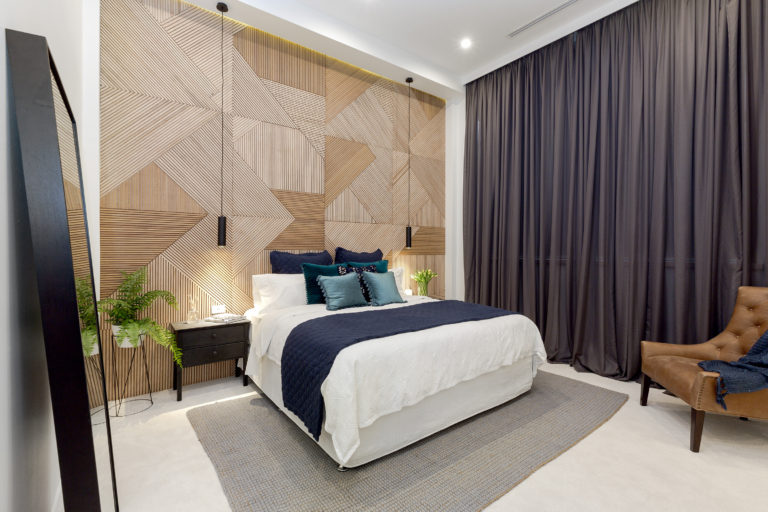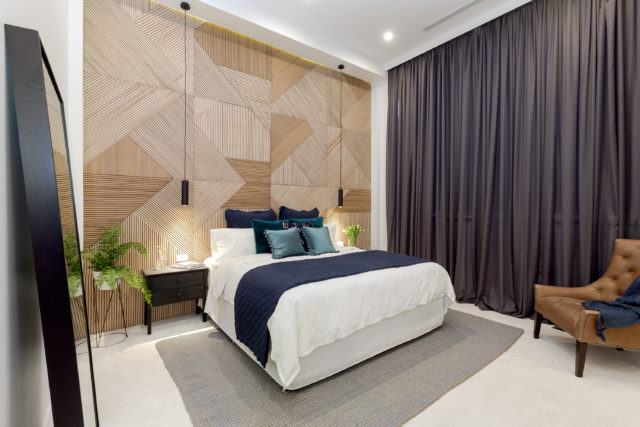 The black double doors also got lots of praise. Neale said: "It's a very contemporary bedroom, I love it."
They found the wardrobe, although it great storage plus powerpoints, a bit of a letdown, and said it felt like an afterthought.
We loved the dimmable LED pendants lights.
Dan and Carleen
Darren said the room was so calming and tranquil and Neale was in love with the original deco pendant lights (from the vault).  The judges said they'd got the balance just right; contemporary but with well thought through references to deco. There was lots of pattern but it worked because it had been subtly done.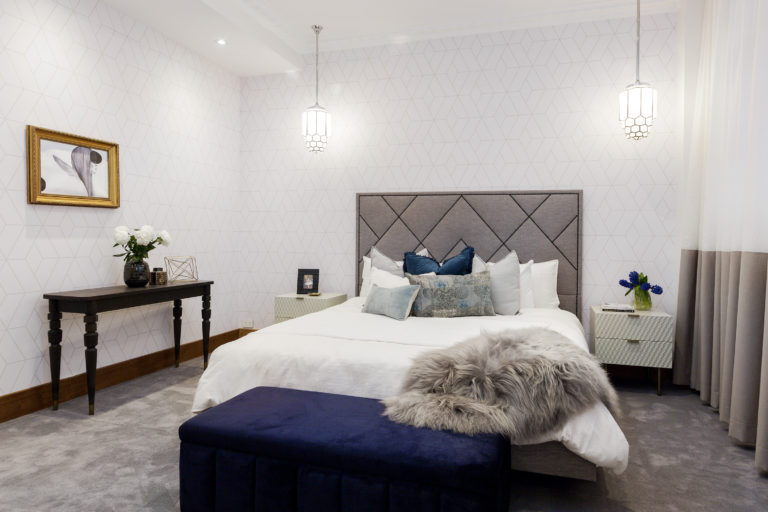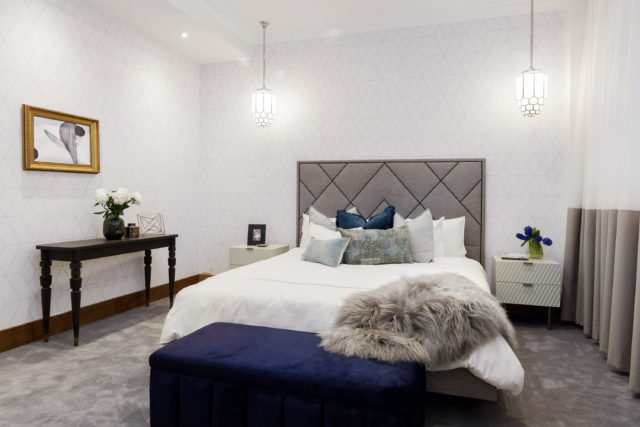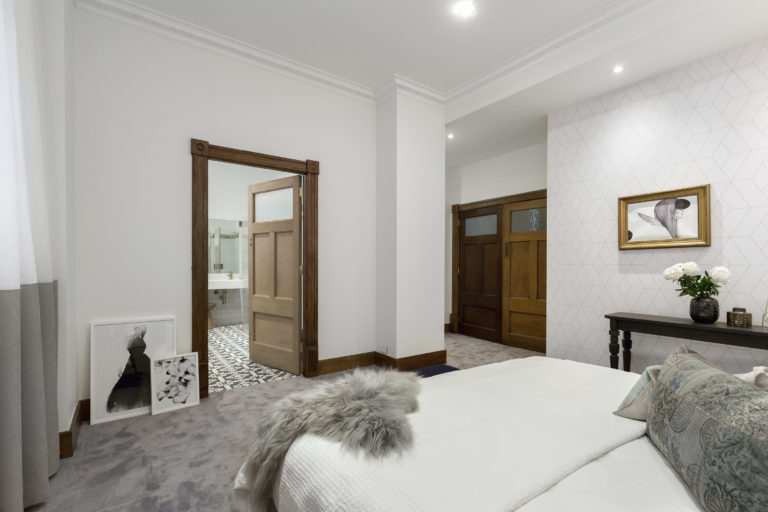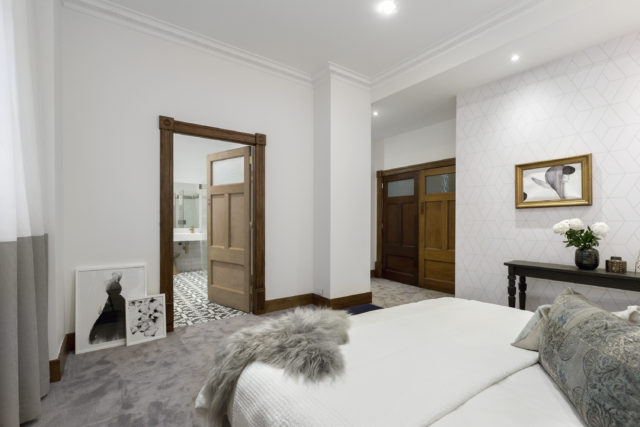 The wardrobe however clearly lost them a lot of points when it was revealed the top section was not deep enough to hang a jacket or shirt in. The judges said it was a big letdown on functionality.
I liked this room but it didn't wow me. The curtains were gorgeous though as were the West Elm bedsides.
Andy and Ben
Although the boys lost half of their wardrobe to their en suite, Darren said you could hardly notice and it didn't feel any smaller. Winning!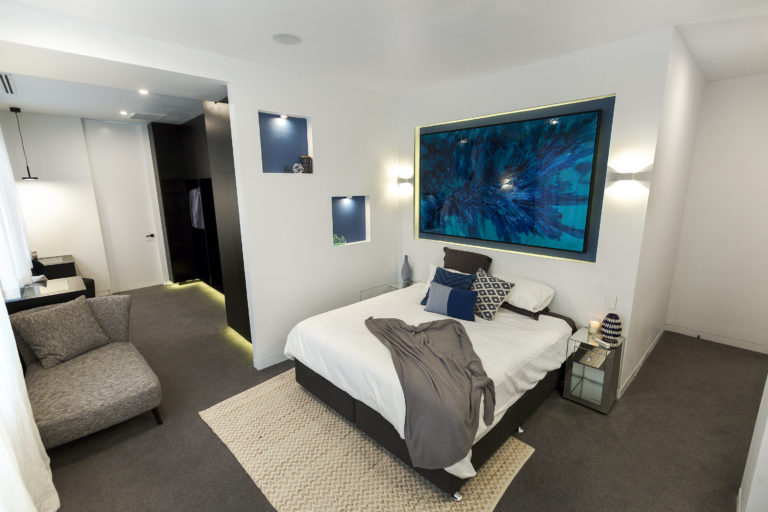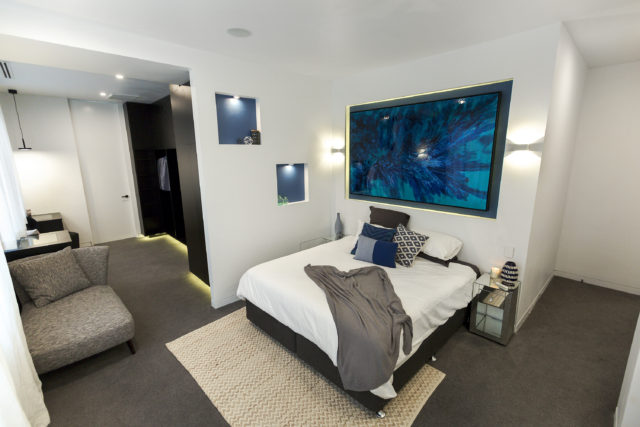 While Neale said it had a nice, fresh feel, Shaynna was underwhelmed and said it was a bit impersonal, and a bit of a bachelor pad.  Darren agreed, although he said he could see the boys had given it a really good shot, but it needed an extra layer of luxury. And Neale said the styling was a bit off!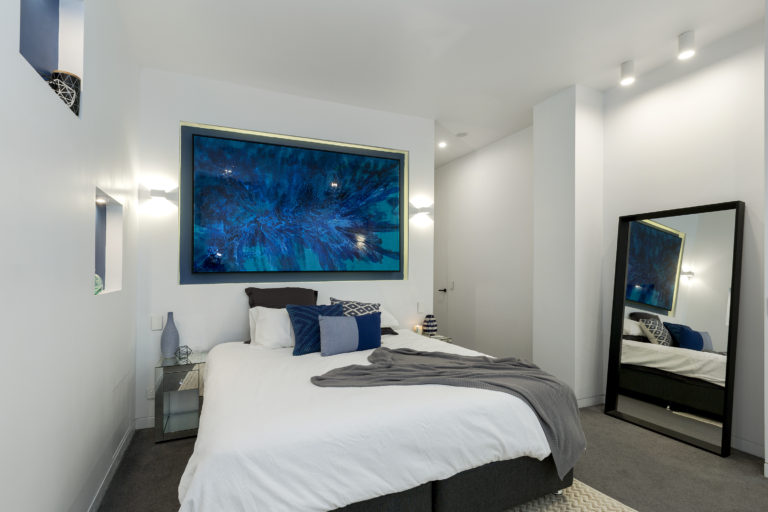 Things got more positive in the walk-in, where the bench seat, dressing table and shoe carousel went down a storm!
I loved the Jessica Skye Baker resin artwork! Buy similar.
Julia and Sasha
The judges loved the smart technology and the mega bedhead (me too) by Heatherly Design in this room. Neale said it felt like they'd really raised their game this week and hit it spot on. Personally, I don't like it half as much as some of their other rooms and just felt it wasn't very cohesive. Shaynna loved it too though, saying it was luxurious and the artwork was very clever and incredibly art deco.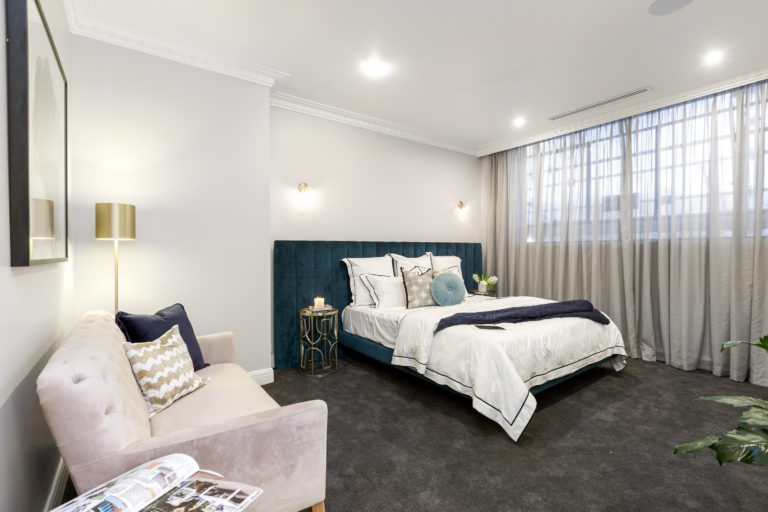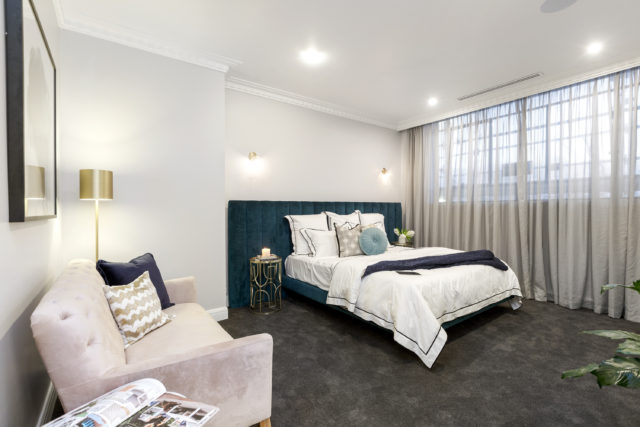 Neale said the walk-in (which was amazing!) felt like an extremely high end boutique. "It's really quite beautiful. Darren loved everything about it; the  lighting, the handles and the gloss.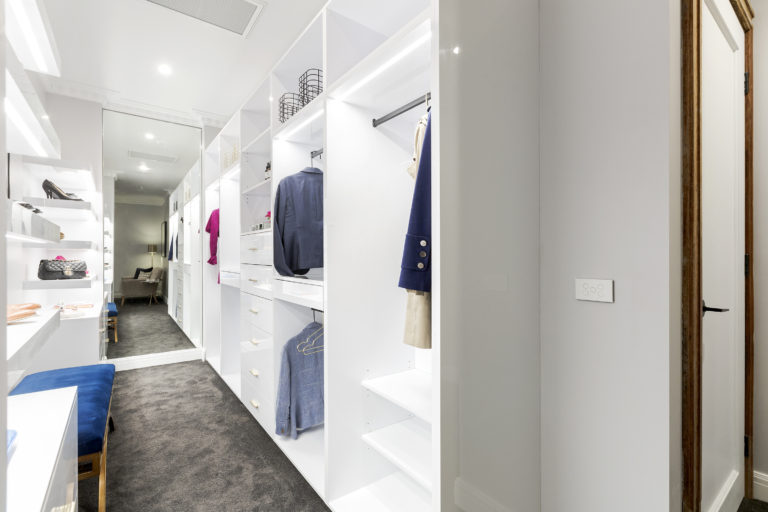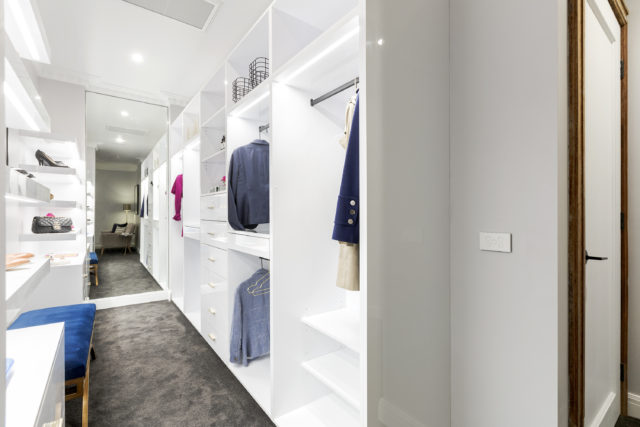 Kim and Chris
Well, well, well, this is where it got really good with Kim and Chris's huge suite, which Neale said was bigger than his house (which just sold at the weekend)!
Again, I don't think the photos do it justice.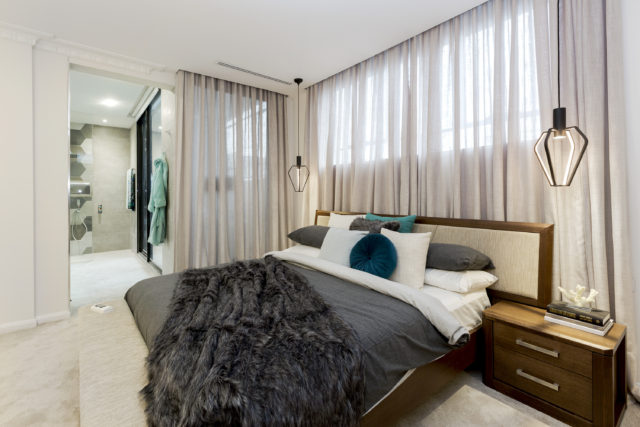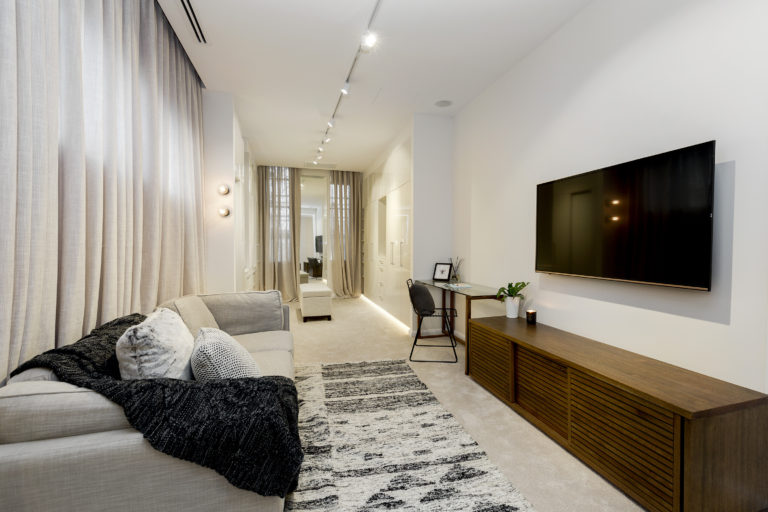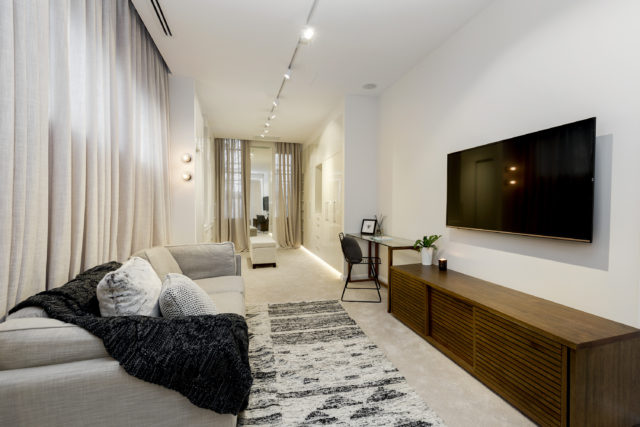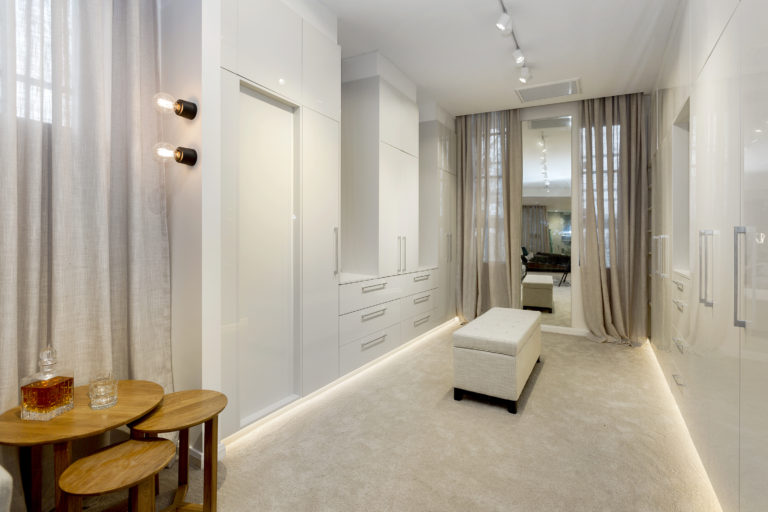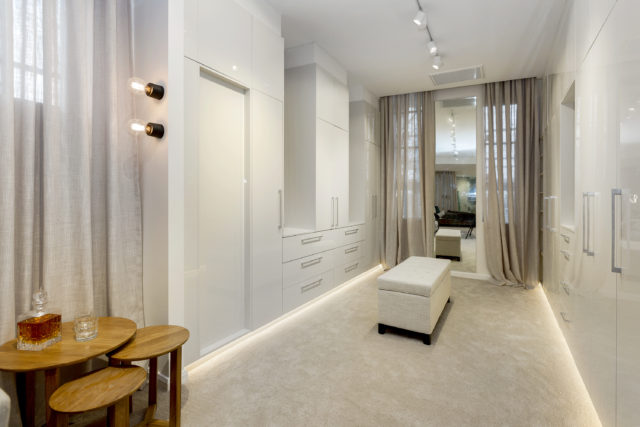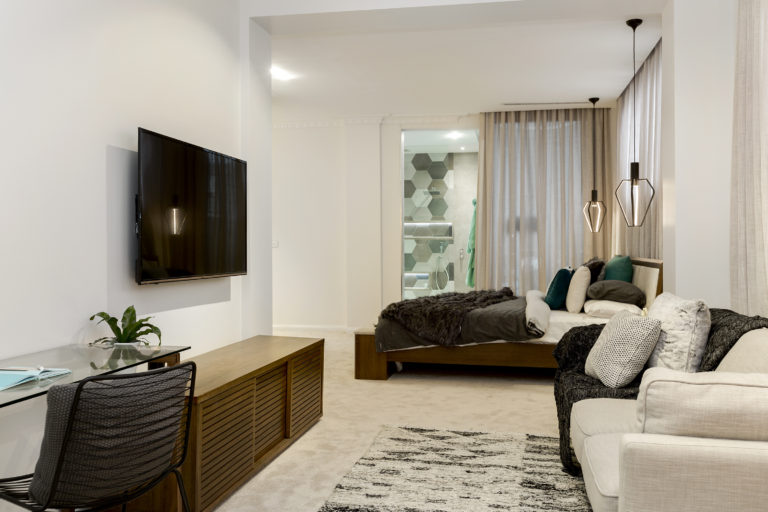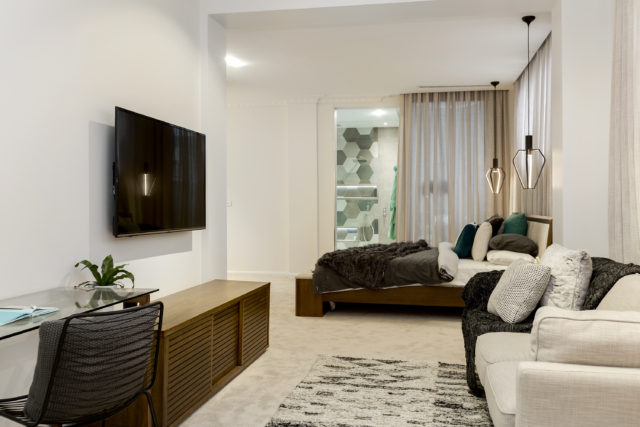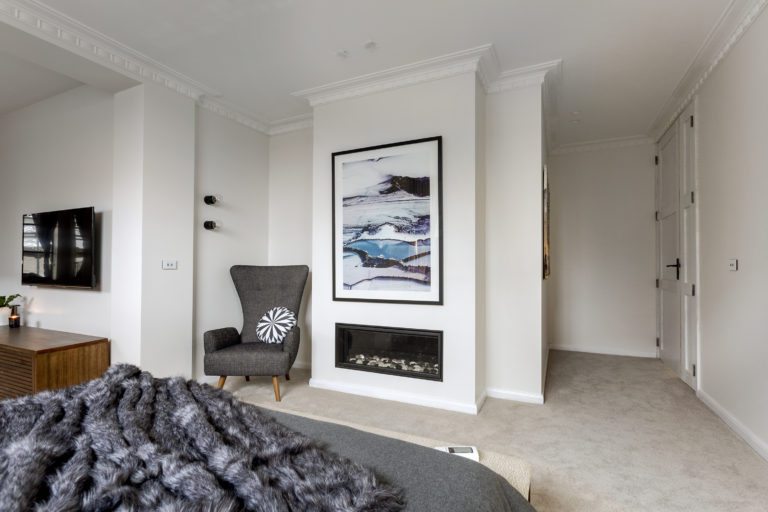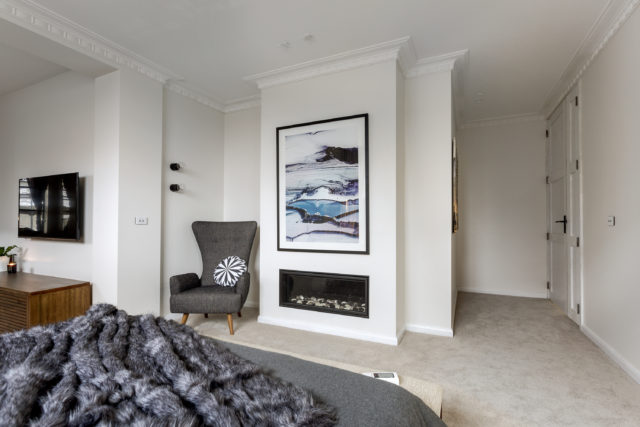 Shaynna said "ridiculous," Darren said "insane," and Neale said "absolutely magnificent". Darren was totally in love with the bed and said the furniture all tied beautifully together.
Neale said it was penthouse living and they'd found a level of luxury he didn't think they were capable of finding. "Luxury in spades."
Darren said it lifted the calibre of the whole apartment, he just would have loved to see a door to the bathroom.
Neale, who loved seeing old fashioned doors on the wardrobes for once, put it out there, saying: "I think this is the most glam bedroom I've ever seen on The Block."
We liked the pendant lights too.