Well I never, what a remarkable lot of room reveals we saw last night for week one! Impressed. Big time! You'd think there'd be at least one duff room, but I have to say, they all did really well. Although some, of course, did better than others. It was a tight race though, with only half a point between first and second place. Read on for all the details!
JASON AND SARAH (4th place with 24/30)
"How pretty," said Shaynna, noting the beautiful tiles. Neale said it was nice to see a new, more subtle take on the Moroccan floor tile trend but thought the pendant light was overkill. Agreed!
Shaynna thought the functionality was spot on. A great start! She loved the underfloor heating, hydronic towel rail, double basin, good size vanity, cupboards and shelving. Darren would have preferred drawers, especially as there was no face-level storage (obviously this is going to be a big deal for the judges this season, but I 100% agree with them).
Neale was frustrated that they had chosen well on the big ticket items and really let themselves down with all the little details. The judges found the styling cluttered but all agreed they delivered a great room. As I was listening to the judges' comments, I was already mentally removing all the bits and pieces from the space in my head, because underneath them, there's a pretty stunning bathroom.
Our picks: Sussex Scala tapware and Milli Pure shower from Reece, arched leg planter, Aspar botanical handwash.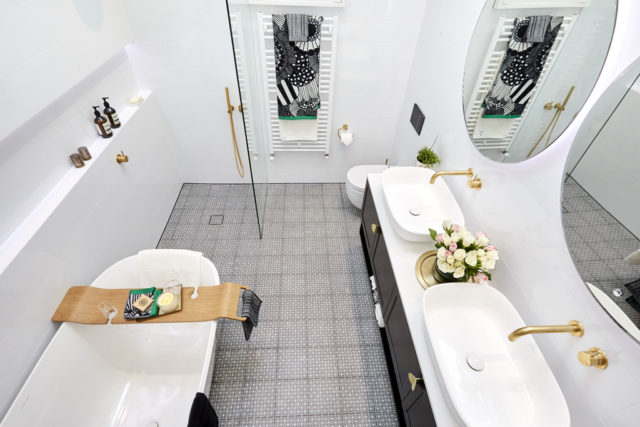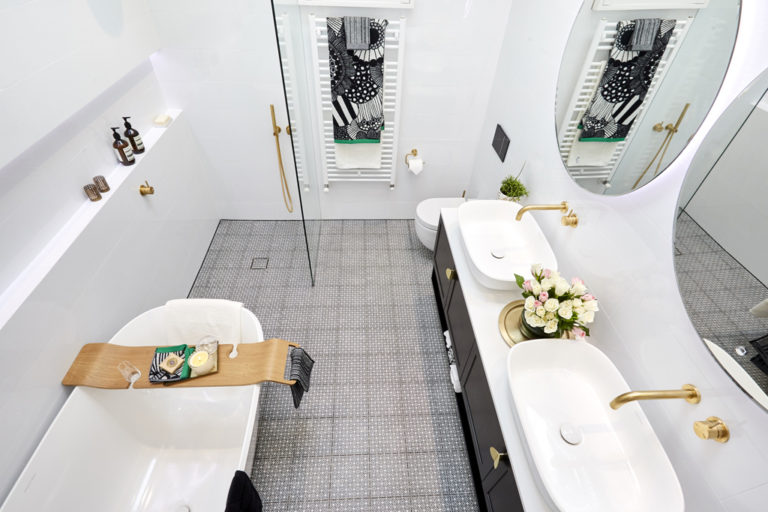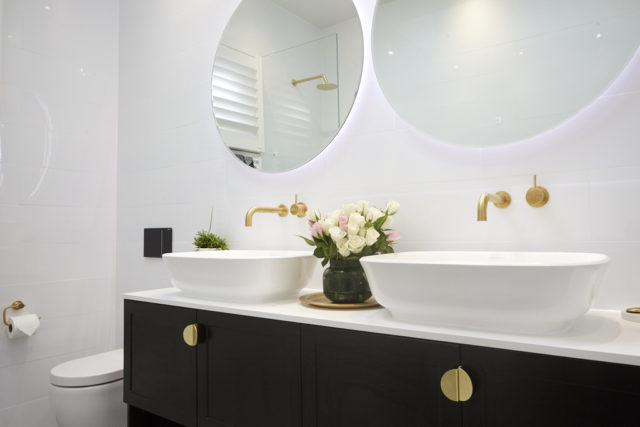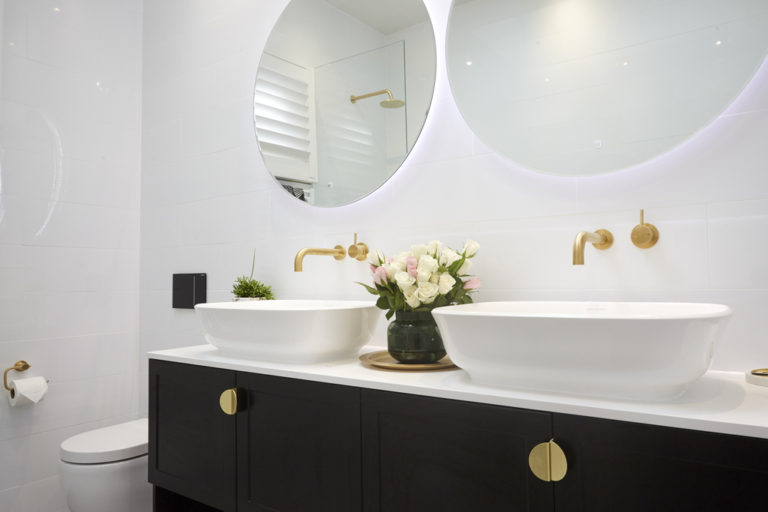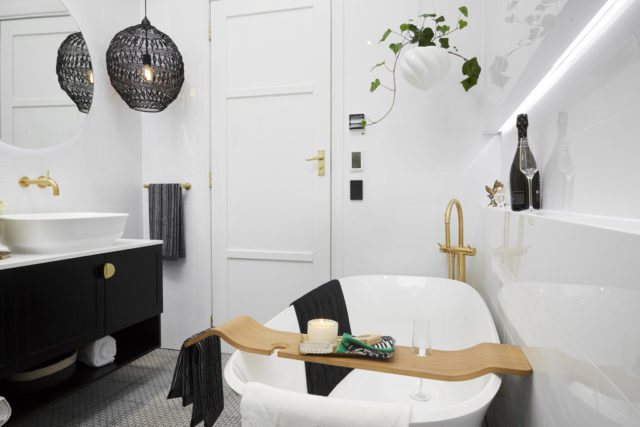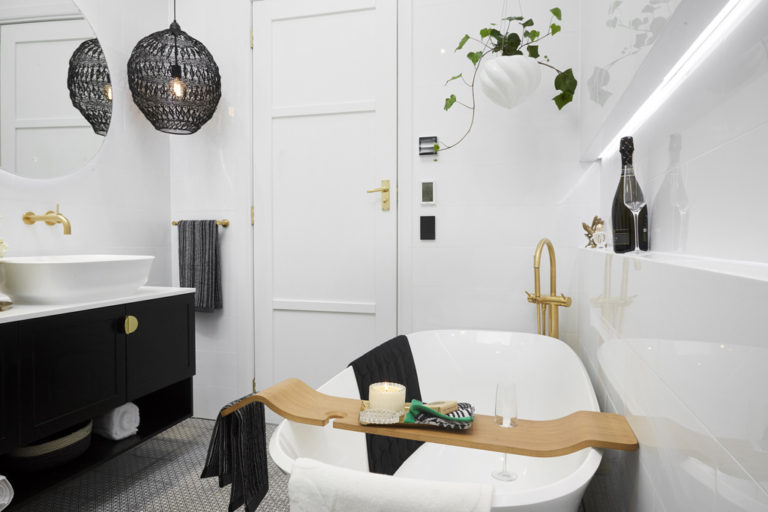 ***
HANNAH AND CLINT (last place with 16/30)
Poor Hannah and Clint! Despite the lovely Sticks and Wombat helping the couple out cutting their tiles, they sadly ran out of time to get everything finished after a number of setbacks in the first few days. There were tears, but the beginners took the feedback with good attitudes.
Darren's first world was "bummer" and Neale said it would be a nice bathroom if it was finished. He was pleased to see them try something bolder than last week though and loved the tile mix. Shaynna loved the layout, the type of bath, tapware, size of the vanity and styling efforts.
The couple had moved their bathroom to achieve a separate WC. Unfortunately Neale hated it. Really hated it! He said it was the meanest splashback he had ever seen and the pendant light looked wrong.
Can we talk about the black framed shower screen? I'm loving that look! And the black tub too.
Our picks: Hourglass stump stool, Kado Lux black bath from Reece, Ziporah Lifestyle towels.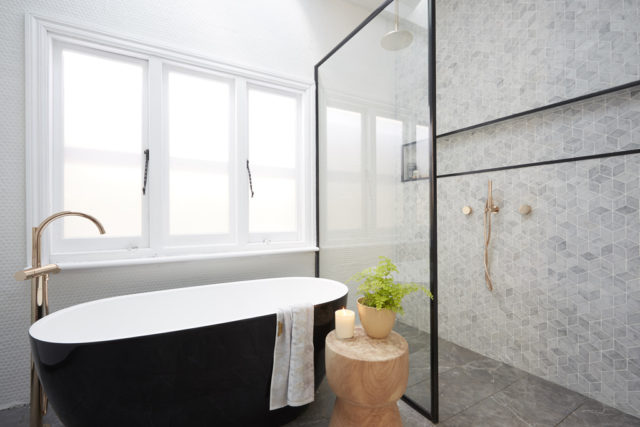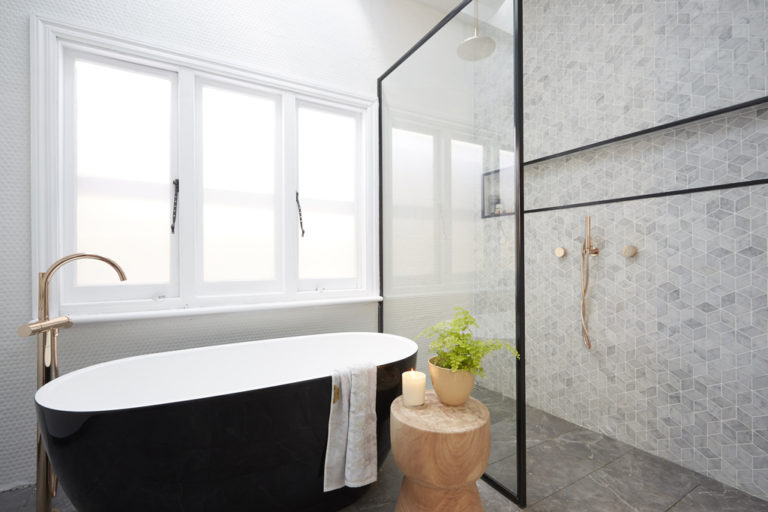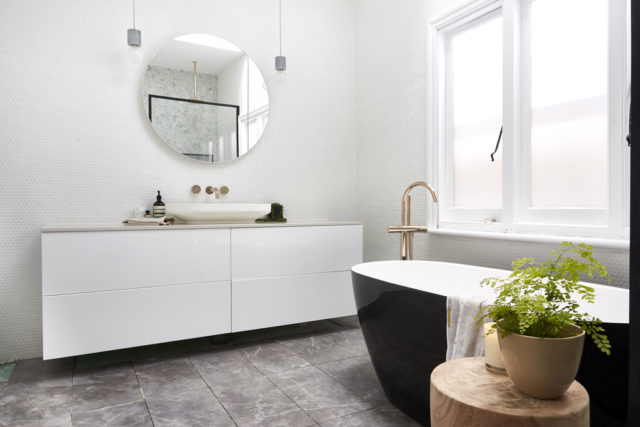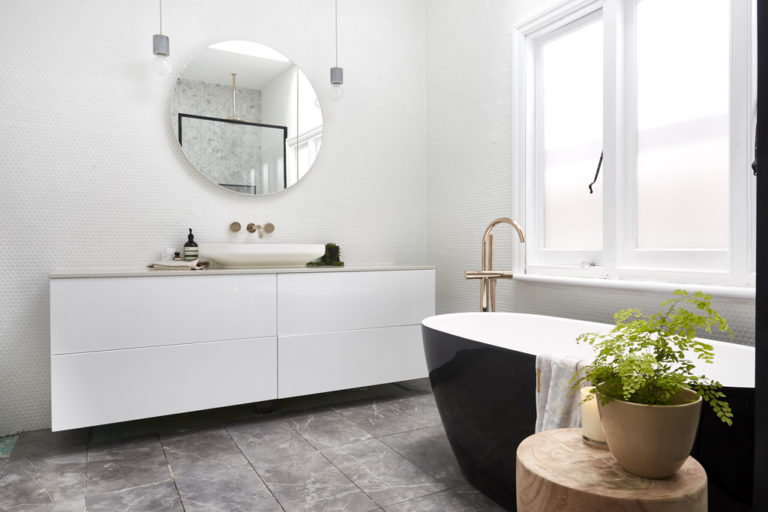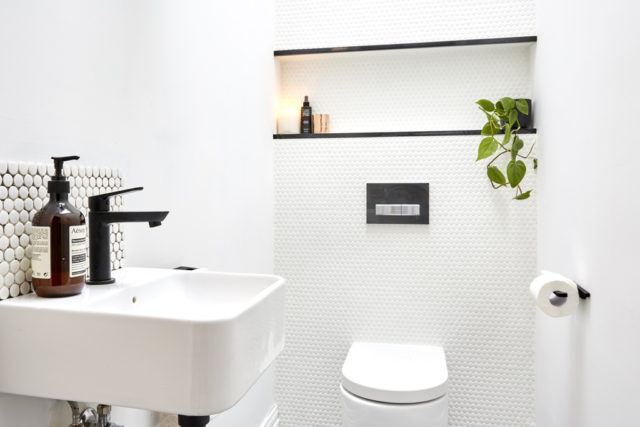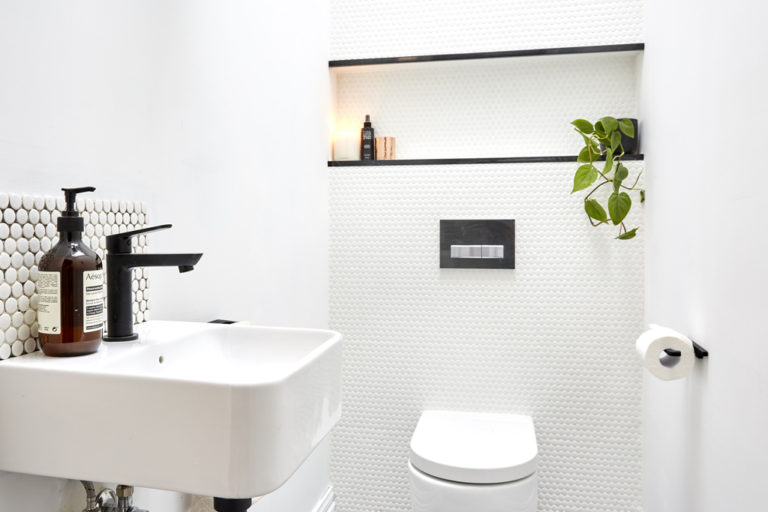 ***
GEORGIA AND RONNIE (3rd place with 25.5/30)
They started the week well by winning the challenge and $8.5k from Josh and Elyse's budget. Then their builders made a number of mistakes which got them in trouble with Scotty and Dan. But an influx of trades helped them get back on track, delivering one of my favourite bathrooms.
Neale said it was bold and contemporary, neither too feminine or too masculine. "There's so much to like," he said. "If I walked in as a potential buyer, I'd be blown away." High praise indeed.
Shaynna said it felt really good but majorly under-delivered on storage. She also criticised the placement of the powerpoints and the bath spout (agree on both counts).
Then we saw the first example of the judges disagreeing with each other this season over the gold speaker being overkill (Neale wasn't so sure).
Our picks: Custom shower screen, Alape Circa matte black basin and Sussex Scala tapware from Reece, brass vase.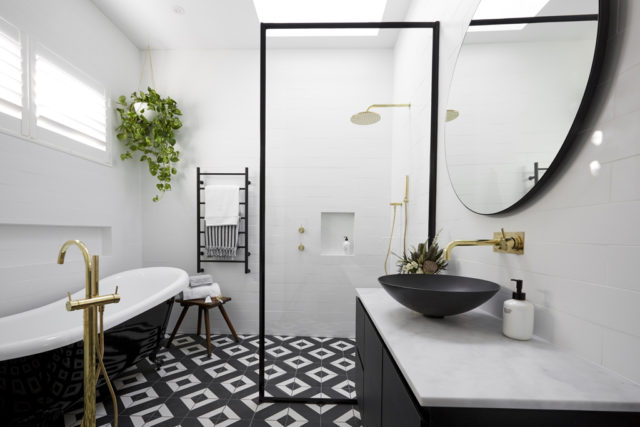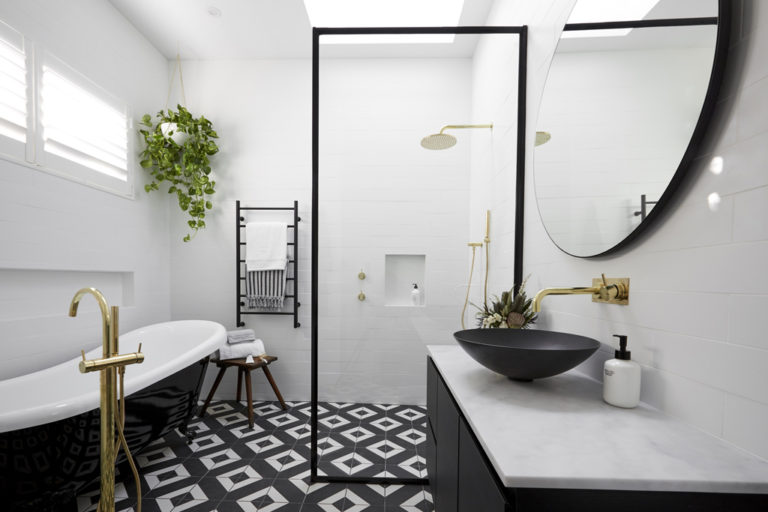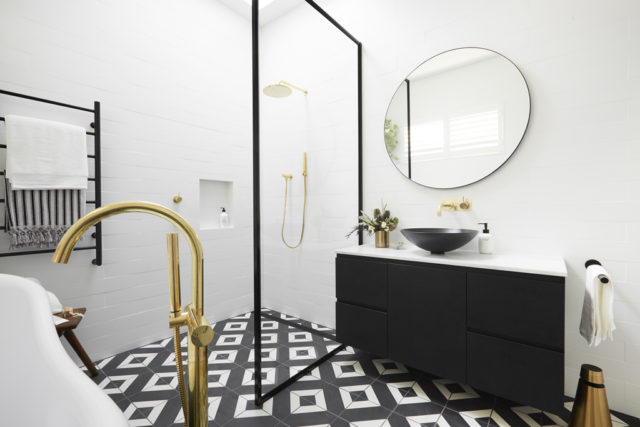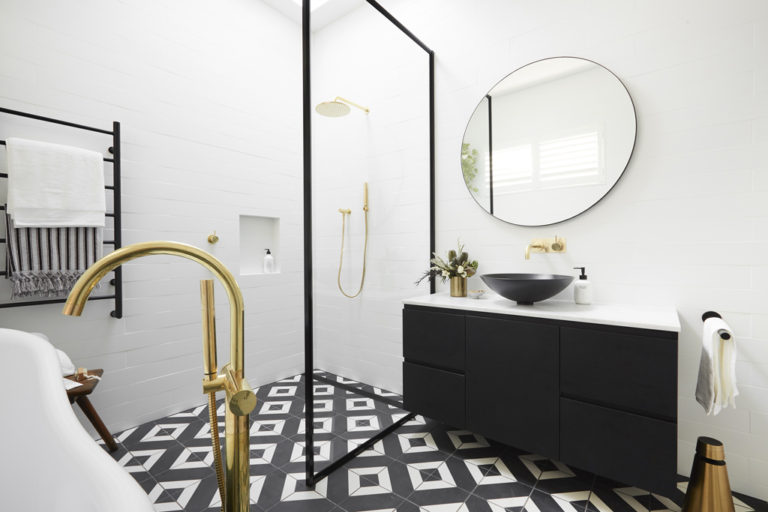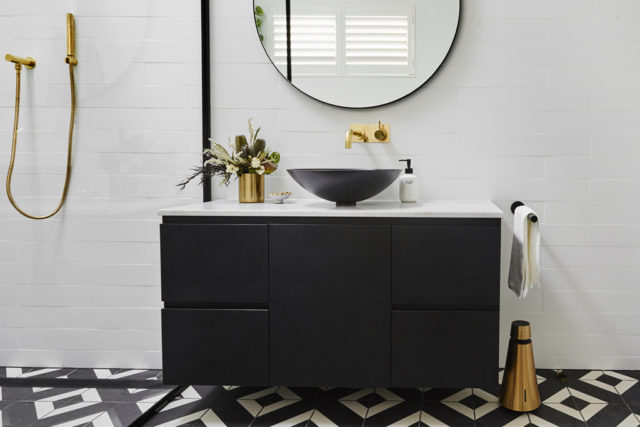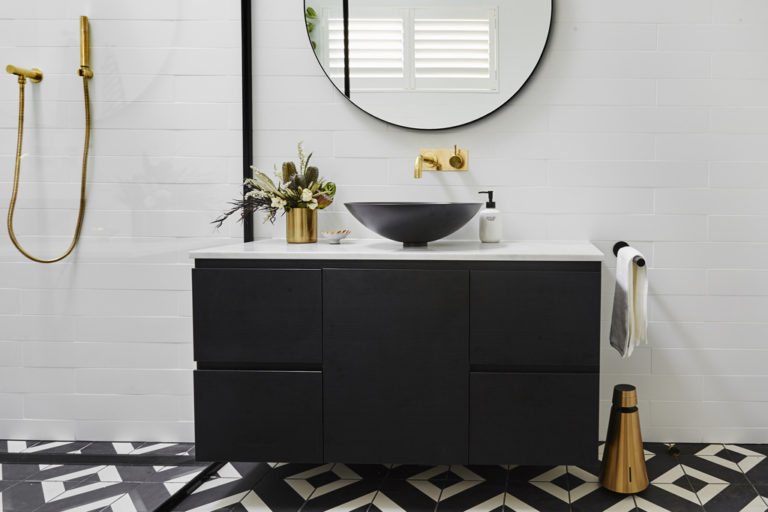 ***
STICKS AND WOMBAT (2nd place with 26.5/30)
There were problems and setbacks for this pair too, mostly with tilers, but they managed to deliver a very unique and expertly finished (and really big) room!
Neale said the ceiling was beautiful and Shaynna called it an architectural success. Darren agreed, saying the symmetry was fantastic. Neale said the luxury was the amount of space. Darren said he was seeing a lot of personality in an appropriate way. And of course they loved the face level storage!
Shaynna said the level of finishing off blew her away. Quality workmanship. The handmade elements being at odds with the tapware, which was in turn at odds with the cabinetry handles (my first thoughts too and I didn't like the mosaic feature either), worried her. But these are pretty easily changed later if they want to. Neale said top marks for giving it a go and doing something different. And Darren said they'd struck the balance of quirkiness just right. Neale added he couldn't wait to see what they did with the rest of the house.
Our picks: Custom Rifco mirror cabinet and Kado Era bath from Reece, timber bath caddy.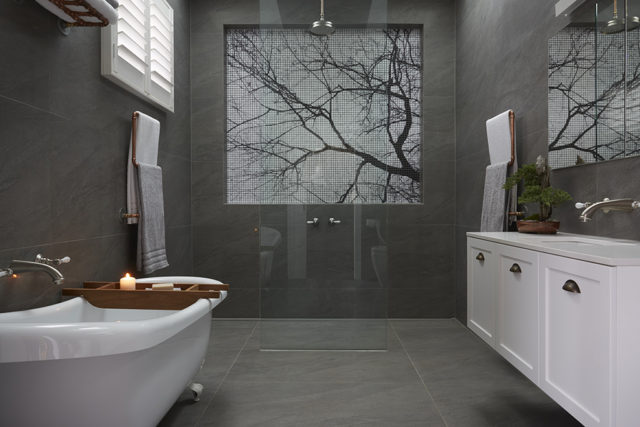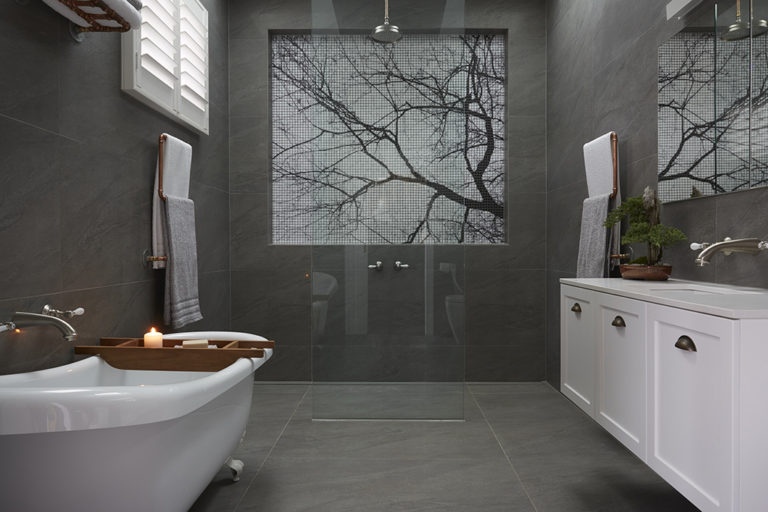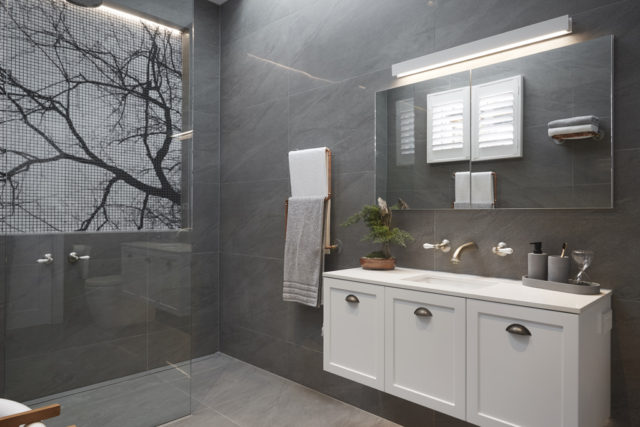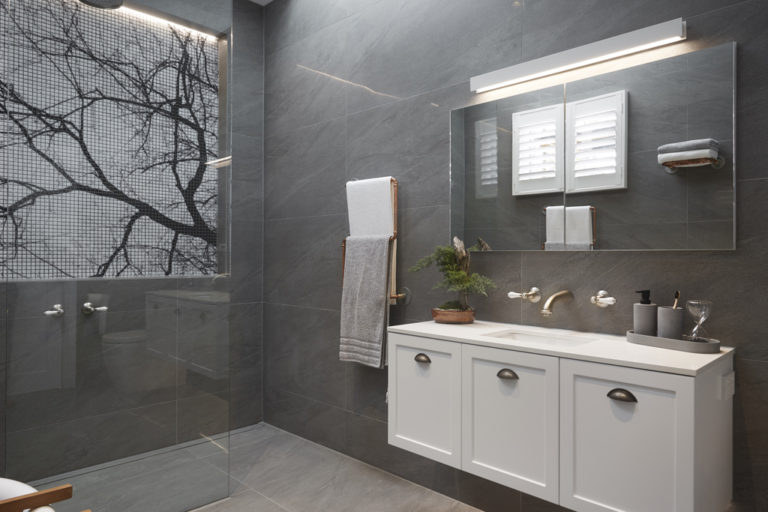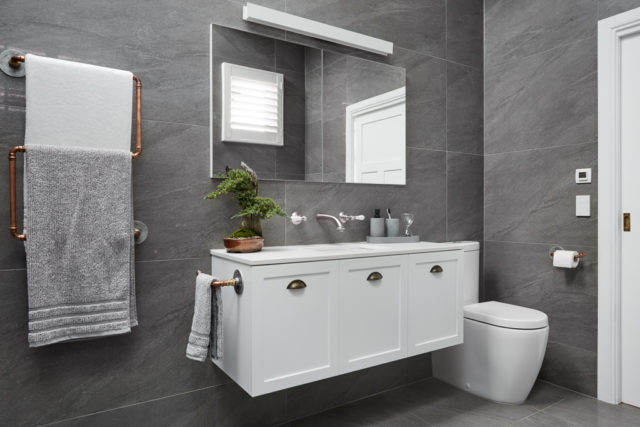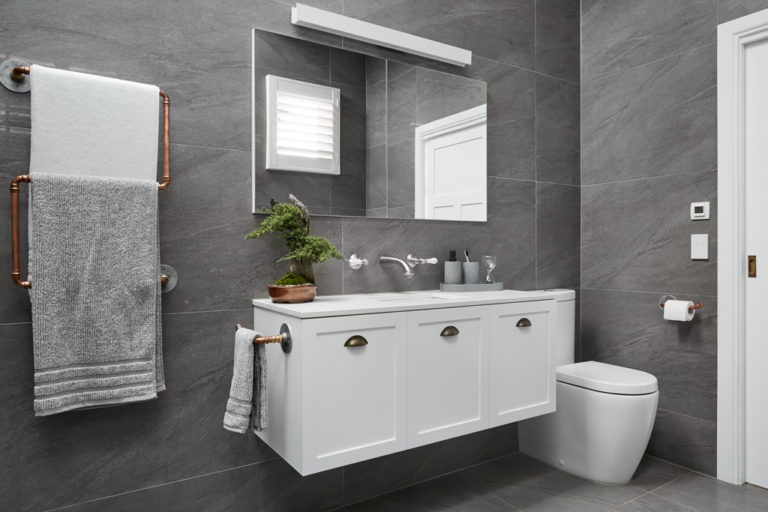 ***
JOSH AND ELYSE (1st place with 27/30)
WOWEE. I mean OMG. I absolutely loved this and knew they would have to come first, if only by half a point! Phew! Stunning bathroom!
The youngsters were the first to waterproof and tile and the first to use a round bath in Block history. I'm still not 100% sure on how comfortable it would be to bathe in (I'm a serious bath afficianado) but it sure looks hot!
The judges immediately loved the bath and the skylight. Neale said it was really dramatic and Darren loved all the play on circles. The only thing letting it down, said Shaynna, was the too-small vanity.
The judges said the design was at a professional level and I'd totally agree. It seems these two are not to be underestimated and written off as the token good-looking couple. They have some great ideas!
Our picks: Wild About Wood vanity, Milli and Sussex tapware and hardware from Reece, timber stool.