Located in an industrial suburb of Newcastle, interior stylist, author and educator Tim Neve recently updated his nineties era cottage with a mix of industrial, bohemian, vintage and masculine elements.
"The home was purchased around six years ago and started out as a cute little two-bedroom cottage. The facade was classic weatherboard so always appeared timeless, but it would have originally been built in the 1990's – all the tell-tale signs of that era were there in the interior. Peach walls, apricot kitchen, and faux-marble tiles with, you guessed it, peach veining!" says Tim who lives in the home with his three-year-old son Honne.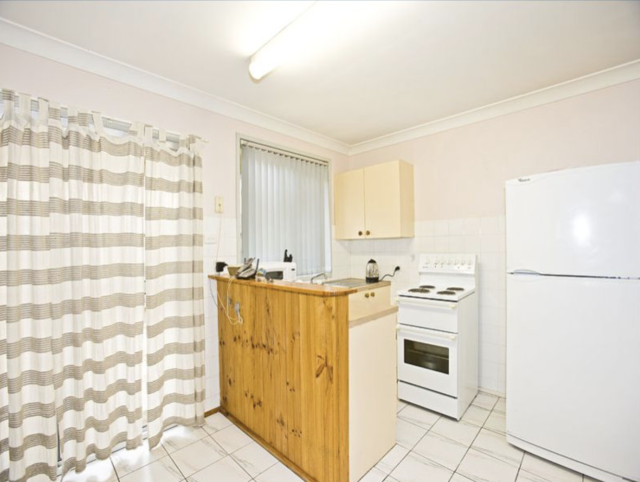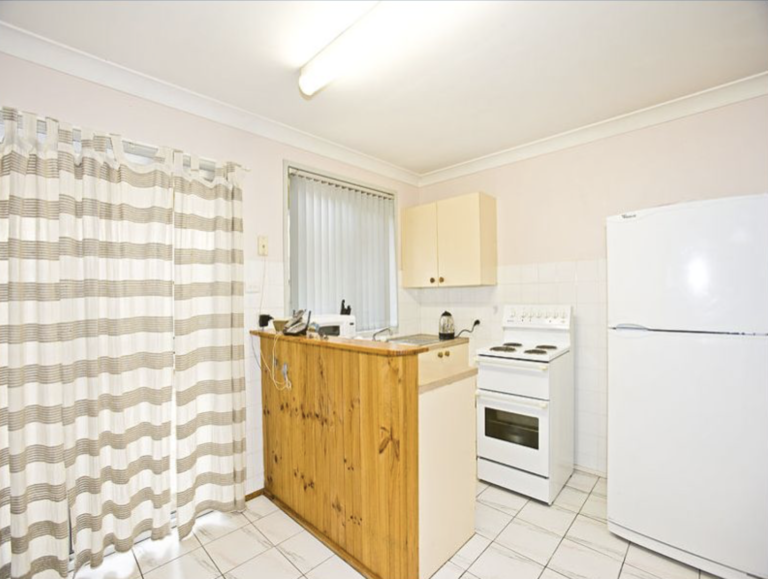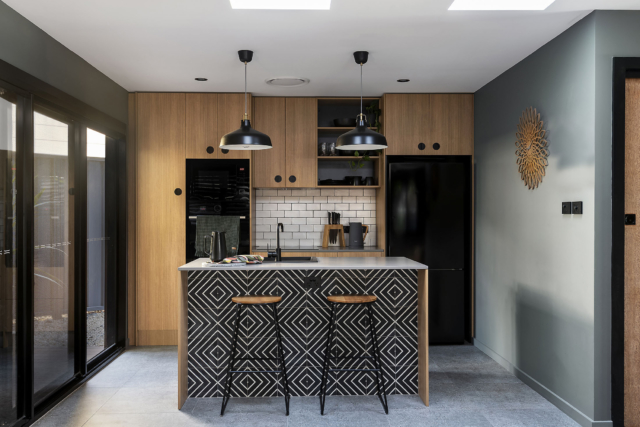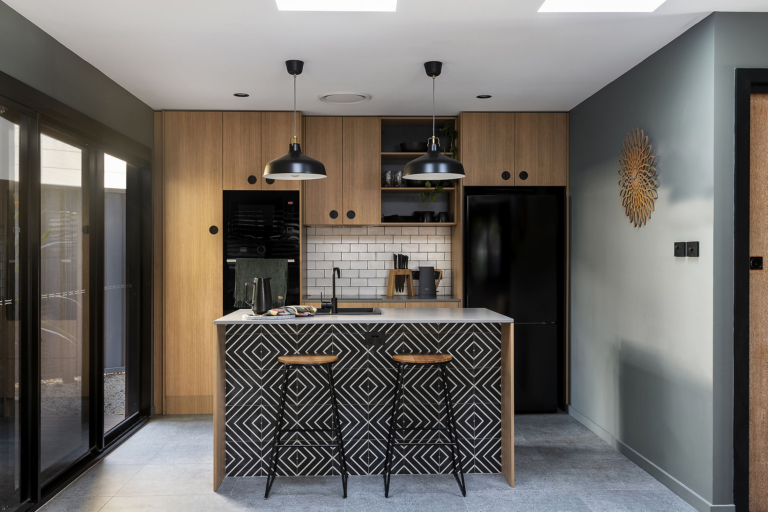 Parenthood was the impetus for the renovation with Tim completely altering the home's floor plan to give him easier access to his son's nursery. Situated on a tiny 160 square metre block, he wasn't able to extend so embarked on a clever redesign instead. "I was frustrated that I couldn't keep an eye on my baby from wherever I was in the house – prior to that it was a series of smaller rooms, and if I was in the kitchen, I couldn't see the lounge room, and vice versa. So open plan was definitely at the core of the design brief," says Tim who moved the bedrooms to the front of the home and removed internal walls to create a large t-shaped space that forms the new centrepiece of the home.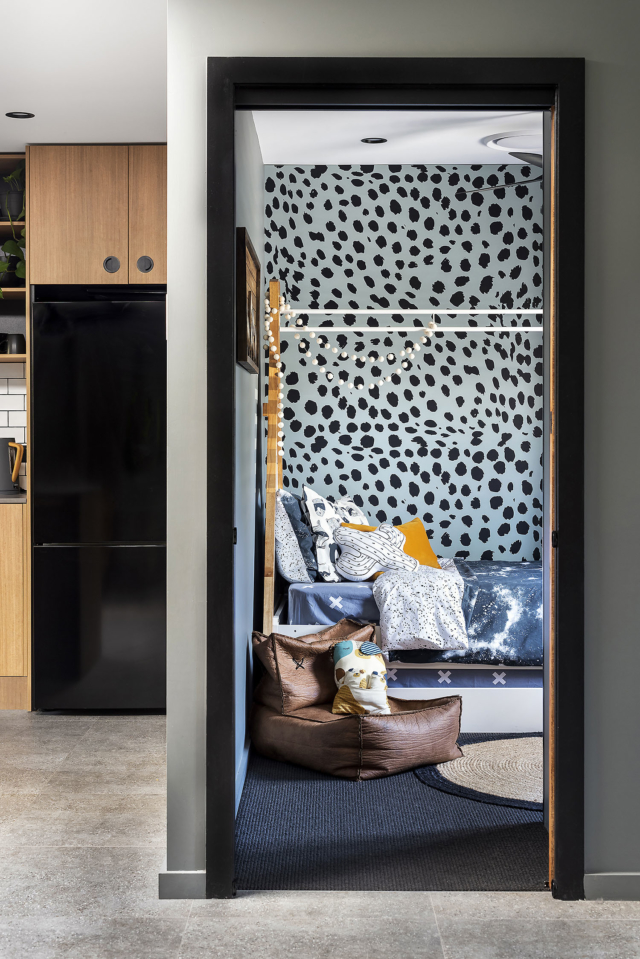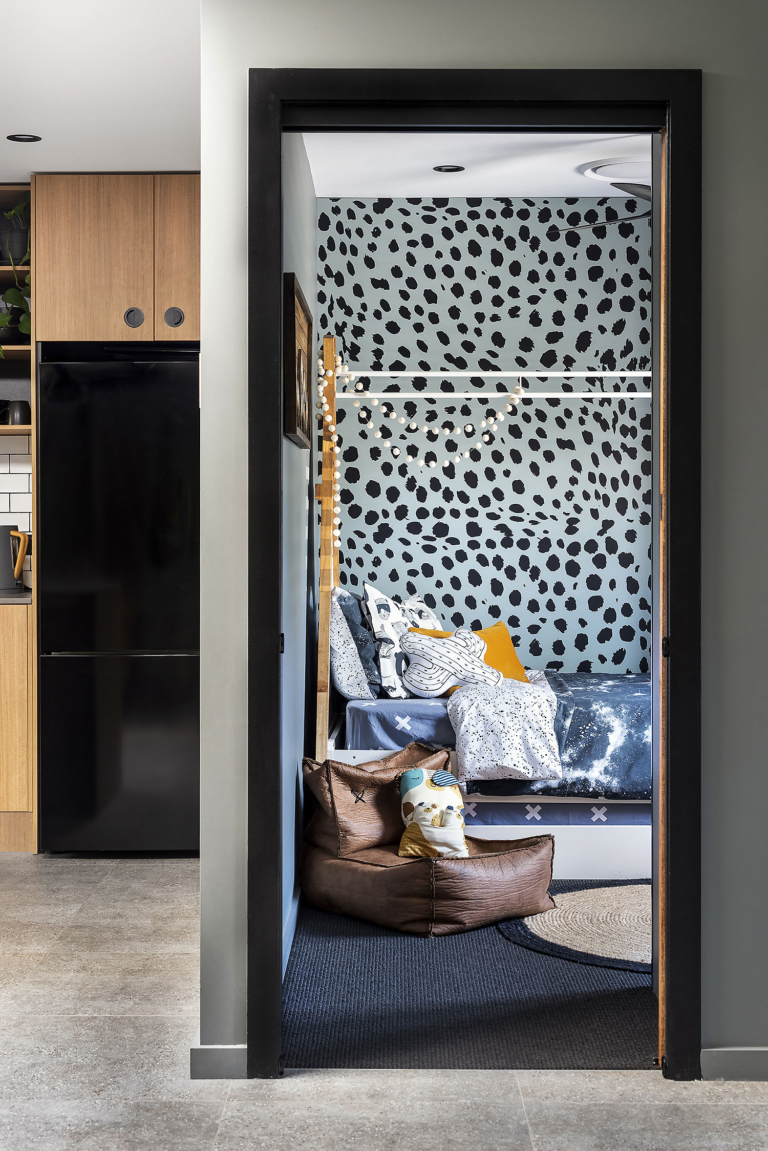 "The old kitchen and dining had no outlook. This now opens up via triple stacker doors to the alfresco space – the Aussie dream of seamless indoor/outdoor living! Louvre windows allow airflow and the view in too. Overall, the new layout has utilised the whole width of the home, around eight metres, so it feels especially spacious," says Tim.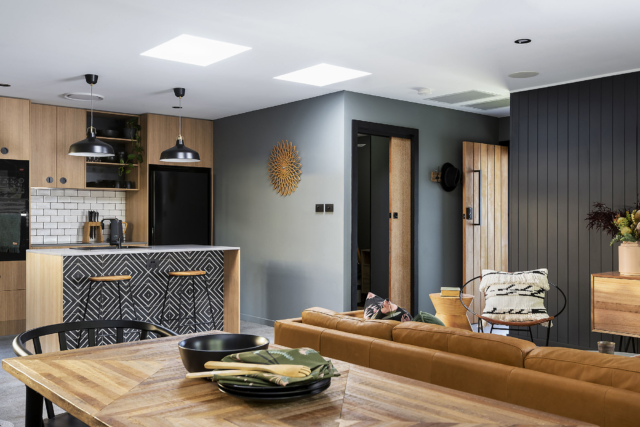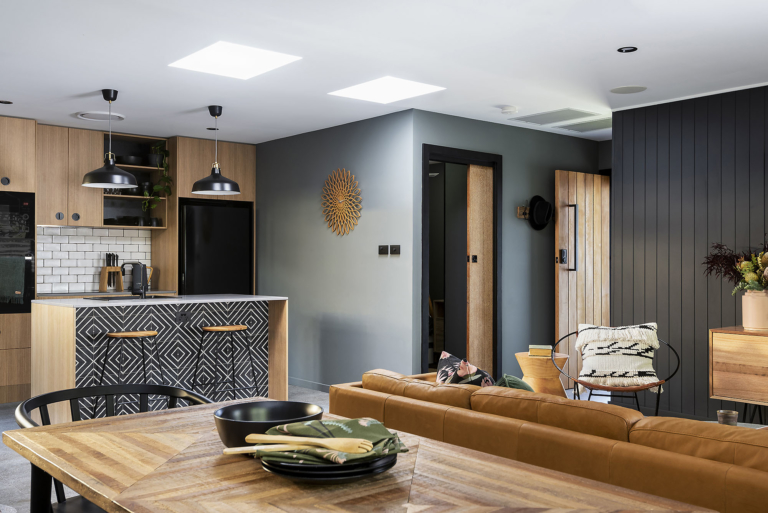 The home's original kitchen was pokey and lacking in functionality but that's been completely replaced too and although small, it boasts floor to ceiling cabinetry in Laminex 'Sublime Teak' which contrasts with its Caesarstone 'Sleek Concrete' benches. "A couple of skylights above the island literally makes everything glisten, at any time of the day. And little choices like choosing the built-in convection microwave adds to the streamlined look," says Tim.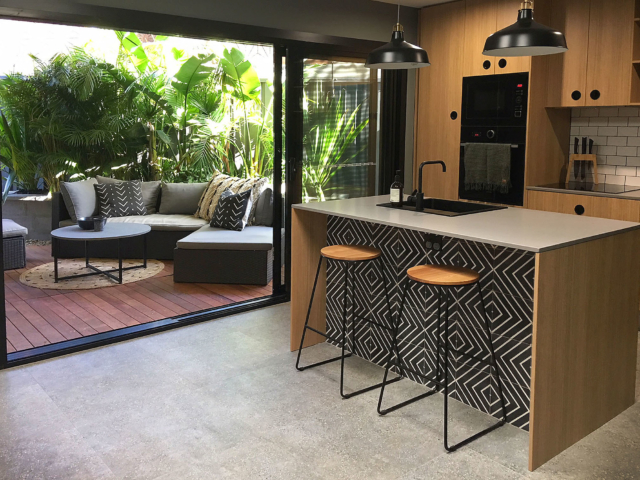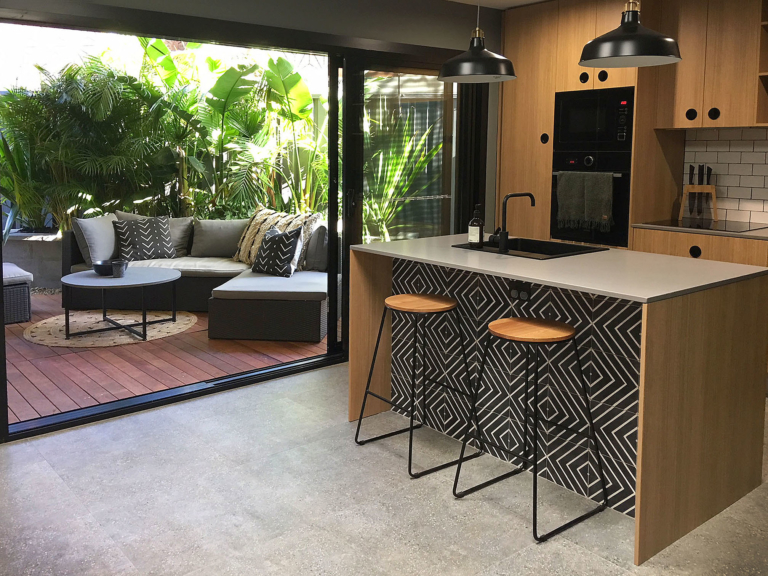 When it came to paint, Tim opted for Dulux 'Hildegard' (a greeny-grey) instead of a more straight-forward grey tone. "It's almost like a deep grey but it has the feeling of sage green depending on the time of day. I am not one for all-white interiors!" says Tim who paired the paint with Dulux 'Black' trims, matte black handles, raw timber doors and powder coated black shutters in Dulux 'Black Ace.' "They totally dress the windows to complement the masculine and moody scheme," says Tim.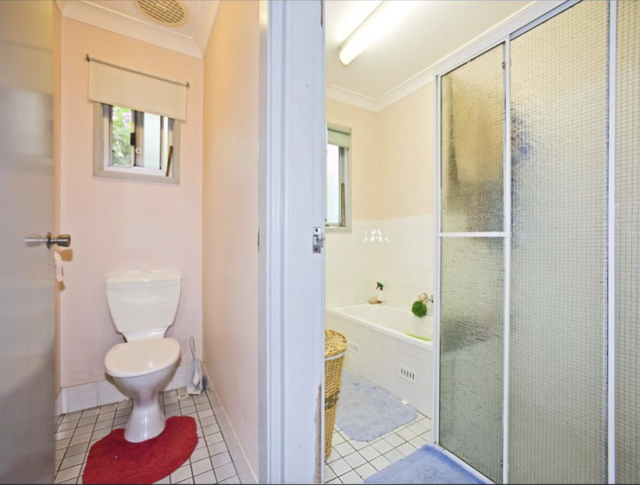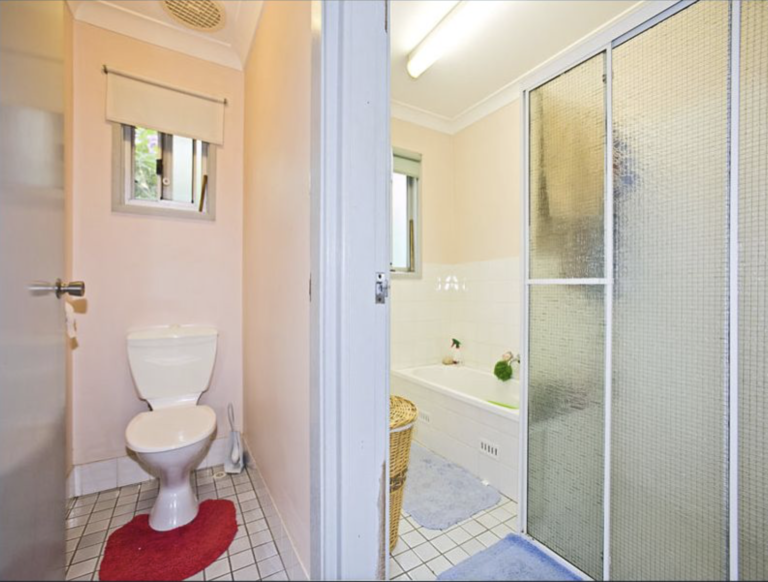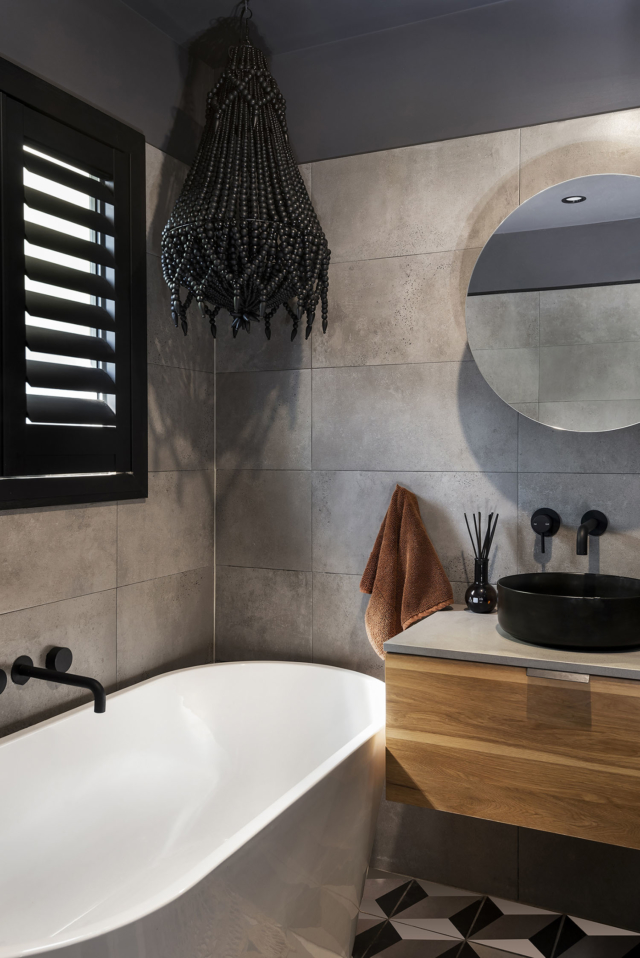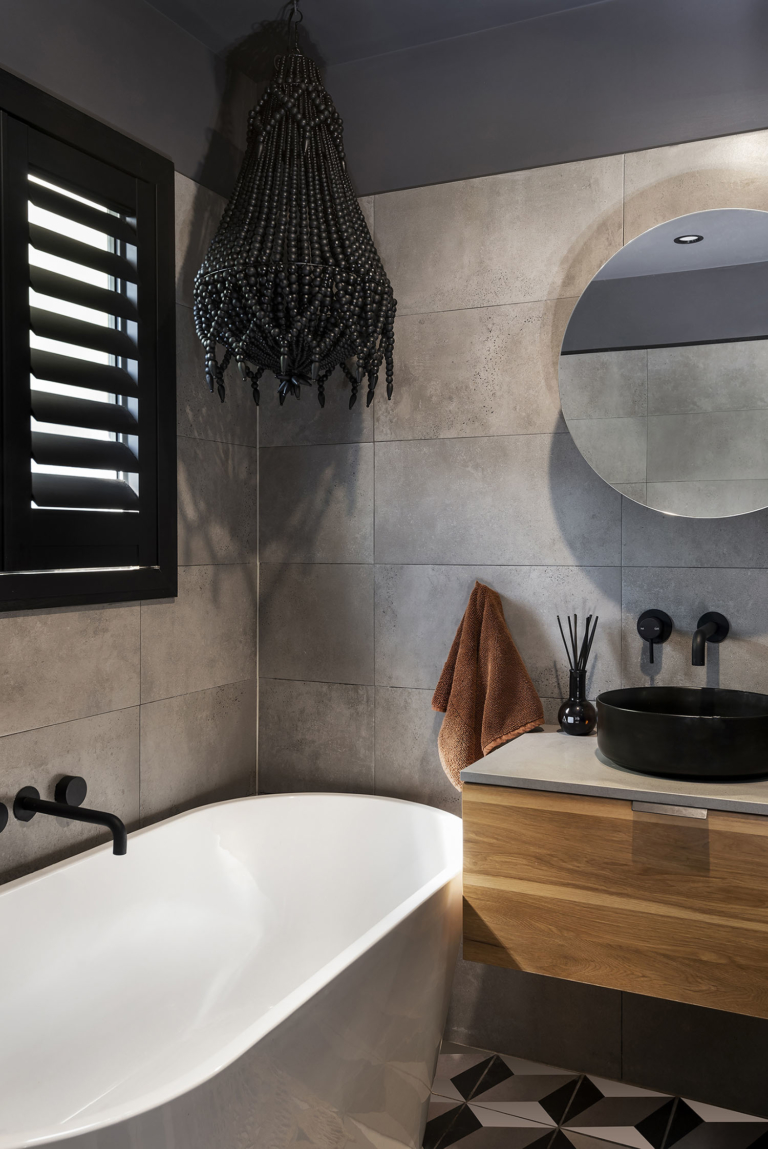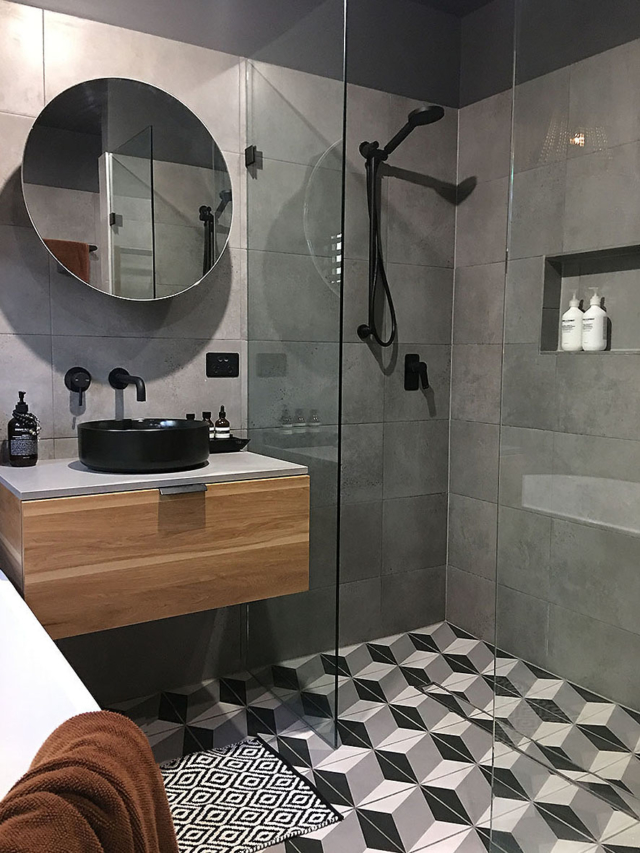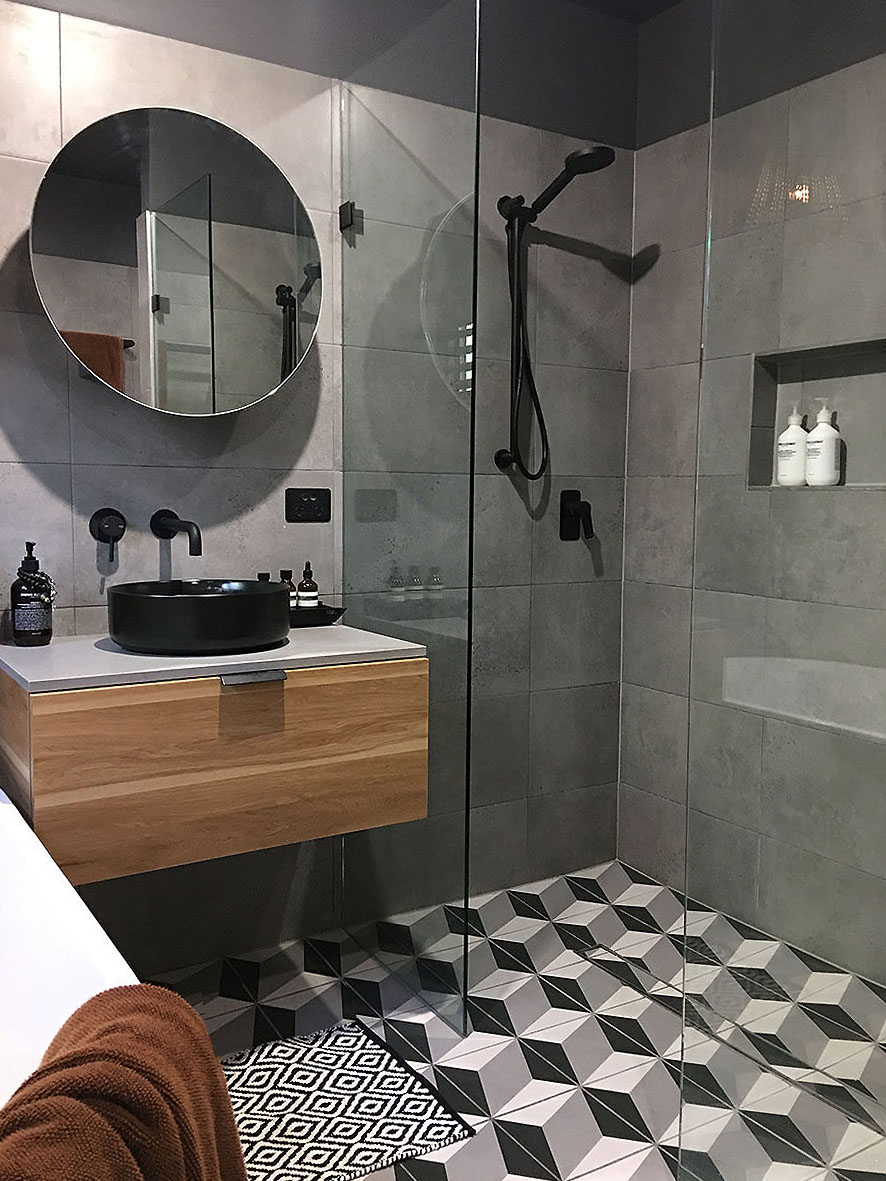 Another standout part of the home is its use of monochromatic pattern – a feature that greets Tim as soon as he arrives home given the porch is tiled with Bonnie and Neil's stunning 'Byzantine' tiles. "I am a fan of pattern, but most people are scared of including it as I think they fear it comes hand in hand with a bold colour too. Instead, I like to choose tiles in geometric, monochromatic patterns. Beautiful encaustic tiles have that lovely chalky matt finish in black and white and add a graphic element, but don't dazzle the senses," says Tim.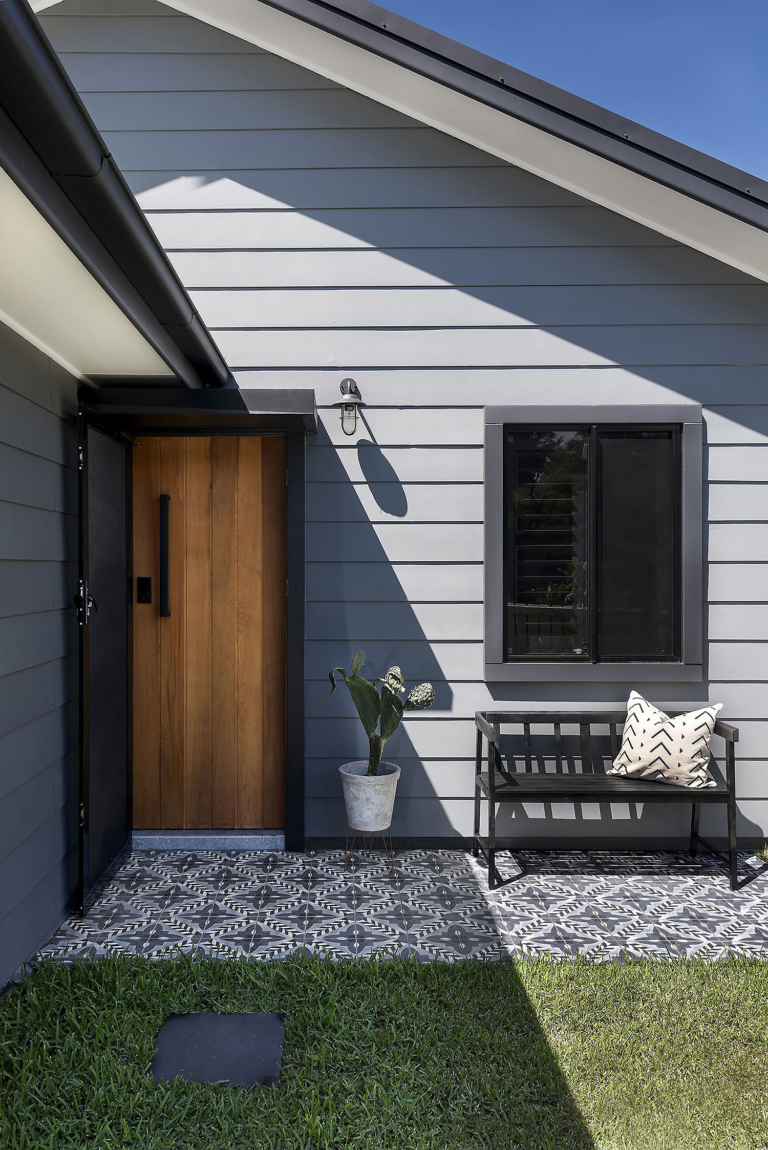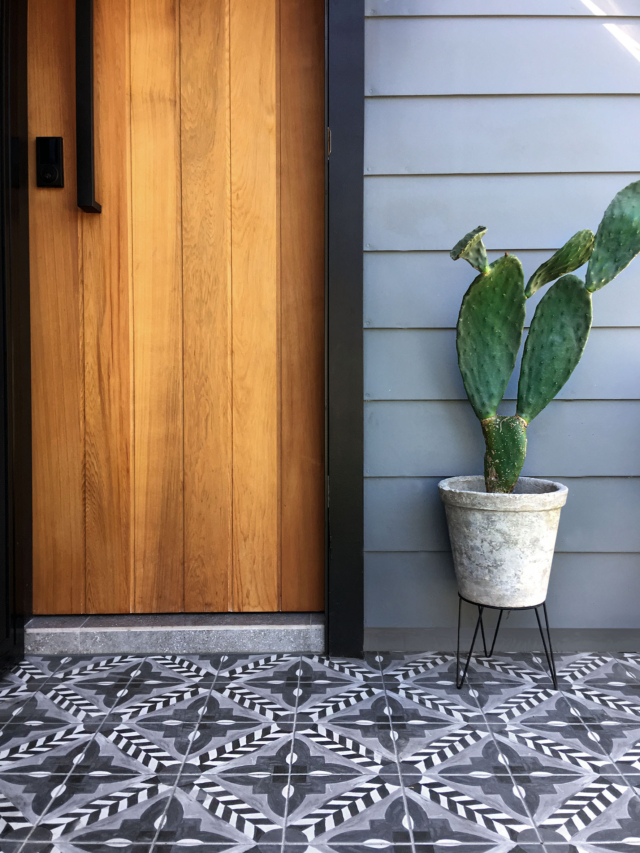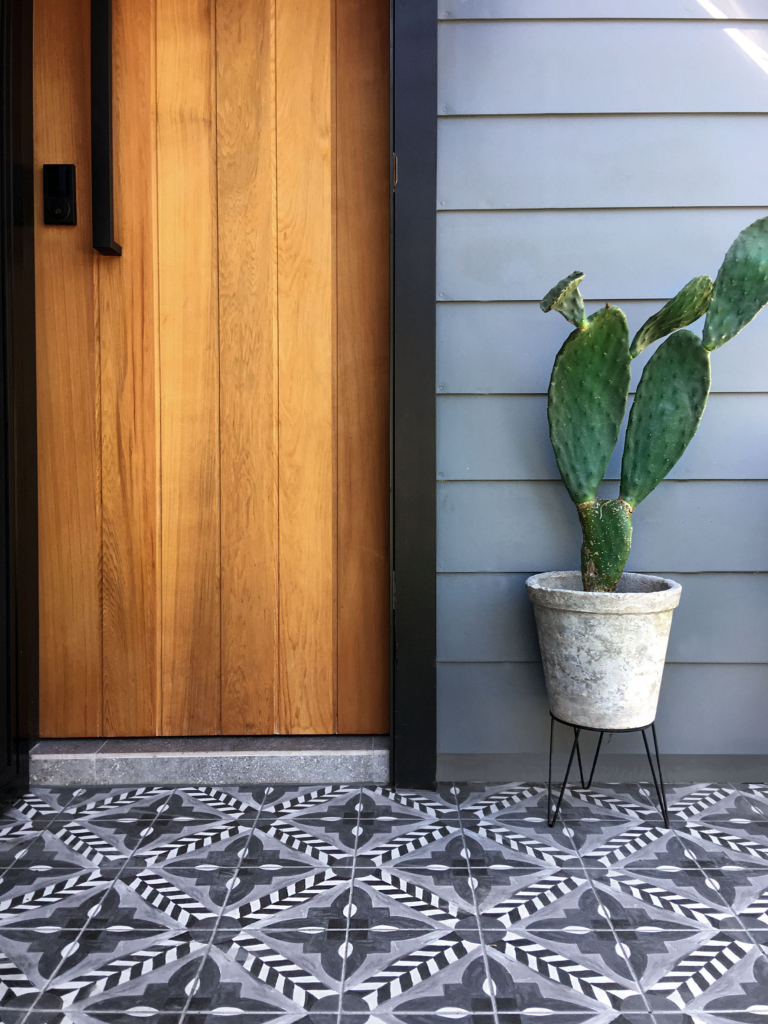 Tim's love affair with pattern is evident in his latest textile collection 'Foraged' which launched earlier this year and is scattered throughout the home. Inspired by Australian botanical wild flowers the range features warm rusts and dusty pinks printed onto velvet and linen. "The cushions are now stocked at homewares stores, galleries and with interior designers all over Australia. I'm thrilled to have been hand-picked and included in The Block Shop for the upcoming season!" says Tim.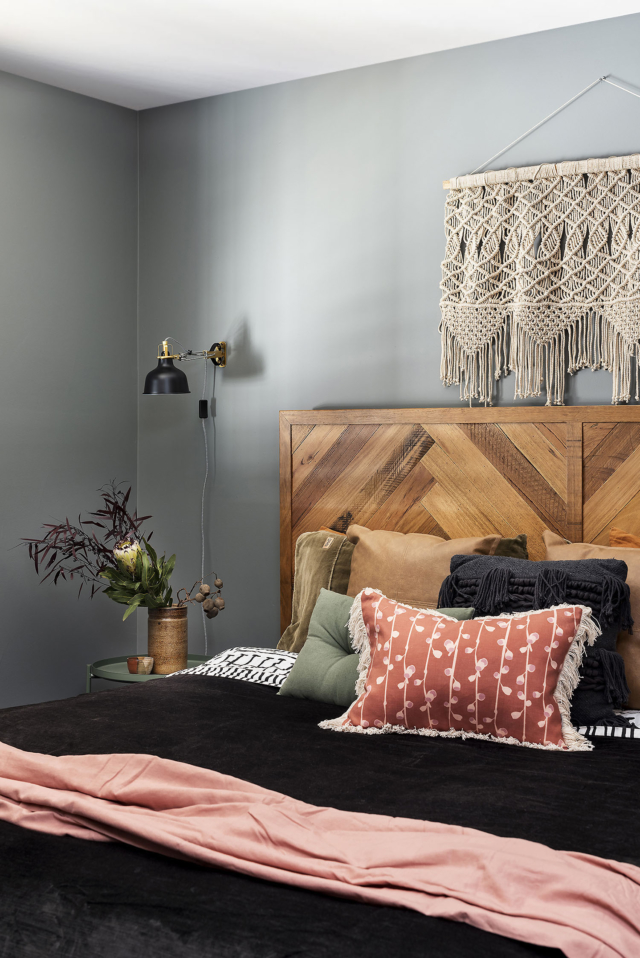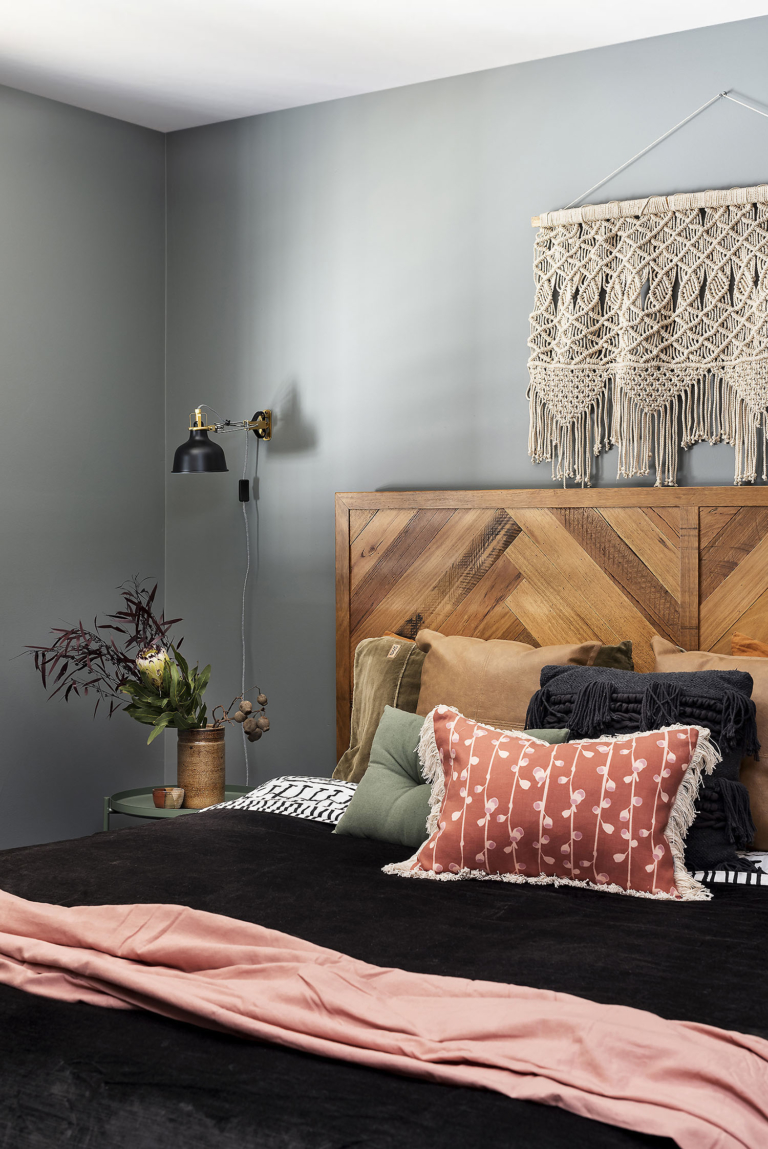 Largely, Tim is very content with the renovation which has resulted in a series of stylish yet practical spaces. "Overall, I'm happy with how every piece of the puzzle came together, I think that's the most daunting thing for anyone renovating! It's just such a nice feeling to walk through the door each day and have both a practical and attractive space to walk into."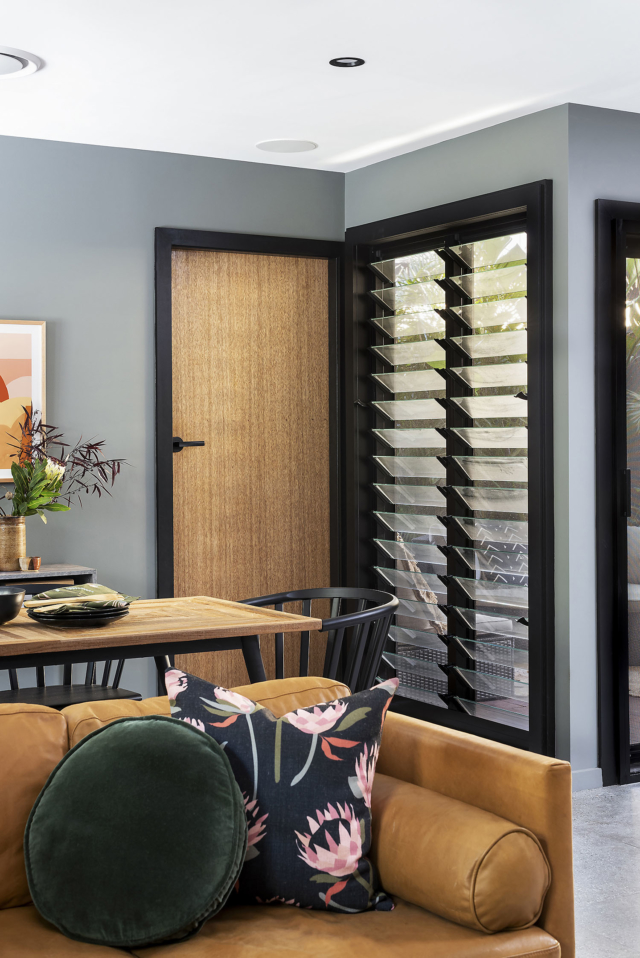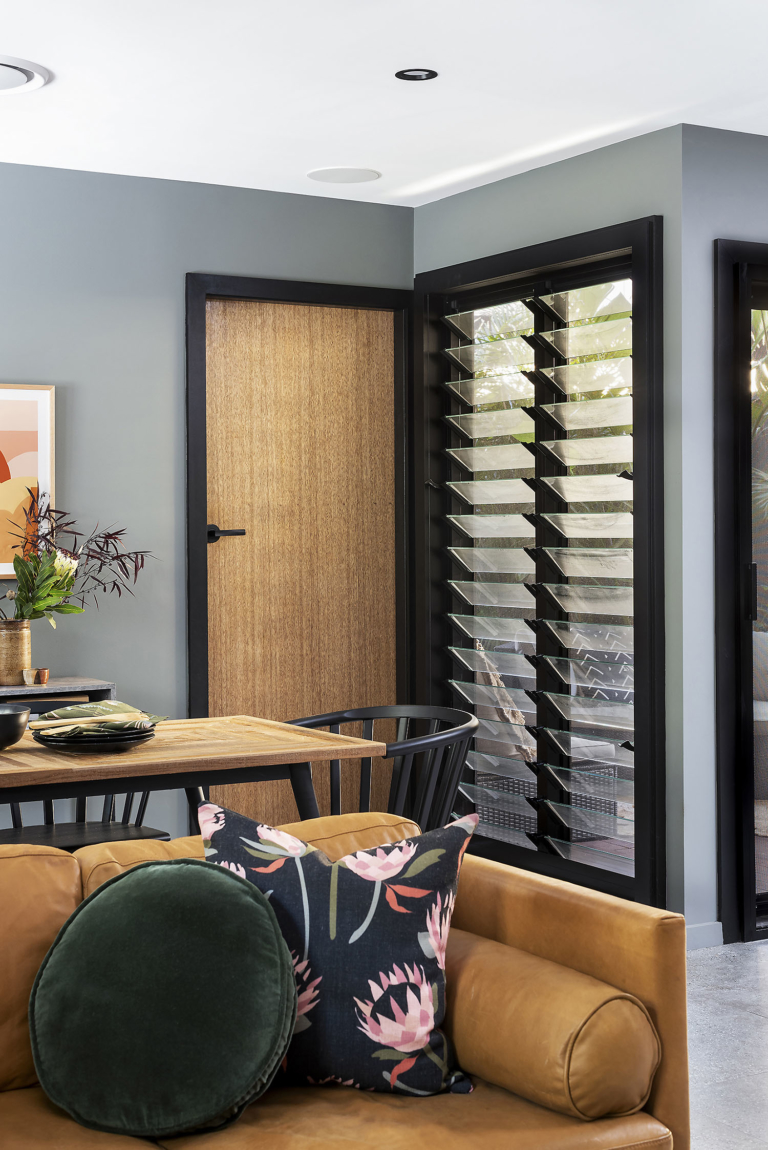 Photography: Atelier Photography | Styling: Tim Neve