Jasmine Mansbridge's home is exactly how I'd imagine an artist's home to be: colourful, eclectic and a little bit whimsical. And of course, there's plenty going on on the walls.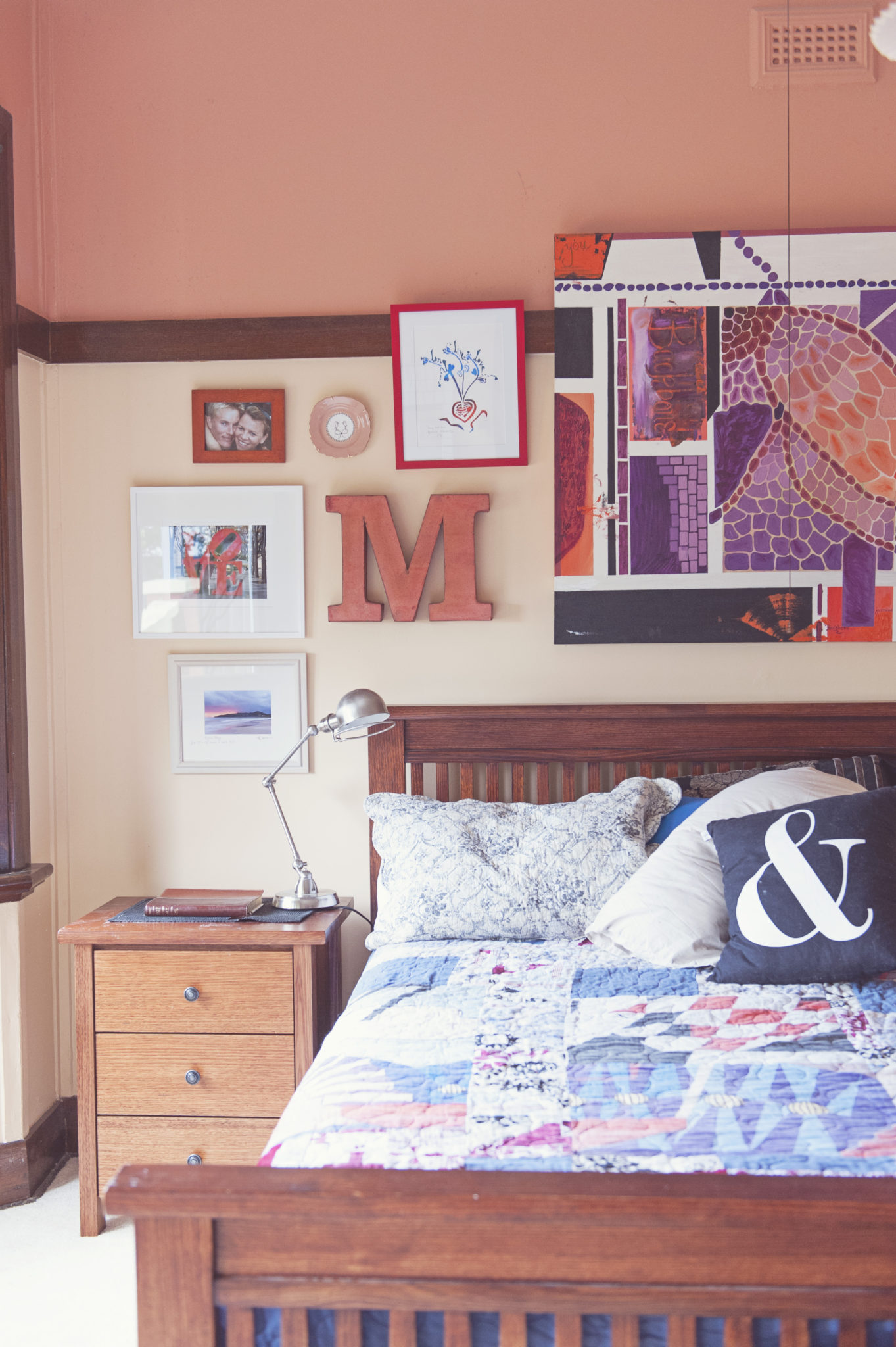 Jasmine and her family have lived in this 1930s weatherboard in Hamilton, a three-hour drive from Melbourne, for four months. "We rented for almost two years and were wondering if we would ever find a home which suited us when we found this baby," she says. "It was lovingly extended from the original two bedrooms by the previous owners and they used reclaimed floorboards, dado rail, doors and other pieces to keep the house true to its original form. This sympathetic renovation is one of the things we love about it. It now has five separate rooms (one being my studio) and the layout works perfectly for our family." With 4 children, it's a busy home!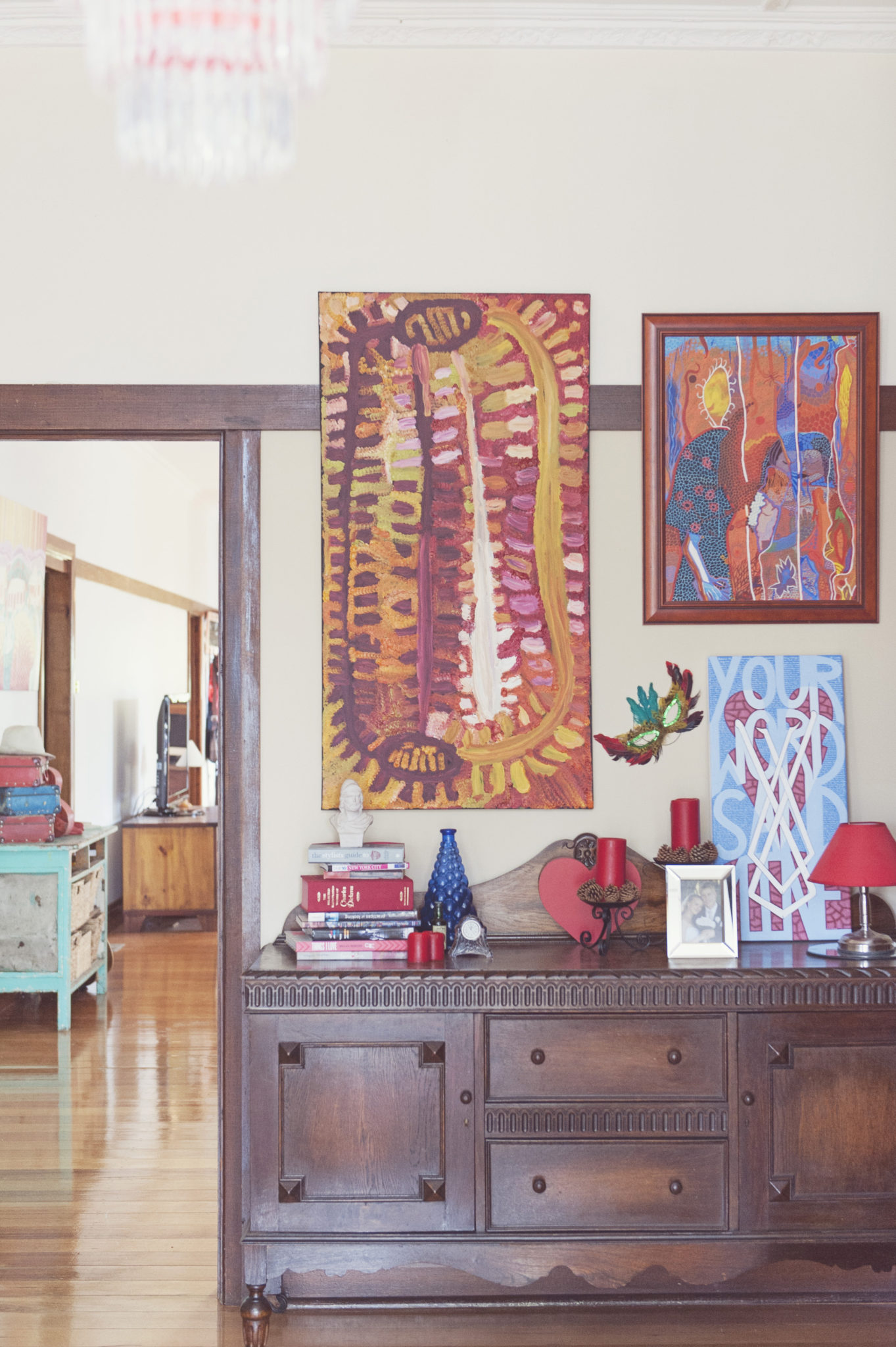 "I have spent so much of my life moving around, so much so that everything that has stayed with me on the journey so far has had to have had a certain significance," says Jasmine. "All the items around my home have stories and this is important to me. I am sentimental about the past and the importance of things to evoke the memories of places important to me, but gone in the physical sense. I do think if you are an artist there is a presumption that you will have good taste, but taste and creativity surely are two very different things."
She gets asked all the time of course, how to choose art for your home."My advice isn't new. Choose art work you love, work that speaks to you, that you can relate to. Not fashionable art for art's sake you think you should buy. Buy as well and as big as you can afford to. A quality painting will outlast lounges, carpets, almost everything else in your house. I can still visualise paintings which hung in my grandparents' houses, and I haven't seen them (the paintings) for years. The art you choose will be part of your own family's visual history, items to pass down with pride. Prints have their place, but, nothing beats an original piece of art, painted with love by an artist who felt something, had something to say."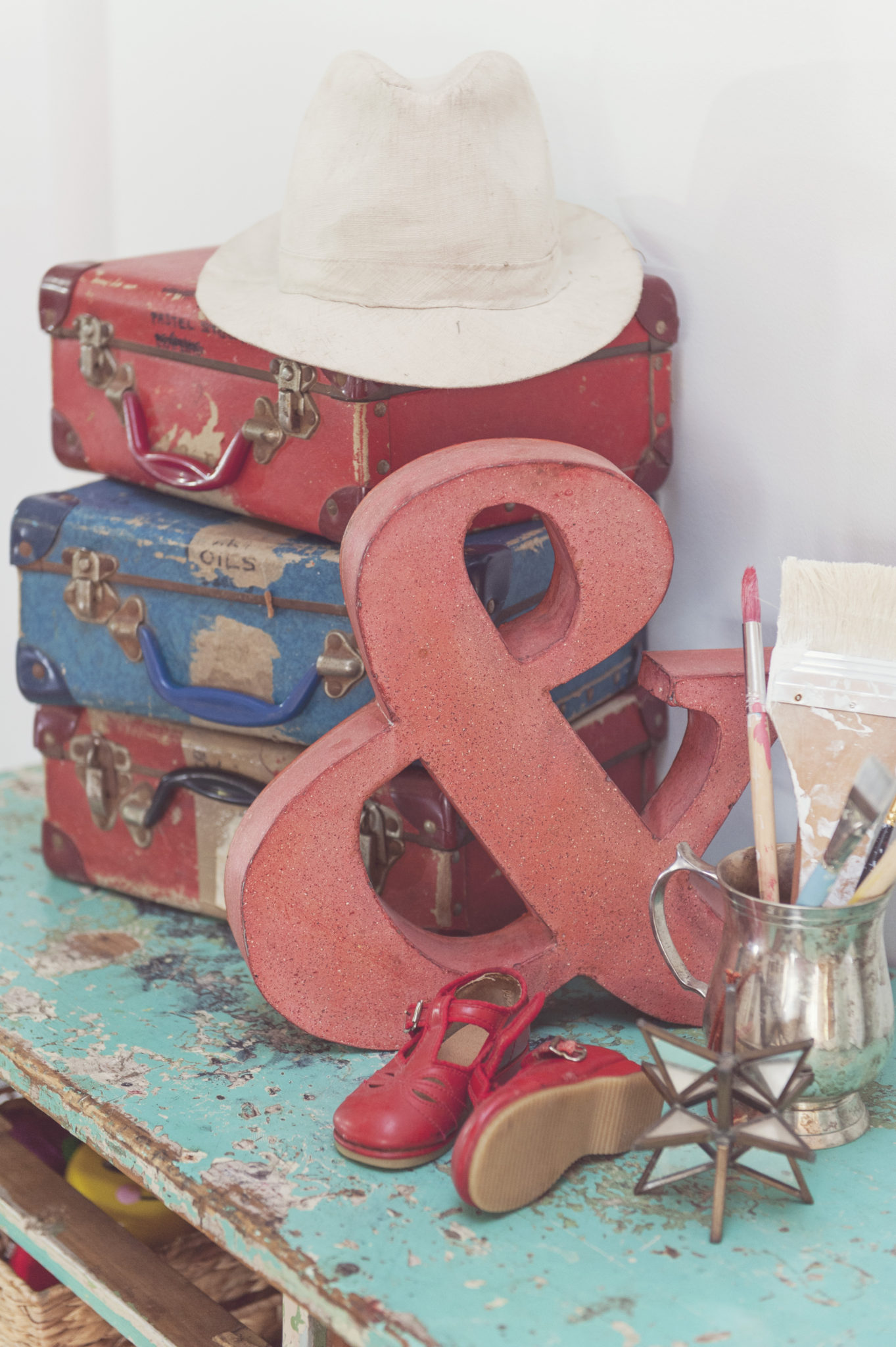 Jasmine finds comfort in her family's comfort and her own style or organisation. "The layout and design of a home can make or break the routine of a big family. We have teenagers and a teenage bathroom in one end of the house and the little guys and us up at the opposite end. This is an example of design that makes life easier, on the big scale. Happiness is harmony in our home."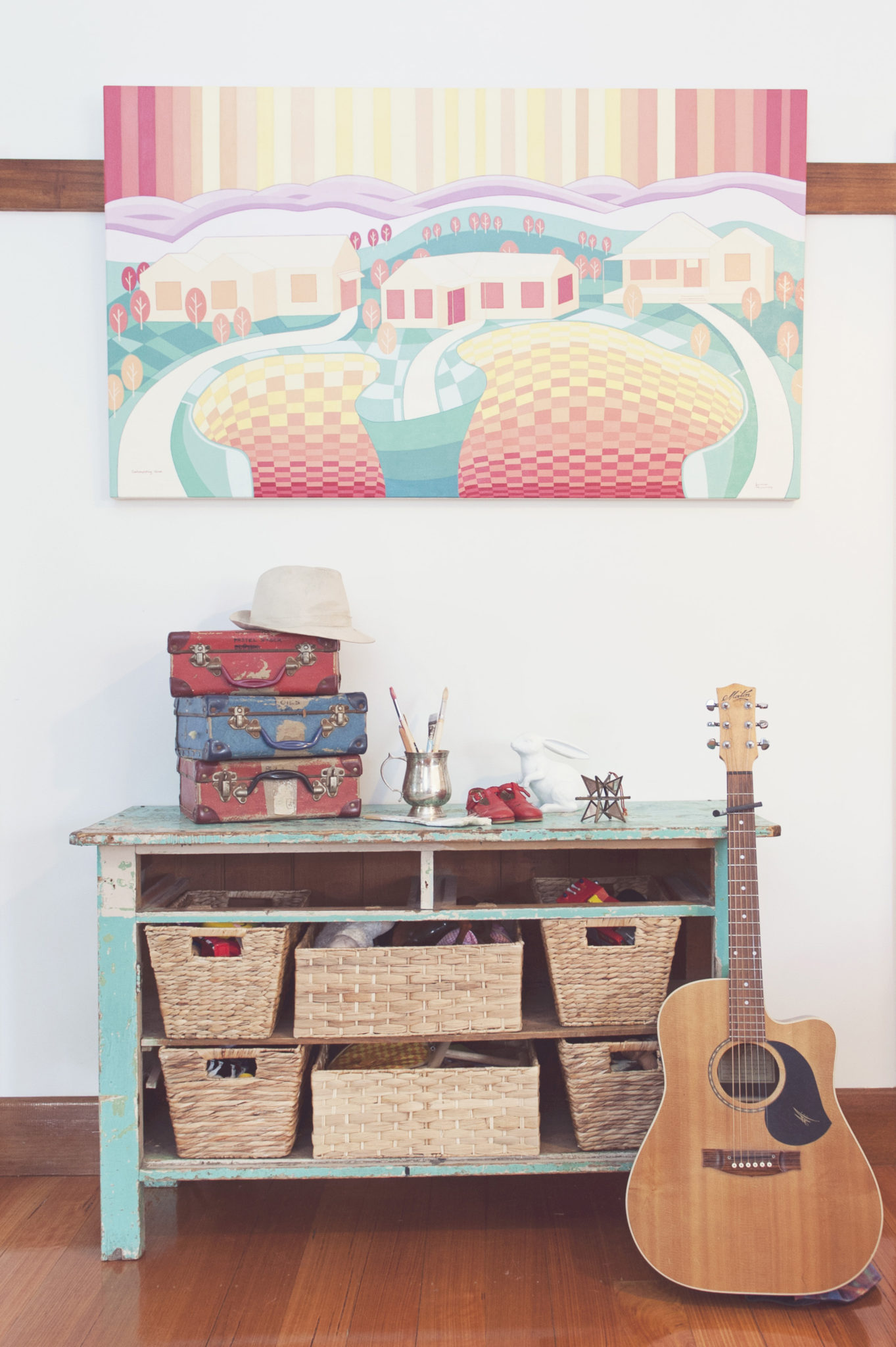 Apart from the beautiful renovation and extension of the house, Jasmine and her family fell in love with the little things, like the old claw foot bath, from the original bathroom, restored and used again in the new bathroom, the pressed tin ceilings and the open plan lounge and dining area.
"We also love the location, it is doors down from the beautiful Botanical Gardens, one of the oldest in Australia. We are also crazy lucky to live very close to the town centre, and aside from all this the house is on a half-acre block with fruit trees, a water tank and a huge old Oak tree. This is what you can get if you go live in the country: space!"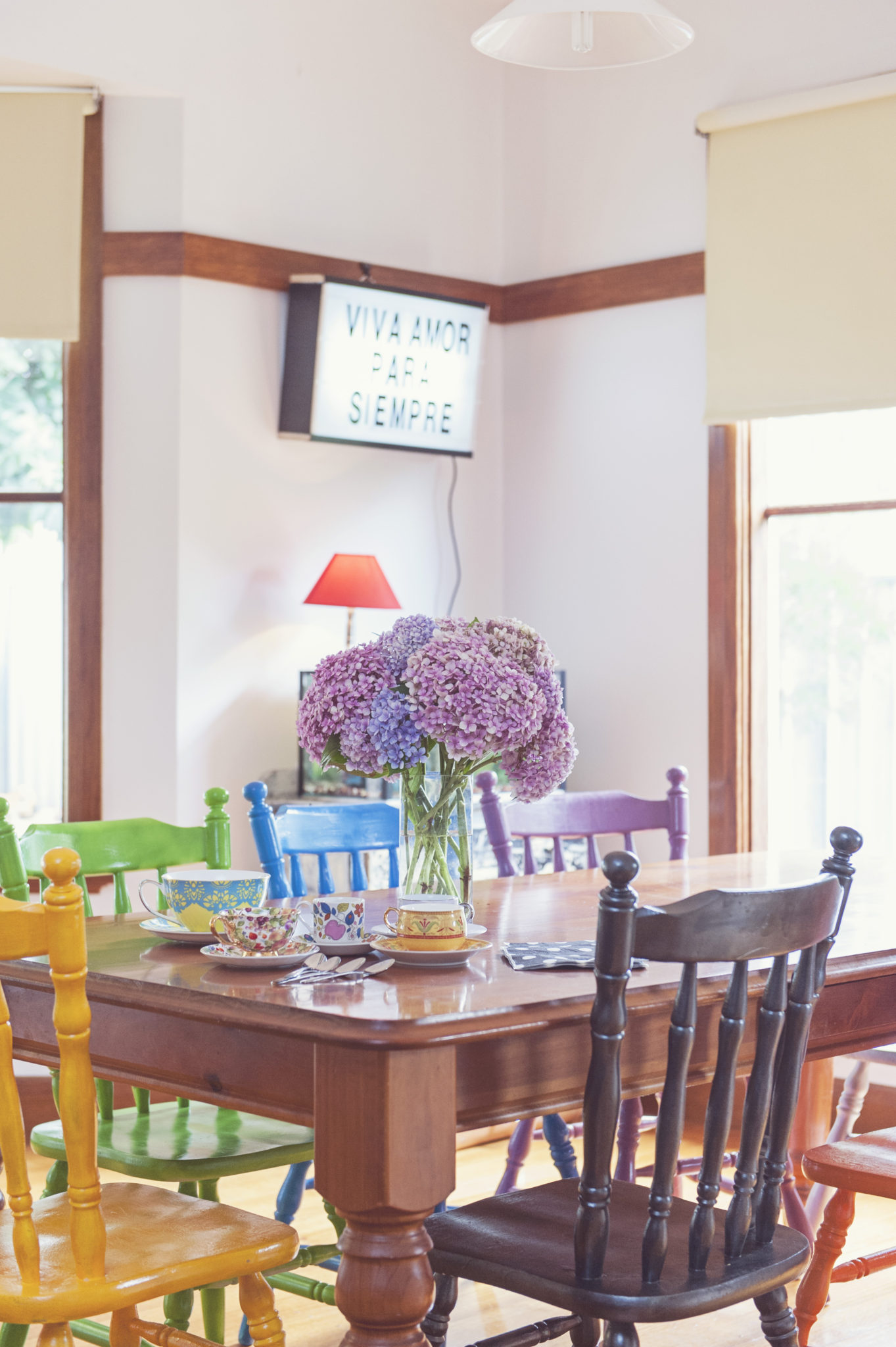 The former owners poured alot of love into the house, which Jasmine feels she and her family are now benefiting from. "The only changes we have made have been to paint the interior living and my studio in a chalk white and take down all the fancy curtains, just leaving the simple blinds."
Working from home is a must for Jasmine. "I have always painted from home as I can stop/start whenever I need to. I get a lot done this way. I also like the family to feel that I am accessible and that they can come speak to me whenever they want. I try to not being too precious with my space and the little ones will come draw and craft in there with me and the girls will watch a movie or chat in the evening. I love that I can step out of the "real" world at any time and immediately access that creativity, it's as though it just waits for me to come back."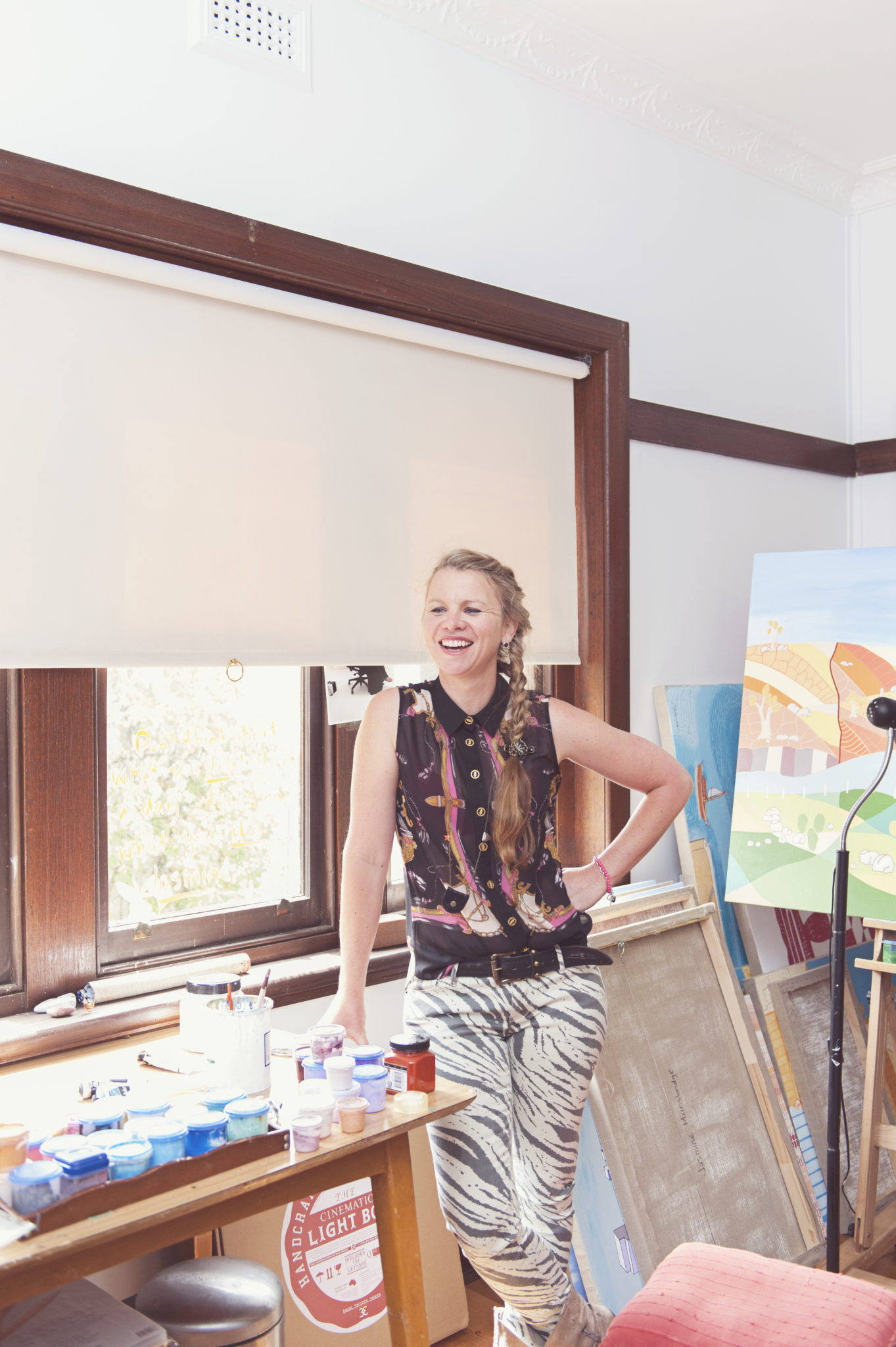 Jasmine is currently putting all her efforts into work for her next show in New York. "I am exhibiting in the SOLO section of Art Expo New York in March, the world's largest fine arts trade show. I am excited about the doors which are already opening as a result. It is a long way from my years spent growing up in Katherine in the Northern Territory. I have been painting since I was 17 and it has been step after step of opportunities which have led to my invitation to exhibit in New York."
She has painted many houses for this show, something she did a lot when she was younger. "The sense of belonging has become increasingly important for me in the last few years and I have been using the houses as metaphors for the human experience, be it mine or people whose experiences have impacted on me. The idea of home and belonging is so intrinsic to our wellbeing and when large scale disasters and tragedies happen they truly affect me, like Sandy in the US or the recent floods closer to home.
"Our homes are our sanctuaries, yet they are still so vulnerable, as are people. Life is fragile and beautiful, and yet this is something we so easily forget. In my work I like the juxtaposition of homes on cliffs, or ravines, or alternatively tucked in safe precious places. I want people to remember what is real in life. I also want to present an Australian aesthetic in my work and love the beautiful colour and sharpness of this country."
Jasmine has kindly offered to give away this print, called There's No Place Like Home, to one lucky reader. To be in with a chance of winning, just comment on this post by the end of the week.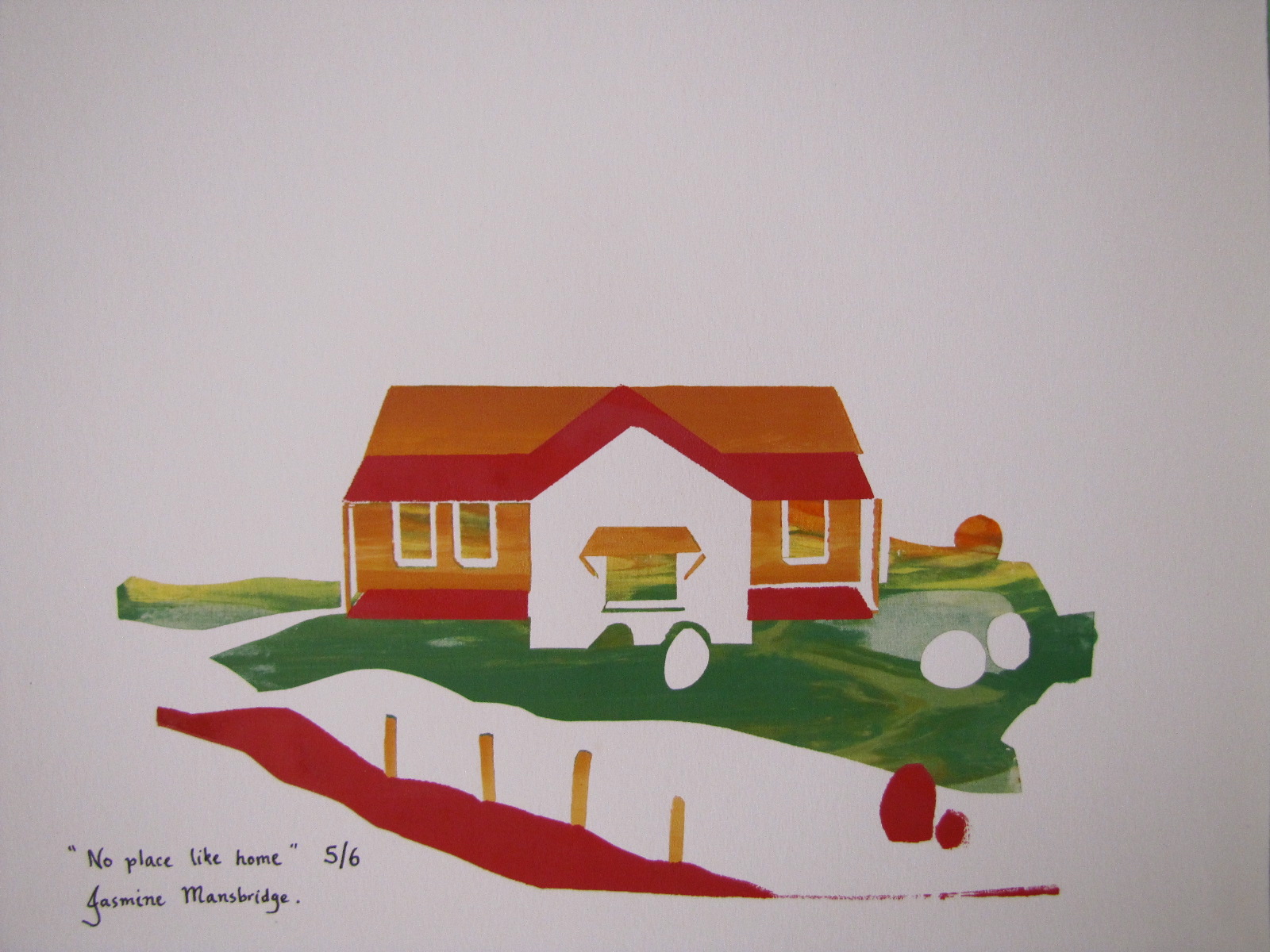 See more of Jasmine's work at her website.
Photography by Danielle Thomas.