By Helen Small
Choosing which artwork to buy is up to you, though sometimes I feel the art picks us. The simple answer is to choose something you like, something that makes you happy. It is less important if it's an expensive original, affordable art from a gallery or a print that's chosen, but what it says to you. Try to imagine yourself starting each day looking at your artwork. A serene landscape will ease you gently into the day ahead or maybe a big, bold abstract suits your personality more.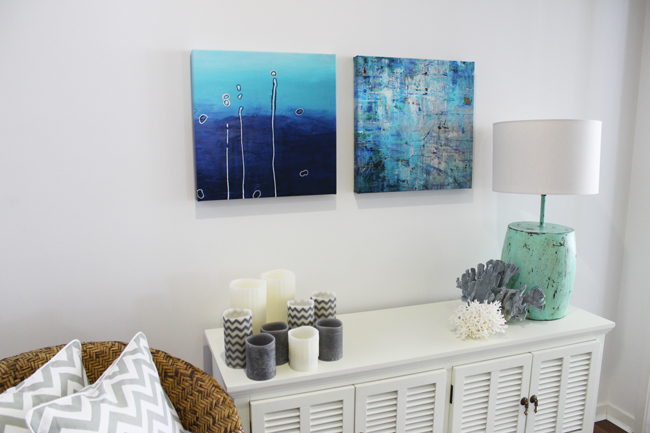 Colour is also a consideration when choosing what to buy. Most people will be instantly drawn to a particular colour, so trust your instinct. On styling a room around the artwork, you will have to decide which colour you want to reference. Being bold with colour will allow you to decorate in multiple shades of the one colour for all furniture and furnishings. Alternatively, stay with mostly neutrals and invest in pops of colour for accessories such as cushions, throws and ceramics. A textural artwork can be linked to the room by using rustic timber furniture, soft furnishings in chunky knits and woven baskets for storage.
Most often, people make the mistake of hanging their artwork too high. When standing in front of the artwork you should be looking at the centre of it. In the case of a cluster or grouping of art, the middle artwork should be eye height, or approximately a measurement of 1.5m-tp-1.6m from the floor. That's not to say art doesn't look fabulous resting over a fireplace or leaning on a sideboard, the difference is the art has been grounded by what's below it. For visual impact, a large piece looks better with nothing around it and positioned on the first wall you see on entering the room.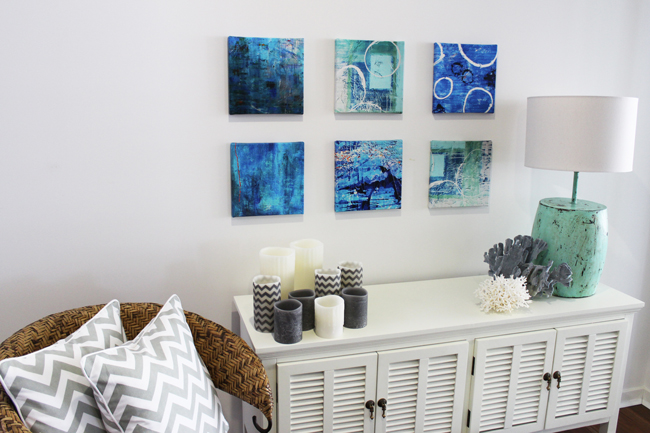 If hanging artwork above a sofa, make sure it's in proportion as too large a piece will look top heavy and too small an artwork will be lost. Multiple pieces can make a statement and any grouping will have cohesion if they have something in common. Arrange small artworks together by colour or create a pattern with unrelated items using the same style and colour fof rame. For example, an arrangement of seemingly mismatched art in different colours, styles and sizes can make an amazing and stylish display simply by using a black frame for each item.
Finally, a great tip is to use painter's masking tape on your wall to mark the outline of your artwork before hanging. It's available at hardware stores, easily removed and saves the "Oops, I think it needed to go slightly to the left!"
Beautiful rooms don't just happen, but you may be inspired to create one using art as a starting point.
Helen Small is an artist and stylist at Katen Interiors. Prints on canvas of her original artworks are available through their online store.
Jen is currently on honeymoon in Tokyo, Venice and the UK, and has opened up the blog to a series of fabulous guest posters to share their interiors-related expertise in her absence. She hopes you'll enjoy them and look out for the odd honeymoon post from overseas! The new Mrs Francis (who will still be known as Bishop for work purposes) will be back at her desk on 11 November.