By Kerry-Anne Blanket
As you browse the 'wall décor' section at your local Ikea, it can often feel as though a mass-produced print is the closest thing you'll ever get to being an art investor. But starting an original art collection of your own doesn't have to feel like an out-of-reach luxury reserved only for those with fat wallets and large homes.
In fact, being an art collector is as simple as owning an artwork made by an artist. Seems obvious, right? If, for instance, you've collected a gorgeous watercolour from a market in Verona (oh, the good old days of travel), it means something to you, and is authentic, it's art. Voila, you're an art collector!
Unlike an expensive handbag or fancy car, art is something you can enjoy every day without it depreciating in value and it doesn't take a lot of money to get started. The most important thing to remember on the journey is to always invest in something meaningful to you – buy it because you love it, not because you're hoping the artist is the next Picasso that'll make you a millionaire.
Whether your budget is $50 or $500, spend some time getting familiar with the various styles, mediums and subjects that get you excited. Be relentless – visit galleries, follow artists on social media, connect in with your local art community. The more you see, the more you understand and the more quickly your tastes will evolve, so that when it comes time to making a purchase, the thought of parting with money in exchange for that artwork gets your heart rate up with excitement, and not anxiety.
I own a gallery called KAB Gallery, with bricks and mortar locations on Sydney's North Shore and the Central Coast of NSW, and an online gallery that ships anywhere in the world. It's always been important to me to sell works at a range of price points, so I've pulled together my 10 favourite original artworks by talented Australian artists, worth considering for your very first investment. And best of all, their works are all under $600.
Dogman comes out into a better tomorrow
Pocket sized bronze sculpture (10cm) by Gillie and Marc
$399
Artists Gillie and Marc are internationally famed for their big bold statement pieces, but we are lucky to have them living and working right here in beautiful Australia. They have recently created a series of unique small bronzes of their favourite characters, Dogman and Rabbitgirl. The creation process is truly fascinating. Firstly the sculptures are carved into wax to achieve the amazing detail, and then they are finished in natural patina bronze. I think that these are particularly special because even though they are based on monumental sculptures, these minitaure sculptures are art in their own right.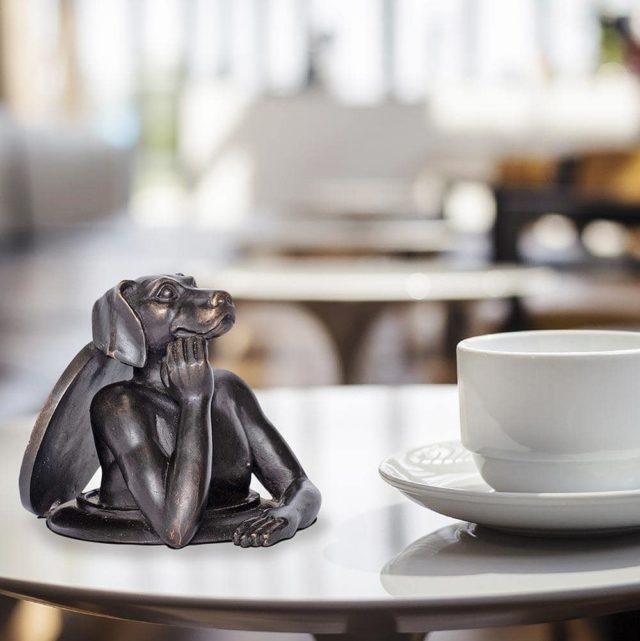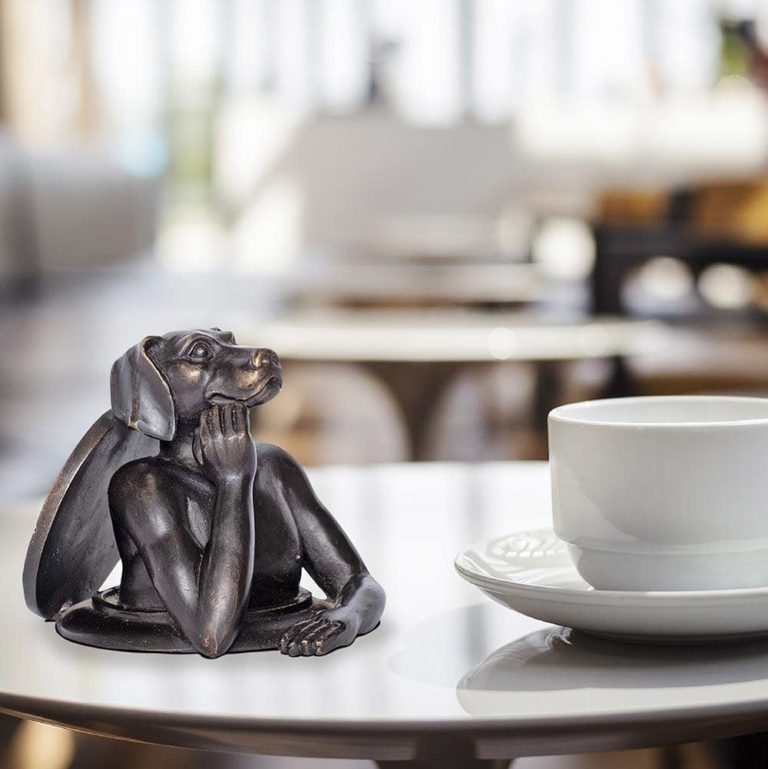 Woven sculptures by Nicole de Mestre
$95 – $210
Interior designers will know the value of subtle textures and neutral layering. For this, I recommend investing in any of the beautiful assemblages by Nicole de Mestre. These unique works are created by repurposing single use materials with traditional weaving methods. These baskets will add both a stylish and utilitarian flair to your interior for a very reasonable price.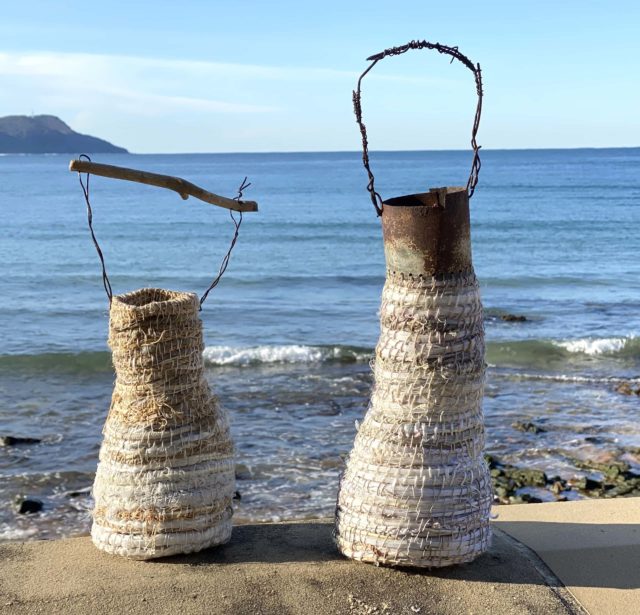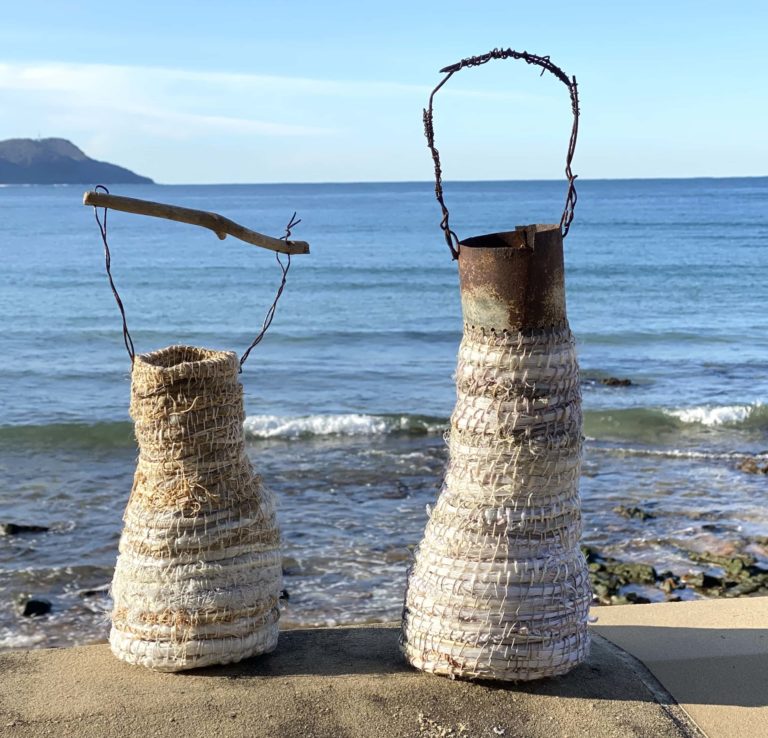 Various hand-painted ceramics from $95
You can also add interest to your styling while keeping it neutral by adding ceramic works. Look for something soft, beautiful, and elegant. I recommend any of the on-of-a-kind ceramic works by Australian favourite, John Earle. You can easily help yourself to an original hand-painted ceramic piece from just $95. They are all unique and vary in detail, colour and form.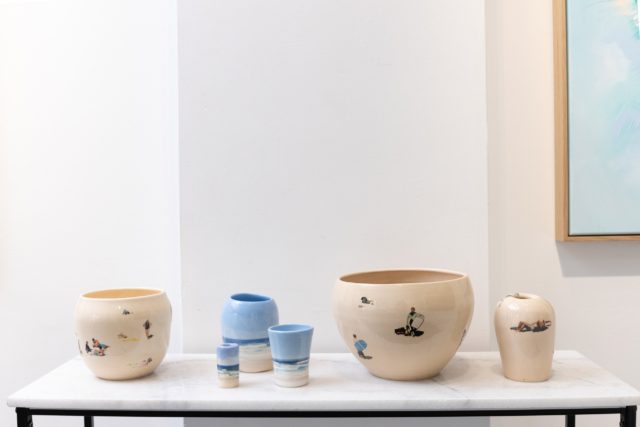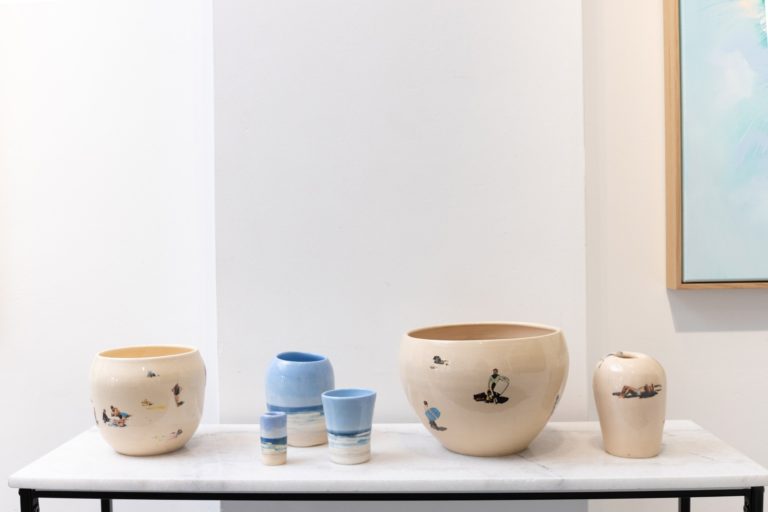 Sapphire (Red-tailed Black Cockatoo) by Kelly-Anne Love
Watercolour & ink on paper, 15x15cm
$380
If you need a painting with more impact, Kelly-Anne Love primarily creates her artworks with watercolour and inks on paper. Her style is undeniably unique. Unlike the soft, diluted and fluid style that comes to mind when we think of watercolours, her approach is much more contemporary and painterly. The pigments are opaque and controlled which energises the images in such a refreshing way. This artwork is one of her smaller pieces, but since it comes framed with a wide mount under glass it will fill a substantial space on your wall.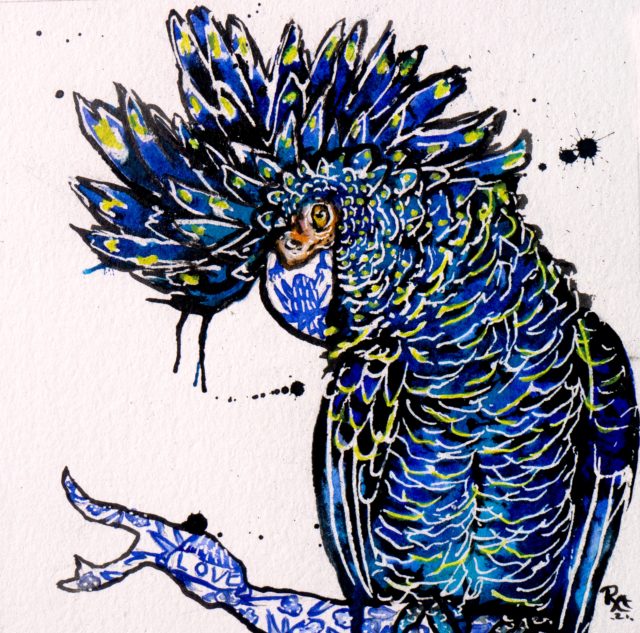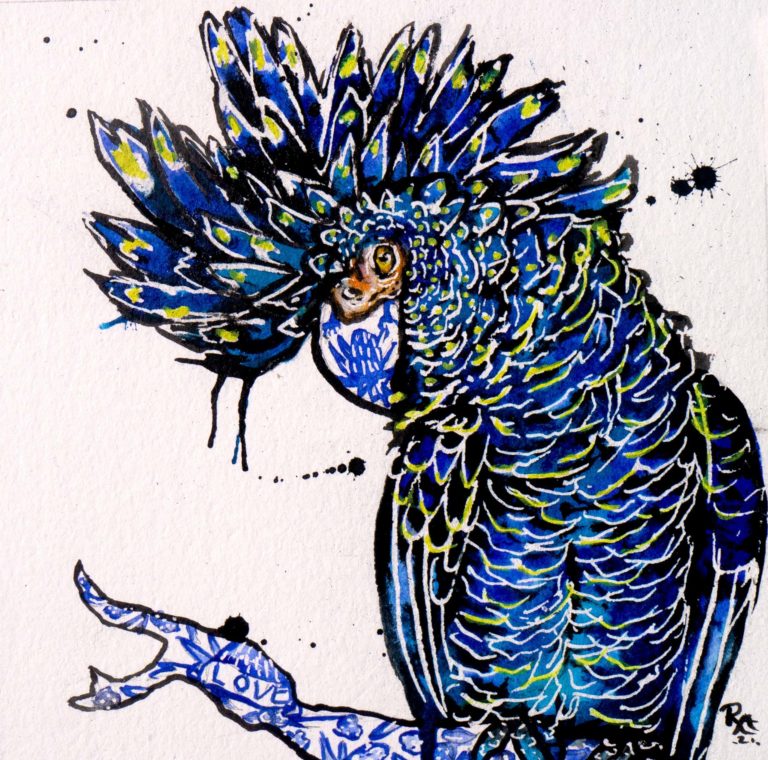 The Vespa Riders by Jacki Fewtrell Gobert
Acrylic on canvas, 30x30cm
$490
Oil paint is generally one of the more expensive mediums for artists to create with due to the cost of materials alone, and it is also one of the most well-known. But that doesn't mean it is always the must-buy medium. Art materials have certainly progressed in recent years, with artists leaning more and more towards the use of water-based alternatives such as acrylic or traditional watercolours and ink on paper. It is interesting to see how often gallery visitors and collectors are asking if paintings are created in oil or acrylic. I love these acrylics on canvas paintings by Jacki Fewtrell-Gobert because of the details hidden within the interior scenes. If you admire the works closely you will see the interior scenes incorporate various other famous artworks. At first glance you will notice the inclusion of Jasper Knight, Gillie and Marc as well as a possible reference to the gorgeous Koi paintings by contemporary artist Silvia Golf.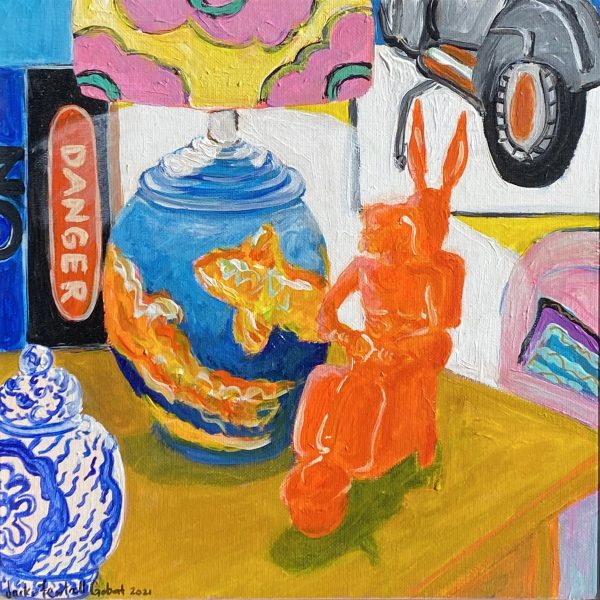 Rainbow Lorikeet Study by Steve Tyerman
Acrylic on Board, 18.5×18.5cm
$495
Size doesn't matter either when it comes to collecting, with powerful aesthetics possible even in the smallest of frames. Plus, with the latest trends in contemporary art leaning towards works which capture the beautiful landscape surroundings of the artist themselves and the way in which they view the world, work by artist Steve Tyerman captures the beauty of the Australian flora and fauna.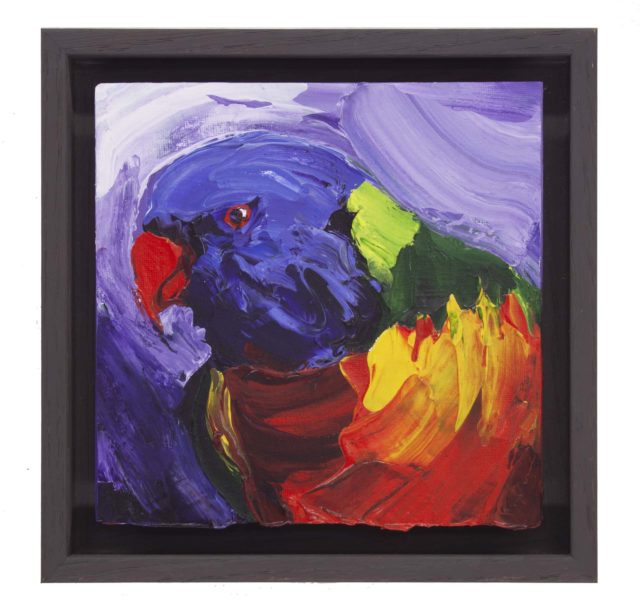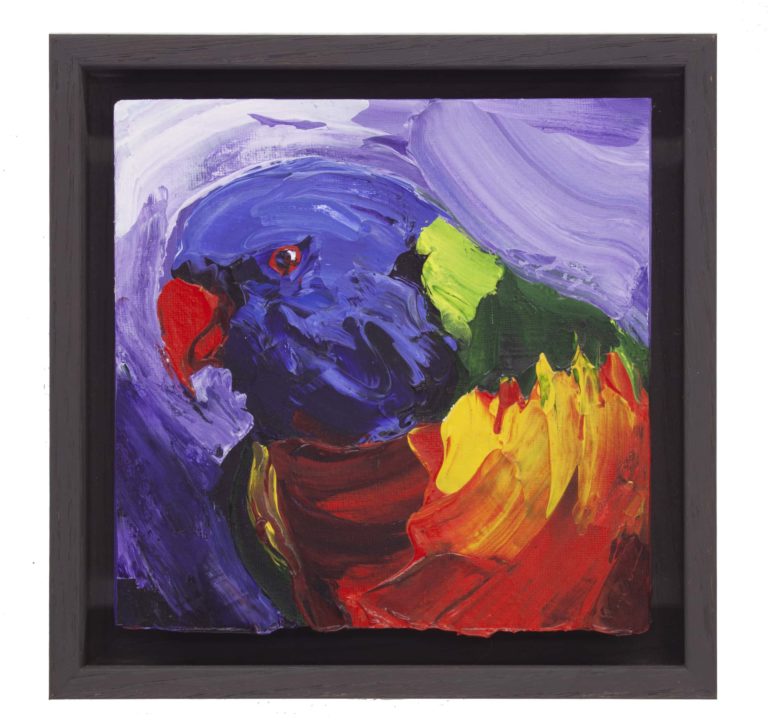 Morning Glory by Laine Walker
Acrylic on Canvas, 20x17cm
$250
If you're after textured works, then again expensive oil paintings are not your only option. Texture can also be achieved beautifully by the experienced artist using acrylic mediums. Both Laine Walker and Steve Tyerman enjoy working in the impasto style of thick paint strokes, adding an extra dimension to both their acrylic and oil painting surfaces to convey meaning and increase interest.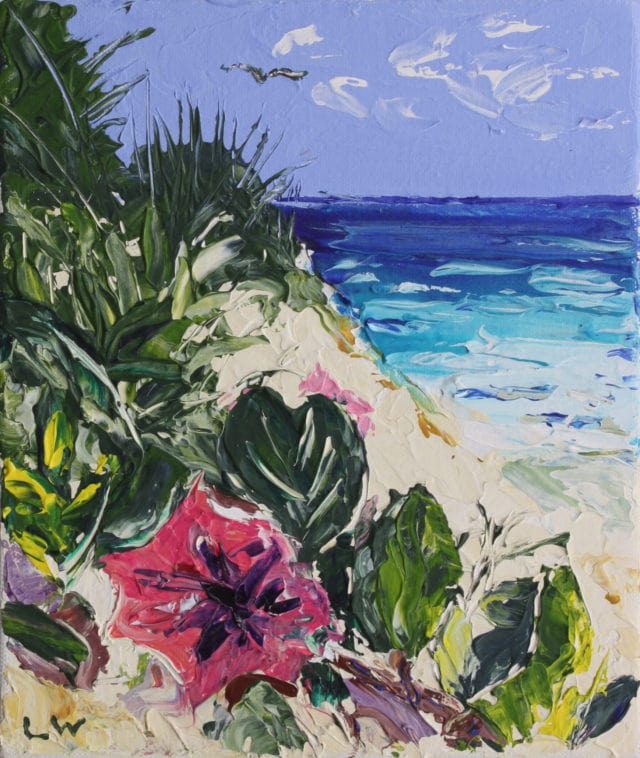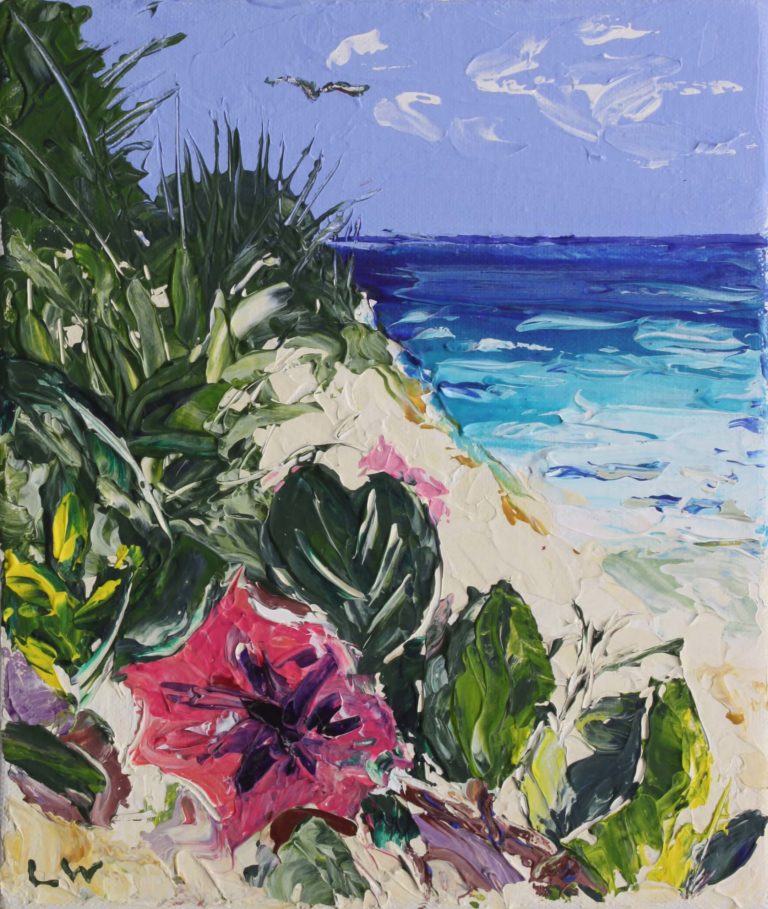 3-4 Foot, Offshore – Beach Bondi Study 3 – Plein Air by Sally West
Oil on Oil Paper, 13x23cm
$395
Nevertheless, if you have your heart set on your very own original oil painting there are some great options in the smaller size ranges. Well-known Australian artist Sally West pays tribute to the original plein air painters of this country who painted on 9x5inch cigar box lids by creating beautiful contemporary beach paintings in the 9x5inch size. These are all accessibly priced at $395 so you can select a couple (or more) to create a beautiful salon hang. They come mounted ready to frame, either at your friendly local framer or even in pre-made frames available from your local department or homewares store.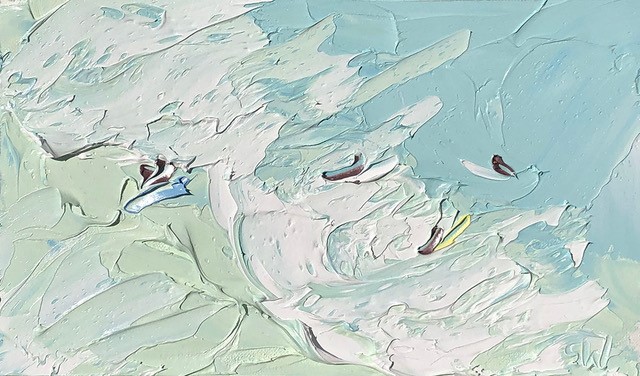 Pop art is a cultural phenomenon which means different things to different people. To artist Ben Tankard it means having a lot of fun appropriating everyday objects and well-known cultural icons into works with a message. His Monopoly series has been popular for quite some time with both fans of the game and those looking for a fresh irreverent style of artwork to hang. They are instantly recognisable and often evoke wonderful childhood memories in all of us.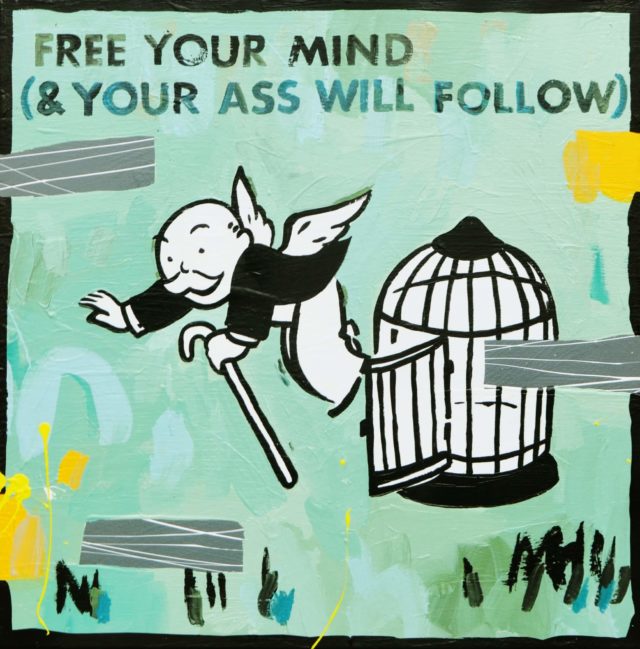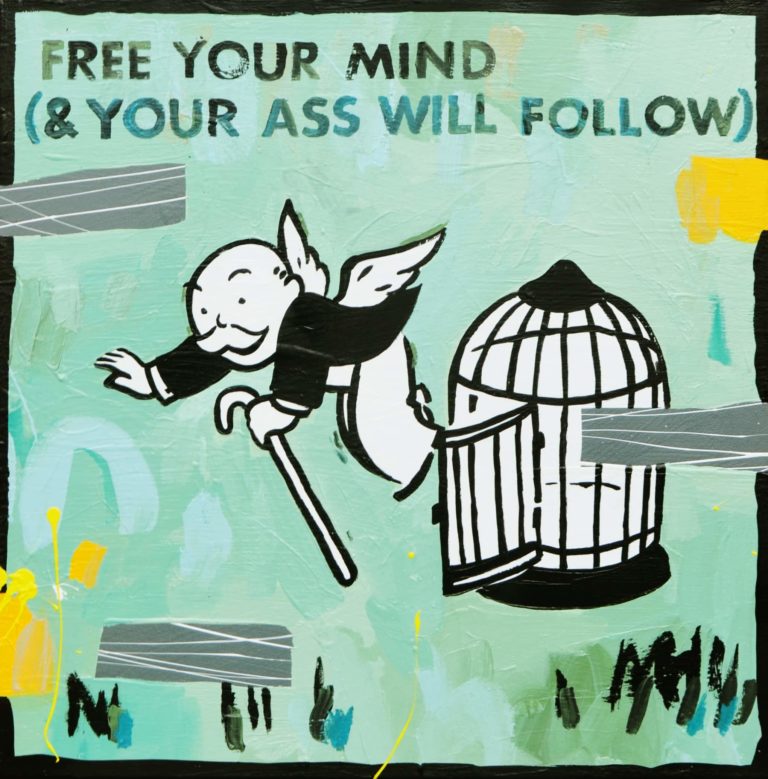 Path to Lockley's by Rachel Hannan
Oil on Canvas, 30x41cm
$550
Oil paint allows the artist's brush strokes to really shine through, giving the artworks interesting painterly appeal and a luscious glow. Rachel Hannan loves this particular feature of oils, making full use of the effect in her recent Blue Mountains series. With dark moody clouds, bright coloured trees and great accents like the walking path this work and others in the series would make a great talking point in any home.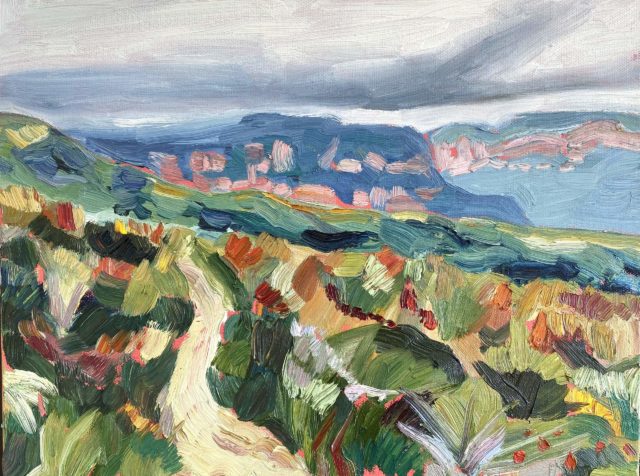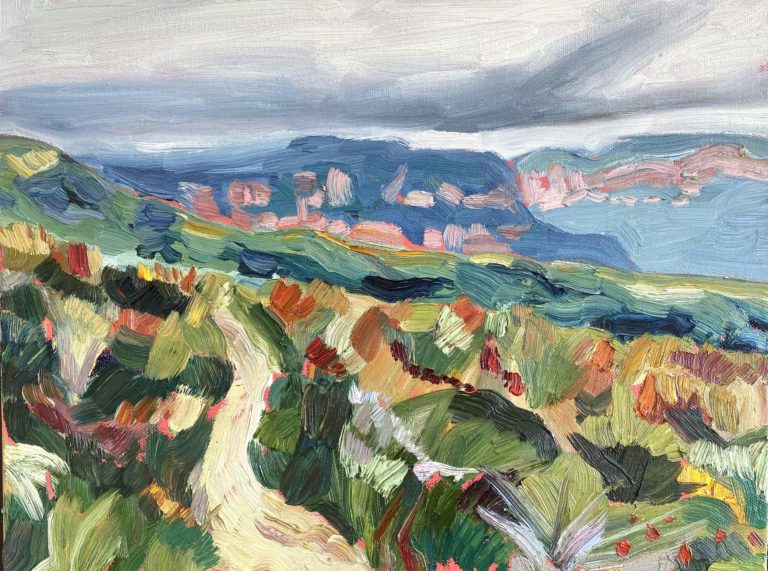 I hope you have enjoyed my suggestions!
-Kerry-Anne Blanket is an art expert & owner of KAB Gallery.