By Sarah James
Every parent wants their child to have a beautiful bedroom. A kid's bedroom should provide a safe sanctuary where they can retreat for quiet down time, independent play, and of course, much needed sleep! But it's important to get the decor balance just right. Too much clutter can be overstimulating for your child, meaning they may not be able to emotionally regulate, wind down and fall asleep. However, not enough furnishings can make their bedroom feel stark and uninviting, meaning they'll choose to spend less time in it!
Here are five expert tips to help make your child's bedroom a sensory-friendly and calming space.
Use calming colours
Never underestimate the power of colour on one's mood. When choosing wall colours and furnishings for their bedroom such as curtains, rugs and linens, choose colours that are calming on the senses. Did you know that blue and green are colours associated with peace and tranquillity? Blue is linked to the ocean which is a soothing colour that helps calm the nervous system and reduces anxiety. Green is connected to nature and is a symbol of rejuvenation. Neutral colours such as light browns, beige and white are also colours that promote a feeling of relaxation, calm and peace. Including these calming colours in your child's bedroom can help relieve stress and prevent overstimulation.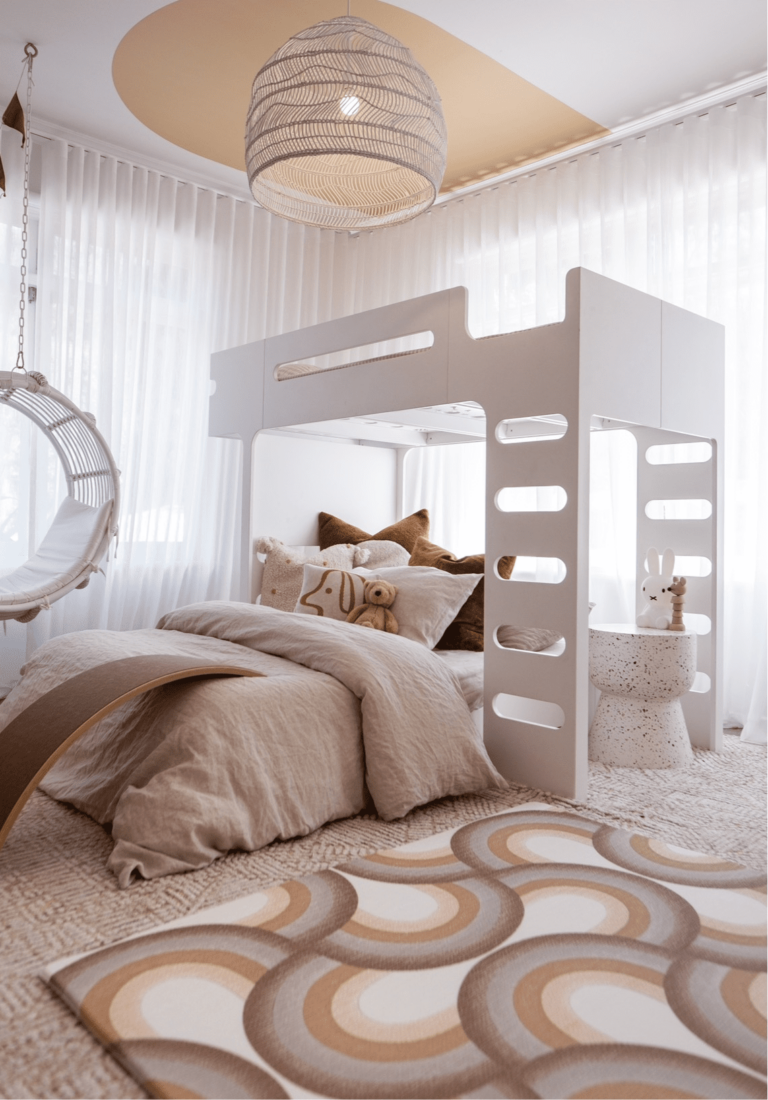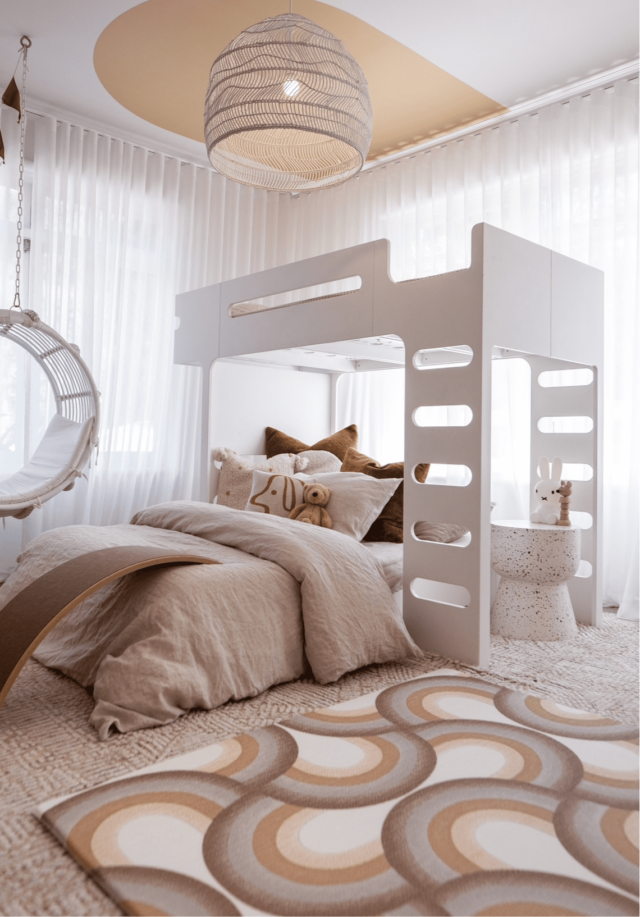 Avoid clutter to get the right balance
Some children can be very sensitive to visual stimuli. Having too much "stuff" in their bedroom can provide too much stimulation. This can overwhelm their senses and can also impact their sleep. Aim to include enough toys and furniture to engage their interest, while not having too many things out at once. We suggest rotating the toys in their bedroom every few weeks. Too many brightly coloured posters and charts on the walls can also be visually overwhelming. Aim to include a good range of visuals on the walls while also being mindful of clutter.
Create a sensory chill out space in their bedroom
A sensory chill out space is an area where your child can go to have a break from stimuli in their environment, such as other people, loud noises or bright lights. A sensory chill out space gives children a quiet space to retreat to and calm down. An easy spot to put this is in the corner of their bedroom. The chill out space (or book corner) should have soft flooring, such as a padded playmat, rug or carpet, and sensory furnishings such as a beanbag, lounger chair or cushions. To further reduce stimulation, this area should not be too bright; consider including dim lighting such as a sleep lamp or a teepee tent. This area can also include a couple of quiet activities to do such as books to read or weighted soft toys to cuddle.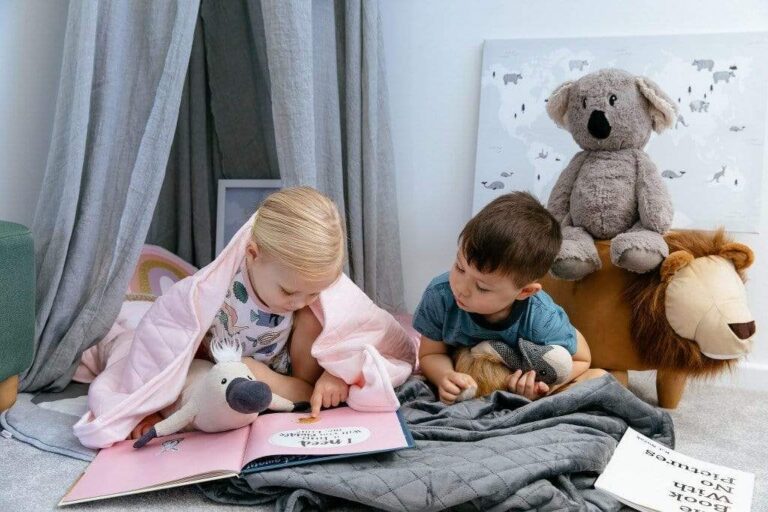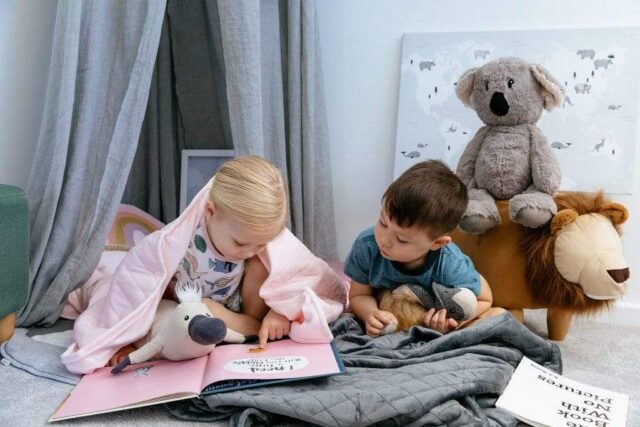 Include calming images
Certain pictures of places, patterns, colors or textures can make us feel relaxed and happy. But these are different for everyone. Work out which pictures calm your child so you know which ones to include in their bedroom. Do this when they are in a relaxed mood. Try showing them a broad range of images, such as photos from family holidays, different places, people, animals and colours. Look closely at your child's reactions while doing this and see which ones get a happy and relaxed response.
Incorporate soft, sensory furnishings
Soft, sensory fabrics and textiles can elicit a calming effect because touching them provides sensory input and put plainly, just feels nice! Think about including soft sensory furnishings in your child's bedroom such as minky throw rugs and soft cuddly toys. Cushions, loungers or pillows with sensory textures such as faux fur, suede, vegan leather and satin provide lots of sensory input. Kids also love to jump and tumble around. Having soft floor coverings provides an added sense of comfort to their room while also providing safety. We love our Luxe Mellow Mat as it has 30mm of slow rebound memory and a faux fur carpet feel.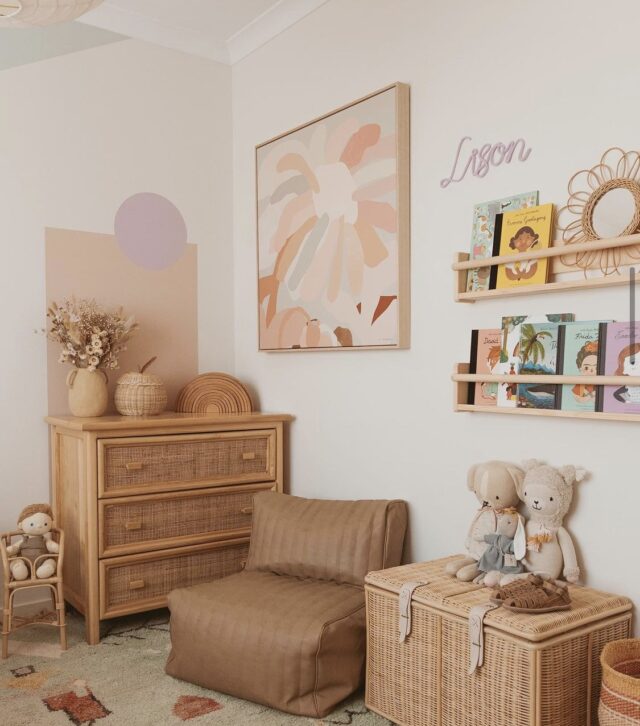 By creating a sensory-friendly bedroom, we are providing our children with their own space to feel safe, connected and happy.
Sarah James is owner of The Sensory Specialist, a registered NDIS provider based in Melbourne. She is a qualified psychology teacher and mum of two boys. Through her experiences, Sarah has developed lots of tips and tricks to help create sensory-friendly environments for children.