Anyone with their finger vaguely on the pulse of the latest trends will know that copper is most definitely in, as are statement small appliances for the kitchen. I'm rather impressed by the latest Distinta Breakfast Collection from DeLonghi.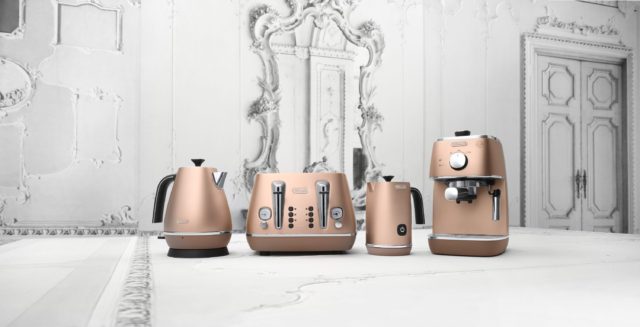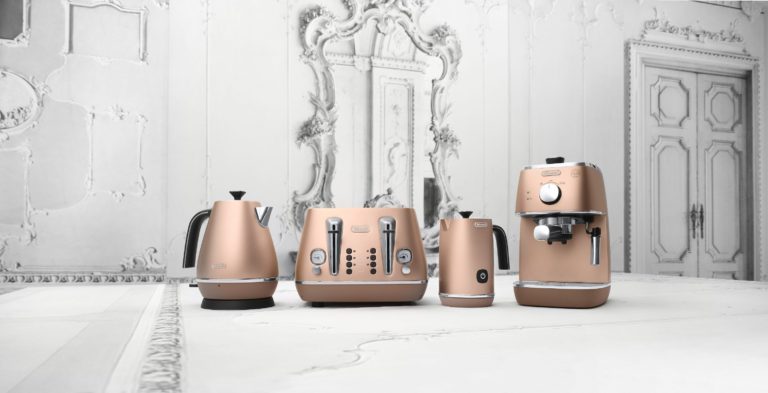 DéLonghi's renowned Italian craftsmanship and skills have been used to design the new range, which embodies style, future, purity and elegance. Alongside the toasters ($169 to $199), mechanical kettle ($169), manual pump coffee machine ($299) and milk frother ($149), for the first time, the hand-brushed, stainless steel collection includes a digital kettle ($199), allowing tea lovers to control the water temperature to suit their choice of tea.
With a combination of intricate detail and matte-textured metallic finishing, the timeless range is available in Future Bronze, Style Copper (pictured), Elegance Black and Pure White.
The traditional mechanical kettle offers a stylish design, with a detachable 360 ̊ swivel base for cord-free convenience. The coffee machine includes a range of functions to make the perfect cup, including the 'Advanced Cappuccino System' which mixes steam, air and milk to produce a rich, creamy froth for a great cappuccino. Drinks can be made using pre-ground coffee or "Easy Serving Espresso" pods and the milk frother allows for hot and cold frothing and keeps the milk warm if required.
DéLonghi have even launched the Distinta Collection App, which uses augmented reality for users to visualise up to three appliances together in real dimensions. It also features a colour selection function and has the capability to rotate and move the product to suit the chosen space.
The Distinta range can be purchased from all leading home appliance retailers from this month.