From floating vanities to the use of mirrors, glass and neutral paint, there are plenty of space saving solutions for small bathrooms. As with any tight space, clever storage is paramount too.
1. Mirror
It's no secret that mirrors make a space look larger – the way they reflect light is the main reason why. For this reason I would install a mirrored cabinet, often called a shaving cabinet, above the sink. Not only will it make the room feel more expansive but it lets you use the full vertical space for storage.
2. Use neutrals
Any small space is best served by using white or cream paint and the bathroom is no different. Use a neutral base colour palette to make the space feel larger. I wouldn't recommend using any bright colours as the space can look closed in.
The same goes for your bath, shower, vanity and toilet – stick to white to make your bathroom look clean and freshly renovated. 
3. Glass
When it comes to small spaces, judicious use of glass is very important as it will make the room feel larger. Rather than using walls around your shower, use glass instead as not only will you save space but you'll make the area look bigger as the whole space can be visualised.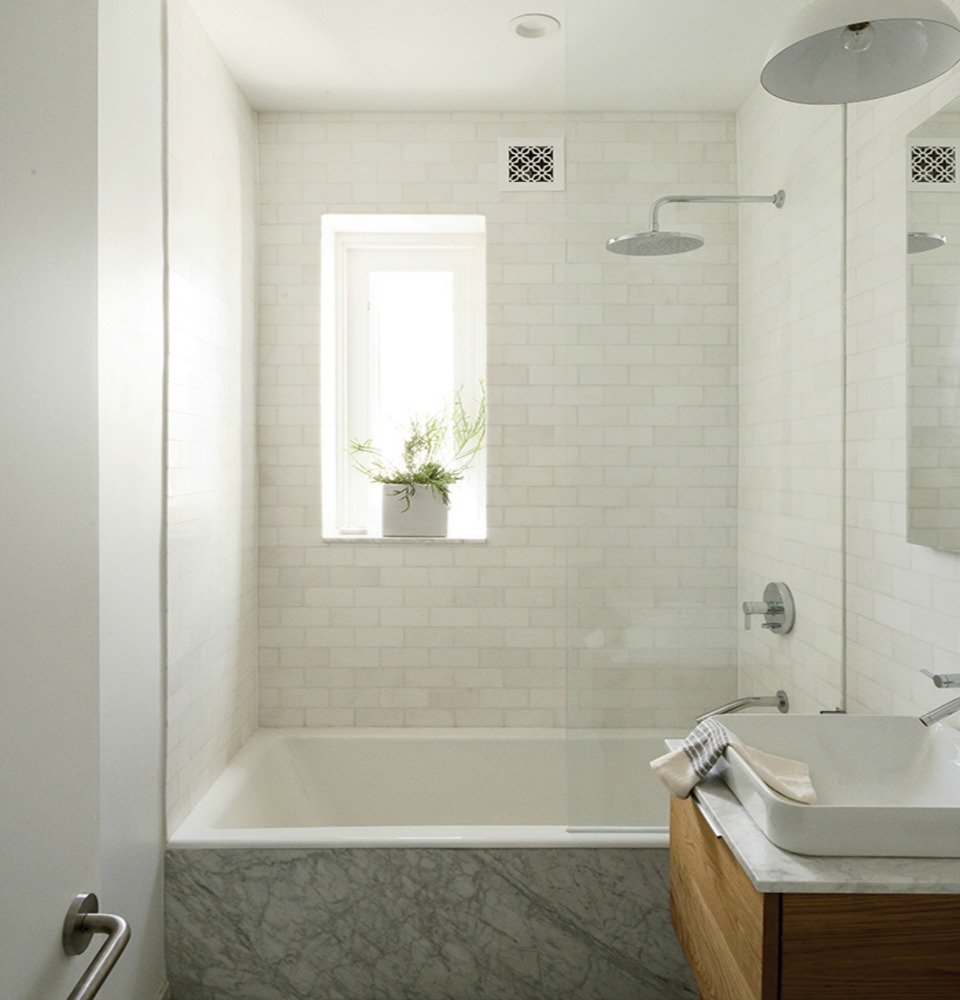 Image source: Dwell
4. Storage
Clever storage solutions are imperative for small bathrooms – it's a space that can never have too much stowage. Install vanities that have in-built storage – not only will this use space wisely but it will allow you to have more space for your bathroom necessities.
In addition, you could install DIY shelving in between your vanity, shower and toilet to add extra storage where space is often wasted. Floating shelves are a great idea too as they can be installed next to your mirror or above the toilet and try to recess as much of the storage into the wall cavities as you can – this will increase the usable space inside the room.
I would also use wall niches as not only are they an excellent use of space they are also visually appealing and offer extra storage too.
5. Windows
Natural light is essential in a bathroom so avoid blocking the windows that you may have and never install small bathroom windows.  Use the top quarter of your wall as a window (I prefer 2100mm or above) which will also maximise your usable wall space. Frosted glass is another good alternative and they can be as big as you like.
6. Consistency
Don't overcomplicate the design and strive for consistency. Use the same tiles in your shower and/or walls as are on the floor as this will create the illusion of one large space rather than two small spaces.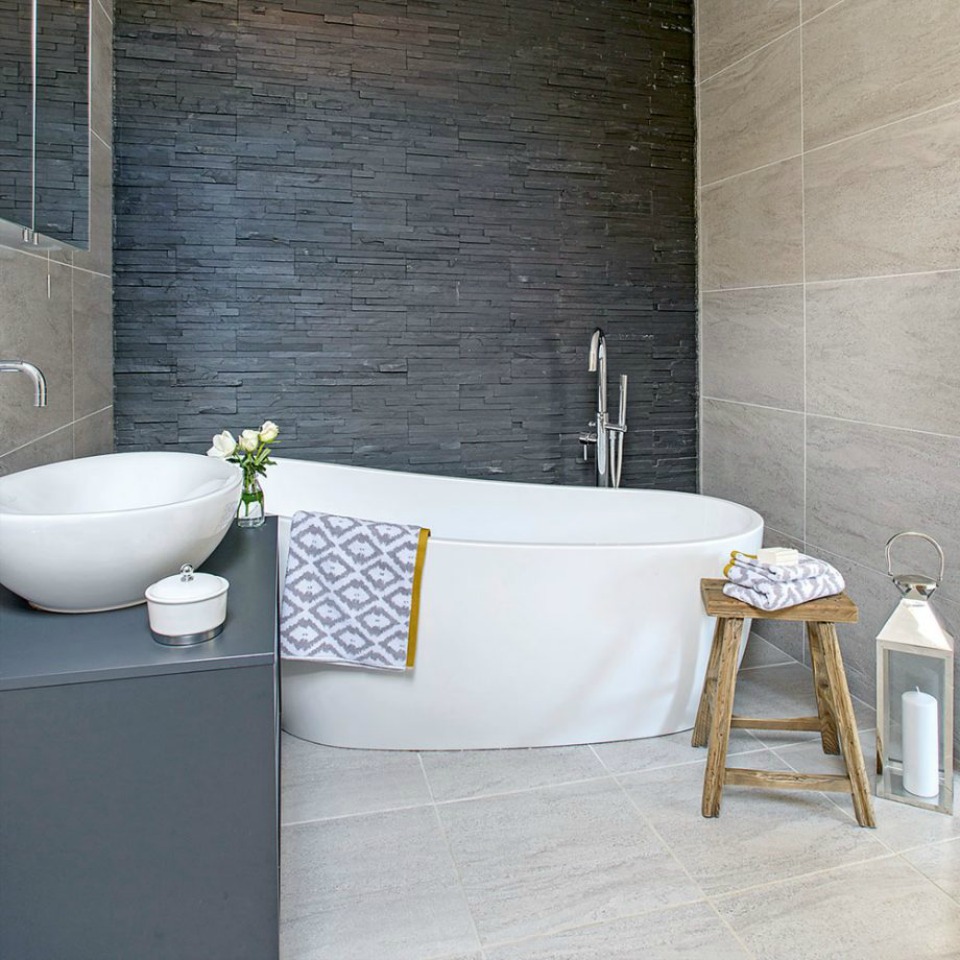 Image source: Ideal Home
7. Avoid pattern
Patterned tiles look fabulous in large bathrooms but not so in smaller spaces. Patterned tiles will make a small space look crowded and even more diminutive. Stick to simple, neutral tones to make the space look brighter and more spacious.
8. Towel rails
Install towel rails on the outside of your shower door to save on space – when installed on walls they take up precious storage space.
9. Sliding doors
Unlike conventional doors, sliding doors are ideal for small bathrooms as they allow you to preserve more usable space within the room.
Image source: House Beautiful
10. Styling
Crucial to the overall look and feel of your bathroom, consider things like pendant lights or hanging plants to maximise the use of vertical space. After all, nobody wants to skimp on styling! As a side note, as with any small space, try to utilise as much vertical space as you can.
11. Showers
A shower is always a better use of space than a bath however if you really want a bath, avoid a freestanding one and install one that doubles as a shower too.
12. The vanity
Avoid anything to bulky as it will juts out too far into the precious space. A slim, long vanity will make a small bathroom feel larger – not only does this give you a chance to have extra in-built storage along your wall but it also provides extra space in the centre of your bathroom. A wall hung vanity only creates an even greater illusion of space.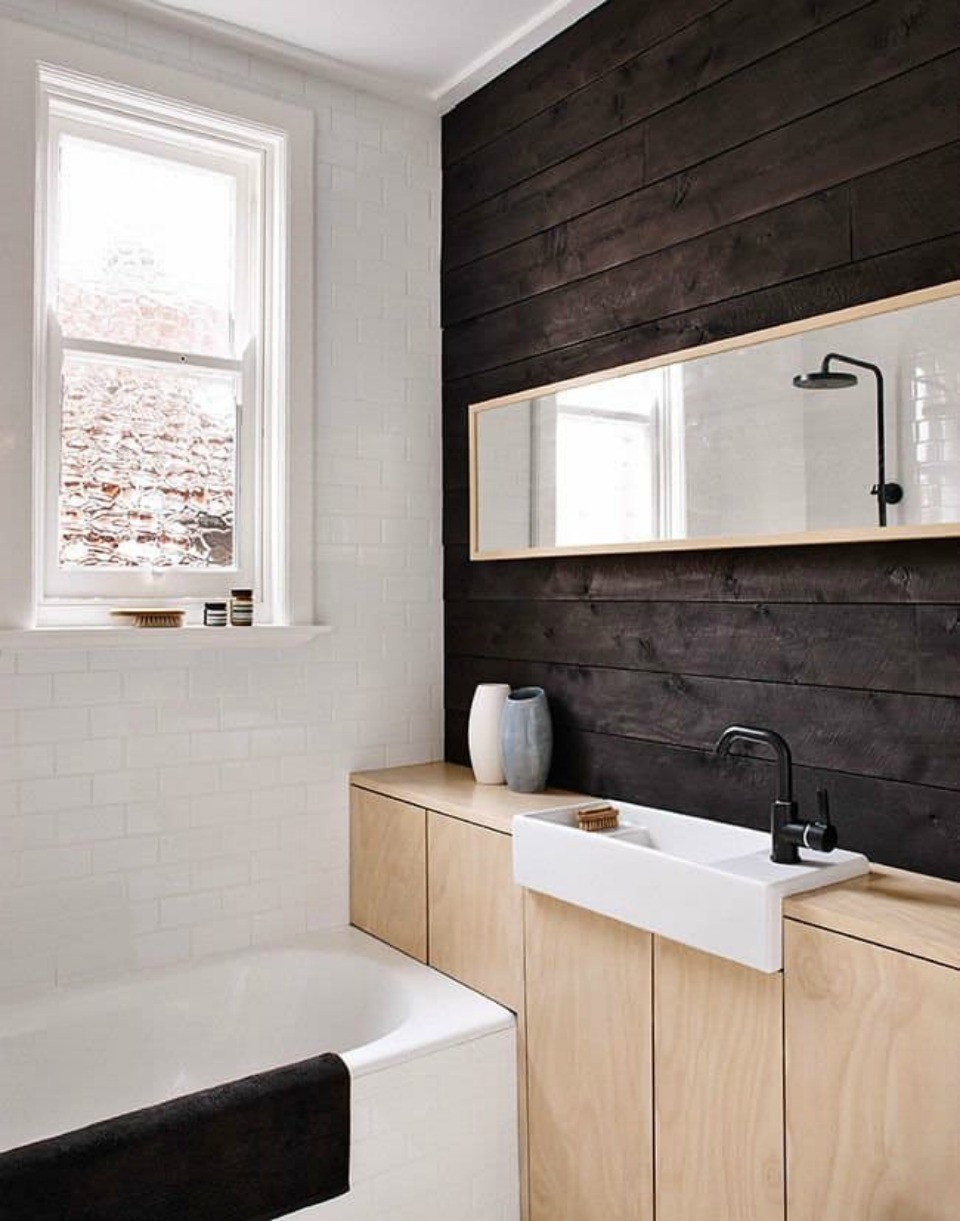 Image source: Apartment Therapy
Naomi Findlay is one of our resident experts, principal of Silk Home and founder of the International Institute of Home Staging.