1. A wedding planner or on-the-day co-ordinator can be a lifesaver! We used the lovely Katie Moore from Piccadilly Events. I was all over every detail of our wedding. I had spreadsheets and lists; LOTS of lists. So I wasn't sure I really needed someone to help on the day (as well as my many generous friends who got stuck in) because I thought I'd already organised everything. Wrong! When there's a wedding there is ALWAYS something else that needs doing! Katie was our wedding angel. So many guests commented on how fabulous she was.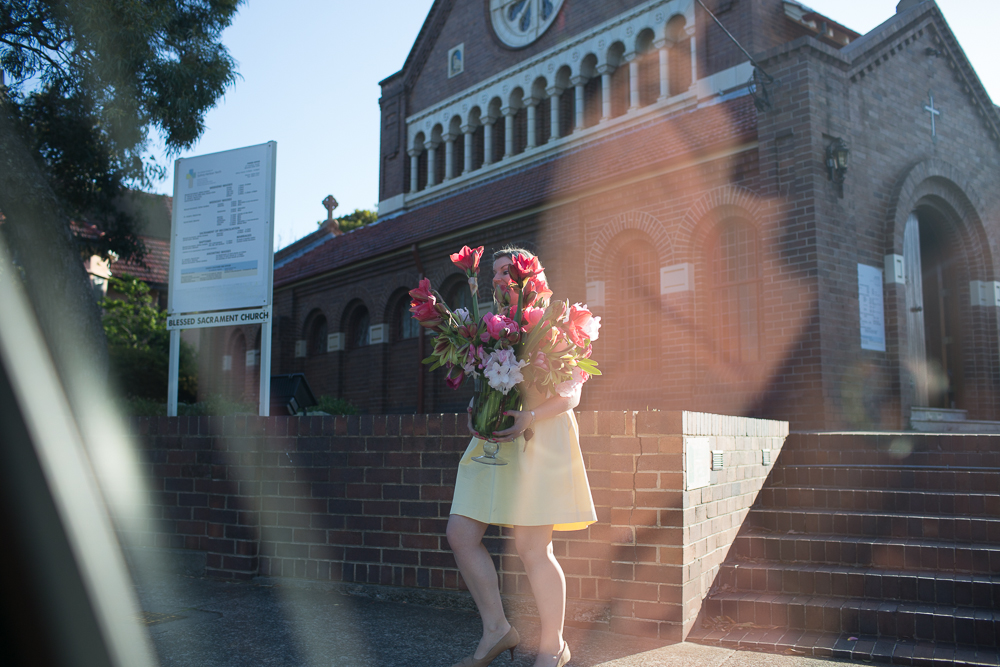 As well as the million things she probably did that I knew nothing about, she took the flowers from the church to the reception, made sure everyone knew where they should be and when and made sure my dad had a torch to read his speech with (he was seriously nervous that his eyesight was going to let him down, although I was of course oblivious!). When I arrived at the church, she produced a small tin of M&Ms, offered them to me and said: "Sugar hit?" Brilliant! Katie came to our rehearsal too so she knew the plan for the day as well as I did (we merged our respective run sheets!) and who all the key players were. I thoroughly recommend having someone like Katie as a go-to girl on the day. I told everyone that if they had any issues at all they should go and speak to the girl in the yellow dress (yes, she even told me what she'd be wearing in advance).
And she did all of this IN HEELS.
2. While we're on the subject of extra pairs of hands, the next thing I learned (after a while) is that it's okay to ask for help. Let me tell you though, I don't really practice what I preach because I am RUBBISH at asking for help, in all areas of life. I don't like to put people out. But my friends were fab, from Naomi and Emma styling up a storm at the reception venue as per my spreadsheet instructions because I couldn't be there, to Ellen (from Moyarta Events) offering to set all 10 tables for me, many hands made that wedding come together as well as it did. And do you know what? People actually want to help because they love you, and weddings are fun! I have a few friends planning their weddings at the moment and I've genuinely offered my services to help but many brides, like me, don't like to "take advantage". When I look at it from my own point of view, wanting to help my bride-to-be friends, I realise how silly I was being.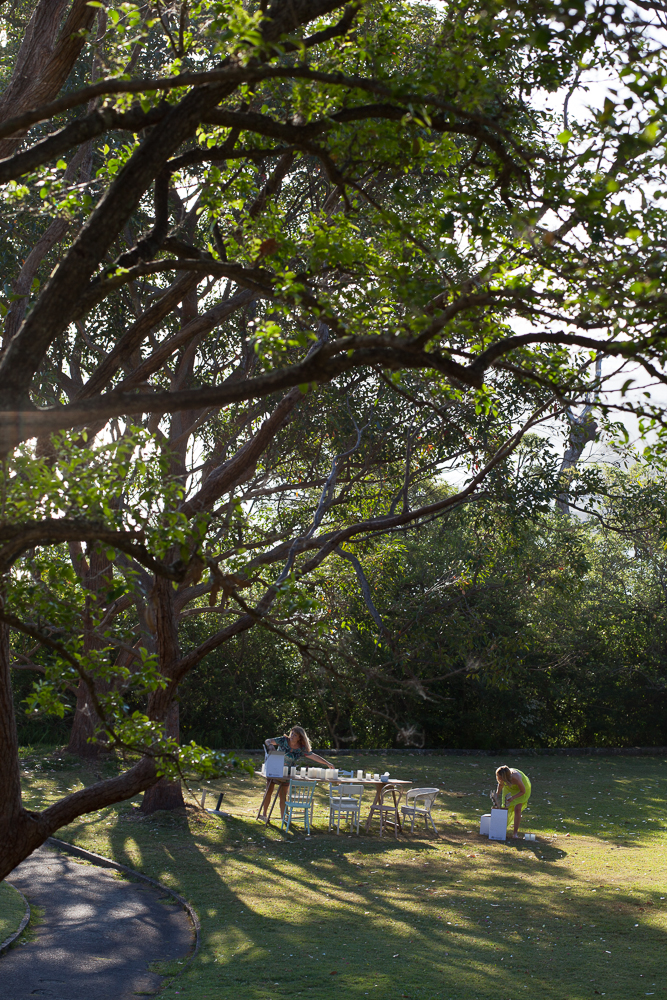 3. A wedding video is money well spent. We couldn't love our video more. Don't tell him I told you but Damian still watches it an average of twice a day! We weren't going to have one originally, but we shoehorned it into the budget. I knew The Story of Us would do us proud (as they did with our invites) but I had no idea quite HOW amazing it would be and I am so, so glad we got it. As it turned out, my sister couldn't come from the UK at the last-minute and it was great to be able to share it with her (as well as the church ceremony via FaceTime — ain't technology grand?).
4. Flowers and photography are 2 of the most important things and in fact the first 2 suppliers I locked in (Aleksandra Schutz and Matt Reed respectively). If I had to pick the most memorable thing about our wedding, other than walking down the aisle and actually getting married, it would have to be the flowers, which exceeded my wildest expectations! I'd seen Aleks' work at a lot of events I'd been to and knew I had to have her for our wedding. As well as being a creative genius she is also a really lovely girl.
I chose Matt to take the photos after trawling wedding blogs and picking the photos I liked the best, then contacting the photographers. We really wanted a relaxed, reportage style without too many 'line-ups'. Matt was great and even got us the photos within a week. Amazing! Flowers and photography are also 2 of the most expensive things but let me tell you, I don't regret a cent I spent on flowers. Initially, I thought we couldn't afford Matt but we negotiated and just had him for 6 hours rather than all day. This took us from getting ready through to speeches and I was fine with not having professional pictures of the drunk dancing! Plus, the video captured some of that 😉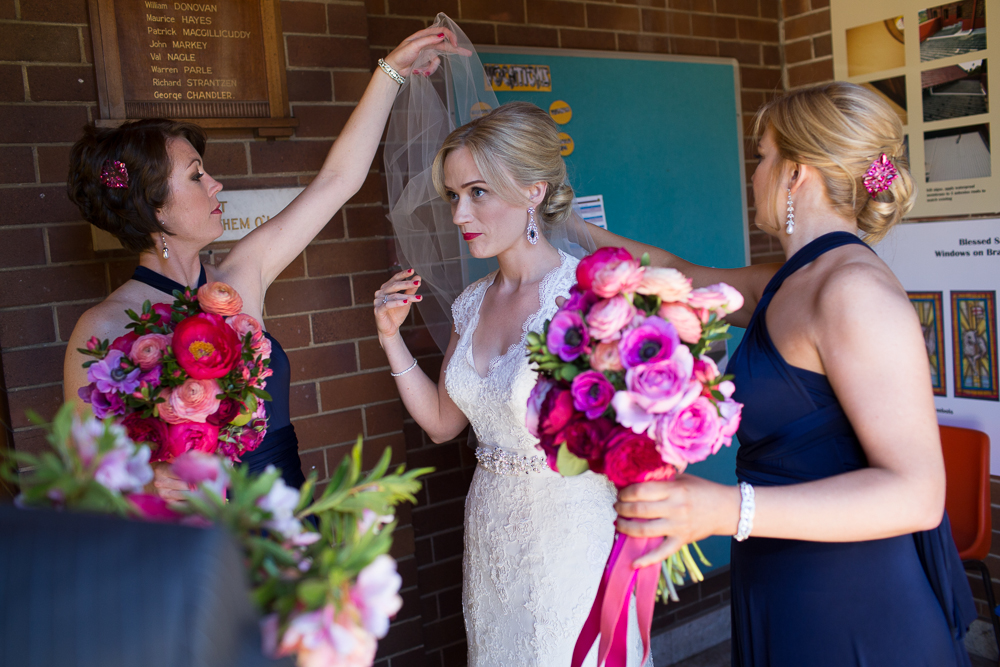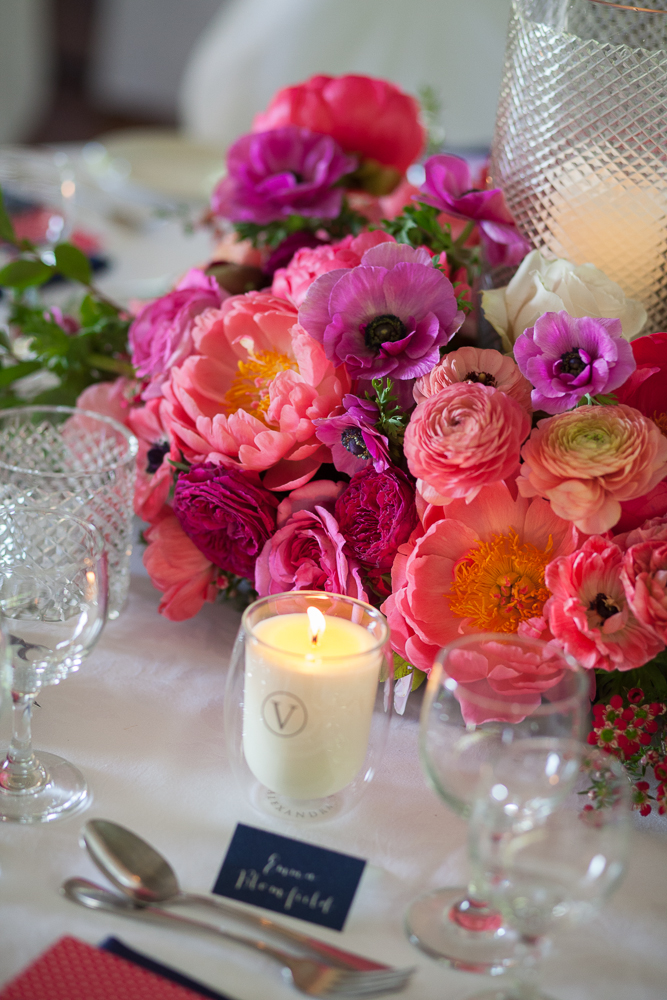 Another point on flowers is to make sure someone tells people to take them home at the end of the night, which I did. I couldn't bear the thought of them being thrown out (as there was another wedding the next day) and happily, almost all of them went home with people. 
5. It's a good idea to ask bride friends what they regret about their own wedding. It sounds a bit negative, but it was so useful! In my worry about what I might have forgotten or would regret not having later, I asked married girlfriends if there was anything they'd do differently. Almost without exception they told me they wish they'd had a video (see point 2 above) or worn a veil. I actually had veil doubt a few weeks before the big day (I think I was freaked out by how symbolic the whole dad lifting the veil thing was) but I'm so glad my friends talked me into keeping it. I love it looking all windswept in the pictures but I'm glad I took it off for the evening.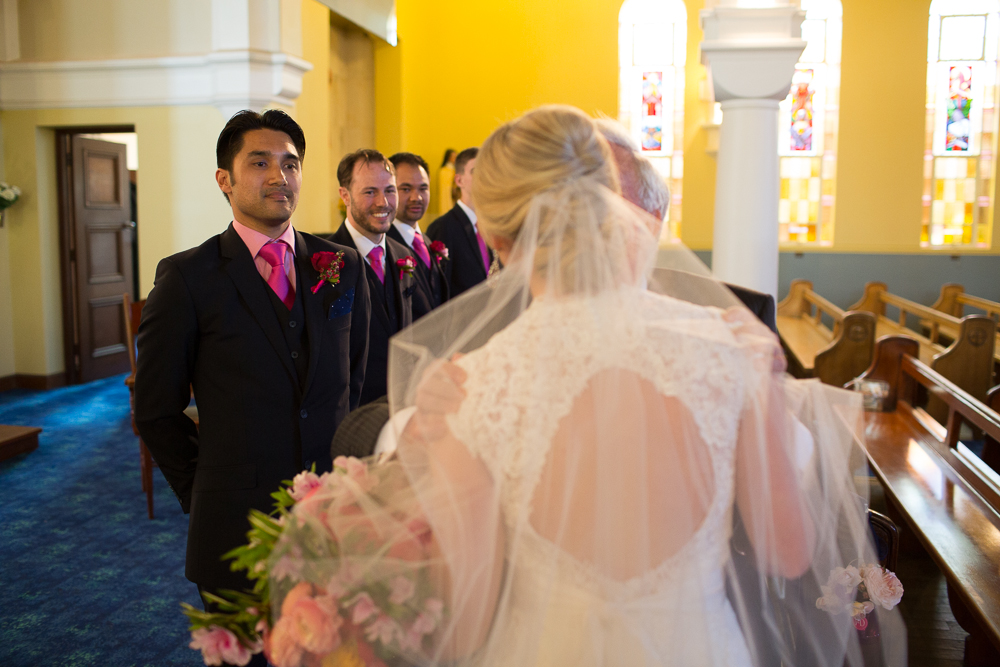 Let's face it, when else do you ever get to wear a veil?! This has to be one of my favourite photos!
6. Hair and makeup always takes longer than you think. Ours took from 9am to 3.30pm for just 3 of us (3.5 if you include some very subtle makeup and a few waves for the flower girl) and we were still rushing right at the end. On this point, pick people you like to be around on your big day. Julia Green, who did all our hair AND makeup, is so chilled out and lovely, I think she really helped keep me a bit calmer than I would have otherwise been. I met her when she did my hair and makeup for a Cleo shoot and I knew she'd be great to have around!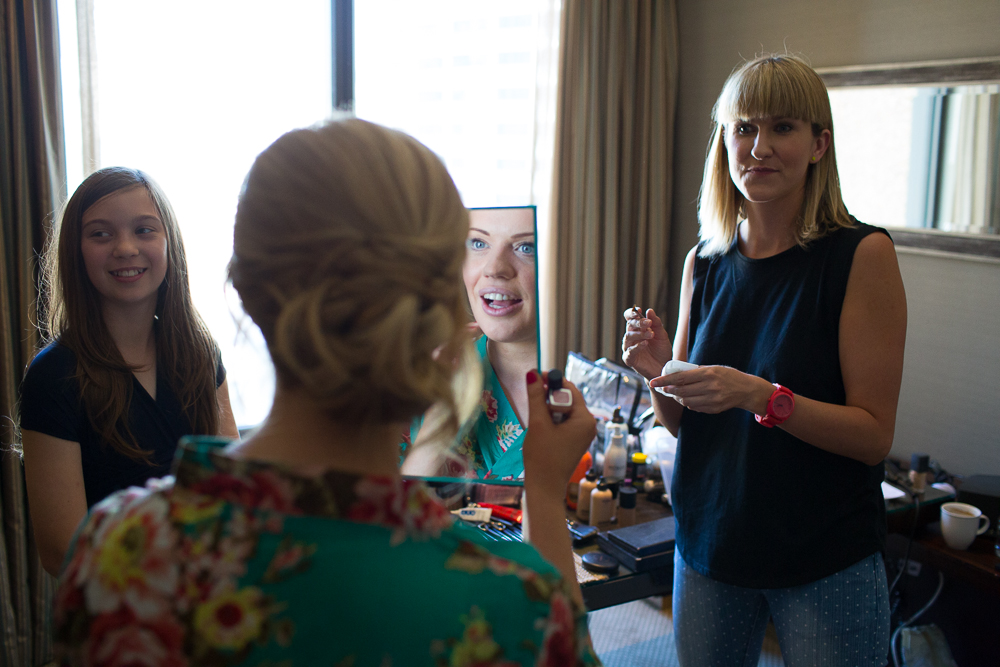 And how good was my hair?!
7. Don't pack too much into your honeymoon as you'll really need to rest! This is a mistake we definitely made. We crammed in Tokyo, Venice, the UK (complete with a second wedding reception for 50 people) and Singapore in 3 weeks. Phew! Do not underestimate quite how exhausted you will be when the wedding is over. We also spent the week between the wedding and the honeymoon entertaining and hanging out with friends and family who came a long way from the UK to be with us. This was a really special time and I don't regret it but it just added to how tired and in need of a break we were! We could have done with some more downtime. Our honeymoon was fabulous but it wasn't relaxing. Roll on Christmas, I say! This is all a bit of a first world problem though!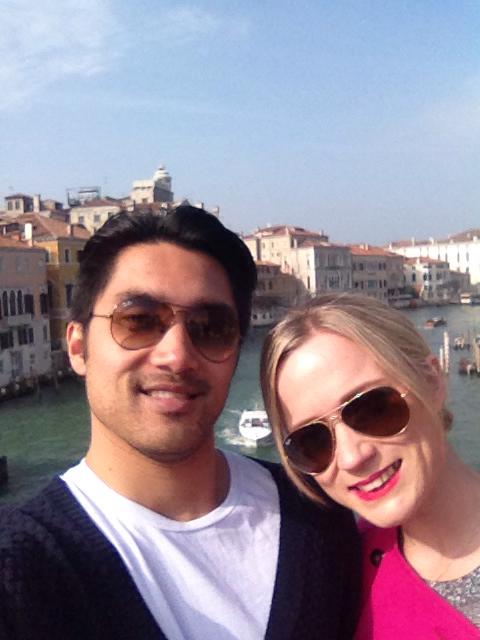 Behind those sunnies we look REALLY tired!
8. Make sure you make it really clear to people how you want something done. It is really tempting to assume that because it's all clear in your head, that's exactly how everyone else imagines it too. Not so! An example of this is that I wrote out seating plans for each table, forgetting to mark on the sheet which direction the tables were facing. So our tables all ended up being the wrong way round with people facing the opposite direction they should have been. It was no big deal because they were all on the right tables and sitting with the right people, and I didn't even notice until my head hit the pillow that night and I had an "a-ha!" moment. It was nobody's fault but mine for not making everything crystal clear but it's worth noting. I also didn't tell the girls which tree tables were supposed to be set up under or things hung from. So it all ended up a bit different to what I imagined but it was so fab it didn't matter! A point worth noting though!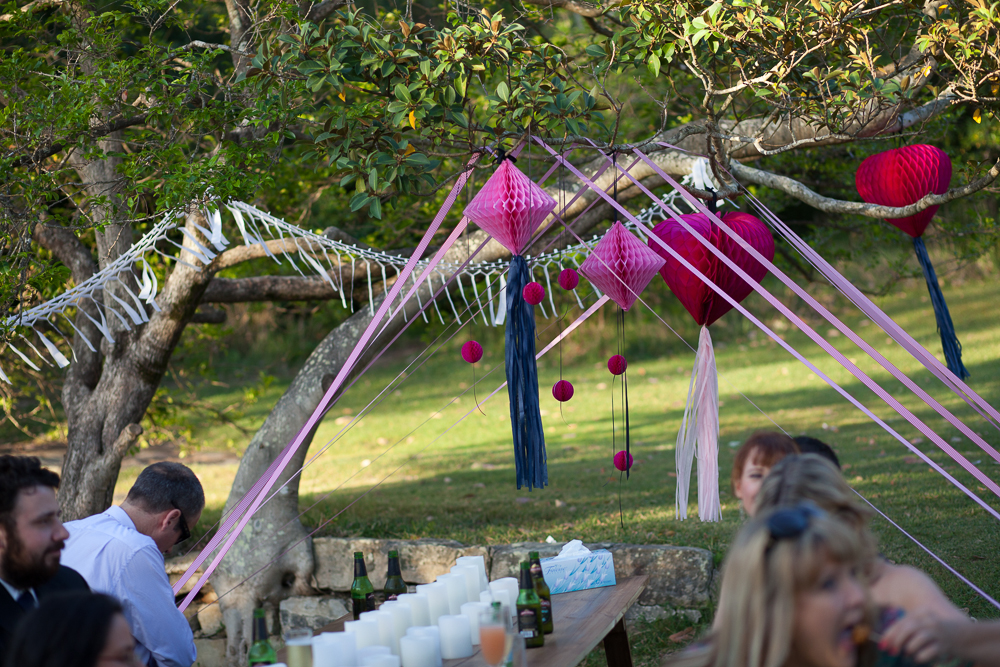 9. Make sure you allow time (and people) to return anything you hire or borrow for the wedding/reception. I hired a lot of things (crystal votives from The Hire End, furniture and props from Vintage Patina and Enjoy Lighting flameless candles from Love and Protect) and didn't really appreciate how long it would take to return it all in the following few days and potential for things getting lost! My brother-in-law kindly collected a lot of stuff from the reception venue the next day (like we were going to get up early from our suite at the Four Seasons!) but he was a little overzealous and picked up things he shouldn't have too. So when someone arrived to pick something of theirs up they found it missing. Which meant we had to return it ourselves. We were SO TIRED that week and I really wish I had paid someone to look after all that for us. I would have paid any amount for that the few days after the wedding, over budget or not!
 10. Forget what they say about post-wedding blues! I am really happy and excited to start married life. A wedding is wonderful but it's only a day. Cliche as it is, marriage is for the rest of your life and if you've married the right person, the prospect of all the adventures you're going to have together should be enough to keep a smile on your face. The best is yet to come!